This homemade Brazilian hot sauce will add a dash of tropical seasoning to your dinner table.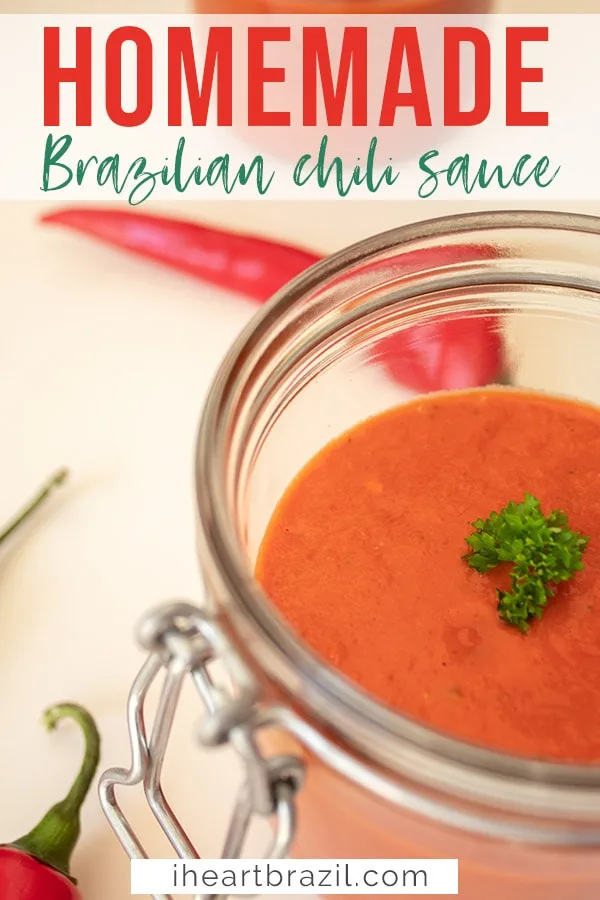 A bottle of well-made Brazilian chili sauce, made with spicy chili peppers, vinegar, and flavorings, is one of the most essential arsenals in one's home pantry or on a shelf in the kitchen.
Whenever a dish turns out bland, a drop or two of one of my Brazilian sauces can perk it up, enliven all the other flavors of the meal, and make diners sit up and take notice.
Many brands sell this delicious sauce, but for me, a born and raised Brazilian, there is nothing tastier than preparing it at home.
Oh, and for reference, this sauce has no cachaça because I honestly have never had/seen a sauce like that in Brazil, as other blogs wrote about.
Without further ado, let's get to this traditional Brazilian sauce recipe, also known in the country as molho apimentado.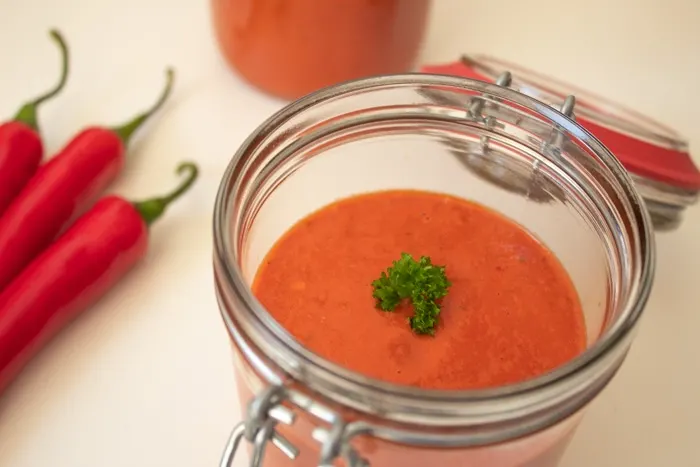 My favorite occasions to serve this Brazilian red pepper sauce
Super Bowl game day – perfect to dip some appetizers and snacks!
Parties with friends
Barbecues with family
Dinner with hubby – when a dish turns out a bit bland or just fell like having it
My favorite dishes to serve with this Brazilian hot sauce: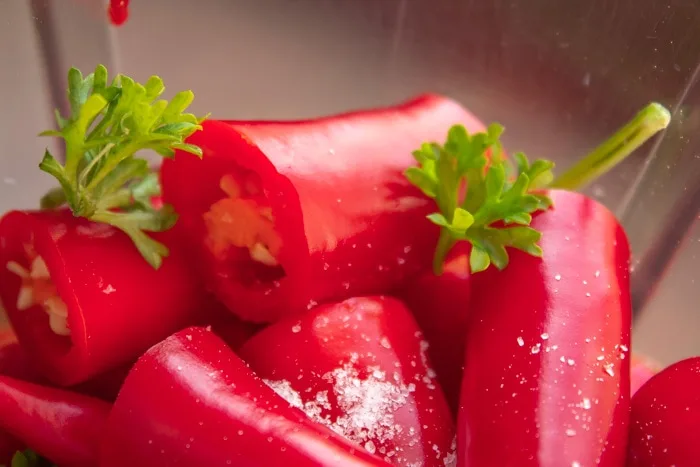 For how long can I keep this Brazilian sauce in the fridge?
For up to 3 months, but if in doubt, my dear reader, always follow your nose!
Tips for making the perfect Brazilian hot sauce:
Remember to always use a clean spoon when taking getting the sauce. Don't use a spoon "dirty" with other foods, or you might spoil the sauce.
If you don't want your Brazilian sauce on the hot-spicy side, remove the pepper seeds.
Alternatively, you could also add more brown sugar to balance the spicy out.
Watch out for your finger, especially if you wear contact lenses! The chili pepper is really hot, so you might want to use gloves in that case.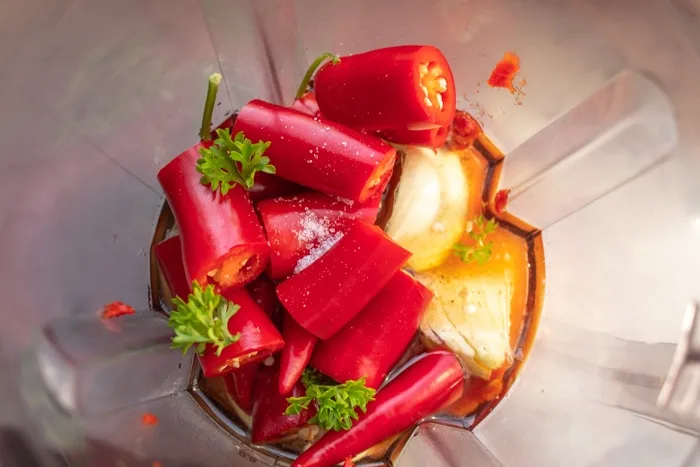 How to make Brazilian hot sauce
Before you begin, know that this homemade cayenne sauce recipe is very easy to prepare, it takes about 10 minutes or less to complete, and yields about 2 1/5 cups or 600 milliliters of sauce.
So, start off by washing the chili peppers, slice them in big pieces, and add it to the blender together with all other ingredients.
Blend it until smooth.
Pour the sauce into glass jars with air-tight lids, or heated and sterilized jars to store for longer.
Store it in the fridge and enjoy!
Did you like this Brazilian red pepper sauce? Then share it with a friend who might also like it and/or save it to your Pinterest board!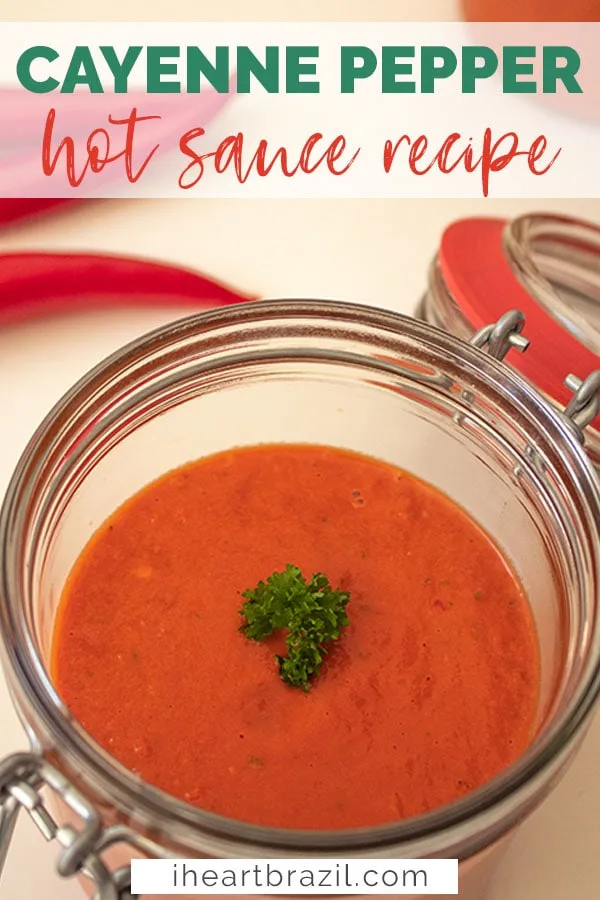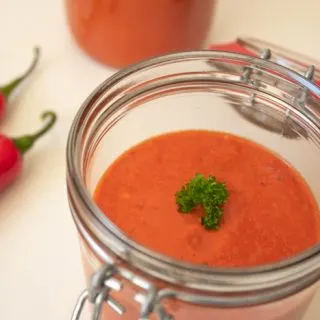 Homemade Brazilian Hot Sauce Recipe
Yield:
Make about 2 1/5 cups
This Brazilian Hot Sauce is easy to make and most importantly absolutely delicious! Learn how to make this authentic Brazilian chili sauce with step by step instructions. Great for canning too.
Ingredients
1 ¼ (100 grams) cups cayenne pepper, big slices
1 cup 250 milliliters) vinegar (I used white vinegar; cider vinegar would be good, too)
5 cloves of garlic
1 large onion, quartered
⅝ cup (140 grams) tomato puree
1/2 (125 milliliters) cup oil
2 tablespoons brown sugar
2 bay leaves
1 tablespoon salt
A pinch of nutmeg
Parsley to taste
Instructions
Wash the cayenne peppers and slice them into big pieces.
Add all ingredients to the blender and blend until smooth.
Transfer the sauce to a clean air-tight glass container and store it in the fridge.
Recommended Products