Hearty and juicy, traditional Brazilian food is among the tastiest ones in the world.
From the moment you arrive in the country, you'll see that Brazilian recipes are prepared with love, and meals are more than simple meals – they're an event.
They're an event because people sit together, relish the dishes, drink cold beer or caipirinha, and laugh with each other. Enjoy the moment and food. What's not to love?
Carbs. That's something not love in the Brazilian dishes. Nowadays, a great deal of people avoids carbs, and unfortunately, for those people, Brazilian cuisine is full of them.
Besides, Brazilian food is often heavy, but don't worry. You just need a little time to get used to it, then you'll start loving it too. I've seen this happening before.
Well, most foods from Brazil fill up well, giving you enough energy to continue exploring the street of this vast country. One more reason to try at least a couple of the dishes below.
Traditional Brazilian food
In case carbs aren't a big problem for you, give it a try. You won't regret it.
Further out, you will have the best impression of food in Brazil when trying a dish in a recommended restaurant, and not when eating in any venue you see on the street – small, family-owned or reputable restaurant.
That's why local advice is so welcome in those situations.
But let's not go down that road now – this article is about popular Brazilian food only, and not where you can find them.
As I experience more venues throughout the country, I'll write specific articles recommending restaurants, cafes, and bars in the capitals and most touristy areas.
But anyway, whether you want to research what you'll eat during your trip to Brazil or prepare delectable national dishes of Brazil, this article is for you.
Keep in mind that many of these traditional Brazilian dishes have local interpretations which are influenced by the weather in that region, as well as the local ingredients, meaning the same dish might be much different when prepared in São Paulo or in Bahia.
Without further ado, wanna know the most traditional Brazilian foods? Read on!
I'm on a mission to publish all of these Brazilian recipes here on the site but bear with me–it's a one-woman show. It might take me a little time, but eventually, you will find all instructions for these delicious Brazilian dishes.
Brazil Food Guide Table of contents
Not enough time to read everything in one go? Save it for later!
Brazilian food facts
Readers often ask me, "is Brazilian food spicy?" Not necessarily. In the northeast, most dishes are spicy, but that's a local tradition. We do have delicious homemade chilly sauce all over the country, though.
Many times, Brazilian dishes are either deep-fried or have considerable carbs/oil in them. Embrace it. I'll quote James A. Michener on this one "If you reject the food, ignore the customs, fear the religion and avoid the people, you might better stay at home."
The most common ingredients are rice, beans, cassava, and cornflour.
I didn't list most fruits in this article, but I wrote another about the best fruits of Brazil.
Read next: 35 mind-blowing facts about Brazil
Typical Brazilian foods that will make you drool
1. Brazil food: the national dish, feijoada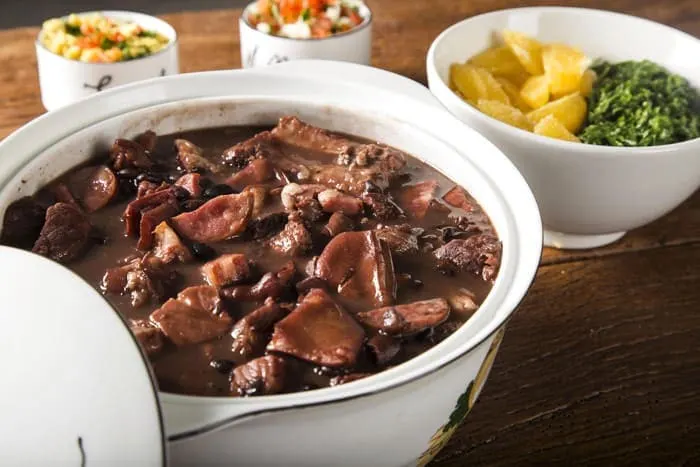 Pronunciation: fay-jo-AH-dah
The most traditional Brazilian dish in this list, feijoada, is by far the local's favorite meal, and yours too once you try it during your trip to Brazil.
The legend has it that feijoada is a genuinely Brazilian dish first made by slaves who had to eat their owner's leftovers, resulting in the feijoada we know today. But it isn't true.
Feijoada is a dish that came to South America with the Portuguese. Derived from a typical meal in the Romanian Empire, a stew of meat and vegetables, among those, the white beans.
The version of the dish most people eat today, which had a few modifications, is indeed Brazilian: it uses local black beans, instead of the white ones from Europe, and pork.
Now you know something most Brazilians don't.
Anyway, feijoada is a tasty stew of black beans with pork, served with garlic rice, cassava flour, collard greens, and vinaigrette.
Loads of Brazilian buffets serve this black beans stew, but this dish tastes it best when ordered a la carte.
It's hearty and fills up well. Perfect when accompanied by caipirinha.
2. Feijão tropeiro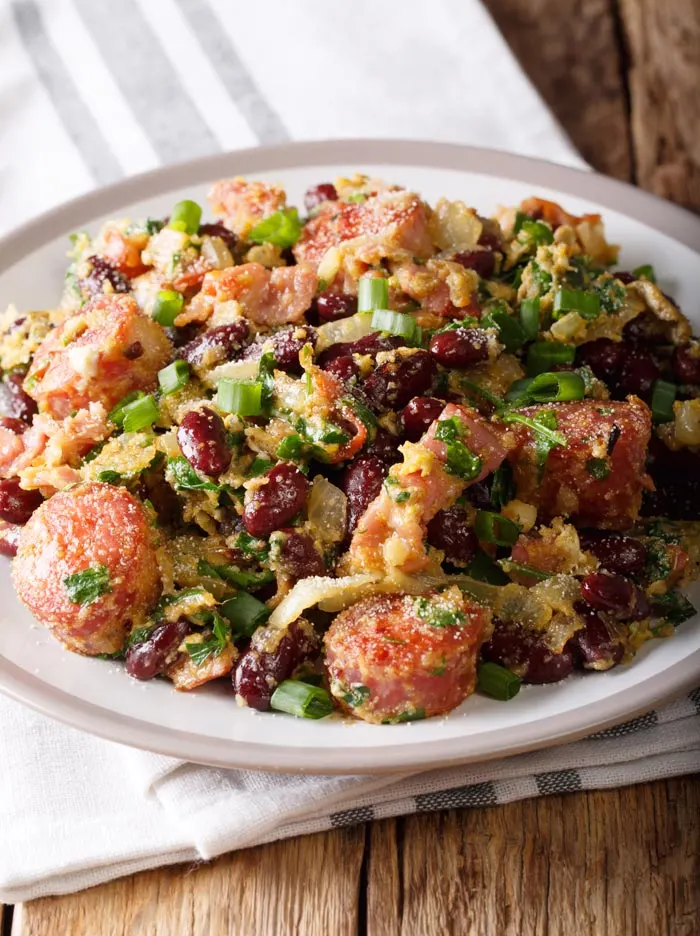 Pronunciation: fay-JÃUM tro-pay-ro
This mouthwatering dish is typical from Minas Gerais, a state on the southeastern region of Brazil.
The name comes from the colonial times in Brazil when men had to travel long distances to trade cattle. They were the troops of cattle, which in Portuguese means "tropeiro."
To give you a better idea of how long those trips would take, imagine traveling Brazil, one of the world's largest countries, on a horse. It would take months.
That's why they needed provisions that could last long without refrigeration, such as beans, flour, etc.
Feijão Tropeiro is made with collard greens, eggs, beans, bacon, pork, and cassava flour.
3. Brazil traditional food: baião de dois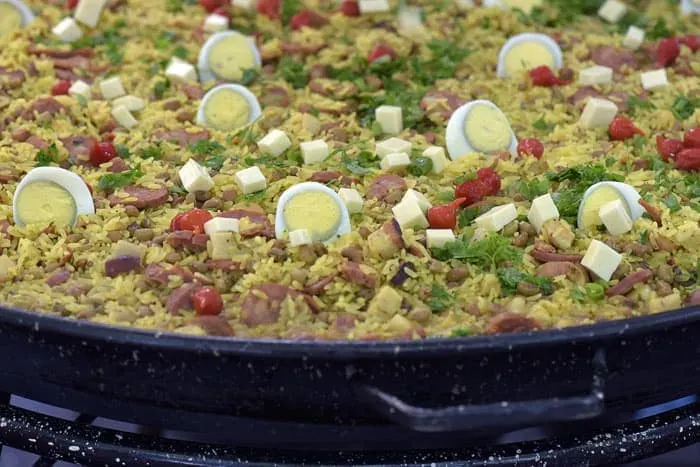 Pronunciation: bah-ee-ÃUM di DO-ees
Popular in the north and northeast, especially in Ceará State, baião de dois has this name because of its two main ingredients: rice and black-eyed peas. You'll understand it in a minute.
Baião is a musical rhythm in Brazil, where two people dance together – very common in the northeast region – like rice and black-eyed peas get together in this dish.
Depending on the state you are in, locals serve different variations of baião de dois, which will rely on the local weather and ingredients, but they're all tasty.
Besides rice and black-eyed peas, baião de dois is also made of pork, curd cheese, bacon, onions, garlic, and oil.
Pssst: Check out my Brazilian pantry on Amazon!
4. Acarajé with vatapá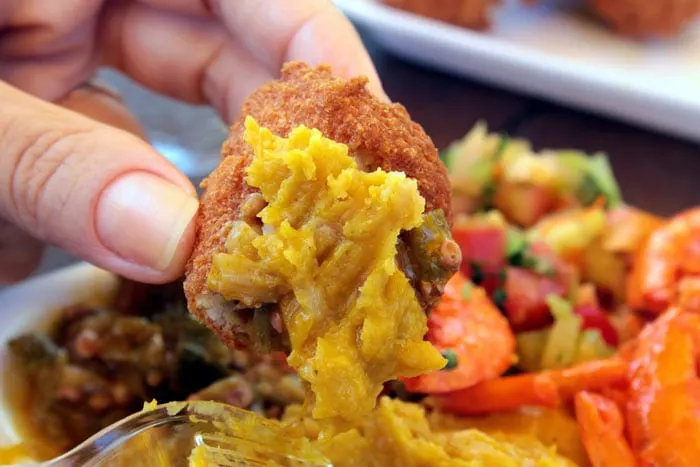 Pronunciation: ah-kah-rah-JEH & vah-tah-PAH
The West African cuisine had a massive influence on this Brazilian dish, which is widespread in the northeast region of the country.
Acarajé (Brazilian falafel) is a delicious meal/street food made from a deep-fried ball of peeled black-eyed peas and seasoned with chopped onions and salt. Then, it's cut open and filled with vatapá.
Vatapá is basically a tasty creamy paste made of shrimp, coconut milk, bread, finely ground peanuts, and palm oil.
It's tantalizing. No joke!
This cream, as we know in Brazil, is a local variation of a West African dish that came to the country with the slaves.
And because they couldn't find the same ingredients in this new South American land, the recipe as we know today is the Latin version of it, which became a traditional recipe from Brazil with the years.
Tip from a local: When you order food in the northeast region, if the attendant asks if you want your meal/street food warm or cold, say cold. Always.
They don't mean the temperature by warm/cold, but how spicy the dish will be. Even their "cold" can be too hot to handle for those who are not used to their peppers.
Read next: 8 Brazilian cocktails you should be drinking
5. Brazil's favorite food: escondidinho de frango com mandioca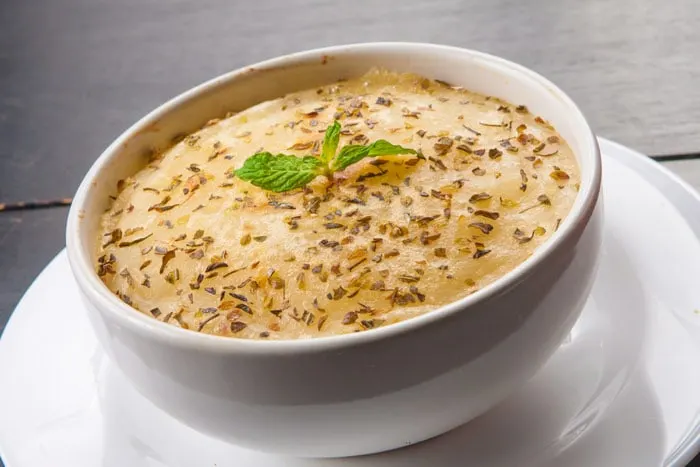 Pronunciation: Es-con-dee-dee-nio di frÃ-goh con mãn-di-OH-cah
Whenever I go to Brazil, my mom wants to know what I would like to eat at my welcome reception. My answer is (almost) always the same. I ask this traditional Brazilian dish we all love.
Escondidinho de frango com mandioca is a typical dish in the northeast region (we owe them a lot), and its main ingredients are flavorful chicken under a layer of cassava purée au gratin.
And when served accompanied by beer…
Oh, and in case you were wondering escondidinho means hidden in Portuguese. The name refers to the meat which is hidden under the cassava purée.
6. Bobó de camarão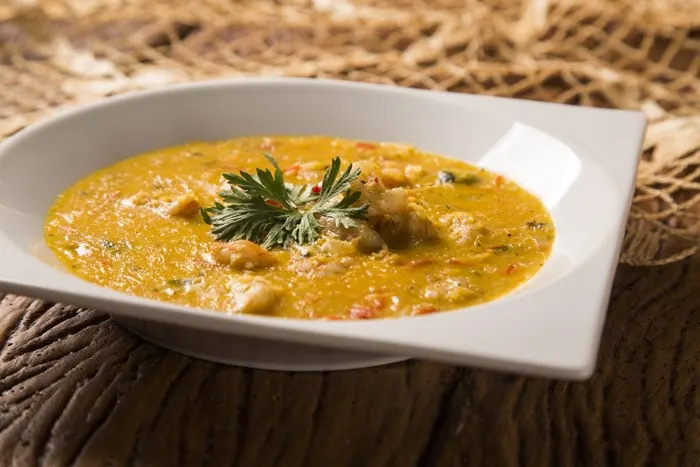 Pronunciation: bo-BOH di cah-mah-RÃUM
The first time my mom prepared this dish, I was about 9 years old, and I still remember that moment. I was blown away.
This chowder-like cassava purée with shrimp and many other delish ingredients is usually served with rice, which is prepared the Brazilian way, of course, with garlic, onions, and salt.
To summarize, bobó de camarão is the definition of mouthwatering. Lemme know if you agree once you taste it.
7. Galinhada
Pronunciation: gah-leen-YA-dah
Galinhada is a delicious one-pot chicken and rice dish. (Portuguese: galinha).
Typical from the states of Minas Gerais and Goiás, galinhada was a dish prepared by the Bandeirantes during the 17th-century.
Bandeirantes were men of the first and second-generation of Portuguese in Brazil who would travel around the country, mostly in Minas Gerais, Goiás, and São Paulo to enslave natives and find precious metals in the country to send to Portugal.
Yes, they were jerks, but they did one good thing – galinhada, which you should totally cook it at home or try it while in Brazil.
It's prepared with rice, onions, bell pepper, onion, garlic, and peas, among other ingredients.
8. Brazilian rice and beans (arroz e feijão)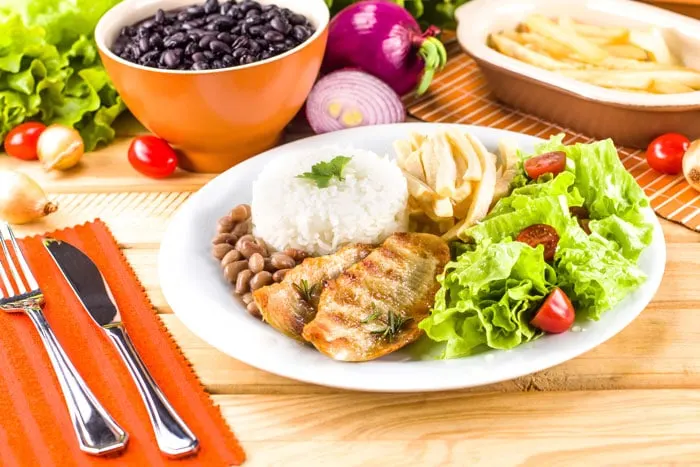 Pronunciation: ah-hoz & fay-JÃUM
Brazilian rice and brown beans (arroz e feijão) is arguably the most typical Brazilian dish after feijoada.
To clarify, arroz means rice and feijão means bean. They're prepared separately and served together, often with an omelet or chicken with onions and even a simple, but enjoyable tomato/lettuce salad.
Many times, the beans have a hearty, thick broth. While the rice is prepared with onions, garlic, and salt, and I can guarantee you it is tasty.
9. Moqueca, Brazilian fish stew
Pronunciation: mo-keh-KAH
I can't possibly describe with words how delectable moqueca is. My favorite one is made with shrimp.
This Brazilian fish stew has many variations and its ingredients will depend on the region it is being prepared, but it's easy to find it in the states of Bahia, Ceará, Espiríto Santo, Pará, and Pernambuco (one of the best places to visit in Brazil).
In some states it might have chicken, others shellfish, shrimp, fish or even be a vegetarian version of this dish.
Tantalizing when accompanied by rice, moqueca is one of the most typical dishes in the northeast region.
10. Coxinha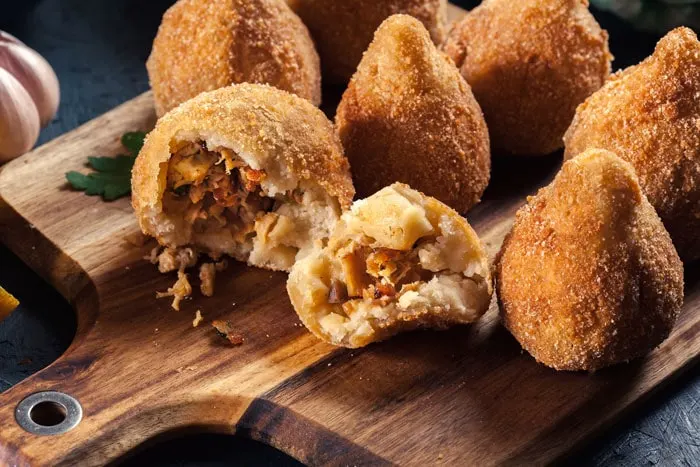 Pronunciation: co-SHEEN-ya
Coxinha is probably one of the reasons my husband fell in love with me. Ok, with Brazil then because he fell for me long before that. Hopefully.
Jokes apart, coxinha is Brazilians favorite street food, myself included, and it'll become yours too. It basically is a deep-fried chicken croquette, which sometimes is also filled with cheese.
Tasty. Delectable. Perfect. Love it.
The 2nd most popular Brazilian street food has this name because its form resembles a chicken thigh, which is called coxinha in Portuguese.
Oh, and know that coxinha is often accompanied by beer or caipirinha. Isn't this enough reason to travel to Brazil? After all, Brazilian nibbles are a godsend.
11. Pastél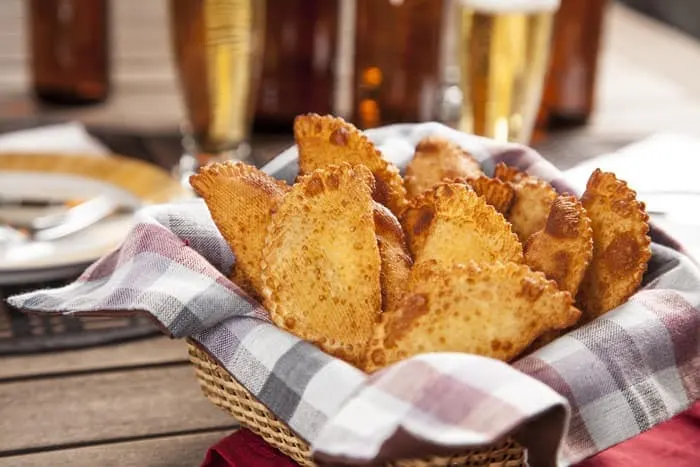 Pronunciation: paas-TEH-U
Pastél is by far the most famous Brazilian street food, and it's perfect when accompanied by sugar cane juice. This combination is a must-do in Brazil. Seriously. The contrast in flavors – sweet juice and savory nibble – is unique.
This flat fried dough can have many different fillings, and however the most common ones are melted cheese and minced meat, you can even find pastéis (the plural form) in sweet flavors too.
12. Pamonha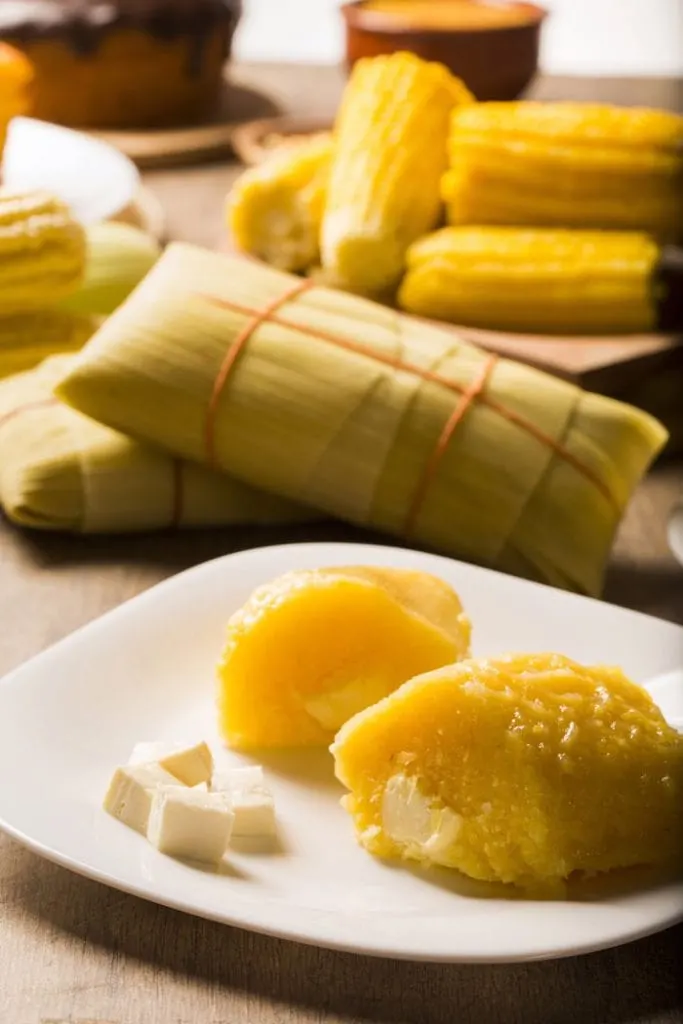 Pronunciation: pah-MON-nia
Famous during the Festa Junina, also known as June Party, this treat can be either sweet or savory. The sweet version is my favorite one, though.
It basically is grated and cooked sweet corn wrapped in corn husks. After that, the corn husks are tied and carefully put into a pan to cook for one hour.
Finally, they become a succulent puree which is ready to eat.
Tip from a local: Pamonha accompanied by freshly made coffee is a godsend.
13. Empada – Brazilian hand pies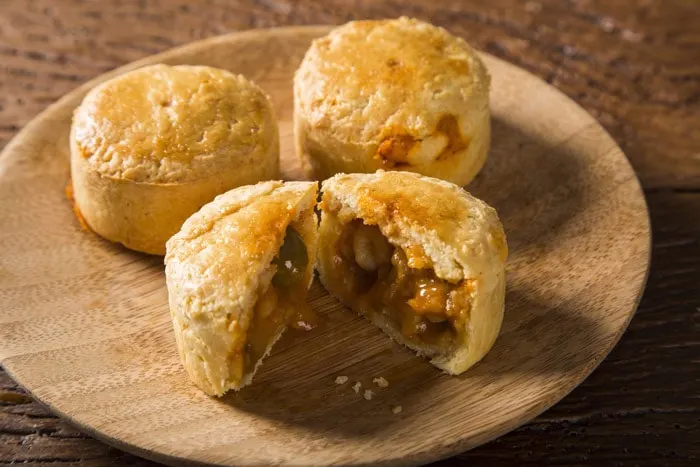 Pronunciation: ein-PAH-dah
Originally from Portugal, this little piece of heaven can either be sweet or savory, but this time I prefer the savory version of it.
Empada shouldn't be confused with the empanada from our neighbors here in South America, though.
Simply put, this appetizer is a teeny tiny quiche that almost melts in your mouth.
It can be filled with literally anything – chicken, fish, or chocolate -, but the flavor I like the most is hearts of palm.
Oh, and don't forget to order a cup of coffee too.
14. Pão de queijo, Brazilian cheese bread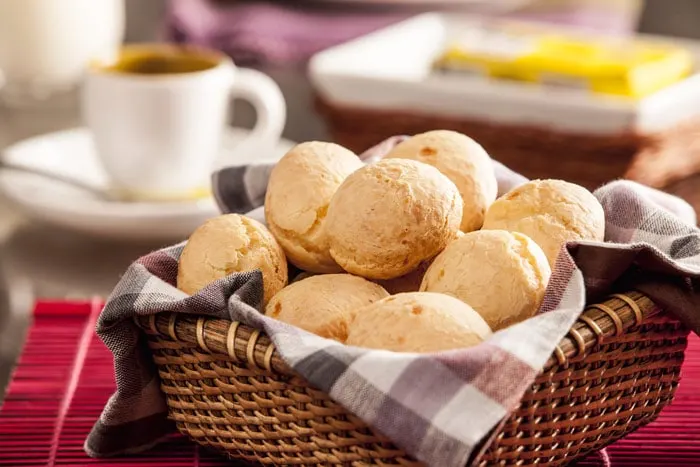 Pronunciation: pãum di keh-ih-jo
You've probably heard of it as Brazilian cheese bread. This small, rounded bread is the perfect afternoon snack or even breakfast accompanied by coffee, as always.
The legend has it that pão de queijo comes from the state of Minas Gerais and it was created by slaves in the 18th-century, who would cook the leftovers to feed themselves.
Well, no registry was ever found to confirm this story, but this delicacy only became popular in the whole country in the 2nd half of the 20th-century.
15. Mousse de maracujá, passion fruit mousse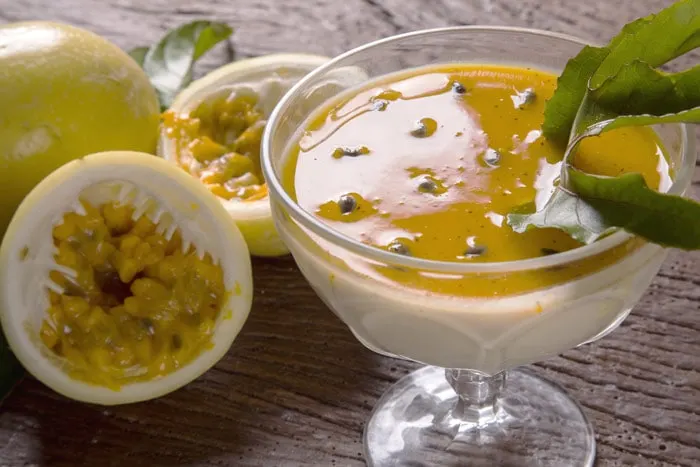 Pronunciation: mah-rah-kuh-jAh
Passion fruit mousse is a refreshing dessert that is easy peasy to prepare. At home, we used to have it after lunch and it was such a good moment!
As you might know, Brazilians have a warm lunch just like dinner, so it's nice to have this contrast between the meal and a sweet and slightly sour dessert.
Also, the big, juicy, and sweet fruits in Brazil definitely make easy to prepare lots of fruit-based desserts.
16. Farofa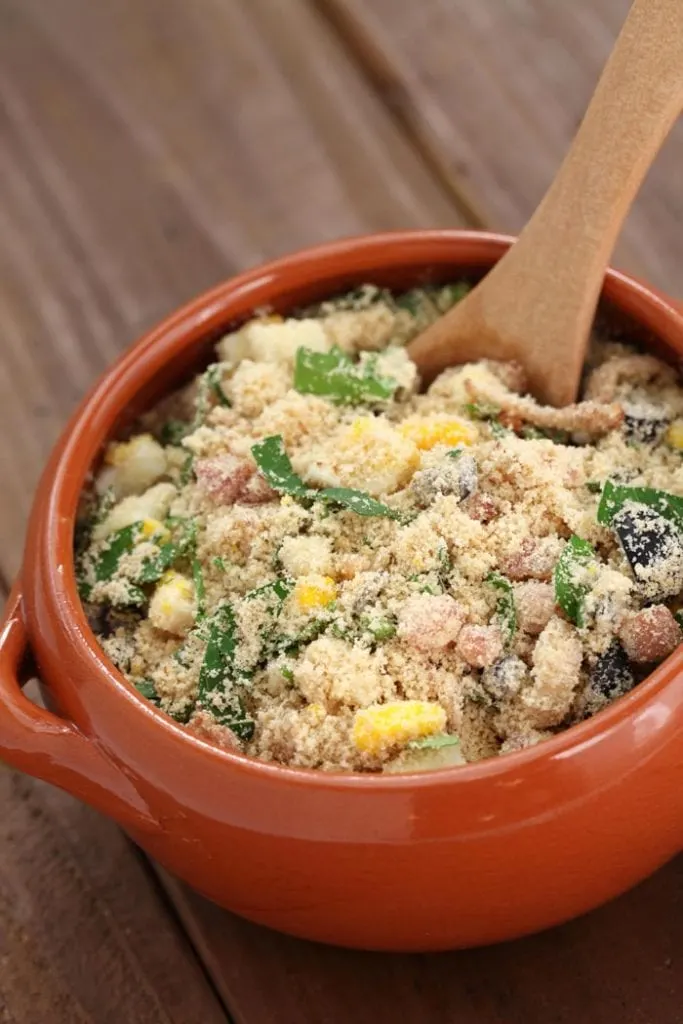 Pronunciation: fah-ROH-fah
My husband calls it "tasty sand," and to be honest, it does look like sand, but the taste…oh, my! The taste is divine!
Put simply, farofa is a toasted cassava flour mixture (or manioc flour if you prefer) that can contain bacon, sausage, seasonings, and even eggs when it's homemade.
Most Brazilians simply buy it in the supermarket because it's easier, but homemade is naturally much tastier. Get your easy farofa recipe here.
It delivers a punch of rich taste to meat in barbecues, and it's especially tasty when served with beans or stew, such as feijoada.
Farofa has a smoky and delicious salty flavor. You'll love it.
17. Vinaigrette Salsa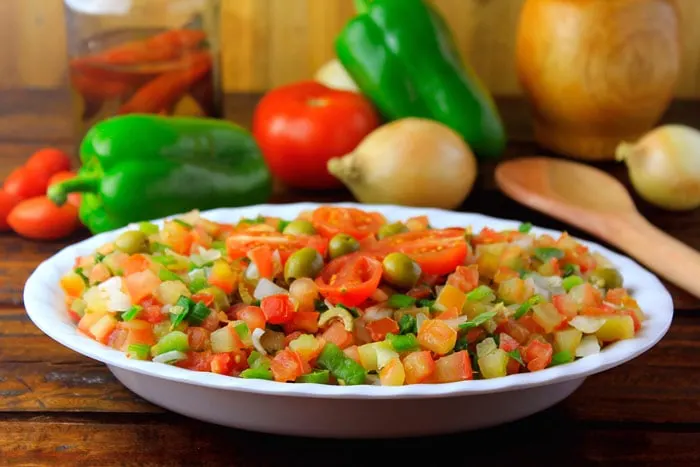 Pronunciation: vee-nah-grE-tche
Brazilian's favorite sauce for barbecues and pastél is the vinaigrette salsa, or vinagrete in Portuguese.
This Brazilian vinaigrette salsa is made of olive oil, vinegar, tomatoes, chopped onions, and parsley or coriander.
As said, this simple sauce is perfect for barbecue and street foods, but the only difference between the usage of it in one case or another is the size of the tomato pieces.
Details aside, this vinaigrette salsa has a salty-sour flavor with a fresh vegetable aftertaste. Perfect when served with hearty food, such as feijoada.
Read next: 9 traditional Brazilian drinks to try before you die
18. Tapioca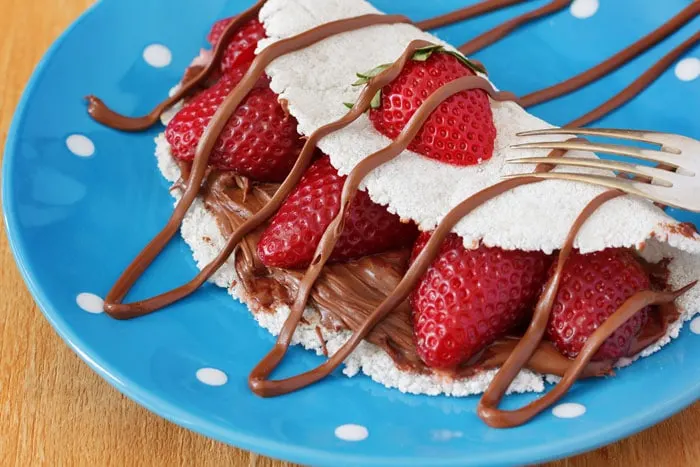 Pronunciation: tah-pee-OH-kah
As you might have noticed by now, cassava is an essential ingredient in Brazilian cuisine. Many dishes use this plant for the most diverse uses – to thicken it or as a vegetable -, but that's not all.
We also extract starch from its roots to prepare puddings or one of Brazilians' favorite dish, the tapioca pancakes, also known as beiju.
This dish was first documented in the 16th-century by the Portuguese when they saw the native Brazilian Indians eating it for breakfast.
Sweet or savory, these pancakes are served in a broad assortment of flavors. My favorite one is sweetened condensed milk with strawberries.
But don't let this natural flour trick you, tapioca is pure carbs and fills up pretty well.
19. Brigadeiro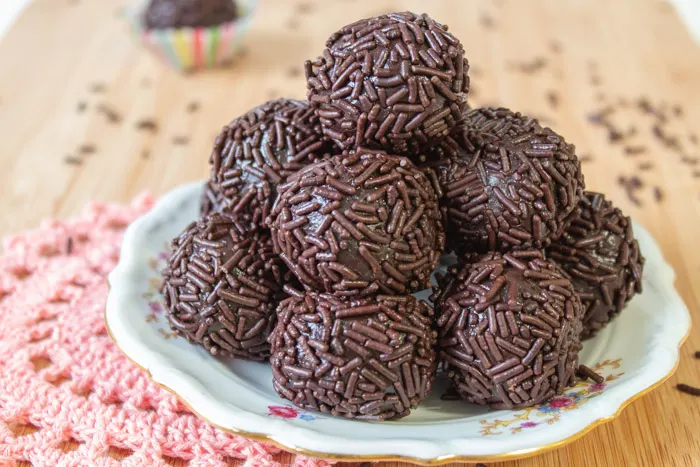 Pronunciation: bree-gah-DAY-ro
Incredibly tasty and tempting, that would be my best definition for brigadeiro.
These Brazilian chocolate truffles are the right dessert for someone who has a sweet tooth like me. In fact, this dessert is kids' (and adults) favorite one, and I have never been to a children's party where brigadeiro wasn't being served.
This delicacy is by far one of the easiest Brazilian recipes in this list as it only requires butter, sweetened condensed milk, cocoa powder, and chocolate sprinkles to garnish it. Nothing more. But you could definitely create new brigadeiro flavors as you please.
Funnily enough, the brigadeiro (English: brigadier) was created to support the political campaign of a politician, Brigadier Eduardo Gomes.
Well, he didn't win the election, but Brazil certainly won something its people will never forget.
Read next: Lemon brigadeiro recipe
20. Beijinho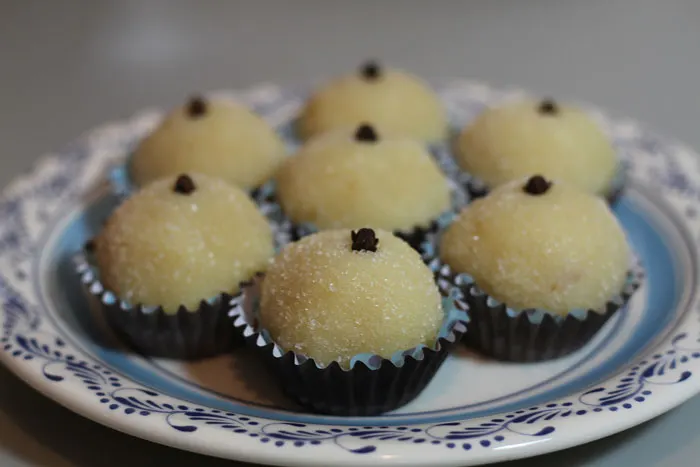 Pronunciation: bay-JEE-nio
Little kiss. That's the literal translation of this Brazilian coconut truffle's name, which is a yummy version of brigadeiro.
The legend has it that the original recipe came from Portugal and was made with almonds, but due to our tropical influences, the beijinho recipe changed a bit.
And like brigadeiro, this delicacy has only four ingredients – sweetened condensed milk, coconut flakes, butter, and caster sugar or coconut flakes to cover it. Oh, and the final touch, a clove to garnish.
21. Carrot cake with chocolate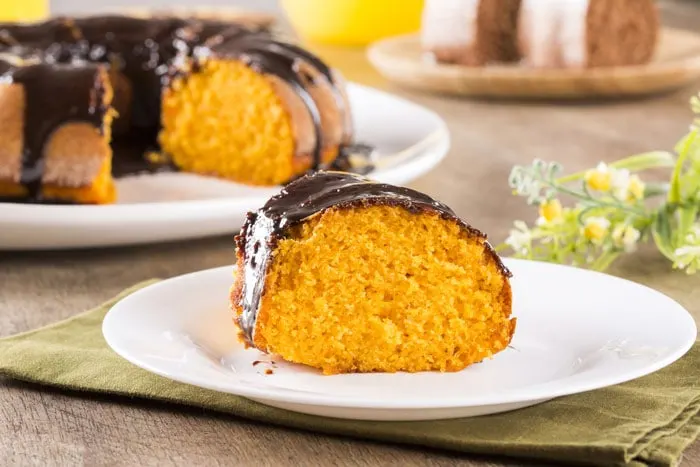 Light and moist, this carrot cake with chocolate glaze melts in your mouth.
I still remember my mom used to prepare it at least a couple of times a month, and it's simply scrumptious.
And although many cuisines also have a similar recipe, this Brazilian carrot cake recipe is unique because of its simplicity and chocolate glaze.
Serve it accompanied by freshly made coffee, and all you'll be able to say is "nom nom nom."
22. Açaí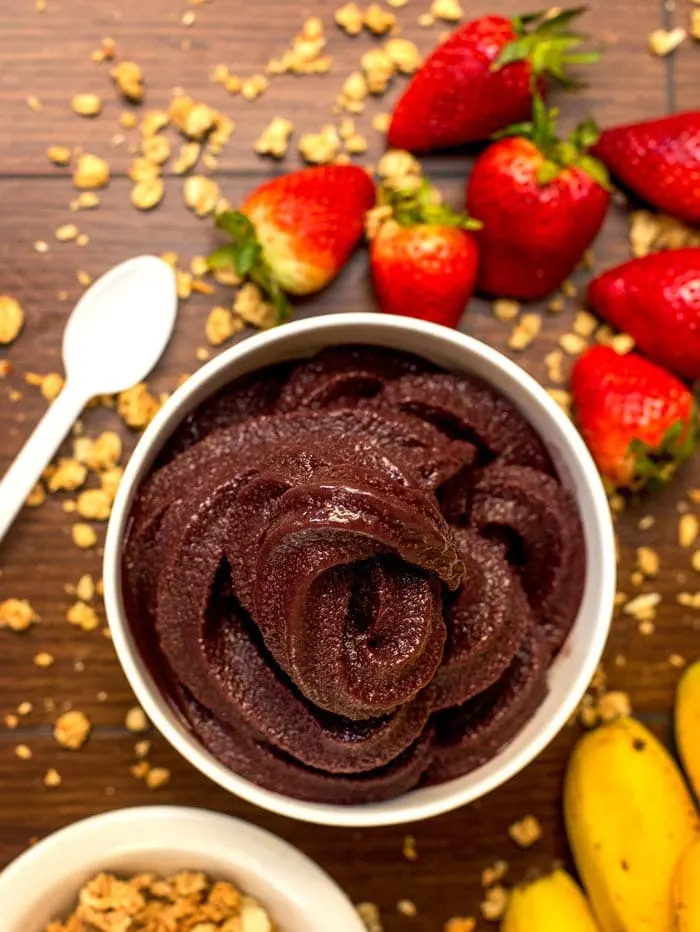 Pronunciation: ah-ssah-ee
Originally from the Amazon region, this purple fruit accounts for about 80% of all smoothies in the country, give or take.
If you're traveling to Brazil during summer, be sure to order an açaí bowl with fruits, but here goes a piece of friendly advice: take it easy.
Although açaí is tasteful, this Brazilian fruit is also high in calories, and depending on the toppings you choose, a bowl can easily have 1,000 calories.
Well, an açaí bowl a day keeps the doctor away, they say. Cut down on the amount of sugar you put in it, and you'll be ok.
23. Quindim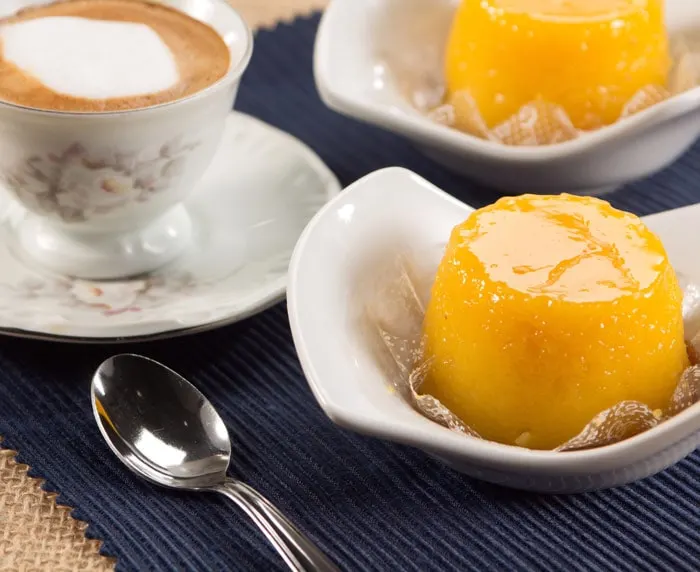 Pronunciation: keen-djin
The story of the quindim begins in the convents in Portugal, where the nuns used the egg whites to starch their clothes, but because they didn't want to throw the yolk away, the same nuns created a sweet out of it by simply adding almonds.
When the Portuguese came to Brazil, they brought the recipe with them, but they missed an essential ingredient, the almonds.
Instead, the African slaves would bake this candy together with an abundant ingredient available in Brazil – coconut. So the Brazilian recipe has egg yolk, sugar, and ground coconut.
Created by the Portuguese, adapted by the African in Brazilian land and adored by all of us.
24. Condensed milk pudding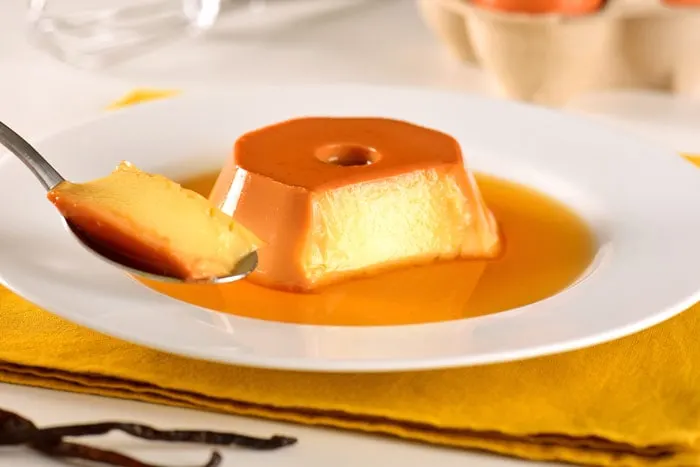 My. Favorite. Sweet. Ever.
Condensed milk pudding (Pudim de leite) is by far one of the most traditional Brazilian foods. There's simply not one Brazilian who doesn't know it. Or doesn't like it for that matter.
The original recipe came from Portugal and, later in Brazil, was adapted to the newest version with sweetened condensed milk.
Soft and very light, this pudding melts in your mouth and has a caramel aftertaste. Finger licking good.
25. Brazilian moist coconut cake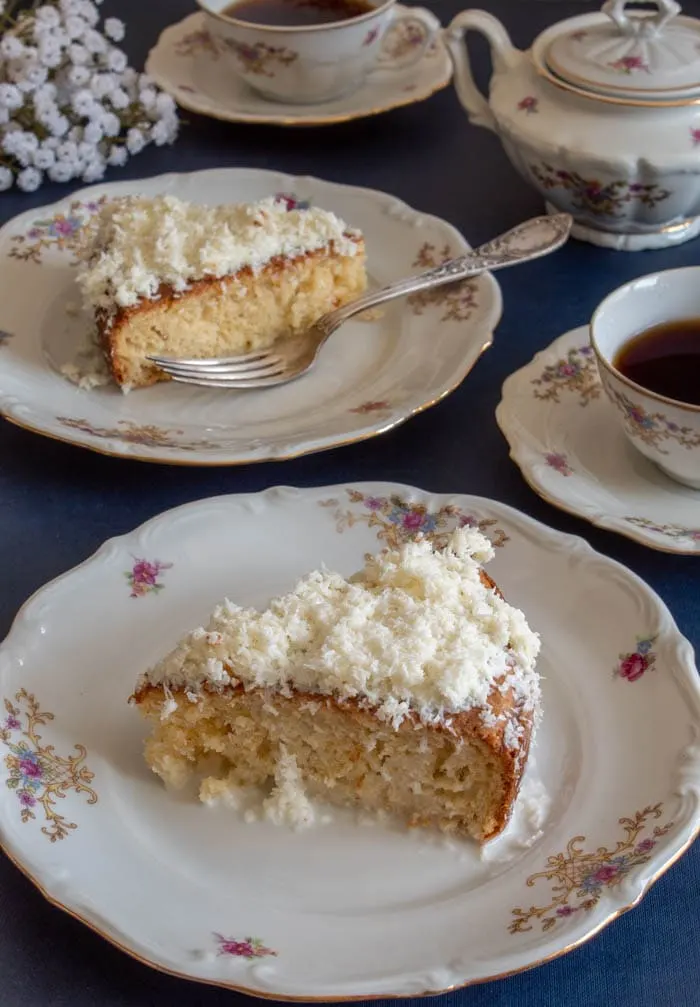 Yummy. My grandma's favorite cake is moist, nicely sweet, and served cold. Yes, cold. Perfect for the Brazilian climate.
The dough is quite simple, but its secret lays on the topping – a sauce made of sweetened condensed milk, coconut milk, and shredded coconut. And that's enough to make it a luscious cake.
Early this summer, my husband asked me for a Brazilian recipe, and since most of our dishes are either hearty or heavy – and the summer in the Netherlands is kinda sultry -, I realized something light was better, so I told him about the Brazilian coconut cake.
Needless to say, he loved it, and I was happy to have a piece of this taste of heaven again.
26. Sicilian ricotta pie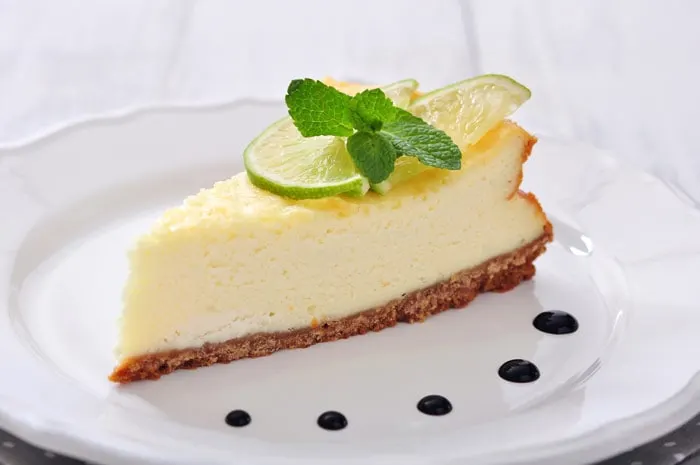 This one is my mom's favorite. Maybe you didn't know, but I'm basically opening the recipe book we have at home. This book passed by generations of women in our family and now it brings the most traditional Brazilian foods to you.
Feel special, ok?
Anyway, this Sicilian ricotta cheesecake is nicely sweet and a tad sour pie, which makes it even tastier.
It's perfect in the summer, or even during our warm winters for that matter. If you have the opportunity to have a piece of it, be sure not to miss it.
27. Curau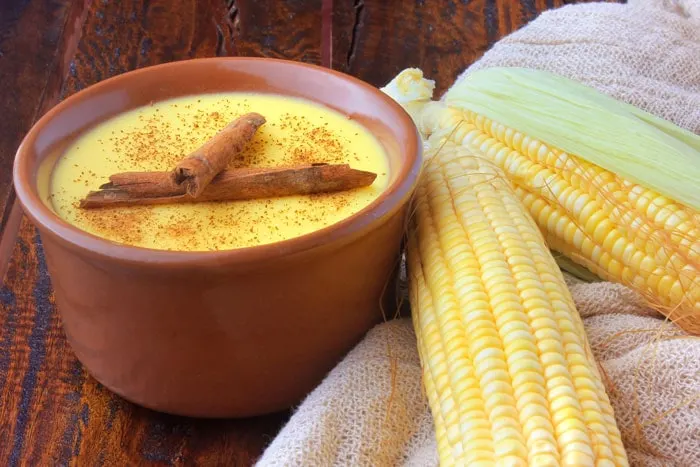 Pronunciation: kuh-rah-uh
Similar to custard, curau is a cream made of green corn, milk, and sugar. Oh, and cinnamon to sprinkle on top of it.
It's very common during the Festa Junina (June Party), and it has many different names throughout the country, such as canjica (in the northeast) or curau/papa de milho (in Minas Gerais and Rio de Janeiro).
But regardless of where you go in Brazil, the curau will often be a dish that will put lots of smiles to people's faces, including yours.
28. Pavê
Pronunciation: PAH-ve
Pavê is a dessert similar to tiramisu, but much, much better.
This dessert consists of layers of Marie cookies or ladyfingers and either chocolate cream or any other flavor you might want. In fact, that's the reason for its name, which makes reference to the word pavement.
Pavê is often served as a Christmas dessert.
Here goes a little Brazilian culture for you: Its name is commonly used in a terrible dad joke. That's because pavê sounds like para ver (English: to see). And since it is a dessert, people joke "É pavê ou pacumê?", where pacumê sounds similar to para comer (English: to eat).
"Is it to see or to eat?" Yes, I know. Horrible joke. All my uncles did it every single time we had this Brazilian dessert, and everybody else would roll their eyes.
29. Sonho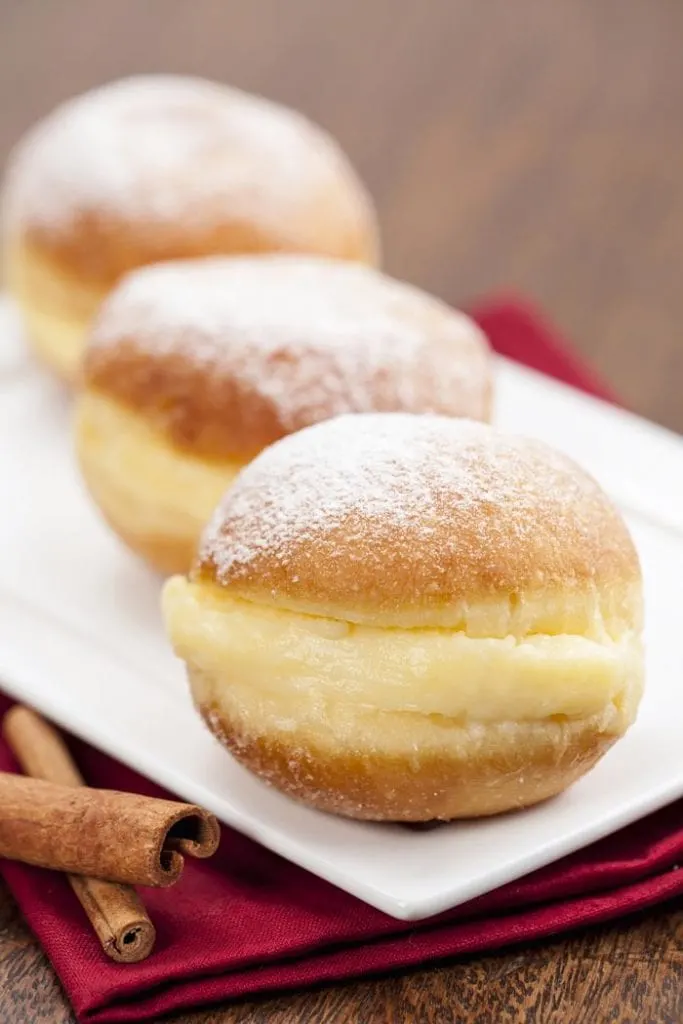 Pronunciation: SO-nio
As the name suggests, this pastry is a dream. Sonho means dream in Portuguese, which is not surprising at all since this Brazilian doughnut is incredibly tasty.
But to look for the story of sonho is a real nightmare. (Sorry, I couldn't avoid the joke!)
That's because there are several versions of it, but the most widely accepted story is that in the 17th-century a young German baker, who was ashamed for being expelled from the Army, decided to deep fry some dough instead of baking them.
And so was born the sweet called in many countries as "Berlin ball." Later on, this delicacy was spread all over the world with a few variations and many names, and one of them was sonho.
Now you can find them in bakeries in the most delectable flavors, such as dulce de leche, brigadeiro, beijinho, to name a few.
30. Bem casado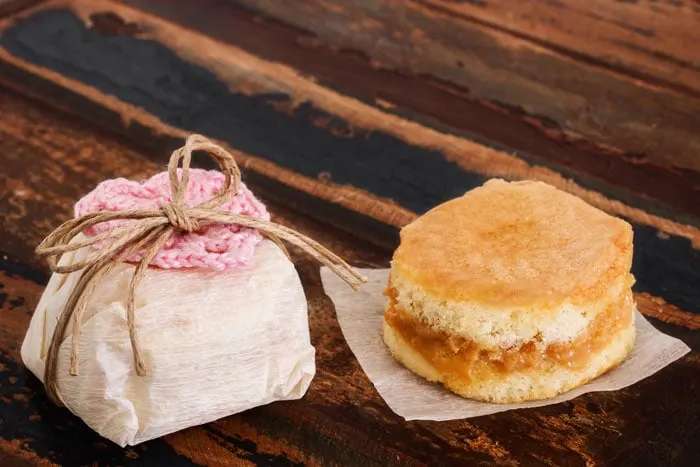 Pronunciation: bein kah-zah-do
When I was a child, my family and I attended lots of weddings, and whenever we would arrive at the party, my first thought would always be "where are the bem casados?" Yes, I've always had a sweet tooth.
Bem casado (English: happily married) is the famous Brazilian wedding cookie which is carefully wrapped in crepe paper and bakers twine.
It's a lovely and heavenly Brazilian tradition to give these cookies to the guests as they leave the wedding, but many people, myself included, try to sneak around and get one or two cookies more. C'mon, it's so good!
This Brazilian treat resembles a lot the French macarons as it has a layer of dulce de leche sandwiched between two round, flat discs of sponge cake. It's divine!
Wrapping up on Traditional Brazilian food
By now, you already have noticed that Brazilian food is hearty, full of fresh vegetables, and love. Delicious, to say the least.
At first, it might seem a bit difficult for vegetarians or vegans to eat their way through the country, but these traditional Brazilian foods can also be adjusted to your liking, especially now that the vegan/vegetarian community is growing faster.
So now tell me. Which of these traditional Brazilian dishes appeals to you the most? Have you had any of them? Comment below, I'd love to hear from you!
Did you like this article about food in Brazil? Then pin it to your Pinterest food board!