Planning a trip to see the best Brazil waterfalls? I've got you covered with this extensive guide on the best waterfalls in Brazil, including a handy map to find them.
Brazil – a country of continental proportions filled with sun-kissed beaches, rugged mountains, mystical islands, and cute towns.
As the world's most biodiverse country, it's not a surprise that Brazil is full of dramatic waterfalls.
From the majestic Iguazu Falls to the romantic Tabuleiro Falls, I bring you a list of incredible Brazil waterfalls that you will want to add to your itinerary.
Chasing Brazil waterfalls
Obviously, it is nearly impossible to say which waterfall in Brazil is the absolute best one.
Yet, as a passionate Brazilian, I can only share my favorite waterfalls and cascades with you.
So for me, they are the best ones, but my all-time favorite is the last one in this article… what's yours?
If you are still planning your trip to Brazil, I wrote lots of useful guides that might be helpful to you.
For instance, how to budget for your trip, best tours in Brazil, and a complete Brazil travel guide.
Tips for visiting Brazil waterfalls
Some waterfalls are in secluded areas where cellphones have no coverage, or the trail is very challenging. In those cases, it's advisable to hire a guide who is familiar with the terrain.
If you're traveling solo, find a guide or other travelers to join you in case you need any assistance along the way.
You will want to pack repellent as most of Brazil's waterfalls are in the wilderness, surrounded by dense forests.
Purchase travel insurance – I can't stress this enough. It's essential to have travel insurance in a foreign country, especially when you don't speak the local language. Click here to get a quote with Safety Wing (the insurance company I use)
Watch out for rocks underwater as well as the current as it can easily overpower even in shallow waters.
Whenever possible, plan your visit in the morning as some parks have a visitor limit.
Always have some cash with you for entrance fees or tipping the guides.
The 25 best waterfalls in Brazil
Click here to access the interactive map of the best waterfalls in Brazil.
Iguazu Falls, Paraná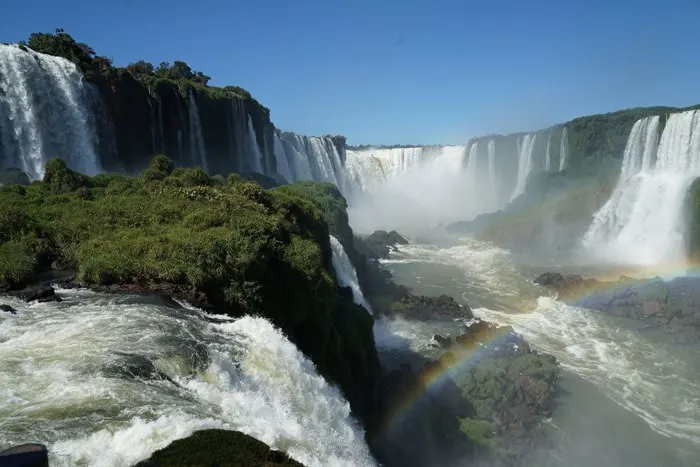 Iguazu Falls (Portuguese: Foz do Iguaçu) is nothing less than the world's largest waterfall system.
With 275 falls, cascades, and drops, the Iguazu Falls majestically span 1.7 miles (2.7km) in width. Its longest drop, Devil's Throat, is 269 feet (82m) high – it's impressive!
The thundering of millions of liters of water cascading down and crashing into the river is a sound you won't ever forget.
Iguazu, the most famous Brazil waterfall, is partially located at the National Park of Iguazu. It is considered a UNESCO World Heritage Site.
The other part of Iguazu, in fact, most of it is on the Argentinean side.
Ignoring the whole discussion on which side of the Iguazu Falls is better, walk down the catwalk board on Brazilian territory to have a panoramic view of the waters plummeting to the basin below.
Only then will you understand the meaning of its name, "big water" in Guarani, roughly translated from Brazilian Indigenous people's language.
Because this 150 million years old geological formation is the second most visited landmark in Brazil, be prepared to face the crowds and to get wet.
Still, visiting the Iguazu Falls is one of the best things to do in Brazil.
Nearest city/town: Foz do Iguaçu
Buracão Falls, Bahia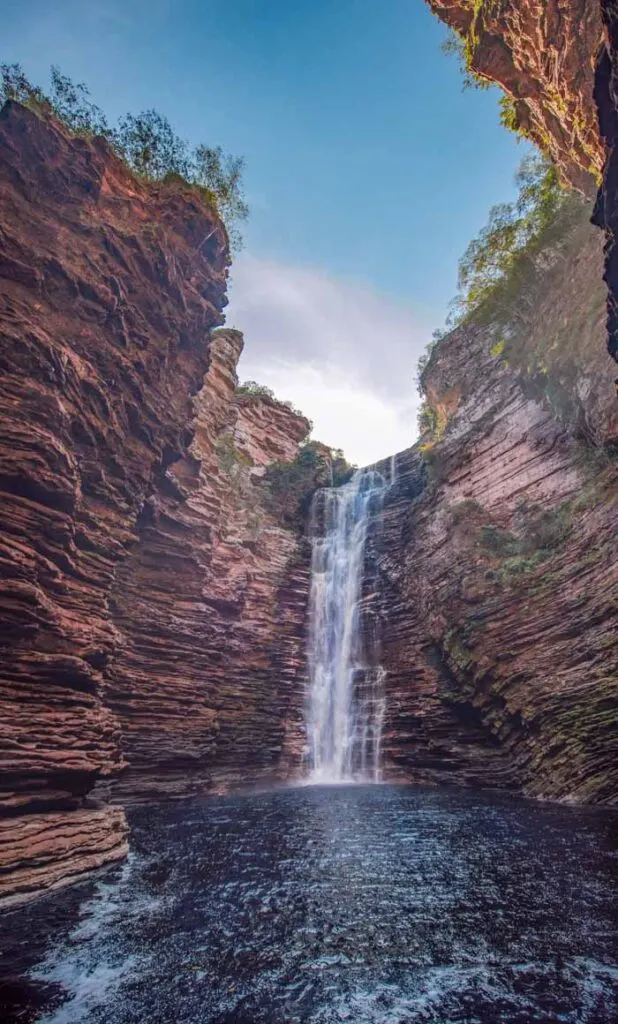 Of all the Brazil waterfalls, Buracão is one of the most impressive ones because it is nestled in a narrow and deep 279 feet (85m) high canyon formed millions of years ago.
Buracão means a big hole and is one of the highlights of Chapada Diamantina, a major national park in Brazil.
Buracão is unique because you hike for about an hour with a local guide (mandatory) along a river and other mesmerizing waterfalls to finish the hike walking in the river, facing the dramatic falls.
You can not only swim in the deep plunge pool in the gorge – your guide will provide you with a life jacket -, but also view it from above and look down the massive volume of water that streams down the river.
It's a moderate 3.7 miles (6km) out-and-back trail, but the refreshing bathe is certain to re-energize you.
Nearest city/town: Ibicoara
Conde D'eu Falls, Rio de Janeiro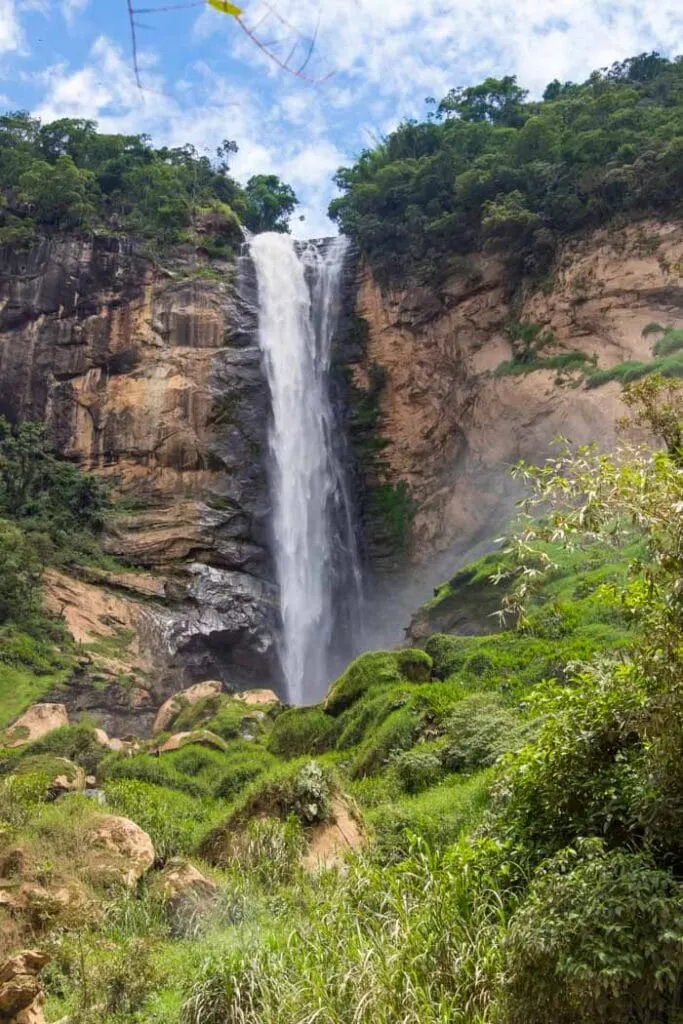 Conde D'eu is the highest waterfall in Rio de Janeiro State, reaching a whopping height of 416 feet (127m).
Named after Count of Eu, an essential figure in Brazilian history, this is a unique waterfall in Brazil as its shape is formed as the water cuts through the stone, dropping beautifully almost like a bridal veil.
Tourists and locals come here on sunny days to bathe, reconnect with nature, and photograph the striking landscape.
However, be warned it might be crowded during the weekends. Therefore, you will want to plan your visit to this waterfall during the week.
No local guide is necessary to get here.
Nearest city/town: Nova Friburgo
Salto São Francisco, Paraná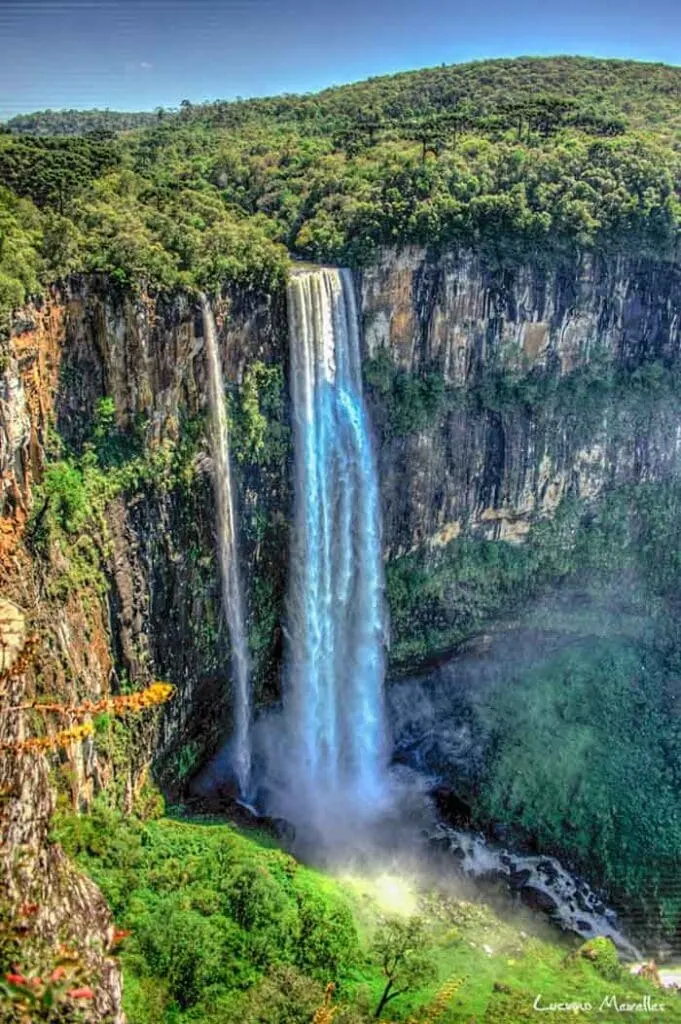 If you like dramatic scenes, you will want to consider including São Francisco Falls to your Brazil waterfall adventure.
Towering into the sky before pouring back down to the earth below, São Francisco Falls are the highest falls of the southern region with a drop of about 643 feet (196m).
Located in the São Francisco da Esperança Municipal Park, the falls are one of the most jaw-dropping places to visit in Brazil.
Its surrounding is filled with intense nature, and if you're lucky, you can spot little monkeys jumping between trees.
Reaching the base of the falls takes about 4 hours in a difficult 5 miles (8km) out-and-back hiking trail.
However, the frontal lookout is far easier and more accessible to reach.
Nearest city/town: Prudentópolis
Santo Izidro, São Paulo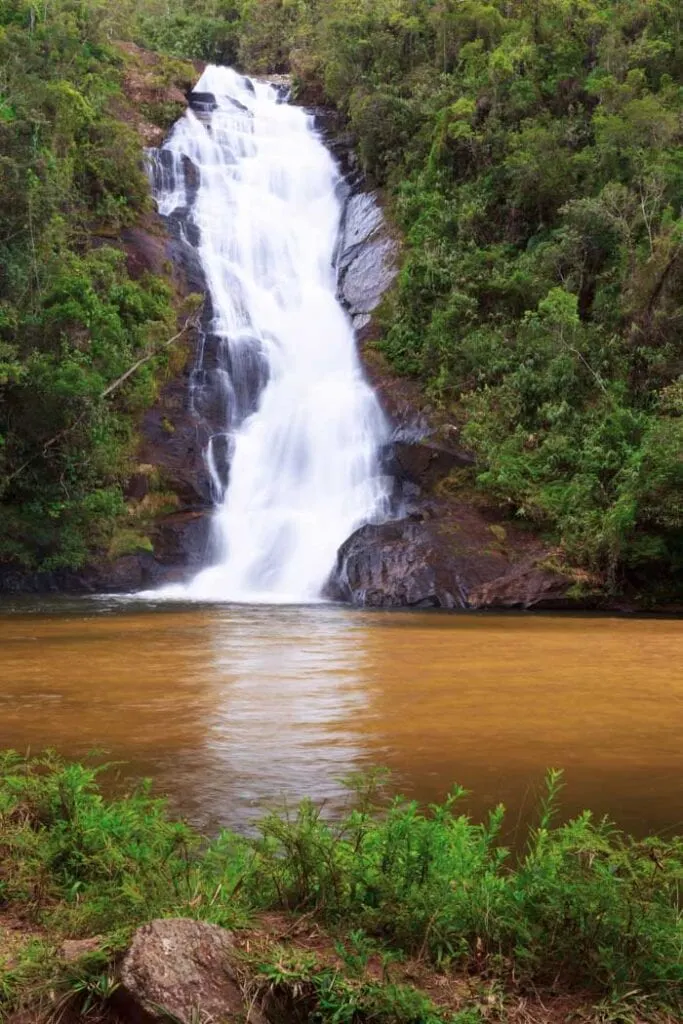 If you like your Brazil waterfalls serene and pretty, then Santo Izidro is for you.
As one of the falls at the Serra da Bocaina National Park, Santo Izidro is the closest to town and has not only a well-marked trail but also an easy one.
The waters from the Mambucaba River thunders down the sandy pool with an impressive 164 feet (50m) drop.
Stock up on snacks, refreshments, and other essential hike must-haves to enjoy a relaxing day around Santo Izidro.
Nearest city/town: São José do Barreiro
Couros Cascade, Goiás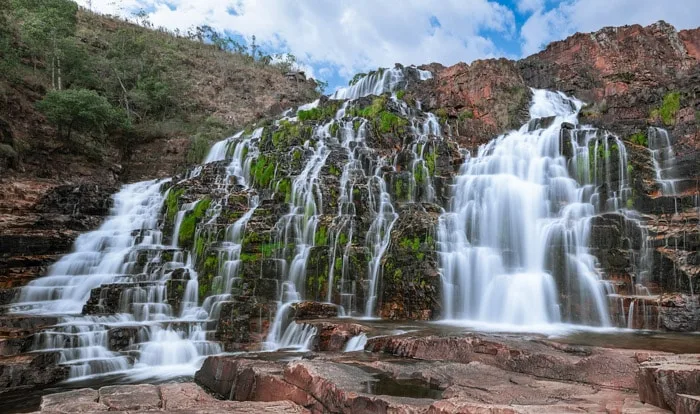 Couros Cascade is not only an ecotourism hub but also one of the major Brazil waterfalls' systems situated in the Chapada dos Veadeiros National Park. The whole complex is filled with natural pools and countless photo spots.
It's an easy hiking trail (3.7 miles [6km], out-and-back) where you can swim in serene pools, unwind, and chase the best waterfalls in Brazil.
Some of the falls in this complex are Almécegas 1000, São Vicente, and Muralha Falls. All of them are perfect for waterfall aficionados.
Be sure to bring snacks, water, trash bags, and wear comfortable walking shoes as there are loose rocks in the trail.
Nearest city/town: Alto Paraíso de Goiás
Fumacinha Falls, Bahia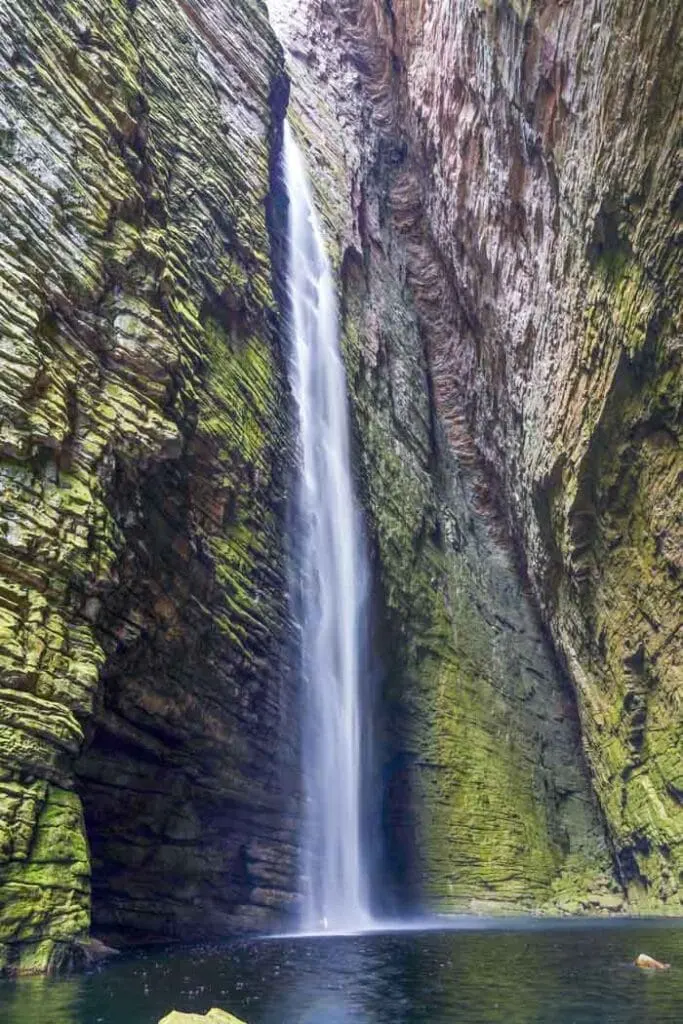 Fumacinha Falls is alluring and has a dramatic setting. First, its misty waters plummet 328 feet (100m) into a dark pool. Second, it's located between canyon walls reaching 918 feet (280m) high.
Of all Brazil waterfalls, Fumacinha is one of the most difficult to reach. Yet, it is absolutely worth your while.
The challenging 4-hour trail to reach the lower part of the falls is 11 miles (18km) long (out-and-back). It features lots of slippery stones as you walk along the river between the canyon walls.
It should only be made between April-October to avoid the rainy season – That's why a local guide is a must!
Once you get there, all the trouble is forgotten, and all you can do is stare in awe at the massive canyon and waterfall in front of you.
However, if you would prefer to go on a less challenging trail, the journey to the upper part of the falls is relatively easy compared to the lower one.
It is a 10 miles (16km) out-and-back that you can make in 4 hours, back and forth, without considering the time you will spend at the lookout.
The downside is you can't bathe in the refreshing and cold waters of the Una River.
Still, the Fumacinha Falls is by far one of the prettiest waterfalls at Chapada Diamantina National Park.
Nearest city/town: Ibicoara
Buraco do Macaco Falls, Mato Grosso do Sul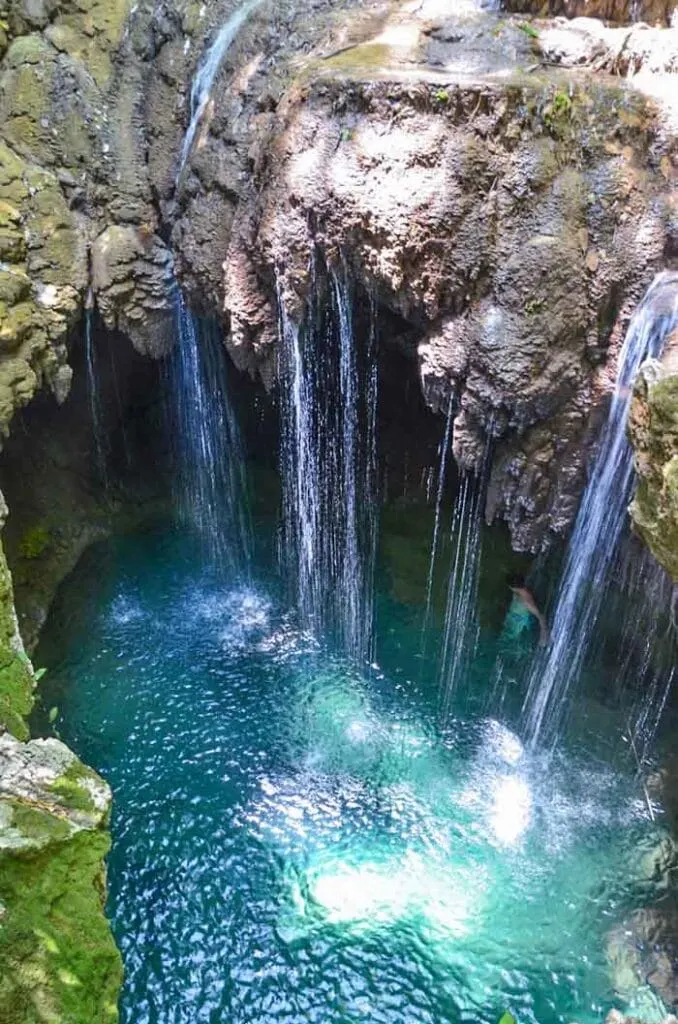 Buraco do Macaco (Monkey's Hole) is arguably one of the best waterfalls in Brazil.
Those who seek an eco-adventure will have a blast with this waterfall. Put simply, its stream opened a hole millions of years ago at the top of a cave, filling it with sparkling blue water.
This picturesque scene is visible not only from the surrounding platform above the cave but also from inside of it.
Access to the cave is only made through a narrow passage in the water, so you must swim to experience this natural splendor.
When it comes to Brazil waterfalls, Monkey's Hole is unique. Once inside, the view of water plummeting from the sky into the water makes up for a dramatic and unbelievable scene.
Nearest city/town: Bodoquena
Casca D'anta Falls, Minas Gerais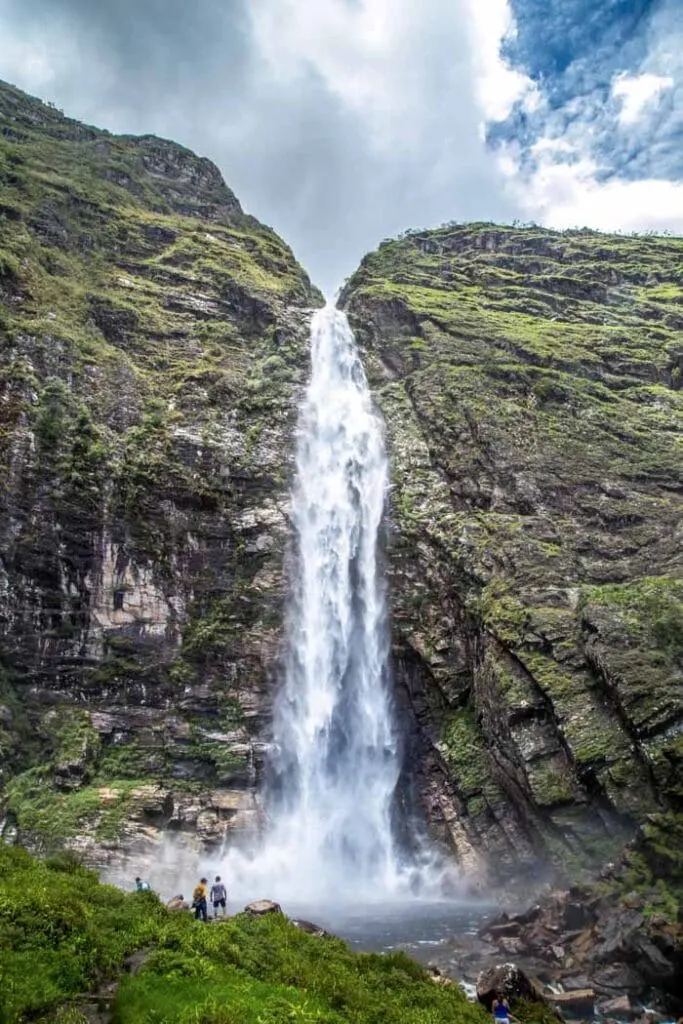 Casca D'anta is the highest fall of the São Francisco River with a drop of 610 feet (186m), making it one of the main attractions of the Serra da Canastra National Park.
The trail to reach the lower part of the fall is easy and takes about 30 minutes from the parking lot.
Be sure to bring swimwear with you to bathe at the pool with the plumes tumbling next to you.
But if you enjoy a good trek, venture on a 2-hour trail that leads you to the upper part of the fall.
Nearest city/town: São Roque de Minas
Fumaça Waterfall, Bahia
As one of the most magical sceneries of the Chapada Diamantina, Fumaça Falls is Brazil's second-highest waterfall with a drop of 1,115 feet (340m).
Fumaça translates to smoke in Portuguese. The waterfall has this name because it is so high that the water dissipates into a spray before striking the pool below, creating a dramatic mist.
While both the lower and upper part of Fumaça Falls can be visited, most tourists visit the upper part as it is an easier hike than the lower one.
The moderate 7.5 miles (12km) trek should take no more than 6 hours altogether, including time at the waterfall.
But to be able to see the water turning into smoke from the top of the falls, first, you must crawl out onto the edge of the clifftop, overhanging the canyon – it's not for the faint-hearted!
For adventurers, the lower trek is challenging and is 22.4 miles (36km) long.
Nearest city/town: Vale do Capão
Formiga Waterfall, Tocantins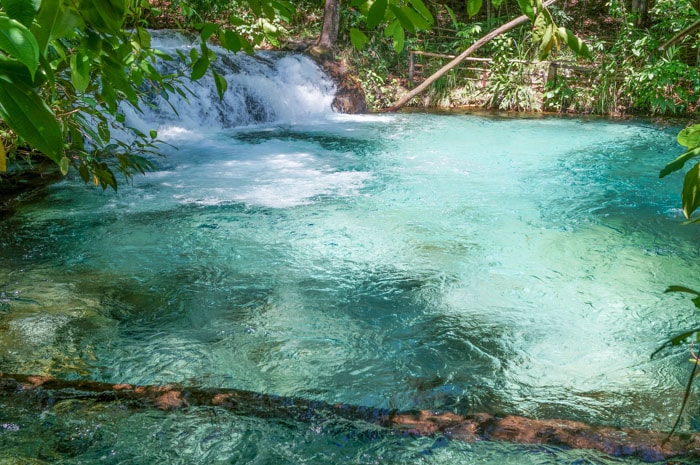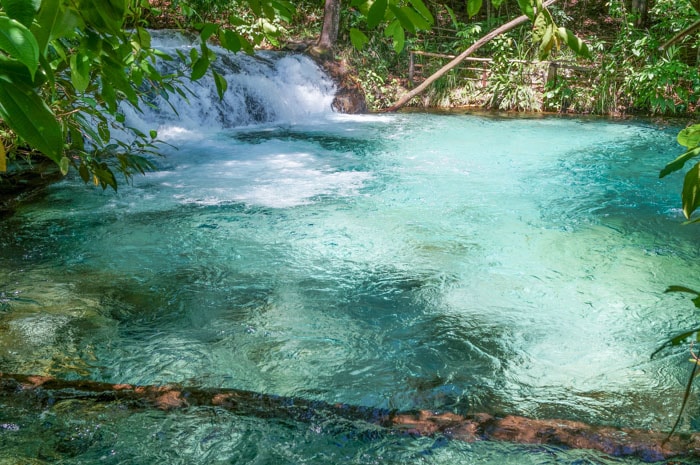 For anyone chasing waterfalls in Brazil, Formiga Falls (Portuguese: Ant) is a must!
The water cascades into a vivid turquoise green pool where you can see its bottom even in the deepest area.
The fine, white limestone sand feels almost as silk on the skin. That, together with the surrounding palm trees, makes it a hot spot in the region, so you should try to visit it on weekdays.
Besides, Formiga Falls is located in a private property, just outside the Jalapão State Park, so a small fee is asked from visitors.
Nearest city/town: Mateiros
Salto Yucumã, Rio Grande do Sul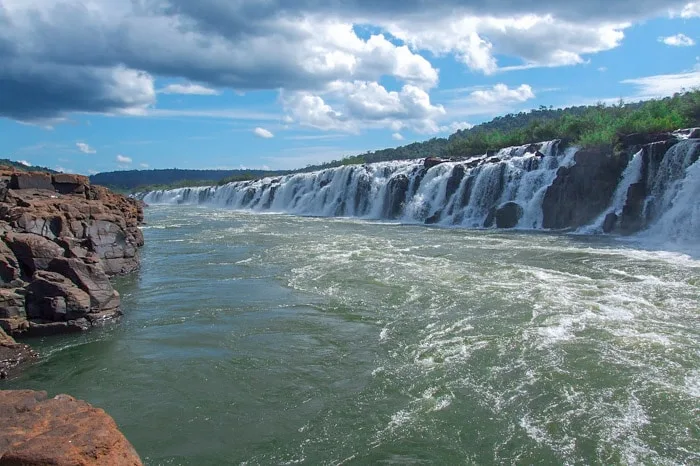 Although its drop is only 65 feet (20m) high, Yucumã, located in the Turvo State Park, is the world's largest longitudinal waterfall with a massive span of 5,905 feet (1.800m).
The region boasts a massive waterfall and a unique ecosystem with over 700 plant species, 300 bird species, and 30 medium and large mammal species, such as puma, armadillo, hart, and more.
Yucumã Falls lies at the Uruguay River right at the Brazilian-Argentinean border, so visitation only happens by boat.
Because its depth is around 328 feet (100m), bathing is not possible at these falls. Still, its natural splendor is worth the trip.
Nearest city/town: Tenente da Portela
Véu da Noiva Waterfall, Mato Grosso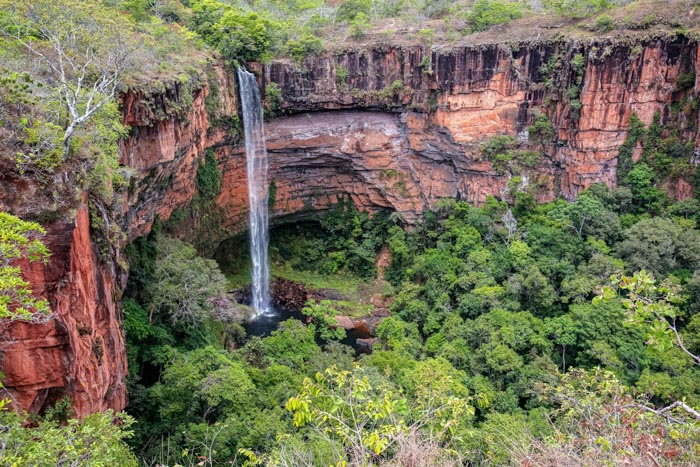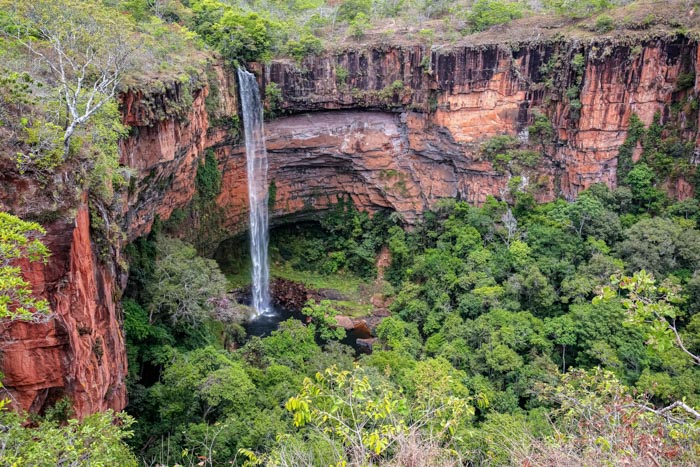 Véu da Noiva (English: Bridal Veil) is a charming waterfall in the Chapada dos Guimarães National Park.
It pours over a red sandstone cliff edge into a valley filled with lush forest – so majestic!
However, this 282 feet (86m) high waterfall is only for appreciation – visitors are not allowed to bathe in it.
If you want to take a nice and cold bath in a waterfall, there are plenty of other falls and cascades in the park where you can do that.
Still, you can take in the panoramic view from the lookout near the park administration (Km 50 of highway MT-251), or venture on a steep hiking trail to its base. But note, previous authorization is needed.
Beyond that, the impressive cliffs are home to many parrots and other bird species, so you might want to take binoculars with you to spot some wild animals in Brazil.
Nearest city/town: Chapada dos Guimarães
Caracol Falls, Rio Grande do Sul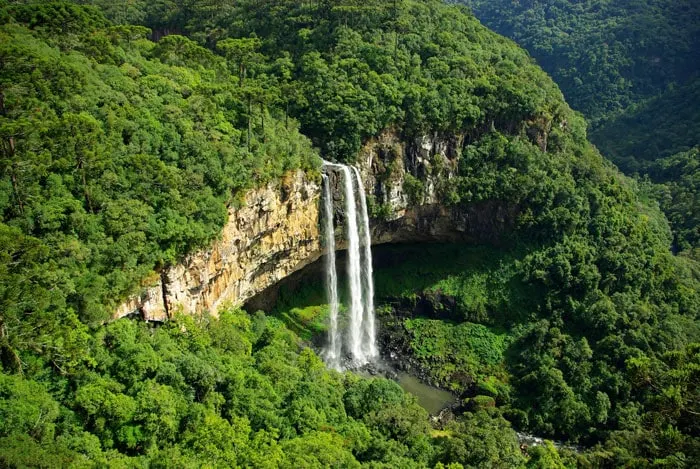 Among the dense forest, a stream of water finds its way through a basaltic formation until it drops about 426 feet (130m) back to the earth.
This magical scene takes place at Caracol Falls in the beautiful region of Gramado.
There are two vantage points where you can take in the view. The first is a lookout tower you reach by cable car at Serra Park. From there, you'll spot the waterfall on the left side.
But! If you're feeling adventurous, there is a short zip line for two people at this park.
The second lookout is in the Caracol Park from where you will see the waterfall on your right.
Both spots offer unique angles of this magical waterfall in Brazil. Because they're relatively close, you might want to visit both places.
Nearest city/town: Canela
Salto do Rio Preto 120m, Goiás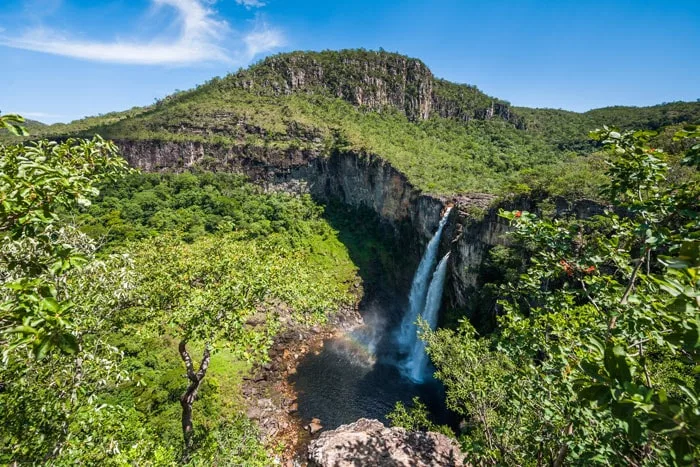 The Chapada dos Veadeiros National Park has many attractions, including breathtaking waterfalls. The highest waterfall of the Preto River cascades 393 feet (120m) into the pool below.
Despite having inviting waters, especially on warm days, bathing in the Salto do Rio Preto 120m is not possible.
You can photograph and take in the intense nature as much as you want from the Mirante dos Saltos, a lookout.
But to reach this lookout, you must venture on a moderate-challenging hiking trail. This trail actually includes another waterfall called Salto do Rio Preto 80m, as you might have imagined. It drops 80 meters, so it's a bit shorter than the 120m.
The trail is 6.8 miles (11km) long, and you get to see plenty of natural wonders along the way.
Another benefit of this trail is that you can bathe and recharge your energies at the second waterfall.
Nearest city/town: São Jorge
Tabuleiro Falls, Minas Gerais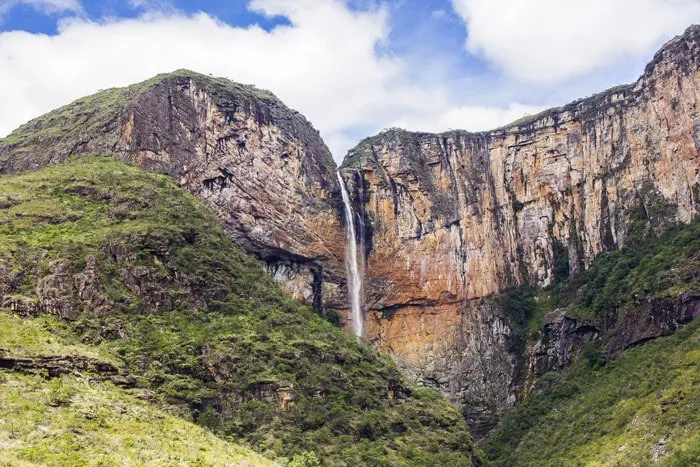 Tabuleiro is Minas Gerais' highest waterfall cascading 895 feet (273m) into a deep pool.
Among locals, Tabuleiro is known as the "Heart Waterfall" because the valley gives the impression the cliffs are heart-shaped, being cut in the middle by the water stream.
Tabuleiro was twice awarded as the prettiest waterfall in Brazil. Once you get there, you will understand why – it's so majestic!
You can either visit the base of the waterfall (entry access until 2 PM) or its upper part (entry access until 11 AM) – or both. You might want to do it on different days, so you don't have to rush!
The out-and-back trail to the lower part is 3 miles (5km) long and is relatively easy, while the path to the upper part is 10 miles (16km) long and requires a little more physical stamina.
Nearest city/town: Conceição do Mato Dentro
Urucá Falls, Roraima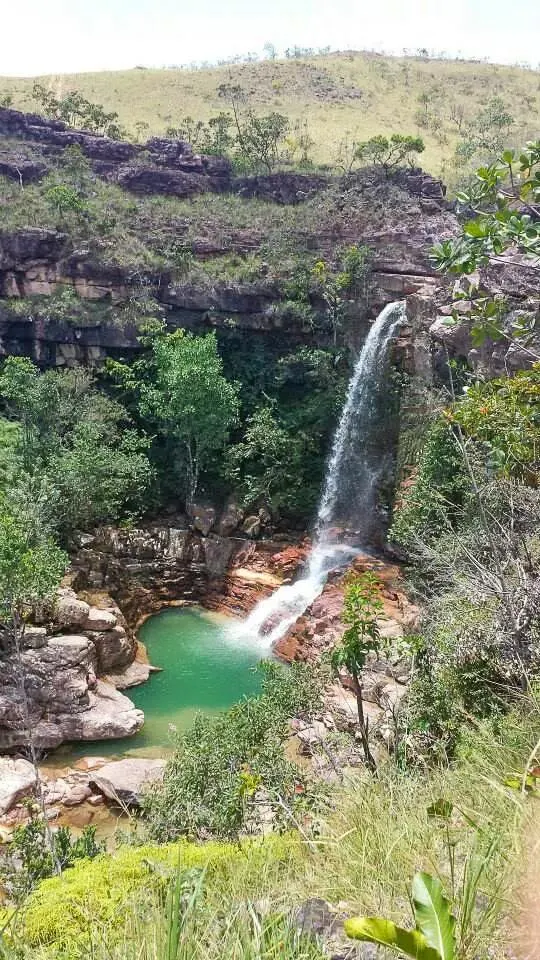 Of all natural sites in Uiramutã County, Urucá Falls stands out with its waters plummeting over red sandstone rocks before sprawling into an emerald pool.
Urucá (Brazilian Indigenous word for Golden River) is near the Venezuela and Guyana borders. In this region, about 88% of the population is Indigenous, making it the highest concentration in the state.
It is located on a dirt road a few miles from the municipal headquarters of Uiramutã. The route to the waterfall takes about 10 minutes by a short but quite steep trail.
It isn't easy, but the falls certainly make the trek worth your while. Urucá is undoubtedly one of those places you must visit in Brazil.
Nearest city/town: São Luís
Macumba Waterfall, Rio de Janeiro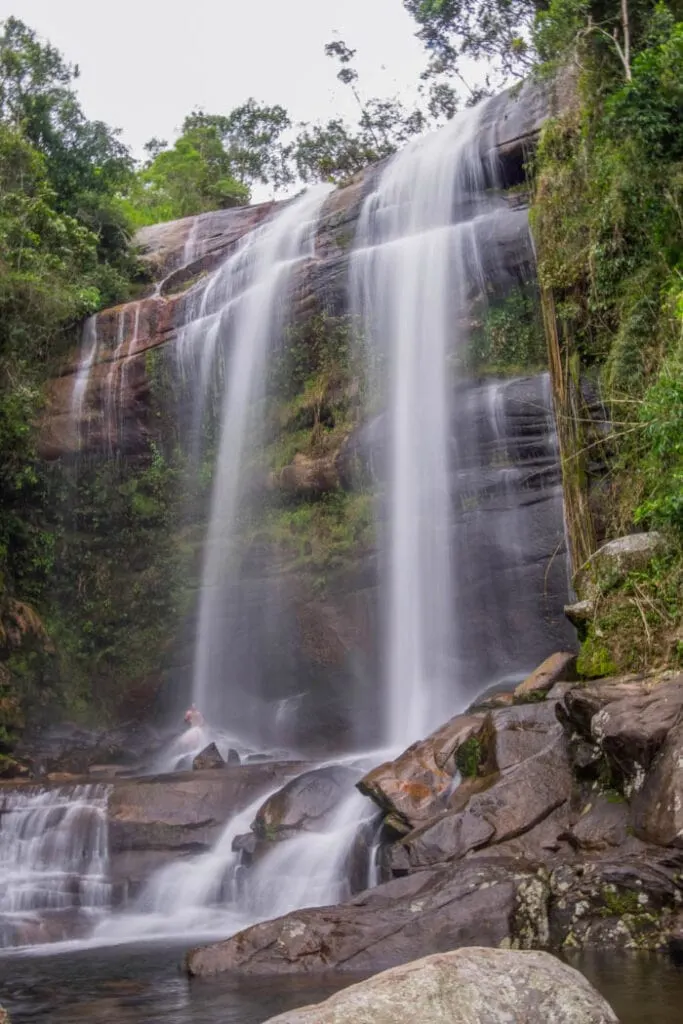 Some call it the Macumba Falls, others the Thirteen Falls. Whatever you call it, know that Macumba is composed of two falls cascading in pools that are perfect to bathe.
Located in the Serra dos Órgãos National Park, these falls are easy to reach from the surrounding towns.
But because the access to this waterfall is so easy and not that many people visit it on weekdays, I recommend you plan your visit on a weekend so that there are more folks around.
Nearest city/town: Petrópolis
Sinhozinho Falls, Mato Grosso do Sul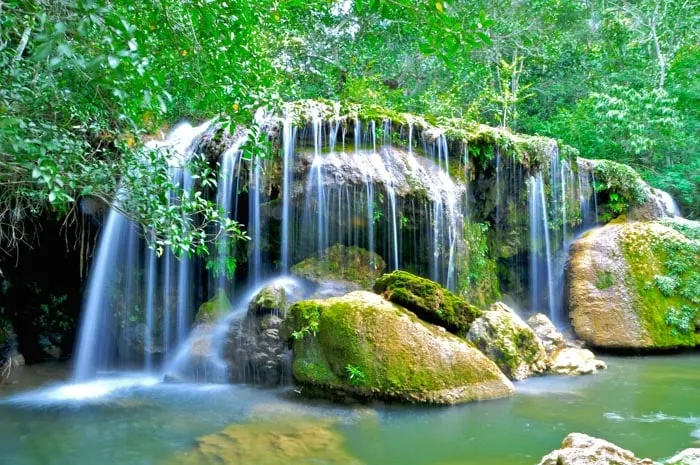 Nestled in Brazil's most popular ecotourism hub, Sinhozinho Falls is part of the Waterfalls Park (Parque das Cachoeiras) in Bonito.
In total, seven magical falls cascade into sparkling emerald pools, which are the attractions of this park.
They are obviously breathtaking, but Sinhozinho has a mythical appearance making it straight out of a fairytale book!
Surrounded by vibrant vegetation, the Mimoso River tumbles into a pool perfect to bathe, recharge your energies, meditate, and daydream!
For those who prefer to stay dry (why would you?), there is a wooden boat-shaped deck right in front of the Sinhozinho Falls.
To give you a little background, Sinhozinho (English: Young sir) is a denomination used by slaves back in the colonial times to address their lords's sons.
The legend has it that Sinhozinho lived in the 1940s as a healer in the region of Bonito.
He was famous in the villages for curing many people and animals. Still, local pharmacists were sick of him as people would no longer buy their medicines, so they executed Sinhozinho. The waterfall is named after him.
Legend or not, Sinhozinho Falls is the perfect place for anyone who wants to go into the wild and reconnect with nature in a unique setting.
Nearest city/town: Bonito
Rio dos Pardos Falls, Santa Catarina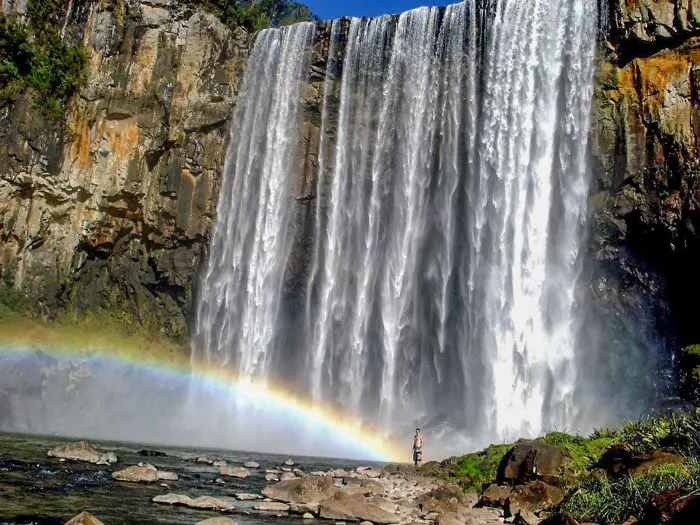 In a region filled with over 150 waterfalls, Rio dos Pardos Waterfall stands out because of its height and volume.
It is a massive rocky cliff wall of natural splendor.
The thundering of thousands of liters of water cascading down 236 feet (72m) and crashing into a massive pool will leave you speechless.
You will want to stock up on supplies, such as water, snacks, trash bags, and towels, as there is no infrastructure in the region.
Nearest city/town: São Miguel da Serra
Santuário Falls, Maranhão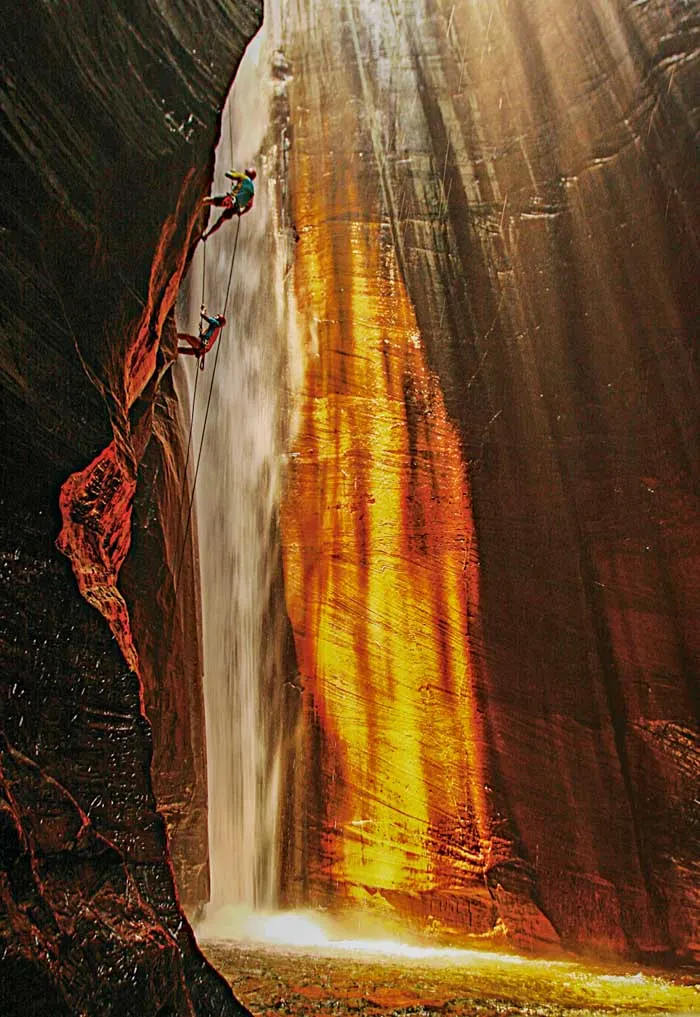 Santuário (English: Sanctuary) is a waterfall of singular beauty. To visit this place is, as the name says, a sacred experience.
Nestled inside a canyon, Sanctuary Falls plunges 151 feet (46m) between orange-hued walls and is located in the Chapada das Mesas National Park.
Because it is one of the most secluded waterfalls in Brazil, Sanctuary is often where Indigenous ceremonies take place, invoking its sacred properties.
To reach it, you first must hike an easy trail inside the canyon where the water is around your waist.
So when packing for your adventure, remember to pack a dry sack to keep your camera and belongings that cannot get wet.
Nearest city/town: Carolina
Planaltina Falls, Pará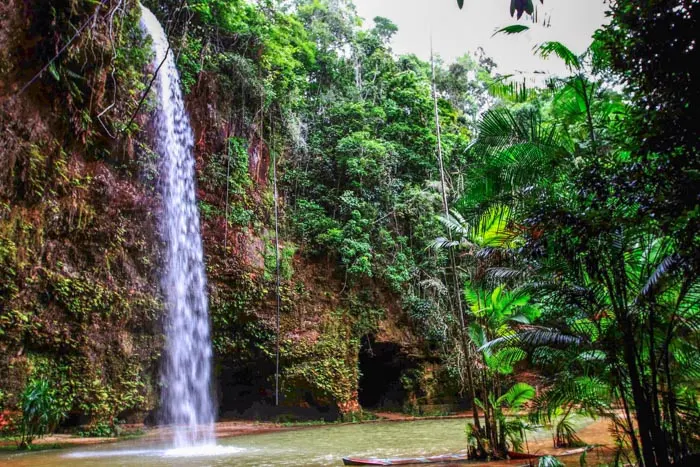 The Planaltina is one of the most outstanding waterfalls in the region thanks to its greenish waters, which plummet about 98 feet (30m) into a refreshing and welcoming lake.
The water volume is considerably larger during the Amazonic winter, January-June when it rains more often in the region.
Planaltina is surrounded by four caves, being one of them massive. Funnily enough, this cave is also called Planaltina. It is considered the largest cave in the state and the largest sandstone cave in Brazil.
Because the region is off the beaten path, this pristine waterfall is very well preserved, so be sure to bring trash bags and take your trash with you.
Nearest city/town: Brasil Novo
El Dorado Falls, Amazonas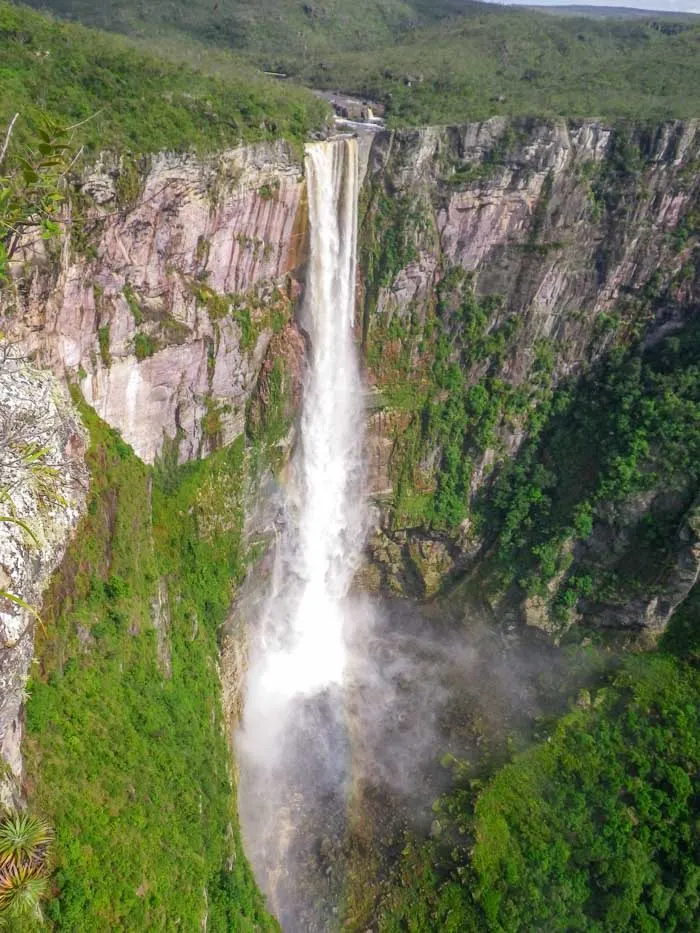 El Dorado is Brazil's highest waterfall, towering 1,158 feet (353m) into the sky before thundering its way down to the earth below.
Located in the Serra do Araçá State Park, El Dorado is one of the most challenging waterfalls to reach in Brazil.
Visitors who want to experience this dramatic fall must venture into the wild – I mean it.
Boat trips, dense forest, Amazonic wildlife, and a difficult hike uphill through that forest – that's what it takes to see first-hand Brazil's highest waterfall.
Waterfall aficionados and adventure lovers, who are physically prepared, should take the challenge head over to this mystical place.
Nearest city/town: Barcelos
Alta Waterfall, Espírito Santo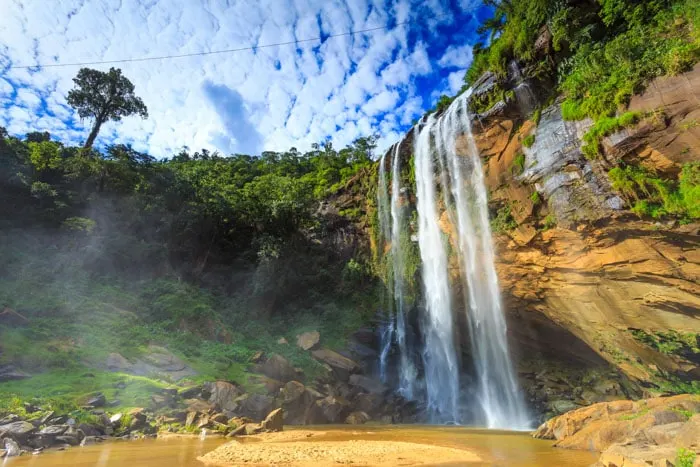 Alta Waterfall has pure and crystalline waters, which are very popular among the residents of the region.
Locals come here to bathe, picnic, unwind and take in the dizzy 328 feet (100m) drop.
Alta Waterfall is surrounded by unique fauna and flora, and it's undoubtedly a place to connect with nature.
Hundreds of black swallows have their nest hidden inside the cracks behind the waters, but when they leave their homes, their sound is often confused with the water's noise.
It's beautiful!
Nearest city/town: Cachoeiro de Itapemirim
Santa Barbara Falls, Goiás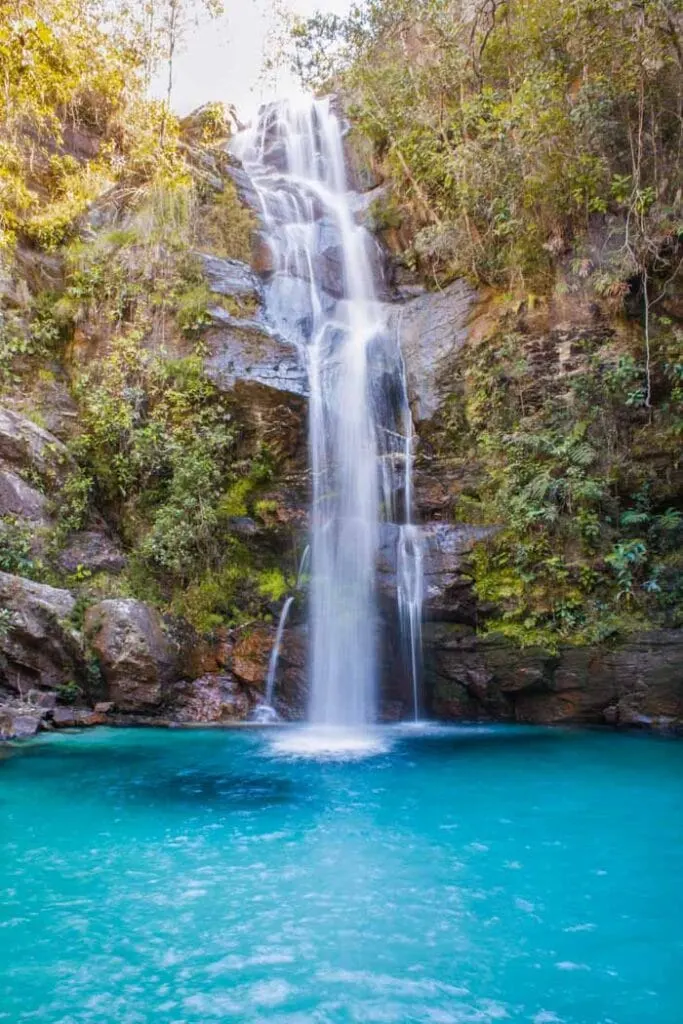 Santa Barbara is an idyllic waterfall that dives 98 feet (30m) into the sky before pouring back down to a sparkling blue pool.
This waterfall, located at the Chapada dos Veadeiros National Park, requires a local guide from anyone wanting to swim in its vivid waters.
It hasn't easy access as you need to drive to the quilombo community of Kalunga, a local guide will lead you through a dirt road, and finally hike an easy trail for about 30 minutes.
Depending on the car you're driving, you might want to continue the trip in a Pau de Arara, an improvised truck where passengers sit behind in the open.
It's important to note that the guide might make a stop at a local restaurant where you can order your lunch.
It's a long trip, but the falls make the journey worth your while.
Be sure to bring water, a hat, and memory cards as your camera might run out of memory after taking so many photos of this magical waterfall in Brazil.
Nearest city/town: Cavalcante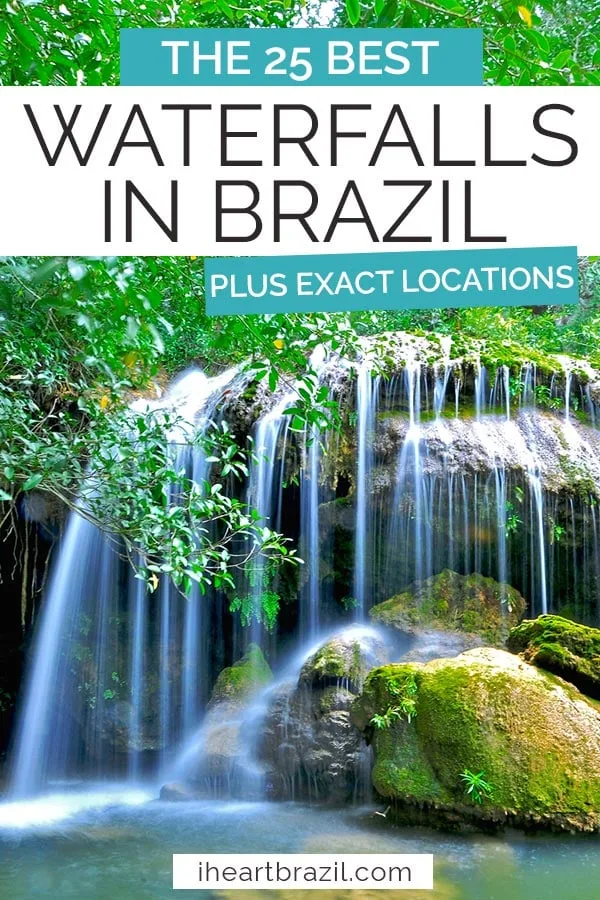 Did you like this post about Brazil waterfalls? Then share it with friends who might like it too and save it to your Pinterest travel board!