Christmas in Brazil is one of our most important festive days.
As a Brazilian, I can assure you we wait anxiously for it so that we have a nice quality time with our family, eating and drinking well.
When I was a child, I count the days to Christmas not only because of my gifts but also because of the food. Oh, Brazilian food is out of this world.
Christmas traditions in Brazil have a rich history, and are always vibrant and exciting, just like our culture.
One of the most interesting fun facts about Christmas in Brazil is that we celebrate it in the first days of Summer. Can you imagine a warm Christmas?
I know it might sound weird to you. Still, it's probably 86F (30C) outside, and we Brazilians are celebrating Christmas with our family wearing summer clothes with artificial snow sprinkled here and there.
Unfortunately, there's no cute and embarrassing Christmas sweater for us. It's too warm for that.
Not enough time to read this article in one sitting? Then save it for later!
Christmas in Brazil
With the arrival of colder days, I can imagine you're wondering how our tropical country celebrates Christmas.
Being a mostly Catholic country, Brazil celebrates this holiday as most Western European countries and the US, with just a few interesting and fun details being exclusive of Brazilians.
After all, Brazil is a former Portuguese colony and also welcomed many immigrants from Europe, mostly Italy, Portugal, and Germany.
Well, if you're wondering how people celebrate Christmas in Brazil, you came to the right place. Let's get the party started!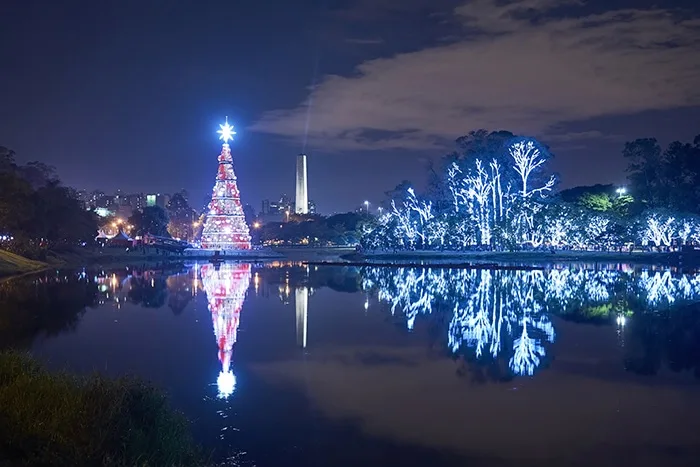 Santa Claus or Papai Noel
For us in Brazil, Santa Claus is called Papai Noel.
This friendly old guy wears a red silk suit while visiting us in South America. It's warm, after all.
He brings little children Xmas gifts. If they behave, of course. Oh, and children must hang a sock near a window so that the good old man can exchange it for a gift.
Surprisingly, a week after that I would find that sock in my drawer.
And even though we celebrate a warm Christmas in Brazil, our decoration and drawings often include snow to welcome Santa Claus who comes from the North Pole.
On a side note, I've read on many international websites where they say our Santa Claus comes from Greenland, but that's not true. In Brazil Christmas traditions, he comes from the North Pole.
Papai Noel pronunciation: pah-pah-ee noh-EL
Brazil at Christmas: Religious celebrations
As I said, Brazil is mostly Catholic but there are also many other religions in the country.
Still, most non-believers celebrate this day with their families simply because it's a pleasant occasion with great food. In other words, nearly the whole country joins the party.
Religion-wise, there's a midnight mass called Missa do Galo (English: Rooster Mass). The mass has this name because the rooster announces a new day and this mass happens at midnight.
One of our biggest traditions is to display the nativity scene, called presépio in Portuguese, in homes, churches, and stores.
My mom made a mini nativity scene when I was a child. I've never seen such a detailed and beautiful one.
According to the traditions, Christmas lights, decorations, and trees should be removed only on January 6, the Three Kings Day.
That's because the bible says this is the day three wise men visited Jesus to give him gifts.
The most common Christmas song in Brazil is Noite Feliz, our version of Silent Night, which is often sung in choirs in churches or in the streets of big cities.
Christmas food in Brazil
Unlike New Year's Eve, Christmas in Brazil is a family-oriented holiday where we gather with all family members under one roof to have fun and eat a lot together.
Our Christmas dinner, or in Portuguese "Ceia de Natal", is served on the evening of December 24 accompanied by lots of music.
While each region has its own traditions, most people usually serve a Brazilian Christmas dinner centered on a chester, which is a much larger chicken where about 70% of its weight is on its thighs and chest, hence the name chester.
Some households serve slow-roasted marinated pork leg (pernil) or turkey. All dishes are served with a variety of salads and white rice, which is sauteed with garlic and onion.
The most served salads are the Brazilian potato salad and the chicken salad (salpicão). Gravy is never served, at least I've never seen it, but farofa is everywhere.
Farofa is a mix of dried cassava flour with salt, butter, spices, and chopped crispy bacon. And instead of cabbage, we serve kale sauteed with garlic and onion.
These are the basic Brazil holiday foods. I know it might sound crazy how we Brazilian eat double starch so often, but that's Brazil Christmas food: double starch, hearty, delicious.
Brazilian Christmas desserts
Although we have lots of delicious dishes and desserts to try all year long, there are a few sweets we prefer cooking during the holidays.
Some desserts have a "holiday" appeal, don't you think?
And in Brazil, we like eating (a lot) with the whole family at Christmas dinner, whether the family members are religious or not. It's an excellent way to be with our beloved ones.
Here are my favorite Brazilian Christmas desserts:
Rabanada
Pavê
Passion fruit mousse
Panettone
Amigo Secreto, a kind of Secret Santa
At home, we often gathered every single person of our family during Christmas Eve so that we could play a nice Christmas game.
It's called Amigo Secreto, and it works like this: a month before Christmas, we draw each person's name and assign it to someone in secret.
At Christmas Eve, we exchange gifts saying a few kind words, a funny story, or motivation words to that person. It's really fun!
Merry Christmas in Portuguese: Feliz Natal
Christmas decorations in Brazil
Forget any idea of a tropical Christmas tree in Brazil. We don't decorate our palm trees or anything like that.
Although most people buy plastic trees, we Brazilians decorate a traditional Christmas tree just like the ones in America or Europe.
We adorn it with all the usual fairy lights, baubles, cute ornaments, and tinsel. Tables will be laid with Christmas-patterned tablecloths, while tinsel and fairy lights are often hung up throughout the house and in front of it.
Also, we like sprinkling artificial snow over the Xmas tree or the tinsel to welcome Santa Claus. This way, he feels "at home."
As for the street decorations, most counties decorate the main shopping streets and tourist places.
In São Paulo, the Paulista Ave gets completely lit up and a Santa Claus House is built above the avenue. The Ibirapuera Park also gets filled with fairy lights and it proudly hosts a huge Christmas tree. It's the biggest one in the city, actually.
The same goes for Rio de Janeiro. The main streets get lit up with Christmas lights and a floating tree is placed in the Rodrigo de Freitas Lagoon.
This is the world's biggest Xmas tree measuring 230ft (70m) and boasting over 900,000 LED lamps.
Celebrating Christmas in Brazil
The Secret Santa begins on the evening of December 24. After that, usually around midnight, we eat our Christmas feast, which is when the main celebrations occur.
Yes, celebrations continue until late in the night with plenty of food, drinks, music, and laughter.
On December 25, people gather again to have a champion's lunch together with the leftovers of the night before.
It's a relaxed day to indulge (again) in great food and (probably) take a nap in the afternoon. But unlike in America and Europe, our main Christmas celebration happens on December 24.
Oh, and expect fireworks on Christmas Eve. For some reason, teenagers love to celebrate this holiday with fireworks.
Final words on Christmas in Brazil
Celebrating Christmas in Brazil isn't your usual holiday, but it certainly is a very welcoming and friendly time for us.
If you have a Brazilian friend, invite yourself to celebrate Christmas with his/her family.
We don't really mind having people invite themselves to our celebrations, and you will probably have an amazing (warm) Christmas.
Merry Christmas! Feliz Natal!
Did you like this post about Christmas traditions in Brazil? Then pin it to Pinterest or share it with a friend who might like it too.