This is your guide on Brazilian Christmas food to add a unique Latin American touch to your holiday table.
Christmas is by far one of the biggest holidays in Brazil, if not the biggest one.
Although we're known as party people who enjoy drinking some caipirinhas with friends in a bar, Christmas is all about family.
While parting is definitely one of the things you should do in Brazil, expect to celebrate a lively Christmas in Brazil with all members of the family.
Christmas is more about having fun and eating well with our beloved ones. And as far as eating is concerned, we know how to do it pretty well.
Brazilian Christmas food
I consider the Brazilian Christmas dinner simple yet so delicious. Most of the dishes I'll mention below are reasonably easy to prepare, and you can certainly make your Christmas table more festive with them.
Also, remember we have a warm Christmas in Brazil, meaning our food is adjusted to the climate.
In this article, I'll talk about traditional Brazilian side dishes and holiday foods we prepare to celebrate the Natal (aka Christmas in Portuguese).
On a side note, I promise to add the links to these recipes asap!
Brazil Christmas food
Chester or turkey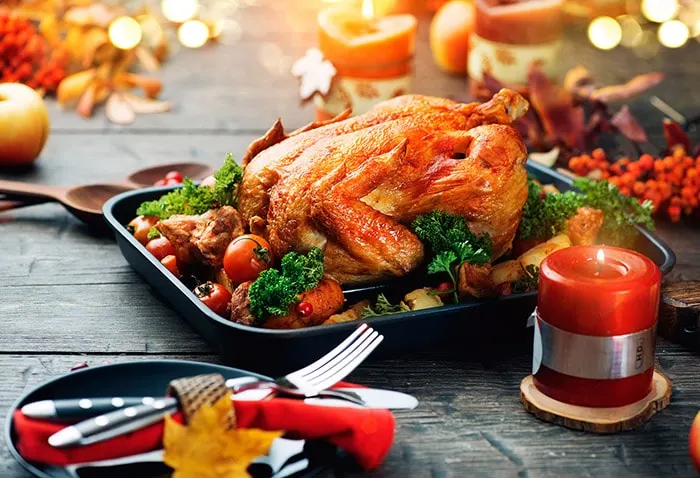 Most households in Brazil serve either chester or turkey on Christmas Eve, which can be stuffed or not.
I believe chester is something exclusive from Brazil, so I'll explain what a chester is.
A chester is basically a chicken with more meat around its thighs and chest, hence the name 'chester.'
This animal also has considerably more proteins and less fat, which makes it a fair competitor to turkey.
A few stuffing options are terrine, seasoned fruits, and farofa, but I'll talk about farofa later in this post.
Seasoning-wise, we roast it with onion, garlic, butter, parsley, and white wine. That's the traditional recipe, but other variations are specific to each region in Brazil.
We serve it with roasted potatoes or cassava, and both options are delicious.
Roasted pork (Pernil)
Some families serve poultry; others prefer pork, or as we call it, pernil.
This Brazilian recipe for roast pork makes a festive centerpiece for the Christmas feast as it creates a delicious dish.
Our pernil is roasted with garlic, onion, butter, rosemary, ground pepper, and lime juice.
It's easy to prepare, but it takes some time to cook.
Christmas ham (Tender natalino)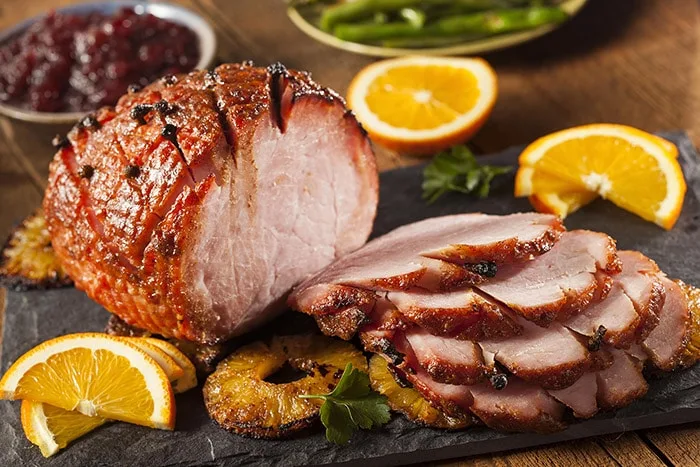 The third and last meat option for the Christmas dinner is ham. We call it tender in Brazil.
This ham is prepared with honey, mustard, white wine, and cloves, but we also use pineapple, grapes, and cherry to garnish. It is not only delicious, but it is also succulent.
Together with the ham, we serve a fruity sauce to enhance its flavors, such as orange, pineapple, passion fruit, and apple.
I would say that Christmas in Brazil is a mixture of apple pie spices and fruits, which is a lovely tropical touch to the meals.
Chicken salad (Salpicão)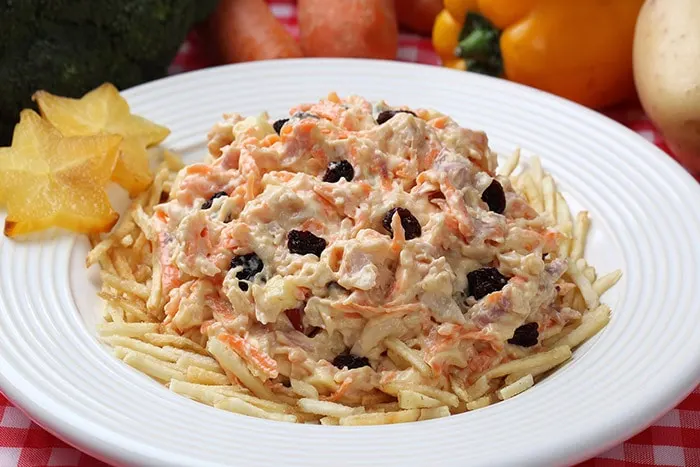 Although it might sound weird to eat a chicken salad with turkey or chester, we Brazilians love these combinations.
In fact, we also eat double-starch all the time, as you will see in this article about Christmas dinner.
Anyway, salpicão consists of shredded chicken, potatoes, mayonnaise, raisins, and some other ingredients. You can get the recipe for this Brazilian chicken salad here.
On a side note, most Brazilian dishes with raisins are almost certain holiday dishes. For some reason, that's an ingredient we eat more often during the holiday season.
Even ordinary dishes, such as white rice, get this special touch during Christmas simply because it's Christmas.
Potato salad (Salada de maionese)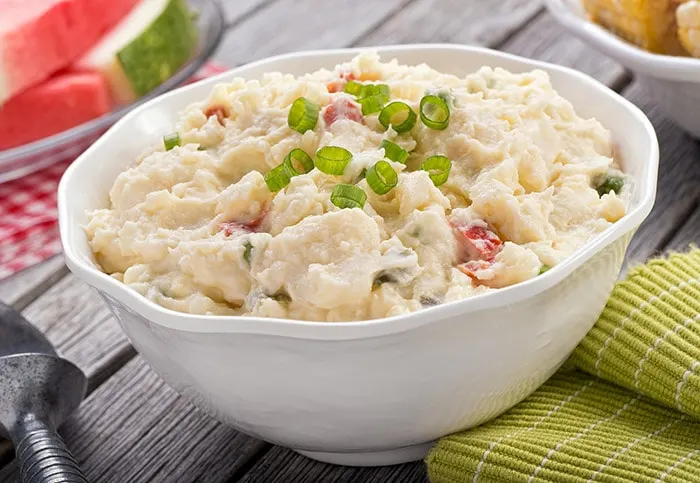 At our Christmas table, we serve either chicken salad or this Brazilian potato salad. In São Paulo, my home town, we serve the potato one.
It's also an excellent side dish for barbecues, and it tastes divine when served with white rice. Double-starch, I know…
This potato salad consists of potatoes (obviously), carrots, mayonnaise, cooked eggs, peas, green beans, corn, onion, garlic, and lime juice. Some variations include heart of palm and apple, although I hate apples in savory dishes.
All of these ingredients make the perfect salad to serve with the Christmas dinner or in a French roll bread. It fills up well!
White rice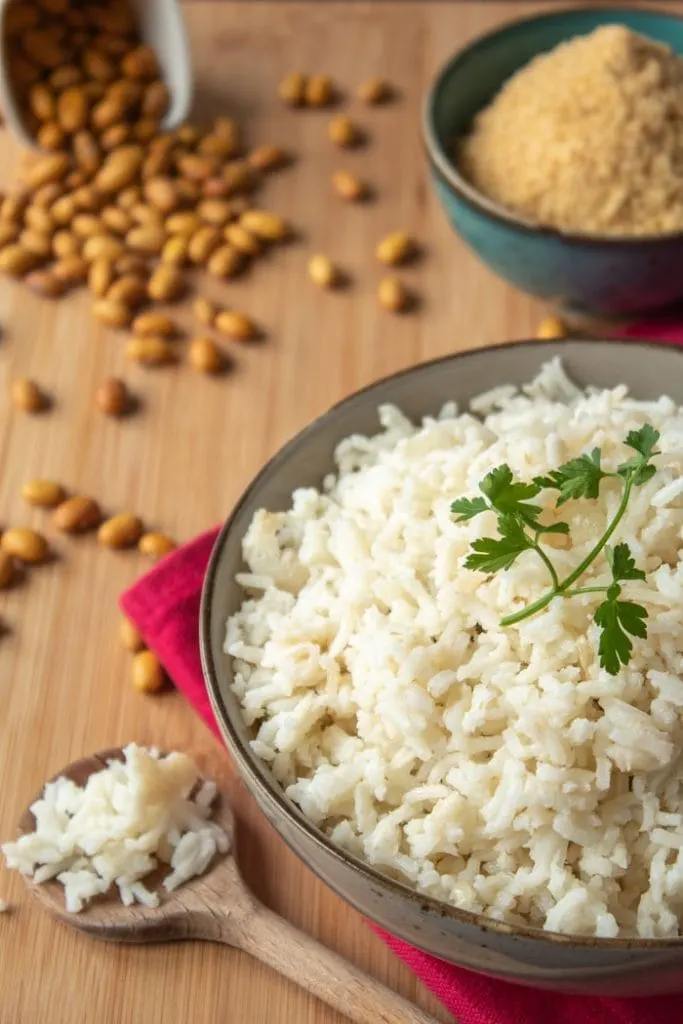 White rice (and all kinds of beans) are for Brazilians what pasta is for Italians – the base of many dishes.
We eat it often, very often, not only during Christmas.
In fact, plenty of our traditional dishes have rice, like galinhada, a one-pot chicken and rice dish, and sweet rice oatmeal, a delicious dessert or breakfast if you will.
Brazilian rice is basically cooked with chopped garlic, onion, and salt. It's delicious, straightforward to prepare, and an excellent side dish to many meals.
Farofa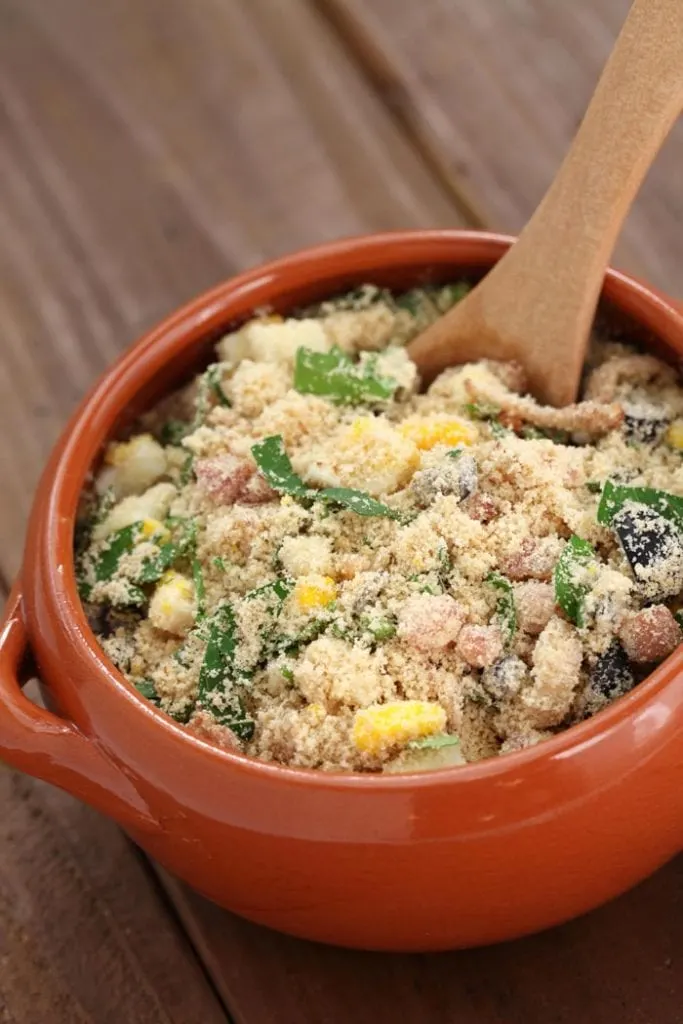 Oh, farofa. This toasted cassava flour mixture is divine. You can buy it in a package or go for my easy farofa recipe, which is much tastier, of course.
Farofa is an essential side dish for several Brazilian dishes, such as feijoada, other kinds of beans, stews, meats, and to stuff poultry as mentioned above.
It adds a delicious bacony crunch to the meal as many recipes contain varying amounts of smoked meat, bacon, salt, and spices.
Brazilian Christmas desserts & sweets
Panettone
There is no Brazilian Christmas dinner without desserts and sweets. We have a sweet tooth, as you can see by the number of desserts we have.
And during holidays, we eat panettone, an Italian Christmas bread originally from Milan. But how come we Brazilians religiously serve Italian food every holiday?
Well, it's not a secret that a massive number of Italians immigrated to South America, and São Paulo has a good share of them.
In fact, I'm an Italian descendant myself. In SP, we have a neighborhood filled with great cantinas and Italian restaurants, so that's why panettone became a part of Brazilian culture.
Panettone is a fluffy, light bread with festive flavors. It has raisins in it, but we sometimes change it to chocolate chips or dulce de leche. It's mouth-watering!
Brazilian rabanada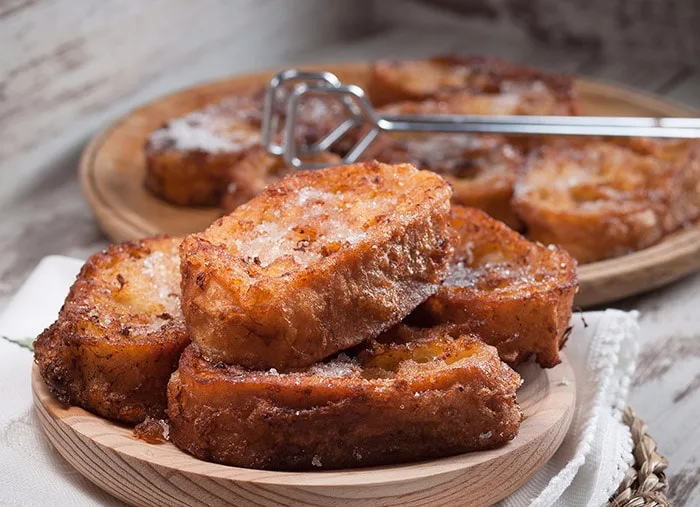 Rabanada is the Brazilian equivalent of French toast. It was initially created so that we wouldn't throw away day-old bread, and now it's part of our Christmas traditions.
For this recipe, the bread is sliced and soaked in milk and sweetened condensed milk, then dipped in eggs and fried. Finally, we coat them in sugar and/or cinnamon and nutmeg.
It tastes like Christmas!
Pave dessert
My husband says that the Brazilian pave is a delicious, highly sweet dessert. Well, it's indeed sweet, yes – he's right about it.
Beyond that, this dessert resembles a tiramisu, but it's much better. If my nonna (Italian for grandma) read this, she would turn in her grave.
Although we can serve it all year long, it's more common to eat pave during Christmas.
Pave is basically a no-bake layered cake that consists of a combination of ladyfinger biscuits or Marie cookies, cream, and chocolate. That's the traditional recipe.
However, we often prepare other flavors instead of chocolate, such as pineapple, peanuts, strawberry, white chocolate, and coconut, to name a few.
Fair warning: The pave is addictive, delicious, and is sure to bring lots of joy to your Christmas table. You've been warned.
Favorite drinks to have on Christmas Eve
These are some of the drinks we usually enjoy on Christmas Eve in Brazil:
Final words on Brazilian Christmas foods
Cooking a delicious dinner for the whole family is part of our Christmas traditions, and the meals I mentioned above are part of an unwritten rule for most households in Brazil.
As I write this, I feel my mouth watering, and all I can think about is how pleasant Christmas in Brazil is.
The same happiness we show the world during carnival or while watching a soccer match is also felt during the holiday season. It's contagious.
If you ever have a chance to celebrate Christmas in Brazil with the family of a friend, please do. I'm sure you will love it.
In the meantime, you can cook these dishes and make your Brazilian Christmas dinner at home.
Either way, merry Christmas and enjoy your meal! Or in Portuguese, Feliz natal e Bom apetite!
Did you like this article about Brazil holiday foods? Then save it to Pinterest or share it with a friend who might like it too.