From Péle to Marta, here are the best Brazilian soccer players of all time!
When you say soccer, you say Brazil. Soccer is by far the most popular sport in Brazil, and for many Brazilians, it is a part of their identity.
When the Brazilian national team plays, it almost seems like the country stops for 90 minutes. People try to leave work early to see their heroes play.
Brazil has always been a cradle for soccer talent. Many Brazilian soccer players are recruited by talent scouts at a young age and move to Europe to play for top-ranked teams in the highest European leagues.
I have put together a list of the best Brazilian soccer players of all time. Have you seen any of them in action?
15 Best Brazilian Soccer Players Of All Time
Here are the top 15 elite soccer players from Brazil.
Roberto Carlos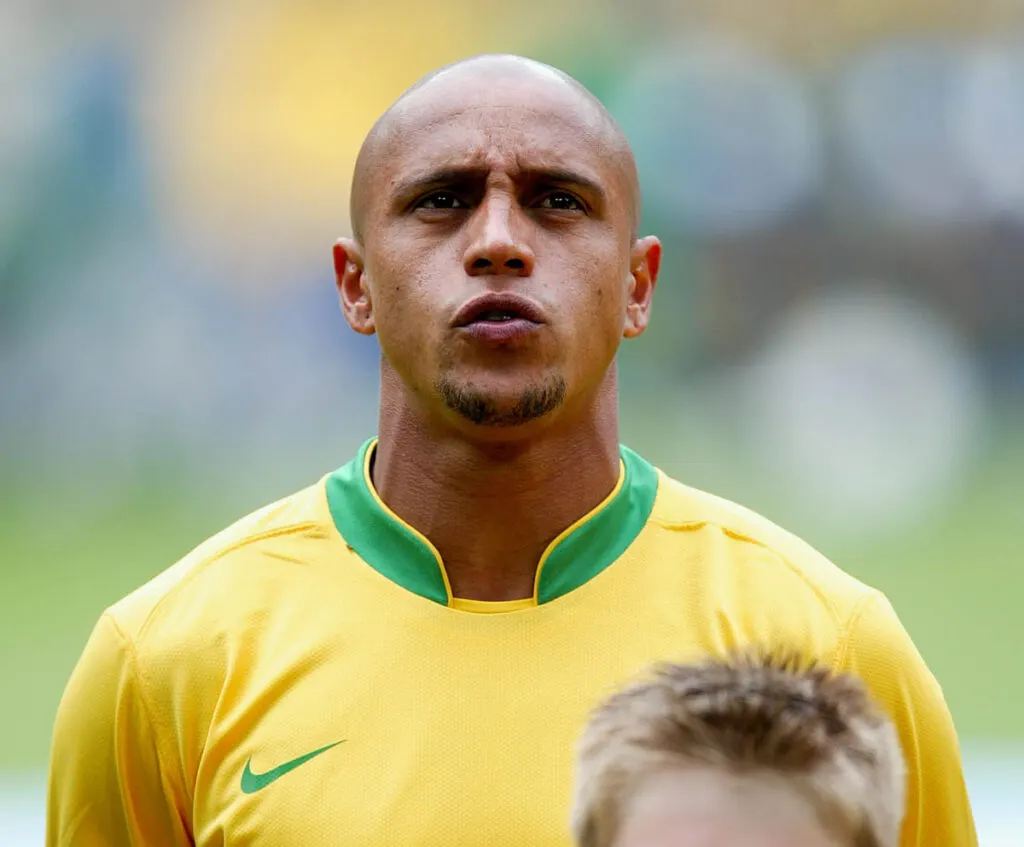 Full Name: Roberto Carlos da Silva Rocha
Birthdate: April 10, 1973
Birthplace: Garça, São Paulo
Position: Left-back/defender
Roberto Carlos started his professional soccer career at Palmeiras, a Brazilian soccer team, but it wasn't long until top European teams noticed him.
In 1995, he made a move to the Italian club Internazionale, but he was most successful at Real Madrid, for whom he played 370 games in 11 years.
Roberto Carlos also played for the Brazilian national team, for which he made 125 appearances and won one world cup title in 2002.
This soccer player from Brazil was most known for his free-kick technique.
With his golden left foot, he could give the ball an unmatched curve, making him a nightmare for many goalkeepers.
Cafú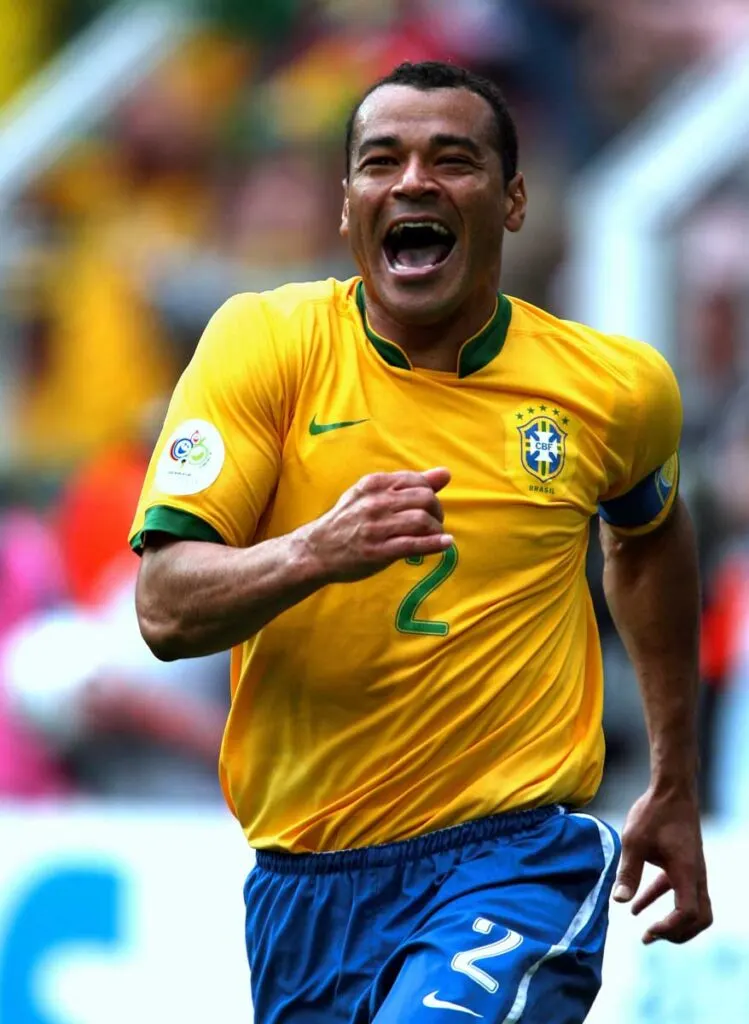 Full Name: Marcos Evangelista de Moraes
Birthdate: June 7, 1970
Birthplace: Itaquaquecetuba, São Paulo
Position: Right-back/defender
Cafús career started at São Paulo FC in 1989, but the world really got to know him when he earned a transfer to AS Roma.
He would later also play for AC Milan.
In 1994, Cafú won the award of South American soccer player of the year.
Besides this title, he is also the record holder for most appearances for the Brazilian national team, where he contributed to winning two world cup titles.
Rivaldo
Full Name: Rivaldo Vitor Borba Ferreira Gomes
Birthdate: April 19, 1972
Birthplace: Recife, Pernambuco
Position: Attacking Midfielder
Rivaldo has had a rough start in life.
He grew up in a poor neighborhood where he and his brothers had to sell food on the streets to make money.
At the age of 16, he was discovered by the local team Santa Cruz de Recife.
In order to get to his soccer practice, he had to walk 12 miles every day because he couldn't afford a bus ticket.
Thankfully, his hard work paid off, and he earned a transfer to FC Barcelona, where he was very successful and won multiple trophies.
Kaká
Full Name: Ricardo Izecson dos Santos Leite
Birthdate: April 22, 1982
Birthplace: Gama, Federal District
Position: Midfielder
Like many other Brazilian soccer players, Kaká played for some of the top European sides.
He's most known for his period at AC Milan, where he played a total of 7 seasons and won five titles, including the World Cup for teams and the UEFA Champions league.
He also represented the Brazilian national team during three world cup tournaments, of which he won one.
After his European adventure, Kaká played for the MLS team Orlando City for three years before announcing his retirement in 2017
Jairzinho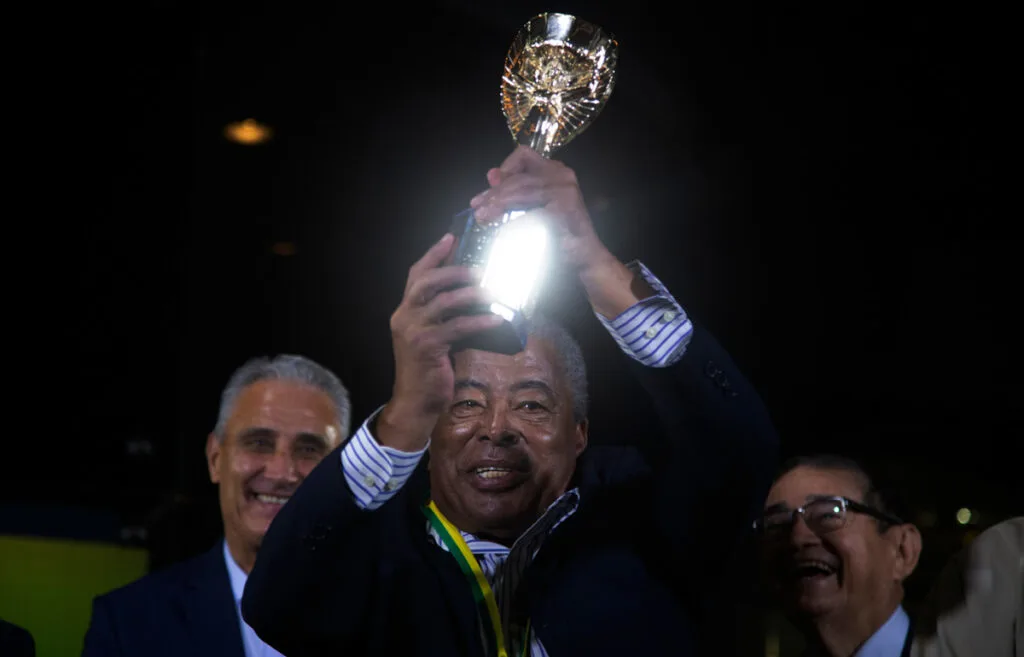 Full Name: Jair Ventura Filho
Birthdate: December 25, 1944
Birthplace: Rio de Janeiro City, Rio de Janeiro
Position: Attacker
Jairzinho grew up in a favela in Rio de Janeiro, and for him, soccer was a way to escape reality.
Lucky for him, he became really good at it and was given a chance to play for Botafogo – a professional soccer team from his hometown.
Jairzinho was part of a golden generation of the Brazilian national soccer team.
He won the 1970 World Cup together with Brazilian soccer stars like Pelé and Rivelino.
Neymar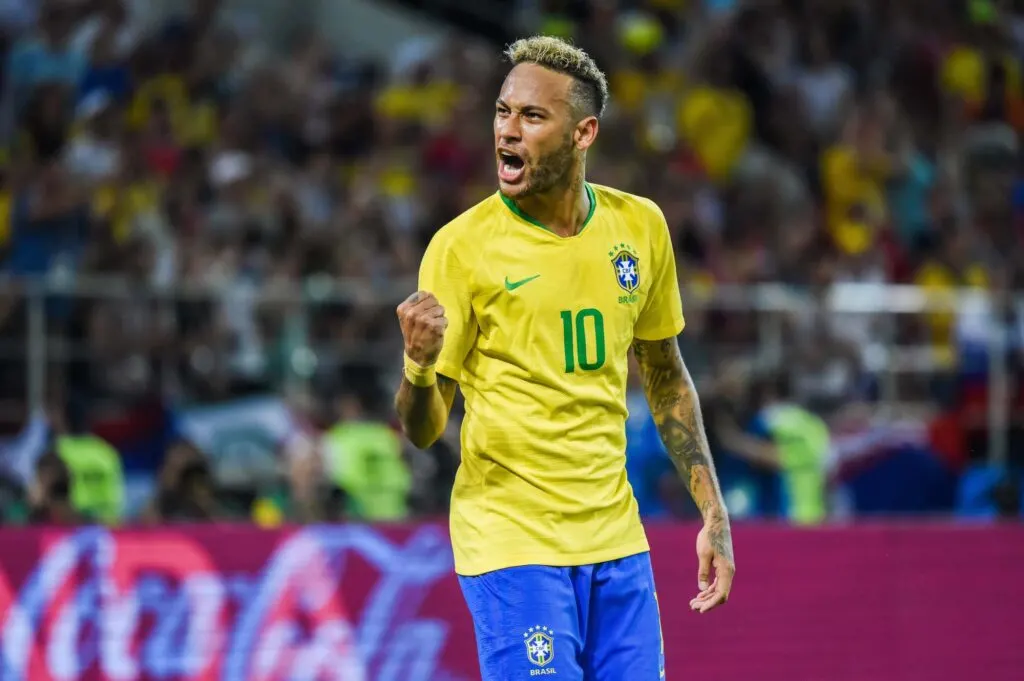 Full Name: Neymar da Silva Santos Júnior
Birthdate: February 5, 1992
Birthplace: Mogi das Cruzes, São Paulo
Position: Left winger
Neymar is the first Brazilian soccer player on this list who is still active.
He is seen as one of the best professional soccer players of the century, which is why French club Paris Saint-Germain paid an astonishing amount of 222 million euros ($230 million) for the Brazilian soccer player in 2017.
Neymar has won two La Liga titles, three Copa del Rey trophies, one Champions League title, and many other titles in Brazil and France.
During the 2022 World Cup, Neymar scored his 77th goal for the Brazilian soccer team, which leveled him with the legendary Pelé. Given the fact that he's still active, he is set to become the all-time top scorer of the Seleção.
Despite this impressive statistic, he is yet to win a world cup title with Brazil. Since his debut in 2010, he has played over 100 games for the national team, so let's hope there are quite some to come and he can get his first world title!
Ronaldinho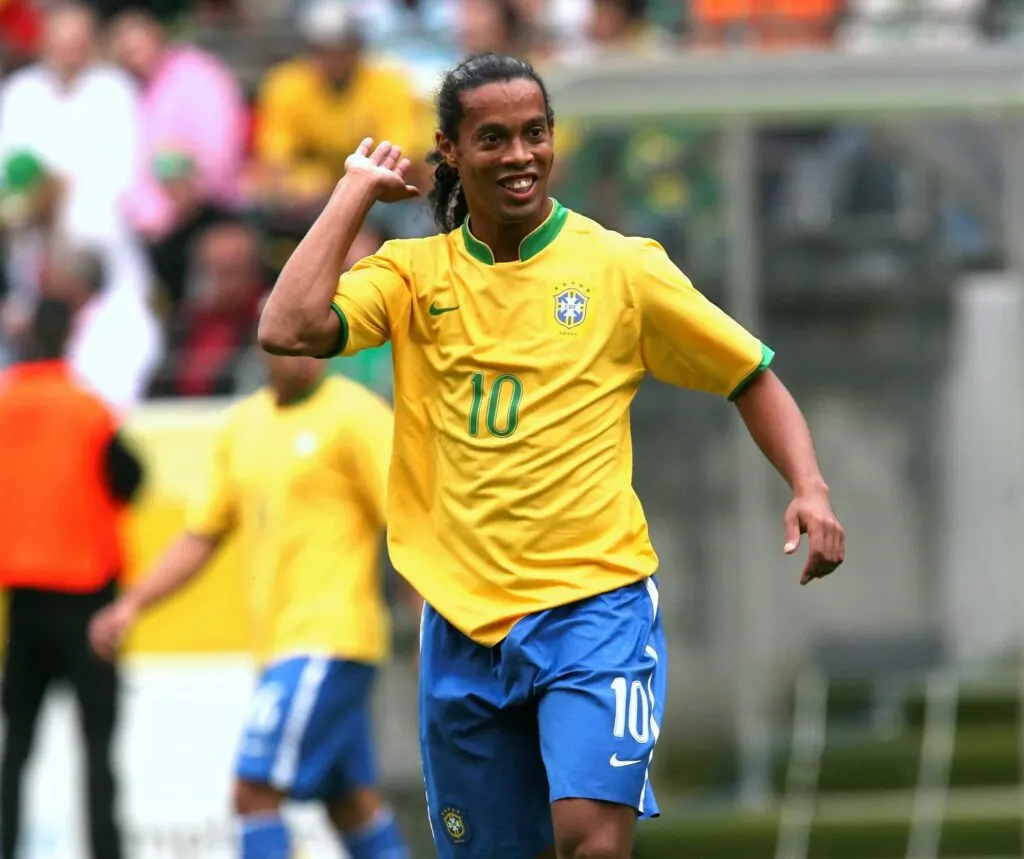 Full Name: Ronaldo de Assis Moreira
Birthdate: March 21, 1980
Birthplace: Porto Alegre, Rio Grande do Sul
Position: Attacking midfielder
Hardly ever have I seen a soccer player radiate so much joy as Ronaldinho. Whenever he was on the pitch, he had a big smile on his face.
After his breakthrough in Europe, he often stole the show with his legendary dribbling skills and skill moves. Defenders hated going up against him, and I understand why!
The Brazilian soccer player stayed in Europe for ten seasons and played for Paris Saint-Germain, FC Barcelona, and AC Milan.
Besides titles in the national leagues and a UEFA Champions League win, he can also add a world cup victory to his resumé. Not bad if you ask me!
Sócrates
Full Name: Sócrates Brasileiro Sampaio de Souza Vieira de Oliveira
Birthdate: February 19, 1954
Birthplace: Belém, Pará
Position: Midfielder
This may not be the first name that comes to mind when thinking about soccer players from Brazil, probably because Sócrates retired from professional soccer after the 1986 World Cup, where he captained the Brazilian national team.
His nickname was 'O Doctor,' which is Portuguese for 'the Doctor'. He obtained this nickname because – besides being a professional soccer player – he was also a doctor.
O Doutor played a total of 63 matches for his country, but unfortunately, he has never won a world cup.
A title he did win was South-American soccer player of the year in 1983.
Sócrates passed away on December 4, 2011, at the age of 57.
Romário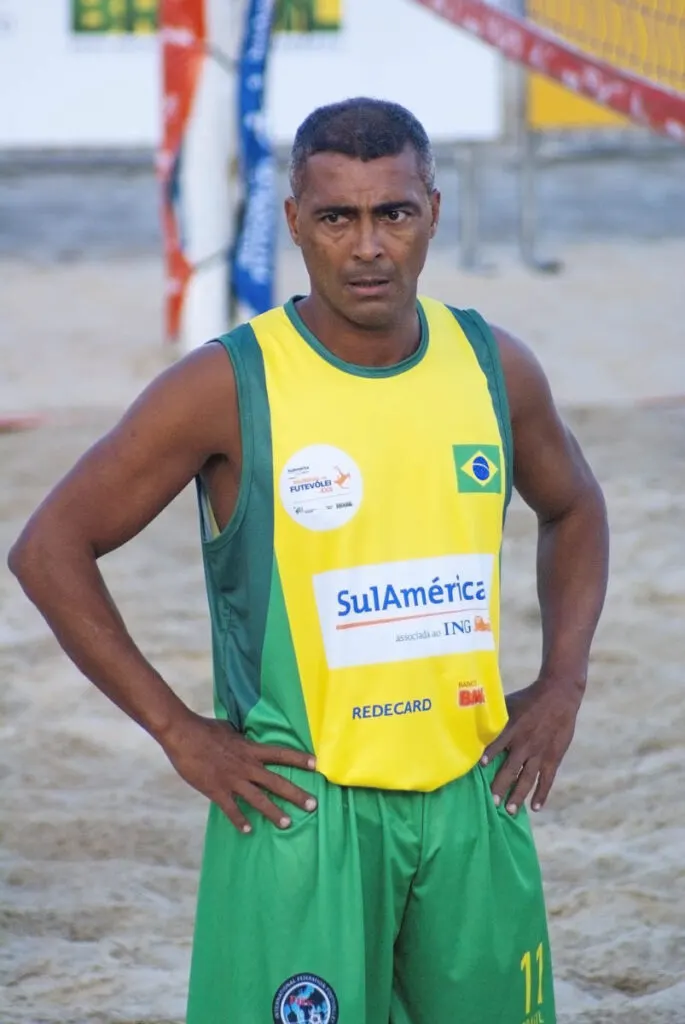 Full Name: Romário de Souza Faria
Birthdate: January 29, 1966
Birthplace: Rio de Janeiro City, Rio de Janeiro
Position: Attacker
At the age of 19, Romário made his professional soccer debut for Vasco da Gama, a club from his hometown Rio de Janeiro.
His performance didn't go unnoticed, and he was selected for the national team of Brazil to compete in the 1988 Olympics.
These Olympics turned out to be his breakthrough, as Dutch club PSV Eindhoven bought the Brazilian player.
He would stay at PSV for five seasons, during which he scored 98 goals and won three league titles and one national cup.
In 1993, Romário made a transfer to the top Spanish team FC Barcelona, where he played for two seasons.
He also won the 1994 World Cup with the Brazilian national team during this period.
Rómario retired from soccer in 2010, and as of 2015, he is the state of Rio de Janeiro senator.
Rivellino
Full Name: Roberto Rivellino
Birthdate: January 1, 1946
Birthplace: São Paulo City, São Paulo
Position: Midfielder
If you think his name sounds Italian, you're not wrong. Rivellino is the son of Italian immigrants that moved to Brazil.
Even though his career ended in 1981, he is still seen as one of the best Brazilian soccer players of all time.
He played a big part in Brazil's 1970 World Cup win by playing nearly every game and scoring three goals.
He played in the Brazilian Serie A his whole life until he transferred to the Saudi-Arabian club Al-Hilal for a few years and eventually retired.
After his professional soccer career, Rivellino didn't let go of soccer and worked as a commentator and soccer coach.
Zico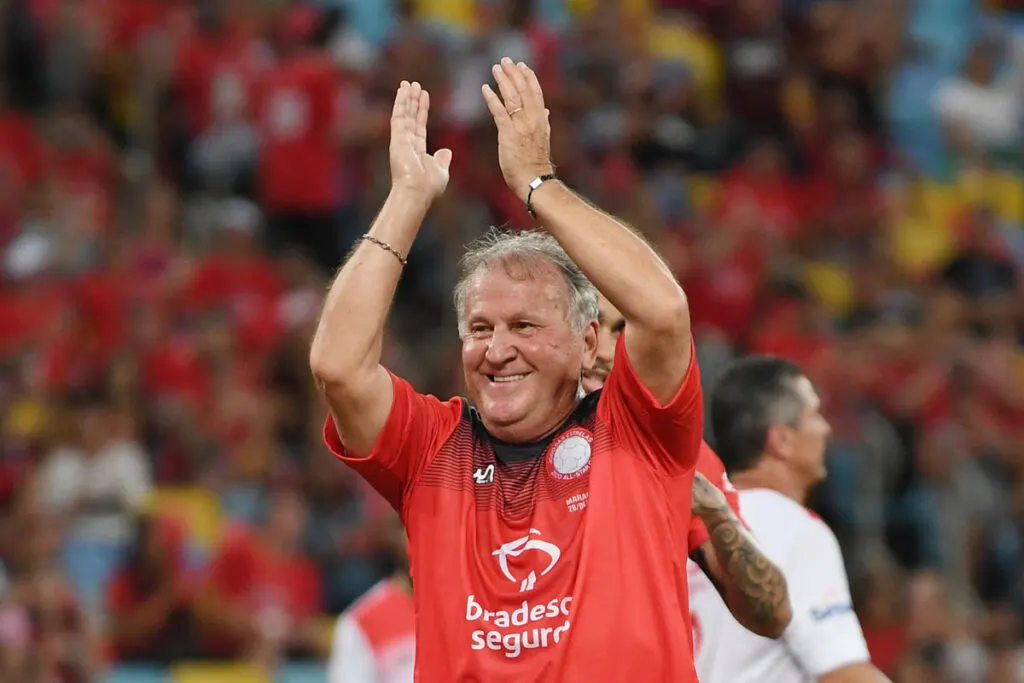 Full Name: Arthur Antunes Coimbra
Birthdate: March 3, 1953
Birthplace: Rio de Janeiro City, Rio de Janeiro
Position: Attacking midfielder
Zico is often seen as one of the best soccer players Brazil has ever had. He was so good that he got the nickname 'the white Pelé,' which is quite an honor if you ask me.
He's also known as one of the best soccer players in the world who never won a world cup.
He may have never won a world cup, but that doesn't mean there are no trophies in his trophy cabinet.
Throughout his career, Zico has won five titles with his club and over 15 individual prizes, like World Soccer Player of the Year in 1983.
Ronaldo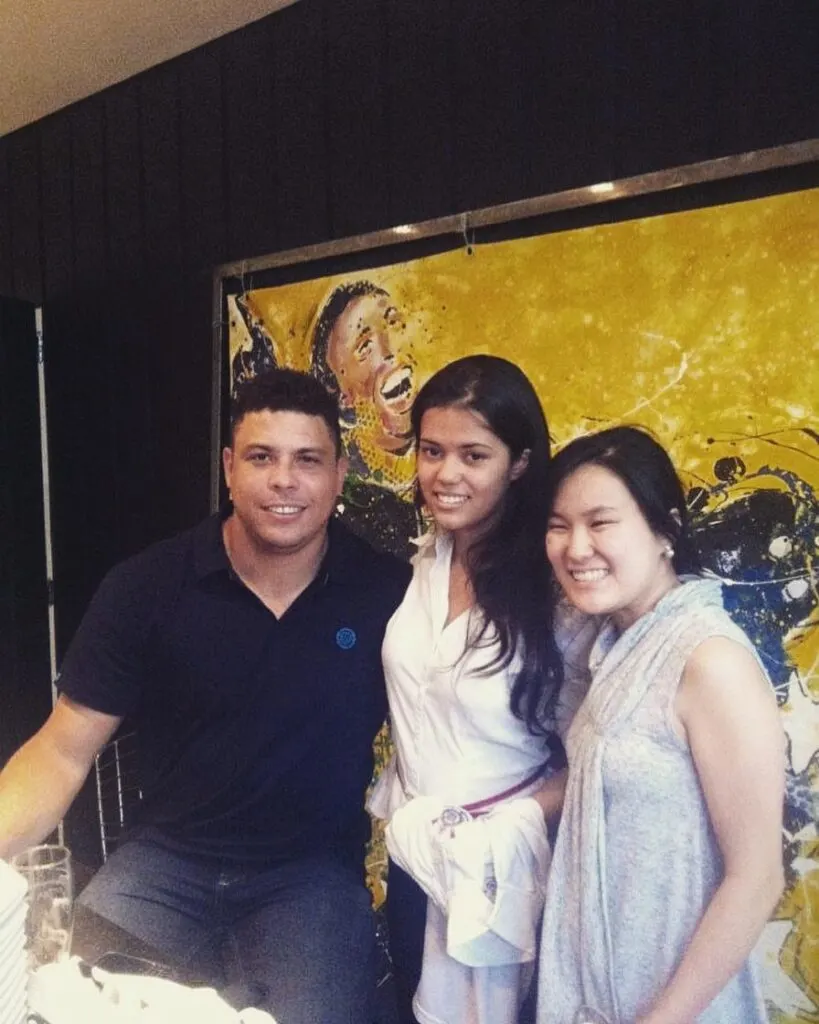 Full Name: Ronaldo Luís Nazário de Lima
Birthdate: September 18, 1976
Birthplace: Rio de Janeiro City, Rio de Janeiro
Position: Attacker
With the risk of sounding like a broken record, I wanted to mention that this Brazilian soccer player is also seen as one of the best players of all time. I'm also happy to say I had the pleasure of meeting him in Brazil.
Ronaldo has won the award of World Soccer Player of the Year three times, and his nickname was 'O Fenômeno,' meaning 'The Phenomenon.'
Like his fellow Brazilian Romário, Ronaldo left Brazil to play for the Dutch team PSV, where he was very successful.
A few years later, he joined FC Barcelona, where – at the age of 20 – he scored the winning goal in the Europacup II final.
Besides his soccer skills, Ronaldo was famous for another reason.
During the 2002 World Cup, he appeared on the pitch with an interesting haircut: he had shaved his whole head except for a semicircle right above his forehead.
We'll never know if it was because of the haircut, but during this 2002 World Cup, Ronaldo scored in both the semifinal and the final and won the world cup with his country.
Garrincha
Full Name: Manuel Francisco dos Santos
Birthdate: October 28, 1933
Birthplace: Magé, Rio de Janeiro
Position: Attacker
The story of Garrincha (little bird) is a complicated one. On the one hand, he was an extraordinary soccer player and won lots of prizes, including two world cups in 1958 and 1962.
On the other hand, his successes came at a price. Off the pitch, Garrincha was a heavy drinker and was involved in multiple car accidents. He passed away in 1983 as a result of cirrhosis.
He still had a special place in the hearts of the Brazilian soccer fans, who turned out in large numbers during his funeral.
The stadium of his first soccer team, Esporte Clube Pau Grande, still carries his name: Mané Garrincha.
Marta – The Best Female Brazilian Soccer Player To Date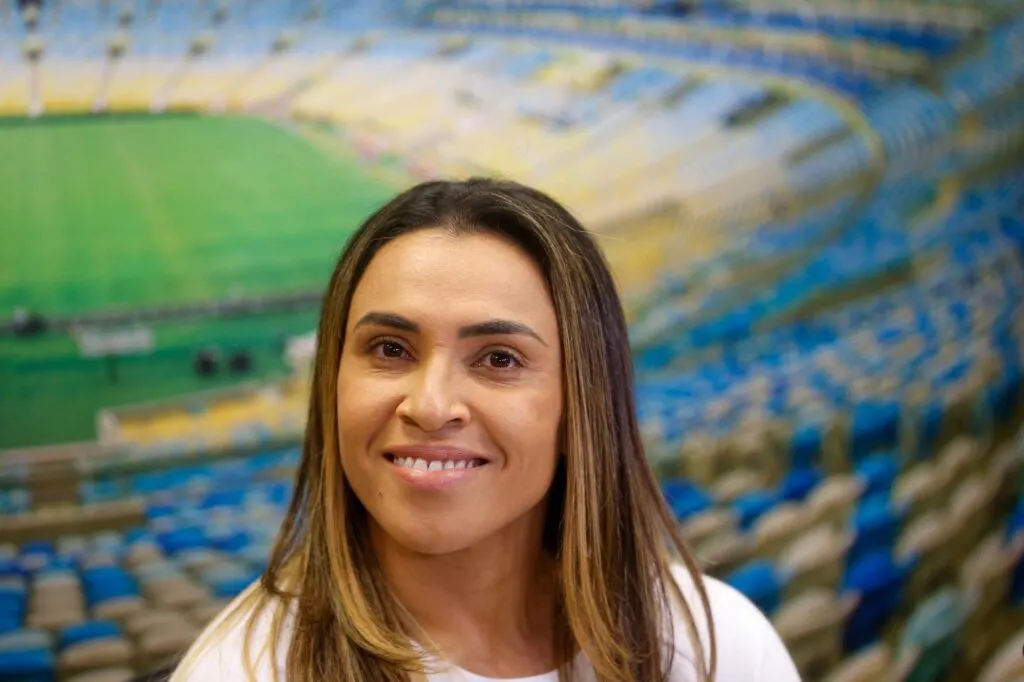 Full Name: Marta Vieira da Silva
Birthdate: February 19, 1986
Birthplace: Dois Riachos, Alagoas
Position: Attacker
Now, after all these male soccer players from Brazil, it's time for a female.
Marta has been playing professional soccer since 2000 and has played an impressive five world cups with Brazil Women's Soccer Team.
She's won so many individual titles that it's hard to mention them all, but it's definitely worth mentioning that Marta won the award for Best FIFA Women's Player in 2006, 2007, 2008, 2009, 2010, and 2018.
It's safe to say that Marta has had a huge impact on women's soccer in the past two decades and is an inspiration to millions of girls worldwide.
Pelé – The Best Brazilian Soccer Player To Date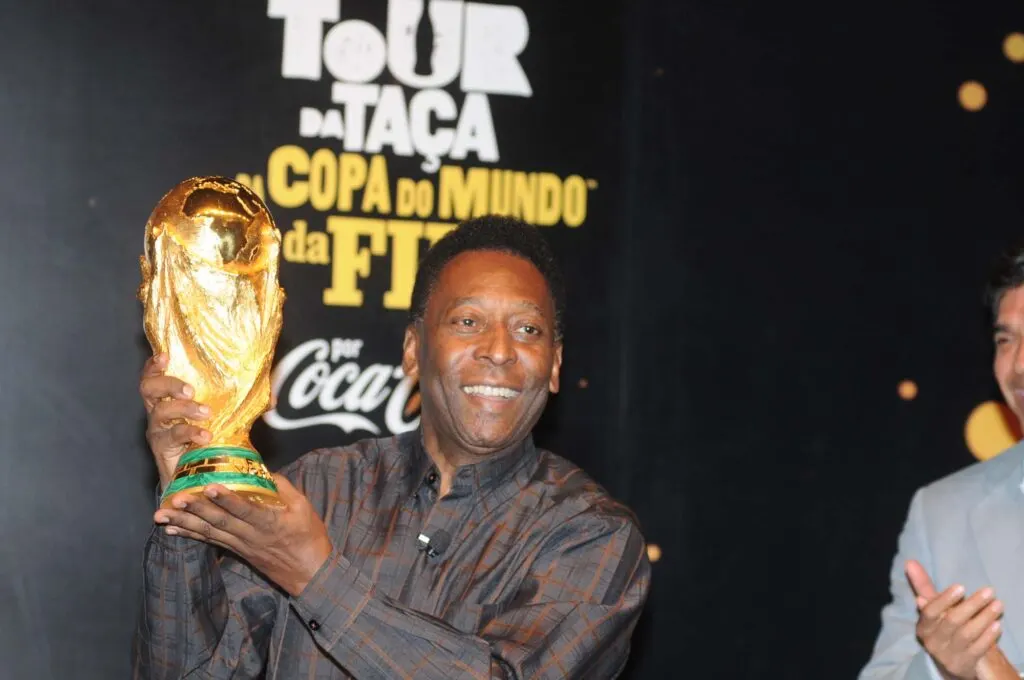 Full Name: Edson Arantes do Nascimento
Birthdate: October 23, 1940
Birthplace: Três Corações, Minas Gerais
Position: Attacker
"My name is Ronald Reagan, I'm the President of the United States of America. But you don't need to introduce yourself because everyone knows who Pelé is."

Ronald Reagan
Last on this list, but definitely not least, is Pelé, one of the most famous people in Brazil.
He is seen as the greatest soccer player Brazil has ever known, and I must admit I can't contest that.
During his childhood, Pelé spent a lot of time playing soccer out in the streets, which is where he learned how to play.
At the age of 15, he made his debut for the professional soccer club Santos, where he played for the majority of his career.
Even though he was only 15, he still managed to score during his first game.
It quickly became clear that Pelé was cut from a different cloth. He proved this once again during his first world cup in 1958 when he was only 17 years old.
Brazil won this tournament, making Pelé the youngest world cup winner ever. The Brazilian would win a total of three world cups: a record that still stands today.
After playing at Santos for nearly two decades, Pelé made a transfer to New York Cosmos. He played in New York for two years before retiring from professional soccer.
In the past years, Pelé suffered from health issues. In 2021, Pelé was hospitalized because of a tumor in his colon, and in November 2022, he was hospitalized again.
On December 29, 2022, the world lost one of the greatest soccer players of all time when Pelé passed away surrounded by friends and family.
Final Words on Brazilian Soccer Players
While there are many other excellent soccer players in Brazil, I had to keep it at 15 for the sake of readability.
Still, we Brazilians are grateful for the many fantastic male and female soccer players in our country.
Now, tell me, what Brazilian soccer players would you add to this list? Let me know in the comments!