This lemon brigadeiro recipe is easy to prepare, and I promise it will be a delicious sweet-and-sour treat to your taste buds.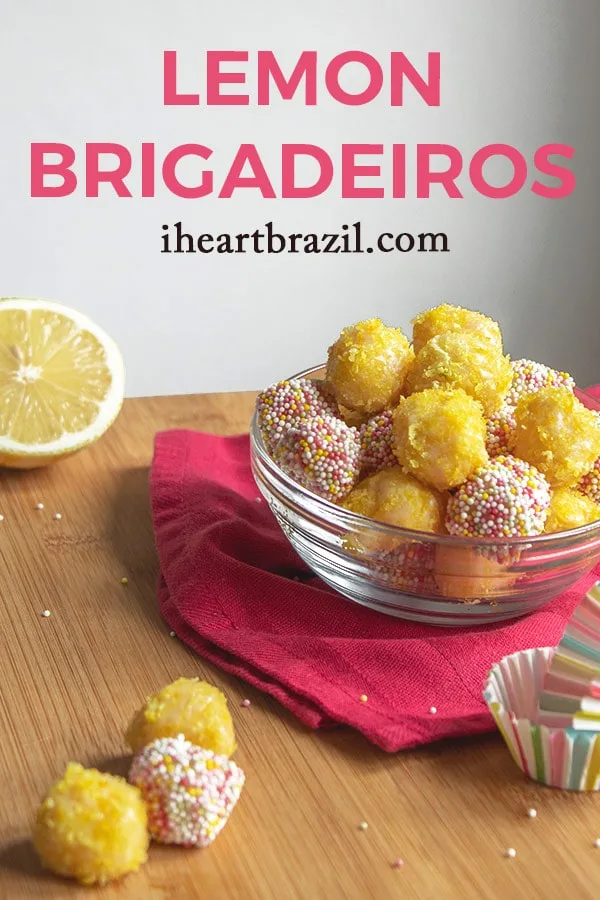 While brigadeiro is one of my favorite Brazilian sweets, lemon brigadeiro is a fresh godsend!
I'm a self-proclaimed sweet-tooth, and I adore chocolate—it's the greatest medicine against my PMS. But I've also always had a thing for sour tastes—lemon, orange, or lime ice cream, to name a few.
That's why I decided to try my hand in a gourmet brigadeiro recipe. After all, I've prepared the traditional brigadeiro so many times in my life. It was time to change it a bit!
And despite being worried about the outcome, my husband and I loved this new brigadeiro recipe variation.
Brigadeiro pronunciation: bree-gah-DAY-roh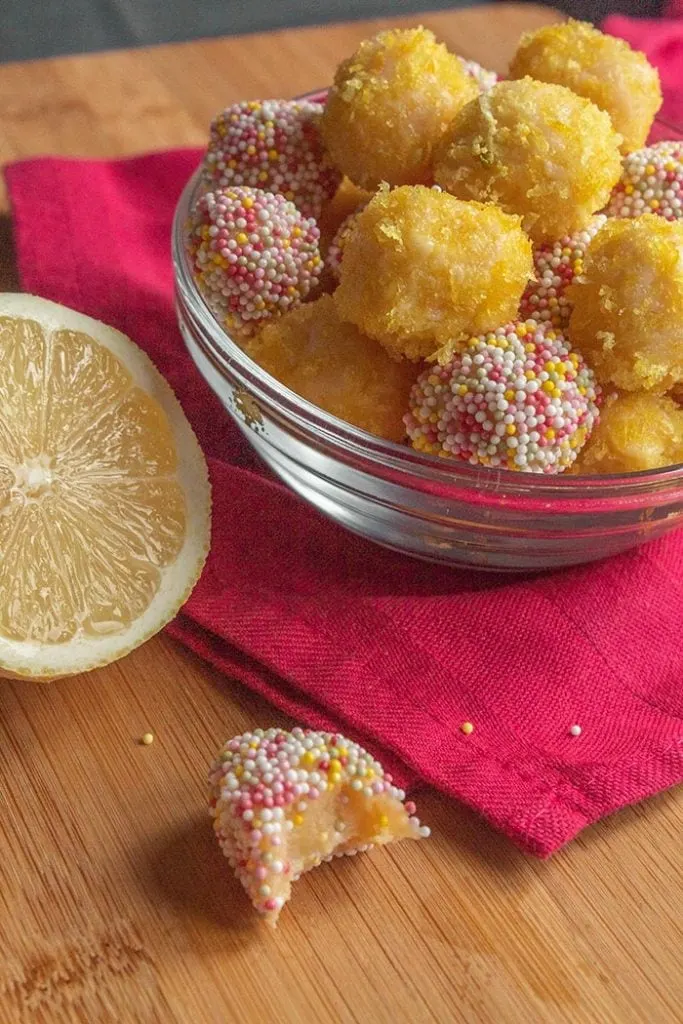 A gourmet brigadeiro recipe
As I said, I decided to create a new flavor of this recipe we, Brazilians, love so much. In fact, when I told my mom I was preparing a gourmet brigadeiro recipe she looked a little concerned as if she didn't believe the outcome would be tasty.
Well, I have to say that her face while eating it totally proved her wrong. Instead of cocoa powder, I added lemon juice and zest, and the result was delightful.
If my mom approved it, it must be good!
And while this lemon brigadeiro is delicious, I can't say it's my favorite gourmet variation. That's because I love coconut brigadeiro, also known as beijinho in Brazil. Beijinho literally means little kiss in English.
Another good one is the pumpkin brigadeiro, which is a perfect fall dessert or Halloween sweet.
Fun fact: Brigadeiro means Brigadier in English, and it has this name because it was created to support the presidential candidate Eduardo Gomes, a Brigadier.
The Brigadier didn't win the election, but the sweet stuck around for decades and it's one of our favorites if not the #1.
Love Brazilian food? Follow I Heart Brazil Official Instagram account to stay up-to-date with all my recipes!
Your lemon brigadeiro recipe
Before I start talking about the ingredients and how to make lemon brigadeiros, I'll answer a few questions about this recipe I've received from readers in the past.
What does lemon brigadeiro taste like?
Like a scrumptious candy you wish you had eaten before! But in all seriousness, lemon brigadeiro has a rich sweet-and-sour taste that makes this Brazilian sweet feel not so heavy in sugar. But don't let that trick you. It's a lot of sugar.
Read next: Traditional Brazilian dishes (you need to eat!)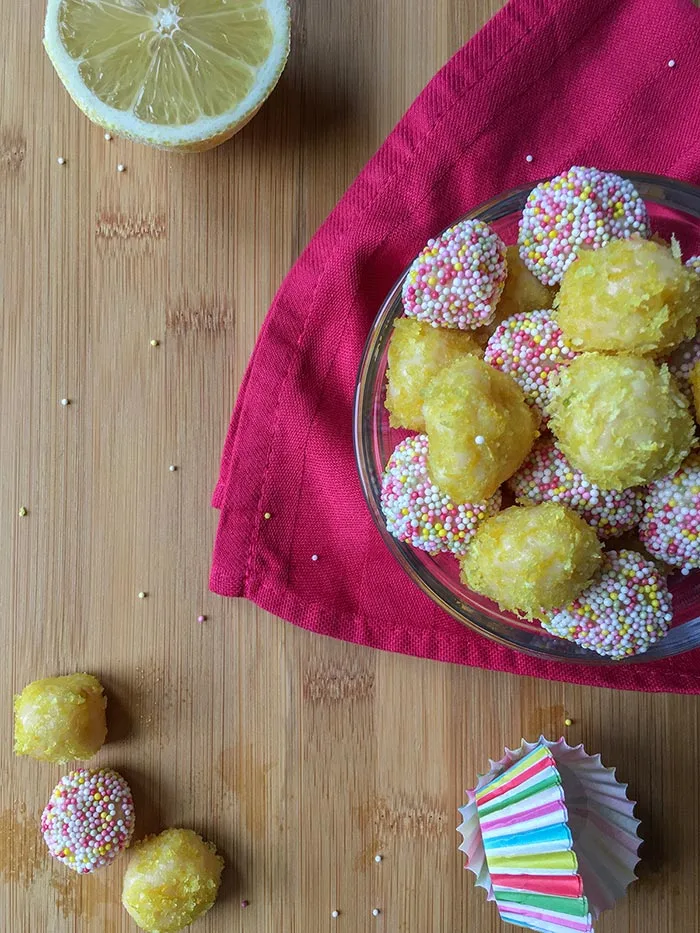 Is it easy to prepare?
Yes! Easy-peasy. All you have to do is put all ingredients in a pan, cook for about 15-20 minutes, let it cool down, and roll the truffles. It doesn't take long to roll them and no advanced cooking skills are needed for it.
How to store your lemon brigadeiros?
Store your lemon brigadeiros in a plastic container with the lid tightly closed in the refrigerator for up to five days. If this brigadeiro gets old, it might taste a bit sourer because of the lemon zest.
What can I serve with lemon brigadeiros?
I have several suggestions right here for your party snack options, that will pair beautifully with my lemon brigadeiro.
Or if you want a pairing for another sweet, there's a good one in these vanilla brigadeiros.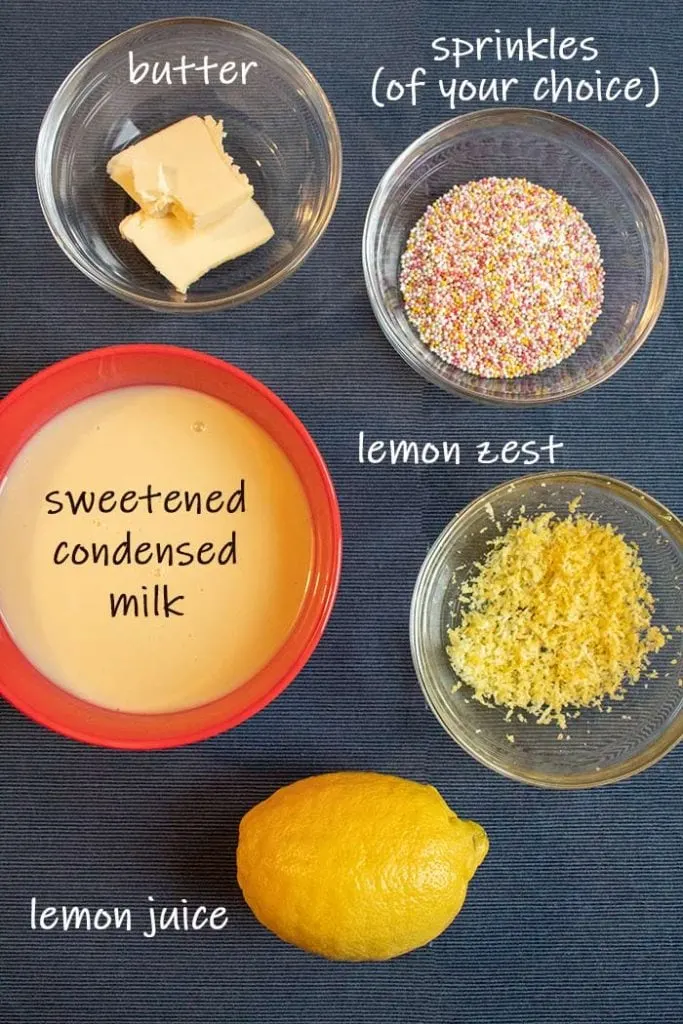 Read next: Brazilian lemonade recipe
Lemon brigadeiro recipe
This brigadeiro recipe is very easy to follow. If you have already prepared the traditional brigadeiro recipe, you'll notice that this dough seems more liquid at first.
But after it has cooled down, the consistency is just great to roll. Once you start rolling the truffles, I recommend you do it in batches for practical reasons.
So, let's get to this yummy brigadeiro recipe variation.
Tips for making perfect lemon brigadeiros
Watch out for the white part of the rind! Lemon rind can be bitter, so be sure you only zest the yellow part of the rind, not the white one.
Do it in batches! Let to dredge the brigadeiros with the lemon zest-sanding sugar mix after you're done rolling all of them. This way, your hands won't have zest or sugar all over them which is very annoying if you have to roll other truffles.
How to make lemon brigadeiro
Brigadeiro is the easiest Brazilian dessert to prepare, and you'll notice it in a minute. The recipe is straightforward.
First, add the condensed milk, the butter, and the cocoa powder in a non-stick pan in the medium heat.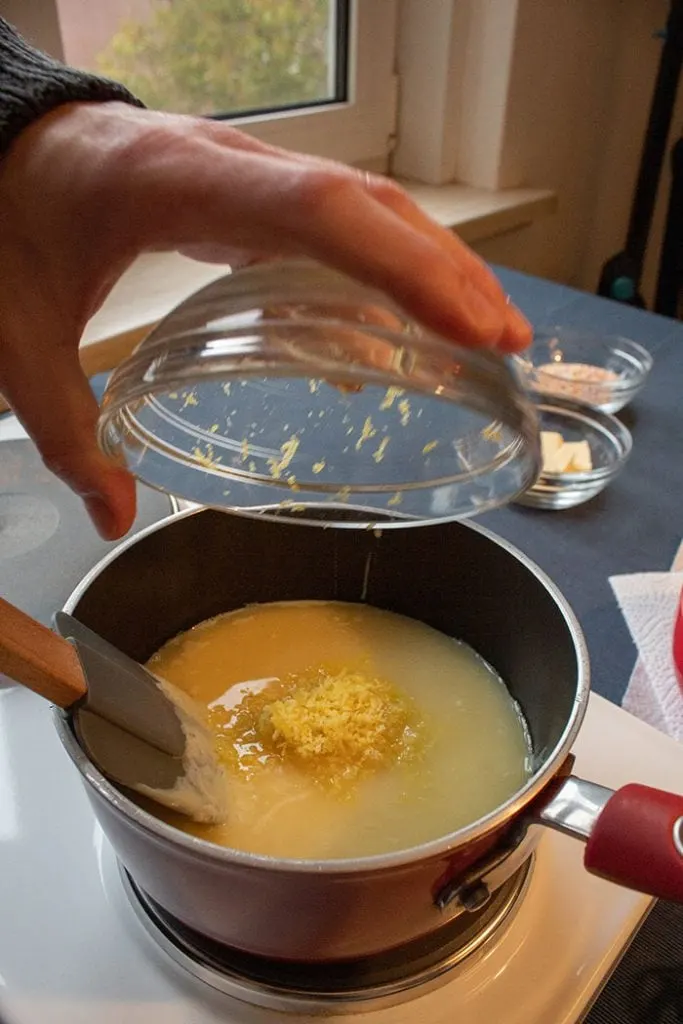 Continue stirring and cooking it so the mixture won't burn at the bottom. For this, you can either use a wooden spoon or a plastic spatula.
You can add about 2 tbsp finely grated white chocolate to the mixture for a pleasing chocolate aftertaste.
When the mix looks more like a dough than like a batter, count three minutes and it's done.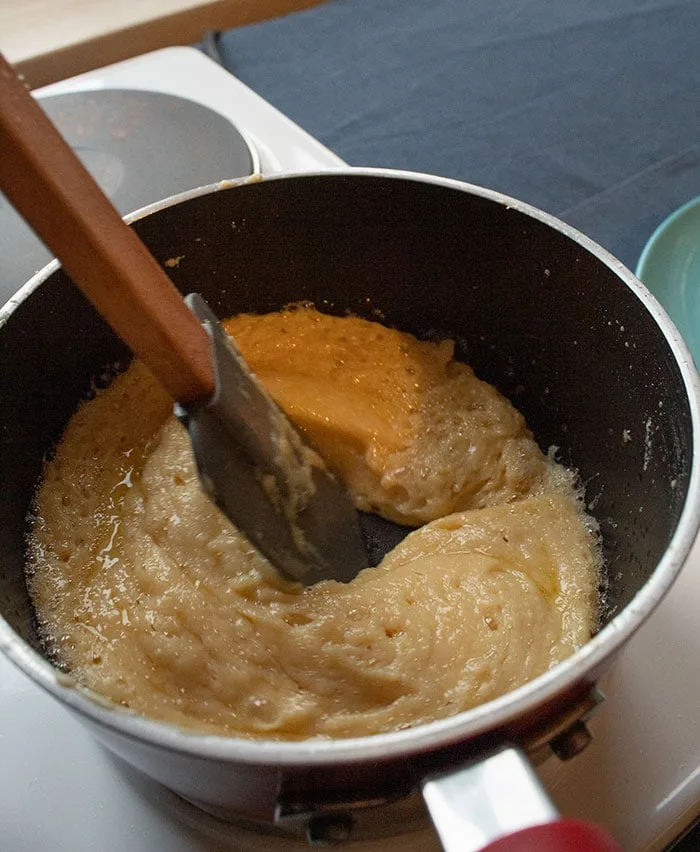 Transfer the mixture from the pan to a greased plate and spread it to help cool down faster. Put it in the fridge for 1 hour.
Now it's time to roll your lemon brigadeiros. But before you start molding them, put the lemon zest and sanding sugar mix on a plate or bowl next to you, together with butter (for your hands), and another plate filled with mini bonbon cups.
Now to rolling the brigadeiros! To mold the brigadeiro into balls, simply take a full teaspoon with the dough and roll it between your buttered hands.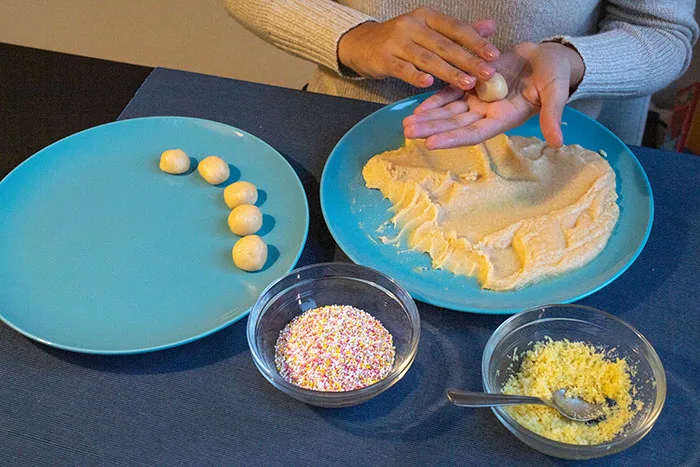 Because the consistency of this dough is slightly different than the traditional brigadeiro, it also is easier to roll it without having the dough sticking to your hand.
Then put the little balls on the plate with sprinkles, but don't coat it yet.
Once you've rolled all brigadeiros, dredge them with lemon zest and sanding sugar to coat all sides and transfer each ball to a candy cup No 3.
Enjoy!
Did you like this recipe for lemon brigadeiro? Then save it to your Pinterest board and send it to a friend who might also like it.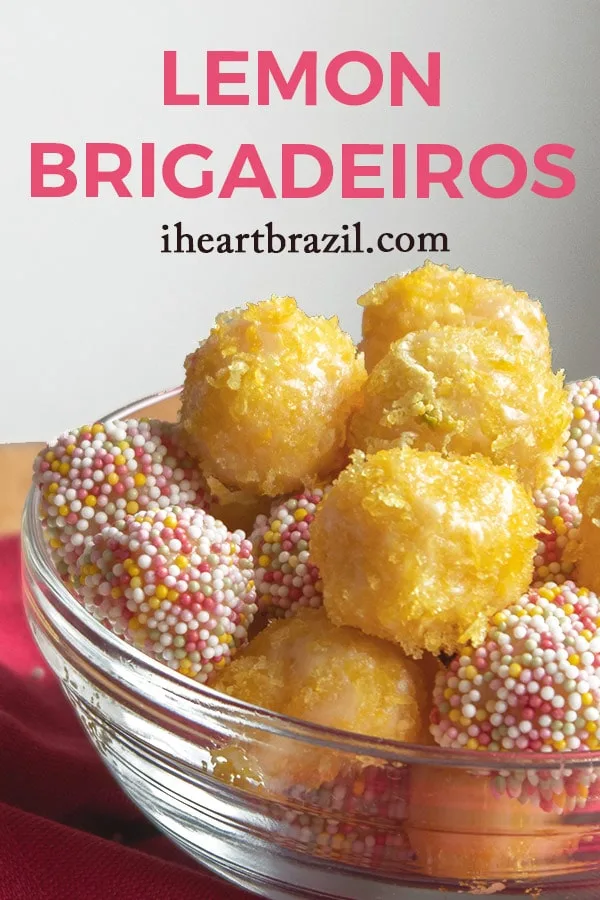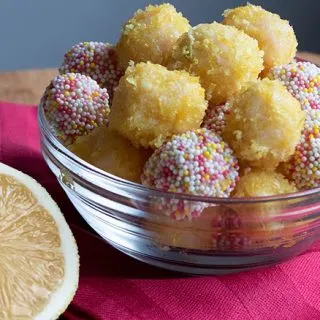 Lemon Brigadeiro Recipe
Rolling the truffles:
15 minutes
This lemon brigadeiro recipe is easy to prepare, and it's a delicious sour and sweet treat to your taste buds.
Ingredients
1 14-ounce (397 grams) can sweetened condensed milk
1 tablespoon butter, plus some more to roll the balls
2 lemons
2 tablespoons lemon zest
Garnish
2 tablespoons sanding sugar
3 tablespoons lemon zest
Instructions
Add condensed milk, butter, lemon juice, and lemon zest on a heavy bottom pan in medium heat and mix it well.
Continue stirring and cooking until it thickens. Once the mixture looks more like a dough than a batter, it's done. It should peel away when you scrape the bottom of the pan and reveal it for a couple of seconds before the mixture levels out again.
Pour the mixture onto a lightly greased plate (butter) and let it cool down. You can put it in the refrigerator for 1 hour.
Once cold, you are ready to roll the little balls, remember to grease your hands with butter first.
With a teaspoon, take a piece of the dough in your greased hands, roll it, and place the fudge truffle onto the plate with the coating.
Roll them over the sanding sugar and lemon zest mix.
Place the balls in the candy cups and voila! Enjoy it!
Recommended Products
Nutrition Information:
Yield:

20
Serving Size:

1
Amount Per Serving:
Calories:

103
Total Fat:

3g
Saturated Fat:

2g
Trans Fat:

0g
Unsaturated Fat:

1g
Cholesterol:

11mg
Sodium:

46mg
Carbohydrates:

17g
Fiber:

0g
Sugar:

16g
Protein:

2g