This Brigadeiro recipe is straightforward and tastes divine! The chewy truffle melts in your mouth and challenges you to eat only one. But, why would you?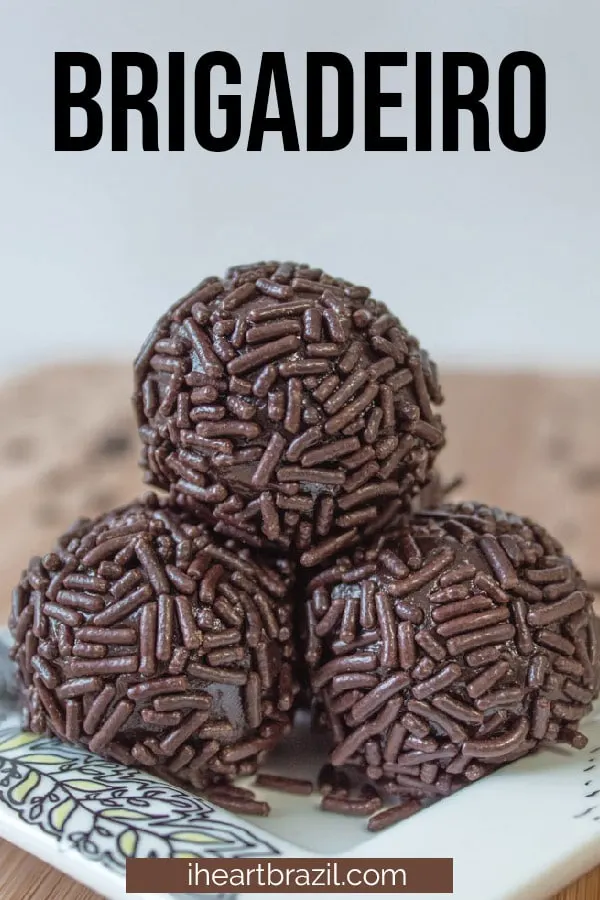 I love brigadeiro. My husband is crazy about brigadeiro. My whole family loves it, too—adults and children.
Well, what can I say? Brigadeiro is a delicious Brazilian sweet that is very popular in the country. There's not a single children's party without it. Otherwise, it's not a real party.
My husband and I don't have kids, but I often prepare brigadeiro of all flavors just because I have a sweet tooth. (Or I'm having a severe PMS. It helps.)
But in all honesty, when I prepare it just for the two of us, I rarely roll the dough into balls. We simply eat it from a bowl and that's perfectly fine.
Once my husband got home to find me watching Netflix and holding an empty bowl of brigadeiro. He got jealous, but hey "happy wife, happy life," he said.
Brigadeiro pronunciation: bree-gah-DAY-roh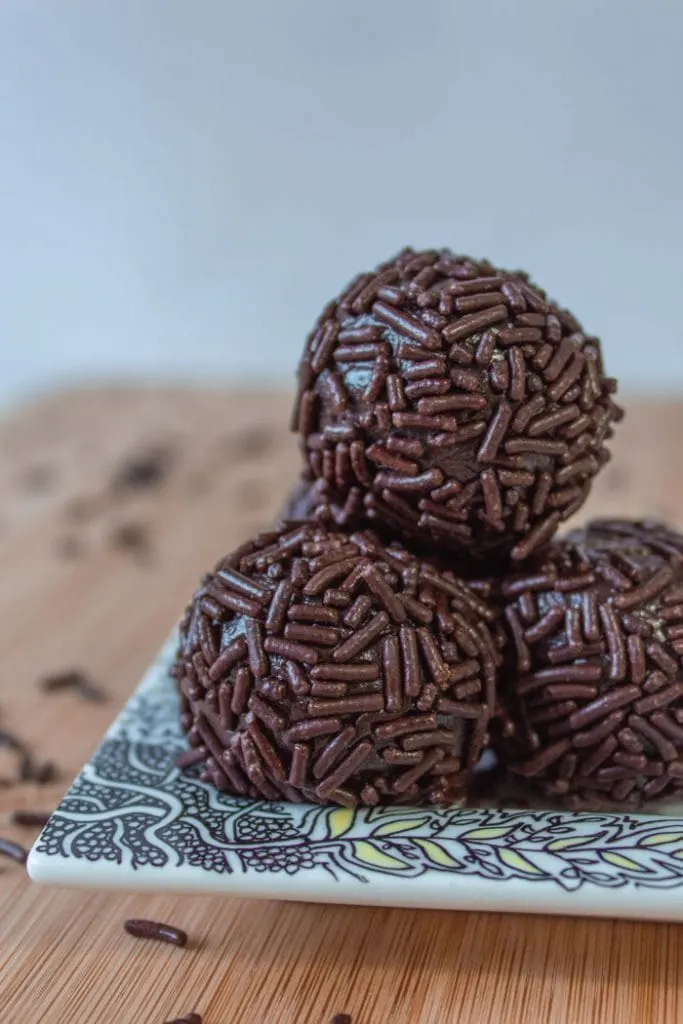 Brigadeiro origins
Jokes apart, brigadeiro is a candy with an interesting story.
Right after WW2, while Rio de Janeiro was still Brazil's capital, the country was busy with the reelection of the new president.
One of the candidates, Brigadier Eduardo Gomes, besides being quite charming, was considered a handsome man by the female voters, who were finally allowed to vote in 1932.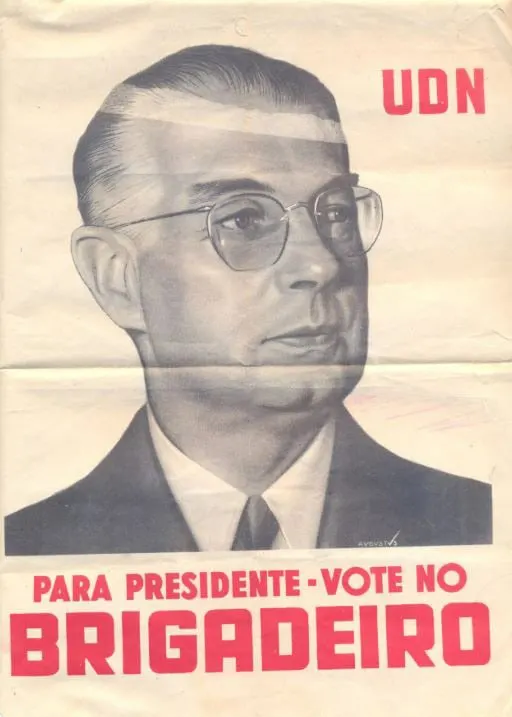 To show their candidate support, these voters prepared sweets to serve in rallies and public meetings.
Mind you, brigadeiro was named after the candidate's title, brigadier, but in Portuguese.
But because it was a post-war period, the country was still rationing many ingredients and products.
And instead of using milk and sugar, as in most desserts, Heloísa Nabuco de Olivera–the creator of brigadeiro–used sweetened condensed milk to prepare this delicious Brazilian sweet.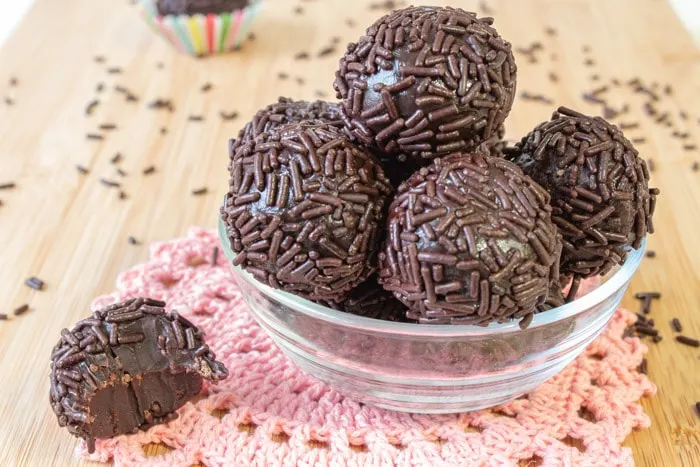 Little did Heloísa know her recipe would become Brazil's most popular sweet for generations to come. Today, this little fudge truffle is part of our cuisine.
Fun fact about Brazil: Despite the support of the female voters, Brigadier Eduardo Gomes didn't win the elections. Eurico Gaspar Dutra did. The brigadier lost the election and Brazil won its favorite sweet.
FAQ Brazilian chocolate balls
First, I'll answer a couple of questions from readers. Then I'll talk about the ingredients and how to make brigadeiro.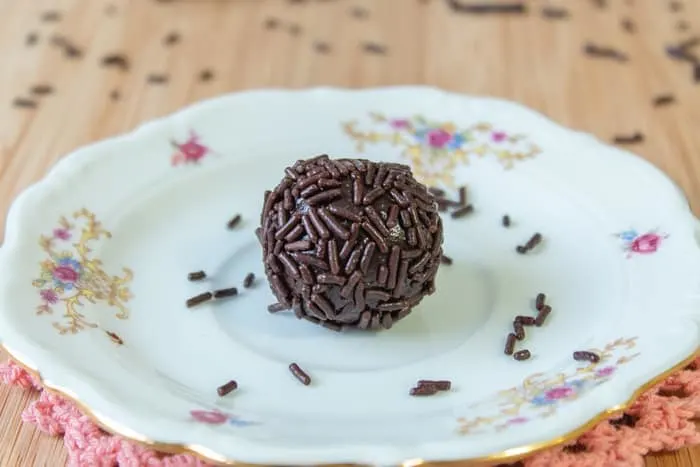 What does brigadeiro mean?
The candy was originally called "Brigadeiro's sweet," because that's the translation of brigadier to Portuguese.
Mind you, this sweet was created in support of a Brazilian brigadier. But years later, the name was shortened to only brigadeiro. That's the reason this delicious treat is important to Brazil.
What is brigadeiro?
Brigadeiro is a Brazilian chocolate truffle garnished with sprinkles. It's usually served in a candy cup No3, but we, Brazilians, also eat it with a spoon (from a small bowl).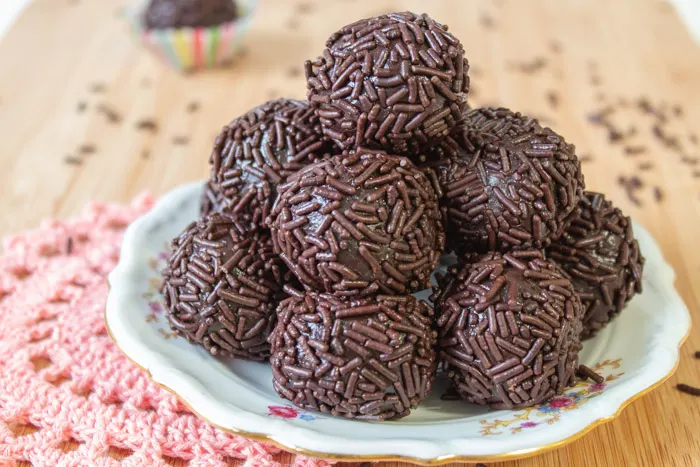 What does brigadeiro taste like?
Like heaven! Brigadeiro tastes like a chocolate fudge melting in your mouth. I don't know if the sweetened condensed milk in America is as sweet as the one we have in Brazil, but this ingredient, together with pure cocoa powder, makes wonders.
Is it easy to prepare?
Absolutely! You basically put everything all ingredients in a pan, cook for 15 minutes, let it rest, and roll the balls. It doesn't take long and no advanced cooking skills are needed for it.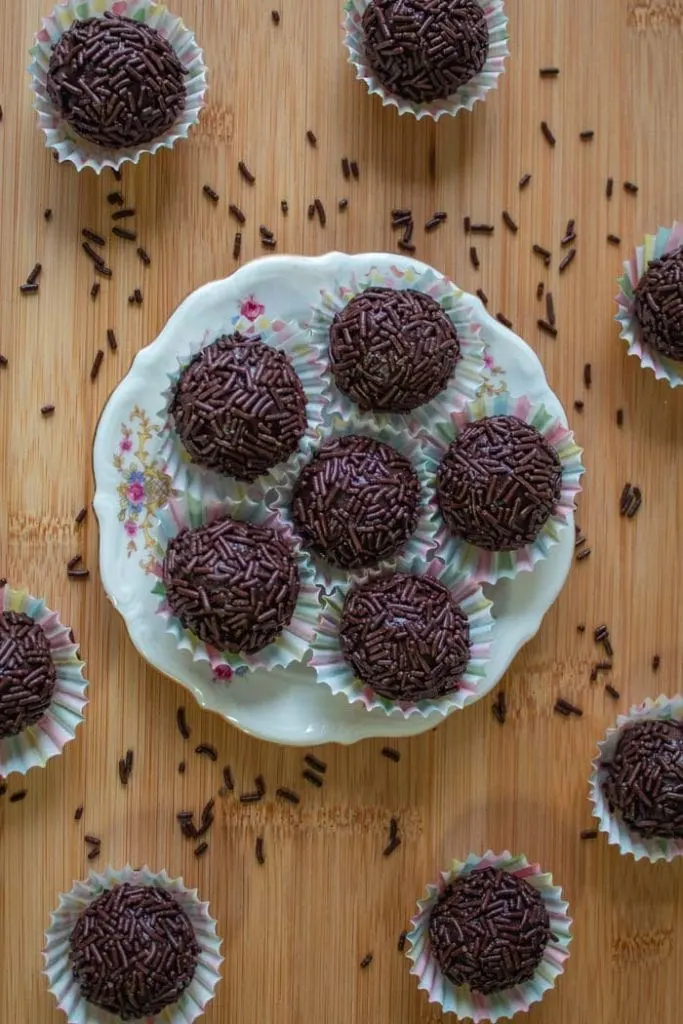 Is it served cold?
Yes, or at least at room temperature. If the truffles are warm, they will melt and make a huge mess. It's only ok to eat it warm if you're eating it from a bowl.
Should you refrigerate brigadeiro?
Yes, immediately after cooking it to speed up the cooling process. Only after it cools down, you can roll it to its final form.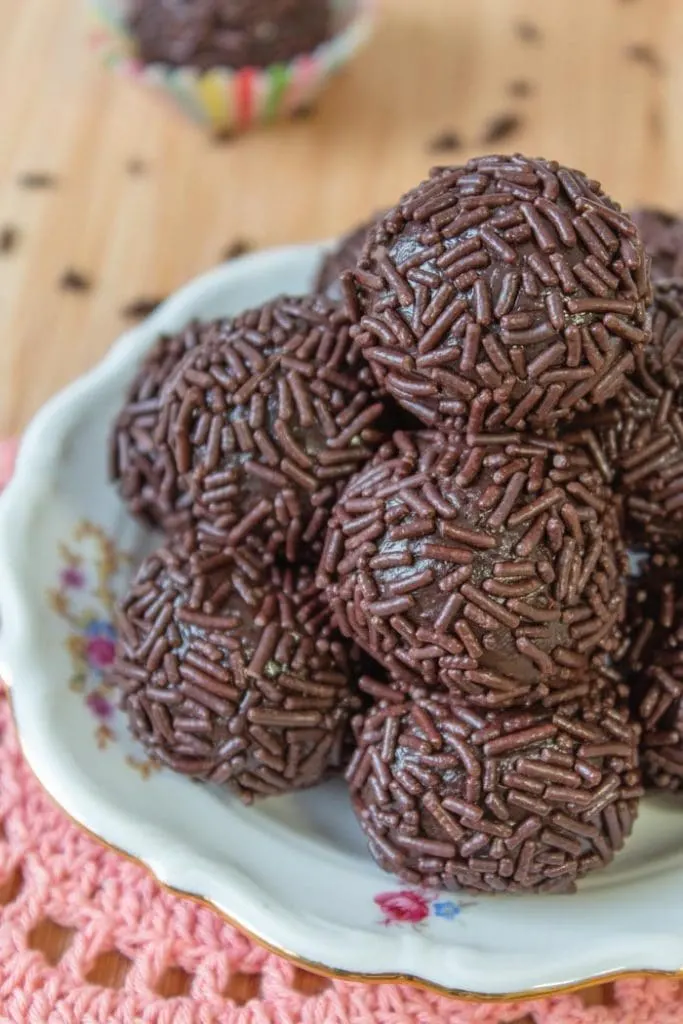 How to store brigadeiros? Can you freeze it?
Personally, I prefer to leave my brigadeiros at ambient temperature because I live in a cold place. In this case, I recommend you eat them within three days.
If you refrigerate them, keep it for seven days, but be aware that besides getting a bit dry, they could also have their color, texture, and flavor changed a little.
Brigadeiros freeze really well for up to three months, but in that case, I suggest you don't roll them into balls. Only freeze the dough; otherwise, they might not look so appealing as before.
If you have any leftovers that you want to save for another party or just to save for after your diet, all you need to do is to store them in a plastic container with the lid tightly closed in the freezer and without the candy cups.
This way, when it thaws, it won't ruin the cup and possibly the brigadeiro too. To thaw, leave them at room temperature for about one hour.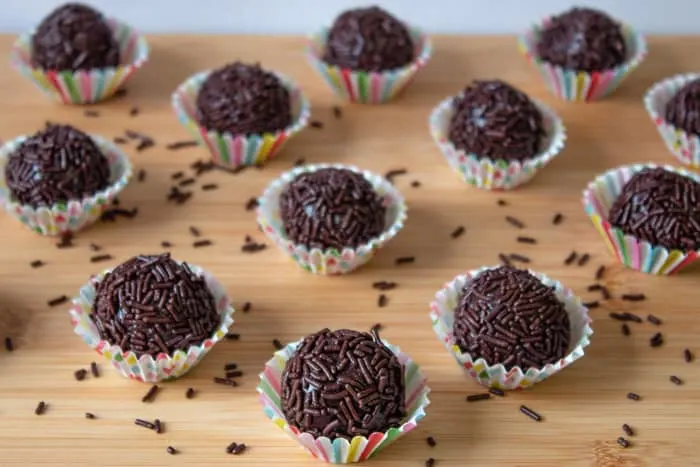 Brigadeiro variations
Brigadeiro is a very versatile sweet. You can create different flavors or a mix of flavors as you like.
There are plenty of brigadeiro recipe variations possible, but a few of my favorites are coconut (beijinho), pumpkin, and lemon.
Brigadeiro recipe
This brigadeiro recipe is very easy to follow. Once you start rolling the truffles, I recommend you do it in batches for practical reasons.
First, the step-by-step instructions that will walk you through the whole cooking process of this divine brigadeiro recipe.
Brigadeiro ingredients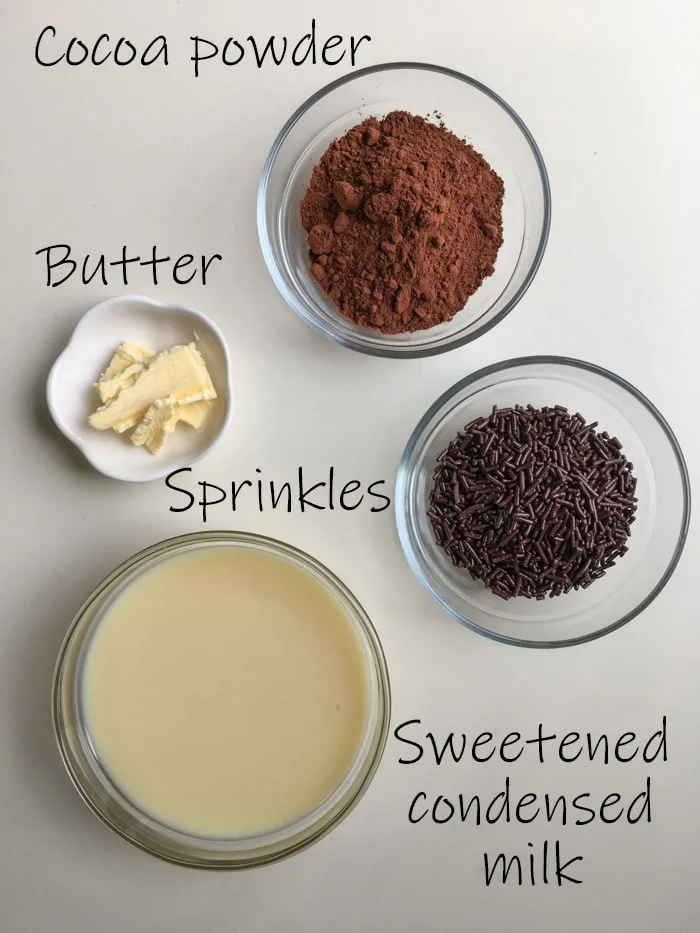 Sweetened condensed milk: this is the base for most Brazilian desserts, and what makes this brigadeiro so sweet.
Unsalted butter: just so you can control the amount of salt in your brigadeiro recipe.
A pinch of salt: to enhance the brigadeiro flavor.
Cocoa powder: cocoa powder adds a sophisticated touch of real chocolate. Obviously, you could also use chocolate milk powder, but because it comes with lots of sugar, your brigadeiro might not taste so well.
Chocolate sprinkles to garnish: personally, I use pure chocolate sprinkles simply because I love pure chocolate. However, you can use any sprinkles you like in your Brazilian fudge balls.
Your step-by-step brigadeiro recipe
As I said before, brigadeiro is an easy Brazilian dessert to prepare. There's no secret. First, grease a plate with butter and set aside.
Then, mix the condensed milk, the butter, and the cocoa powder in a medium non-stick pan.
Be sure to continually stir with a wooden spoon or silicone spatula so the milk won't burn at the bottom.
The secret of getting the brigadeiro to the right cooking point where it won't stick to your hands when you roll the little balls is to let it cook a little more than most brigadeiro recipes say.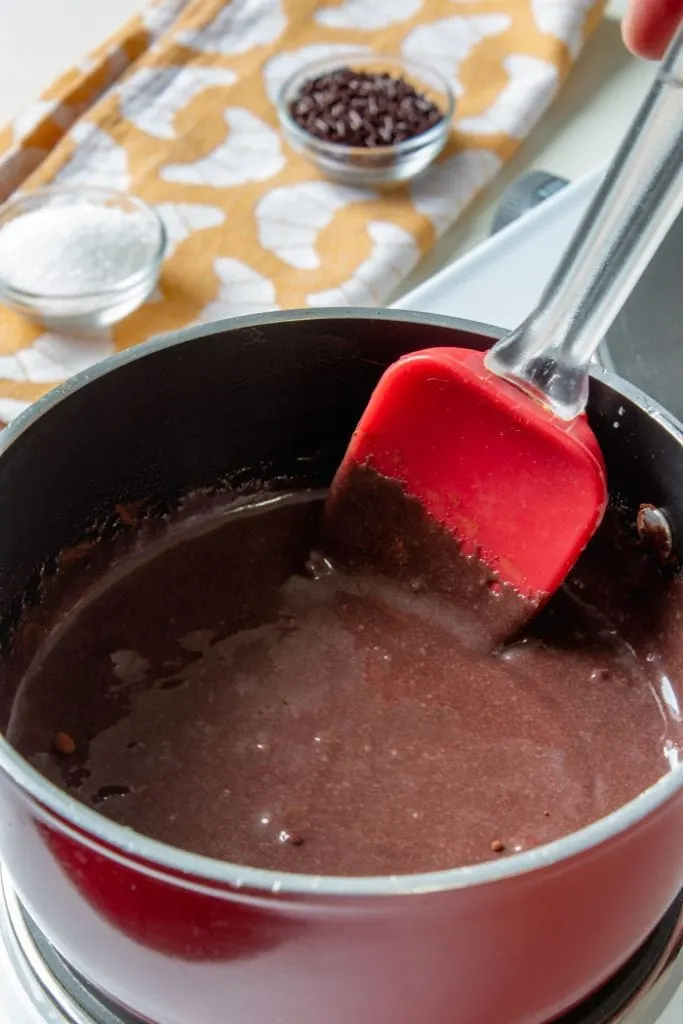 Most of them say to turn off the stove after the mixture seems more like a dough and it starts pulling away from the sides of the pan. But I say, continue stirring it for a minute after the dough starts acting like that.
When I cook it for a further minute, the brigadeiro never sticks to my hand. It is very easy to roll.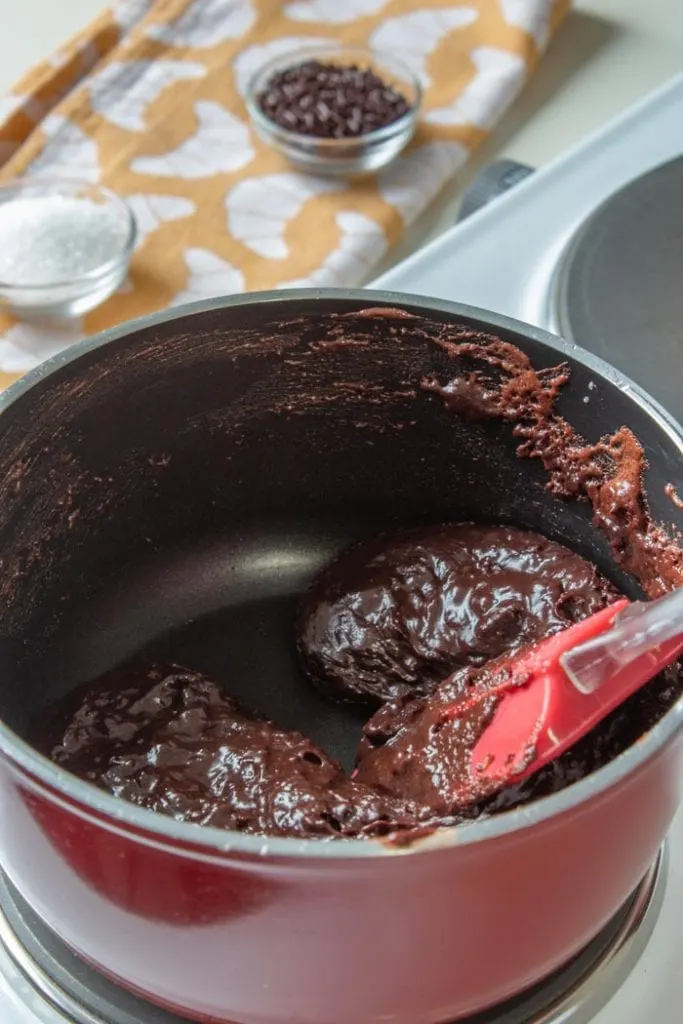 Remove it from the heat and transfer the mixture to the greased plate and spread. Let it cool in the freezer for 25 minutes.
Before you start molding your brigadeiros, put the chocolate sprinkles on a plate next to you, another plate filled with candy cups, and butter to grease your hands a little.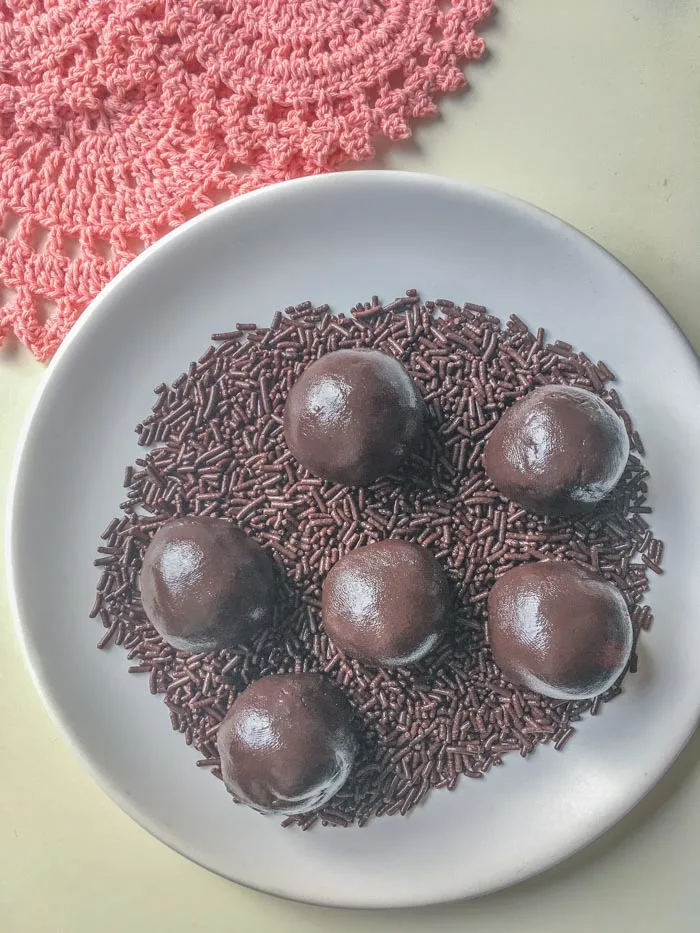 To mold the brigadeiro into balls, take a full teaspoon with the dough and roll it between your buttered hands. Put the little balls on the plate with sprinkles, but don't coat it yet.
Tip from a local: It's easier to roll them in batches and only then to coat them with sprinkles; otherwise, your hands will get filled with them.
After you have no more space on the plate or there's no more dough, roll the brigadeiros around the plate with sprinkles to coat all sides and transfer each ball to a candy cup. Bom apetite!
Did you like this recipe for brigadeiro? Then save it to your Pinterest board and send it to a friend who might also like it.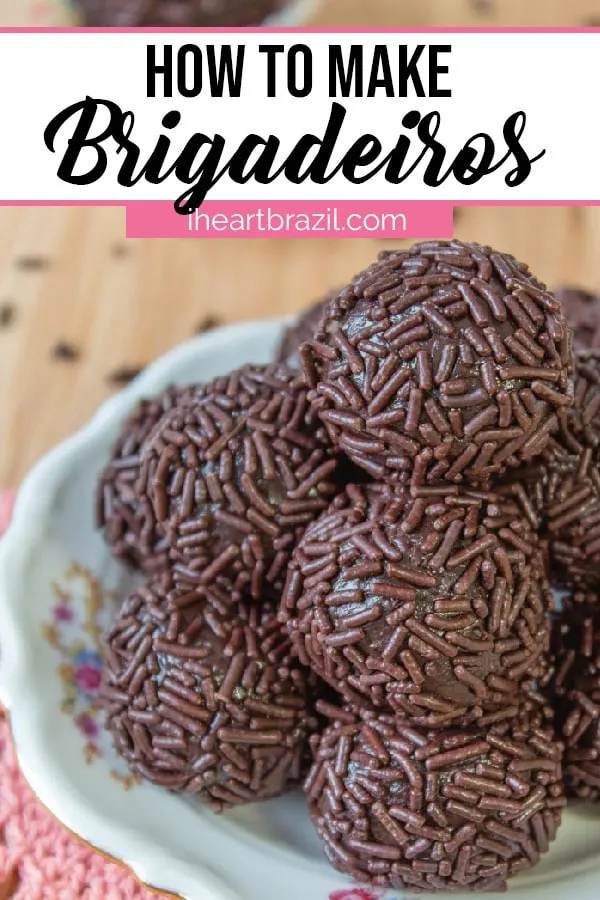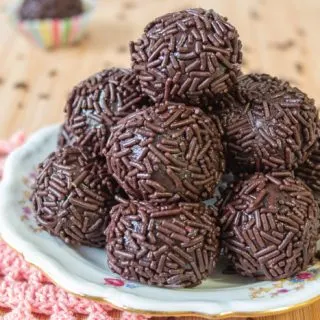 Brigadeiro recipe
Brigadeiro is a classic Brazilian sweet with an incredibly easy recipe. You'll fall in love with this delicious treat at first bite.
Ingredients
1 14-ounce (397 grams) can sweetened condensed milk
3 tablespoons unsweetened cocoa powder, sifted
1 tablespoon butter
A pinch of salt to enhance the flavor
Chocolate sprinkles or any other you prefer
Instructions
Grease a plate with butter and set aside.
In a medium non-stick pan, combine the condensed milk, butter, and cocoa powder in medium heat and mix it well.
The mixture thickens after about 10-12 minutes, and once you can run your silicone spatula through the middle of it without it running back together for 2-3 seconds, it is done.
Pour the mixture onto the lightly greased plate and let it chill in the fridge for an hour.
In the meantime, prepare the candy cups and place the sprinkles in a bowl.
Once chilled, you are ready to roll the little balls. Lightly wet your hands, put a tablespoon of the chewy mixture on your hands, and roll into a small ball.
Roll it over the sprinkles.
Place the balls in the candy cups, and voila! Enjoy it!
Recommended Products
Nutrition Information:
Yield:

20
Serving Size:

1
Amount Per Serving:
Calories:

99
Total Fat:

3g
Saturated Fat:

2g
Trans Fat:

0g
Unsaturated Fat:

1g
Cholesterol:

11mg
Sodium:

52mg
Carbohydrates:

16g
Fiber:

0g
Sugar:

15g
Protein:

2g