Looking for more information about Brazilian coffee? I've got you covered–in today's article, I'll talk about brands, facts, and more about the coffee in Brazil.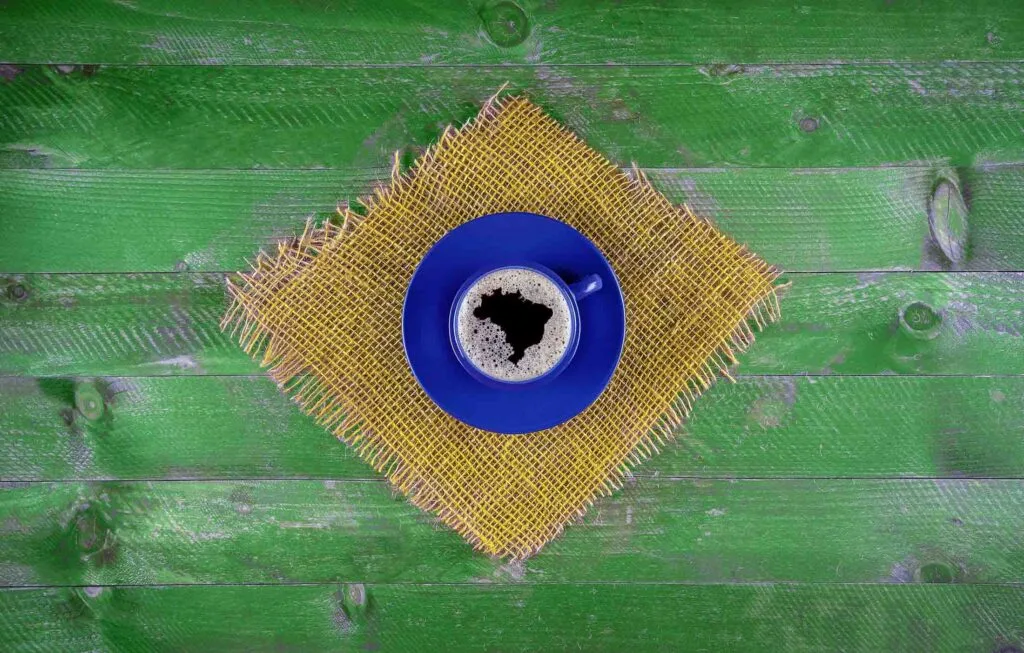 Brazilian coffee
When you think about rich, fragrant, and delicious coffee, does Brazil come to mind?
It should because Brazil is the second-largest consumer of coffee in the world. Brazil is a beautiful, tropical country filled with rainforest, and its warm climate makes it very ideal for growing coffee. Currently, Brazil produces about one-third of the world's coffee supply.
With over 220,000 coffee farms producing both Arabica and Robusta coffee variants, Brazil has made itself a key player in the coffee industry.
Research has shown that most of the espresso beans consumed in the world come from Brazil. The coffee bean harvesting season in Brazil starts in May and runs all through till September.
This colossal coffee industry in Brazil has also created a unique coffee classification system that ensures that different coffee beans featuring unique flavors are identified and classified.
Brazil is also known for its high coffee consumption. Most countries that produce coffee tend to export an increased number of their produce. Brazil, however, is the 14th largest consumer of coffee in the world.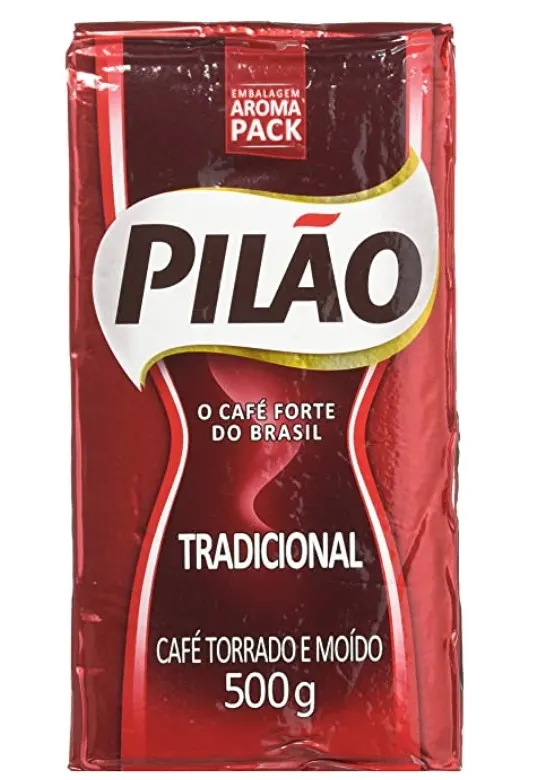 Top pick: Café Pilão is my favorite coffee brand. At home, that's exactly the package we buy and we all love it. Their full-bodied coffee is smooth and delicious.
A side note you should know about some Brazilian coffee farms
Our coffee has a long history of growth and development. Still, it is a fact that this industry had a high number of slaves, especially during the 19th-century when coffee plantation owners were so wealthy.
Over the years, the largest farms became really advanced both in their technologies and practices, which are monitored continuously by governmental agencies to meet specific certifications.
Smaller farms are usually family-run businesses that simply stick to doing their honest work.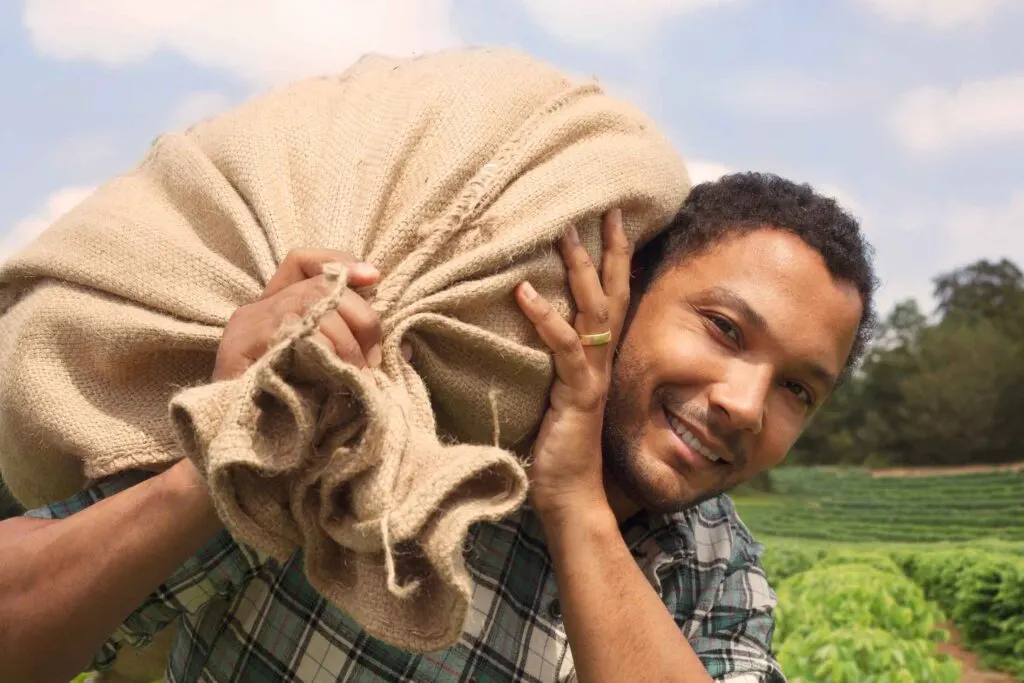 But, some medium-sized farms can slide under the governmental radar and force migrant workers to work under slavery-like conditions—and that's absolutely unacceptable.
Think of debt bondage, long and exhaustive workdays, and lack of decent shelter. Yes, slavery might still exist on coffee plantations in Brazil, and you don't want to support that.
To ensure you're not supporting these ridiculous businesses, avoid buying direct from farmers and choose the coffee brand carefully.
Brazilian coffee facts
Altitude: about 2,000 feet to 4,000 feet
Harvest: May-September
Annual coffee production: about 61.62 million bags
Varieties: Bourbon, Typica, Caturra, Catuai, Acaia, Mundo Novo, and Icatu
Coffee beans species: 70% Arabica and 30% Robusta
Flavor profile
Brazilian coffee is a rich blend made up of four different coffee beans. Each of these beans has its own distinct taste and, combined together, produces a rich, smooth, creamy blend that is Brazilian coffee.
The beans that make up the Brazilian coffee are Catuai, Mundo Novo, Obata, and Icatu.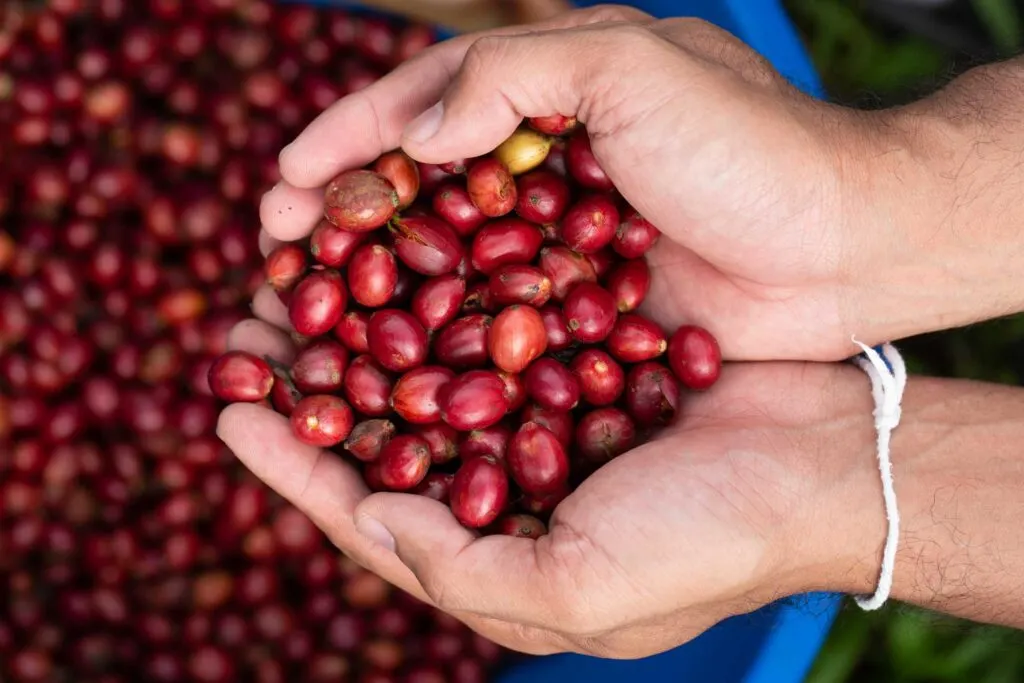 Catuai
The Catuai bean is a high-yield Arabica coffee bean that is sweet and has a bourbon-based flavor.
Novo Mundo
The Mundo Novo is a hybrid coffee bean that comes from bourbon and typical plants. This low acidity coffee bean has high disease-resistant characteristics and a sweet-toned taste.
Obata
The Obata bean is another unique coffee bean with a remarkable hybrid lineage. Obata has a mellow taste with subtle floral hints and a delicious honey taste.
Icatu
The last coffee bean that makes up the delightful Brazilian coffee flavor is the Icatu bean. This coffee bean is a cross between the Robusta and Bourbon Vermelho variants. It features and distinct maple syrup, malt, and cocoa flavors.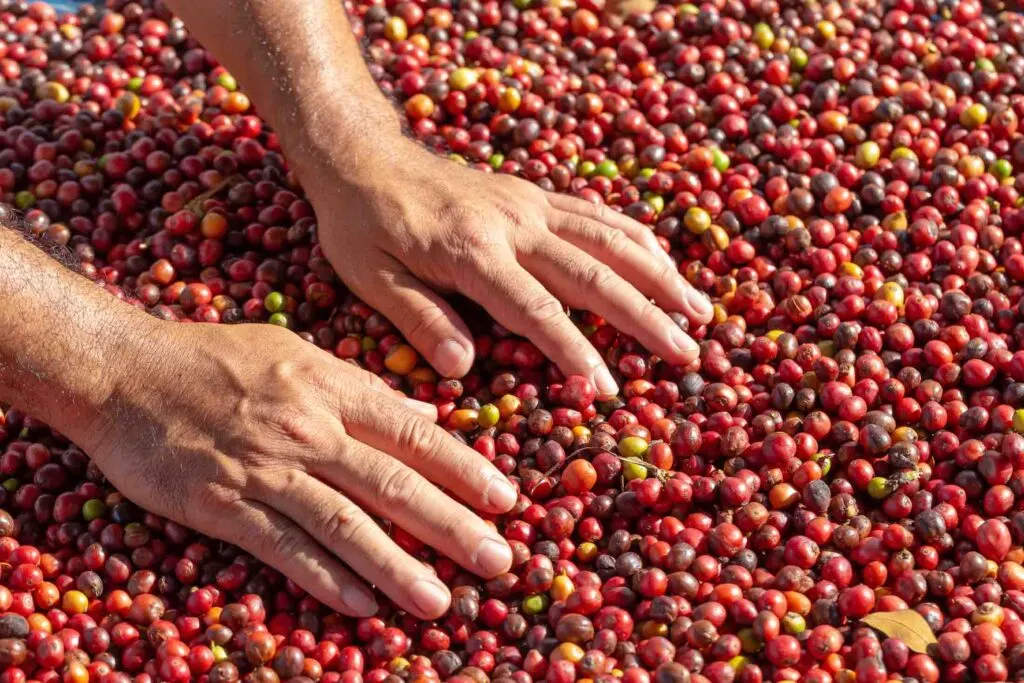 It is vital to note that about 70 to 80% of the coffee produced in Brazil is the Arabica variant. The combination of the four coffee beans mentioned above creates a fragrant, rich aroma that is exceptionally delightful.
Beyond that, the typical high-quality Brazilian coffee has low acidity and features a nutty, bittersweet taste.
Tip from a local: Are you planning a trip to Brazil? Then you'll want to check out the Coffee Museum in Santos, São Paulo State!
Best brewing methods for the Brazilian Coffee
There are multiple ways to brew Brazilian coffee. As long as the beans are ground to the ideal smoothness, you are sure to enjoy the coffee to the fullest. The best three brewing methods are:
Espresso
This is the most sophisticated coffee brewing method because it uses pressure to force a small amount of almost steaming water through finely-ground coffee beans and passes it through a filter.
Traditional Brazilian coffee beans are made for espresso brewing as this method of brewing enhances its sweet, chocolaty, nutty taste.
French Press
This method is mostly used for brewing heavy body coffee. The French Press brewing method works best for low acidity coffee beans.
With high acidity beans, it tends to produce coffee that tastes sour and muddy. When Brazilian coffee is brewed with the French Press, it creates a rich, creamy brew with sweet chocolate notes.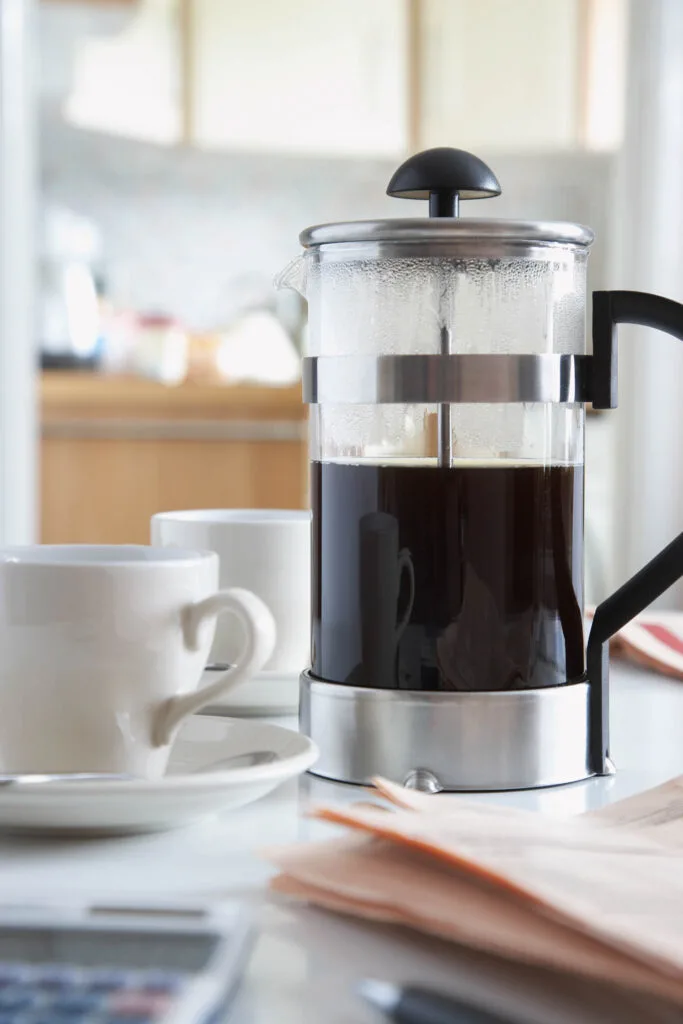 Cold Brew
Also called cold water extract, this method works by submerging coffee grounds in cool water until it forms a concentrate. The Brazilian coffee is perfect for cold brew because it has a smooth, sweet, and refreshing flavor.
Tip from a local: In Brazil, we serve cafézinhos (very small cups for coffee, think of a tiny espresso cup). So, if you're used to drinking American-sized cups of coffee, your Brazilian coffee will turn out really strong. I highly recommend you start out drinking this in a smaller cup or in a smaller dose.
Brazilian coffee brands
Brazil has lots of luxurious, vibrant, fragrant, and delicious coffee brands. Some of the renowned Brazilian coffee brands include:
Café Pilão: This Brazilian coffee brand produces a full-bodied coffee made with original dark, slow-roasted, and finely ground coffee beans. It is known for its ambiguous flavor, unique character, and delicious fruity notes.
Volcanica Peaberry Coffee: This brand is one of the top suppliers of gourmet coffee. Its Arabica coffee is grown at high altitudes and on volcano slopes. It features delicious medium roast coffee grounds with a smooth flavor, complex, intense aroma, and creamy body. Its flavor has nutty, sweet hazelnut, and raspberry hints.
Available on Amazon or directly from Volcanica (they fresh roast coffee weekly in Atlanta).
Buffalo Buck: This brand specializes in medium roast coffee beans. They have about 20 to 30 different coffee varieties featuring their own unique characteristics and flavors.
Dark Brazil Cerrado: This coffee brand produces bold, heavy-bodied, single-origin coffee with a traditional flavor. Grown in the Minas Gerais state's Cerrado region, its coffee beans are medium roasted, naturally processed, and sun-dried.
Tips for roasting Brazilian coffee
Since different Brazilian coffee beans are grown at various altitudes and have varying densities and properties, they require other roasting methods to accentuate each individual flavor.
In order to know the best way to roast a Brazilian coffee bean, it is best to know first all the properties and characteristics of the bean.
High-density Brazilian coffee beans tend to respond faster to heat and have more fruity acidity and sweetness.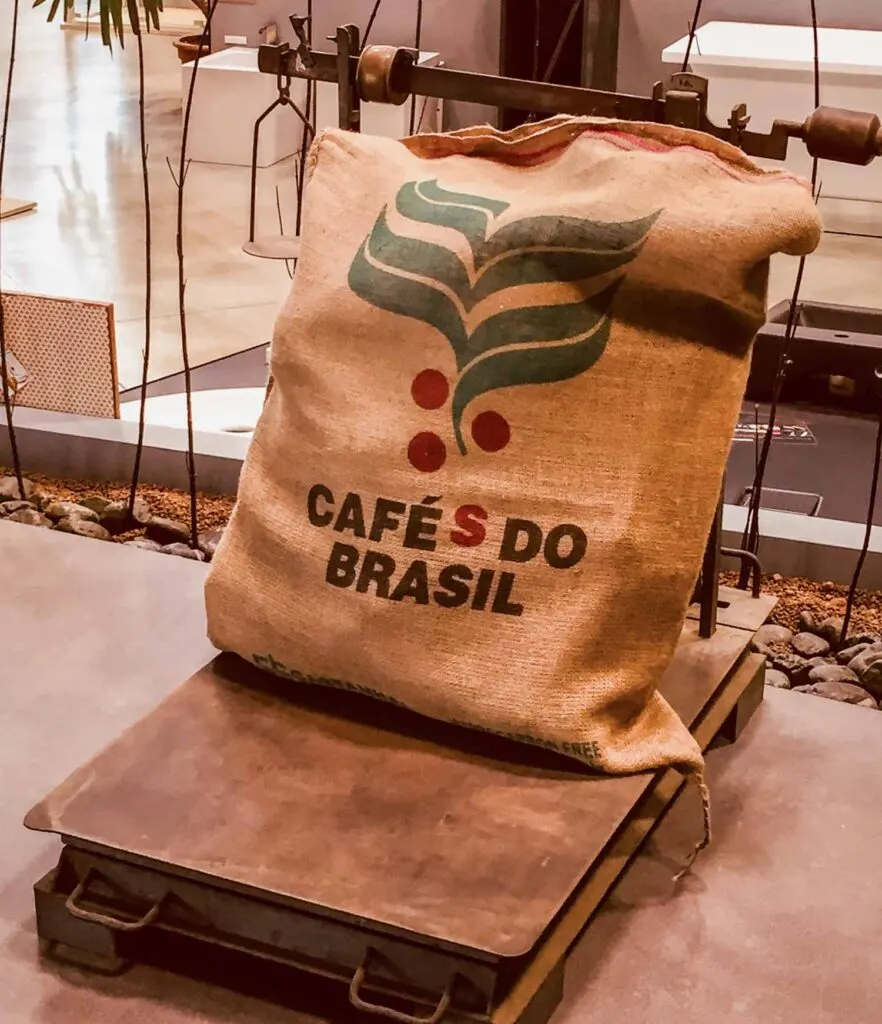 If you prefer a lighter roast for this type of bean, the finished product will be a smooth, chocolaty cup of coffee with a rich, nutty taste. To help retain its fruity, sweet taste, it is best to apply heat gradually.
Brazilian coffee beans are also great for dark roasts. Dark roasting really highlights the toasted nut character and full body of the coffee.
When roasting lower-density coffee beans, ensure that low heat is used to avoid burning the beans and ruining the roast.
Growing regions for Brazilian coffee
The 7 notable regions for growing coffee in Brazil are:
South of Minas Gerais State: The Sul de Minas is the heart of Brazil's coffee industry, with a coffee production tradition that stretches back centuries.
Mogiana: Most coffees from this region present bright lime-zest acidity balanced by complex raw cane sweetness that lasts well into the aftertaste.
Cerrado (Minas Gerais Cerrado): Coffees from the Cerrado Mineiro are known for their caramel, chocolaty and nutty flavors with mild citric acidity and full-body.
Matas de Minas Gerais: Coffees from Matas de Minas present floral and citric aromas, with sweet citric and chocolate flavors and medium body on the palate.
Mantiqueira de Minas (Serra da Mantiqueira): Coffees from Mantiqueira de Minas are bright, sweet, and clean, with crisp citric acidity followed by a long, sweet aftertaste.
Norte Pioneiro do Paraná: Coffee from Norte Pioneiro do Paraná is chocolatey with light citric notes and a creamy body.
Montanhas do Espírito Santo: Coffees from Montanhas do Espírito Santo are complex, with a floral fragrance, complex stone fruit and citric flavors, and a long, sweet aftertaste.
Why is Brazilian coffee so good
The Brazilian Coffee is simply the best because of its low acidity, fresh-roasted nut taste, and delicious fruity sweetness.
The original traditional Brazilian coffee has a bittersweet chocolate taste that is just perfect. It is also harvested in different ways, which ensure its varieties and keep it natural.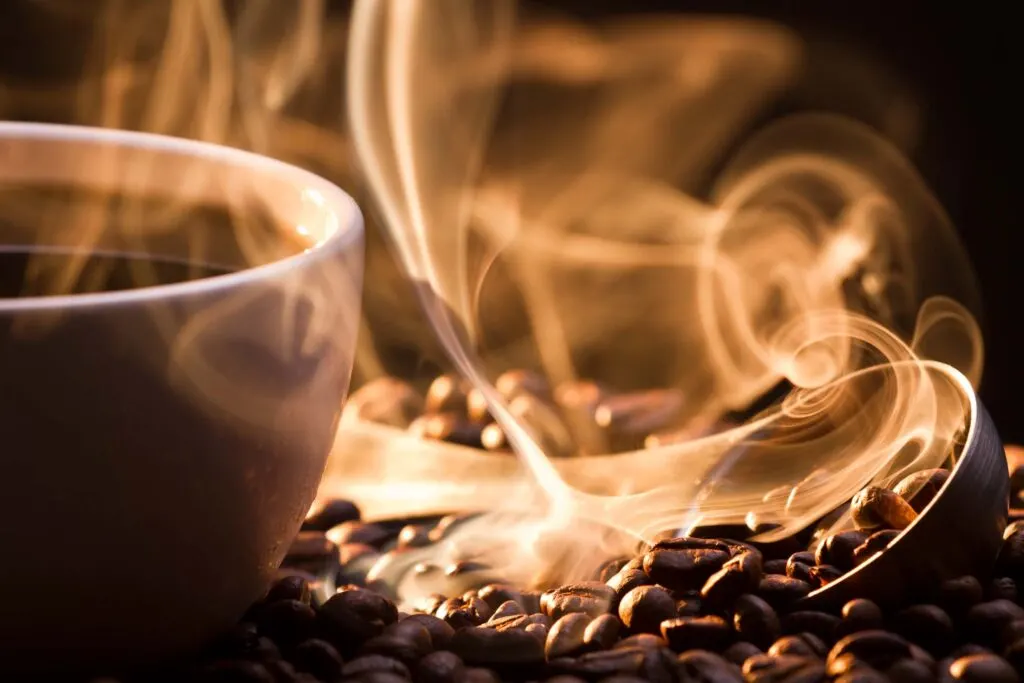 Cocktails with Brazilian coffee to make at home
It's not a secret we Brazilians love a good coffee and a good cocktail. Better yet, if we can combine them both, right? So thinking of that, I served two delicious recipes here on the blog that you might want to sip at home: