Located on the coast of São Paulo, Santos is a destination in South America that you don't want to miss. The number of fun things to do in Santos, Brazil, is impressive, making it a fantastic place for a trip no matter the time of year.
Good coffee, the largest port in Brazil, and beautiful beaches. Santos is one of the main coastal cities in the state.
And because it's just an hour's drive from the city, Santos is a popular weekend getaway and day trip from São Paulo.
On weekends, summer, and New Year's Eve, many people flock here to enjoy the good weather and festivities by the ocean. I've done it myself many times.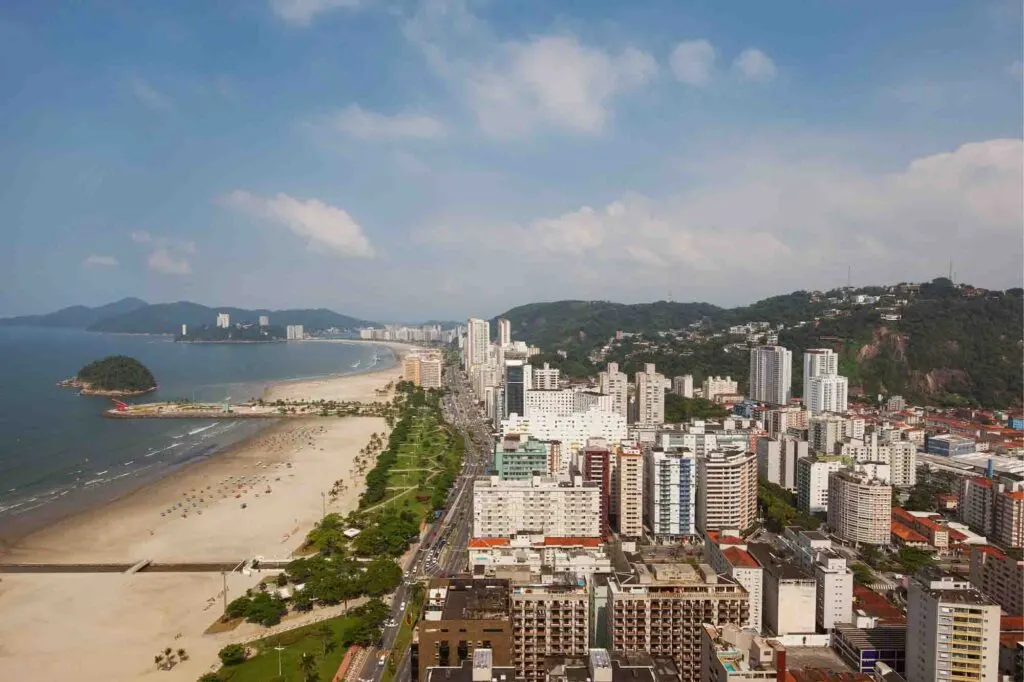 Santos, Brazil
While Santos isn't very famous among international tourists, there's an ongoing trend shining the spotlight on this lovely city.
So if you want to visit an enjoyable place in Brazil before going viral, Santos is your place to be!
In today's article, I will talk about what to do in Santos to save you the trouble of researching on your own.
By the end, you'll know exactly what places you should add to your itinerary to have the most unforgettable vacation!
As an urban coastal city, Santos is filled with beautiful beaches, views, and exciting attractions. Start reading to see why you should visit!
My Favorite Things to Do in Santos, Brazil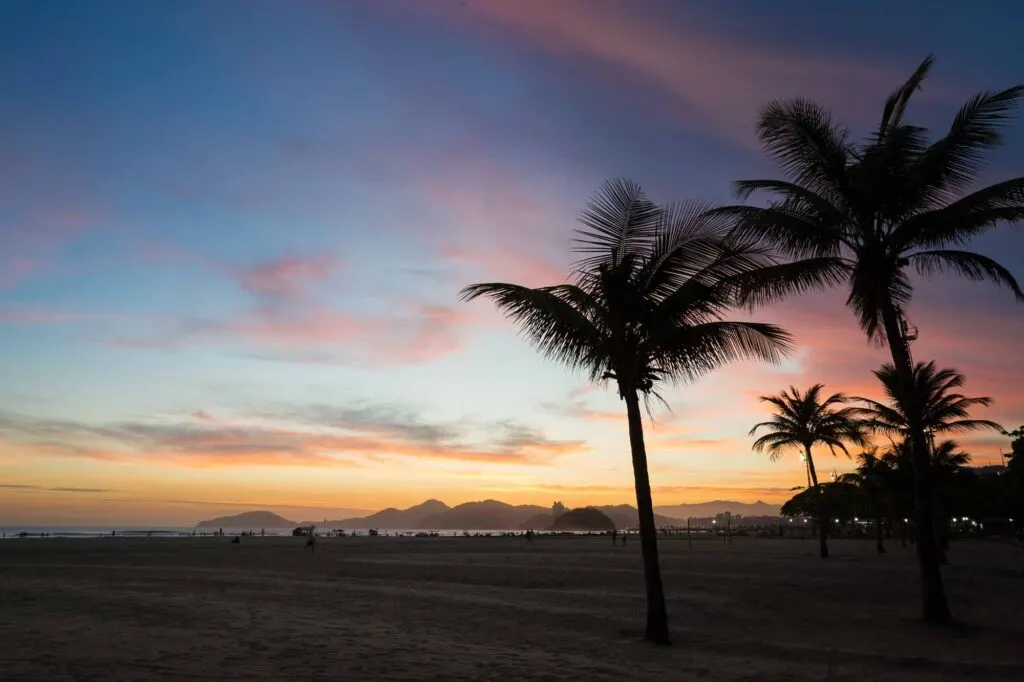 City Tour – this 7-hour city tour takes you through Santos highlights, including Mount Serrat, the Coffee Museum, botanical gardens, and more! The best part is that you'll see all of that with an English-speaking local guide. If you don't have much time in the city, this tour is one of the best ways to experience this historic city. Besides, it's also a culturally fulfilling experience since you'll learn much more about its past from a local. Get your ticket here! (Ps: Even though some readers prefer Viator, I added the GetYourGuide link because the same tour is cheaper there!)


Coastal Cities Day Trip – This isn't a tour you take in Santos, but in São Paulo City and goes on a day trip to three coastal cities, including Santos. Anyway, on this 8-hour day tour, the English-speaking guide will take you to the state's coast and show you the highlights of all three cities–Santos, São Vicente, and Guarujá. Get your ticket here!
Pssst: If you're stopping by Santos during a cruise and want to visit São Paulo City, you might want to check out this 8-hour private tour of the cities highlights. It's a round trip, and since it's only you, you can choose what to see.
Where to Stay in Santos, Brazil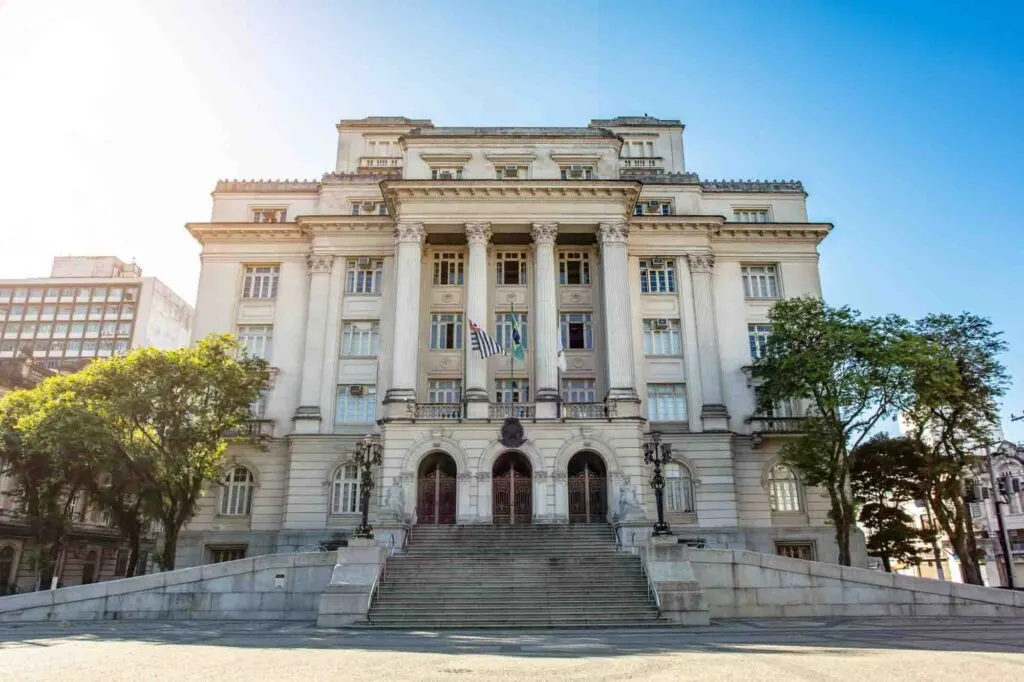 To make your trip planning a bit easier, I selected two excellent accommodation options that guests rave about.
Both of them are beachfront properties, so you can sit back, relax, and take in the view while sipping your favorite beverage.
Parque Balneário Santos (Booking.com | Hotels.com)

Beachfront Hotel


This stylish beachfront hotel offers not only a breathtaking sea view but an outdoor swimming pool and hot tub. Also, it features a restaurant on-site, and guests rave about their breakfast!


Ilha Porchat Hotel (Booking.com | Hotels.com)

3-Star Beachfront Hotel


Located in Porchat Island, this hotel offers incredible views of the sea and it also features a swimming pool. It's 6.2 miles from Santos City center. Although more modest than the previous option, this hotel is an excellent alternative if you're traveling on a shoestring budget.
How to Get to Santos From the São Paulo
Santos, Brazil, has no airports. In fact, the closest airport to Santos is Congonhas (CGH) in São Paulo City.
But, if you're traveling to Brazil, chances are Santos isn't your first destiny, so that's ok. Here are the options to get to this port city:
Day Tour
This 8-hour day tour departs from São Paulo City and takes you to three cities on the coast: Santos, São Vicente, and Guarujá.
It's handy to have someone drive you there, show you around, take you to nearby cities, hit the beach, and go back to São Paulo.
This option is beneficial if you want to visit the coast but don't have much time left. It's worth checking it out!
Click here to check availability
Rent a Car
Santos, Brazil, is only 43.5 miles from São Paulo City, so you can easily rent a car and drive to the coast yourself.
There are two roads you can take: Imigrantes Highway and Anchieta Highway.
The first is newer, faster, and exclusive for cars. The latter has many curves, trucks are allowed, but you have beautiful views along the way.
Click here to find affordable car rentals
Take the Bus
If you don't want to take a tour and rent a car, the last option is to go by bus.
In São Paulo, buses depart from Jabaquara Bus Station toward Santos. The trip takes about 1h50min, and it's inexpensive.
Mind you, most Brazilians don't speak English, so it might be helpful to learn a sentence or two of Brazilian Portuguese, especially if you're taking buses in the country.
Click here to check buses availability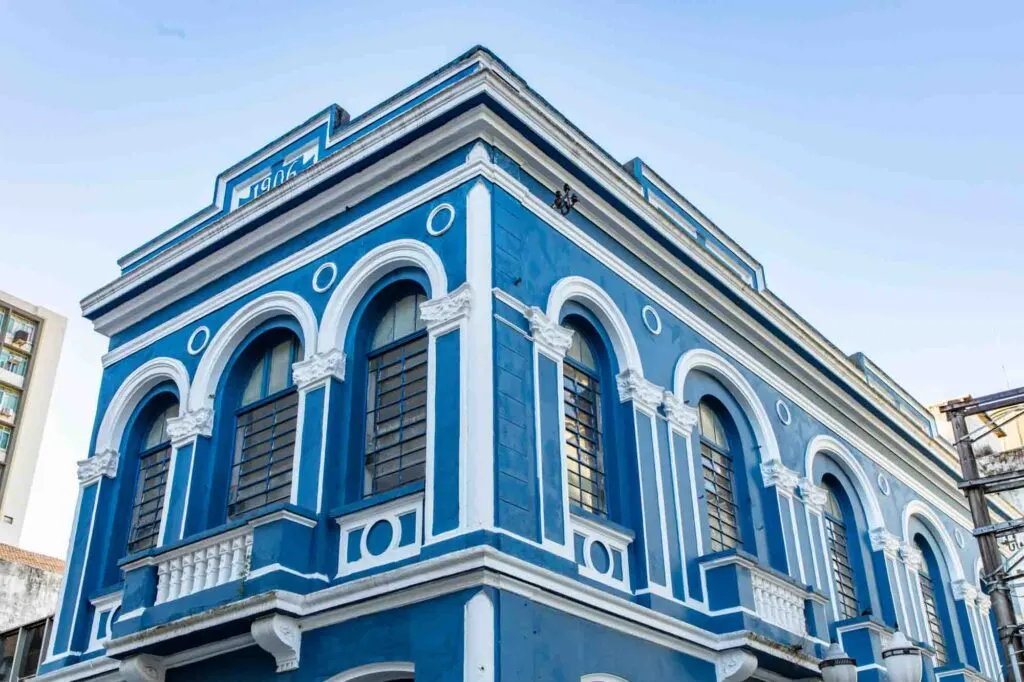 Best Time to Visit Santos, Brazil
Santos is a coastal city, so the summers are short, hot, oppressive, and mostly cloudy. On the other hand, winters are comfortable, long, and clear.
Over the course of the year, the temperature typically varies from 66°F to 89°F and is rarely below 60°F or above 96°F.
Best time to visit Santos: May-late September for general outdoor activities, but if you want to visit Santos for hot-weather activities, the best time to travel is late March-late May.
Driest months: July-August
Coldest months: July-August
Wettest months: December-February
Warmest months: January-March
The réveillon, or New Year's Eve, is perhaps the most crowded occasion in the city for a number of reasons.
First, it's summer! Yay! We Brazilians love summer, at least most of us, and summer simply screams beach, right. Besides, soaking up the summer vibes is one of the best things to do in Brazil.
Second, because the beach has a unique appeal for this celebration—New Year's Eve, however, it gets so crowded there's nothing magical left, just fun!
Either way, be sure to check out the list of holidays in Brazil and plan accordingly.
22 Fun Things to Do in Santos, Brazil
Here are my favorite things to do in Santos, Brazil, in no particular order. Enjoy!
1. Soak Up Some Sun on the Beach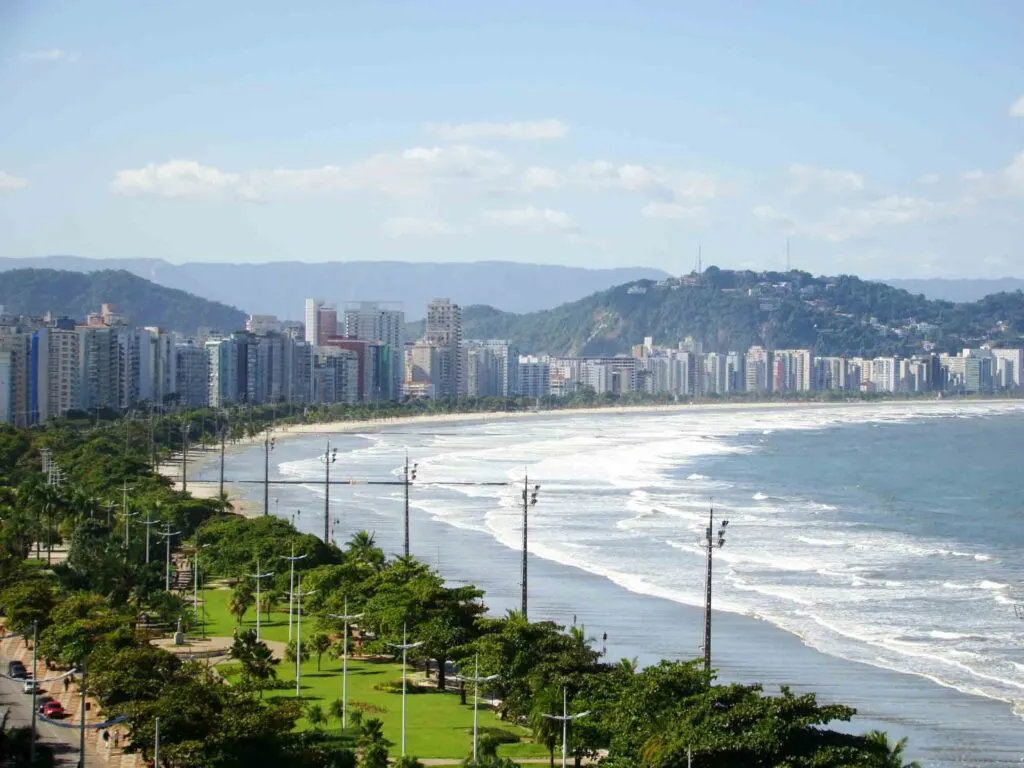 No trip to any destination in the country can be complete without a trip to at least one Brazilian beach, especially if you visit a coastal place like Santos.
Luckily, the city has a couple of the most lovely beaches in São Paulo.
Arguably the most well-known beach in Santos is Gonzaga Beach, which is pretty large.
Other beaches in Santos that you could consider visiting include Ponta da Praia Beach, Boqueir'ao Beach, José Menino Beach, or Embaré Beach.
2. Take a Boat Trip in Santos Bay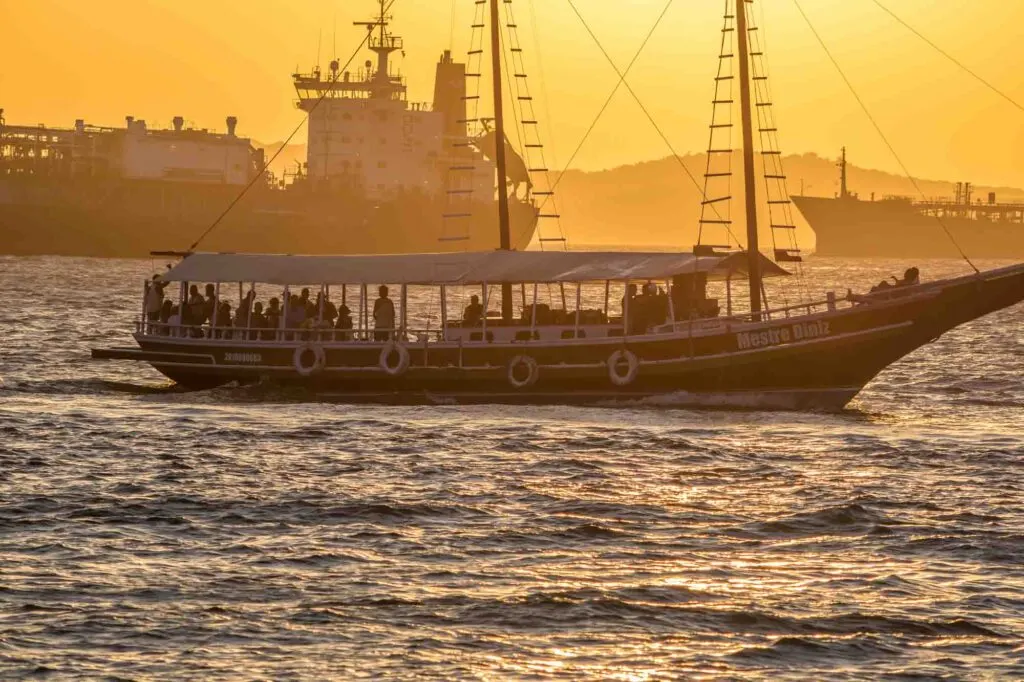 One of the most fun things to do in Santos is to go on a boat trip that takes you to Santos Bay. The coast makes Santos such a fantastic attraction, and the best way to experience it is from a boat.
There are a number of companies offering 1.30-hour tours and cruises along the coast. However, most tours are only in Portuguese. Nevertheless, you'll see Santos from a unique perspective!
If you're traveling with a group, you might consider renting a private boat tour for the day (with food and drinks).
Be sure to book in advance because these types of tours tend to book up quickly here due to the area's beauty.
3. Go on a City Tour with Linha Conheça Santos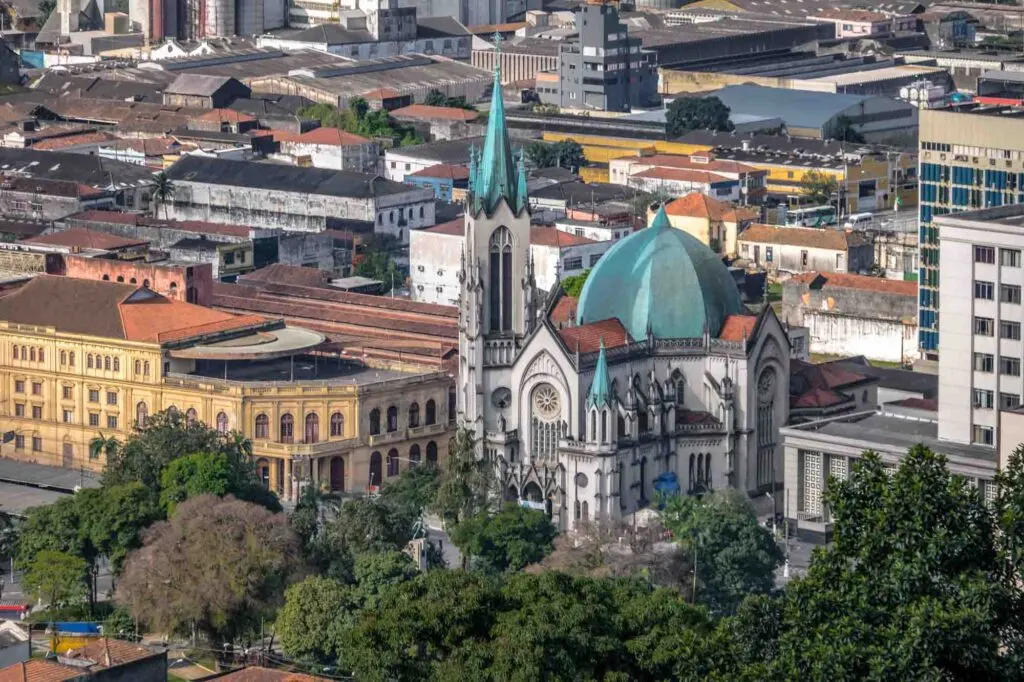 An easy way to see more of the city is to go on a ride through the city! Linha Conheça Santos, also known as Santos Line and "weekend tour," is a bus that runs through the city showing the main spots.
It's something the municipality offers, not a private tour company, and although in Portuguese, it offers two different routes.
The first is a city tour downtown. You'll be taken around the highlights and stop at a number of places.
While the bus ticket costs R$15, it only includes the ride, so if you want to enter a museum or any attraction, you should have money for the admission (which isn't expensive!).
It happens on Saturdays and Sundays at 10 AM and 2 PM and departs from Praça Luiz La Scalla.
The second route is in the city's northwest region (Botanical Gardens and Engenho dos Erasmos, a sugar cane facility ruin) at 10 AM from Praça das Bandeiras.
Reservations at Posto de Informações Turísticas (PIT) in Gonzaga.
The tours take approximately 1.30-2 hours and will bring you to some of the top spots in the area, so it's a tour worth looking into.
4. Enjoy the Arts at Feirart Fair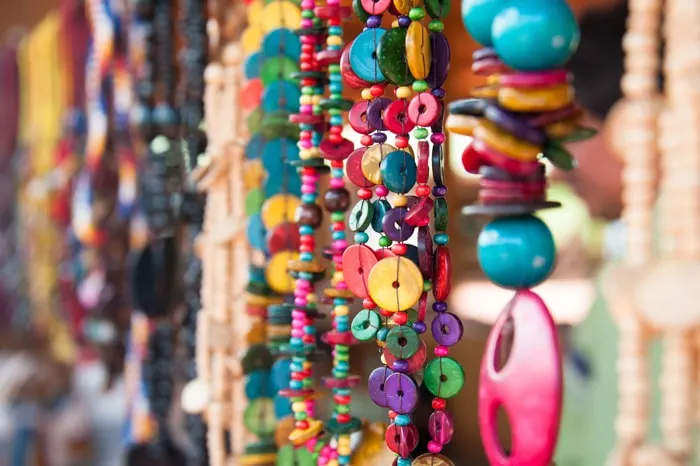 Head to Feirart Fair to shop for souvenirs, one of the top places to go in Santos.
This fair has a bit of everything: handcrafts, jewelry, clothing, shoes, bags, esoteric items, gifts in general, as well as a food court with gastronomic diversity and delicious Brazilian food.
Beyond that, there are some concerts with live music and dancing depending on when you visit.
The fair happens on Saturdays at the garden of Boqueirão Beach and is free.
5. Learn the Best Brazilian Soccer Player's History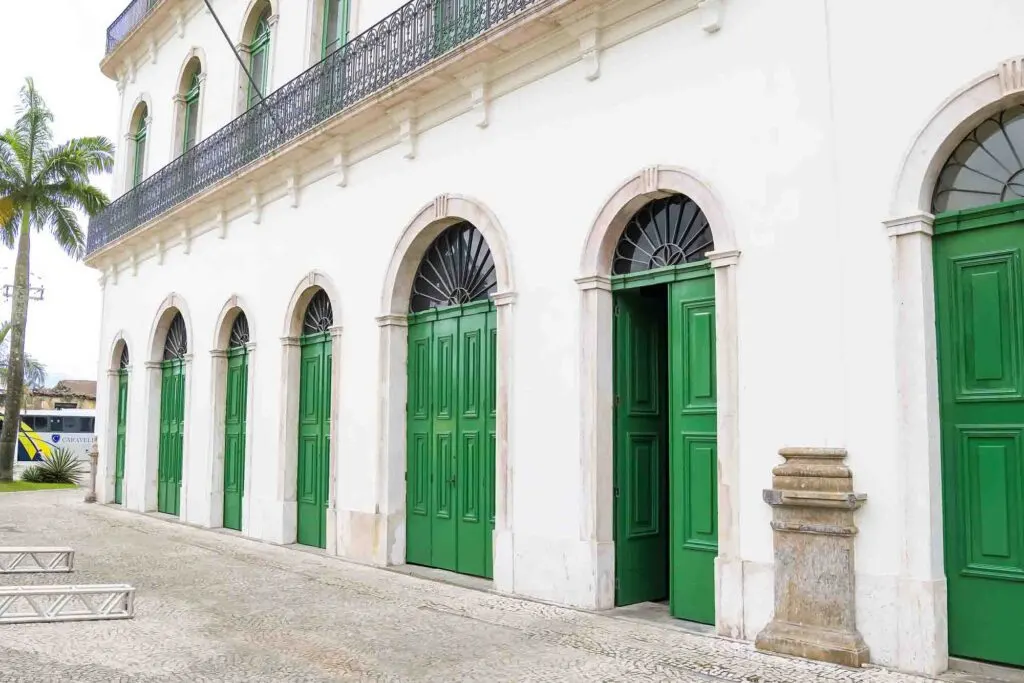 Whether you're a sports fan or not, the Pelé Museum is an attraction you'll want to include in your itinerary.
Aside from typical stereotypes, soccer is not only often associated with the country but is a considerable part of Brazilian culture, meaning this museum is a must-visit.
The Pelé Museum features over 2,000 items from the personal collection of Pelé, Brazil's best player to date.
Pelé came to Santos at an early age to play soccer in the local team, and that's where his successful career begins.
Well, it's no surprise locals are very proud of his achievements hence why visiting the Pelé Museum is a must to learn more about the city's culture.
The Pelé Museum is filled with tons of exhibits and artifacts dedicated to soccer. There are old trophies and awards, jerseys, and more.
6. Indulge Yourself at the Coffee Museum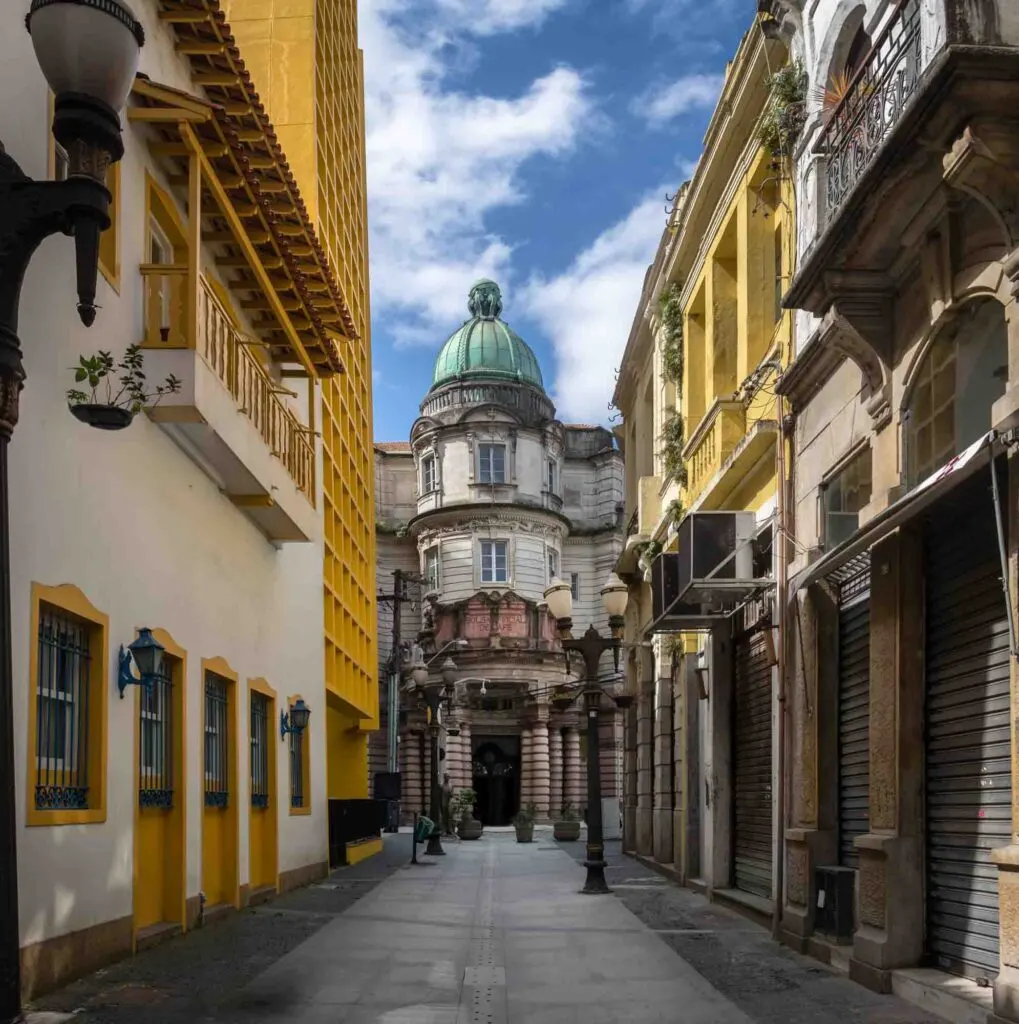 Are you a coffee fan? Then you'll have to go to the Coffee Museum, one of the best tourist attractions in Santos.
This is the perfect place to learn more about Brazilian coffee's history and development in the country.
The museum's primary focus is to educate the public on how coffee is cultivated and created in Brazil.
Plus, there's also a café that serves up some great coffee so you can indulge yourself and even buy some grains to take back home.
7. Ride and See Attractions on the Tourist Streetcar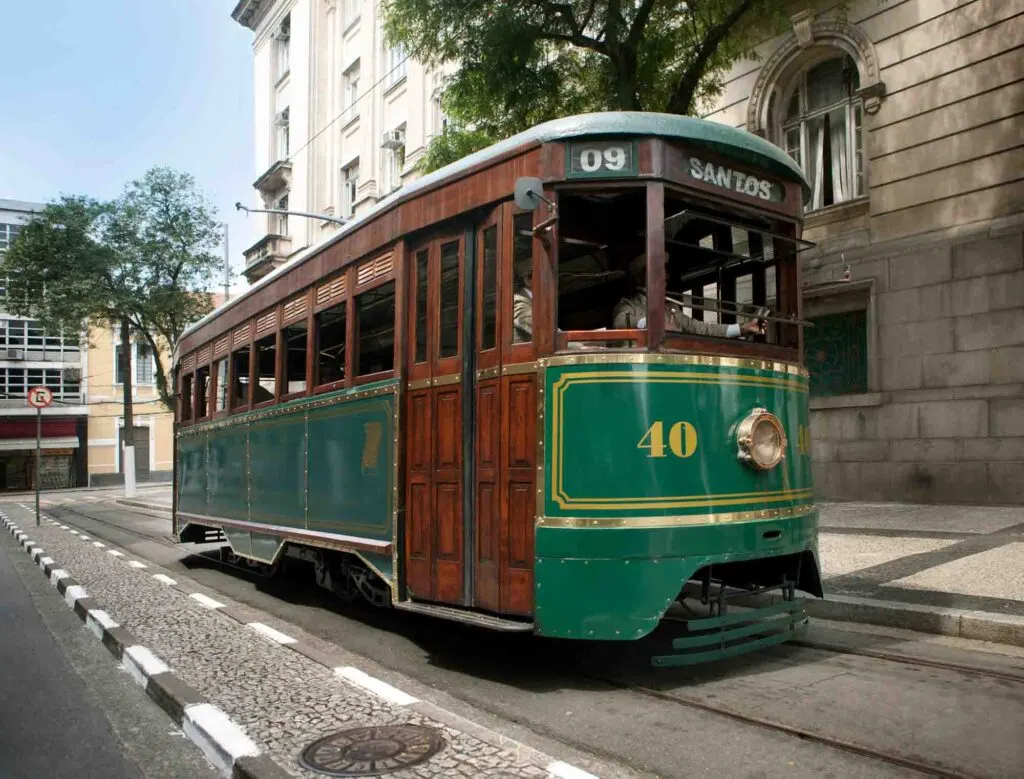 One of the fun things to do in Santos as a tourist is to hop on the tourist streetcar ride.
Sure, sometimes it's better to do local things and visit other attractions that aren't so touristy to explore a place, but this is a significant exception!
The tourist streetcar ride first opened to the public in the 1860s and is run by a tour guide.
The ride goes through the historic area of the city, and the guides even wear traditional uniforms!
8. Watch a Game at Urbano Caldeira Stadium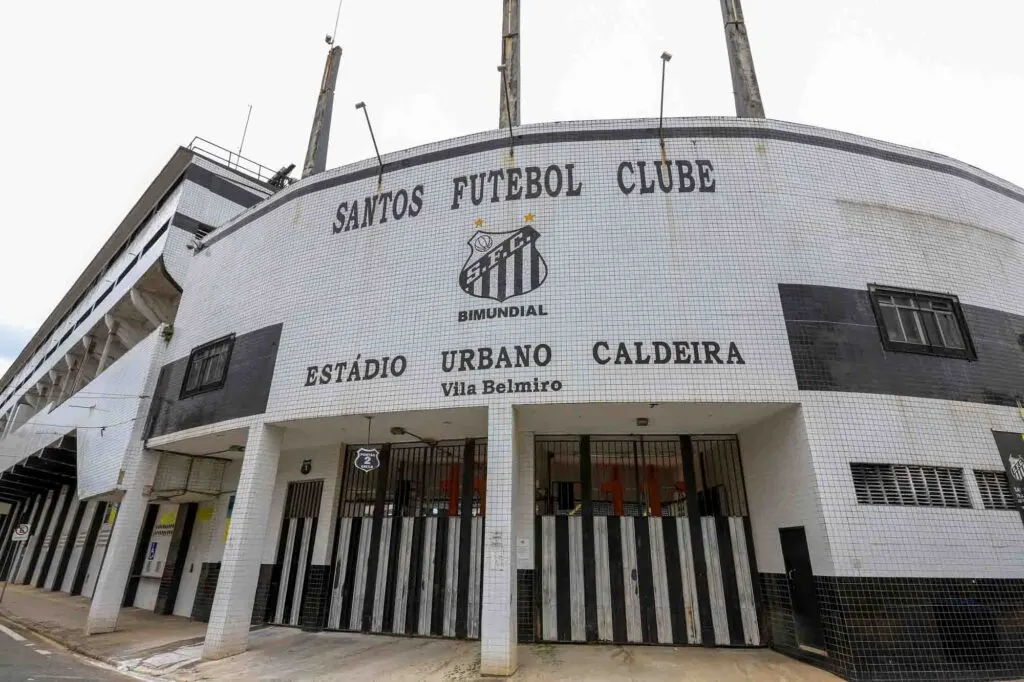 Like mentioned earlier, one of the biggest parts of the culture in Brazil is sports and soccer.
So, why not experience it firsthand and watch a game? Urbano Caldeira Stadium, also known as Vila Belmiro, in Santos has a capacity of over 16,000 people.
You can purchase tickets for a game online if they're in the playing season during your trip.
9. See the Trophies Memorial das Conquistas Museum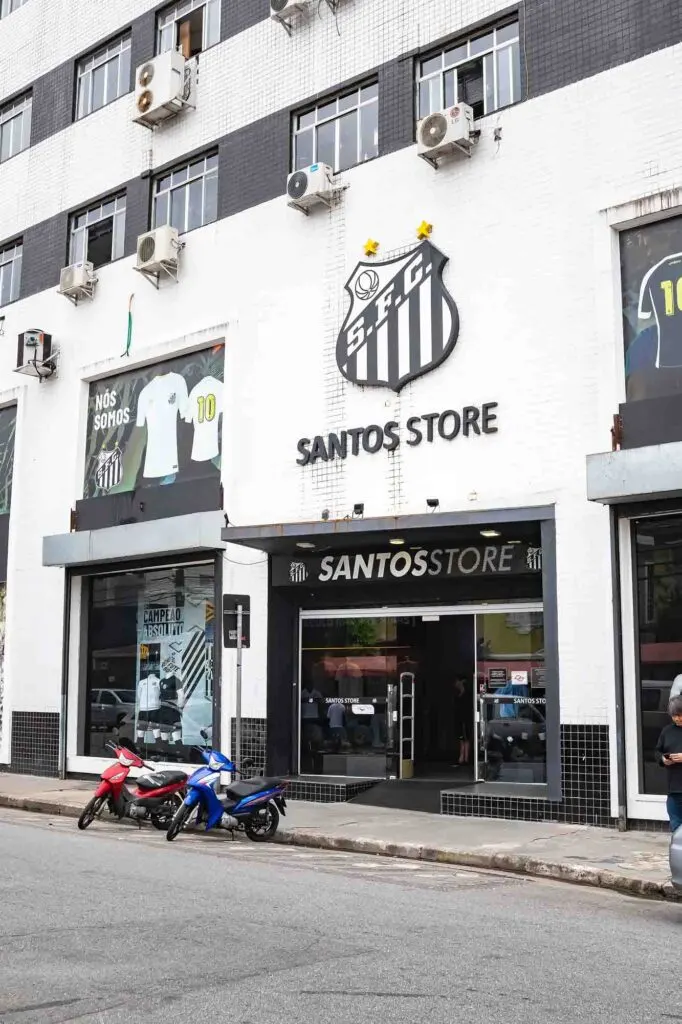 Going more on the sports route, you'll want to visit the Memorial das Conquisitas Museum. It opened in 2003, and it's actually inside the Vila Belmiro Stadium.
It's a great way to visit the stadium outside of the playing season, or if you simply don't want to watch a match.
There are tons of trophies, artifacts, and other fun memorabilia related to soccer in the museum. It's the perfect place to go to get more involved in Santos' team, the Santos soccer club.
10. Learn More About Brazil's Largest Port at the Port of Santos Museum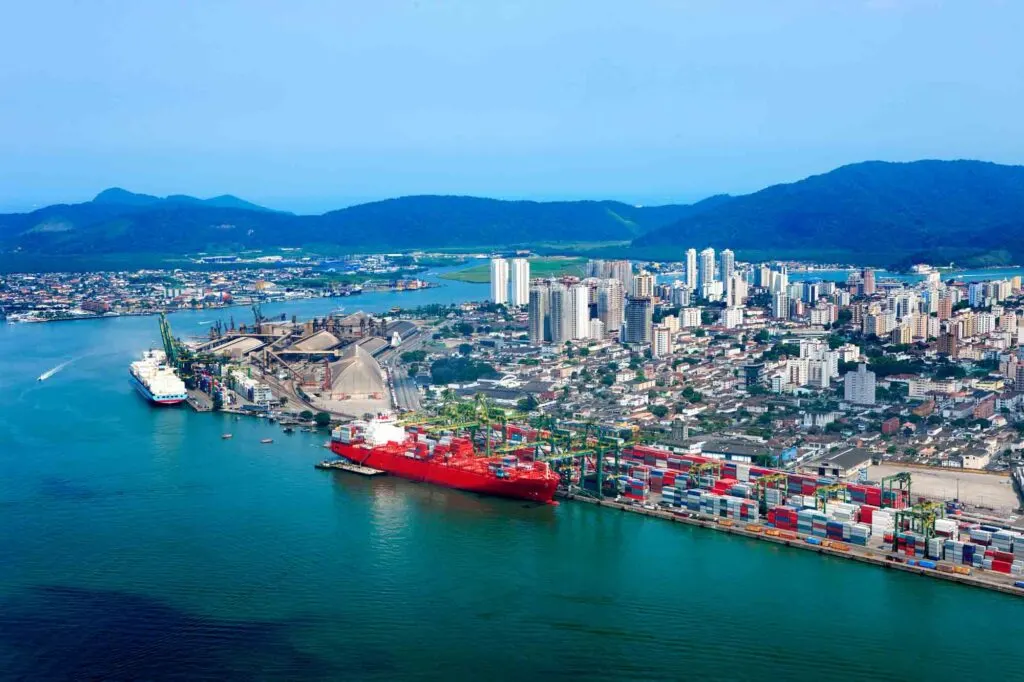 While many of the great places to visit in Santos are paid, the Port of Santos Museum is completely free to visit.
It's located inside of an old Victorian-era mansion that was built in the early 20th century.
The museum is filled with old artifacts and relics, like typewriters, phones, and more items related to Brazil's largest port.
There are even old four-wheeled bikes that you can check out in the museum! It's quirky and a great addition to any Santos itinerary.
11. Shop Until You Drop at Miramar Shopping Mall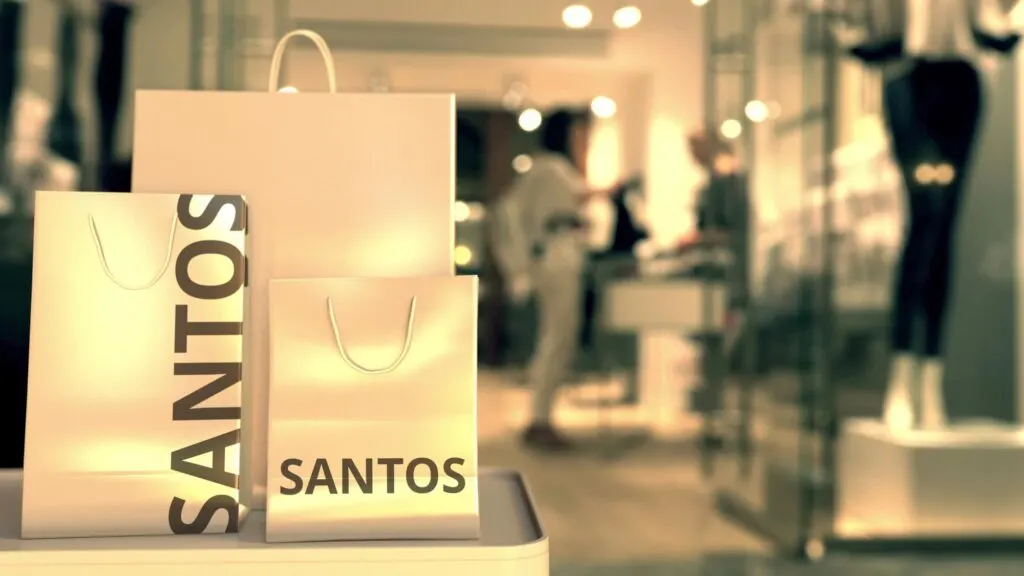 Even though shopping may not be at the top of your list when traveling, it's super fun to head to Miramar Shopping Mall.
You never know what you may find, and the mall is so large that it could take a whole afternoon for you just to explore here!
If there's something you forgot to pack for your vacation, this is also a great place to go to pick it up. Almost anything you could imagine can be found here.
Besides, it's an excellent place to sit and do some people watch.
12. Step Back in Time at the Santo Antônio do Embaré Basilica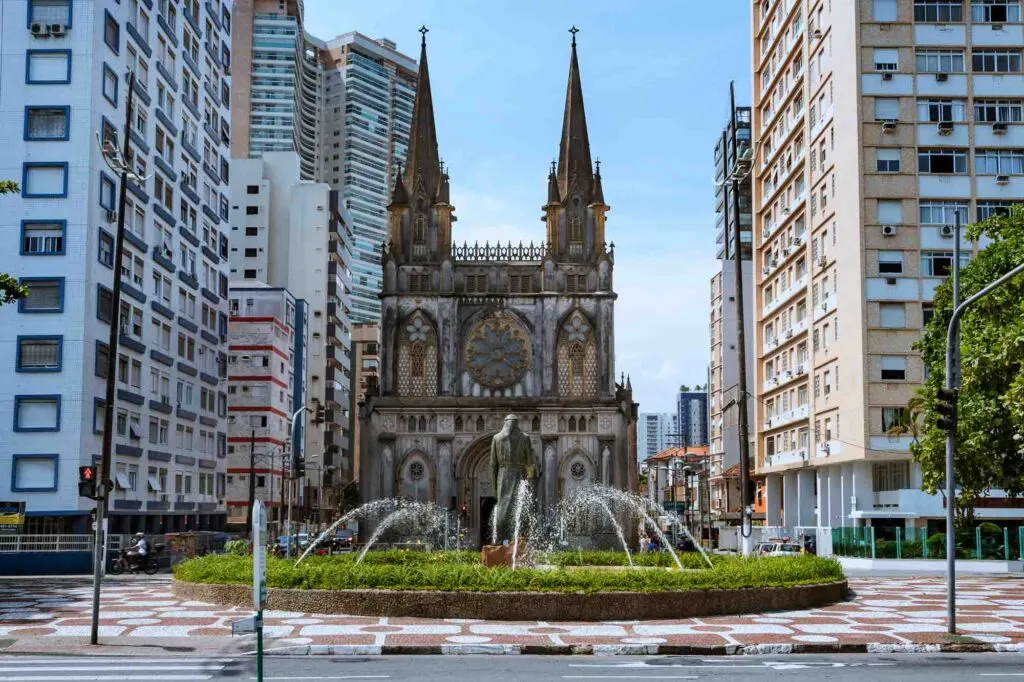 The Santo Antônio do Embaré Basilica is a breathtaking church in the middle of Santos.
It was built in the early 20th century and is beautiful from both the inside and outside.
It started as a small chapel in the 19th century and later grew to the size that it is today.
Be sure to go inside and check out the breathtaking interior. There's beautiful work on the ceiling with gold detailing almost everywhere.
13. Marvel at the Art at Pinacoteca Benedicto Calixto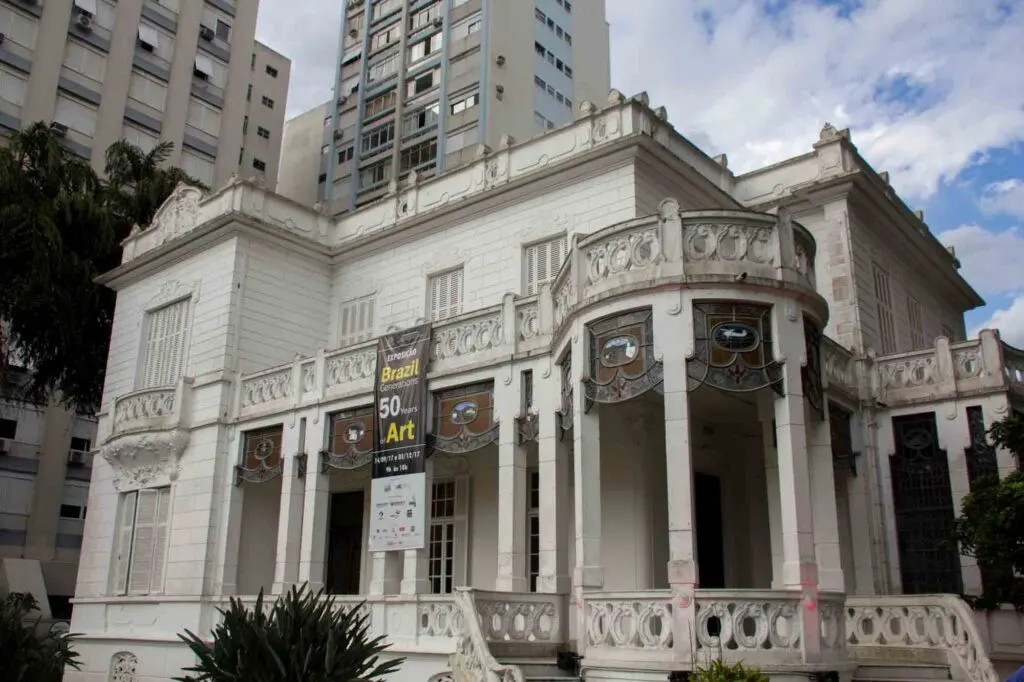 Pinacoteca Benedicto Calixto is an art gallery in Santos that was built in the early 20th century.
It's situated inside a gorgeous historic building, and the art gallery hosts many different events throughout the year ranging from musical gatherings to events for children.
In addition to art, there are many other different parts of the building worth exploring. You can find a library and a garden worth checking out. There's even a great café with snacks to keep you happy.
14. Explore the Sacred Art Museum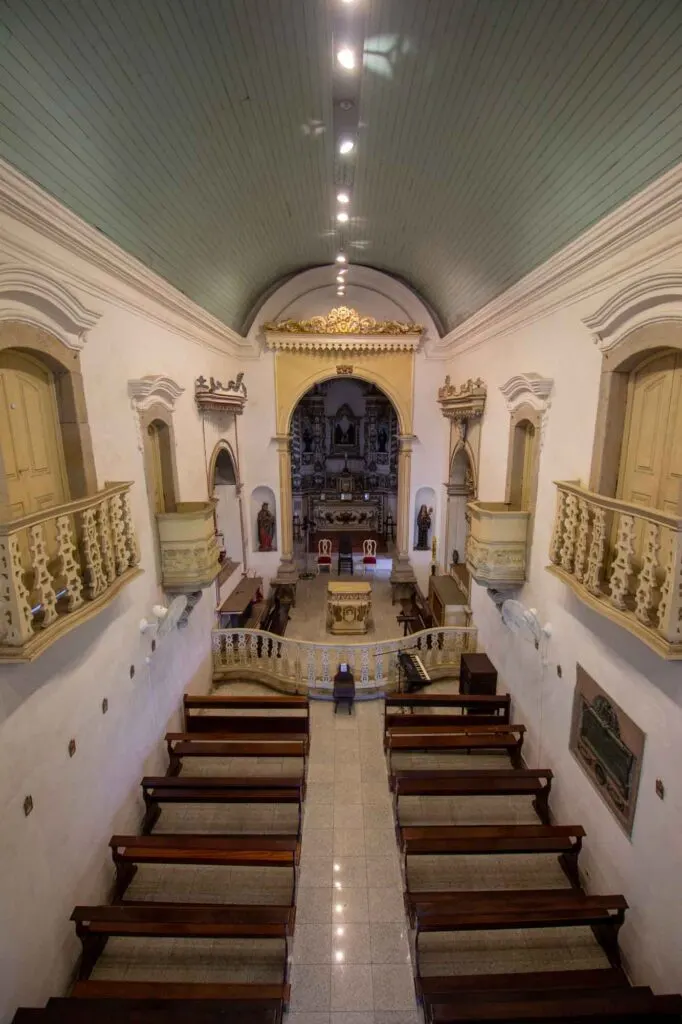 The Sacred Art Museum is filled with exhibits and religious artifacts worth exploring. After all, religion in Brazil is rooted in the country's history.
Their impressive collection has over 600 pieces dating back to the 16th century up to the 21st.
However, the absolute star of the complex is the Our Lady of the Conception statue, the first sacred statue made in Brazil!
There are other statues from the same era, but this is the only one where the artist is known.
15. Have Some Coffee at Café Carioca Coffee Shop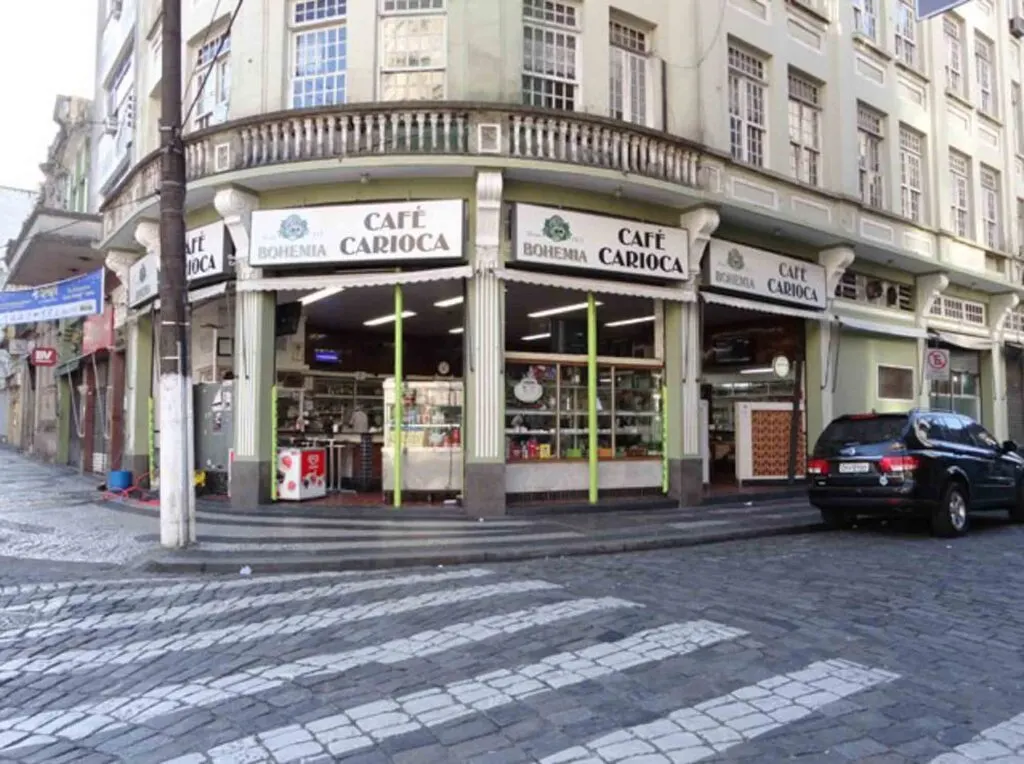 The coffee in Brazil is unlike any other, so be sure to stop by a coffee shop when visiting Santos!
Arguably the best is Cafe Carioca Coffee Shop, a shop serving locals for around 70 years and counting now.
It's a simple place, but with good food, coffee, and prices!
The menu is made up of way more than just coffee, even though coffee is a must at this shop.
You can also get tons of excellent pastries and other treats in case you're hungry. Plus, it's located downtown, so it's the perfect stop for lunch.
16. Discover Everything There is to Know About Fishing at the Fishing Museum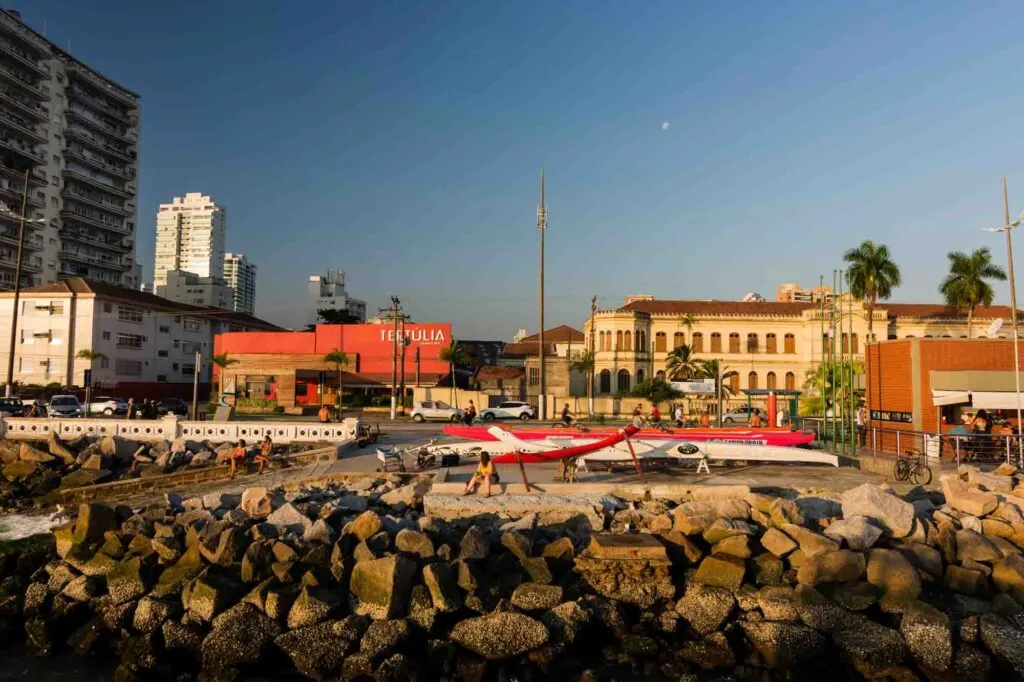 One of the more unique attractions in Santos is the Fishing Museum! It opened in the 1930s and is exactly what you probably think it is: a museum all about fishing and aquatic life in this area of Brazil.
The museum is also relatively large too, so be sure to wear comfortable shoes!
It's situated on an 18th-century fort that has significant importance to the city of Santos. Inside the museum, you can learn about the correct use of natural resources under exploitation by fishing activity.
Also, it showcases different fish specimens, such as a 75-feet whale skeleton.
17. Wander the Beach Garden Along the Promenade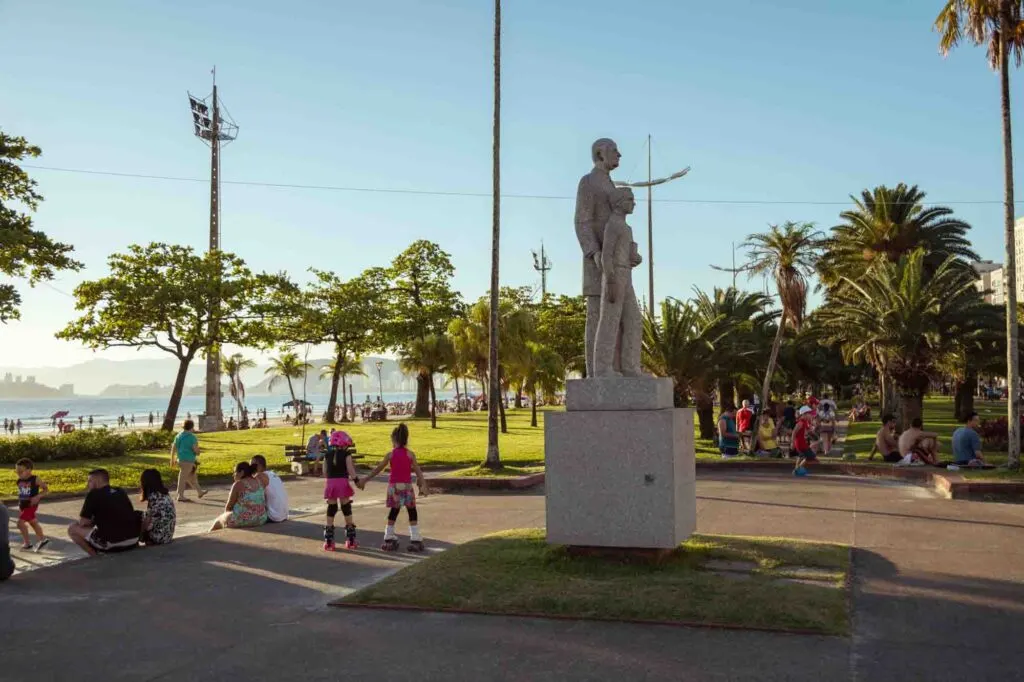 For a fun and relaxing afternoon, head to the Beach Garden along the promenade. It's about 4.5 miles long and is the most extensive beach garden in the entire world.
Walk along the promenade, take in the landscape, feel the ocean breeze, see locals, and have some fun.
You can also hop into the water at the beach or even just dip your toes in the water. Plus, the views here are amazing.
18. Smell the Flowers at the Municipal Orchid Farm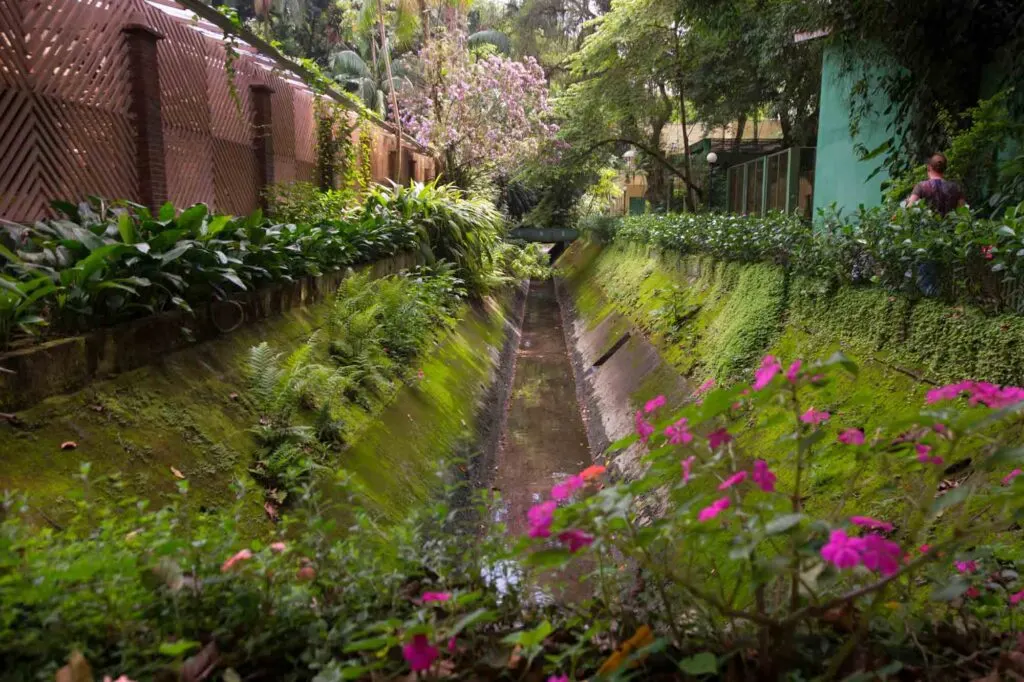 Head to the Municipal Orchid Farm in Santos to be taken to a sanctuary of paradise!
It's the perfect place to escape the city for a little while, even though you're still technically in the town.
Throughout the farm, you can find fountains, plants, flowers, and more. Plus, there's tons of extraordinary wildlife too, like birds, that you can find throughout.
19. Get to the Top of Monte Serrat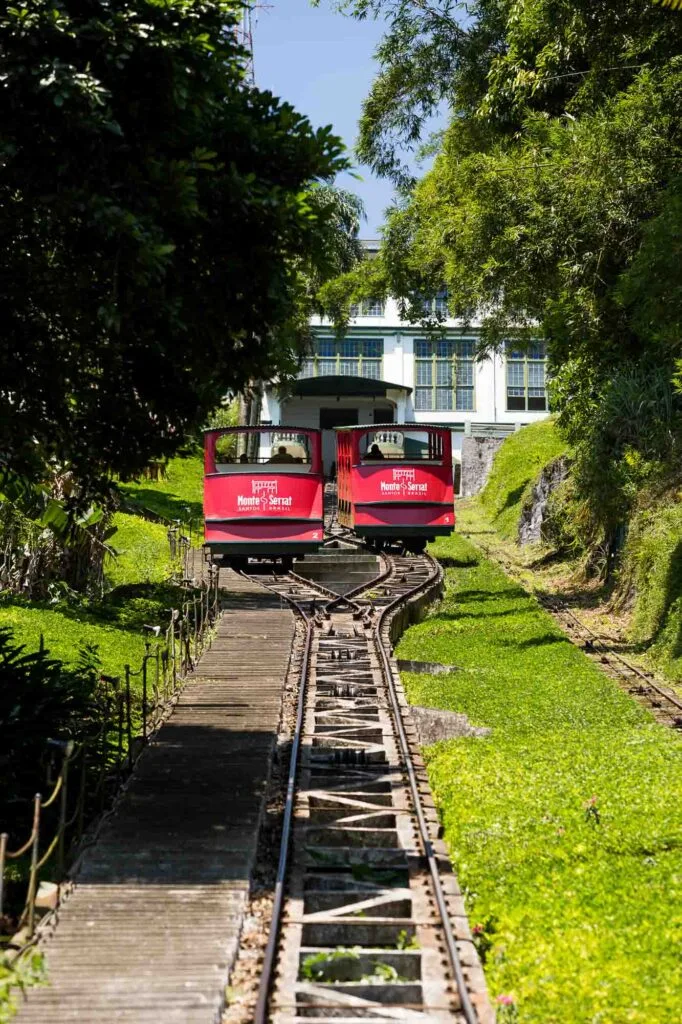 Monte Serrat is one of the tallest mountains in the area of Santos. The view from the top is mesmerizing, and luckily there are a few different ways for you to get there!
The easiest way is to hop on the funicular cable car (R$15) to get to the top. This way requires the least amount of effort.
You could also consider climbing 400+ steps to the top. Either way, the view is gratifying.
Also, you sip your favorite beverage at the bar atop the mount while taking in the panoramic view of Santos. Highly recommend it!
20. Walk Around the Municipal Park Roberto Mario Santini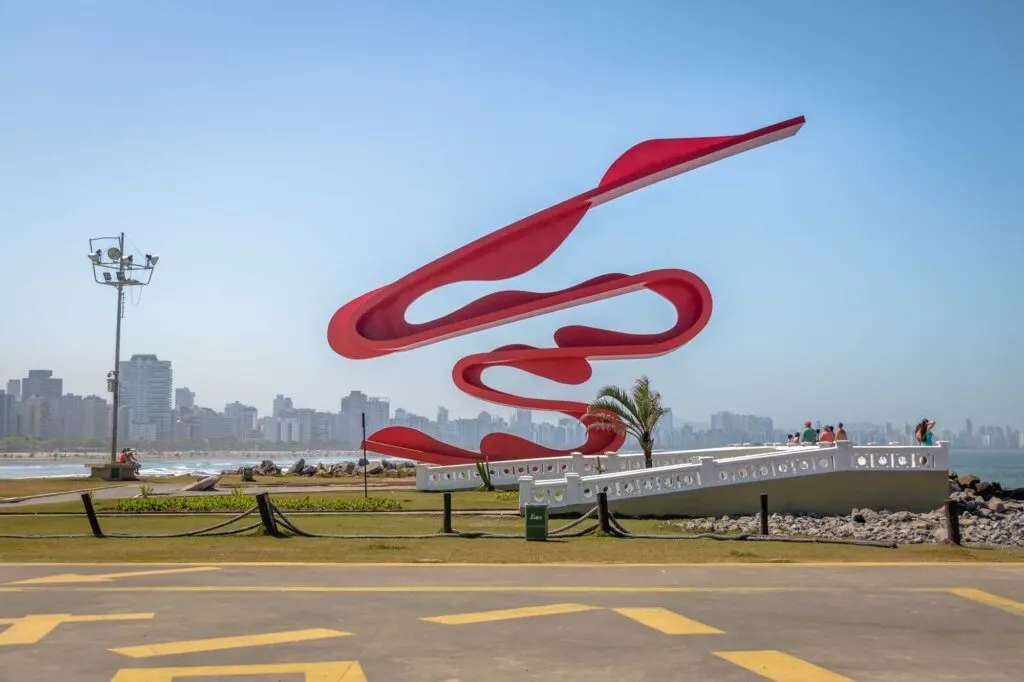 Another one of the great things to do in Santos is to head to Municipal Park Roberto Mario Santini and simply walk around.
This city park is located right around the water and is incredibly gorgeous and well-kept.
The park also has a few fun and exciting sculptures that make for great photos.
Explore the rest of the surrounding area, and you'll be rewarded with great coastal beauty and the city skyline.
21. Cycle Along the Promenade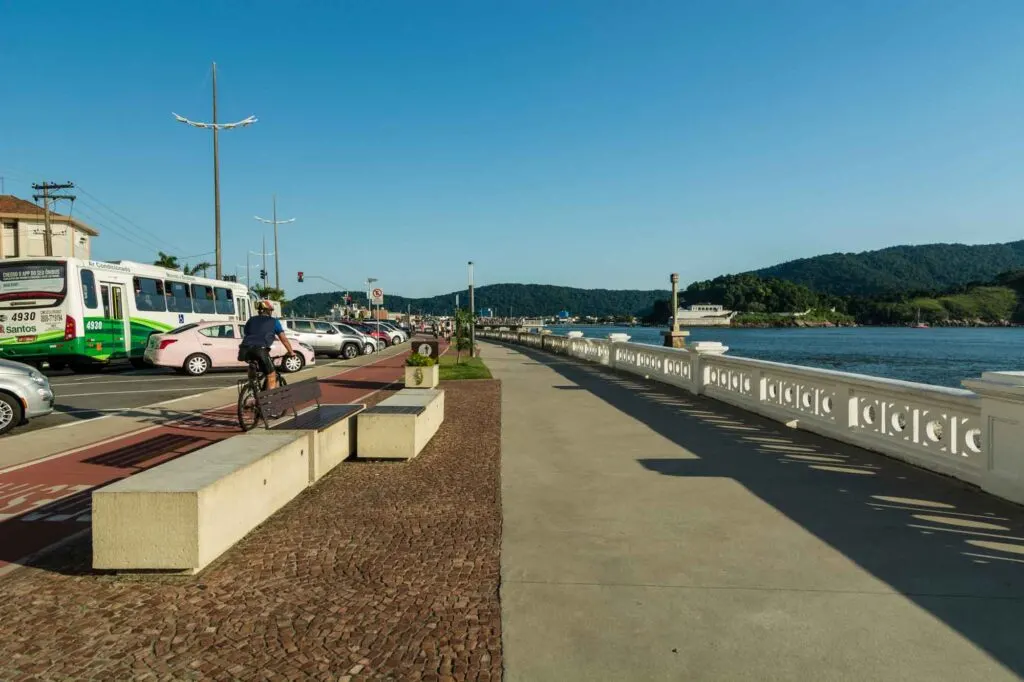 If the weather is nice during your trip to Santos (which it most likely will be), then you should spend an afternoon cycling on the bike lane along the promenade!
It's an enjoyable way to see the city skyline and beaches. Besides, you're free to stop wherever you want to take a photo or grab a drink.
You can rent a bike on the city's bike app—they're spread around town. But you have to register online (Portuguese) or at the Bike Brall Shop, which surprisingly is the only rental service I found in the city.
22. Chico Mendes Botanical Garden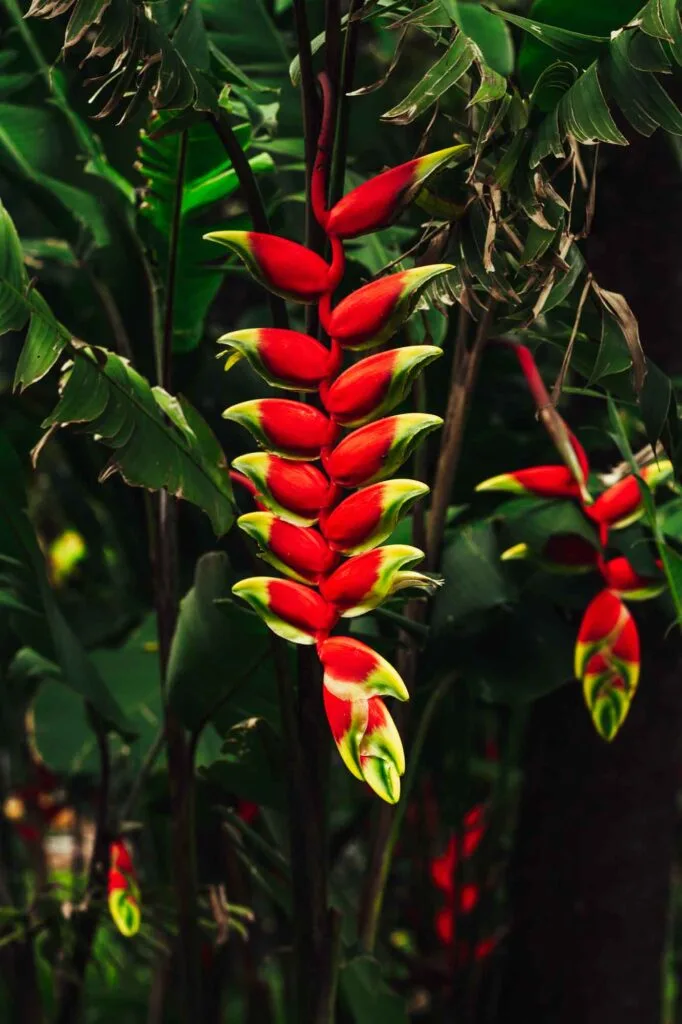 Last but not least, be sure to check out the Chico Mendes Botanical Garden. This garden is a bit different than the other green spaces earlier on this list, which is why it's so worth visiting.
Throughout the garden, you'll find lakes, walking paths, and unique flora and fauna.
Plus, the area even holds different guided tours for visitors who would rather learn more about the gardens. One of the best things to do here is have a picnic because the views are so great!
Wrapping Up on Santos, Brazil
There are so many great places to visit in Santos. Even if you were just visiting for a short time, try and visit a few attractions on this list.
I'm sure you'll learn a lot about the city, let alone Brazil.
Brazil Travel Resources
Hey, you're traveling to Brazil! How cool is that?
To help you plan your trip to Brazil, I wrote a bunch of practical guides.
For instance, this article on how much a trip to Brazil costs and this packing list are two good reads.
If you're looking for inspiration, this list of Brazilian landmarks covers must-see places throughout the country that you can either visit by yourself or on a tour.
That's it for today. Happy travels!
Did you enjoy reading this article about Santos, Brazil? Then share it with a friend who might enjoy it too!