Wanna know what Brazilian drinks you should try on your next trip? Look no further! Here are my favorite drinks of Brazil.
As a Brazilian, I often get asked about our national drink, tasty beverages, or even about the drinks without alcohol we have in the country.
Unfortunately, the international community doesn't know much about the country, but hey, this is about to change.
I will make sure of that, no worries.
After reading this article, you will be ready to travel to Brazil and sip these drinks yourself.
Traditional Brazilian drinks
As I said, this post is all about famous Brazilian beverages, with alcohol or not. I won't talk about any Brazilian cocktail, for that, refer to this article I just linked to.
Here you will find teas, juices, spirits, and more!
Looking for some interesting Brazil drink ideas? Read on!
Brazilian Erva-Mate (Chimarrão)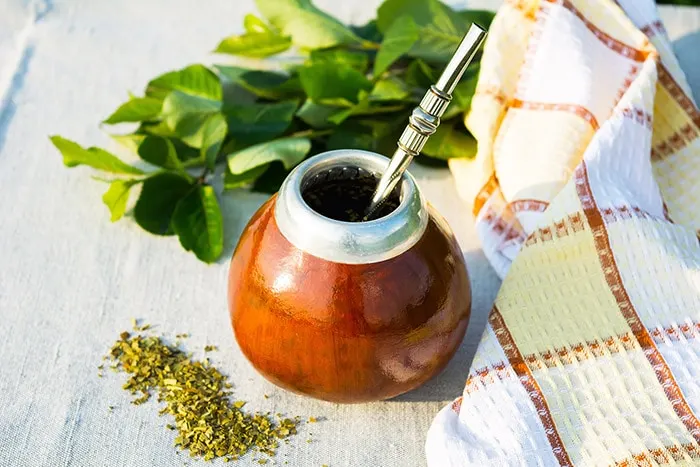 Chimarrão pronunciation: shim-ah-haum
Mate, which is also known as chimarrão in Brazil, is a caffeine-rich tea with antioxidants.
This tea is highly consumed in the south of Brazil as well as in our southern neighbors – Argentina, Uruguay, and Paraguay.
Chimarrão is the hot infusion of Ilex paraguariensis (Portuguese: erva-mate), a South American herb, in a gourd (Portuguese: cuia).
To drink it, we use a specific stainless steel straw called bomba that also works like a sieve.
Brazilian lemonade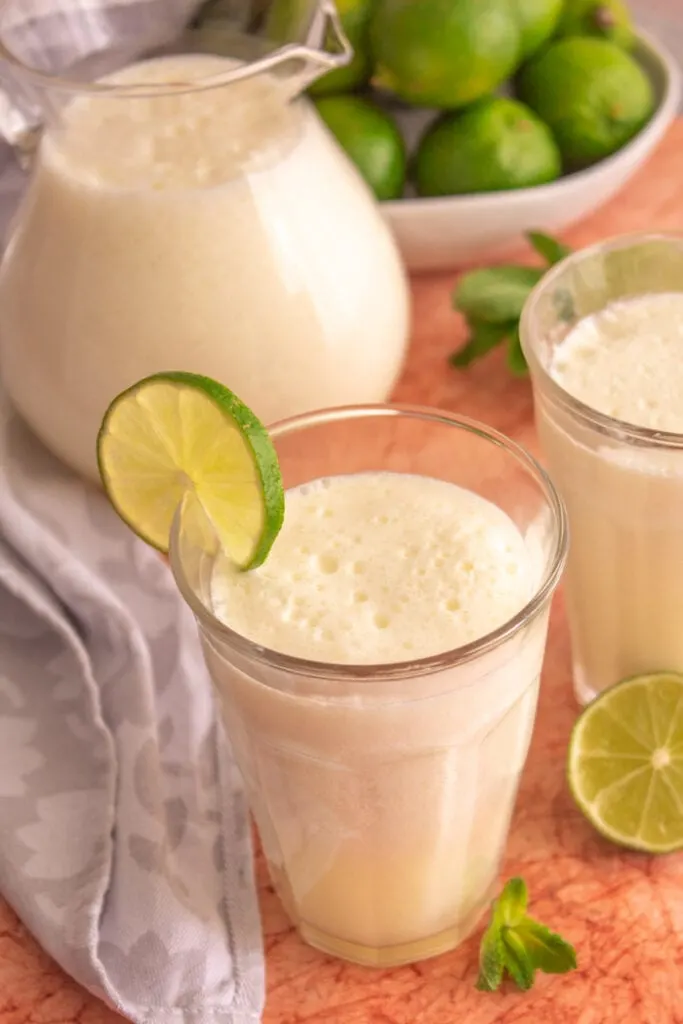 Yes, you read it right.
It's a Brazilian lemonade, not limeade. We call it lemonade because the word for lime in Portuguese is limão, and its juice is limonada, which translates to lemonade.
Confusing? A bit. Delicious? You bet!
This refreshing and creamy Brazilian lemonade recipe has an obvious Brazilian twist: condensed milk!
Guaraná juice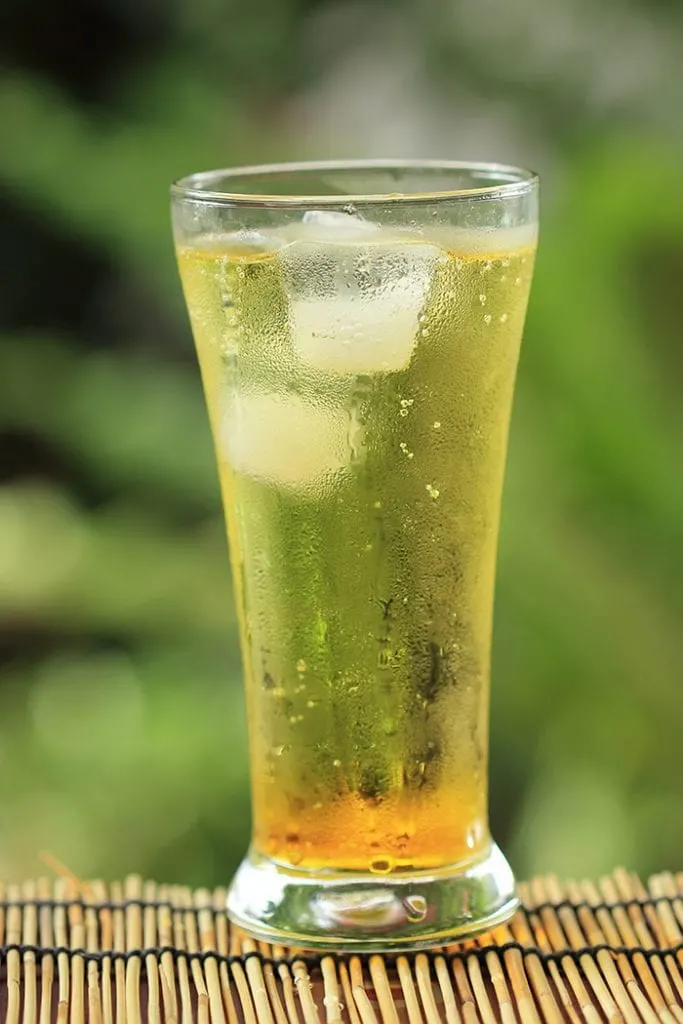 Guaraná pronunciation: gwa-rah-nah
One of Brazil's symbols, Guaraná is a Brazilian fruit native to the Amazon region.
While this fruit is as small as a coffee berry, it resembles a human eye – it's a red shell encasing a black seed covered by a white aril.
It's not the prettiest fruit, but it has lots of benefits.
Around 70% of guaraná is used to produce energy and soft drinks. The remaining 30% is processed into a powder extract made by its seeds, which is what we use to make juice.
Guaraná is rich in antioxidants, caffeine, and improves overall skin appearance.
Brazil fun fact: one of the most consumed Brazilian soft drinks has guaraná taste.
Coffee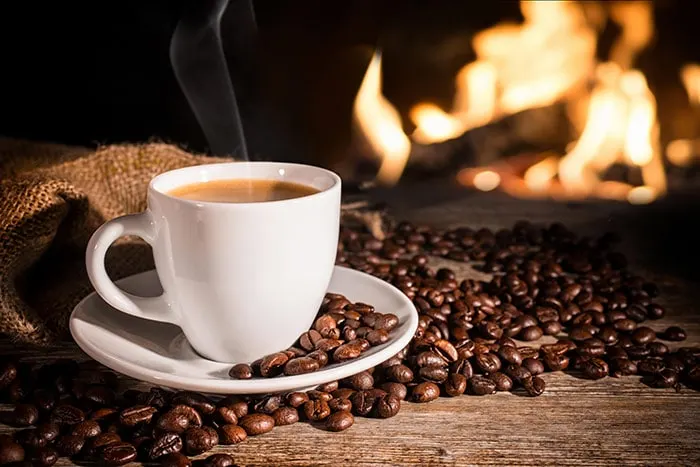 Being the world's biggest exporter of coffee, Brazil produces excellent low acidity grains for this drink.
That's because coffee in Brazil grows in lower altitude, ensuring its sweet taste.
Namely, it has a nutty, sweet flavor often bittersweet with a chocolatey roasted taste.
As for its consumption, we usually drink coffee with milk for breakfast and an espresso after lunch.
But it's also good to know that the quality of the coffee might vary depending on the venue. Many low-budget restaurants serve low quality coffee, so choose wisely.
Coffee is a famous Brazilian drink not only in the country but worldwide.
Tip from a local: For breakfast, try the Brazilian cheese bread served with coffee. It's a combination to die for.
Cachaça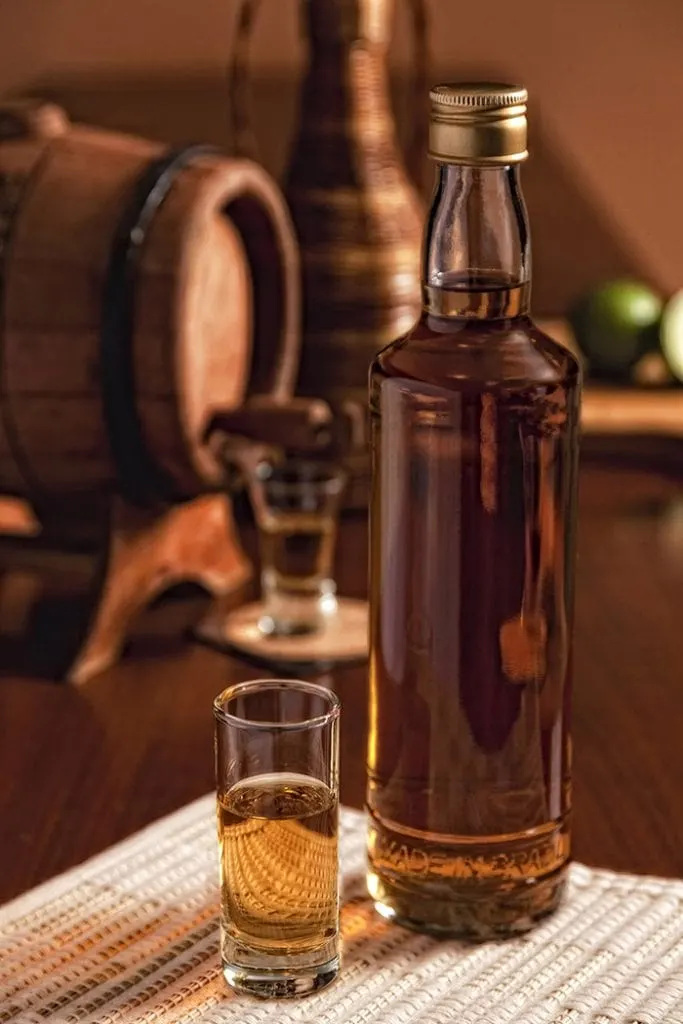 Cachaça pronunciation: Kah-shah-sah
Cachaça is a Brazilian distilled spirit made from sugar cane that is funky and vegetal and ranges from 38-48% ABV.
This drink should primarily reveal the aromas and flavors of sugar cane and secondly, the smells of the fermentation.
It's similar to white rum, but still quite different. Cachaça differs in that it's not made from sugar cane molasses but the cane juice itself, lending it a more floral, grassy, herbaceous flavor profile than its rum counterparts.
Fun fact: There's no such thing as Brazilian cachaça. This is redundant. All cachaça is produced in Brazil; otherwise, it may not have this name by law.
I served up here on the site many cachaça drinks, such as caipirinha, Brazilian coffee cocktail, and more.
Tip from a local: Try cachaça in the national cocktail, caipirinha. This is a drink made of lime juice, sugar, ice cubes, and cachaça, of course. It's delicious on a hot day and super easy to prepare!
Sugar cane juice (cana de açúcar)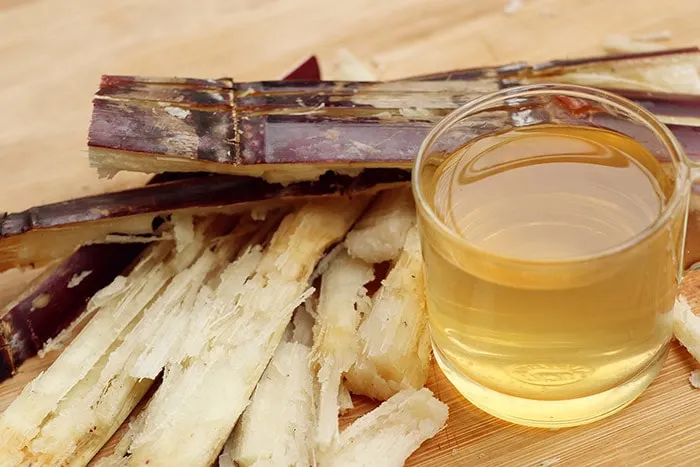 Cana de açúcar pronunciation: kah-nah dji assu-car
From sugar cane, we make our favorite spirit, cachaça, but also delicious juice with a grassy taste.
While it is obviously sweet, this juice is served cold, offering a pleasant freshness for the summer days.
In São Paulo, we usually buy it fresh in street markets. Oh, and the best part about it is that it tastes like heaven when accompanied by pastel, crunchy Brazilian street food with filling.
It's not uncommon to find vendors selling both, as this is a very traditional combination.
Read next: 30 delicious Brazilian dishes
Smoothie (Vitamina)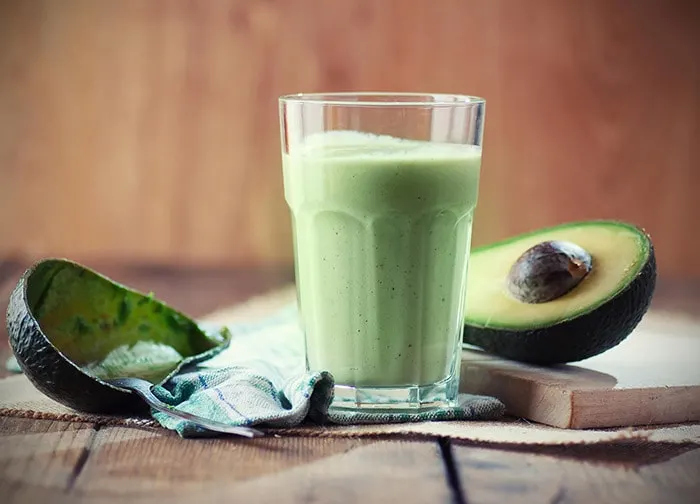 Vitamina pronunciation: vee-tah-mee-nah
There is no better way to start the day in Brazil. For us, vitamina is a kind of smoothie.
We blend a fruit (or a few) with milk and sugar or condensed milk. Although the addition of sugar doesn't make it very healthy, many people believe it's an excellent way to start the day, including me. I love it.
Some of the most popular flavors are avocado, and strawberry and banana. One of my favorite vitaminas is the passion fruit one.
I've already served the recipe for the Brazilian avocado smoothie here on the site, though. Go check it out!
Oh, and just to make it clear – we Brazilians consider avocado a fruit. That's why we eat it with sugar, and not in a salad like in North America or Europe.
The more you know.
Coconut water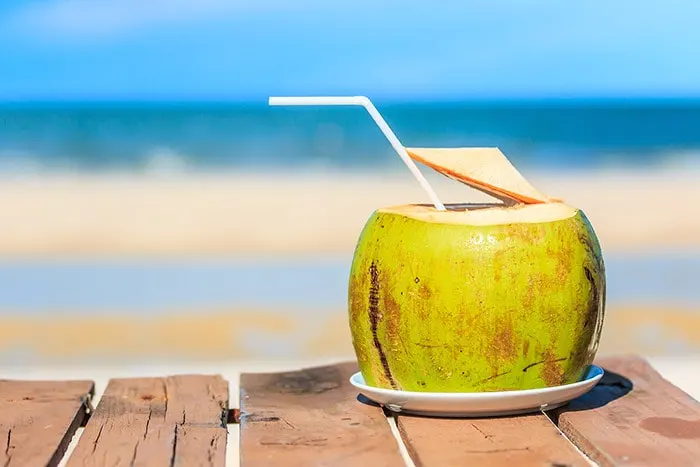 Oh, coconut water. There is nothing more refreshing on a hot day at the coast than the pure coconut water.
Vendors usually put the coconut in ice, so the drink remains nice and cold. Then they open up the top of a round and green coconut and give it to you.
Take your time to enjoy this delicious and yet simple drink, which is particularly good to heal and rehydrate your skin under the blistering sun.
Once you've finished drinking it, take it back to the vendor and ask to open the coconut so that you can eat the flesh.
It's delicious, and you won't regret it!
Cajuína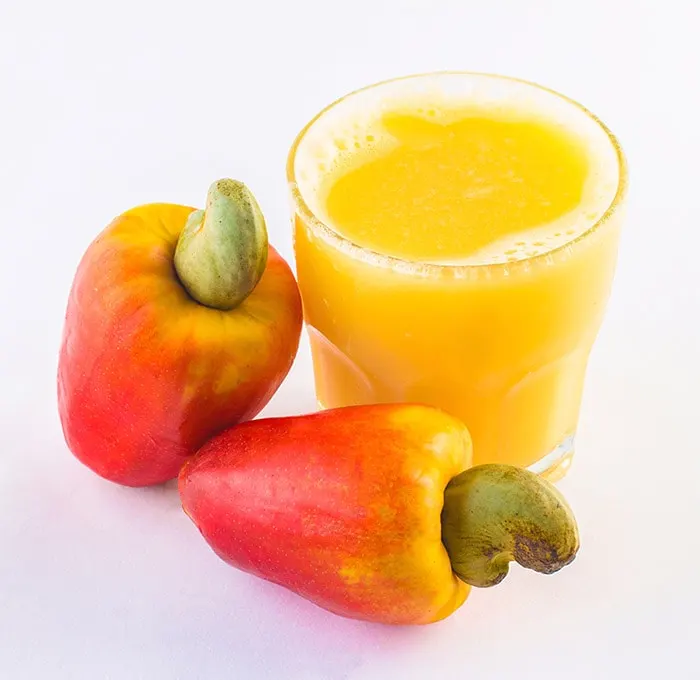 Cajuína pronunciation: kah-joo-ee-nah
This Brazilian drink without alcohol is made from gelatine and clarified and cooked cashew apple juice.
In 2014, it was declared Brazilian cultural heritage, and its origins, although not sure, are probably indigenous.
Cajuína is a Brazilian beverage trendy in the northeast, especially in Brazilian states Ceará and Piauí, where the hot days could definitely use the freshness of this juice.
Açai juice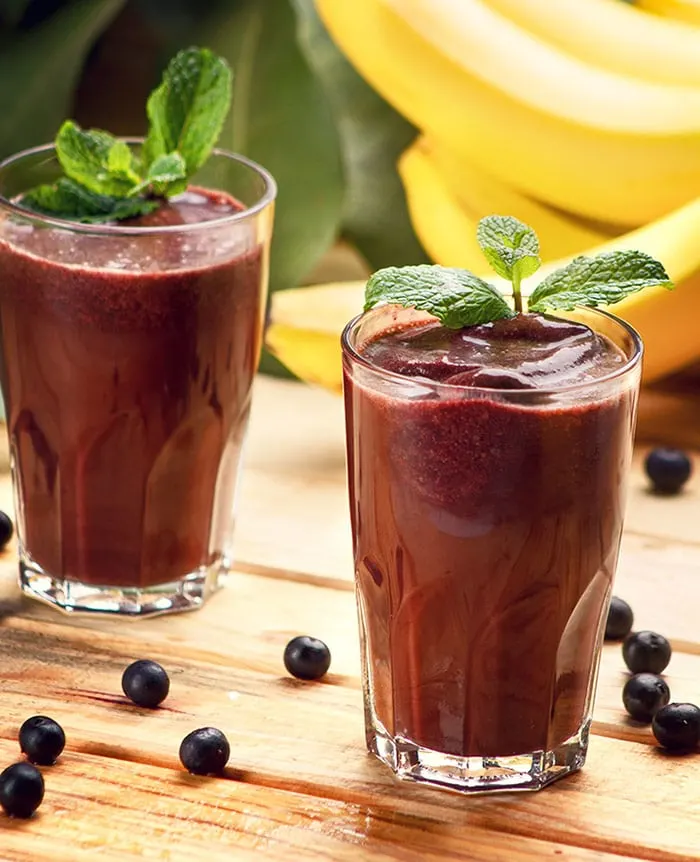 Açai pronunciation: ah-sah-ee
Last but definitely not least, açai is a fruit originally from the northern region of Brazil.
Most people in the country and abroad consume this purple fruit in a bowl together with other fruits, such as banana and strawberry.
But know that its juice is simply deliciously sweet and fills up well. It obviously isn't so thick as the smoothie, but it tastes equally good.
Just don't go crazy and drink lots of it on your trip to, let's say, Rio de Janeiro, as açai is a high-calorie fruit.
Did you like this post about typical Brazilian drinks? Pin it or share it with a friend who might like it too!
Final thoughts on Brazilian drinks
I hope you enjoyed this list of typical Brazilian drinks and can try at least a few of them on your trip to Brazil.
However, you could also try some of them at home if you could find the ingredients.
For instance, if you have a bottle of the Brazilian liquor I mentioned, cachaça, you could prepare many cocktails with it.
If you are curious about some other Brazilian drinks and cocktails and want to prepare a few at home, take a look at my recipes.