Wondering how to call Brazil from USA or Canada? No worries. I wrote this handy step-by-step guide to help you with that.
Calling Brazil from another country can be quite confusing.
In fact, calling any country around the world is a confusing task since each country has its specific area codes and rules to receive a call.
For that reason, I decided to write this practical guide with examples so that you can learn how to call Brazil hassle-free.
I hope it helps!
Phone number in Brazil
Before getting into the step-by-step guide on how to call Brazil from USA (or Canada), I'll quickly explain how the phone numbers in Brazil are.
Just so you know you have the right number format.
Cell phone numbers within Brazil consist of a two-digit area code followed by a nine-digit local number starting with 9. E.g. cell phone from São Paulo 11 9 XXXX XXXX
Landline numbers also consist of a two-digit area code but are followed by an eight-digit local number, which can start with any number, not just 9. E.g. landline number from São Paulo 11 XXXX XXXX
Note that you always have to use the two-digit area code when calling a Brazilian phone number from another country.
However, if you're calling within Brazil, other rules apply. Check my guide on how to call in Brazil.
Brazil calling code: 55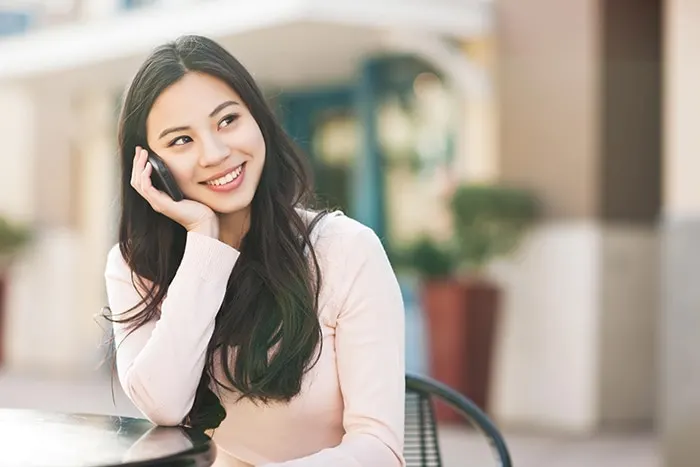 How to call Brazil from USA or Canada
It's very simple to call Brazil from the USA or Canada. All you have to do is:
First, dial the US/Canada exit code 011
Dial the Brazil country code 55
Dial the two-digits DDD area code of the city in Brazil where the call receiver is based (see the DDD area codes in the table below): XX
Now, dial the phone number without 0 at the beginning
Finally, press dial and happy talking!
Examples of how to dial to Brazil from USA/Canada
The next steps are simply an example of how you can easily make a call to Brazil.
Exit code: 011
Brazil country code: 55
Rio de Janeiro City DDD code: 21
Cell phone number: 9 XXXX XXXX
To make this call, I would dial the following on my phone: 011 55 21 9 XXXX XXXX
To call a landline, I would dial the following on my phone: 011 55 21 XXXX XXXX
Dialing area codes
Besides dialing the country code for Brazil, you also need to dial in the DDD area code to call Brazil from USA or Canada.
DDD stands for direct distance dialing, and it's a specific code for each city.
The table below has the dialing area codes of some major cities in Brazil.
If the city you want to call is not in this list, click here and type its name into the search bar.
| | |
| --- | --- |
| Cities | Dialing area code |
| Rio de Janeiro | 21 |
| São Paulo | 11 |
| Campinas | 19 |
| Salvador | 71 |
| Recife | 81 |
| Florianópolis | 48 |
| Curitiba | 41 |
| Brasília | 61 |
| São Luís | 98 |
Essential phone numbers
GRU Airport phone number (São Paulo): +011 55 11 2445-2945
Tom Jobim International Airport – Galeão (Rio de Janeiro): +011 55 21 3004-6050
Viracopos International Airport (Campinas): +011 55 19 3725-5000
Brasília International Airport (Brasília): +011 55 61 3364-9000
Confins International Airport (Belo Horizonte): +011 55 31 3689-2700
More resources
If you're planning a trip to Brazil and want to buy a prepaid SIM card, you will want to read my guide on how to get a SIM card in Brazil.
For more information about the country, I'm sure you will find this Brazil travel guide very interesting.
But if you're not considering visiting the country, let me show you a few reasons why you should definitely visit Brazil now!