Brazil is an extraordinary country. If you've never been, I recommend planning your trip to Brazil ASAP.
The country is beautiful, friendly, filled with activities and colonial sites. Today, I'm sharing with you 101 of the top things to do in Brazil.
As a Brazilian, foreigners often ask me what is there to do in Brazil. And while there are some basic things that most people knew about, there are others they had no idea existed. But which are so worthy!
I mean, the country is enormous, and a bunch of attractions in Brazil is outside the most touristic route. (São Paulo-Rio de Janeiro-Iguazu Falls)
So if you're not a local, you might never even hear about plenty of the points of interest I'll mention below.
But fear not. This list of fun things to do in Brazil has something for every person, from sunbathing on pretty beaches to hiking in national parks or exploring big cities.
I've included the best landmarks, monuments, museums, tourist attractions, historic sites, tours in Brazil, and a few of my favorite bars and restaurants.
One thing is for sure: you'll never run out of things to do in Brazil.
Wondering what to do in Brazil? Read on!
Not enough time to read this all in one sitting? Click to pin for later!
Where to stay in Brazil
Accommodation in Brazil can vary a lot, depending on where you are. São Paulo and Rio de Janeiro are expensive cities, for example.
Regardless of where you travel in Brazil, a dorm bed in hostels are always cheaper, but you can also find decent double rooms. In those cases, my husband and I book our hostel stays at HostelWorld.
But more often, we prefer to stay in hotels. In those cases, we reserve our stay at Booking.com because we can sort by all sorts of filters. Very handy!
Travel insurance for Brazil
No matter where you go, travel insurance is the most essential item on your pre-travel to-do list. You can't travel to an unknown country with an unknown language without insurance.
For a couple of dollars a day you can save yourself the hassle and get travel insurance. I use Safety Wing and am very satisfied with them. Click here to get a quote.
Things to do in Brazil
Welcome to my list of the 101 best things to do in Brazil. For full disclosure, I might create specific posts in the future about adventurous things to do in Brazil and so on. Stay tuned!
Watch a soccer match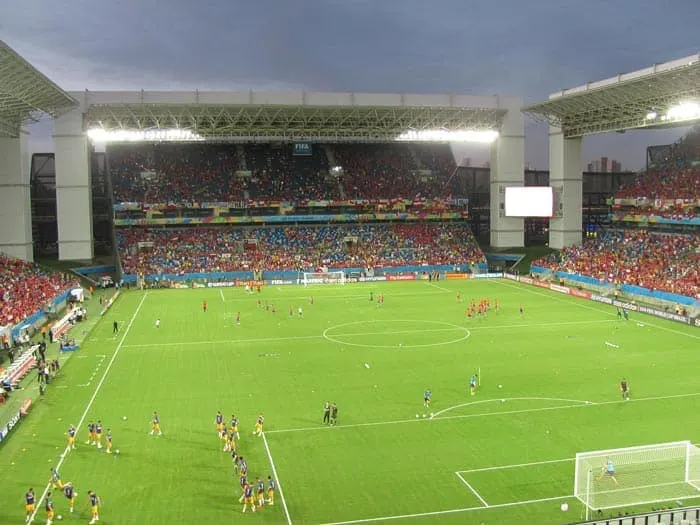 Can you visit Brazil and not watch a soccer match? Spoiler: No!
Although soccer wasn't invented in Brazil, the country is notorious for having passionate fans and excellent players. In other words, you can't afford to miss watching a soccer match in a Brazilian stadium.
In São Paulo City, Corinthians has the most fans (about 27 million), while in Rio de Janeiro City, Flamengo has about 32 million fans.
For instance, you could hop on a Rio experience with a local and watch a game at the famous Maracanã, which is by far one of the best things to do in Rio de Janeiro.
Drink caipirinha
Drinking caipirinha on the beach is basically synonymous with a Brazil vacation.
Lime, sugar, cachaça, and ice. These are the only ingredients in a caipirinha, the refreshing national drink that most Brazilians love.
Across the country, other variations are popularly served as well, such as with vodka instead of cachaça. But if you want to taste the authentic caipirinha, order it with the cachaça 51 Pirassununga or Ypioca.
In Brazil, many bars serve plenty of reputable brands of this spirit. If you're not tipsy yet, order a couple of caipirinhas one with each recommended cachaça. You will love it.
Go wildlife watching in the Pantanal
The Pantanal is a unique destination in Brazil because this area is a massive swamp. Some of the animals you can spot here are not only beautiful macaws but also piranhas, jaguars, caimans, and more.
During the winter (Jun-Sep), mosquitoes won't be much of a problem like in the summer months, but you should always have a good repellent with you.
Tip from a local: I'm allergic to mosquitoes (!), so I don't dare to get into a forest without long sleeves, pants, socks, and a hat—no matter the temperature.
If you want to avoid these little devils, besides following these tips, buy Permethrin, spray it on your clothes before your trip, and use a repellent with picaridin. Please take sensible precautions when applying these products.
Visit a colonial town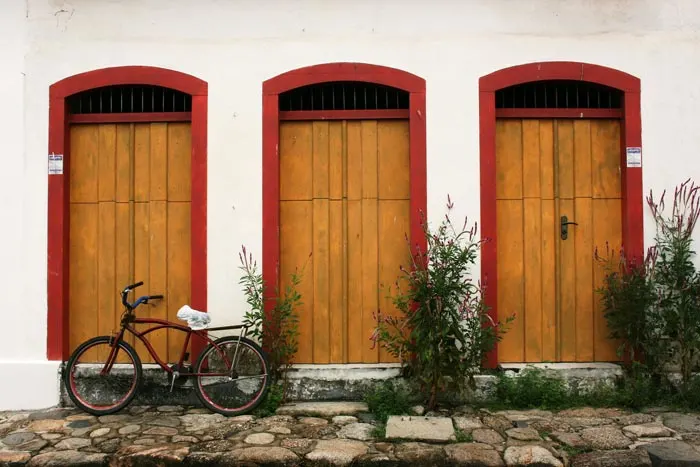 Visiting a colonial town should be part of your essential Brazil activities without a doubt.
We still have many cities where the architectural style from colonial times is preserved, having the Baroque and Rococo as main styles.
In those towns, houses and churches are mostly white or pastel with colorful details around the doors and windows. The cobblestone streets add more charm to these places.
The final touch is the orange roofs that together with all details leave no doubts Brazil was once Portugal's colony.
Tip from a local: The prettiest colonial towns and cities are Ouro Preto, Salvador, Olinda, Paraty, São Luís, Belém, Mariana, and Diamantina.
Wear a teeny tiny bikini
As you make your plans for what to see in Brazil, be sure to leave some time open to sunbathe on the beach. Maybe wearing a teeny tiny bikini too.
Within seconds of arriving upon your first Brazilian beach, several things will be evident—ridiculously pretty landscapes and small bikini bottoms.
Let yourself get used to the idea and purchase a Brazilian-style bikini bottom yourself. Embrace the culture!
While sunbathing, you'll notice most women wear these bikinis too. So it's not like people will stare at you as if you were doing something unusual like it would happen if you did the same in Europe or America.
Dance samba
For complete cultural immersion, learn how to dance samba in Brazil. Samba is a typical Brazilian music/dance style with African roots.
It isn't complicated, but you need to shake your body, more precisely your booty and feet.
You don't necessarily need to follow classes.
Find a samba bar and enjoy it. This is such a fun activity. Don't worry about not dancing correctly, enjoy the moment while sipping some beer or caipirinha.
Get soaked by the Iguazu Falls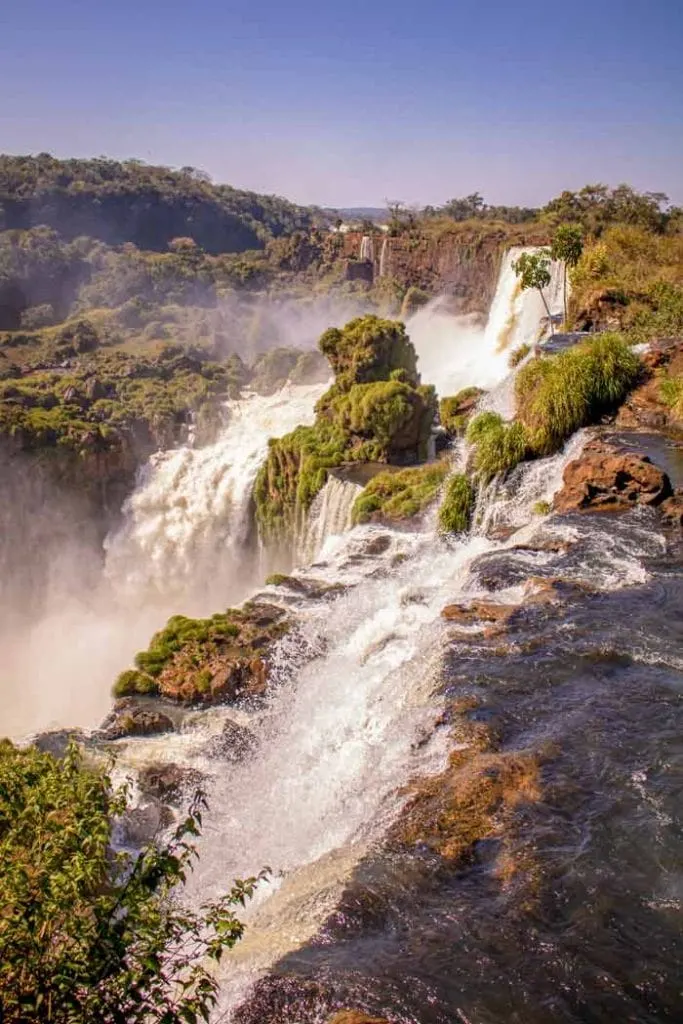 Visiting the world's most significant falls is one of the foremost things to do in Brazil.
South America's jewel, the Iguazu Falls, borders Brazil and Argentina. And better than seeing it from afar is hopping on a boat and getting super close to the water.
On the other hand, if getting wet isn't in your plans, jump on a helicopter and take in the view of Iguazu Falls from above.
Either way, include this once-in-a-lifetime experience in your Brazil travel plans.
Snorkel in Bonito
Striking nature and unique wildlife, Bonito is among the top eco-tourism hubs in Brazil, and arguably in the world.
Tourists come here to snorkel with colorful fishes in crystal clear waters, and although rare, visitors can spot alligators and snakes too.
Many places in Bonito are suitable for eco-snorkeling (without sunscreen and repellent), but the most popular ones are the Prata River and the Sucuri River. Both mesmerizing!
Sleep in a lodge in the Amazon Rainforest
Calling all nature lovers. If bonito wasn't enough already, spend a few days in the heart of the world's largest rainforest—the Amazon.
From pink dolphins to macaws and jaguar, the Amazon Rainforest offers a complete immersion in Brazil's wildlife. So nothing more natural than spending a few days among those animals, right?
Depending on the length of your stay, the Dolphin Lodge also offers tours in the area.
Sleeping in the Amazon is by far, one of the most adventurous things to do in Brazil.
Tip from a local: If possible, ask for a room with air conditioning.
Take in the view from the Pai Inácio Hill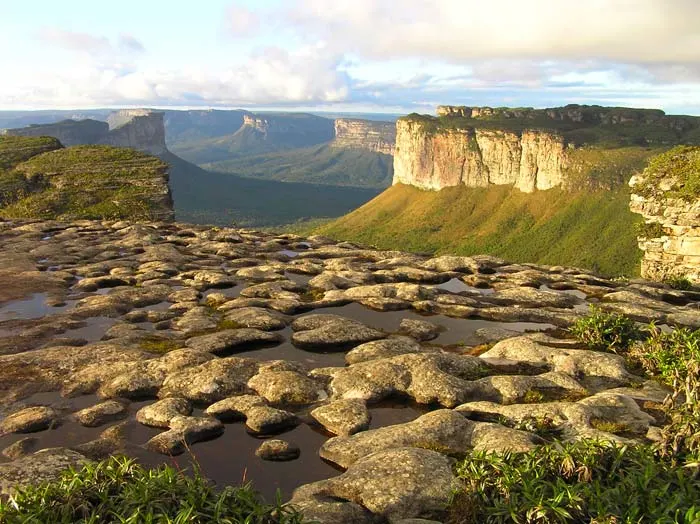 One of the best things to do in Brazil is to see first-hand how massive the country is. And hiking up the Pai Inácio Hill to take in the panoramic view will also take your breath away.
Regarding the hill's name, legend has it that a local slave, known as Pai Inácio, dated the daughter of a colonel. That classic story of forbidden love.
The romance was uncovered, and the colonel's henchmen chased Inácio until he was cornered high on that hill. With nowhere to run, he would have thrown himself off the mountain with an open umbrella.
Later, someone spotted Inácio again, surprising the whole village. According to local guides, Pai Inácio didn't jump off the hill, but rather to a lower rock, tricking colonel's men.
Anyway, the hike uphill is short, about 20 minutes, and it's also an excellent place to watch the sunset.
Hang glide from Pedra Bonita
Rio de Janeiro is spectacular from the ground, but have you ever imagined how beautiful the city is from above? Let me tell you: it's jaw-dropping.
The guide takes you to Pedra Bonita, a 1,700 ft (525 m) mountain near the sea, from where you glide down to the beach, flying over the trees and seeing the Marvelous City from above.
It's a mesmerizing experience and a must-do in Brazil.
Have seafood & caipirinha in a favela
It's not any seafood; it's a seafood feijoada. If you know a little about Brazilian food, you know feijoada is the national dish.
In the Chapéu Mangueira neighborhood in Rio de Janeiro, David, a former fisherman, added a personal touch to this recipe at his eponymous bar.
This simple venue is in a favela which has gone through a gentrification process, and today many people walk uphill, or just take a cab, to get a taste of this innovative dish.
And that's not to mention the excellent caipirinha they serve here, often called the best in the city. (Food is one of my favorite reasons to visit Brazil.)
Be humbled by the Caracol Falls
Caracol Falls isn't majestic as Iguazu or Niagara, but it has a remarkable setting nevertheless.
Among the dense forest, a stream of water finds its way down a 426-ft (130-m) basalt rock cliff, and it cascades down looking like a bridal veil.
The falls can be seen either from a cable car on the northeast or an observation tower on the southeast. Beautiful from both sides.
Sail in the Poti River Canyons
According to scientists, Poti Canyon is about 400 million years old. The spectacular fauna and flora together with prehistoric rock carvings make this canyon a breathtaking place.
About 197 ft (60 m) high, the canyon is hidden in a desert wilderness creating an oasis in the region where people come to kayak or sail in a tour boat.
Despite the awe-inspiring landscape, only a few people know about this underrated vacation spot in Brazil.
Trek to the Pedra Furada
One of the most visited attractions of Santa Catarina, and also one of the most beautiful ones, is the São Joaquim National Park.
In the park, a moderate/challenging 5.2 mi (8.5 km) trail takes you to Pedra Furada, a 98 ft (30 m) rock formation with a hole in the middle.
Take in the view of the park, which is breathtaking as mountains and hills go as far as the eye can see.
Slide at the dunes of Lençóis Maranhenses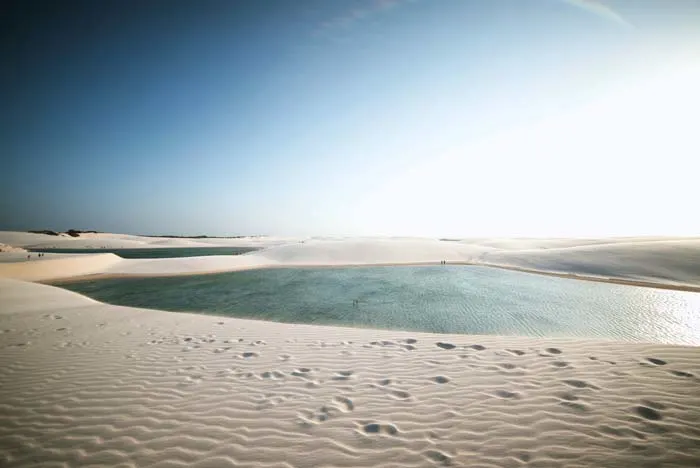 Known as the Brazilian oasis, Lençóis Maranhenses is a national park straight out of a magical realism book set in Brazil.
After the rainy season, small lagoons form among the white sand dunes in this park. Which makes it the perfect place to enjoy the excellent weather and have some fun sliding at the dunes.
Visit Brazil's westernmost capital
Rio Branco is one of the most underrated capitals in Brazil, as most Brazilians from other states haven't been to Acre State. And to be honest, they have no idea what a simple yet remarkable place they're missing.
Hearty food, incredibly friendly people, and an exceptional ecotourism spot, Rio Branco is an underrated and enjoyable city. Here, you can learn (and taste) the local cuisine, visit native Brazilian tribes, or go museum hopping.
Either way, a visit to the city is sure to bring you closer to Brazilian culture and traditions you won't see anywhere else.
Snorkel with turtles at Fernando de Noronha
The crystal clear waters of Fernando de Noronha make the archipelago the best scuba dive and snorkel spot in Brazil.
Among the animals in this area, you can spot many species of sharks, sea turtles, dolphins, and manta rays depending on the time of the year.
Celebrate carnival in Rio de Janeiro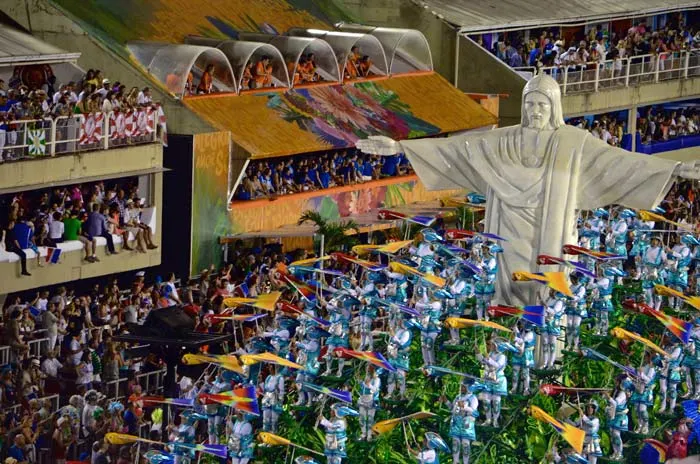 If you're looking for fun activities to do in Brazil, know that there is nothing better than celebrating this festival with locals.
One thing everybody should experience once in their lives is to celebrate the carnival in Rio de Janeiro. Period.
The city of samba turns into a sea of colors, sounds, and smiles. You may not understand every word locals are singing, but you'll feel the energy. It's contagious.
Recharge at the Urucá Falls
At the border with Venezuela and Guyana, Uiramutã County is a paradise with many natural sites.
But among these natural beauties, the Urucá Falls stands out by its 65 ft (20 m) bridal veil against a little cliff covered with vegetation.
The water plummets to an emerald natural pool, making it one of the best waterfalls in Brazil.
Take a journey into the past in Ouro Preto
Visiting a colonial town is one of the most interesting things to do in Brazil because of the country's history.
As a former Portuguese colony, Brazil has a bunch of towns and cities that played a massive role in the economy back then.
Thankfully, these local communities preserved most of the colonial architecture, where you can not only admire the once business hub of Brazil but also learn more about the country. Ouro Preto is one of them.
Whitewashed houses lined up along cobblestone streets and a small-town atmosphere. The town is as charming as a place can be.
Sunbathe at Ipanema Beach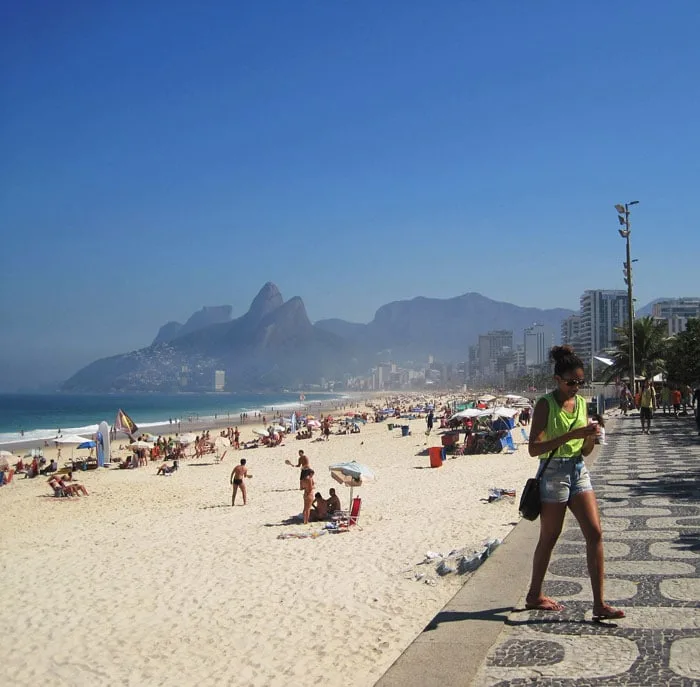 On one side of the beach, the Tijuca Hill rises against the blue sky, and if you look closely, you'll see Pedra da Gávea and Pedra Bonita hills sticking out behind it.
On the other side, Arpoador makes the perfect spot to watch the sunset. But while it isn't time for that yet, enjoy the (probably) excellent weather sunbathing in one of the world's most famous beaches.
Ipanema is the go-to beach for locals, so be prepared for crowds if you visit it on warm weekends or during national holidays.
Take in the view from the Corcovado Mountian (aka Christ the Redeemer)
Like Christ the Redeemer watches over Rio de Janeiro, take your time to appreciate the view with him. With him and other hundreds of people.
The early bird catches the worm so to avoid the Via Crucis to get there or to go back, arrive very early in the morning, especially if you're going during cruises high-season (Nov-Mar).
Anyway, the view of Rio de Janeiro from there is spectacular! That's the spot where you understand why we Brazilians call it the Marvelous City.
The view is breathtaking.
Photograph São Paulo's street art
As a concrete jungle, São Paulo evolved its art scene with the city's elements—buildings, art museums, and alleys.
Among the many graffitis you can spot throughout São Paulo, Batman Alley holds arguably one of the most impressive outdoor exhibitions.
Admittedly, Batman Alley is among the most unique places to visit in Brazil. That's because new artists come here often to paint on top of a recent painting, and the cycle goes on.
Tip from a local: Nearby are some excellent bars, such as the Bar do Beco and Boteco São Conrado.
Take some pics at the Selarón Steps while singing Snoop Dogg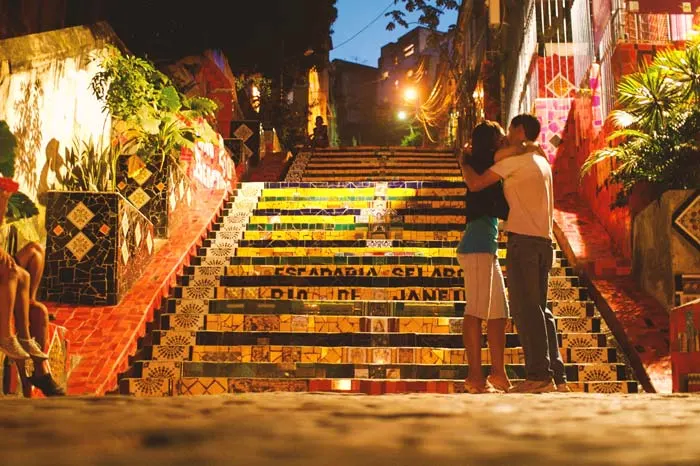 Ok, the singing part can totally be ignored.
Selarón is the name of the steps where Snoop Dogg and Pharrell Williams filmed the music video for the song "Beautiful."
After the video, the stair became famous worldwide, and since then hundreds of tourists visit it every single day.
The Chilean-born artist Jorge Selarón made the colorful open-air mosaic by collecting tiles from over 60 countries. He made it as a tribute to the Brazilian people, and today, it's one of the biggest Brazil tourist attractions.
Ride a bicycle at Paulista Avenue
Every Sunday, São Paulo's most famous avenue closes for cars and busses, and open its arms to bicycles, skateboards, pedestrians, and everything in between.
Stretching 1.7 mi (2.8 km), Paulista Avenue is a melting pot of cultures and styles.
While that can be clearly seen during the week, on Sundays, the avenue is taken by locals who want to enjoy a day outdoors with their families or friends.
Riding a bike at Paulista Avenue on Sundays is one of the best activities in Brazil to experience local life.
Discover the Blue Lake Grotto
Lago Azul, or Blue Lake Grotto, is not only a natural monument and protected area in Bonito but also one of the prettiest things to see in Brazil.
You wouldn't think a beautiful blue lake is inside this cave from the outside as its hidden entrance is modest.
But stone stairs take you down the cave where the bright blue lake lies.
Several animal skeletons from the Ice Age period were found in this cave, including some massive sloths.
Forget about the world at Paradise Lake in Jericoacoara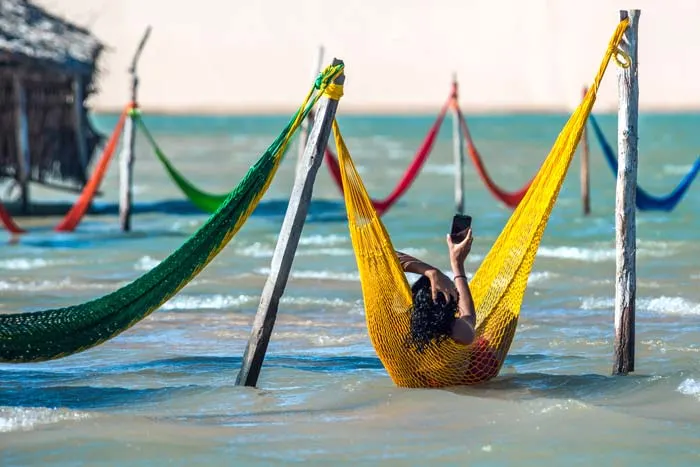 Dark and Light blue mix in the waters of this famous lake with a few small waves—an ideal place to go with kids.
Tourists venture on stand up paddle, sailing, or relaxing on a hammock in the water.
The restaurants even put tables and chairs in the water so that people can relax at all times. Even while eating.
Do some jogging at Ibirapuera Park
While traveling in Brazil, be sure to reserve some time to go for a jog too.
São Paulo has several parks, but Ibirapuera is the city's favorite one. Besides being an oasis in a concrete jungle, Ibirapuera is massive and has a few exciting museums to entertain you.
But again, do reserve some time to jog here and observe the locals jogging themselves or walking their dogs. You'll have an enjoyable time for sure.
Walk the undulating black & white promenade at Copacabana Beach
One of the most distinctive features of Copacabana Beach is the black and white wave motif that weaves up the entire boardwalk.
If you have been to Rossio Square in Lisbon, the Copacabana promenade, which inspires many souvenirs, will undoubtedly ring a bell.
While in Portugal, the drawing symbolizes the Tagus' encounter with the ocean. In Rio, it represents the waves of the sea.
Have a coffee in an Italian-style palazzo
Once the residence of a Brazilian industrialist and his Italian wife, Parque Lage is a beautiful mansion among subtropical forests that lies at the foot of the Corcovado mountain.
Nowadays, the park is public and has many walking trails surrounding the mansion, including one to the redeemer statue, while the palace houses an art school and a courtyard cafe.
Not only you'll have coffee in a ridiculously pretty place, but you'll have a unique view too. Look up to see Christ the Redeemer watching over Rio de Janeiro.
Be humbled by Brasília's Cathedral
Like the rest of the central area of Brasília, the cathedral was also designed by the Brazilian architect Oscar Niemeyer in a modern, futuristic style.
Surrounded by water, the circular church has impressive works of art made by national artists and European museums. At the same time, the stained glass roof paints the cathedral in different colors depending on the position of the sun.
Visit Brazil's first capital
Brazil has had three capitals, including Brasília, the current one.
The country's first capital, Salvador, was chosen due to the abundant vegetation in the northeast region and to the city's location, near the sea, which facilitated the export of these products.
This way, Salvador became Brazil's economic hub, and today, it's one of the most well-known places to go in Brazil.
The city shines with colors, music, and excellent cuisine. This, together with the rich history behind each brick in town, makes Salvador a unique place to visit in Brazil.
Fun fact: Rio de Janeiro was the second capital.
Get immersed in Brazil's history in Mariana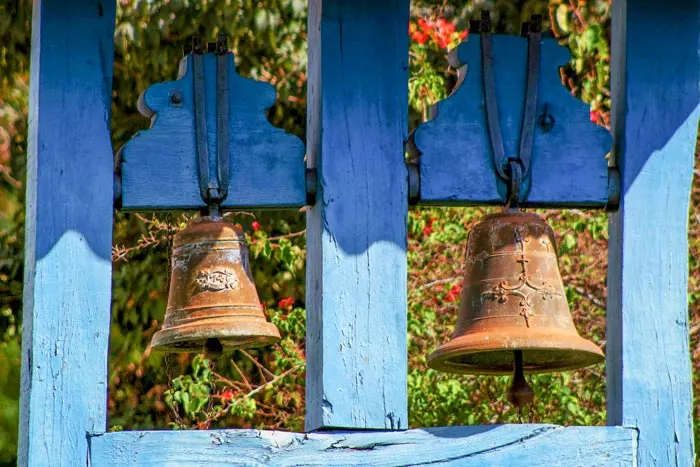 Minas Gerais' first city, Mariana breathes Brazilian history through the town's baroque colonial architecture.
Although in 2015, one of Mariana's districts was destroyed after the breach of a dam—the worst environmental disasters in the country which took the lives of 19 people—, the town historic center still holds the discreet charm of the 18th-century through its mansions and houses.
Also, eco-tourism has expanded significantly, making Mariana one of the former mining towns with the largest number of spots to practice extreme sports such as mountaineering and mountain biking.
Snorkel in the natural pools of Maracajaú
The Maracajaú Parrachos Pools are a mesmerizing example of natural beauty on the Brazilian coast where the color of the sea is as pretty as the sea in the Caribbean.
Here, you can snorkel around the coral reefs and spend some time in contact with nature before returning to Maracajaú Beach, a beach with calm sea and palm trees aligned by the shore.
Get a bird's eye view from Furnas Canyons
One of the most sought-after Brazil points of interest in Capitólio City is the tour at Furnas Lake.
At Furnas Lake, canyons in wavy curves lead you through a river with color ranging between blue and green. Locals call it "Minas Gerais' Sea."
The rugged canyons rise over 66 ft (20 m) high in the sky from where you can have magical views of the region and waterfalls.
Stare in wonder at the Meeting of Waters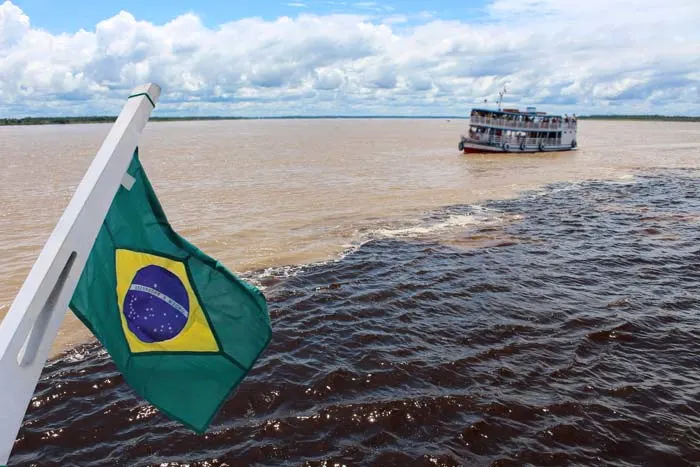 For miles and miles, Dark River (Rio Negro) and Amazon River run side by side without mixing.
While Dark River, as the name suggests, is dark, it also is warmer than the Amazon River. The latter has a muddy color and runs two times faster than the former.
The difference in speed, temperature, and density makes the confluence between the Amazon River and Dark River a mesmerizing thing to experience in Brazil.
Have lunch in a safe favela
Every Sunday, the Maze serves lunch is buffet-style, and there's always a big choice of dishes, including vegetarian options.
The Maze is a hostel and cultural venue in a rambling building which is an on-going work of art in itself, with lots of interesting tile work.
As for the views, the hostel is located in the safe and friendly favela of Tavares Bastos, just above Catete, with glorious views of Sugarloaf Mountain and the bay.
Prepare to be awestruck by Latin America's largest library
Brazil's oldest cultural institution, the National Library of Brazil, had its firsts items arrived after the 1755 earthquake in Lisbon, which destroyed the Royal Library.
Many books and manuscripts were brought to Brazil, and because the collection grew exponentially, a new location and design were chosen and inaugurated at the beginning of the 20th-century.
With over 9 million items, the neo-classical library is among the most important ones in the world by UNESCO.
Discover a Dutch village in São Paulo State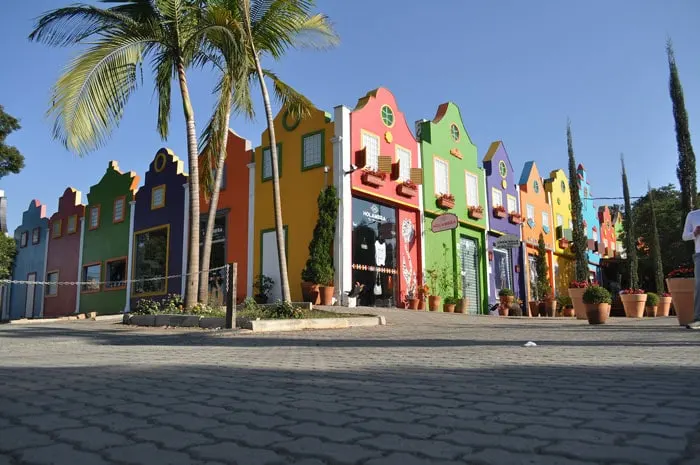 Although the predominant immigrant communities in Brazil are European, the Dutch isn't the largest one.
And in the town of Holambra, the cultures of both countries, Brazil and the Netherlands, mix beautifully. So take your time to experience more of the Dutch culture in a perfect day trip from São Paulo.
That's right, Holambra is a Dutch-inspired town in the countryside of the state, which has tulip plantations, Van Gogh's replicas, and even a windmill.
Soak in the natural pools of Maragogi
You can't think of a trip to Alagoas State without taking the traditional trip to the natural pools of Maragogi.
The pools are in an area of ​​environmental preservation, and the turquoise water is the perfect place to enjoy the excellent weather and outdoors in a paradise.
Explore a German town in Santa Catarina State
Locals call Pomerode the most German city in Brazil. That's because the city was founded by German immigrants, and even today, most of its traditions, architecture, and language are preserved.
Yes, you'll hear locals speaking a dialect of German. That's normal here.
Besides having a museum that explains the development of the town and the European immigration in the region, Pomerode also has a half-timbered route of houses, where you can see the Brazilian influence on some photogenic German houses.
Experience a Finnish village in Rio de Janeiro State
Penedo is a small city in Rio de Janeiro, close to the border with São Paulo and Minas Gerais.
The town was founded by Finnish immigrants at the beginning of the 20th-century. And even nowadays, European influence can still be noticed in some houses and commercial buildings, especially in the city center, as well as in the local culture and food.
Stroll around an outdoor museum at Brumadinho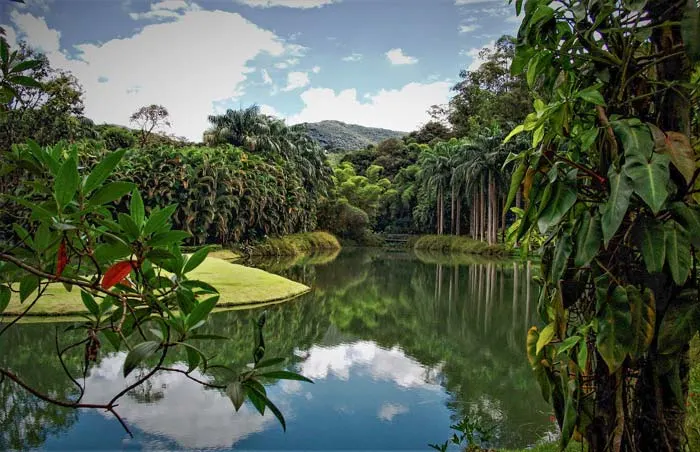 Different from urban museums, Inhotim Museum is a massive complex with art galleries and outdoor sculptures.
The whole experience is associated with the development of a spatial relationship between art and nature that enables artists to create and display their works in unique conditions.
Drink coffee in a Swiss-styled city
Campos do Jordão is a popular winter destination because of its Swiss-style city center and cozy venues.
But because it's so close to São Paulo City, Campos do Jordão is a place to visit regardless of the season. The attractions, restaurants, bars, and shops are open all year long.
On a side note, the cold weather isn't a must when visiting it. The region is beautiful in all weather conditions.
Discover a hidden city in São Paulo City
Among all Brazilian cities, São Paulo is the one with the most underground spots.
Theaters, monuments, catacombs, exhibitions, and restaurants make the undergrounds of the city nearly a new one.
Not only these are excellent photos ops but also an exciting way to learn more about how urban life developed in Brazil's largest city.
Shop Brazilian fruits at Ver-o-Peso Market
Ver-o-Peso is an outdoor market in Belém of agricultural and artisanal products brought from the Amazon region.
This massive market on the shores of Guajará Bay brings together hundreds of stalls of national fruits, herbs, fish, and more.
While many local products are worth trying, be sure to have some local flavors, such as Uxi, Cupuaçu, Tucumã, Muruci, and Guava.
Hike in Pedra Azul State Park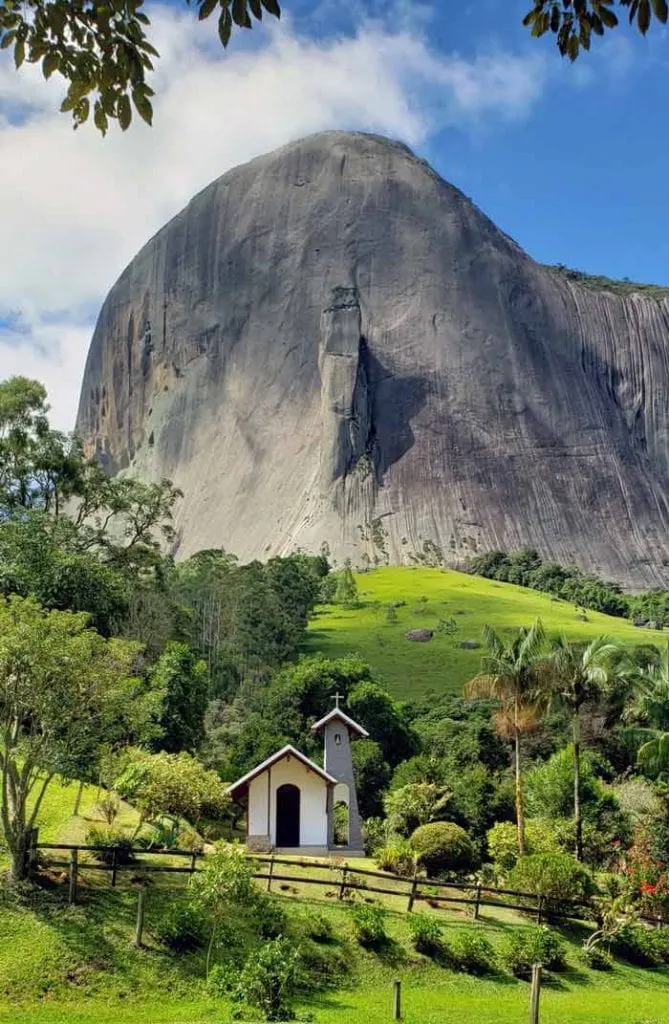 Pedra Azul State Park was created in 1991 to protect the regional ecosystems of the mountains in Espírito Santo State.
Among its highlights, the granite rock formation which gave the park name, Pedra Azul, rises 5,978 ft (1.822 m) high in the sky.
Needless to say that the rock is one of the states' postcards.
From orchids and bromeliads to armadillos, ocelot, anteater, and many others, the fauna and flora in the park are mesmerizing and worth the hike.
Unwind in Porto de Galinhas
The main tourist center of Pernambuco's southern coast earned its fame due to the diversity of natural beauty.
Often a honeymoon destination in Brazil, Porto de Galinhas has clear mangrove swamps, white sand beaches, and coconut trees aligned by the shore.
Here you can relax and enjoy doing nothing more than walking from the sea to your beach chair. The landscapes won't disappoint you.
Learn the ancient art of Capoeira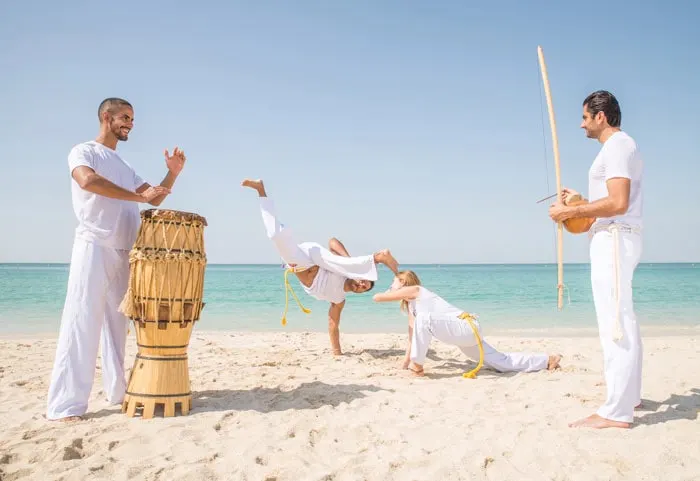 Capoeira is a typical Brazilian mixture of martial arts moves with music. This art is more often seen in the state of Bahia, but you can join and discover many venues where people practice it along your trip through Brazil.
Or even spot people on the beach practicing it.
The style was developed in Brazil by African slaves, and the tradition remained alive for centuries.
Indulge in fruit juices
Brazil is famous for having big, juicy, and delicious fruits. So what would be a better place to try some fruit juices than in the country?
From cupuaçu to cashew to sugar apple and soursop, you'll find all tastes and textures to refresh any warm day in Brazil.
Awaken all your senses at the Historic Center of Olinda
The historic center of Olinda is set around a tree-covered hill is an artist colony full of creative types. The area is also brimming with galleries, artisans' workshops, museums, lovely churches, and music in the streets.
Strolling around its twisting streets of colorful old houses and gorgeous views over treetops is one of the most simple and yet best things to do in Brazil.
Photograph the world's 2nd largest street art mural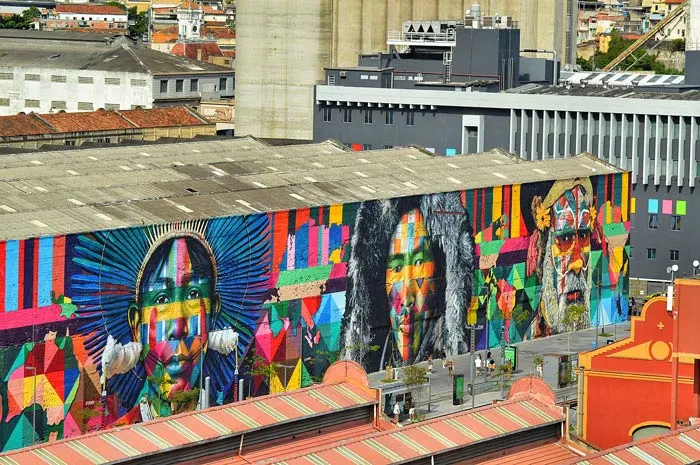 Kobra, acclaimed Brazilian street artist, painted the colorful mural Ethnicities in Rio de Janeiro just before the 2016 Olympics.
Inspired by the message of the Olympic symbol (the connected rings), Kobra decided to bring together representatives of five tribes, one from each continent:
The Mursi from Ethiopia (Africa)
The Kayin from Myanmar and Thailand (Asia)
The Tapajós from the Amazon region (Americas)
The Supi from Lapland (Europe)
The Huli from Papua New Guinea (Oceania)
Fun fact: The world's largest street art is in Itapevi, São Paulo, on a chocolate factory wall. This wall art is a little bigger than an American football field.
Visit the Moon Valley
Chapada dos Veadeiros National Park is one of the prettiest places to visit in Brazil because of its nature.
But what many people don't know is that at Alto Paraíso de Goiás, near the park, undulating rock formations look like the gray surface of the moon.
This rocky valley was formed over 600 million years ago, through the action of wind, rain, heat, and the waters of the São Miguel River on the rocks.
Now, lunar craters form a series of natural pools, wells, and caves where you can sunbathe and relax.
Wander through a postcard's botanical garden
Curitiba's botanical garden is a massive area with lush green fields and colorful displays.
In addition to housing diverse plant species, the French-inspired greenhouse comprises a fountain and peaceful halls where you can go for a stroll. It's an adorable view.
Listen to the Amazon Philharmonic Orchestra in a centenary theater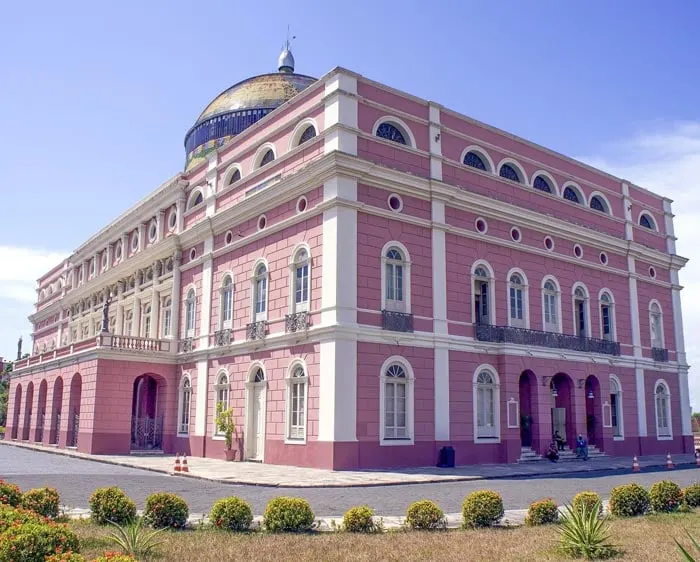 Amazonas Theater is the state's leading cultural and architectural symbol and was inaugurated on the very last day of 1896.
At least once a month, the philharmonic orchestra presents in this world-class theater, a National Historic Landmark.
The building still preserves part of the original Renaissance with eclectic details architecture and decoration, making it the gem of the city.
Eat seafood in a treehouse
Having seafood in Brazil isn't something unusual; however, having seafood in a treehouse is.
Once named one of the best places to eat around the world, Bira de Guaratiba serves delicious dishes.
And while everything they serve is worth trying, I recommend you order moqueca, a traditional Brazilian fish stew.
The restaurant is surrounded by dense jungle on the western side of Rio de Janeiro State. A bit far from the city center, but totally worth the trip. Eating in this venue is a real taste of Brazil.
Get to know the Brazilian Gaudí
The Brazilian Gaudí is called Estevão, a gardener who built a magical house for him and his family.
His house resembles a grand treehouse with arches and inlaid objects, which he buys at street markets all over São Paulo.
Visiting the house, just like Park Guell, is like entering a parallel universe or a cave.
Discover Francisco Brennand's massive ceramic garden (Francisco Brennand's Ceramic Workshop)
Walking through ceramic sculptures of all sizes and forms is a rather unusual thing to do in Brazil, but a rewarding one, too.
Brennand's workshop is a massive architectural ensemble of great originality. It's here, in a former brick factory in Pernambuco, where the Brazilian artist found inspiration for his work.
Stroll around this open-air museum and discover the work of one of the greatest ceramic sculptors of the 20th-century.
Watch the sunset at the Sunset Dune in Jericoacoara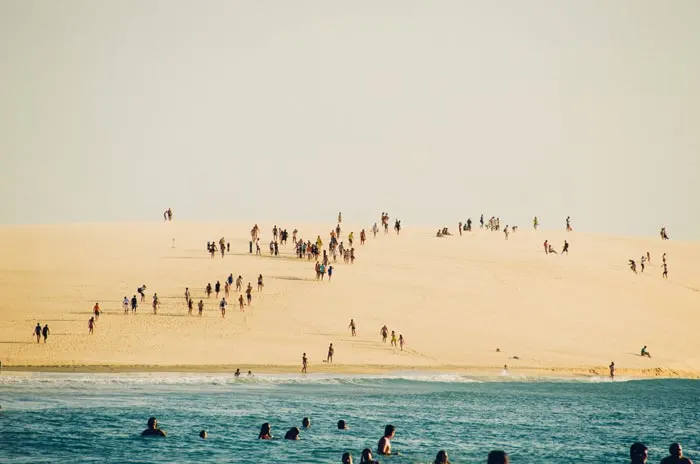 Jericoacoara is a famous vacation destination in Brazil due to its undulating sand dunes and crystal clear lakes.
Among this laid-back landscape, lovers, friends, and solo travelers reserve a couple of hours to watch the sun setting from the Sunset Dune, a top spot in the national park.
Spot South America's geographic center
The Geodesic Center of South America is marked by a 65-ft (20-m) high marble obelisk a few blocks away from the city's cathedral.
On the ground, round markings indicate the distances of some Brazilian and South American capitals.
While the area surrounding the monument doesn't have many restaurants and bars, Cuiabá is a charming, laid-back city worth visiting.
Admire the world's largest outdoor theater
New Jerusalem is a 20th-century theater in Pernambuco with nothing less than nine stages, making it the world's largest in its category.
They only have a few presentations a year during Easter, but each one of them attracts thousands of people every single night.
See the remains of a drowned church
At the end of the 20th-century, Petrolândia town in Pernambuco was flooded for the construction of a hydroelectric power plant.
After the flood, only the top of the Sacred Heart Church was visible, but due to the drought, the volume of Lake Itaparica has reduced so much that almost half of the structure is visible and some boat tours even cruise inside it.
Celebrate Oktoberfest in Blumenau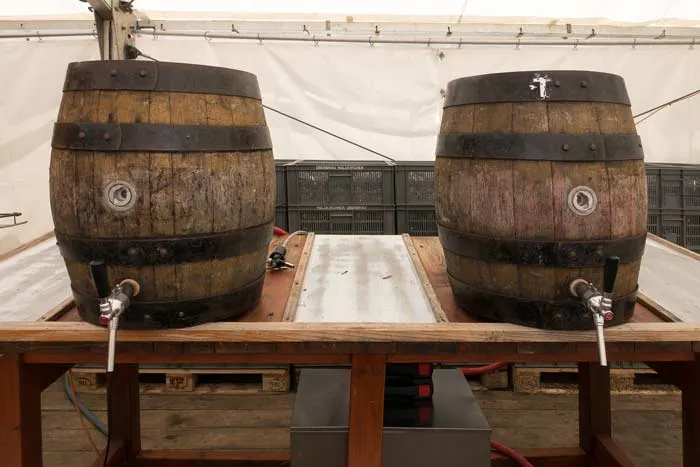 This might not be on other lists of Brazil things to do, but it is undoubtedly an essential item for many Brazilians.
The second half of October is filled with Oktoberfest celebrations in the city of Blumenau, Santa Catarina.
In the late 19th-century, many German immigrants found a home in the city, and as a result, half-timbered houses and beer celebrations were "imported" and incorporated in the local culture.
Don't forget your dirndl dress or lederhosen.
Sip beer in a shipping container
While São Paulo has lots of excellent bars, Pitico certainly offers a different setting from most of them.
That's because this bar is a shipping container in an inviting courtyard with trees and beach chairs. They serve middle eastern food and have their own beer worth trying.
Unwind in Água Milagrosa Cenote
A cenote in Cáceres, Mato Grosso, is famous in the country for having "miracle water."
Naturally, the water isn't miraculous, but the view of a 656-ft (200-m) high cave and a sometimes turquoise sometimes emerald lake, certainly make any day better.
Photograph little monkeys in the Sugarloaf Mountain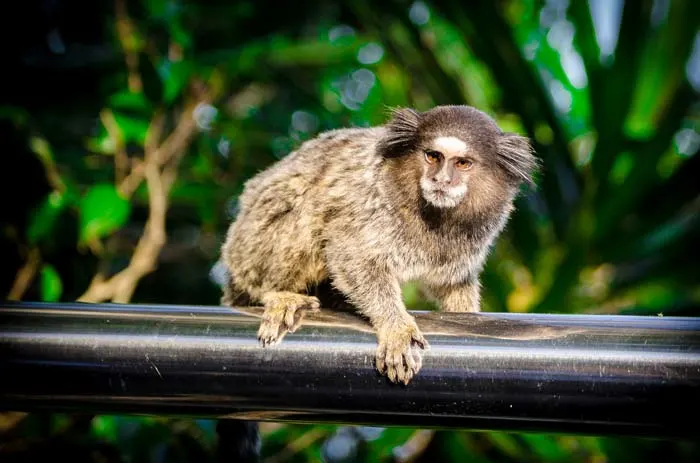 The Sugarloaf Mountain has much more than breathtaking views of Rio de Janeiro.
In the vegetation around the mountain and the summit, buffy-tufted marmosets, a small monkey species, swing and jump around tourists.
While the animals are cute, and touching or feeding them might be tempting, remember only to photograph them and avoid any interaction.
Spot wild dolphins
At Pipa Beach, you can not only spot wild dolphins but also sunbathe in a ridiculously pretty beach.
While I'm against any activity including animals in captivity or that change wildlife habits, the dolphins at Pipa Beach come here to feed themselves.
Because the bay is a broad inlet, it's easier for the dolphins to corner fish.
As always, respect the environment and don't try to interact with wild animals.
Sunbathe in the northeast's first official nudist beach
With 65-ft (20-m) high cliffs and calm sea, Tambaba Beach in Pernambuco was the first official nude beach in the northeast.
Wearing clothes is only allowed on a small stretch on the left side of the beach. And to ensure the safety of visitors, only accompanied men are permitted in the nudism area.
Discover the Brazilian Caribbean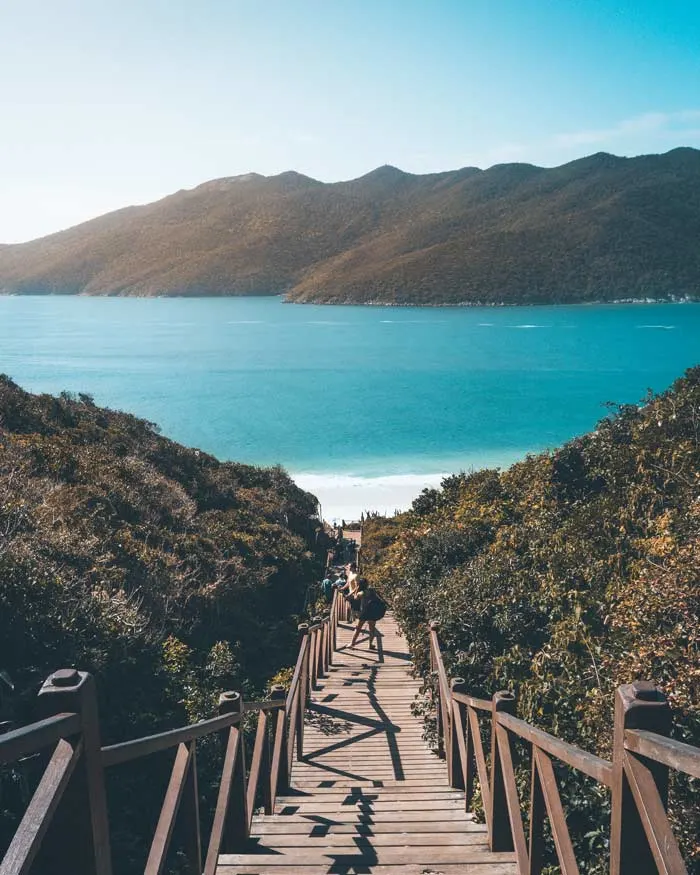 Pristine beaches, turquoise water, and untouched islands, Arraial do Cabo has one of the prettiest landscapes in Brazil.
The water at the main beach is clear, but once you take a boat to Forno Beach or another spot off the coast of the city, you'll understand why locals call it the Brazillian Caribbean.
Camp in Castelhanos Beach, Ilhabela
Ilhabela is an island off the coast of São Paulo, and it's famous for having some of the prettiest beaches in São Paulo—and black flies too.
The western side of the island has more infrastructure; however, the eastern side has wild beaches, waterfalls, and many hiking trails.
One of these wild beaches is the Castelhanos, which offers mesmerizing views of the Atlantic and the forest. But first, to get there, you need to venture on a 1-hour 4×4 drive through the island.
Since the way to this beach isn't the easiest, you can better camp there. This way, you can enjoy all the natural sites in the region and spend a few hours counting stars in a secluded area without WiFi.
Float in the natural pools of Jalapão
Jalapão, in Tocantins, has several springs with clear turquoise water where you can chill out. The pressure in these springs helps you float while the fine white sand feels like silk on the skin.
The region has a few of these natural pools, but because their ecosystem is fragile, remember not to use sunscreen or repellent before entering the water.
Thankfully, many trees are surrounding the pools so that you can easily find shade.
Discover the world's largest tropical forest park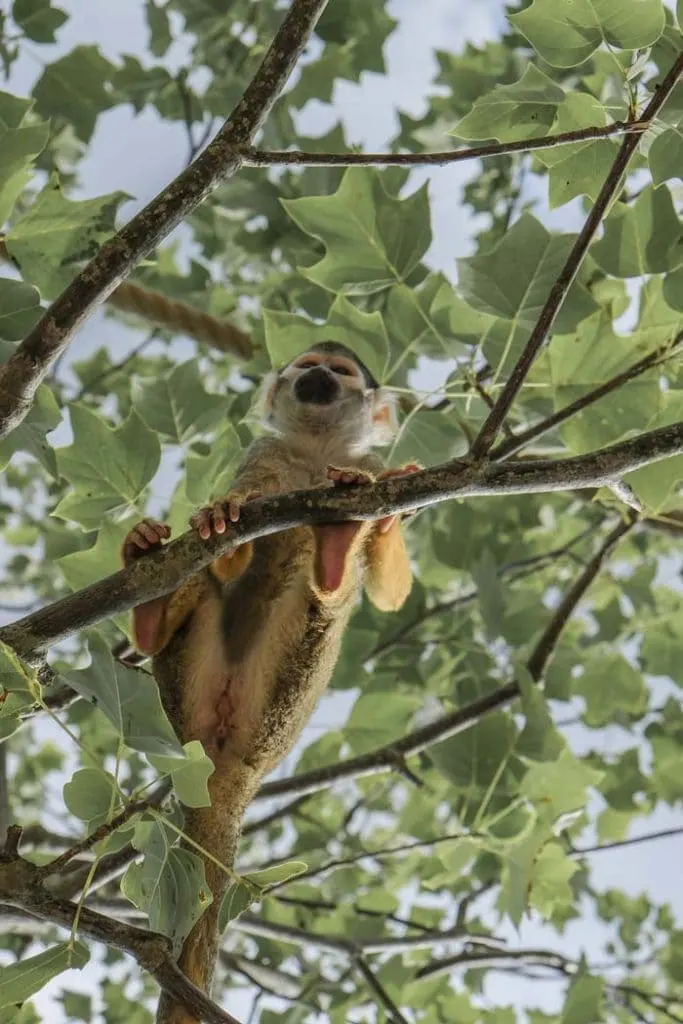 Almost impenetrable vegetation, unique biodiversity, mostly untouched, Tumucumaque Mountains National Park was created at the beginning of the 21st-century. Its main goal is to protect the endangered species and unique eco-region called Guyana moist forest.
The park is to-date the world's largest tropical forest park covering nothing less than an area equivalent to 7,264,518 American football fields or two times the area of Wales.
Even though the park is massive, it covers only 1% of the Amazon forest in Brazil, to give you an idea of how extensive the rainforest is.
Needless to say, the park has a bunch of natural sites and clear rivers to disconnect from the world and connect with nature.
Have local bites in Porto Velho Central Market
As you make your plans for what to do in Brazil, be sure to include this market in your itinerary.
The Central Market is the most traditional one in Porto Velho, Rondônia, and that's where you can find the best selection of regional cuisine.
From fish to delicacies (and even natural medicines), the Central Market offers a breakfast of champions.
Have a few bites of the local fishes, such as dourado, tambaqui, and filhote, or of the fruits, jambu, tucumã, and pupunha. When in doubt of what to choose, ask the hospitable and cheerful locals for some help.
Dance forró or sertanejo
If you're looking for entertaining things to do in Brazil, be sure to include a sertanejo or forró bar in your itinerary.
It's not a secret that Dance is an essential part of the Brazilian culture. Together with samba, forró and sertanejo are the most significant musical styles in the country.
Sertanejo finds its roots in the central-western part of the country, and the rhythm is usually a bit slower than forró. While the latter comes from the northeastern part of Brazil and has a cheerful beat.
The movings and swing of both styles are similar in many ways.
Follow the Wine Route in São Roque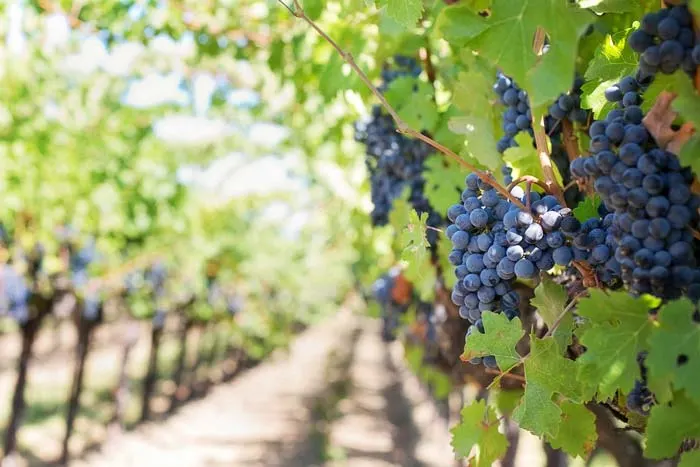 The Wine Route is made up of over 30 establishments, including wineries, vineyards, restaurants, and farms where you can taste excellent wines and have a good time.
And the best part is that all of these places are surrounded by nature, which allows the wine tour in São Roque to be enjoyed by all audiences. From couples, friends, or families with children, the Wine Route is very enjoyable.
Explore the ruins of São Miguel das Missões
Include the Ruins of São Miguel to your Brazil sightseeing list. As its name implies, the ruins are in the city of São Miguel das Missões, a small town with fewer than 8k inhabitants.
It's practically impossible to get lost there. Upon arrival in the city, you will see the entrance with sculptures representing Saint Michael, the Jesuit Priest, and Chief Sepé Tiarajú.
The orange-brownish ruins date back to the 18th-century and make excellent photo ops, especially on clear days.
Sip a beer in a skateboarder's house
The American-Brazilian skateboarder Bob Burnquist opens up his home at the weekends to welcome visitors to a cultural and chilled out experience.
People can have a cold beer and a burger while listening to some music in one of the hip couches in the garden.
Graffitis, a skateboard track, and several exhibitions are also part of the attractions.
Admire fines pieces of art at MASP
Apart from having one of the largest art libraries in the country, the Museum of Art of São Paulo also has the most important collection of European art pieces in the southern hemisphere.
Brazil's first modern museum has over 10k items in its collection, including pictures, sculptures, and costumes from all continents. Also, the quirky design of the building alone is worth the visit.
Eat a perfect coxinha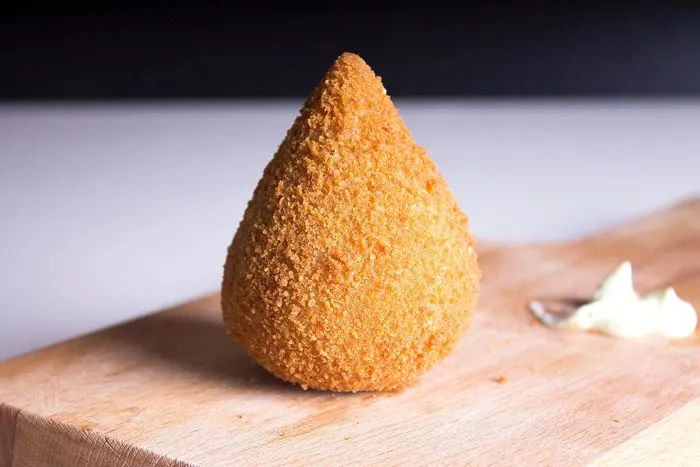 Coxinha is one of the foremost Brazilian street food. This deep-fried chicken croquette is a godsend, and you can have a few bites of it in my fave bar, Veloso.
This bar in São Paulo won many prizes because of this delicious street food, hence why they're always jam-packed. Be sure to order a caipirinha too during your Brazil visit. It's worth every sip (and bite!)
Sample Brazilian music styles over beer
Bip Bar in Copacabana, Rio de Janeiro, is the perfect place to drink cold beer and listen to choro and samba, two typical genres of Brazilian popular music.
You shouldn't expect to find a table, though. This unpretentious bar has one goal only: bring excellent live Brazilian music to people. No more, no less.
Hike in the jungle to a secret fall
Hiking is one of the foremost things to do in Brazil, with our many tropical forests and miles of trails.
This is a 1h30 hike to Feiticeira Falls through the jungle of Ilha Grande, an untouched paradise in Rio de Janeiro.
At some point along this steep and humid walk, you will notice a lookout with rewarding views over the island, ocean, and mainland.
In the end, you'll find your second reward: a 49-ft (15-m) high waterfall to refresh tired hikers.
Climb a rock in an offbeat beach in Rio de Janeiro
Recreio Beach is mostly visited by locals who want to escape the sometimes dirty and often crowded Copacabana.
When the tide is low, you can reach a massive stone in the middle of the beach and climb it. The view from above is worth the small adventure.
Visit South America's largest Buddhist temple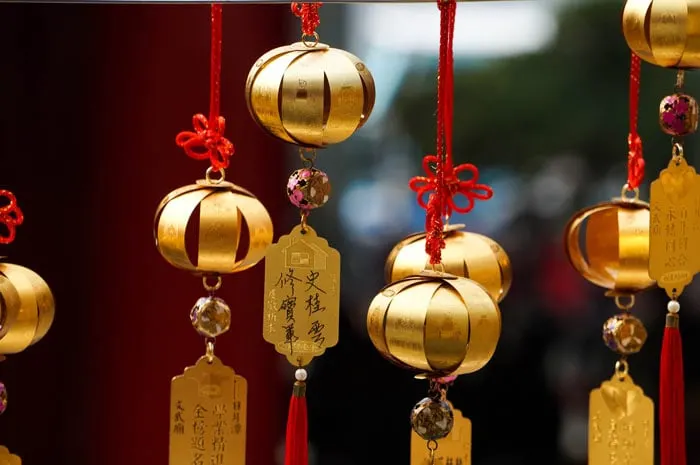 South America's largest Buddhist temple, Zu Lai, brings the Chinese and Brazilian culture together in a purified place.
The well-maintained gardens and neat buildings make this gem a pleasant day trip from São Paulo.
And as a way to unite both cultures, they celebrate both Chinese and Brazilian festivities, such as Chinese New Year and June's Party (Festa Junina).
Shop in São Paulo's oldest grocery store
Casa Godinho is the only of its kind in the city. This is a gourmet grocery store from the 19th-century founded by a Portuguese immigrant in a nearby address.
Today, the shop is located in the first tall building of São Paulo, which is considered cultural heritage.
The building is impressive, but the products offered don't disappoint either: high-quality cheese, ham, liquor, wine, breakfast options, and local pastries.
Take in the views at Mount Roraima
Mount Roraima is monstrous. If you watched Up, you've seen this beast before. It's at the Brazil-Guyana-Venezuela border.
This mountain in Brazil is 9 mi (14 km) long and 9,222 ft (2.810 m) tall at its highest point. Although it has the tripoint marker of the three surrounding countries, to trek to the summit, you must do it through Venezuela.
On the Brazilian side, a national park with the same name protects the area, but access to it is restricted, so you need previous authorization and a guide.
Learn about the African influence in Brazil
Brazil was the last country in the Americas to abolish slavery and the one with the highest number of African slaves.
Unfortunately, we still have a long way ahead of us before we reach racial equality. However, the Afro Museum in São Paulo can show you how people from many parts of Africa shaped the Brazilian culture, even though many people seem to ignore that.
Try traditional baloney sandwich at the Municipal Market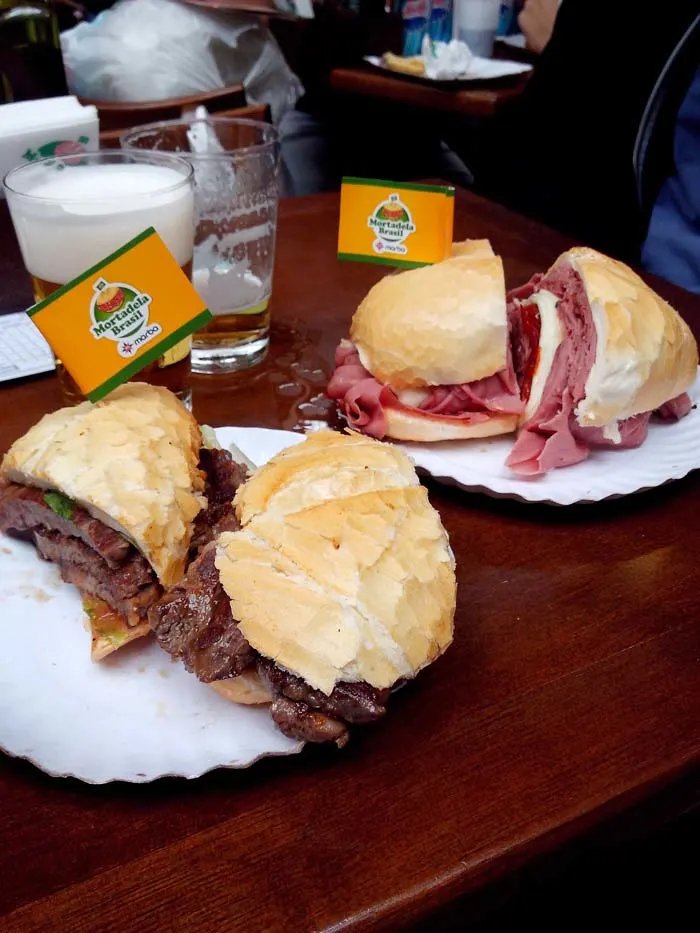 Walking around the Municipal Market in São Paulo, also known as Mercadão, is a treat for those looking for new flavors.
A real Mecca of fine and rare ingredients for the main restaurants in the city, this warehouse has a stall of many cuisines around the world.
For the sake of keeping this article about Brazil, indulge in the baloney sandwich, the most traditional lunch that you absolutely need to try. Not a single person in the city hasn't heard about it.
To be honest, I'm not a fan of baloney, but because this is such a traditional thing to do in São Paulo, it doesn't feel fair to keep it from you.
Photograph a sweet colonial town
Stone streets, whitewashed houses, and tasty food, Goiás has an inviting and harmonic historic center.
The area is considered a UNESCO World Heritage Site because the town has exemplar European characteristics adapted to local geography and climate.
Also, the historic center conserved its exceptional setting, representing the evolution of the colonial settlement of South America.
Visit a Bavarian-style City
Gramado isn't as sexy as Rio de Janeiro or as alluring as the Amazon region, but the city is often chosen as the best destination in Brazil.
The city was developed to welcome visitors and has a whole array of things to do besides sightseeing its cozy city center with half-timbered houses.
Go for a stroll around parks, hop in museums, indulge in chocolate factories, or wander through well-maintained gardens.
Scuba dive in Lagoa Misteriosa
Lagoa Misteriosa is an incredibly blue and pristine lagoon in Bonito, Mato Grosso do Sul.
Besides having clear water, the lagoon is also known for its depth, since no diver has ever reached the bottom.
Lagoa Misteriosa (English: Mysterious lagoon) sits at the bottom of a 246-ft (75-m) deep cenote, which is all covered with trees and surrounded by forest. And the lagoon visibility is around 131 ft (40 m).
Visit a car-free village off the coast of Bahia State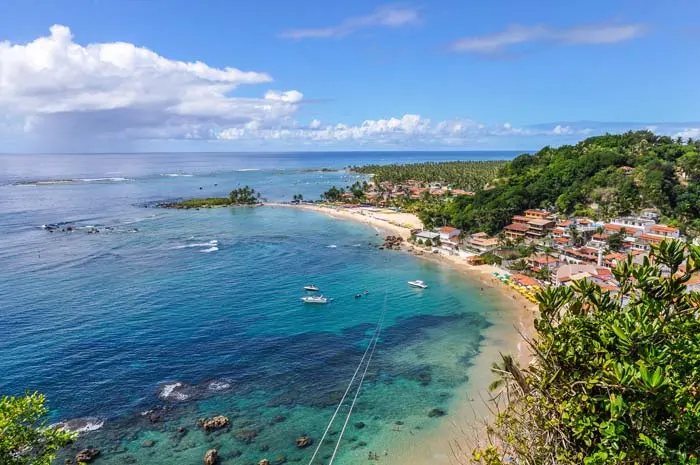 Famous for jaw-dropping landscapes, Morro de São Paulo is a beach paradise for nature lovers.
Although most people come from Salvador to Morro de São Paulo to sunbathe, there are still other things to do as well as tours to take around the area.
Watch the sunset, zip line, snorkel, and scuba dive in this paradise. Morro de São Paulo is worth every second.
Soak in a blue well
Poço Azul (English: Blue well) is one of the main attractions of Chapada das Mesas National Park, a lush region with typical Cerrado vegetation in the south of Maranhão State.
The trail to the well is a bit challenging, but the waterfalls along the way are little rewards for your effort.
In the end, modest falls plunging into the 16-ft (5-m) deep blue well make this place an excellent spot to cool down and relax.
Indulge in Brazilian cheese
Brazilian food is famous for hearty dishes, such as feijoada, but the cheese produced in the state of Minas Gerais will come as an excellent surprise. Be sure to include it in your list of things to eat in Brazil.
The mild and slightly salty Queijo Minas is a handmade cheese made from raw cow milk, characterized by its moistness and tender, spongy texture.
You can find this delicious cheese in any city in the state, but know that Belo Horizonte is a popular foodie destination in Brazil like no other. So no excuse not to try it.
Hike the highest mountain
The highest mountain in Brazil, Pico da Neblina, is named after a national park with the same name.
At 9,819 ft (2.993 m), the mountain borders Colombia and Venezuela.
Apart from being the highest mountain in the country, this is one of the most difficult to reach as well. To reach Pico da Neblina itself is a long trip that can take a few days. After that, the trek uphill takes up to eight hours.
But all the effort is worth it. The view from the peak is fabulous, making Pico da Neblina one of the most exciting places to visit in Brazil.
Be the first to see the sun rising in the Americas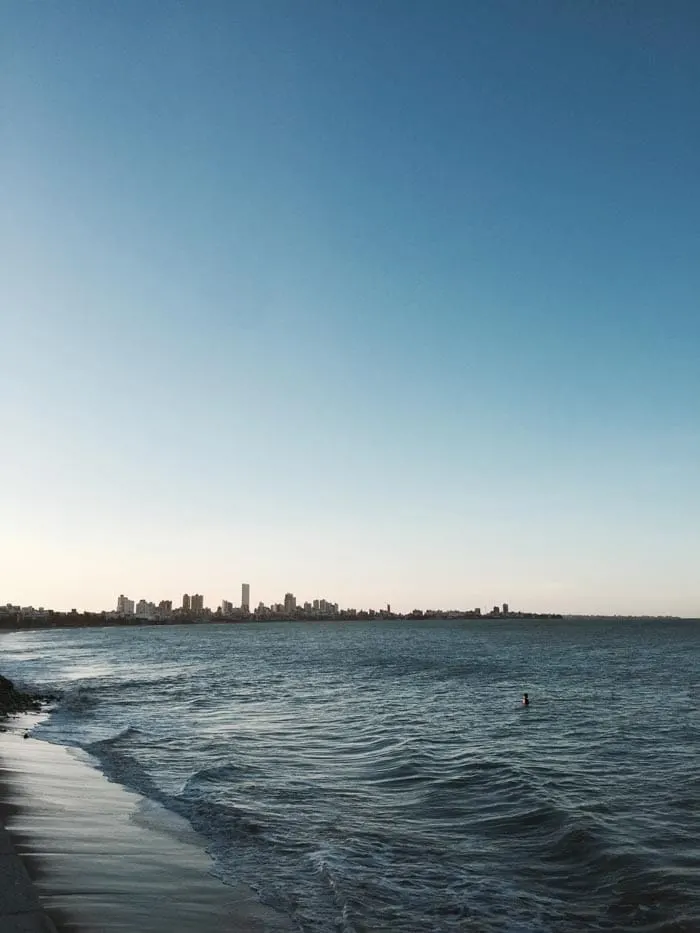 Find a place on the long sand stretch to watch the sunrise in João Pessoa, Paraíba, the first mainland city in the Americas to see the sun rising every single day.
After that, go for a morning swim. A perfect way to start your day. The color of the water won't disappoint you.
Fun fact: São Paulo's nickname is Sampa, João Pessoa's is Jampa.
Get some culture in a ruined mansion
Surrounded by beautiful nature and full of artwork and history, the Parque das Ruínas is widely known in Rio de Janeiro.
This cultural center in Santa Teresa neighborhood has art exhibit spaces, panoramic terraces overlooking Guanabara Bay, and an outdoor performance plaza.
It occupies a partially restored house, and to preserve the dramatic character of the place, the renovation deliberately left parts of the house looking like an abandoned ruin.
Hike one of the largest canyons in South America
Three hiking trails offer the most beautiful views of the Itaimbezinho Canyon in Aparados da Serra National Park.
Two of them are short, take up to three hours, and cover the top of the canyon.
The last trail is the most challenging one and takes between 6-7 hours to finish.
That's because this round trip begins at the beach, then you make your way across rivers, waterfalls, and between the 2,297-ft (700-m) tall walls of the canyon to only then return to the beach. It's breathtaking
Get lost in the Chapada dos Guimarães National Park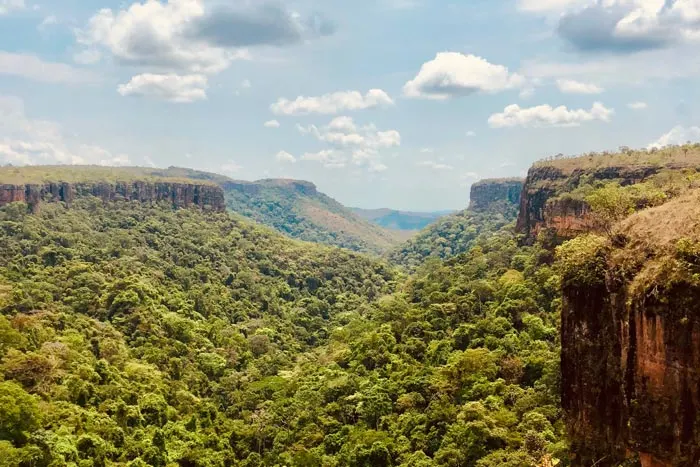 An exceptional eco-tourism hub in Brazil, Chapada dos Guimarães is a massive park in Mato Grosso State.
The park also has lots of archaeological and paleontological sites.
Get lost among river springs, waterfalls, protected environmental areas, and hiking trails. The park is one of the best places in Brazil to connect with nature.
Spot quartz crystals in a national park
Right in the heart of the country, this Chapada do Veadeiros is home to not only incredible scenarios and biodiversity but also to numerous quartz crystals scattered around the park.
Naturally, this national park has lots of springs, rivers, waterfalls, ancient rocks, and breathtaking landscapes. Just like any national park, but with a twist—it's surrounded by the Brazilian cerrado, a tropical savanna.
You can even visit preserved former gold panning areas, which are part of local history.
Sunbathe in a temporary beach
Hidden deep in the Amazon Forest, Alter do Chão is a laid-back town, which was elected by The Guardian as having one of the prettiest beaches in Brazil.
Ilha do Amor is a peninsula filled with basic restaurants, and that can be explored by canoe or stand-up paddleboard. But since it's bathed by the Tapajós River, it can only be thoroughly enjoyed at the dry season. Otherwise, it disappears.
Brazil travel resources
I want your trip to Brazil to be remarkable. That's why I've created several resources that will be handy while planning your vacation, such as this article on the best places to visit in Brazil.
Moreover, don't miss my article on the most essential Brazil travel tips, which is an excellent resource for first-time visitors.
If this will be your first time in Brazil, check out my best tips on preparing your trip to Brazil.
For transportation, check out my guide to avoiding taxi scams in the country.
Inspired by this article about the best things to do in Brazil? Then save it to your Pinterest or share it with friends!