Looking for some São Paulo taxi tips? You've found them.
While public transportation in Brazil might not be enough for the number of people that big cities have, there are sufficient taxis to attend tourists and locals' demands.
Taxis in São Paulo are easy to find, book, call, and when none of these options seem reasonable, Uber is also available – at an affordable price.
In this article, I'll walk you through some São Paulo taxi tips, the main difference between taxis and Ubers, how to get a cab from Guarulhos airport to São Paulo, the cab charges in São Paulo, the main São Paulo taxi apps as well as operating companies, and how to avoid scams.
Yes, this last part is also essential as many readers worry about their safety, so these tips will certainly be helpful to you too.
Without further ado, let's get to some valuable São Paulo taxi tips.
Not enough time to read this article in one sitting? Save it for later!
São Paulo taxi tips
Consider the time of the day before you call a taxi/Uber. São Paulo has unfamous traffic jams during peak hours.
Get familiar with the route and see traffic information by downloading a map of the city in Google Maps.
Most São Paulo taxis are white and have a red license plate, but there are many cars which are black and silver too.
Tipping São Paulo taxi drivers is encouraged, but not required. Many Brazilians don't tip under normal circumstances, most only tip when the driver waited or was exceptionally helpful.
You might consider reading my guide to buying a Brazil SIM card so that you have internet on your smartphone.
Taxi or Uber
Many readers ask me, "Is there Uber in São Paulo?" and the answer is yep.
In fact, Uber is usually more affordable than a taxi in São Paulo. Uber drivers are everywhere throughout the city and the airport, and you hardly ever wait a long time for the car.
Also, I like that I can connect my Paypal account to the app, and it charges automatically. Therefore, I don't need to have lots of money with me for transportation. Very handy!
Uber drivers don't charge inter-municipality or baggage surcharges as the taxi drivers do, and the fare is agreed before your ride.
The downside is that Uber drivers can't ride on bus lanes in São Paulo, but taxi drivers can.
And in a city where traffic jams are a real problem, this is a useful alternative during peak hours or emergencies.
Sign up for Uber and get $5 off your first ride.
São Paulo taxi guide
How to get a taxi at São Paulo airport
At the international airport of Guarulhos, branded kiosks from Guarucoop, a taxi cooperative, are located at the arrival halls of all terminals (1, 2, and 3).
Look for uniformed staff and skip anyone asking if you need a ride to São Paulo. There are conventional taxis too, but these don't have a flat price, which isn't a good option for such a long distance.
On the other hand, the registered taxis have flat rates determined by the municipality to anywhere in the city. Therefore, you'll know how much your ride will cost before it begins.
It feels much better this way, right? I prefer registered cabs because of this aspect.
Anyway, you can pay upfront with local cash or credit card at their kiosk. No need to worry if a São Paulo taxi accepts credit card or speaks English.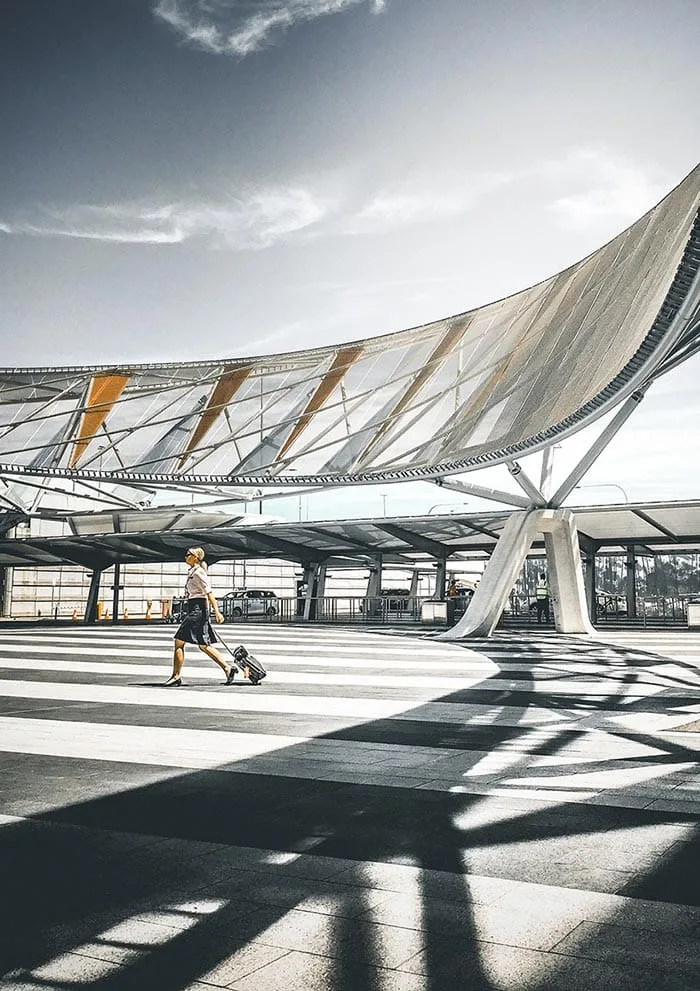 São Paulo taxi airport alternative
Alternatively, you can book ahead with Taxi Guarulhos, and the driver will be waiting for you with your name on a little board.
It works the same way as Guarucoop, but it's a slightly more affordable option.
Booking your taxi in advance ensures you won't have to wait for a cab once you arrive as there might be long lines.
How much is a taxi from São Paulo Airport to the city?
Well, a taxi from Guarulhos airport to the city center (Paulista Ave) should cost between R$90-140. The ride takes approximately 30-45 minutes, without traffic jams.
While an Uber should cost somewhere between R$50-70.
How do taxi fares in São Paulo work
First things first.
São Paulo taxis must have the fare table available for you in the car. You can ask to see it.
Also, the taxis fares in São Paulo are made up of three different charges.
A start fee is charged when you enter the taxi. You'll see it once the driver turns the meter on.
A kilometer fee. This fee is based on the time of the day, and it has two "flags" (Portuguese: bandeirada, more on this below).
A wait time fee (still in traffic or waiting for a passenger).
As said, taxis in São Paulo charge a start fee, which is one of the two flags below.
Flag number one applies to regular hours during the week.
Flag number two applies to rides in December, on Sundays, and holidays or Mon-Sat between 8 PM-6 AM.
However, charging flag two is optional. The mayor changed the rules so taxis could be more competitive when compared with Uber.
When entering a taxi during the hours/days/month mentioned above, ask your driver which flag he will consider. You can also see it on the meter; number 1 or 2.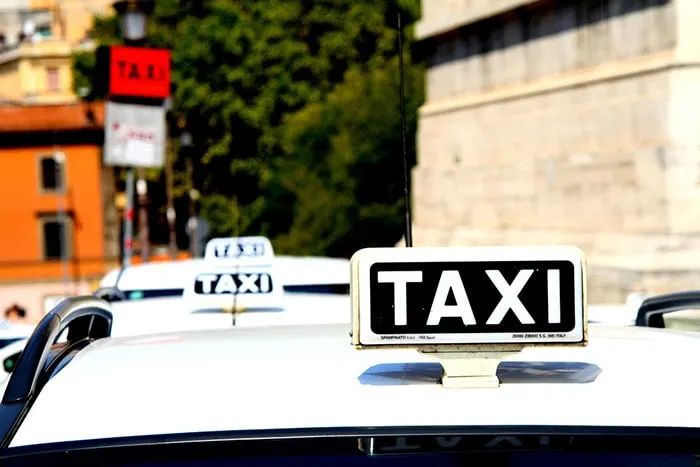 Taxi prices in São Paulo
I promise my very best to try to keep this table updated, but keep in mind that there might be some discrepancies with the actual fees.
These are the taxi prices for São Paulo:
All taxis modalities (conventional, accessible, luxury): start fee is R$4.50, kilometer fee is R$2.75 on flag one, and wait time is R$33.00 per hour.
Flag two: Kilometer fee is 30% more expensive. It's optional, so ask your driver before the ride if he will use flag one or two.
Taxi São Paulo calculator
You can use this online tool to estimate your fare. Alternatively, you can also estimate your fare using the São Paulo taxi apps below.
Important notes
As a way to keep the market more competitive for taxi drivers, the mayor also waived the 50% fee on top of the meter amount for inter-municipal rides as well as the baggage surcharge.
São Paulo taxi companies
São Paulo has plenty of taxi companies, but I'll name the major ones below.
Coopertax
This radio-taxi company has solely medium/large cars with air conditioning. Radio-taxi only accepts rides by phone.
But one of the interesting things about this taxi company is that they also have an app.
Which means you can get a ride from a registered taxi driver using their app.
It certainly feels safer, especially because you can register your credit card in the app and use it hassle-free. No language barrier issues.
Download their app here.
Phone number: +55 11-2095-6000 or +55 11-351-1919
Guarucoop
Guarucoop is the main taxi company at Guarulhos Airport in São Paulo. You can spot their blue and white vehicles from far, and they're a reliable company.
Also, they charge a flat rate for their rides.
Book your taxi here. (According to the company, there's no need to book it when leaving the airport.)
Phone number: +55 11-2440-7070
Read next: What to do in São Paulo
Taxi Guarulhos
This São Paulo taxi company is also top-rated at Guarulhos Airport, and it's a cheaper option when compared with the latter.
They only work with scheduled rides, that's the reason they claim to be the cheapest taxi company in town. (Because they can plan ahead.)
WhatsApp: +55 11-99137-8973
Book your ride online here.
São Paulo taxi apps
Uber
Uber is not really a taxi, but since it works similarly, I thought it was worth putting it here. Uber rides are usually more affordable than taxi rides.

Click here to sign up for Uber and get $5 off your first trip.
Use Taxi
The Use Taxi has an easy interface and unlikely Uber, Use Taxi is a taxi company with an app. Therefore, vehicles are properly identified with their logo on the side. (And have free WiFi.)
Download their app here.
Femitaxi
Femitaxi is a unique taxi company driven only by women. The company was created due to comments from females passengers about the inappropriate and unprofessional behavior of some male taxi drivers.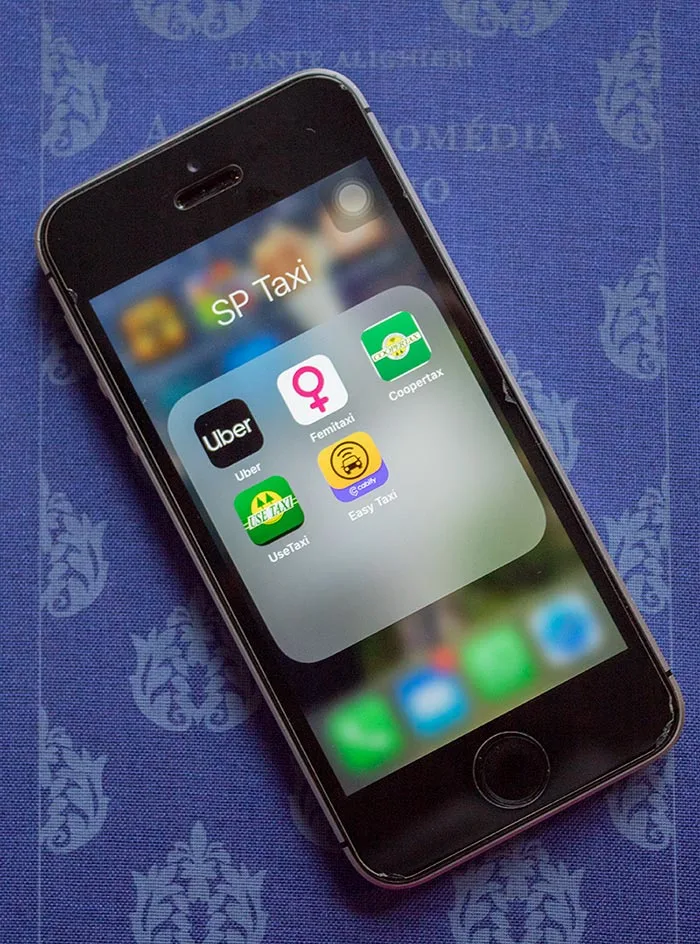 Watch out for these São Paulo taxi scams
Unfortunately, we live in a world where we have to worry about our safety no matter where we go.
"Is Uber safe in São Paulo, Brazil?", "are taxis safe in São Paulo?", "is São Paulo safe?". I get these questions all the time.
And in the travel world, taxi scams are the most frequent ones.
It's true that these scams are not so frequent in São Paulo as they are in Buenos Aires, for example. But know that the city is jam-packed with taxis and they're generally honest.
But if scams are to happen, they're heavily targeted towards tourists. That's why you should watch out for a few things.
The meter should be turned on in front of you, if it's broken or already on, take another cab.
Check if the start fee number marked on the meter is correct based on the month/day/time, as explained above. (1 or 2)
Check if there's a little seal with a due date on the meter. It should be visible. If it's broken or overdue, it is susceptible to fraud. Take another cab.
If the fare is jumping way more than is supposed to (as mentioned in the prices above), ask him to stop, pay what you owe him, and call a new cab.
The 50% fee on top of the ride amount for inter-municipal trips or the baggage surcharge no longer exists. The mayor waived these fees to keep the market more competitive for taxi drivers.
What else can you do to avoid being scammed
Always call for a registered taxi or via the São Paulo taxi apps above.
If you're at the airport, order a taxi in one of the branded kiosks with flat rates.
Keep an eye at the meter, but don't be paranoid. Many taxi drivers are just honest people.
Don't let yourself be hypnotized by your mobile.
Be sure to take all your belongings when leaving the car.
Where to complain
If you have any complaints or got scammed, write down the license plate, car model, location, and date, and send your complaint to the Public Transportation Department:
E-mail: dtpsac@prefeitura.sp.gov.br
Phone number: +55 11-2692-3302, +55 11-2291-5416, +55 11-2692-4094.
Whatsapp: +55 11-97205-7142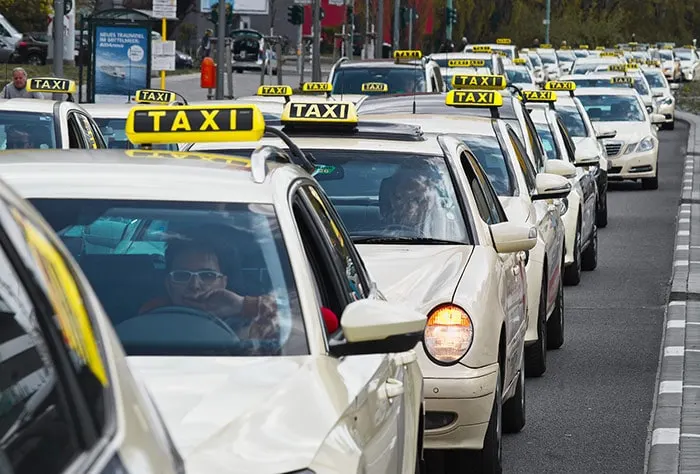 Get travel insurance
The most essential and underrated item is travel insurance. You shouldn't travel to a faraway country with a strange language without it.
For a couple of dollars a day, you're covered for many situations abroad, such as an accident or in case you fall victim to theft.
I use Safety Wing for over four years now, and I've never had a problem making a claim with them. I recommend them to anyone I meet.

Click here to get a quote.
Where to stay in São Paulo
If you're traveling to the city, you're probably looking for a hotel in São Paulo too.
That's why I've outlined below my top picks in the city. But you can also read about the best neighborhoods to stay in São Paulo in this article.
Here's a general overview of what I mean by each budget category:
Budget: Around $5-20 per night for a dorm bed or under $50 for a double.
Mid-range: Around $50-110
Luxury: Around $110 per night or more
Budget: For a hostel, I recommend Tapera Hostel. I didn't stay there myself but went there many times to pick up friends staying in town, and they loved it.
The place was always neat and has an excellent location: a 10-minute walk from Paulista Ave and a 1-minute walk from the subway station.

Click here to check reviews and availability.
Mid-range: For an ideally located hotel that is shockingly affordable, I recommend the Ibis Paulista. The hotel is at Paulista Ave itself, and it's near a bunch of cafes, restaurants, metro stations, bus stops, and more.
Whenever my husband and I travel to São Paulo nowadays, that's where we stay because there's no better location at this price. Seriously.

Click here to check reviews and availability.
Luxury: For a more luxurious stay, I recommend the Hotel Unique. The name says it all: this hotel is unique. The building reminds a ship, and the interior has a trendy decoration.
While the rooms are obviously luxurious, my favorite part is the rooftop swimming pool and bar – the famous Skye Bar.
There, besides having a unique view of the skyline and Ibirapuera Park, a DJ plays some songs during the night. Need I say more? For a luxurious stay in São Paulo with a jaw-dropping view, Hotel Unique is the best option.

Click here to check reviews and availability.
São Paulo travel resources
I want you to have an amazing time in São Paulo. For that reason, I've created several resources that will be handy while planning your vacation.
If this is your first time in the city, be sure to read my article on the best day trips from São Paulo and this one on the best guided tours.
Also, be sure to check out my planning guide for Brazil, more tours around the country, and the most essential Brazil travel tips, which are excellent resources for first-time visitors.
Inspired by this São Paulo taxi guide? Then pin it to your Pinterest travel board or share it with friends!