At a glance
As the wealthiest state in Brazil, São Paulo is a cultural representation of varied people from Brazil and the world.
People from over 70 different nationalities live in the state, and small international-inspired towns celebrate their value.
The state is also home to impressive natural spots, from chillout beaches to parks and waterfalls. All in all, there is something in São Paulo for every kind of tourist.
Although the whole state is filled with great cities and towns, São Paulo City is the state's heart.
I might be biased, though – that's where I was born and raised.
São Paulo City is Brazil's vibrant financial center and is the foremost industrial center in Latin America.
This city is a melting pot of different cultures from South America through Africa and Asia.
And because both the state and city are mesmerizing, I'll write about where to go and what to do in São Paulo State and São Paulo City in this order.
Oh, I will also talk about some São Paulo facts, tips, trip planning, and even nudge on São Paulo's impressive history.
Not enough time to read this article in one sitting? Save it for later!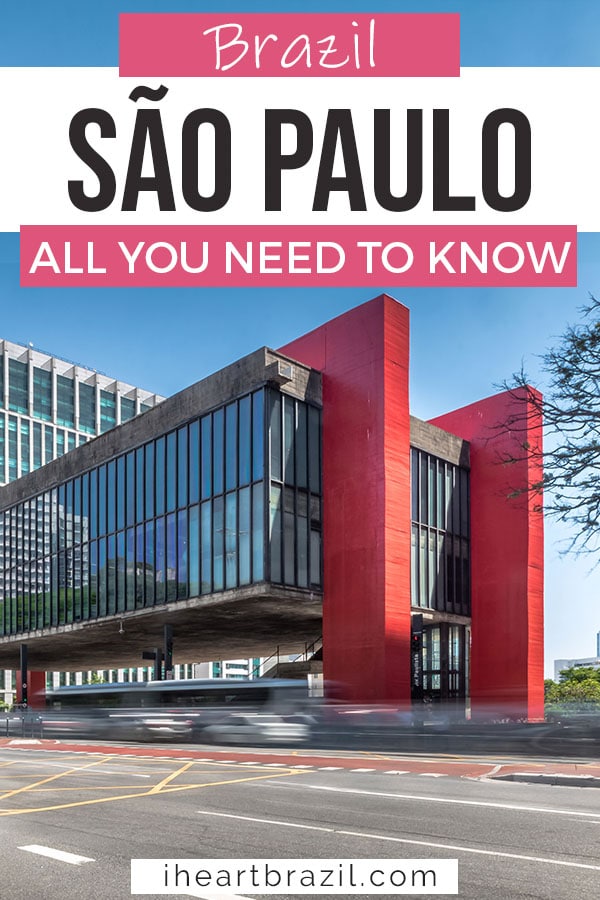 Fact sheet
Region: Southeast
Biggest city: São Paulo
São Paulo population (State): 41,262,199 (2019)
Area: 95,838 mi² (248.219,627 km²) (comparable to Michigan's area)
Time zone: Brasilia Standard Time (GMT-3)
Government website: http://www.saopaulo.sp.gov.br/
Where to go in São Paulo State
Here are some fantastic places to visit in the state of São Paulo.
Places to go in São Paulo
São Paulo City – If there is one place you simply can't miss is the capital city. It's a cultural melting pot ready with an incredible array of eating venues, museums, and history, making it one of the best places to visit in Brazil.
Holambra – An easy day trip from São Paulo, Holambra is a town known for its fantastic flower displays and strong Dutch influence on the local cuisine and architecture.
Botucatu – Botucatu is an incredible town to combine nature with adventurous tours. That's because the city has plenty of waterfalls, cycling trails, and rock formations ideal for climbing and abseiling.
Águas de Lindóia – Águas de Lindóia is one of the largest and most important hydroclimatic centers in Brazil. Most hotels in town have relaxing swimming pools, steam rooms, sauna, and well-maintained gardens, making it a lovely place to travel with family and children.
São Roque – São Roque is called the city of wine because its major road is filled with wineries and restaurants serving excellent Brazilian wine. The town also has one of the best parks for snowboarding and snow skating.
Brotas – Brotas is a destination you will want to include in your Brazil itinerary. The city is famous for having enough tree climbing spots and hiking trails and waterfalls to climb up.
Campos do Jordão – Campos do Jordão is a Swiss-inspired town located in the countryside of São Paulo City. It gets pretty cold for Brazilian standards, and most tourists visit it for its architecture: half-timbered chalets which serve excellent fondues and winter dishes.
Boituva – Boituva is one of the cities in the countryside of SP that every adventurer should visit. That's because Boituva is a famous parachuting and hot air balloon spot near the capital city.
Ilhabela – Clearwater, green areas, and welcoming sand stretches, Ilhabela is a delightful island just off the coast of São Paulo. The island has some of the prettiest beaches in Brazil.
Santos – This coastal port city is relatively close to São Paulo City. It has lovely beaches to enjoy the summer and some fascinating museums, including the famous Coffee Museum.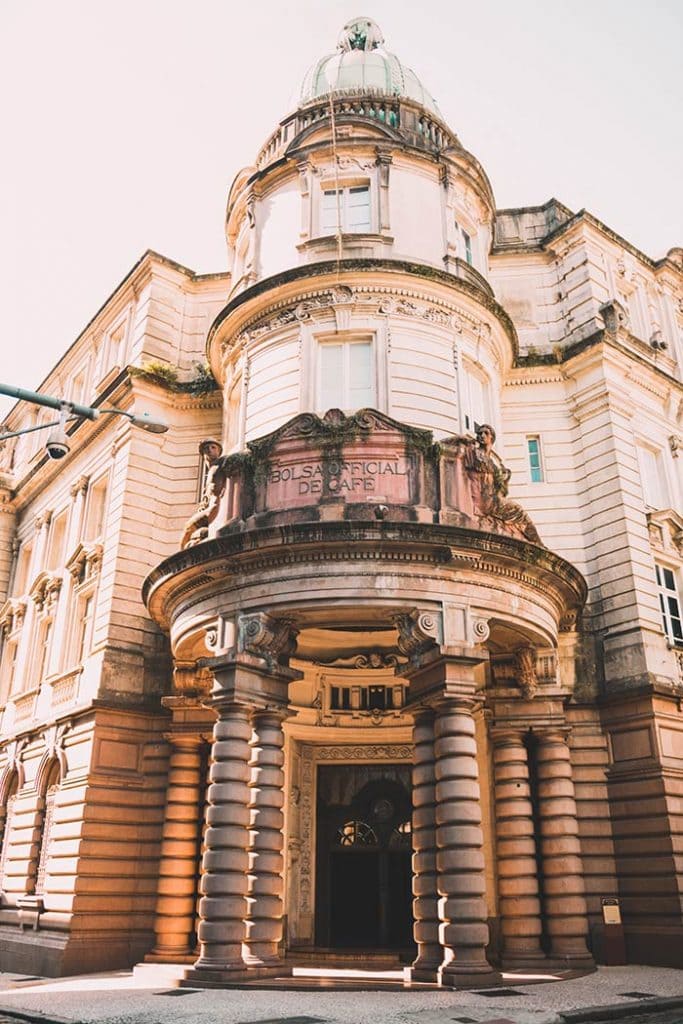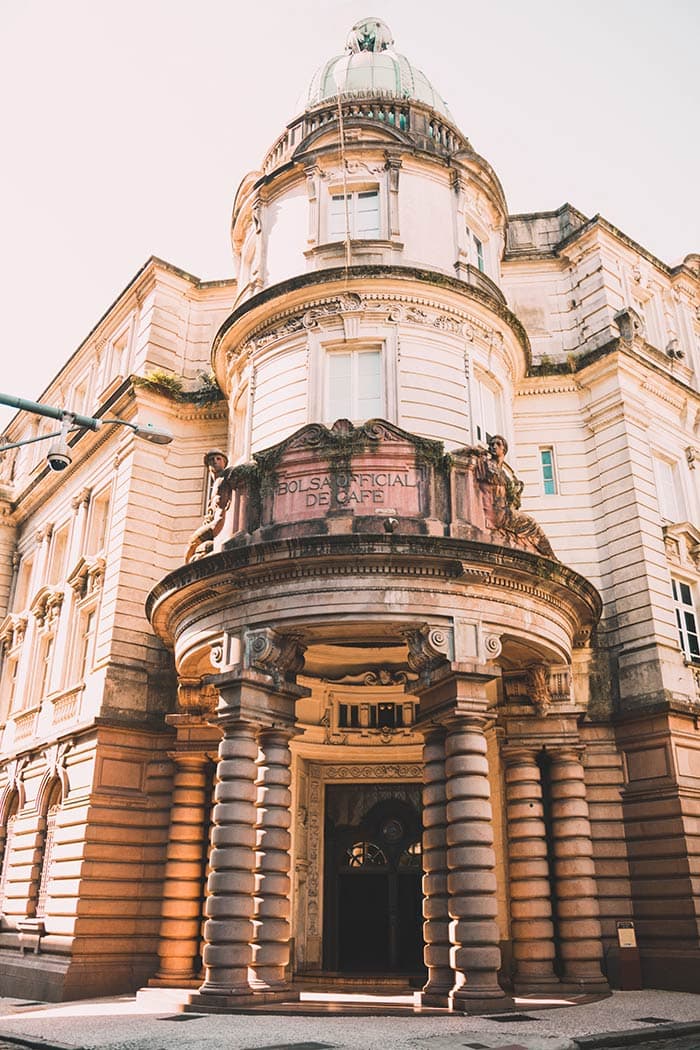 Parks in São Paulo
Serra da Bocaina National Park – Because of its size and significant variation in altitude, this park on the borders of Rio de Janeiro and São Paulo presents varied landscapes and several natural attractions such as beaches, natural pools, rivers, waterfalls, peaks, and viewpoints.
Chapada do Guarani – Guarani, one of the seven chapadas in Brazil, sprawls over six municipalities, including the town of Brotas. It's the perfect place to hike and venture out in adrenaline-pumping activities.
São Paulo has over 26 state parks spread across its territory. It has some delightful urban parks in the capital, such as Ibirapuera and Villa-Lobos.
What to do in São Paulo State
In this section, I'll talk about things to do in São Paulo State.
Things to do in São Paulo
Hit the beach – If the weather allows, hit one of the best beaches in São Paulo.
Go on a historical tour – Not only the country but also the state has so much history worth learning. Hire a local and learn some new things about this massive place.
Munch delicious dishes – São Paulo has delicious eateries across the state, serving not only international but also Brazilian dishes. From 5-star Michelin restaurants to small-family owned venues, you will find something for your taste.
Engage in adrenaline-pumping activities – São Paulo has activities for all tastes. Here you can parachute, go on a hot air balloon trip, and climb up waterfalls, just to name a few.
Go waterfall hunting – As the most biodiverse country in the world, Brazil has a good portion of falls. And São Paulo, it turns out, has a couple of the best waterfalls in Brazil.
Hike among tropical plants and animals – With so many parks and beaches, you won't run out of great outdoor spots where you can hike.
Unwind in a resort – If you're traveling to São Paulo to chill, you will want to relax in one of the country's best resorts.
Sip some wine – Many people don't know. Still, we also produce wine in Brazil, and you can undoubtedly sip it accompanied by local cheese.
Indulge in winter dishes – Brazil is not all about summer. In São Paulo, a few mountainous towns have some of the most comforting winter dishes.
Discover hidden gems – In such a vast country, it is not a surprise that international tourists have not uncovered many spots. São Paulo has countless off the beaten path spots worth visiting, such as caves, peaks, and islands.
Learn Brazilian history – Hit some museums and learn something new. Museums in Brazil are underrated, and most of them are sure to impress you!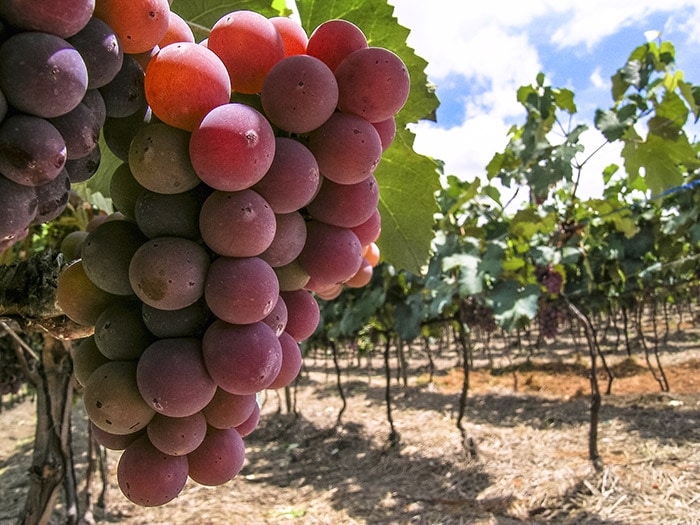 Hiking in São Paulo
São Paulo has lots of hiking trails for all levels.
Many of them have a camping site nearby or are suited for mountain biking.
You can find a list of the best trails in São Paulo at alltrails.
São Paulo City
From now on, I'll write about SP city.
If you want detailed information on what to do, you might want to read my guide on the best things to do in São Paulo.
Motto: Non ducor, duco (Latin for "I am not led, I lead")
Nickname: Terra da Garoa (English: Land of Drizzle) and Sampa
Founded: January 25, 1554
São Paulo population: 11,253,503 (2019)
Elevation: 2,493 feet (760 meters)
Dialing code: +55 11 – Good to know if you need to call a phone while in Brazil. But for that, you'll need a Brazilian SIM card though.
São Paulo itineraries
Because São Paulo is such a massive city, you can easily spend a week visiting tourist attractions and offbeat spots.
Still, shortly, I'll link to a complete São Paulo itinerary guide (from a day to a week) to help you plan your trip.
In the meantime, these comparisons of São Paulo tours will also be useful to your itinerary.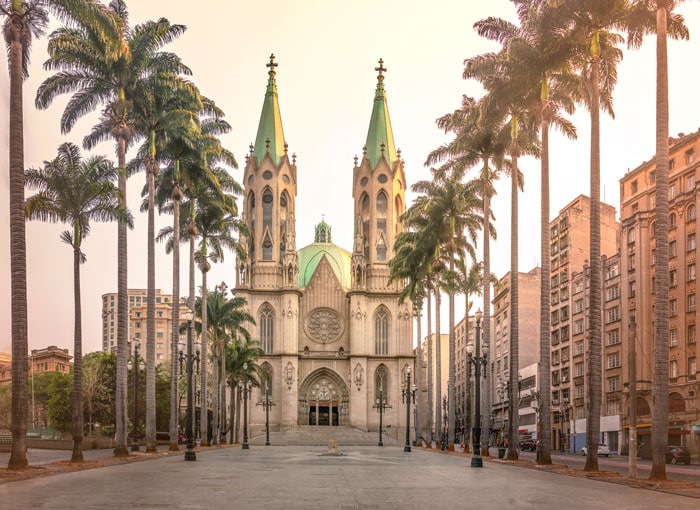 What is São Paulo best known for?
São Paulo City is best known for having a skyline filled with tall buildings. It is a city famous for its pulsating financial center, grand cultural events, and vastness.
Is São Paulo safe for tourists?
On average, yes. There are widely spread rumors among the international community about how dangerous the city is.
Some unsafe parts of São Paulo should definitely be avoided, but the point is most tourists will never go there.
Be sensible and use common sense, that should be enough to keep you safe.
Travel insurance for São Paulo
As someone who travels a lot, I can't recommend travel insurance enough!
I've been robbed in Spain, needed medical assistance in Germany, and had to cancel a trip due to medical reasons, just to name a few situations.
And in each of those times, the hassle would have been 100x worse if I didn't have travel insurance.
I didn't expect those incidents to happen, but they did.
Why am I saying this? You won't want to travel to another country (where you don't speak the local language) and have to communicate with the residents to get help in a stressful moment.
For a couple of dollars a day, you're insured for many situations, and all you have to do is pick up the phone and get in touch with the insurance company.
I use and am happy with Safety Wing and recommend their services to friends and family. Get a quote here.
City of São Paulo trip planning
Here are some essential things you need to know to plan your vacation to São Paulo.
Best time to visit São Paulo
All year long. Winters are a little cold, nothing like European winters; summers can get hot, but nothing is unbearable.
In the summer, showers fall at the end of the afternoon. You will want to keep that in mind to avoid being caught by surprise in the middle of the street or traffic jam.
Besides, São Paulo is a pleasant city all year long.
Holidays in São Paulo
Most holidays in Brazil are widely religious, such as the carnival. In addition to those, the following holidays are exclusive of São Paulo City:
January 25: São Paulo's Anniversary
July 9: State Rebellion Day
Major events and festivals in São Paulo
Gay Parade – The world's 2nd largest parade is full of colors and joy! It happens every year around June at Paulista Avenue.
Virada Cultural – The world's biggest 24-hour festival brings all sorts of performances spread across the city, from singers to artists to dancers. It happens in May.
São Paulo Biennial – The world's 2nd oldest art biennial features international and Brazilian artists in a great exhibit. It usually happens every two years on an even-numbered year, Sep-Dec.
Carnival – From street parties to major parades at the Sambadrome, carnival in São Paulo is a serious business.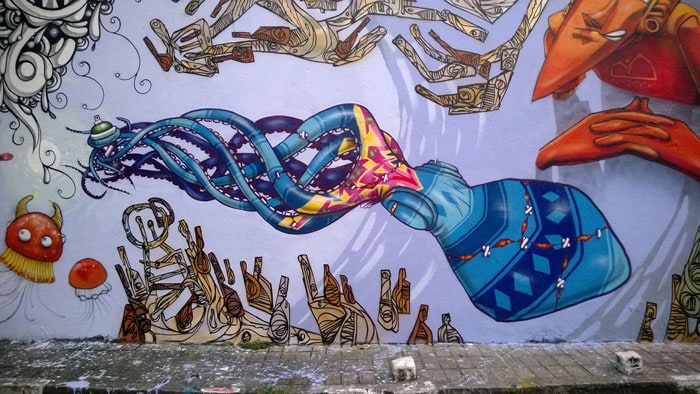 Rough budget
Budgeting is an essential part of planning your trip to Brazil.
And to help you budget a trip to Brazil, more specifically São Paulo, I broke down in categories that you can expect in terms of costs.
Accommodation types
Budget: Around $5-20 per night for a dorm bed or under $50 for a double.
Mid-range: Around $50-110
Luxury: Around $110 per night or more
Food
The sky's the limit. As I said before, you can find all sorts of eating venues in São Paulo, from small family-owned to 5-star Michelin restaurants.
That means you can find good food in São Paulo from $5 to $100/course – it all depends where you walk into.
Still, you can easily find delicious meals for $5-10.
Transportation
Bus and metro are pretty affordable in São Paulo City, R$4,40 each for a one-way ticket.
If you have a reusable card, you get a discount when transferring between bus-metro within a specified period.
However, buses can be unreliable as there are massive traffic jams in the city, causing the buses to be often late.
Outside of peak hours, if the bus connection isn't the best, you might want to take an Uber – it's relatively cheap and works fine.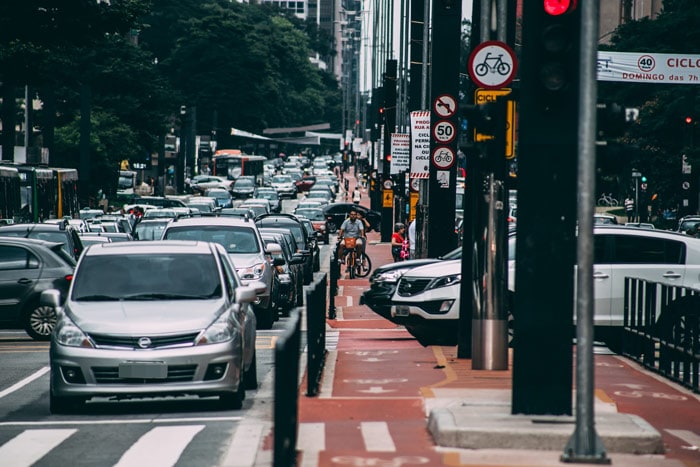 Accommodation
Just as for restaurants, you can find all sorts of accommodation in São Paulo, from basic hostels to 5-star hotels.
However, because SP is such a massive city, it can be overwhelming to look for a comfortable place to stay near the main attractions or with a good public transportation connection.
Thinking of that, I wrote a practical guide on where to stay in São Paulo, where I talk about the best neighborhoods in the city, the best attractions nearby each one of them, and more.
All of that broken down for each budget – it's a complete guide!
What to pack for São Paulo
São Paulo is a big city, and like any big city, it calls for anti-theft personal items. Here are some handy products for your trip.
Moreover, I put together a list of essential items, but most tourists forget to add to their Brazil packing list!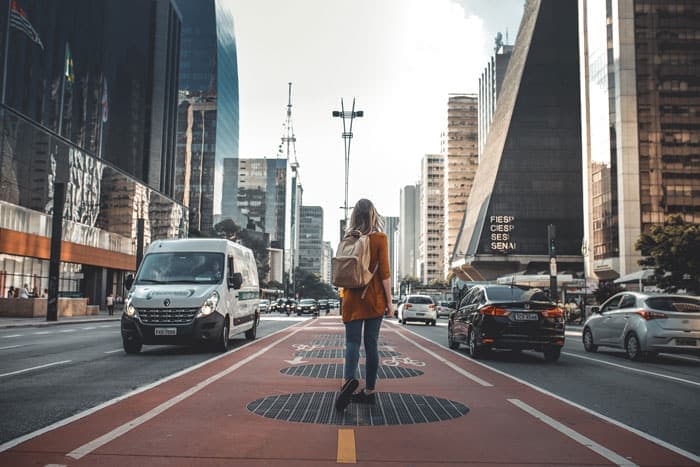 How to get around São Paulo
Here are some tips on how to get around São Paulo.
Rental car
To get around São Paulo City, you're better off without a car – trust me on this.
The traffic jam can be chaotic for those who are not used to our busy streets, so I recommend you only rent a car to visit other cities.
In that case, a car will give you flexibility and comfort and will be much more practical than traveling by bus.
Click here to browse for the best rental car prices.
Bus
Buses, although often late, reach every corner of the city. Also, there are buses to places where the metro isn't available yet, and that's handy as São Paulo is a hilly city.
Good to know, most bus drivers don't speak English.
Train & metro
Metro is a reasonably reliable way to get around São Paulo City, especially outside of peak hours. I hardly ever had to wait long for a metro.
On the outskirts of the town, the train is handy public transportation from the city to nearby municipalities.
Taxi & Uber
Taxi and Uber are both available throughout São Paulo City, from the airport to nearby museums, etc.
Personally, I prefer Uber because it is more affordable. But both have up and downsides as I explain in this article about São Paulo taxis.
A brief history of São Paulo
Geographically, São Paulo State is located in the southeast region of Brazil. It borders the states of Rio de Janeiro, Minas Gerais, Mato Grosso do Sul, Paraná, and the Atlantic Ocean.
São Paulo's colonization began in 1532 when Martim Afonso de Souza founded the coastal village of São Vicente, which is known today as Santos.
He was part of a Jesuit group that sought new people in these lands to evangelize.
Approximately 20 years later, José de Anchieta and Manoel da Nóbrega, both Jesuit priests, traveled to the inland of São Paulo to find suitable places to evangelize the Brazilian Indigenous people.
Upon arriving at the Piratininga Plateau – the central area of São Paulo City -, they decided to make a settlement.
According to manuscripts, that region was ideal for a settlement because of the crisp air and temperate, just like Spain.
In 1554, they founded a Jesuit school near Anhangabau River and began the construction of the first houses giving rise to the village of São Paulo Piratininga.
This was the very first settlement of the Portuguese in São Paulo City. The foundation of this school, the Pátio do Colégio, is still standing and is open for visitation.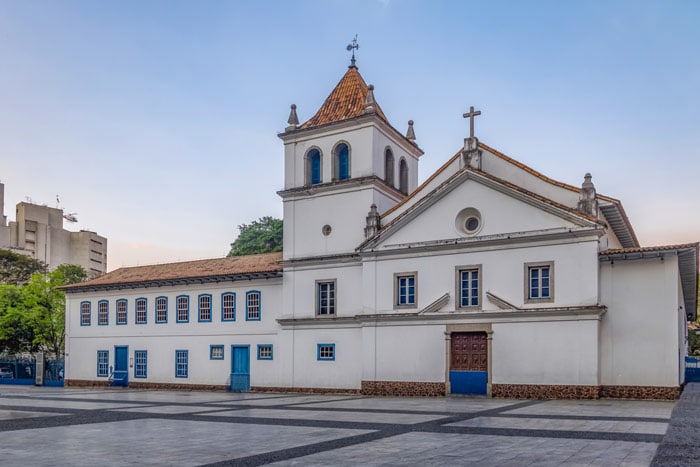 About five centuries later, the village of São Paulo Piratininga grew to the largest city in the southern hemisphere and is home to over 11 million people.
The city only adopted the new name (without Piratininga) after 157 years by request of the king of Portugal.
Around that time, São Paulo's economy was slowly growing, and agriculture went through a transformation process.
It went from small farms to planting sugarcane and eventually, coffee, which made São Paulo the most powerful state in the country.
In the 18th century, the Bandeirantes (literally flag-carriers) were sent from the city to the countryside to hunt precious metals, including gold, and to enslave Indigenous Brazilian people.
Mind you, many west Africans were also enslaved in Brazil, including in São Paulo.
Later that century (1888), slavery was officially abolished, resulting in the increase in foreign labor to work in the coffee plantations – more than half of the city's population was made up of immigrants.
During that time, the expansion of coffee production was also an incentive to expand the railway system, which contributed to the development of the country.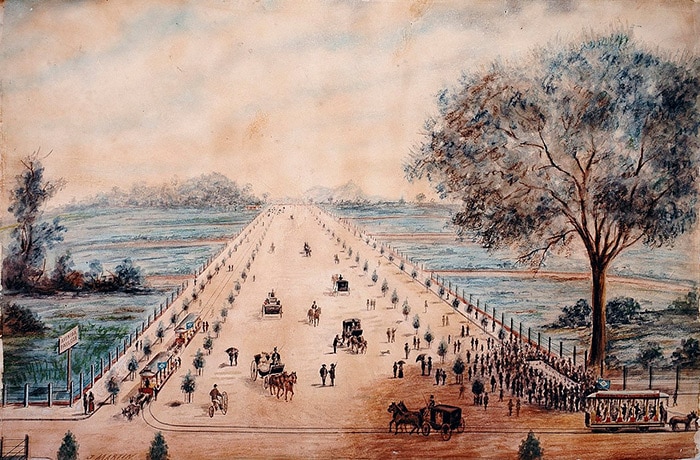 On a side note: The abolishment of slavery does not mean people of color were instantly accepted into society or treated any better. That's also why favelas were formed, but we will talk about it in another article.
Political-wise, São Paulo partnered with Minas Gerais, which was a state with a strong dairy market, to control the country on what was called the Café com Leite politics.
The name alludes to the famous coffee beverage Café com Leite, "coffee with milk," referring to the states' respective dominant industries.
It was a term that referred to the domination of Brazilian politics under the Old Republic (1889–1930) by the landed gentries of São Paulo (dominated by the coffee industry) and Minas Gerais (dominated by the dairy industry).
That political agreement went on until the 1930 Revolution when President Washington Luís was overthrown, and Julio Prestes from São Paulo was prevented from taking office, bringing Getúlio Vargas to power.
Although people from São Paulo had just lost their political hegemony, they supported Vargas with the hope that he would call elections for the senate Constituent assembly and president.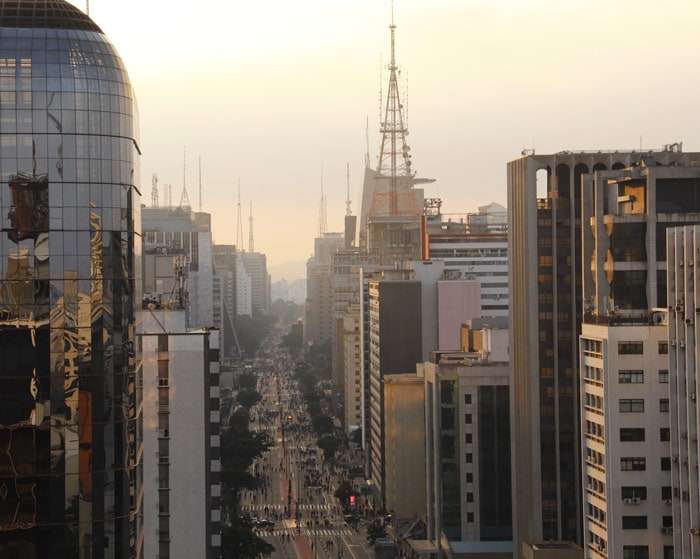 However, time went by, and Vargas did not call for elections.
As a result, São Paulo farmers began a strong resistance against the Vargas government. A large group of university students, traders, and independent professionals, who demanded elections, also joined the farmers' resistance.
Thus, in 1932, a political act in favor of elections took place in downtown São Paulo. The police's actions against a group of protesters led to the execution of four students: Martins, Miragaia, Drausio, and Camargo.
Obviously, many others were also executed during the protests and in future demonstrations as well. Still, only the initials of these four youths became the symbol of the movement, MMDC.
Despite the defeat on the battlefield, the movement achieved its goals later that year toward a democratic system.
To this day, July 9 is a holiday in São Paulo. It is remembered in a monument next to the Ibirapuera Park, where those four students were buried.
Check out my São Paulo travel guides