It's humanly impossible to run out of things to do in São Paulo. Even with all its problems, the city is a unique place to visit. São Paulo is massive, eclectic, diverse, and filled with sites and activities.
And I'm not just talking about a city I visited once or twice. I was born and raised in São Paulo. That's where I'm from. Yes, I'm a big city gal.
After spending over two decades traveling around São Paulo, I can say I not only know every nook and cranny of the city, but I also discovered many unique things to do in São Paulo. And now they are yours to explore!
Also, only a day or two of São Paulo sightseeing won't cut. Besides being massive, the city is Brazil's financial and cultural center, that's why I suggest you spend at least 4 full days in the town.
Otherwise, you won't have enough time to check out all of these fun activities to do in São Paulo.
Not enough time to read this all in one sitting? Click to Pin for later!
Before we get started on all the things there are to do in São Paulo, here's a quick guide on my best recommendations of where to stay in the city.
Where to stay in São Paulo
Accommodation in Brazil can vary a lot depending on where you are. São Paulo and Rio de Janeiro are expensive cities, for example, but how much you'll spend on accommodation will also depend on the hotel, of course.
I outlined my top picks in the city, but click here if you want to read my detailed articles about São Paulo hotels or where to stay in São Paulo. The latter covers the best hostels/hotels in the main neighborhoods.
Here is a general range of what I mean by each budget category:
Things to do in São Paulo
Budget: Around $5-20 per night for a dorm bed or under $50 for a double.
Mid-range: Around $50-110
Luxury: Around $110 per night or more
Budget: For a hostel, I recommend Tapera Hostel. I didn't stay there myself but went there many times to pick up Dutch friends staying in town, and they loved it.
The place was always neat and has a good location: a 10-minute walk from Paulista Avenue and a 1-minute walk from the metro station.
On the downside, they don't serve breakfast, but there's a small & popular snack bar in the corner.

Click here to check rates, reviews, and availability.
Mid-range: For a perfectly located hotel that is shockingly affordable, I recommend the Ibis Paulista. The hotel is at Paulista Avenue itself and it's near a bunch of cafes, restaurants, metro stations, bus stops, and many places mentioned in this article. Free WiFi available, too.
Whenever my husband and I travel to São Paulo nowadays, that's where we stay because there's no better location at this price. Seriously.

Click here to check rates, reviews, and availability.
Luxury: For a more luxurious stay, I recommend the Hotel Unique. The name says it all: this hotel is unique. The building reminds a ship, and the interior has a trendy decoration.
While the rooms are obviously luxurious, my favorite part is the rooftop swimming pool and bar. Oh, the famous Skye Bar at the Unique Hotel.
There, besides having a unique view of the skyline and Ibirapuera Park, a DJ plays some songs during the night. Need I say more? For a luxurious stay in São Paulo with a breathtaking view, Hotel Unique is the best option.

Click here to check rates, reviews, and availability.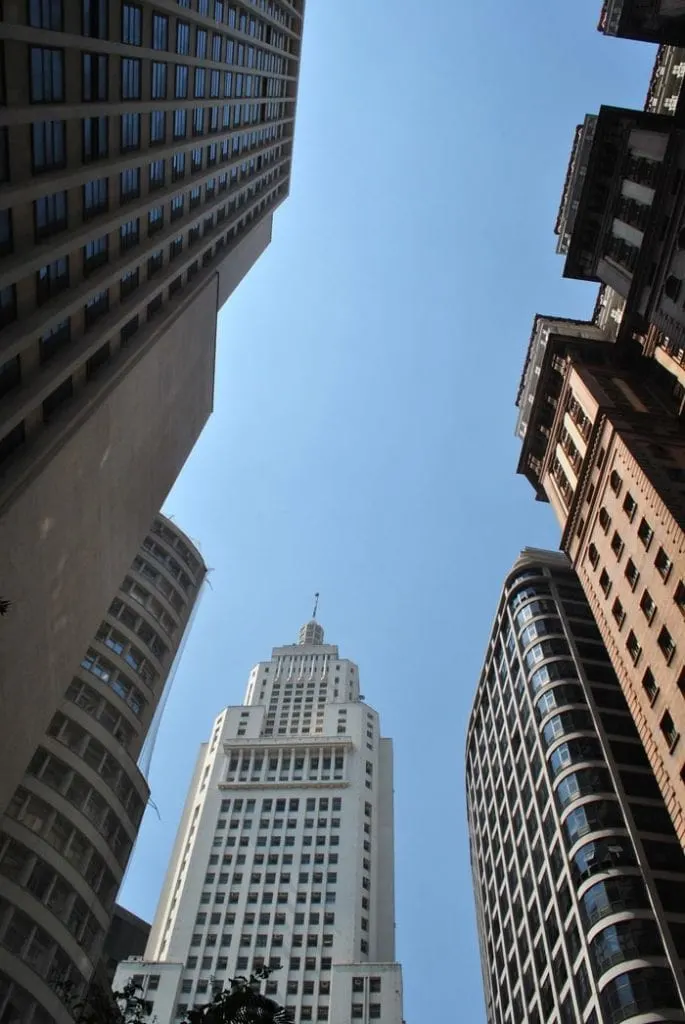 Travel insurance for Brazil
It doesn't matter if you're traveling to São Paulo, Rio de Janeiro, or Tokyo. I'll always say this: travel insurance is the most important thing to purchase for any trip abroad.
Once I had a really hard time in Madrid because a couple of guys robbed me and I had no money left to eat or get home. Nothing. Nada.
Obviously, I didn't have travel insurance either. That's why I had to call my boyfriend (today husband) to buy tickets back home for me. It was a mess.
Don't be like the old me. A typical travel insurance policy usually has coverage for this and many other situations. I use and am satisfied with Safety Wing. Click here to get a quote.
São Paulo attractions map
In this interactive map, you'll find all the locations I mentioned below. Every single one of them. I like to leave a handy map like this behind so you can plan your São Paulo travel adventure and orient yourself better.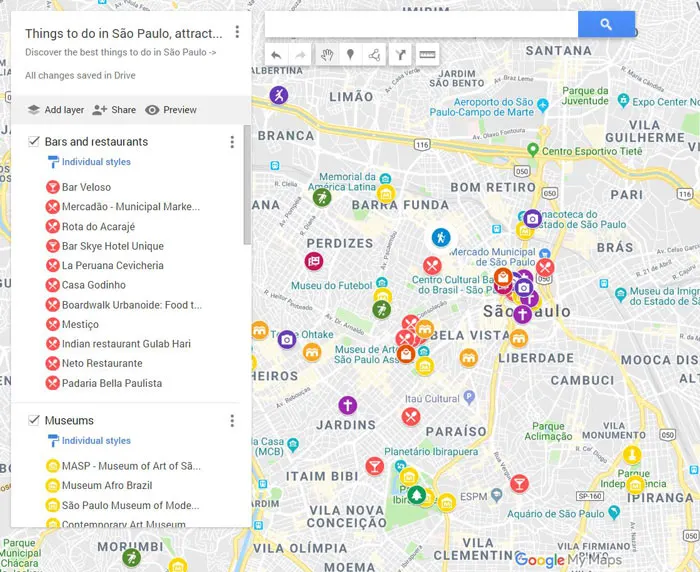 Things to do in São Paulo, Brazil
I hope you're as excited about your trip to São Paulo as I'm to write about it.
Although my city isn't so pretty like Rio de Janeiro, it has so much to offer. Many of São Paulo tourist attractions are geared towards learning and/or eating, like a good old city trip.
That's why I've listed my favorite things to do in São Paulo, from visiting a monastery to indulging in a lot of delicious food. I hope you can have an amazing time traveling in Brazil, and shake off that bad idea the 8 PM news gave you of Brazil.
Without further ado, let's see what is there to do in São Paulo.
Have a bite at Veloso Bar
Veloso bar has an award-winning coxinha. Coxinha is a deep-fried chicken croquette that is one of the most mouthwatering Brazilian street food. (Which is one of my favorite reasons to visit Brazil.)
Pair your snack with our famous cocktail, caipirinha, which is basically fruits, sugar, and cachaça on the rocks. The original drink is made with lime, but at Veloso, they offer it in many flavors, including fruits and herbs.
If you can, try watching a soccer match at this bar while having a cold beer. The atmosphere is excellent, and so are the appetizers.
Not the mention the "Brazilian" decoration, which is almost a museum—images and posters of big names of national music and soccer.
Listen to Gregorian chants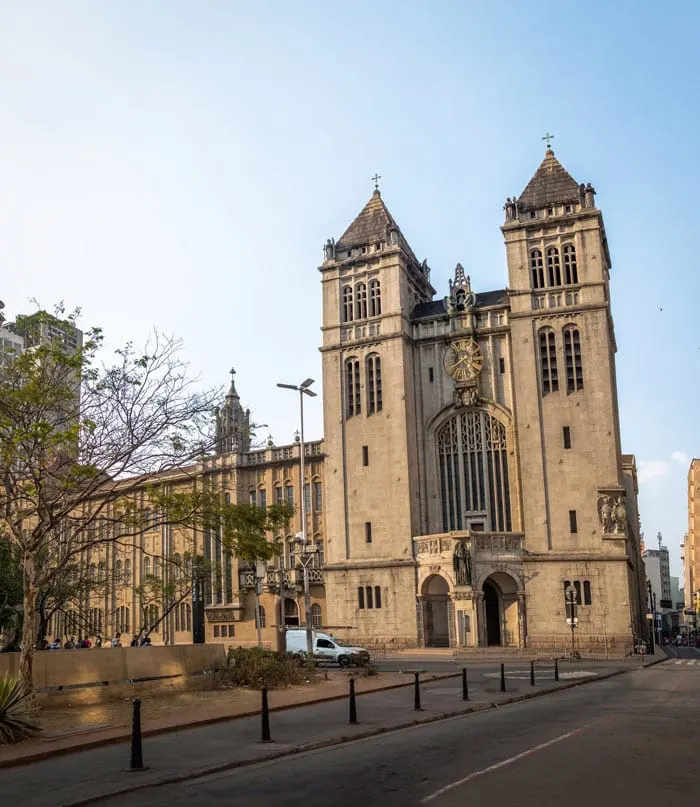 Here's a fun activity to include in your list of unusual things to do in São Paulo. The São Bento Monastery is a traditional place where powerful and incredible Gregorian chants take place.
Even if you're not a religious person, reserve some time to visit this historic building. The architecture, together with the stained glass windows, adds a charming look to the monastery. And obviously, the chants are impressive, too.
It almost feels as if you were in a different time. It's a relaxing experience in the middle of the buzzing São Paulo Downtown.
Go on a tour of the highlights of São Paulo
A fun and exciting way to see the main attractions in São Paulo is to go on a tour with a local guide. For a fair price, a local guide takes you to the main and most famous landmarks in São Paulo, including many spots I mention in this article.
Traveling around the city is already a unique experience because of its magnitude, but traveling around the city with someone who knows the place and has something to tell about it changes everything.
In a 3-hour tour, the English/Spanish speaking guide shows you and talk about significant monuments and places in São Paulo. This tour is popular among international and national tourists.
Click here to read more reviews.
Wander through the Paulista Avenue on Sundays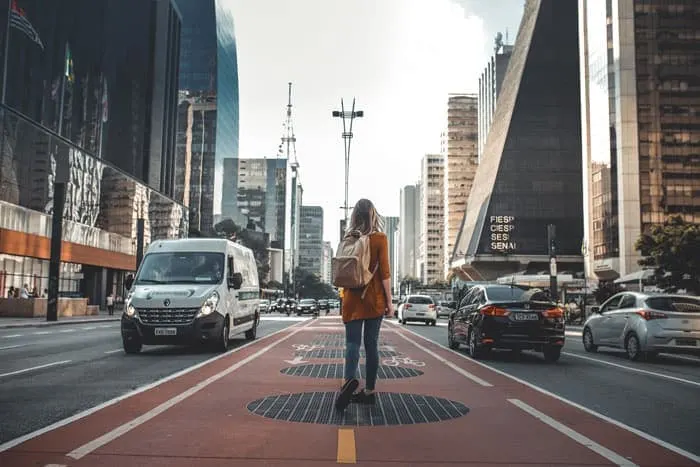 The most important avenue in São Paulo, Paulista Avenue is modern and gorgeous. In fact, Paulista Avenue is a summary of Brazil: diversity in every corner.
This 1.7-mi (2.8-km) long avenue attracts all crowds—from business tied-up folks to hippies and rock 'n roll fans.
Besides finding all sorts of shops and venues here, you can also come across a parade, such as the Gay Parade, Carnival, as well as demonstrations for political reasons. They all take place at Avenida Paulista.
However, Sundays at Paulista Avenue are sacred. That is to say, the avenue is closed for cars. So families, friends, and partners come here to ride a bike, skateboard, or wander through the area.
With the years, many internationals visiting São Paulo told me Paulista Ave reminded them of 5th Ave in New York. What do you think?
Fun fact: People who are born on the estate of São Paulo are Paulistas, and people who are born in the city of São Paulo are Paulistanos.
Discover a hidden city in São Paulo City
Among all Brazilian cities, São Paulo is the one with the most underground tunnels, spots, and venues. Seriously. Under this bustling town, you'll find monuments, exhibitions, theaters, and even restaurants.
The undergrounds of São Paulo are nearly a new city.
I know this isn't among most lists of the best São Paulo attractions, but there's nothing wrong in going offbeat.
Not only the undergrounds are excellent photos ops but also an exciting way to learn more about how urban life developed in Brazil's largest city.
Some spots underground are:
Arcos Bar underneath the Municipal Theater
São Paulo Cathedral Crypt
Centro da Terra Theater
Imperial Crypt at the Ipiranga Museum
Rota Tunnel underneath the Military Police Squad Headquarters (used for prisoner transportation, today it's a memorial with a few items in exhibition)
Get lost among great artworks at MASP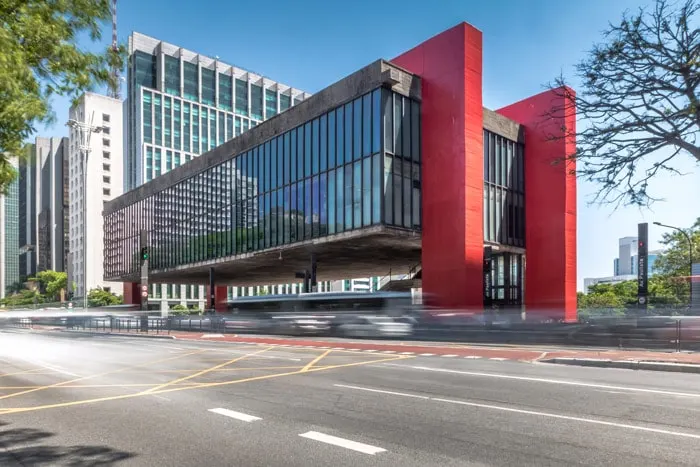 MASP, Museum of Art of São Paulo, is among the most significant museums in the country and it obviously is a major tourist attraction in Brazil. The gallery is an open space where all paintings and photographs are exposed.
If you see a postcard from São Paulo, chances are the MASP is on it. This iconic museum showcases a smaller collection of African and Asian art, Brazilian drawings and prints, and the most important European collection in the southern hemisphere.
Fun fact: Elisabeth II inaugurated the MASP in 1968 while in the country.
Get to know the Brazilian Gaudí
Estevão, a gardener often referred to as the Brazilian Gaudí, built a magical house for his family in a São Paulo favela.
Resembling a treehouse, this house doesn't have a single straight wall or form. They are all curved, arched, and more.
Visiting the house, just like Park Guell, is like entering a parallel universe or a cave if you prefer. A colorful one, though. The gardener turned artist bought most of the inlaid objects at street markets all over São Paulo.
Read next: Best tours in São Paulo – for all tastes!
Stroll around the Ibirapuera Park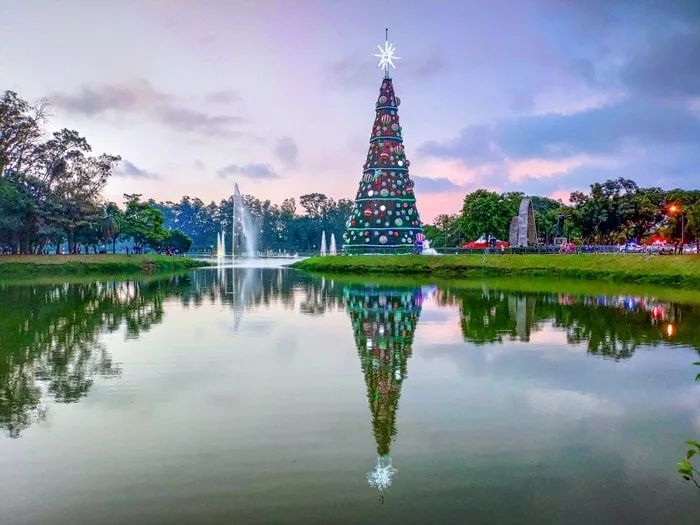 Ibirapuera Park. My fave place in São Paulo to hang out. The park is among the world's ten best parks and it's the largest one in South America.
Locals enjoy having some beers on the grass, sunbathing, playing with their kids/dogs, or practicing sports at the Ibirapuera Varanda, a skateboard and rollerblades hotspot.
Also, Ibirapuera has a few museums, a music hall, and a massive leisure area. It's the perfect place to relax and to enjoy cultural activities in São Paulo, and one of the best places to visit in Brazil.
As Paulista Avenue, many foreigners told me Ibirapuera reminded them of Central Park because of the surrounding buildings. What do you think?
Oh, and this is where the largest Christmas tree of São Paulo is.
Learn Afro-Brazil history
While planning what to see in Sao Paulo, be sure to include the Afro Brazil Museum to your itinerary.
As you might know, Brazil has a long history of slavery. The country was the biggest importer of African slaves and only abolished slavery in 1888, being the last country in the Americas. Shame on us.
Thankfully, as a constant reminder, the Afro-Brazilian Museum showcases how the Africans helped to shape the Brazilian culture, traditions, art, history, and people as we know today.
This museum is the largest one in its category on the American continent.
Experience an outdoor art gallery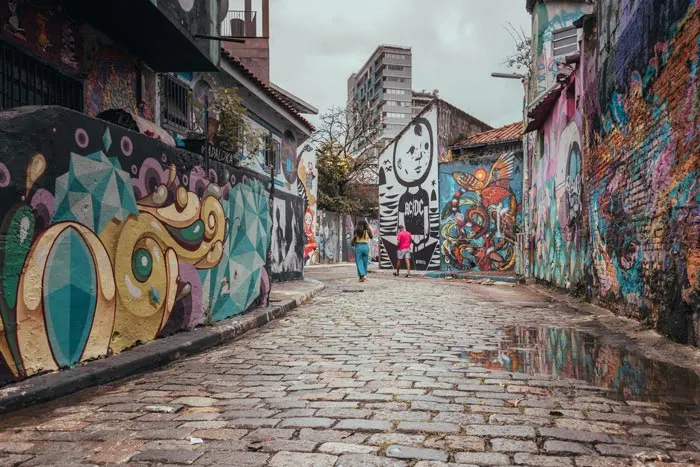 As a concrete jungle, São Paulo evolved its art scene with the city's elements—buildings, museums, and alleys. Among the many graffitis you can spot throughout the city, Batman Alley holds arguably one of the most interesting temporary outdoor exhibitions.
As a unique place to visit in Brazil, Batman's Alley is an urban treasure of São Paulo street art.
Needless to say, the alley always looks new, colorful, and different as new artists come here often to paint on top of a former graffiti. This area is helping revive Sao Paulo tourism through the street art appeal.
Fun fact: The name comes from a graffiti of Batman painted in the 1980s.
Wander through an Italian neighborhood
Bixiga neighborhood is the synonym of good Italian cantinas and restaurants. That's because a large community of Italian immigrants settled here and started their businesses years ago.
If you're around São Paulo in August, check out the Our Lady of Achiropita festival. It takes place every weekend evening of the month.
In addition to the festival and restaurants, an antique fair takes place every Sunday 8 AM-6 PM at Dom Orione Square.
Munch on street food at neighborhood markets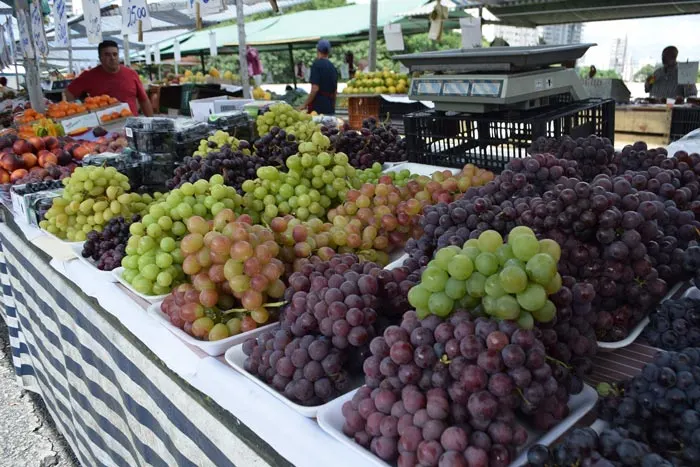 Brazil is massive. This, combined with the tropical climate, creates favorable conditions to grow sweet, juicy, and big fruits in the country.
And the best places to find Brazilian fruits in the cities are the neighborhood markets.
Wander through one of them and watch the sellers screaming the prices and discounts. If you aren't fully awake yet, I promise you'll be in a minute! This is a genuine local experience, so if you see one, be sure to stop by.
Tip from a local: Arrive early to find the best fruits.
Get soaked in contemporary art
Stroll around the MAC, Museu de Arte Contemporaria, to learn about contemporary works of art of all Latin America. If you enjoy this kind of art, this museum is a must!
Take your time to see everything, but don't miss the panoramic view of the skyscrapers on the top floor.
Watch a soccer match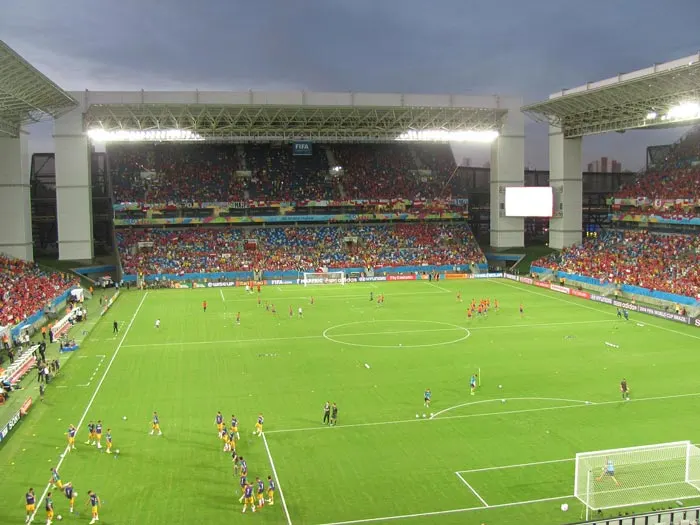 São Paulo City has a few of the biggest soccer teams in Brazil, and since the sport is a symbol of our country, nothing better than watching a match to feel the energy. It's contagious.
There are a few stadiums where you can go, such as Allianz Park, Corinthians Itaquera, Morumbi, and Pacaembu.
Forget about time in a Japanese neighborhood
No Sao Paulo vacation is complete without visiting Japantown. The Japanese community started growing in the Liberdade neighborhood around 1912, and today, it's the biggest group of Japanese people outside Japan.
The official entrance of the neighborhood is marked by a torii, a Japanese arch. Its streets have those red oriental-styled lamps, and they're full of Japanese restaurants and stores, of course.
My college was in this neighborhood, and we would eat sushi or imagawayaki (bean dessert) often in one of the many sushi bars in the region.
On Saturdays, a teeny tiny but yet cute Japanese Garden opens to the public, if you're around, check it out.
Ipiranga Museum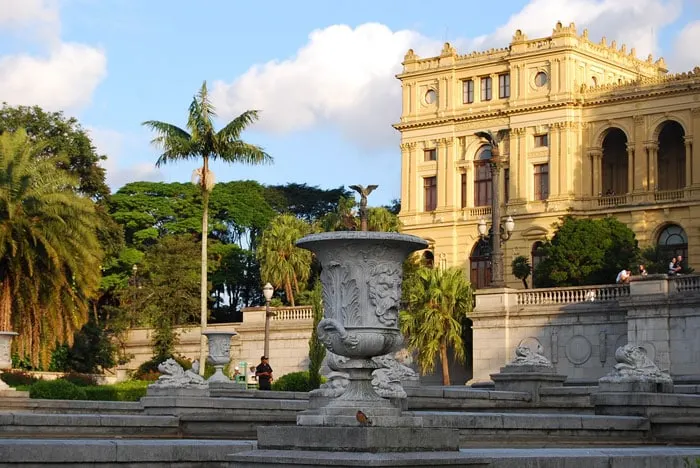 There is no better place to learn about Brazilian history than in the Ipiranga Museum. The museum is settled near the riverbank where Emperor Pedro I proclaimed independence from Portugal.
That event marked the beginning of the Republic of Brazil, and that's why you can hear about it in our national anthem or even see Pedro Américo's visual representation of it—the Independence or Death painting.
Moreover, the Ipiranga Museum is surrounded by a well-maintained garden with fountains and statues making reference to our independence.
The Ipiranga Museum is closed for reform until September 2022, but the gardens are open for visitation.
Visit the offbeat Our Lady of Brazil Church
This church has an impressive interior decoration, and its ceiling is quite exceptional too because some of the paintings are a reproduction of the ones in the Sistine Chapel.
Mind you, Our Lady of Brazil Church is much smaller than the Sistine Chapel, so don't be too judgy.
Architecture-wise, the church has a beautiful mix of Baroque and typical Brazilian colonial style, and it's full of Portuguese tiles.
Try typical dishes like a Brazilian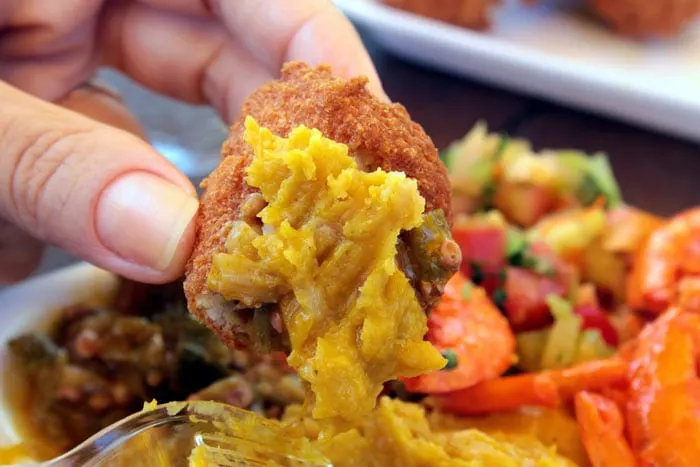 Rota do Acarajé is a cozy restaurant that only serves Brazilian dishes typical of the northeast region of the country as well as national beverages.
This cuisine is derived from West Africa, which inspired most dishes Brazilians traditional we know nowadays.
Besides having mouthwatering food and drinks, the welcoming decoration and atmosphere make this place perfect to having some Brazilian food. (Which is one of the best things to do in the country!)
Eat a traditional lunch of São Paulo
Eating is one of the foremost things to do in Sao Paulo, with our many delicious dishes and snacks.
So for lunch, head over to the Municipal Market of São Paulo, also known as Mercadão. This large traditional market in Downtown is full of stalls selling local vegetables, fruit, cheese, meat, to name a few.
In the mezzanine, you'll find the biggest and perhaps most famous mortadella sandwich (similar to baloney) of São Paulo. The restaurants and bars there also serve tasty pastels, but the gem in the crown here is bread literally jam-packed with baloney.
Despite being in an ugly and somewhat dirty part of the neighborhood, this popular place is a must-see to experience Brazilian food and culture.
Tip from a local: Beware the sellers offering you free slices of fruit. After accepting it, they will insist you buy their products. And fruits here are more expensive than in small neighborhood markets; however, the variety is obviously much bigger.
Admire the Brazilian Santa Muerte mural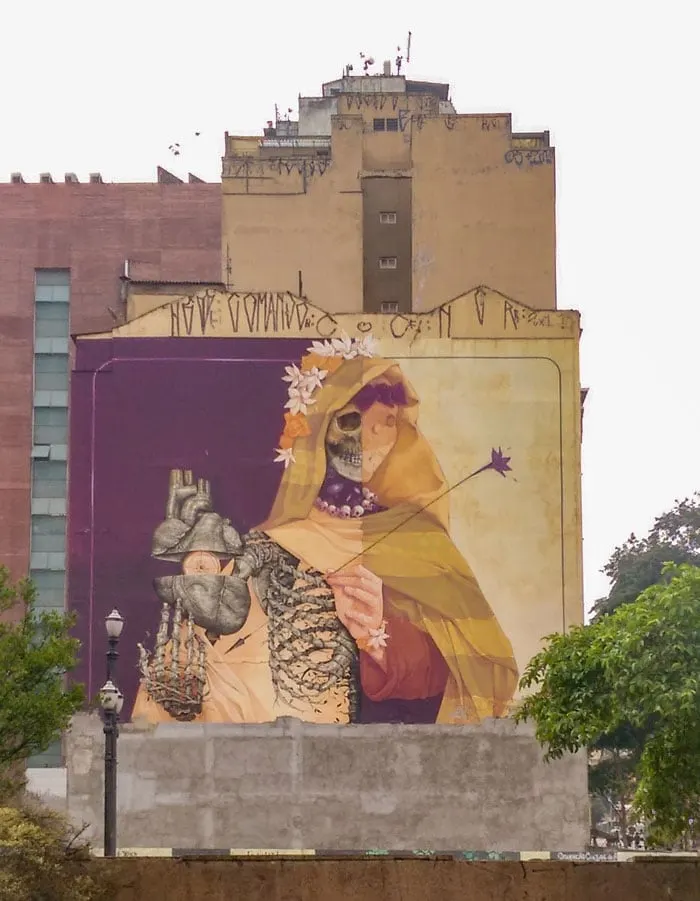 La Madone de São Paulo is INTI and Alexis Diaz's graffiti of Santa Muerte. The painting celebrates our mortality in a phantasmagoric style near Anhangabau Square.
Although the mural is part of a project that aims to bring mind-blowing art to urban settings, the mural was finished just in time for the Brazilian All Saints' Day in 2015.
Fun fact: Anhangabau means "water of bad spirits" in Tupi Guarani, one of the Brazilian indigenous languages.
The graffiti covers the side of a building in Downtown giving it an eerie aspect as the drawing seems to be watching passersby. It's also a constant reminder of our mortality.
See Brazilian modern art at Pinacoteca
The Pinacoteca, the oldest art museum in São Paulo, has a fantastic collection of international and national paintings and sculptures of the 19th-century as well as Brazilian modern art.
Although Brazil has a relatively short art history when compared to European countries, São Paulo has lots of excellent museums exhibiting the national artworks. And the Pinacoteca is one of our small gems with an extensive collection of Brazilian art worth seeing.
Fill up with Peruvian food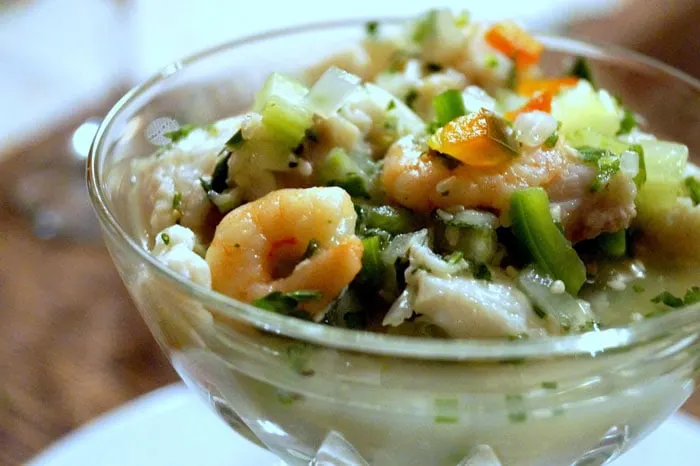 La Peruana Cevicheria is a former itinerant food truck that now has a permanent house in São Paulo.
The Peruvian chef prepares not only authentic dishes from her country's cuisine but also makes sure to add a touch of creativeness when playing with taste and aroma. It's an excellent venue to try another South American cuisine.
Browse a street market filled with culture
Brazil has interesting street markets where you can find anything and everything—food, clothing, decoration, toys, you name it. These street markets are called "feira livre" in Portuguese.
However, the most traditional market in São Paulo is the Benedito Calixto, which is not only a market but also an intellectual and cultural reference point in the city.
Created in 1987, Benedito Calixto has lots of delicious snacks, antiques, 2nd hand stuff, homemade articles, and live music. Visiting this market is certainly a fun thing to do in Sao Paulo.
Admire fine pieces of art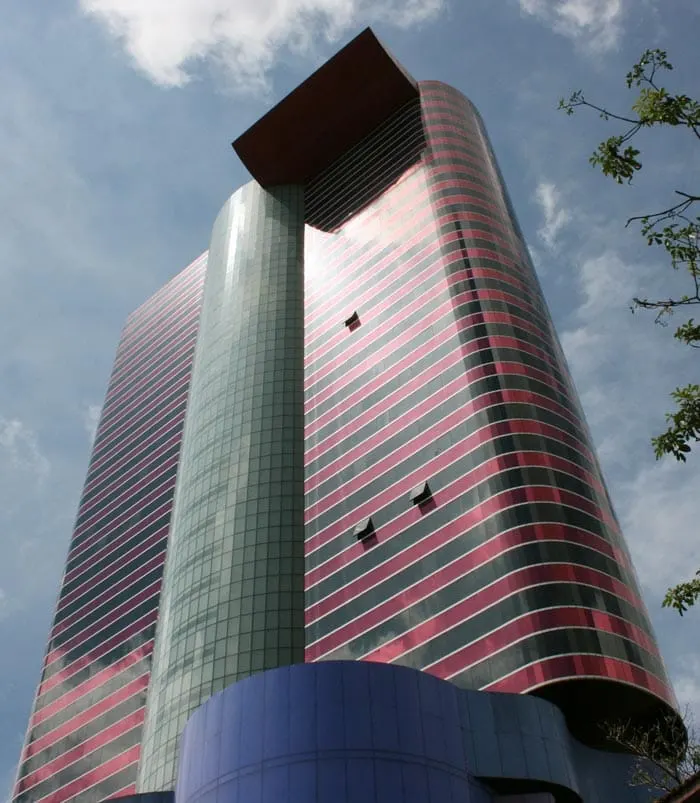 Tomie Ohtake Institue is among the best Sao Paulo points of interest. Tomie was a Japanese-Brazilian visual artist, and the eponymous institute is a peculiar pink and black building rising in the sky. You can spot it from many places in the region.
The institute pays tribute to the abstract artist by showcasing the artworks of her last 60 years as well as from other artists who followed the movements that inspired Tomie. Exhibitions are never conventional here.
Wander around Sé Square
São Paulo's ground zero, Sé Square is the most traditional place in the city. Many historical demonstrations took place here, but today the square houses the neo-gothic São Paulo Cathedral and is surrounded by palm trees and lots of shops.
The streets around the square have some of the oldest buildings in the city, which are pretty, but for full disclosure, many homeless and drug addicts have been living in this area in the last few years. Sad situation.
Feel the city's cultural energy in a massive bookstore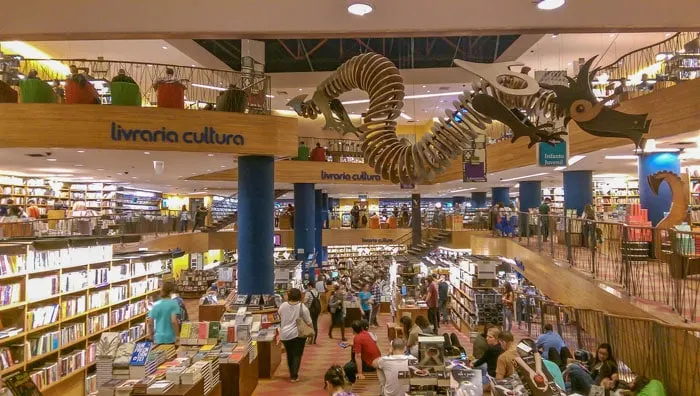 Livraria Cultura is one of the top things to see in Sao Paulo. The 3-story shop at Conjunto Nacional (Paulista Ave) is a paradise for book worms.
In addition to being one of the most significant bookstores in town, the shop comprises lots of wooden shelves filled with books, CDs, DVDs, comic books, rare vinyl, and electronics accessories.
Readers of all genres and ages spend hours in the colorful beanbags flipping through book pages or browsing around the shop.
Have a bread baked by monks
At the monastery's bakery, the monks prepare every single day delicious delicacies and a famous centenary bread recipe.
The monks even sell jams, cakes, cookies, honing, liqueur, and beer. It's divine. (Sorry, bad joke!)
Take in the view of buildings going as far as the eye can see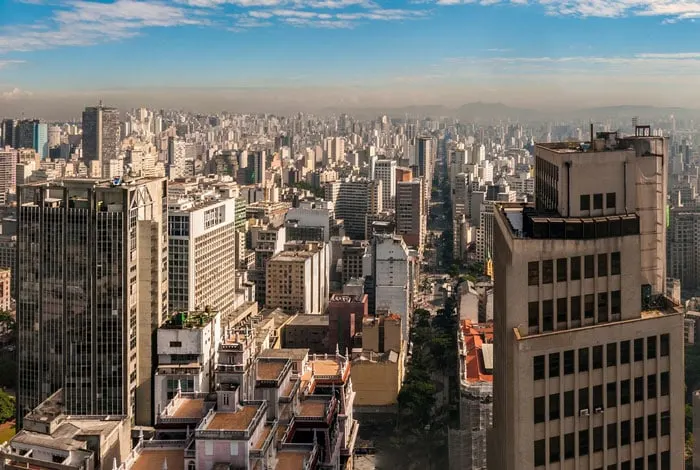 Formerly known as Altino Arantes Building, the Farol Santander is one of the tallest buildings in São Paulo and was recently reopened to the public.
You can visit 18 of the 35 floors, and in each one of them, you'll find different attractions, from a skateboard track to an exhibition area to a lookout and an art deco cafe.
Part of its interiors and its rich collection of historical objects were finally recognized as national monuments because this is an icon of the city and its urban transformation.
Fun fact: Farol Santander is visually the highest point seen from the east, north, and west of the city.
Sip beer in a bohemian neighborhood
Vila Madalena is by far the most bohemian neighborhood of São Paulo. Locals come here looking for an informal setting to enjoy happy hour with food, beer, and music.
From the most popular pubs to the finest bars, Vila Madalena pleases everyone. While the neighborhood offers dozens of options to hang out with friends, it also has many street art spots.
When in doubt, start at the corner of Rua Fradique Coutinho and Rua Aspicuelta, where the Coutinho Bar is. From there, just walk around to find out which bar suits you best.
Contemplate the São Paulo Cathedral and Crypt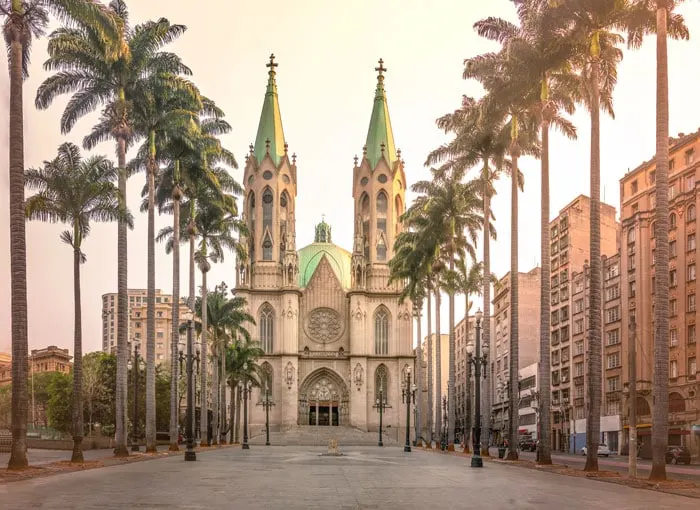 The São Paulo Cathedral was one of the first churches built in São Paulo, and today, it's considered one of the world's largest neogothic monuments with its beautiful stained glass windows and blue dome.
In addition to having the largest grand organ in Latin America, several important figures of the city's history are buried in the underneath crypt, such as the tribal chief Tibiriçá, the first Brazilian indigenous converted and baptized by Jesuits and who helped build the city.
Buy antiques in a market underneath a museum
Every Sunday, an antique market takes place underneath the MASP at Paulista Avenue. There you can find lots of interesting objects, collector's items, arts, crafts, and antiques, of course.
Once, I bought a beautiful Victorian cameo pendant necklace here for my sister-in-law. She loved it.
Get soaked in art and culture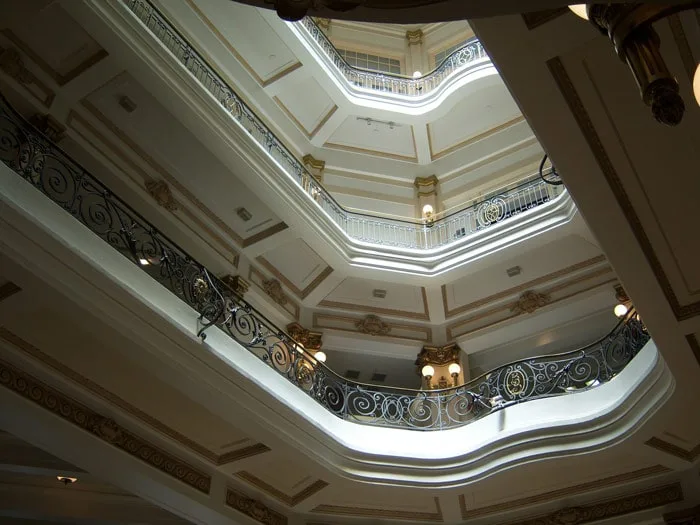 As you make your plans for what to do in São Paulo, be sure to include a visit to Centro Cultural Banco do Brasil in your itinerary.
This early 20th-century building is an artwork itself because of its mix of European architectural styles. At this cultural center, they house diverse kinds of expositions about Brazil and the world as well as theater and cinema presentations.
Most events are free, and their coffee is divine. No reason not to go.
Visit the Soccer Museum
More than watching a match and feeling the energy at the stadium, go to a museum to learn about the passion and history of this sport in Brazil.
The Soccer Museum is at the Pacaembu Stadium.
Visit one of the first houses of São Paulo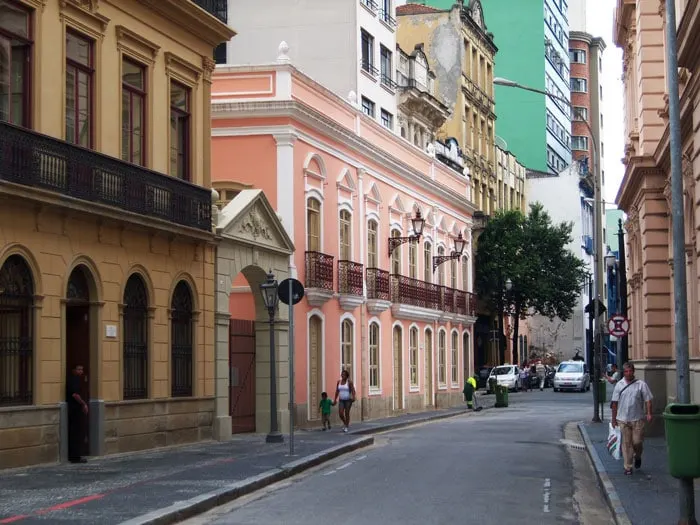 Visiting the Santos Marquise Solar (Solar da Marquesa de Santos) is almost as walking to the past. To the 18th-century, to be more specific.
Without any proof of its construction, the first register of the house dates to 1802. Later, this residence became the Marquise Santos' solar.
The mansion's decoration, as well as many objects from that period, are in exhibition in this museum which is part of the historical houses that make-up the São Paulo City Museum.
Shop in São Paulo's oldest grocery store
Casa Godinho is the only of its kind in the city.
This gourmet grocery store from the 19th-century was founded by a Portuguese immigrant.
Today, the shop is based in the first tall building of São Paulo, which is considered cultural heritage. The building is impressive, but the products offered don't disappoint either: high-quality cheese, ham, liquor, wine, breakfast options, and local pastries.
Watch a concert at the Municipal Theater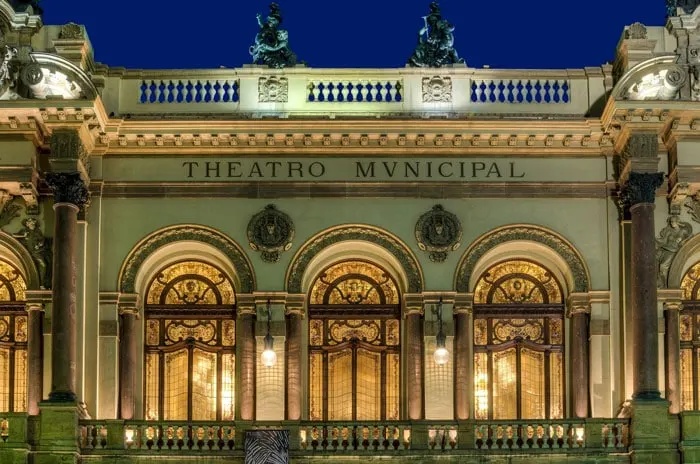 São Paulo's municipal theater is a fancy building where all sorts of presentations take place, from classic and contemporary dance to Philharmonic concerts and local theater presentations.
Their agenda is filled nearly every day with interesting shows, so this is an excellent way to combine sightseeing with entertainment.
Have street food in a hip spot
A funky area with food from all over the world.
That could be a description of São Paulo, but it actually is from the Boardwalk Urbanoide, an international open-air food truck with Brazilian ingredients.
This might not be on your list of top things to do in Sao Paulo, but it certainly is an essential item on mine.
The hipster decoration and shared tables make it a welcoming place for people to start conversations.
Besides having some food from the other side of the world, such as the Thai Pai Gai stall, here is also possible to have a taste of other states' cuisines, like the dishes at Quintal Paraense from Paraná State.
Have drinks with a view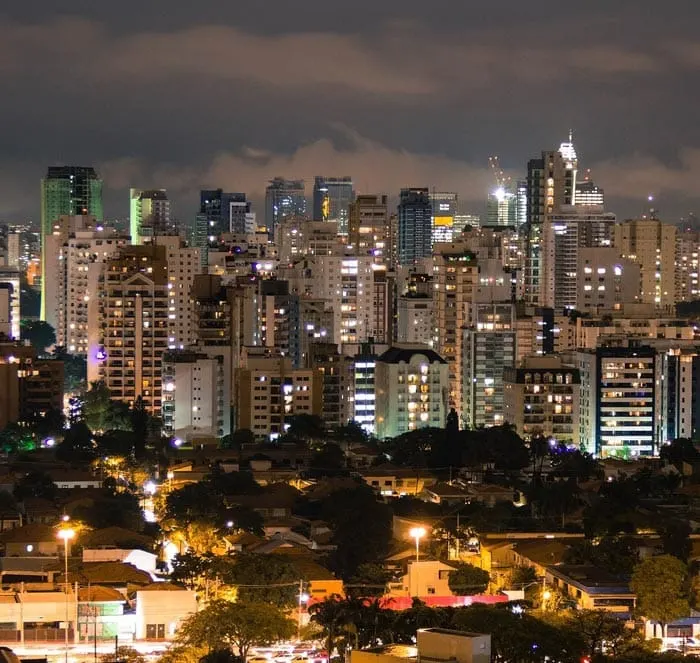 As a good modern city, São Paulo skyline is jaw-dropping. During the evening, all buildings light up, and the city gets a mysterious atmosphere. What could possibly be a better place to feel this energy than a rooftop bar?
Hotel Unique has the exclusive Skye bar where besides having some drinks, you can listen to a DJ who plays at later hours. But the cherry on the cake is the panoramic view of São Paulo. It's beautiful!
Indulge in different cuisines with a twist
Any trip to São Paulo should be filled with excellent food, after all, SP is a foodie destination in Brazil. Well, at least, I'm a foodie that's why I'm recommending lots of places to eat in the city.
Anyway, as a result of the city's diversity, Sao Paulo has loads of eating venues of different cuisines scattered around town, from Thai restaurants paired with Brazilian northeast flavors to Indian and Italian ones with the same concept.
Discover the first construction of the modern São Paulo City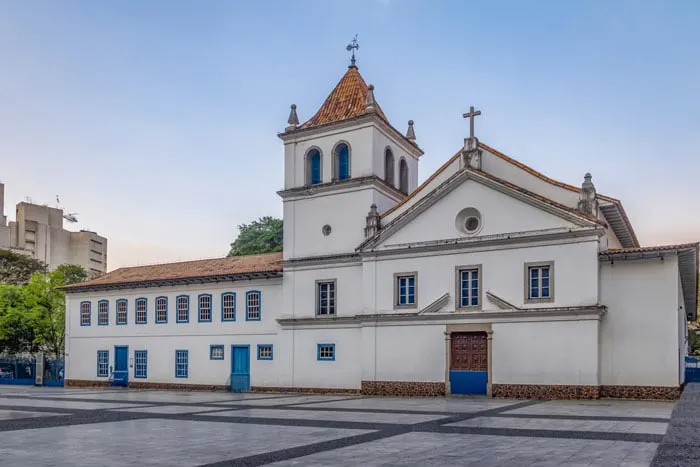 Pátio do Colégio is a historical-cultural-religious complex founded in 1540 by the first Jesuits that arrived in Brazil.
This place is today a museum and archeological site which is a reference in the preservation of the memory about the origins of the city of São Paulo. This is a must-visit!
Picnic in one of the greenest areas of São Paulo
If you're wondering what to do in Sao Paulo that is a little off the beaten path, visiting the botanical garden is it. The city's garden is a massive green and quiet area on the outskirts of this buzzing town.
Filled with lakes, short hike trails, and lots of flowers and trees, the garden will make you forget about the world outside. Be sure to stop at the Senses Garden to awaken all your senses in contact with nature.
On a side note, the garden used to be prettier, though, but the local authorities are neglecting the maintenance of many places in the city, the botanical garden included.
Unwind with an afternoon tea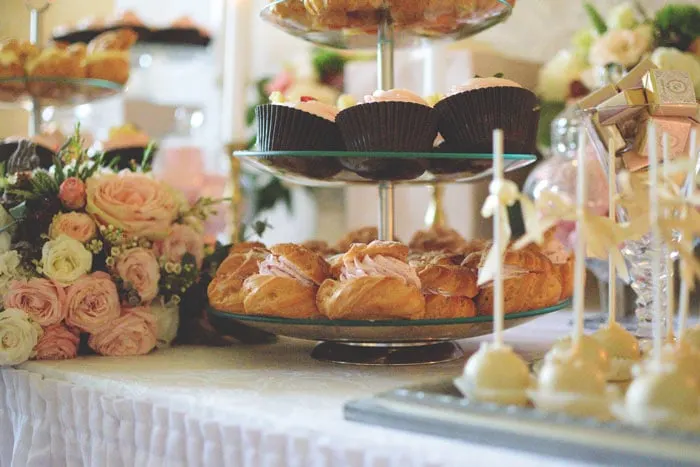 Maria Luisa and Oscar Americano Foundation is an underrated museum and park in São Paulo not many Brazilians know about.
In addition to having an extensive art collection consisting of paintings, furniture, silverware, porcelain, tapestry, and sacred art from the 17-18th-century, this site also has a massive park and a cozy tea house.
Which is a perfect place to have an afternoon tea followed by a walk in a park rich in vegetation unique to the Brazilian flora.
Exercise in the middle of a road
Years ago, a governor of São Paulo built an elevated highway to connect the eastern and western parts of the city. The project was a good idea for the commuters, but not for the residents.
That's because this elevated highway, also known as Minhocão, was built among buildings, and in certain cases, it was only 3 ft (1 m) away from their windows.
As a way to bring joy back to these neighborhoods, the Minhocão is closed for cars on weekends. Now residents can enjoy street markets, barbecues, or ride a bike with their families. The idea is that this road will be a high lane park until 2029.
Anyway, go for a jog or ride a bike yourself while you spot locals just doing their thing as well as street art along the way.
Hike to the highest point in São Paulo City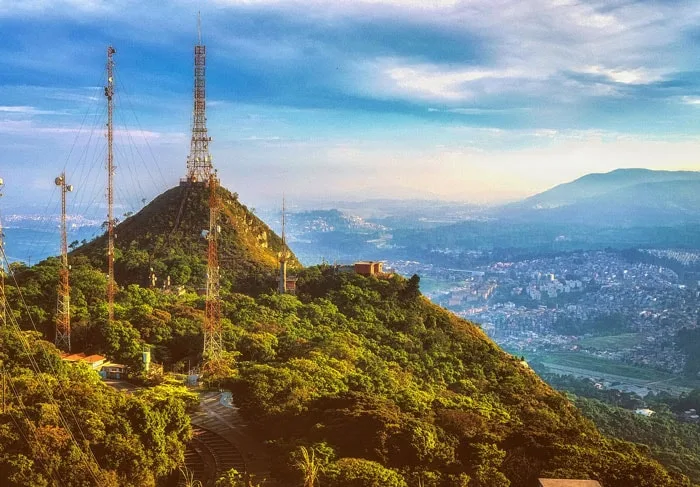 The Jaraguá Peak is located in the Jaraguá State Park in the west of São Paulo, and you can spot it from many buildings in the city.
However, if you hike to the peak's summit, you'll have a much better viewpoint. The good part is that this 2.2-mi (3.6-km) long hiking trail to the lookout is easy and well-marked.
At the end of the trail, follow the street to and after a parking lot to reach the lookout, where the massive tv antennas are. That's where you will finally find your reward—a beautiful panoramic view of São Paulo.
Tip from a local: Jaraguá Peak is one of the spots in São Paulo where lightning strikes the most, so if there is any chance of thunderstorms on the day you are planning to go there, do not climb the peak.
Have delicious bites in a traditional bakery
You can't go wrong here. At Bella Paulista, you can have traditional Brazilian bites but also choose among desserts, burgers, and more.
It's a 24-hour restaurant where many locals stop before/after going out or for a champions breakfast. Oh, and don't forget to have a good old cup of coffee.
Join a traditional Japanese celebration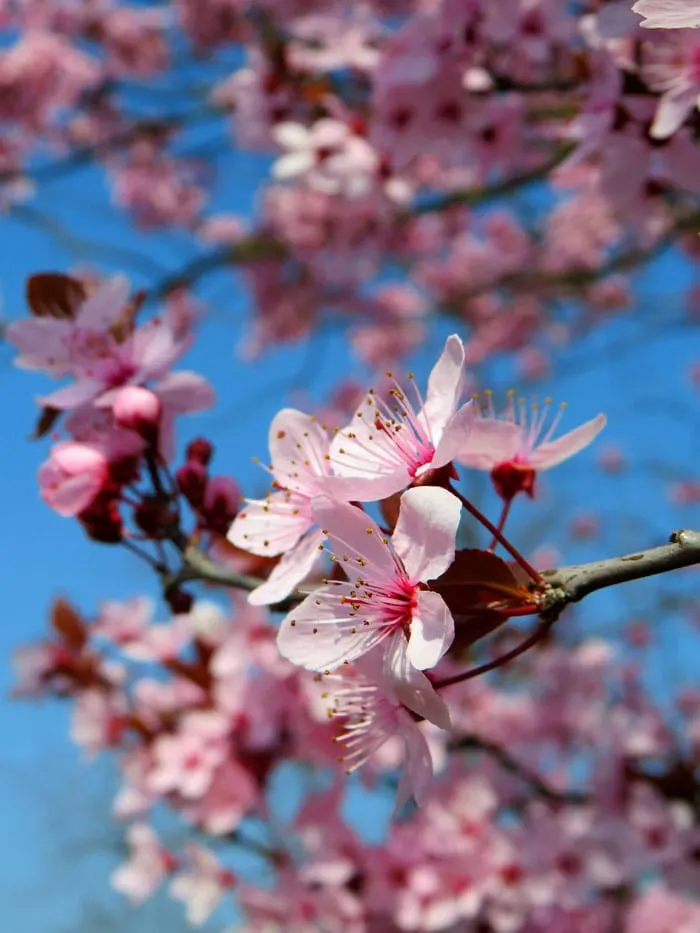 As I said before, the Japanese community in Brazil is the largest one outside of Japan. And that's the reason why we have some Japanese celebrations in Sao Paulo.
Every year on the first week of August, the Sakura and Ipê Federation—responsible for the diffusion of the Japanese culture in Brazil—celebrates the Cherry Blossom Festival at Carmo Park.
It's a beautiful place to take lots and lots of colorful photos and maybe go for a stroll with your significant other.
Tip from a local: The event attracts lots of people, so plan to arrive early in the morning.
Awaken all your senses in a samba school rehearsal
Between January and February, the Rosas de Ouro samba school has the technical rehearsals pre-carnival, which you can (and should) attend.
The atmosphere is friendly and you have only one obligation: have fun! The sea of colors, sounds, and emotions make this a once-in-a-lifetime experience.
In addition to that, this school organizes some samba parties throughout the year, too.
Read next: All holidays in Brazil to plan your trip
Learn about Brazilian and Latin culture in a dedicated center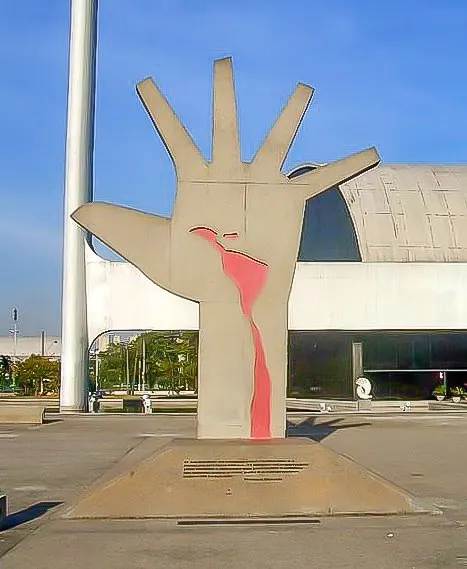 The Latin America Memorial hosts courses as well as cultural and artistic events about Brazil and Latin America. It's a unique complex with diverse buildings all dedicated to spreading the word about our culture.
A bleeding hand statue, a famous urban landmark of São Paulo, marks its entrance.
This statue was designed by the acclaimed Brazilian architect Oscar Niemeyer, and it's a symbol of the Memorial. It remembers the struggles for freedom of Latin Americans.
Enjoy São Paulo nightlife
Walk down Augusta Street (Rua Augusta) towards Downtown to find a bunch of clubs, shops, and eating venues.
This street begins in the center of the city, crosses Paulista Avenue, and continues through Jardins neighborhood.
While the second part of it, after Paulista Avenue, is casual and filled with some of the best restaurants in town, the Downtown part of it has an underground atmosphere.
From LP shops serving craft beer to theaters and excellent food trucks, Augusta Street is where you should go for a few beers during happy hour followed by a night out.
Stroll around a mall exclusively dedicated to rock 'n roll
Rock and hip-hop lovers will have a blast in this mall.
Rock Gallery is basically a 4-story shopping mall featuring clothing, skateboards, graffiti, music, and tattoo shops. All rock or hip-hop related.
Locals come here to look for rock 'n roll bands' t-shirts as well as rare LPs. Stroll around and stop by a store that piques your interest.
São Paulo travel resources
I want your trip to São Paulo to be remarkable. That's why I've created several resources that will be handy while planning your vacation, such as this article on where to stay in Sao Paulo, the best day trips, and how to choose the best guided tour.
I even wrote an inspirational guide to the best beaches in São Paulo.
Moreover, don't miss my article on the most essential Brazil travel tips, which is an excellent resource for first-time visitors.
If this will be your first time in Brazil, check out my Brazil trip checklist and this list of some of the best tours in the country.
For transportation, check out my guide to avoiding taxi scams in the city.
Inspired by this article about the best things to do in São Paulo? Then save it to your Pinterest or share it with friends!