Traveling to Manaus, Brazil, and want some tips? Here's a comprehensive article with helpful information!
Manaus is one of the most enchanting places to visit in Brazil, as it's one of the gateways to the majestic Amazon Rainforest.
There are many fun things to do in Manaus due to its size and location that you don't have to worry about getting bored.
This article will introduce you to what to do in Manaus, from shopping and meeting locals to exploring museums to learning more about the city and rainforest's history.
If you've been struggling to plan your itinerary, then you'll find this post super helpful!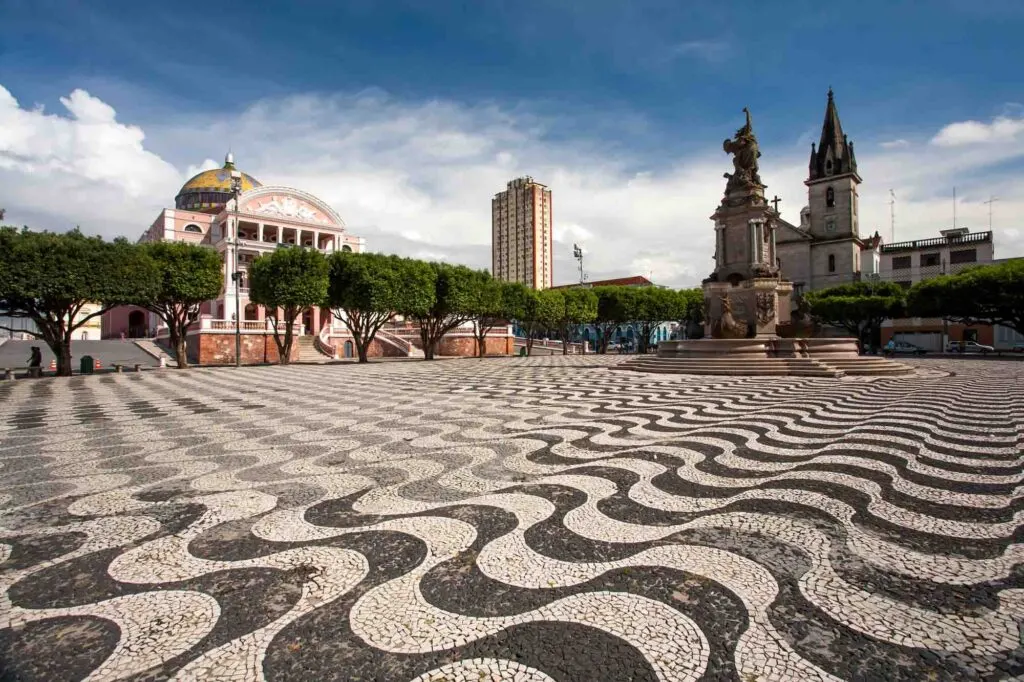 Manaus, Brazil – The Gateway to the Amazon
Anyone who loves nature will love Manaus, Brazil, because it's right in the Amazon Rainforest. Plus, the history and culture that the city is filled with will make you want to extend your trip.
When in Manaus, you'll be dazzled by the surprises of a unique region where nature imposes absolute sovereignty.
Famous for the biodiversity of the Amazon Rainforest with rivers teeming with fish and forests packed with all sorts of animals, Manaus is a mesmerizing place to visit.
Some travel to Manaus just in search of contact with nature – the Indigenous Brazilians know it well – but before you head to the city you should know that Manaus and its surroundings have much more than fauna and flora—they have a rich and colorful world of culture, history, Brazilian food, and beautiful people.
My Favorite Things to Do in Manaus, Brazil
Get to know the city – you'll want to join a city tour to fully get a grasp of Manaus. Only a local can tell you about the history and happenings of this place. In this 4-hour city tour, the guide will show you major landmarks in the city, including the majestic Amazon Theater. Click here to check availability.


Boat tour – the history of Manaus is seen on land and on water, after all, the largest river by volume runs by the city. This 9-hour boat tour will show you pink dolphins, an indigenous village, and take you to lunch in a boat restaurant (included in the ticket). It's a great way to spend a day seeing some of the most typical things from the region. Click here to check availability.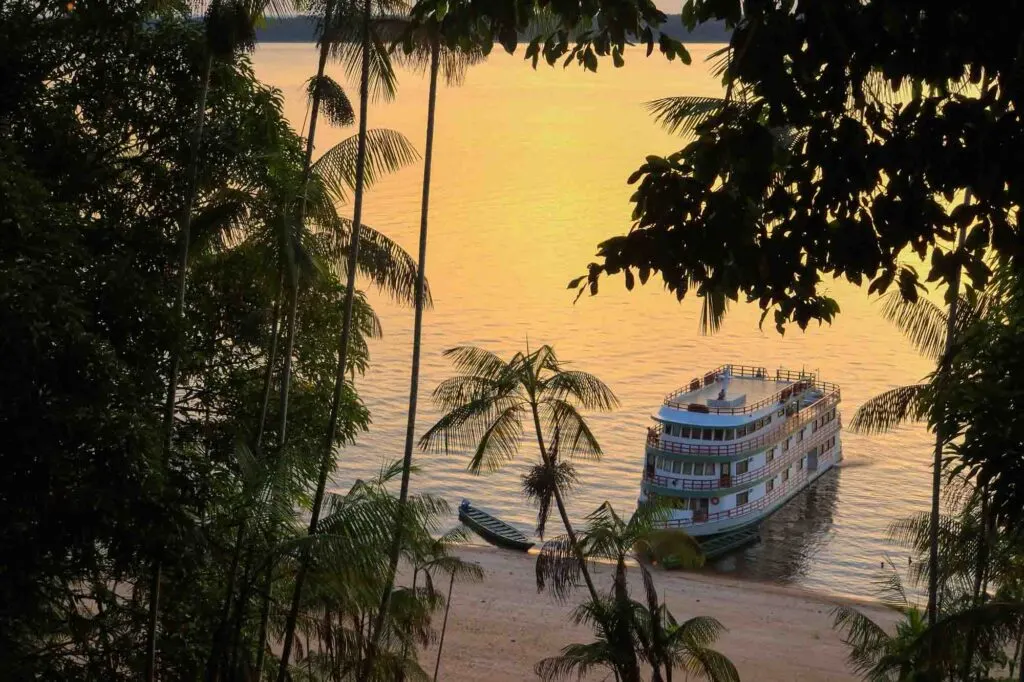 Where to Stay in Manaus, Brazil
One of the most overwhelming things for me when planning a trip is to pick a place to stay, especially when it's your first time in that town.
That's why I went ahead and I selected two excellent hotels that guests rave about. Both of them are in the heart of Paraty so you can do everything on foot.
Hotel Saint Paul (Booking.com | Hotels.com)

Excellent Location


This 3-star hotel has simple but clean rooms with all basic amenities like a minibar and air conditioning. It features a swimming pool, gym, and sauna. Breakfast included! Location-wise, it is very close to Amazon Theater and other attractions. Still, the cherry on the cake is the affordable rate!


Intercity Manaus (Booking.com | Hotels.com)

Comfy With Scenic Views


For a little more money than the hotel above, you can stay at this 4-star hotel with a skyline view of Manaus! It features comfortable rooms with beautiful decor, air conditioning, minibar, and more. On top of that, the hotel, which has facilities for disabled guests, also has a fitness center, rooftop swimming pool, and restaurant on site, It's a unique place to stay from where you can see the whole city! I love it!
Tours from Manaus to Nearby Places
Manaus is located in the Amazon Rainforest. Yeah, the so-called "lungs of the world." So take the opportunity to visit some interesting places nearby and get a glimpse of what life here really is like.
No National Geographic show will ever live up to experiencing it yourself!
Presidente Figueiredo – lying north of Manaus, this small town is surrounded by waterfalls, trails, caves, and wildlife. Day tours are usually small groups, and you get to experience the raw outdoors of the rainforest. The local guide will share his knowledge of the forest and wildlife with you, and that alone is priceless! Oh, lunch is included! Click here to check availability!


Amazon Jungle Tour – the queen of all tours in the region! This 2-, 3-, or 4-day tour in the Amazon Jungle is a true expedition. You'll stay in a jungle lodge and spend full days with a local guide while learning (and seeing) wild animals, like piranhas, alligators, colorful birds, and possibly more animals. With educational jungle walks and cruises, you will learn so much about the rainforest! Not only that, but if you choose the 3-day tour, you'll also visit natives in the forest. It's an experience beyond words! Click here to check availability!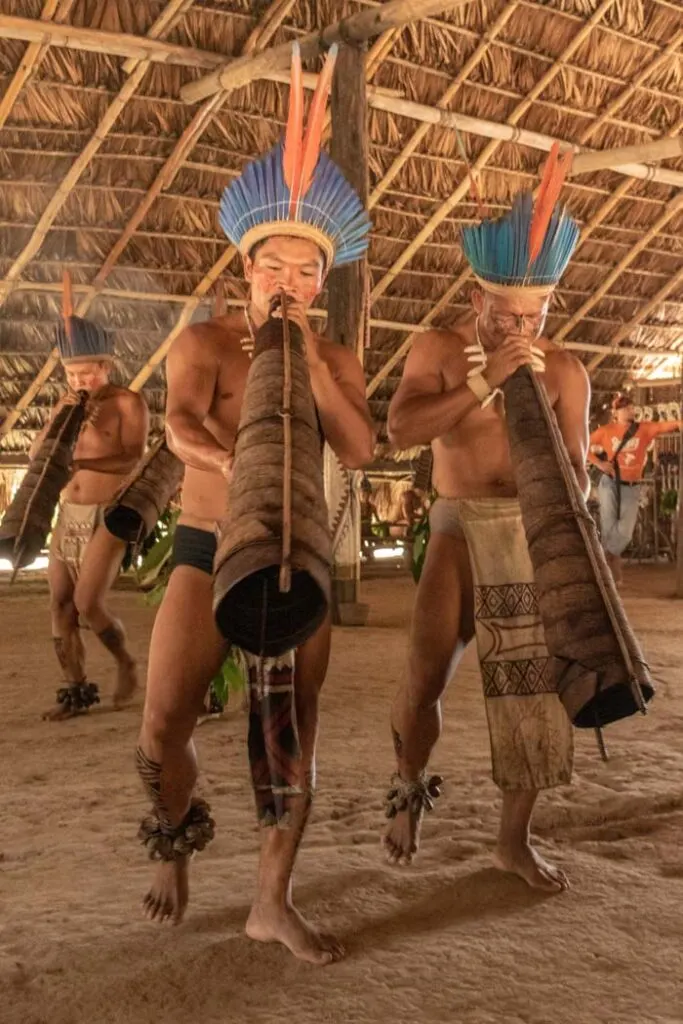 Best Time to Visit Manaus, Brazil
Manaus, Brazil, has two seasons: rainy and dry. Traveling in the dry or rainy season provides completely different experiences, which is why choosing the date of travel is so important.
In fact, I recommend that you visit Manaus in both seasons so that you can see the impressive change in the level of the rivers, namely a whopping 49 feet.
Over the course of the year, the temperature typically varies from 75°F to 92°F and is rarely below 73°F or above 96°F.
Best time to visit Manaus: June-August and December-February.
Driest months: June-November
Coldest months: January-April
Wettest months: December-May
Warmest months: July-November
As you noticed, it's warm all year-round in Manaus, with temperatures reaching their peak in September.
Carnival, known as Carnaboi, is a great time to visit because the party mixes Carnival with the rhythms of the ox of the famous groups from the Parintins Folklore Festival.
To catch the Amazonas Opera Festival, travel between April and May. At this festival, you can see many national and international artists.
Visiting Manaus at the end of October is a guarantee of hearing about the Festa do Boi. Singers and boi-bumbá bands cheer up the public at the Sambadrome.
19 Fun Things to Do in Manaus
Here are my favorite things to do in Manaus, Brazil, that you won't want to miss while in the city. Enjoy!
1. Shop at Adolpho Lisboa Market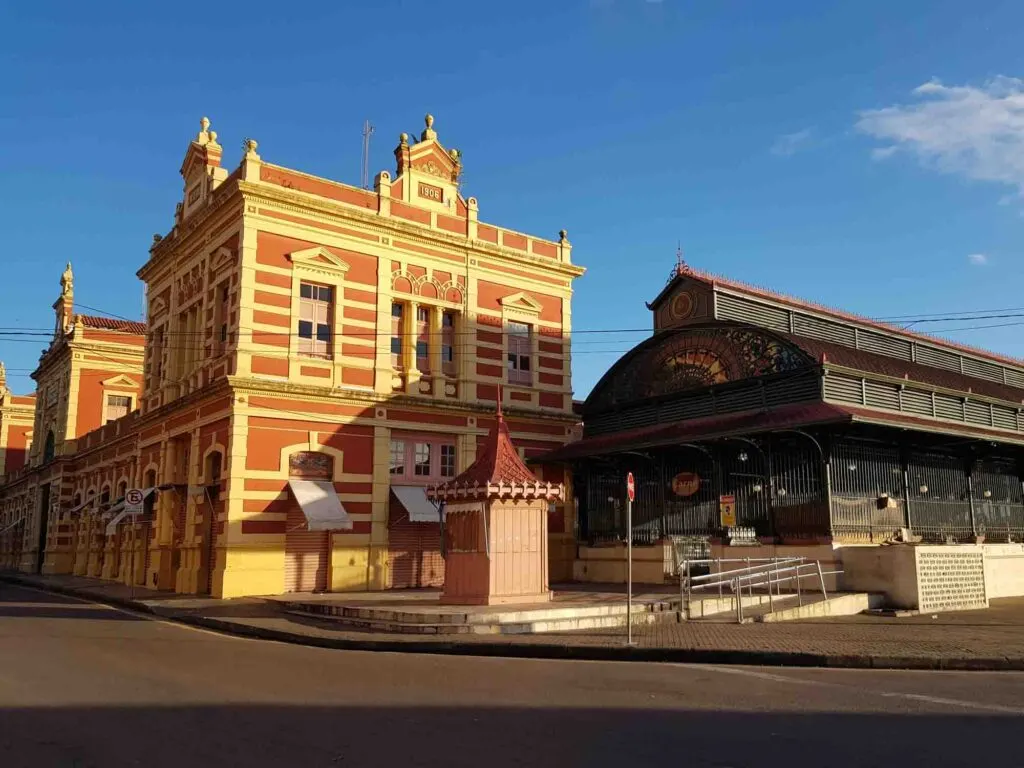 One of the best places to go in Manaus is the Adolpho Lisboa Market. This market is inside a grand building that will surely take your breath away from the outside, but the fun doesn't stop there.
Inside, you'll find some of the best souvenirs in the entire city.
There are also tons of vendors selling fresh food (like fish, which is excellent if you have an Airbnb and can cook for yourself) and other great meals and drinks.
2. See a Performance at Amazonas Theater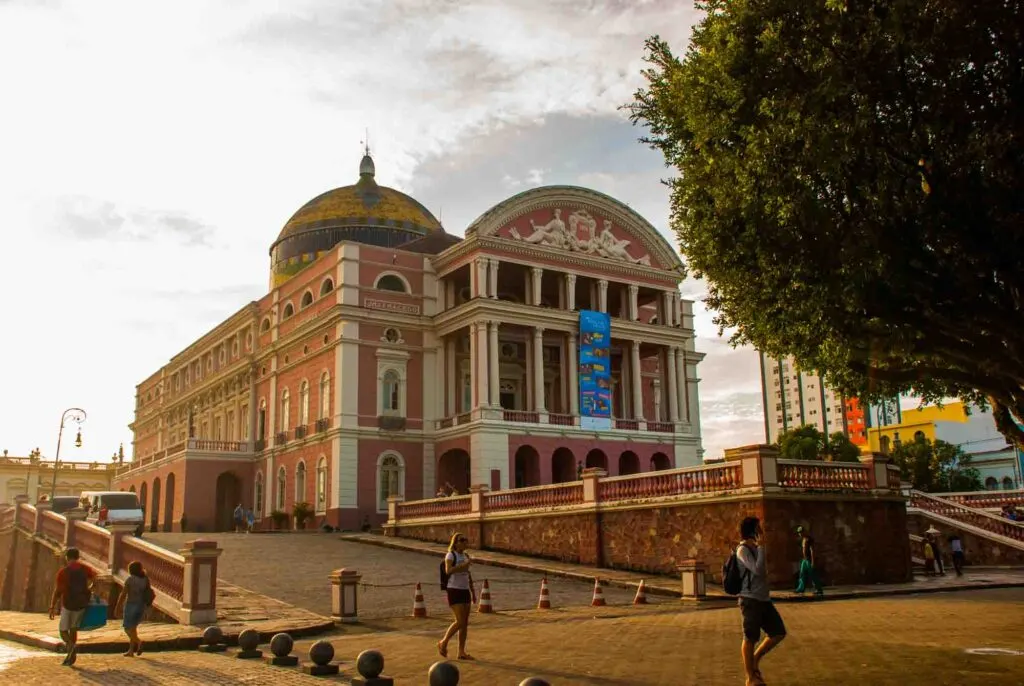 When visiting Manaus, you'll want to see a performance at Amazonas Theater if you can!
This 19th-century theater is built in the Renaissance style of architecture and will make you completely forget that you're in South America.
The theater is mainly an opera house but also occasionally hosts other concerts. If you want to see a show, be sure to book tickets ahead of time.
Otherwise, you can also consider going on a tour of the building to learn more about it, the shows that it hosts, and its history.
3. Spend a Night in a Jungle Lodge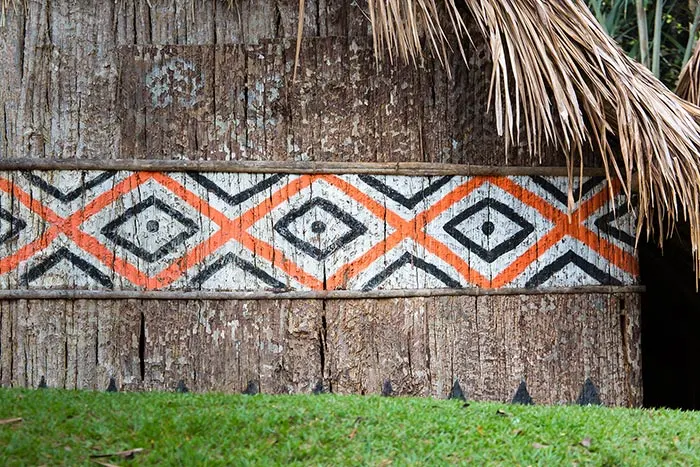 If you want a true adventurous hotel experience, consider staying in a jungle lodge. There are quite a few throughout Amazonas, but their prices vary a lot—usually on the higher side.
If you're taking the multi-day tour I mentioned at the beginning of this post, you will stay at the Anaconda Lodge, which is a mind-blowing experience.
Still, if you're not going on that tour, you might consider staying in the Dolphin Lodge, one of the most popular ones in the region.
They offer a free shuttle from Manaus and once you arrive, you're greeted with a rustic place that looks a lot like local's homes in some regions.
Plus, you may also be able to have a fun jungle experience depending on your length of stay.
You really feel like you're in THE Amazon Rainforest. Breakfast, lunch, and dinner included. There's no minimum stay like many other Amazon lodges.
Click here to check availability
4. Adventure Through Ecological Park Januari
Visiting the Ecological Park Januari is easily one of the top things to do in Manaus.
This park is the perfect way to explore more of the nearby nature that's pretty reminiscent of the Amazon in some spaces.
Overall, Ecological Park Januauri covers approximately 9000 acres, so the area to explore is literally endless, and you could spend at least a day or two exploring it.
One thing you'll want to be on the lookout for during your visit to the park is the giant water lilies. Some of them are even around eight fees at their widest!
5. Learn the Rubber History of Manaus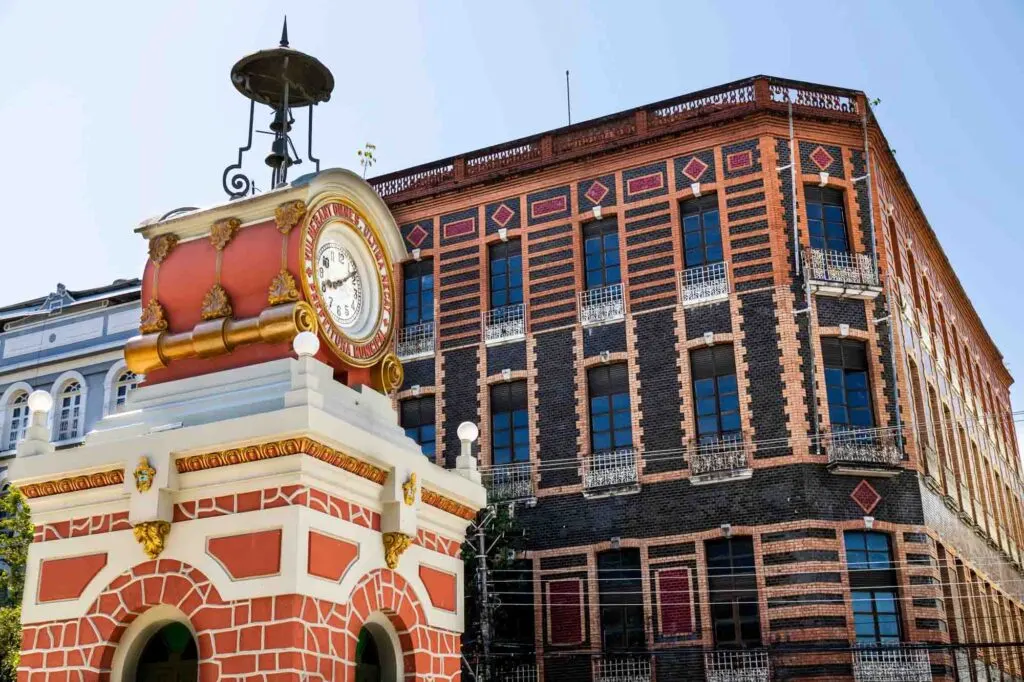 Take the time to learn all about rubber history by going on this tour with a local guide.
This tour takes approximately 4 hours, and the local English-speaking guide will take you around the city, showing and telling you the history of many landmarks.
Obviously, you'll also learn about Manaus's rubber history since it's such an essential part of its past.
6. Learn About the Flora at Amazonia Museum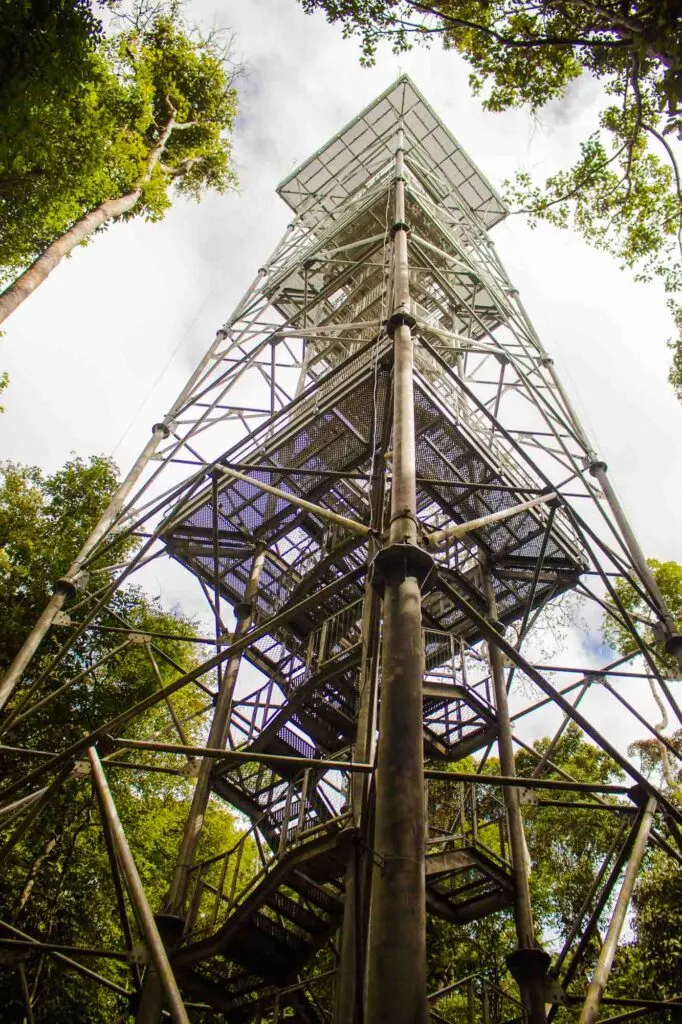 The Amazonian Museum is not your average museum, which is why it deserves a spot on this list of things to do in Manaus.
It's essentially a vast nature park and botanical garden covering around 250 acres of land.
Throughout the museum, you'll find excellent trails that will allow you to explore the area fully. Be on the lookout for the beautiful flora and fauna and the wildlife, like the birds and frogs.
Don't miss out on the observation tower, which lets you see everything from a fantastic vantage point.
7. Head to the Amazon Waterfalls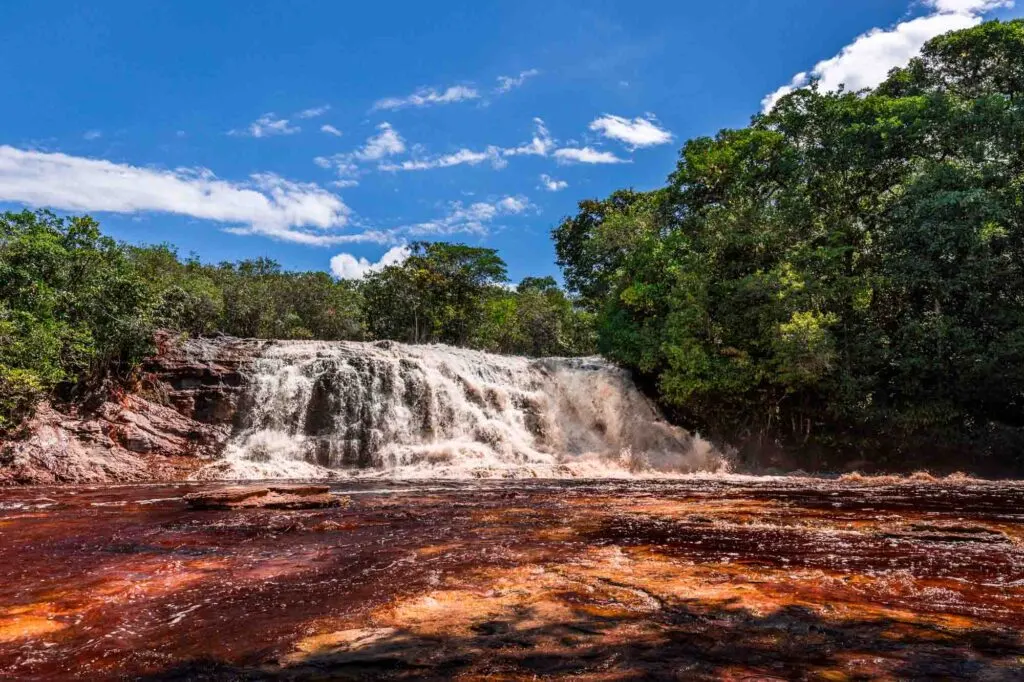 The Amazon region is so rich that you can find many rivers, wild animals, colorful plants, magic waterfalls, and more.
To get up close to the Amazon Waterfalls, you'll want to book this tour. The tour in total takes about nine hours and also includes a car pickup, so you don't have to get there on your own.
You'll receive a mobile ticket, and you'll be able to visit a few different natural areas, including a cave, Gruta do Refugio do Maroaga, the Amazon rainforest jungle, and the Presidente Figueiredo waterfalls.
Tickets start at $70, but because it's all-inclusive, it's so well worth it.
8. Marvel at the Manaus Cathedral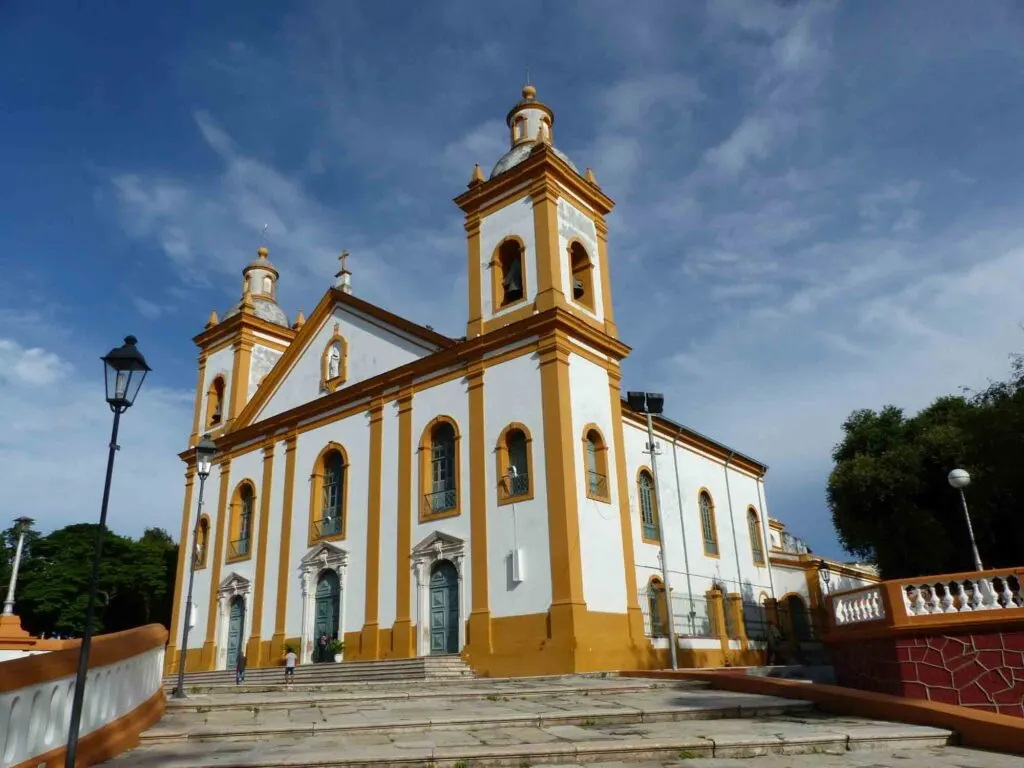 The Manaus Cathedral is stunning from both the outside and the inside. It has roots dating back to the 17th century, but the original cathedral was unfortunately burned down in the 19th century.
The version that stands today was built in the late 19th century and recently became a cathedral within the past one hundred years. It's a beautiful Greek architecture building with gold accents on the outside.
Be sure to check out the six bells which were imported to Manaus from Portugal.
9. Visit an Indigenous Tribe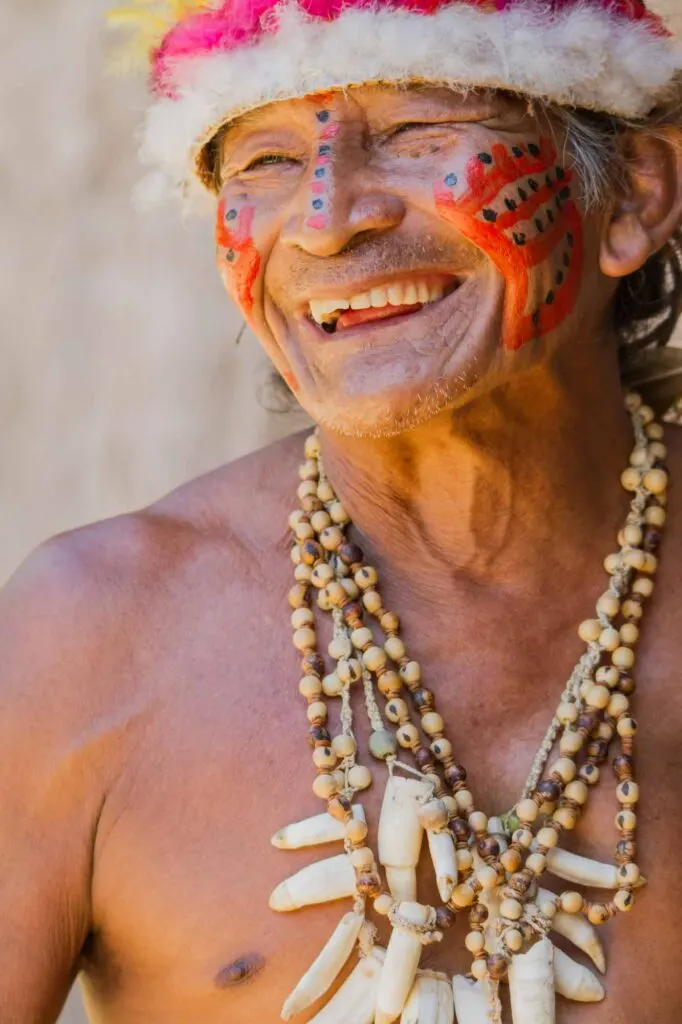 You can't not visit an Indigenous tribe while in Manaus. The tour I mentioned above, the boat tour, takes you to see the traditions and rituals in an indigenous tribe in the Amazon.
However, if you want to see one of the craziest traditions, visit the Sateré Mawé Tribe.
They perform a ritual for the initiation of their members, which consists of putting a young adult tribe member in a wooden glove-like object filled with tucandeira ants, if they can handle the pain until the end, they pass the test. It's like a National Geographic episode. Seriously.
Tickets start at $150 per person, and the tour is approximately six hours long. During the day, you'll be able to meet the Sateré Mawé Indians and learn a lot about local life.
Food, water, and transportation are included in the ticket price.
Click here to check availability
10. Explore the Historic District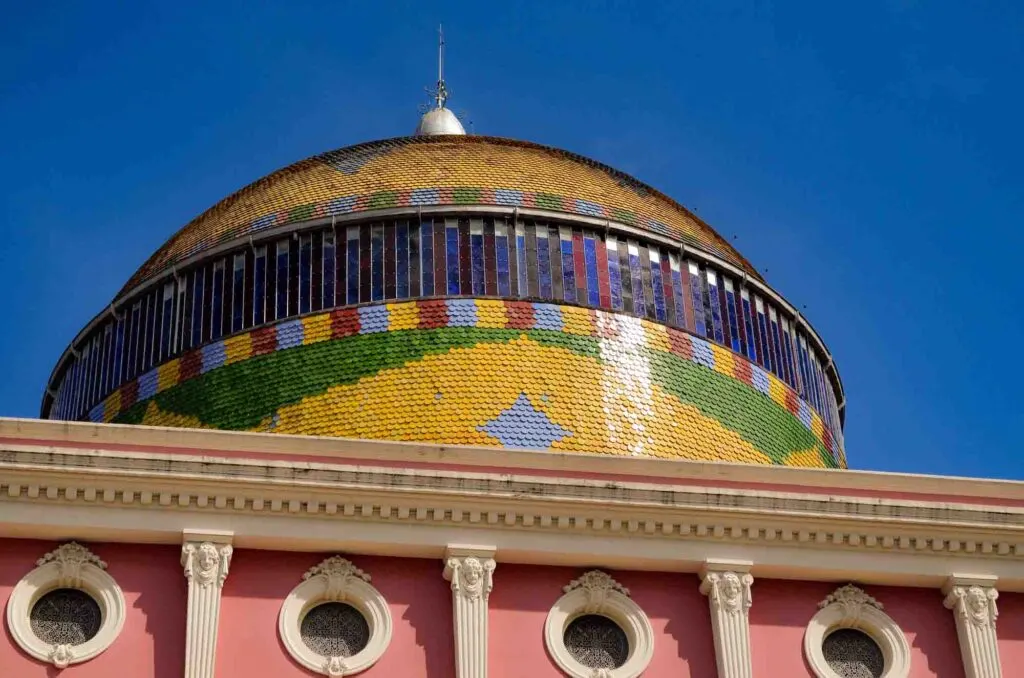 Head to downtown Manaus to explore the Historic District, one of the best things to do in Manaus. This area is filled with some of the most historical sites to see in the entire city.
The best way to explore this part of the city is to go in without much of a plan. That way, you can kind of wander around and explore on your own to see what you might stumble upon.
You'll also definitely want to bring your camera on this part of the trip, so don't forget to bring one.
11. Have Soup at Tacacá da Gisela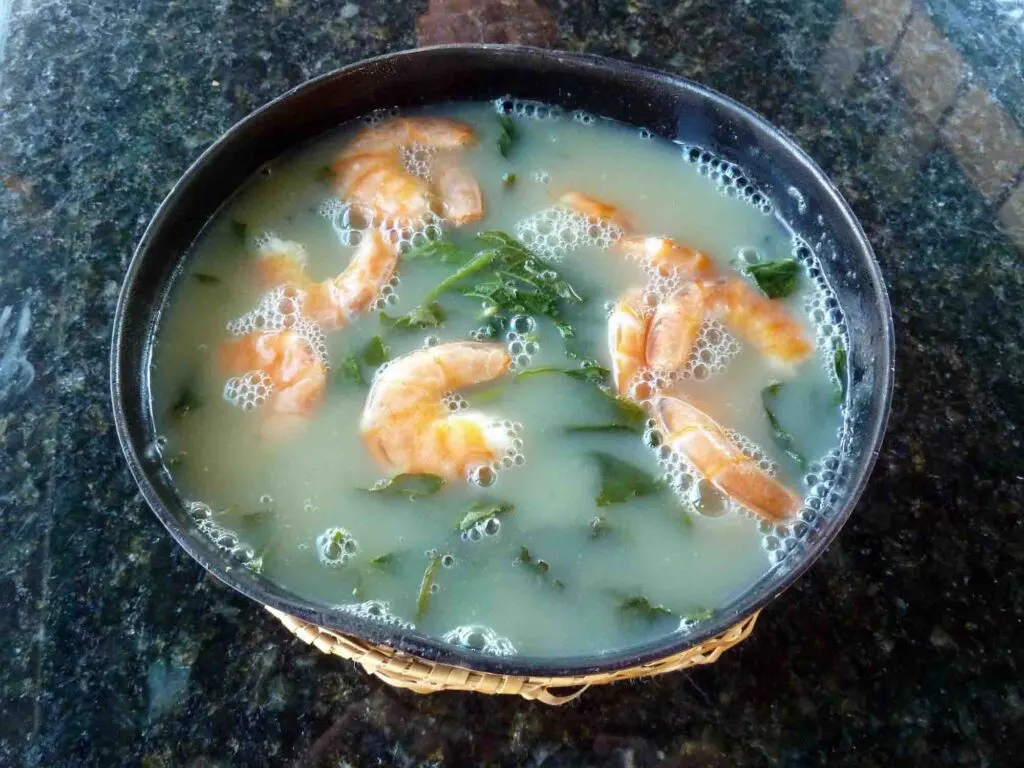 Arguably the best place to have some regional food in Manaus is Tacacá da Gisela. It's located in the Centro neighborhood, so it's near some other wonderful attractions in the city.
This restaurant is most well known for its soup with shrimp, broth, and veggies. Plus, it's essentially just a food vending stand (that's permanently there), so you know that you're getting good, local food.
The taste of the soup is very different, but it's so worth trying because it's also delicious. After you grab your soup, head over to the square to enjoy it.
12. Discover the Wonders of the Amazon – Anavilhanas Nature Reserve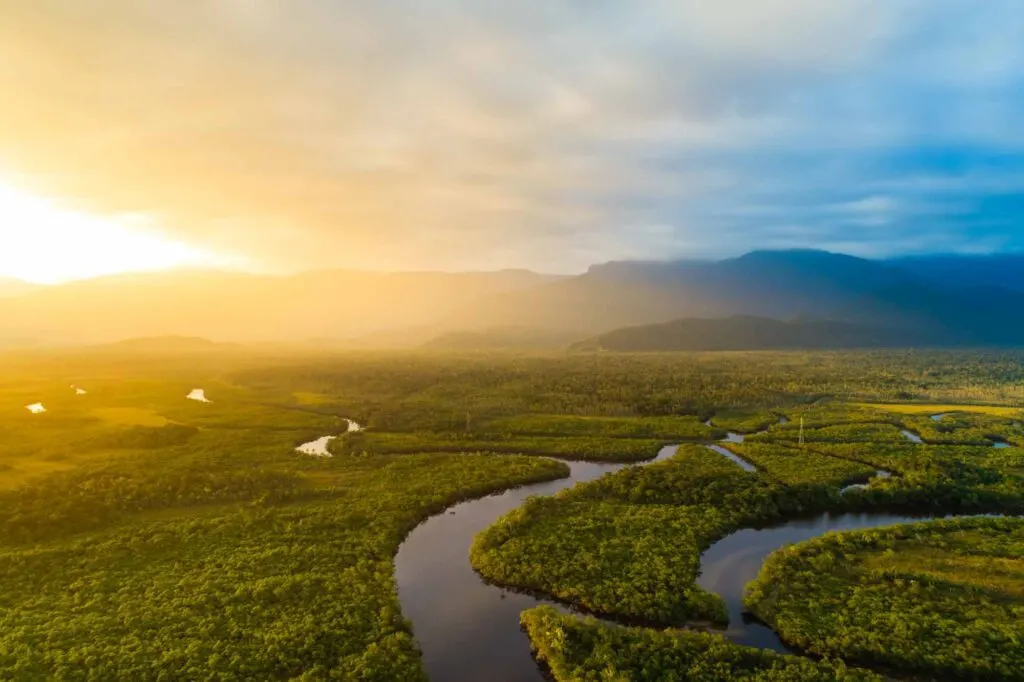 One place you absolutely won't want to miss out on is the Amazon jungle during your visit! The easiest way to see it is by booking a tour like this one.
Tickets start at $150 per person, and the tour lasts almost a full day. On the tour, you'll visit Anavilhanas Archipelago, go on a jungle trek, and have an Amazonian lunch.
If you wanna have a once-in-a-lifetime experience, this 8-hour tour is what you need!
Plus, transportation from and to the hotel is included, so you don't have to worry about that in order to go on this tour.
Click here to check availability
13. Visit Rio Negro Palace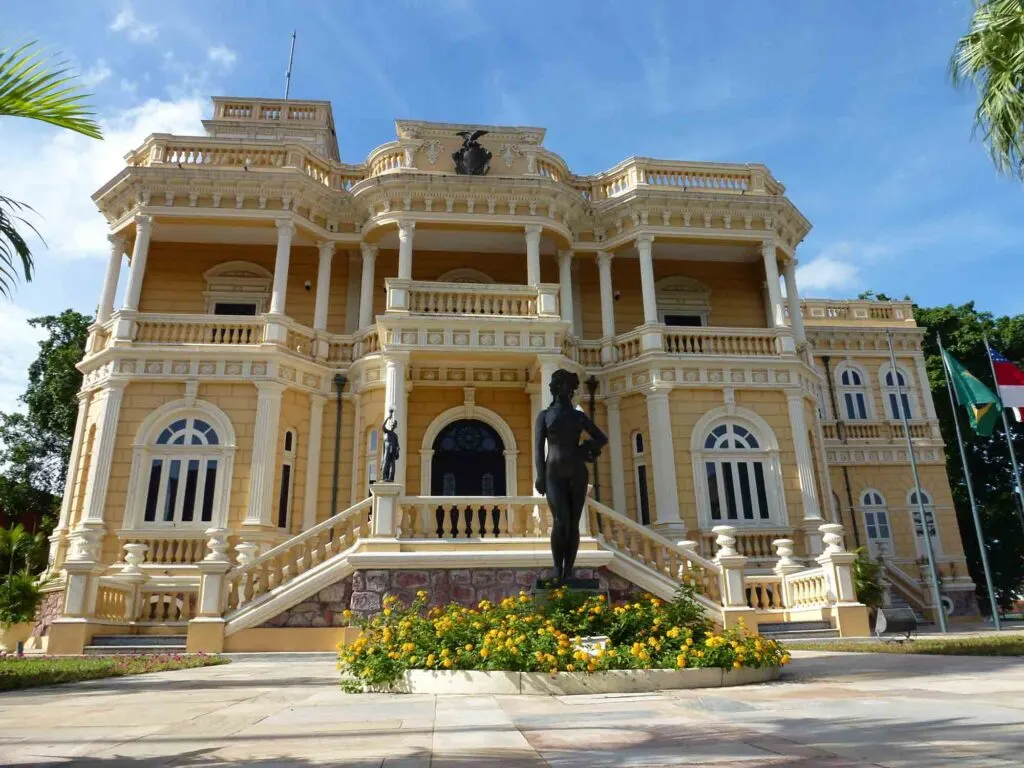 Rio Negro Palace is an early 20th-century building that currently serves as a governmental building, mainly where the Amazonas state governor lives throughout the year.
This building, in particular, is considered to be one of the most important buildings in the city, which is why it's one of the top tourist attractions in Manaus.
While it mainly serves as a residence, it's often open to the public for different cultural events, so be sure to pay attention to the city calendar.
14. Check Out the Exhibits at the Museum of Northern Man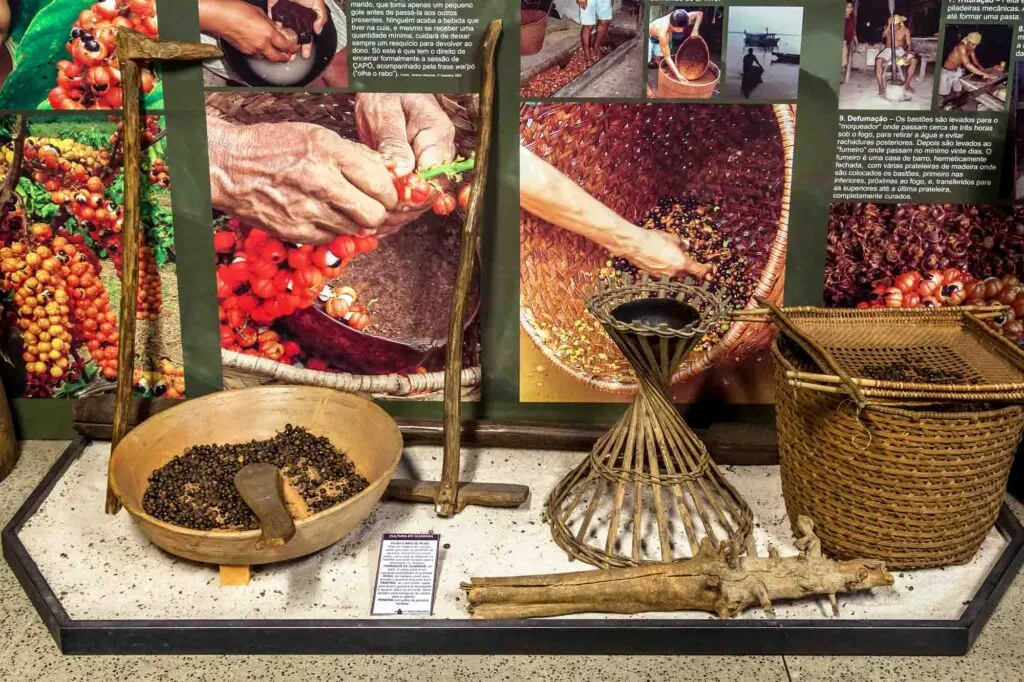 The Museum of Northern Man or Museu do Homem do Norte is a museum dedicated to the life and development of the northern region of Brazil.
If you want to learn more about the Indigenous people by the Amazon River or the traditions of this area, then this is the museum that you'll want to visit.
You'll find around 2,000 different artifacts in both indoor and outdoor exhibits throughout the museum.
Arguably the outdoor exhibits are the most eye-catching and enticing, as some of them are recreations of villages that you can walk right into!
15. Discover History at the Museum of the Indian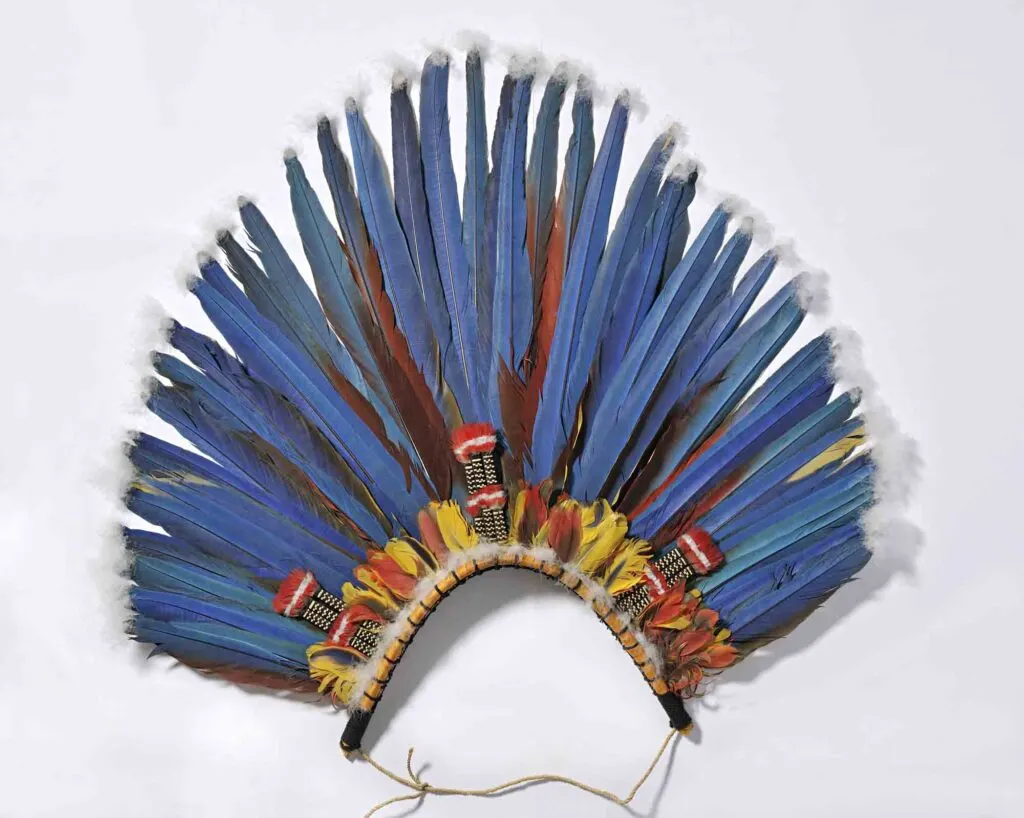 Another great museum to visit in Manaus is the Museum of the Indian. This museum is quite small, so it's not going to take very long to explore, but it's still very much worth visiting.
In the museum, there are many exhibits dedicated to the lives of the Indigenous people in the area.
This is often a common spot on tours of the area, so try to visit earlier in the morning when they first open to avoid the tour groups because it can get cramped.
If you have any questions at all about the Indigenous people of the area, this is a great place to ask and learn more.
16. Relax on Ponta Negra Beach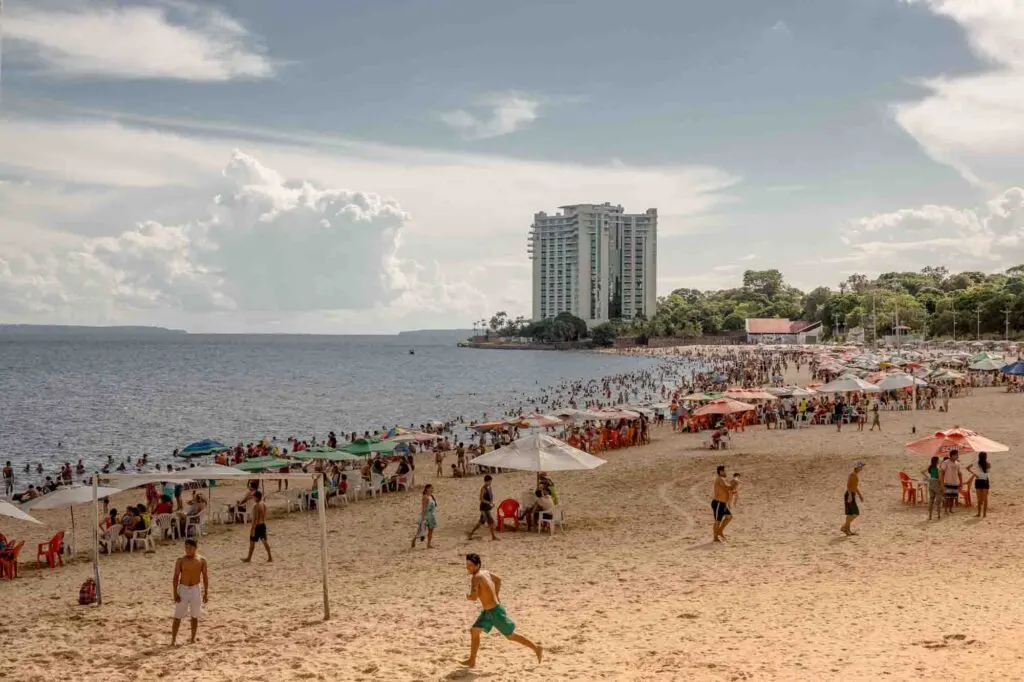 One of the most beautiful places in all of Manaus is Ponta Negra Beach. You could totally spend an entire day here just relaxing on the beach because of its true beauty.
There are tons of day beds with umbrellas at the beach that you can rent if you want to sit out and relax. Of course, you could also spend some time swimming and having fun on and around the beach!
Should you be traveling to Brazil with family, especially young ones, then this could be a great way to keep them entertained.
17. Uncover Science at Bosque da Ciência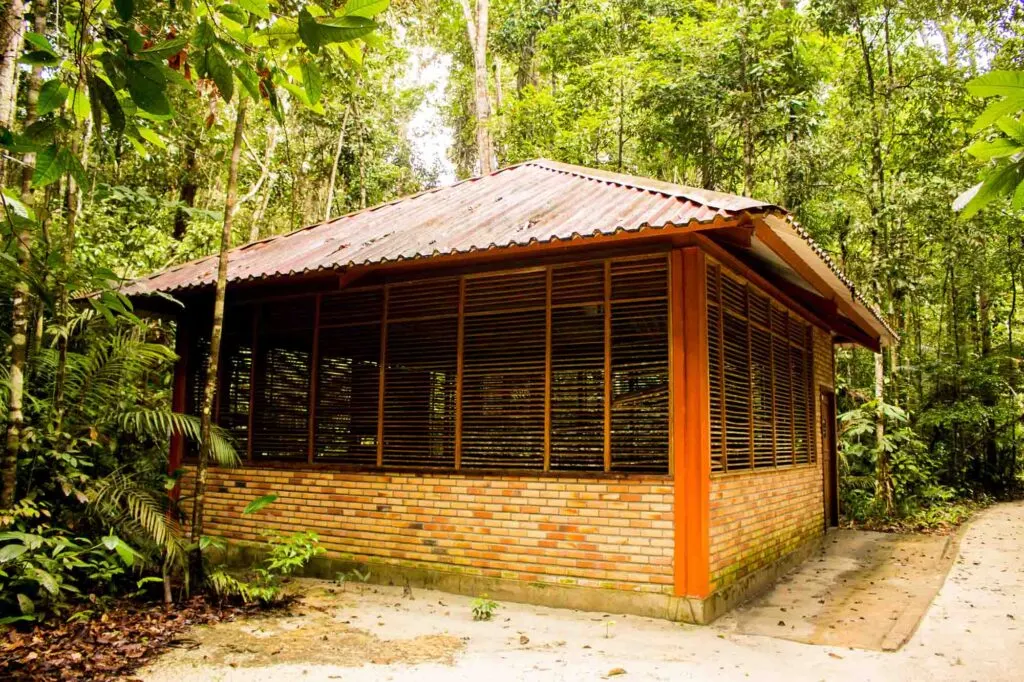 Bosque da Ciência, also known as the Science Forest, is an entire experience that's all about science in the area of Manaus.
This covers wildlife, plant life, and more in the area, making for a fascinating visit.
Arguably one of the things that people love most about visiting here is all of the animals.
If you love visiting zoos or learning more about animals, then you're going to love this attraction. You'll be able to find otters, turtles, and even manatees!
18. Snap a Photo at the Meeting of the Waters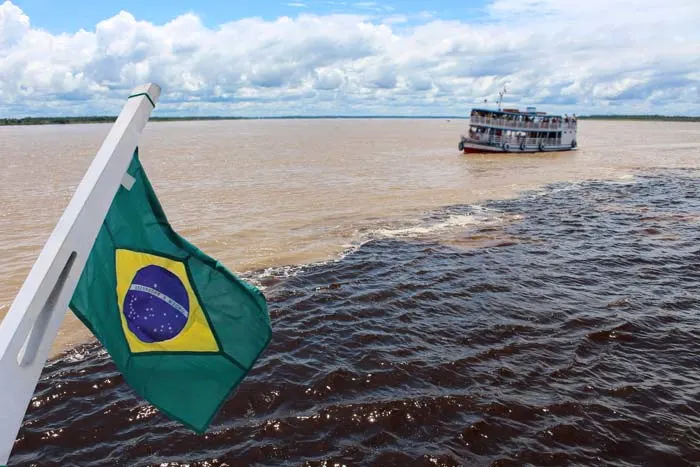 The Meeting of the Waters is one of the most fascinating natural wonders in Manaus and the surrounding areas.
It's essentially where the Amazon River and the Rio Negro meet.
What's so marvelous about this natural attraction is that the Rio Negro is a super dark-colored river while the Amazon River has a sort of sandy brown tint to it, yet you can literally see how the rivers connect. It's such a cool thing to witness, so be sure to book a boat tour in advance!
This is one spot that you'll definitely want to visit with a camera.
19. Wander Through Jaú National Park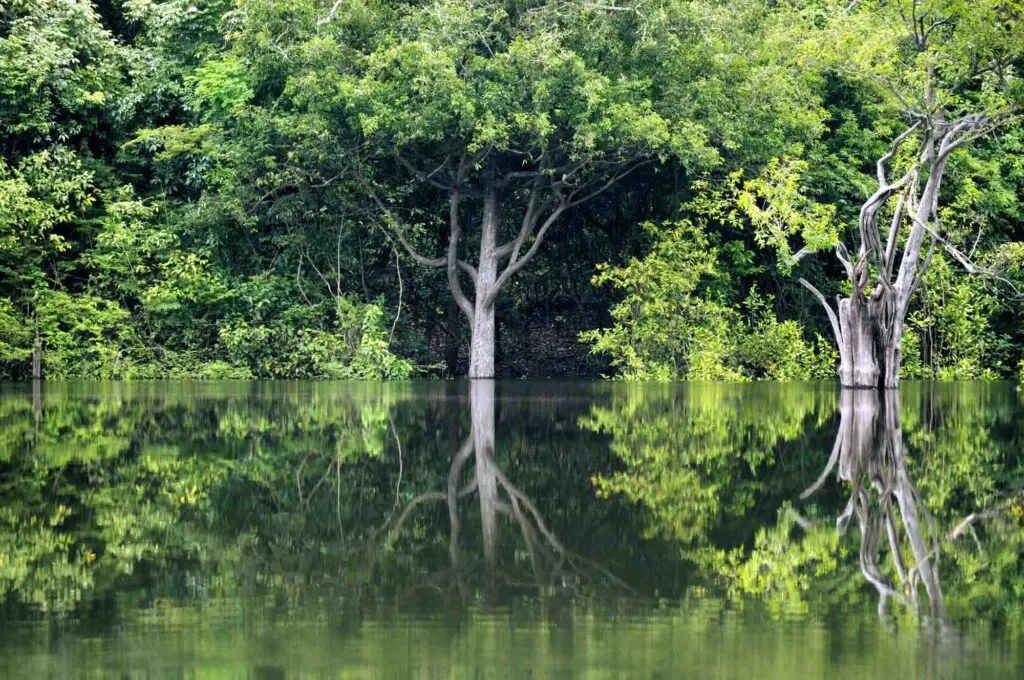 Jaú National Park is another of the great natural wonders in the area. This national park is inside the Amazon Rainforest, so its beauty is incredible.
It's one of the biggest forest areas in all of South America and covers more than 5 million acres of land.
Throughout the park, you'll be able to find trees that you can climb, watery areas, and interesting vegetation. If you're lucky enough to catch the sunset here, it's truly beautiful!
Wrapping Up on Manaus, Brazil
As you can see, there are so many fun things to do in Manaus, Brazil. No matter what kind of interests you have, you'll surely find something on this list to keep yourself entertained during your trip to Manaus.
As always, don't forget to save this post for later and also share it to help another traveler out.
If you need more tips on planning your trip to Brazil, feel free to browse the blog. I'm always writing about travel tips and new places as I visit them.
Happy travels!