Ilha Grande, Brazil, is one of the best places to visit in the country for a beach vacation.
The pristine beaches are dotted with palm trees and wildlife while also being home to significant aspects of Brazilian culture.
If you have never been to Ilha Grande before, you won't regret getting it on your bucket list!
Ilha Grande is an island off the coast of Rio de Janeiro State that has everything you could hope for in a vacation to Brazil.
This island paradise is surrounded by pristine beaches, crystal clear waters, and an array of wildlife, which will provide countless opportunities to explore the diverse ecosystem.
There are also many different activities to indulge in during your stay in this tropical paradise, including scuba diving, hiking, or just relaxing on some of the best Brazilian beaches. The choice is yours!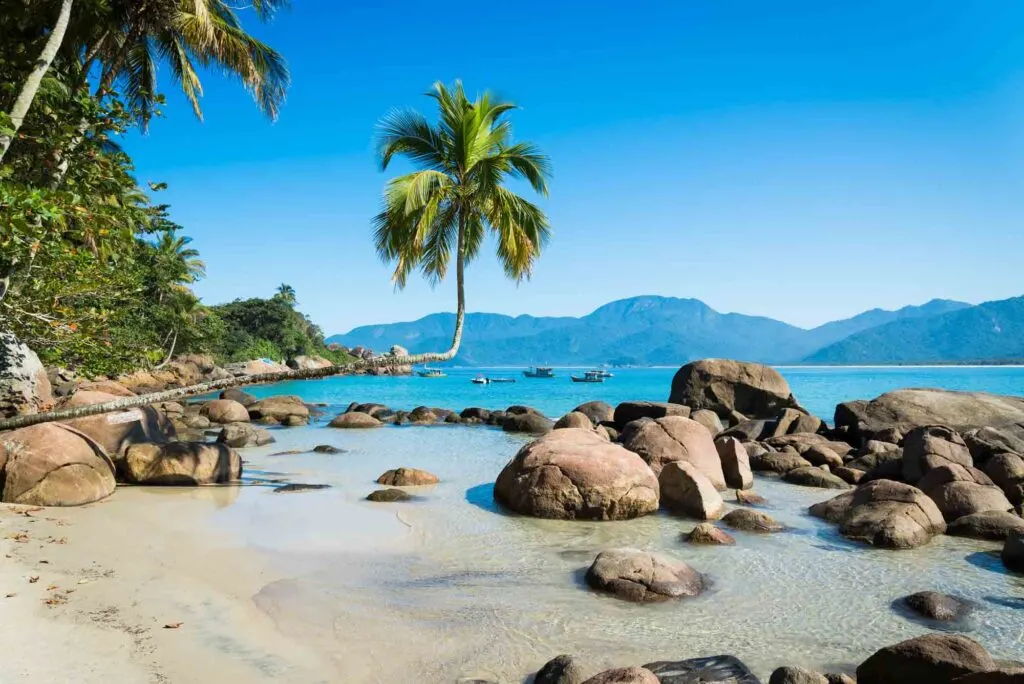 Visit Ilha Grande, Brazil
Together with Paraty, Ilha Grande is a culture and biodiverse heritage site, according to Unesco.
It's not just an area that houses beautiful natural scenery but also cultural assets. These towns attest to the occupation of this land by indigenous Brazilians and then later on by European settlers and African slaves.
The surrounding Atlantic Forest, one of five top global biodiversity hotspots, is highly rich in endemic species, unique landscapes, and varied ecosystems that occupy areas from sea level to up to 1.3 miles high.
Where to Stay in Ilha Grande, Brazil
When looking for places to stay in Ilha Grande, you can book accommodation on a secluded beach somewhere around the island. However, you're better off staying in Vila do Abraão, so you're close to many restaurants and venues.
Here are a few top-rated places to stay in this area:
Hostel Refúgio (Booking.com | Hotels.com) – excellent hostel for those traveling on a shoestring. Guests rave about the facilities, cleanliness, and comfort. Besides, it's located within a 5-minute walk to the beach. But, WiFi might be unstable. Always good to know, right. But hey, the breakfast buffet is highly reviewed! Click here to book it.

Pousada Casablanca (Booking.com | Hotels.com) – this cozy inn is in the middle of town, only two minutes from the beach. The breakfast, decoration, overall facilities are also worth the money. WiFi might be unstable here too, but don't forget you're pretty much on an undeveloped (and relatively unspoiled) island. Click here to book it.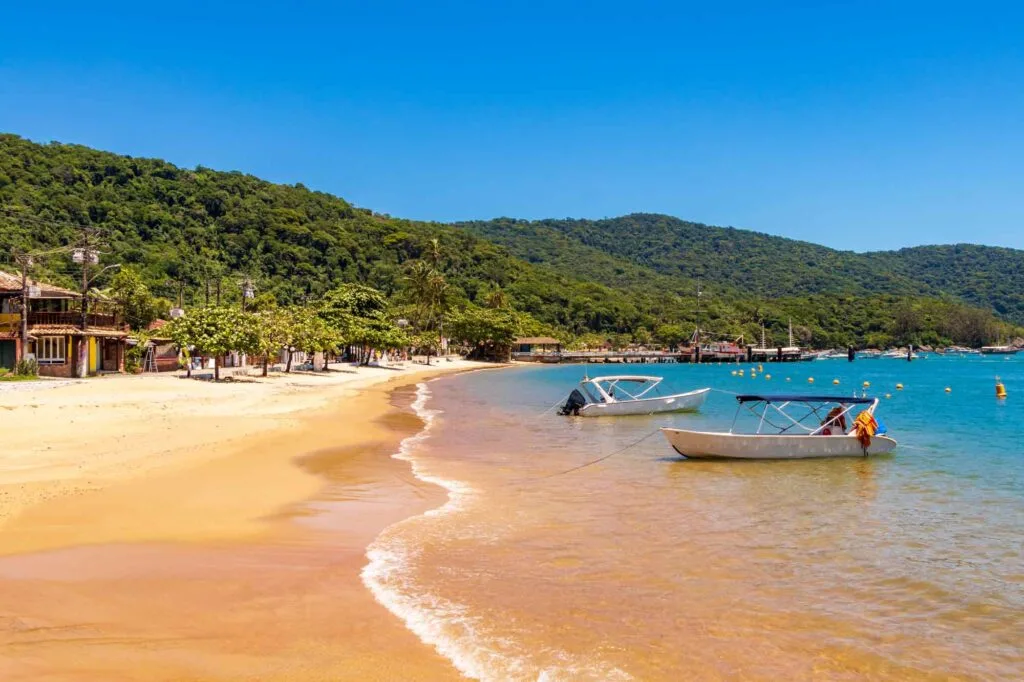 How to Get to Ilha Grande from Rio de Janeiro
Most people departing from Rio de Janeiro City take a bus from Novo Rio Station, then there are three locations from where you can take the ferry or fast boat to the island. Each has pros and cons, as I'll talk about below.
Alternatively, you could go on a 14-hour boat trip from Rio de Janeiro City. This tour is ideal if you're short on time and really want to visit Ilha Grande.
Further out, there are a few types of boats offered for the journey between the mainland and Ilha Grande, especially when comparing ferries (public transportation), schooners (private transportation), and fast boats (fast boats for private transport).
If your budget allows, give preference to fast boats. They are safe and make the journey in a much shorter time. Ferries and schooners tend to rock on rough seas, making the trip unpleasant, especially on open sea routes.
It is worth mentioning that there is also an offer of private transfers from Rio de Janeiro, Arraial do Cabo, Cabo Frio, and other cities in the state. If you prefer, you can hire a driver plus marine transportation.
Those traveling by car can park (paid parking lots) near the departure ports, as no vehicles enter Ilha Grande.
The main port of arrival on Ilha Grande is Vila do Abraão, where most of the hostels and inns are located. It is there that most tourists disembark, but you can also disembark at Araçatiba/Praia Vermelha, Bananal, and Praia do Aventureiro.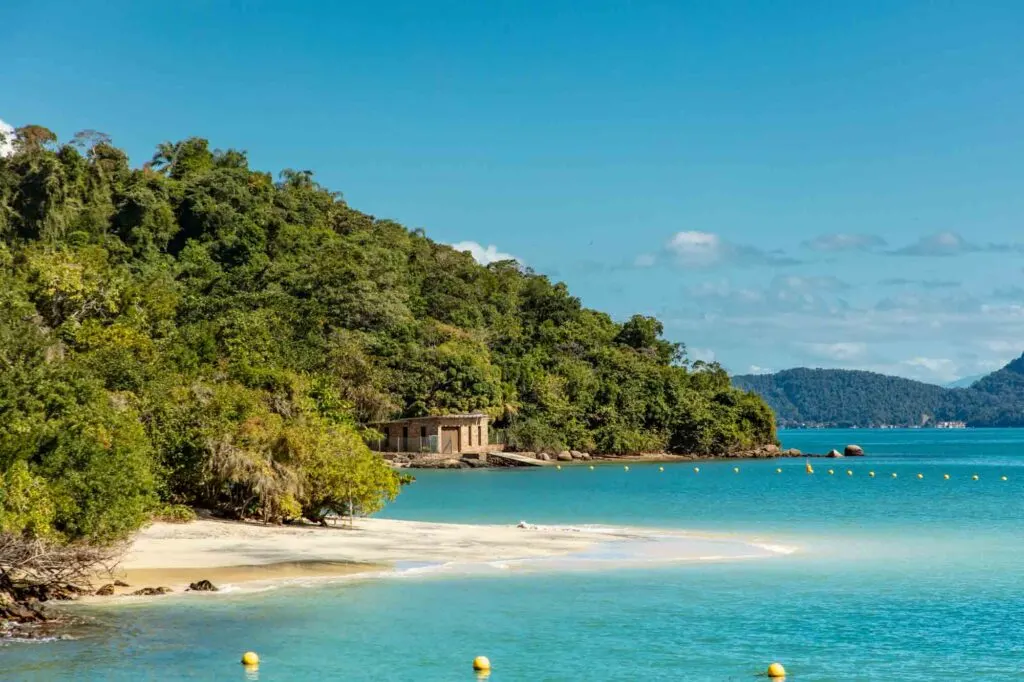 Mangaratiba
The closest embarkation to Rio de Janeiro is Mangaratiba, located 62 miles away from Rio de Janeiro.
This is the closest route for those arriving from Santos Dumont, Galeão, or Novo Rio bus station, but it has the longest boat journey and only one-time option per day.
To get there, take a bus from the Novo Rio bus station toward Mangatiba.
The route, operated by the Costa Verde bus company, takes an average of one and a half hours.
Ferries take an average of one and a half hours to reach Ilha Grande.
Conceição de Jacareí – Best ferry for tourists arriving from Rio
Conceição de Jacareí, located just 9.3 miles farther, has the shortest boat route and many boat schedule options.
To get there, take a bus from the Novo Rio bus station toward Angra dos Reis. Ask the driver to get off at Conceição de Jacareí (at km 455 of the BR 101 – Rio-Santos highway).
The route, operated by the Costa Verde bus company, has a travel time of two hours. Once you get off the bus, it's a five-minute walk to the pier.
Fast boats take only 15 minutes to reach Ilha Grande, while schooners take an average of 50 minutes.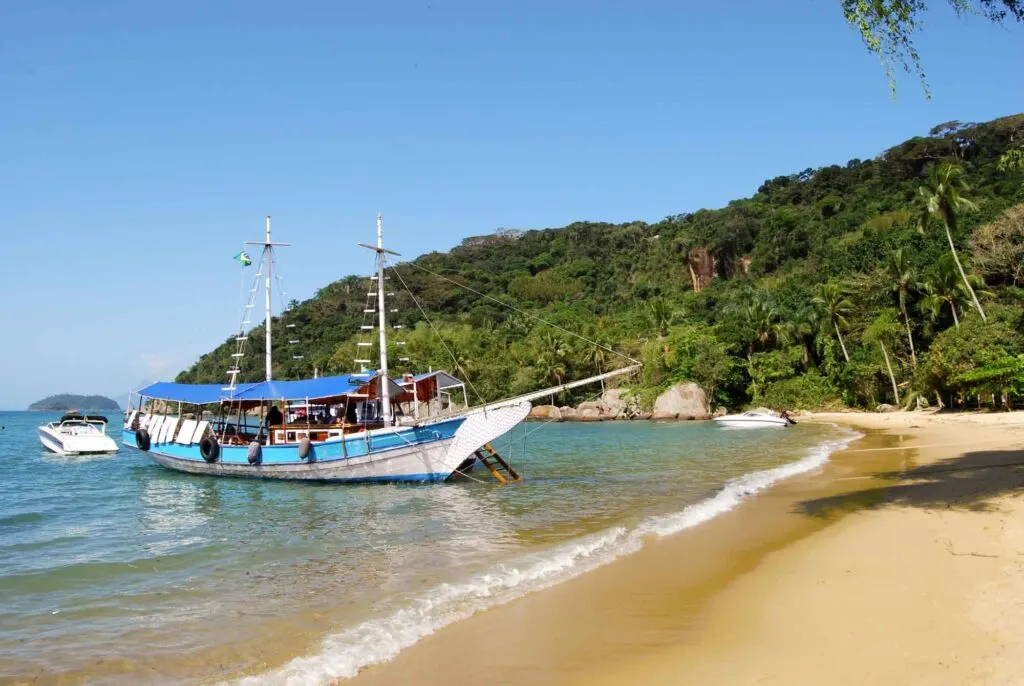 Angra dos Reis – Best ferry for tourists arriving from São Paulo and Paraty
Angra dos Reis also offers several boats and, although farther from Rio de Janeiro, it is the closest for those arriving from Paraty and São Paulo. This is the best option for those who get seasick quickly on a boat to get to Ilha Grande because it's a relatively calm route.
To get there, take a bus from the Novo Rio bus station toward Angra dos Reis (the same one that drives past Conceição de Jacareí).
The route, operated by the Costa Verde bus company (tickets here), takes an average of three hours. Once you get off the bus, take a cab to the pier where you're taking the boat.
The fast boat takes only 20-30 minutes to reach Ilha Grande, while the ferry trip takes about one and a half hours.
If you are already in Paraty, you might consider taking a direct boat.
Day Trip to Paraty
Paraty is arguably one of the best preserved colonial towns in Brazil, making it unique, gorgeous, and a must-visit. Yes, it is one of the best places to visit in Brazil.
Many tourists combine a visit to both places because they are quite close to each other. So if you want to reach Paraty from Ilha Grande, you can take the boat to Angra dos Reis and the urban bus to Paraty. The bus trip takes about two hours.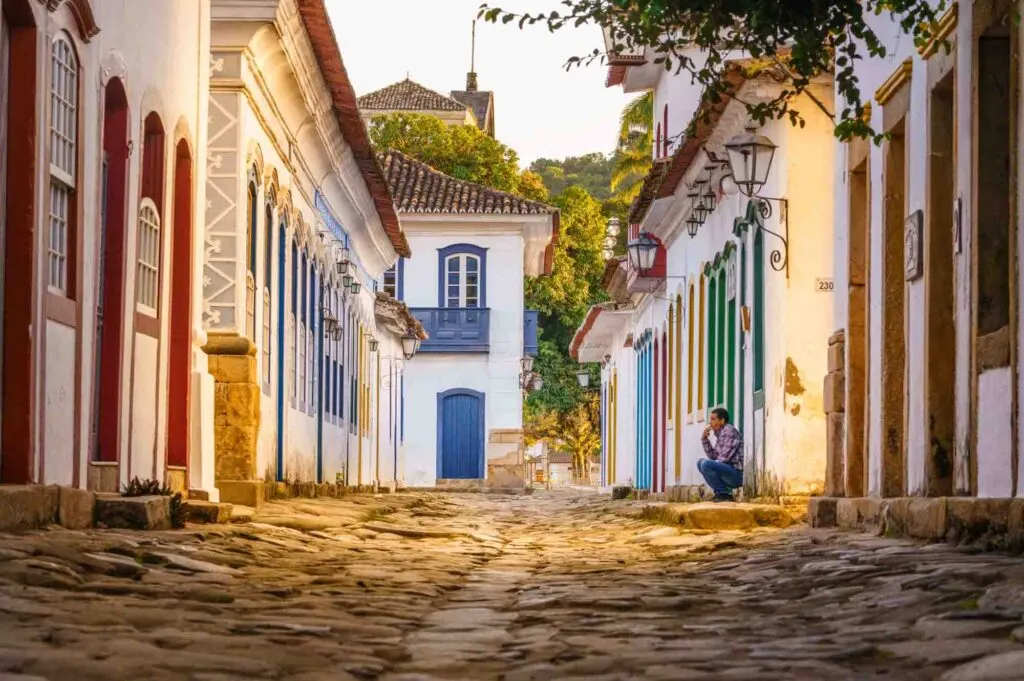 Tips for Visiting Ilha Grande, Brazil
Here are some tips to make sure you have a hassle-free visit to Ilha Grande, Brazil.
Book your accommodation in advance if traveling during Carnival or NYE: You'll never have trouble finding a place to stay when you book in advance because there are so many great hotels and other accommodation options. This will also ensure that you'll get the best rates!
Bring cash as there is no ATM: You'll have to bring some money as there's no way to withdraw cash in Ilha Grande. How much you will need depends on the activities you will do, of course. If you plan and book the tours in advance, I'd bring about R$150/day to enjoy it comfortably.
Don't litter: Locals are so friendly and welcoming, and their island is a Unesco site, so please don't pollute their beautiful community. Bring a little bag for trash with you, or consider buying one from the local shops. Leave only footsteps behind!
Know what weather to expect: It rains a lot from December-March, which is also the peak season, so keep that in mind. Late March to early June is the best time to avoid the crowds and score better weather.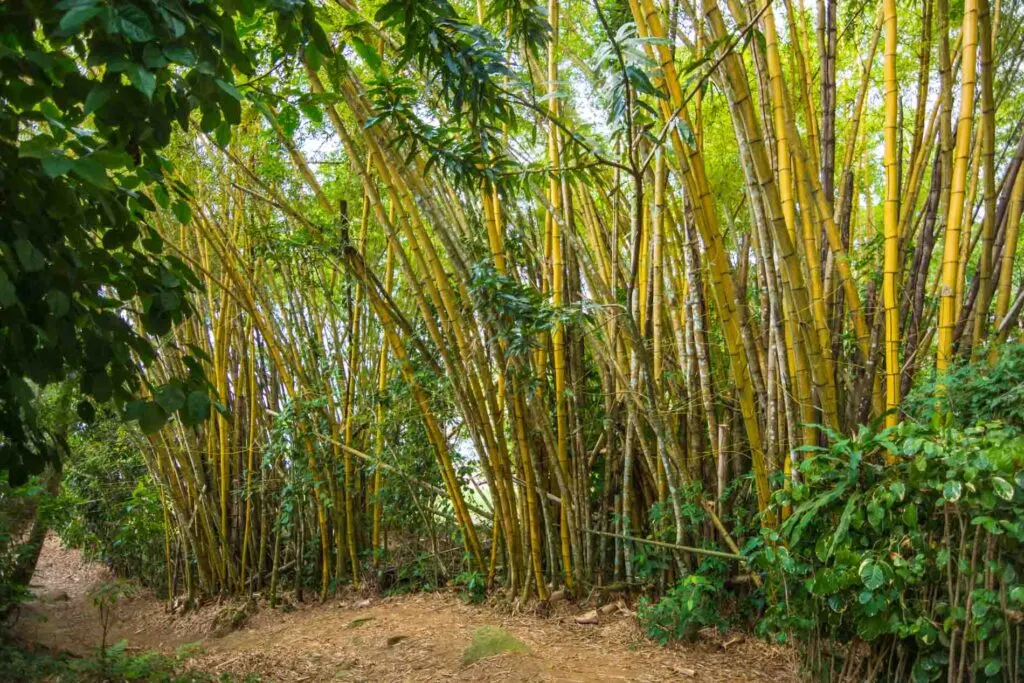 What to Bring to Ilha Grande, Brazil
Here are the things you simply can't travel without when visiting Ilha Grande. These items are pretty much a need for anyone visiting Brazil, actually, as I featured them in my Brazil packing list.
Things to do in Ilha Grande, Brazil
Enough with practical matters! Here are my favorite things to do in Ilha Grande!
1. Sunbathe in Lopes Mendes Beach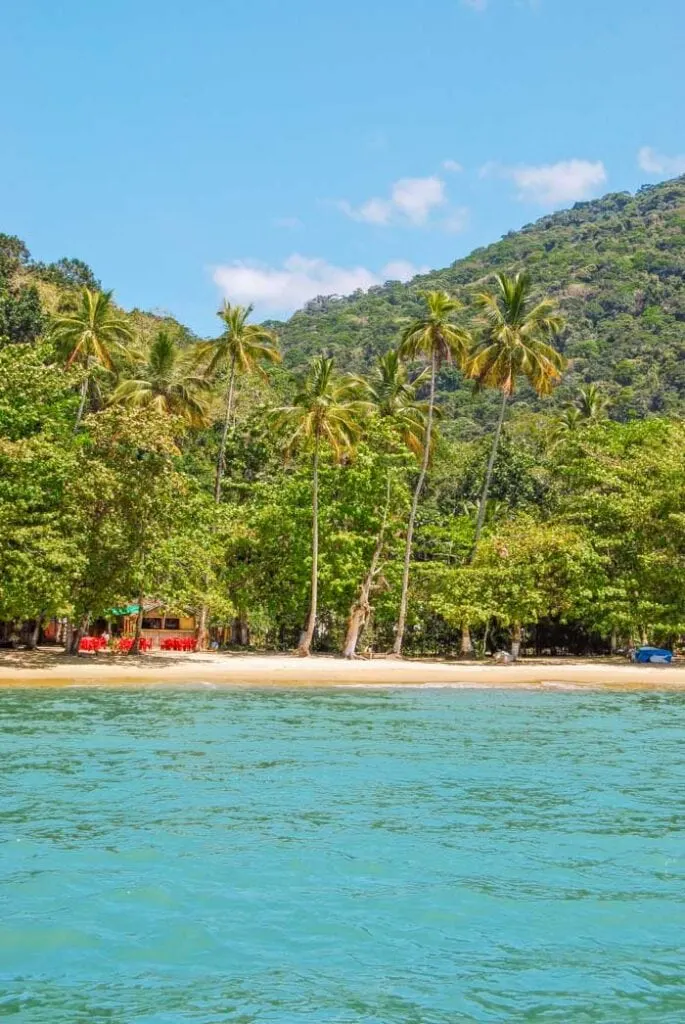 Lopes Mendes Beach is one of the most beautiful beaches in Rio de Janeiro! Away from noisy restaurants and nightclubs. This beach has crystal clear water and white sand. Did anyone say paradise?
This is the perfect place for anyone looking to enjoy a quieter, laidback beach vacation.
Lopes Mendes Beach faces the open sea, which means the ocean is more agitated and cold, making it a popular beach among surfers. Despite the waves, the beach is shallow, and the water quality is excellent.
For refreshments, keep an eye out for the vendors walking along the beach. Coconut water from the fruit tastes like heaven on the beach!
To get there, you can go on an 8.8 mile moderately trafficked hike from Vila Abraão or get a boat.
2. See More of Paradise on a Boat Tour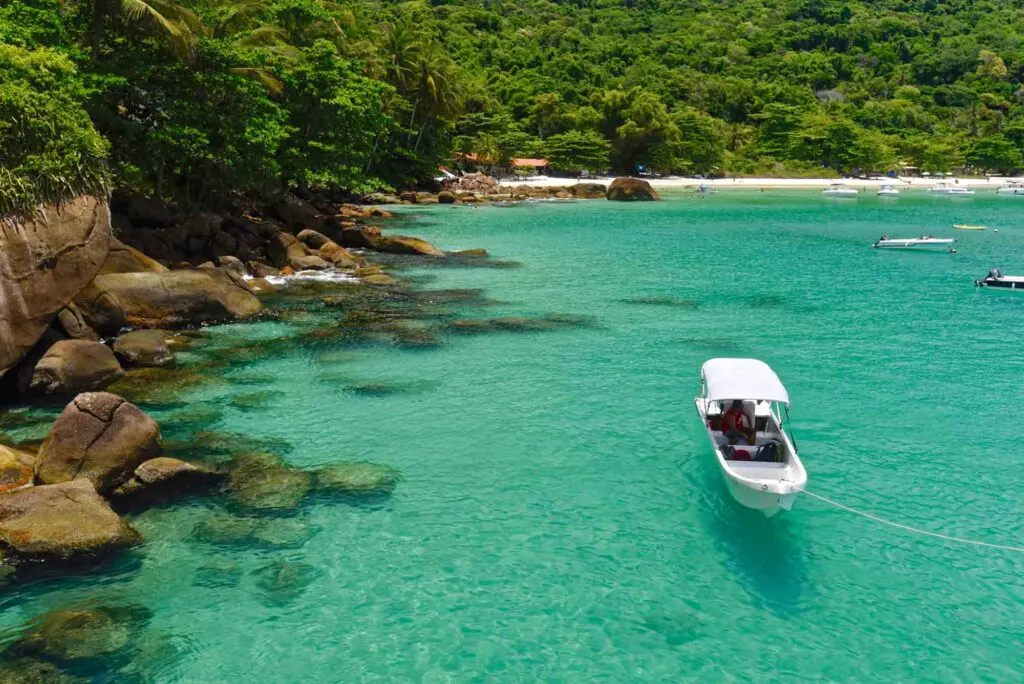 If you want to see Ilha Grande's highlights and have the opportunity to snorkel in some of the prettiest places in Brazil, hop on a boat tour and let locals show you around.
This 6-hour boat tour will take you to at least five different beaches and natural pools along the northern coast of the island. There's a lot of mind-blowing places to see, including Lagoa Azul, Lagoa Verde, and Praia do Amor.
Click here to book your boat tour
3. Hike to the Parrot's Peak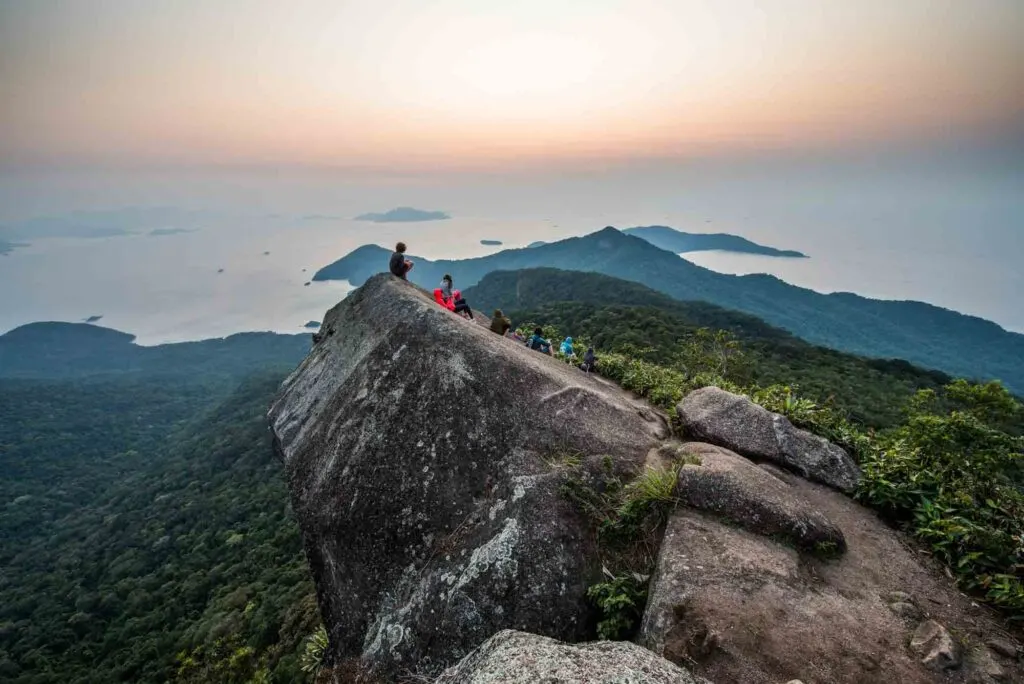 Looking for a new perspective on Ilha Grande? Then you'll want to go on this incredible hike!
With no roads or private cars allowed on the island, sailing and hiking are arguably the best and most rewarding ways to explore Ilha Grande's beautiful scenery.
Several hiking trails lead you through dense Atlantic forests full of life and color.
Home to several colonies of the endangered howler monkey amongst other unique wildlife, the sounds of the forest alone make for what many consider to be an amazing ambiance as you make your way past one of the many gorgeous secluded beaches.
The most popular (and most difficult) hike is the trail to Parrot's Peak (Pico do Papagaio in Portuguese).
This 9.6-mile out-and-back trail starts at Vila do Abraão and leads you to the iconic Pico do Papagaio's summit, Ilha Grande's second highest point.
Be warned: it's a challenging trail, so if you're a beginner without physical preparation, better go on another hike. And bring lots of water with you!
If you're going during the day, chances are you can hike this trail by yourself. Just be sure to pack hiking essentials. If you wanna see the sunset from the summit, which I highly recommend, you're better off hiring a trail guide.
Seeing the sun rising while you're sitting at the top of the world is priceless! Take in the view from the summit, take lots of photos, and enjoy this unique sight!
4. Have an Açaí Bowl by the Beach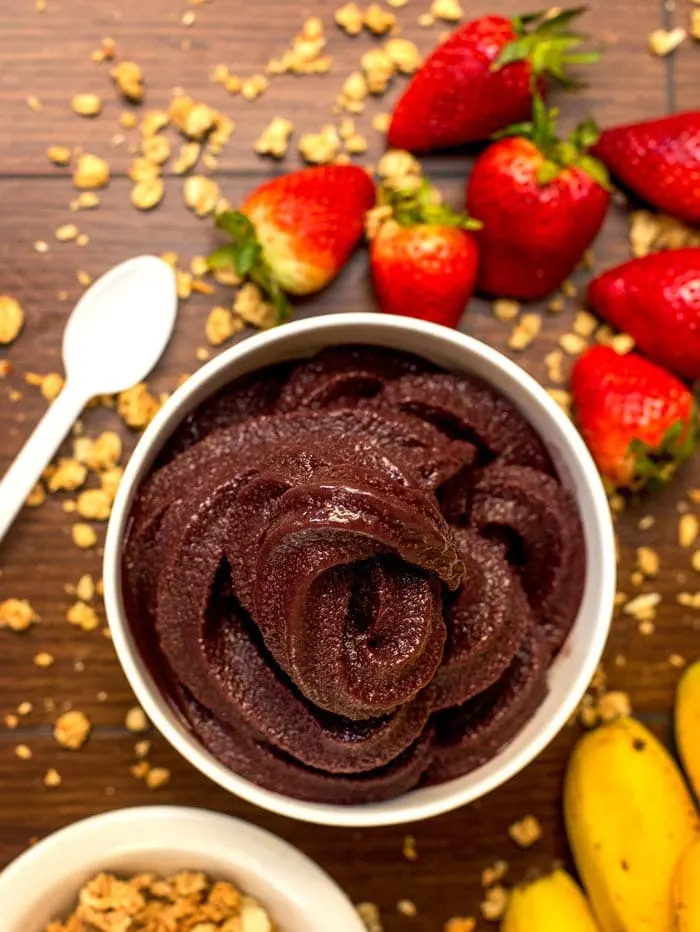 Fresh, delicious flavor, and rich in vitamins, nothing beats an açai bowl. Açai is a Brazilian fruit very popular in the country. We Brazilian love to eat an açai bowl no matter the place, but the beach has a unique tropical appeal.
There's a reason Ilha Grande has been named a Unesco Heritage Site, and visiting without having an açai bowl by the beach would be like visiting Houston, Texas, and never visiting Space Center Houston!
You've got to try it! And better yet, you can't go wrong with Santo Açai and Picoleterilha. These places are very close to the beach, so you can just order a bowl and head to the beach to dip your feet in sand afterward.
5. Eat Fresh Seafood and Brazilian Food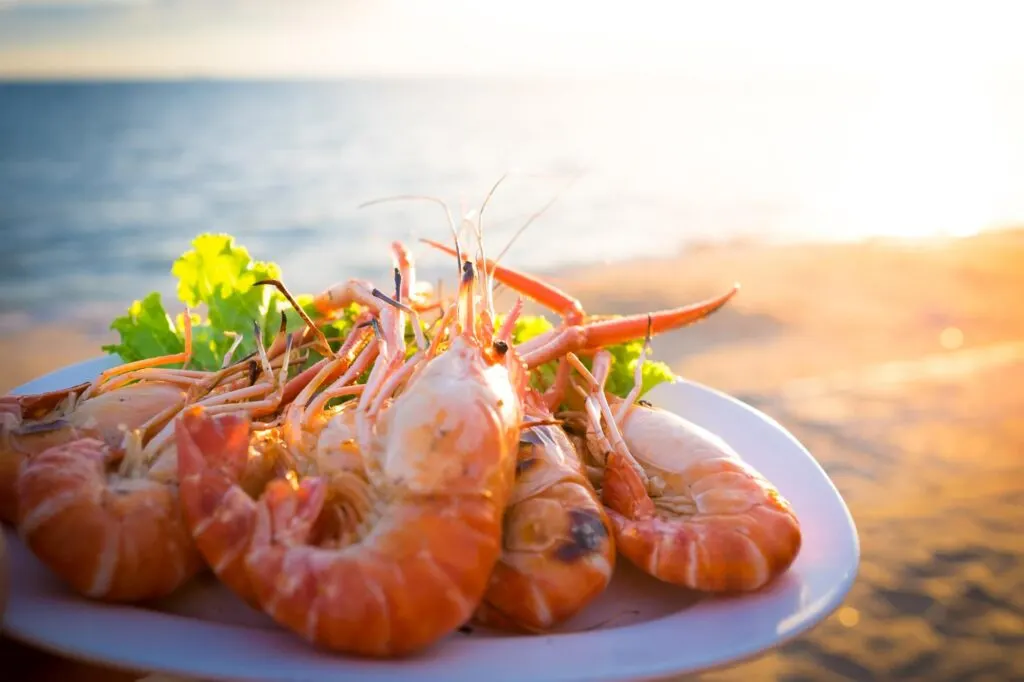 In Ilha Grande, Brazil, you can have many delicious seafood dishes because, uh, you're surrounded by the ocean, after all.
It's easy to find fresh fish prepared with Brazilian spices throughout the island and have a taste of Africa and South America. Ahem, in case you didn't know, Brazilian food is delicious!
Many people visiting the town go to Pé na Areia, a seafood restaurant by the beach, where you can put your feet in the sand. For meat-eaters, Steak 'n Beach won't disappoint you. The staff speaks English and Spanish. For vegans, Jardin and Govinda have good vegan-friendly menu options.
6. Snorkel at Lagoa Azul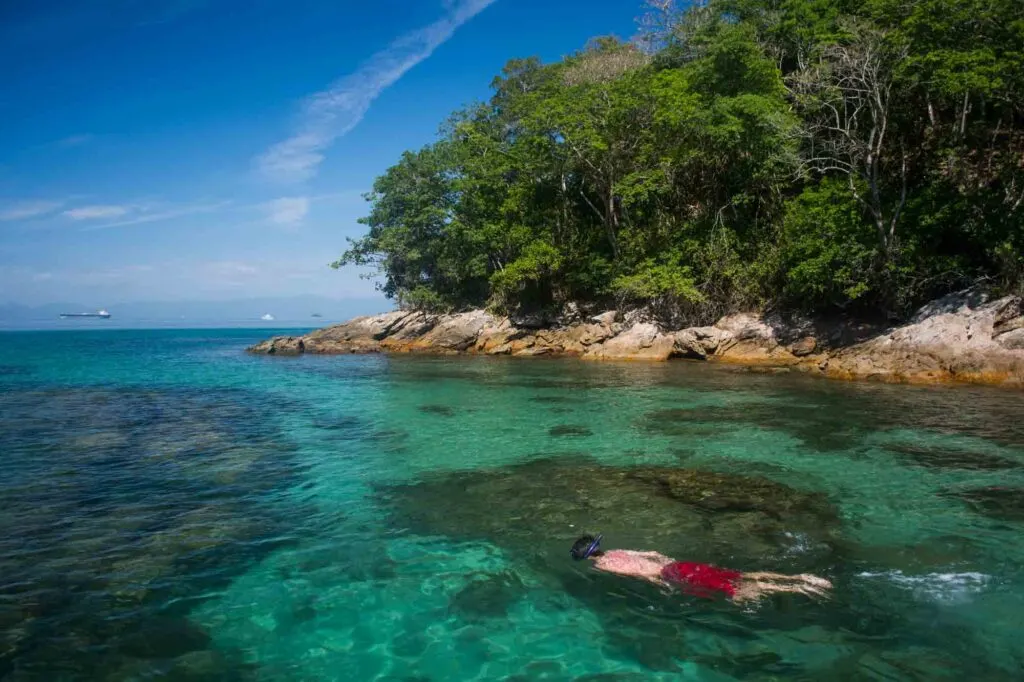 One of the things that make visiting Ilha Grande so special is how unspoiled it is. You can see some of this unspoiled beauty by visiting Lagoa Azul.
And because of its abundant marine wildlife and blue water, Lagoa Azul is an excellent place to snorkel.
When visiting this part of the island, tourists should remember that they are visiting a tropical rainforest. This means that it will be hot down at the shore. To cool off, nothing better than taking a refreshing dip in Lagoa Azul, right?
Also, if you head to this Brazilian paradise, you'll be able to explore other beautiful beaches and see more marine life. One popular place to do so is near Ilha Comprida, which encloses Lagoa Azul from the west side.
To get to Lagoa Azul, you can hop on a boat tour (the same mentioned above) and let everything taken care of for you.
7. Hike to Cachoeira da Feiticeira Waterfall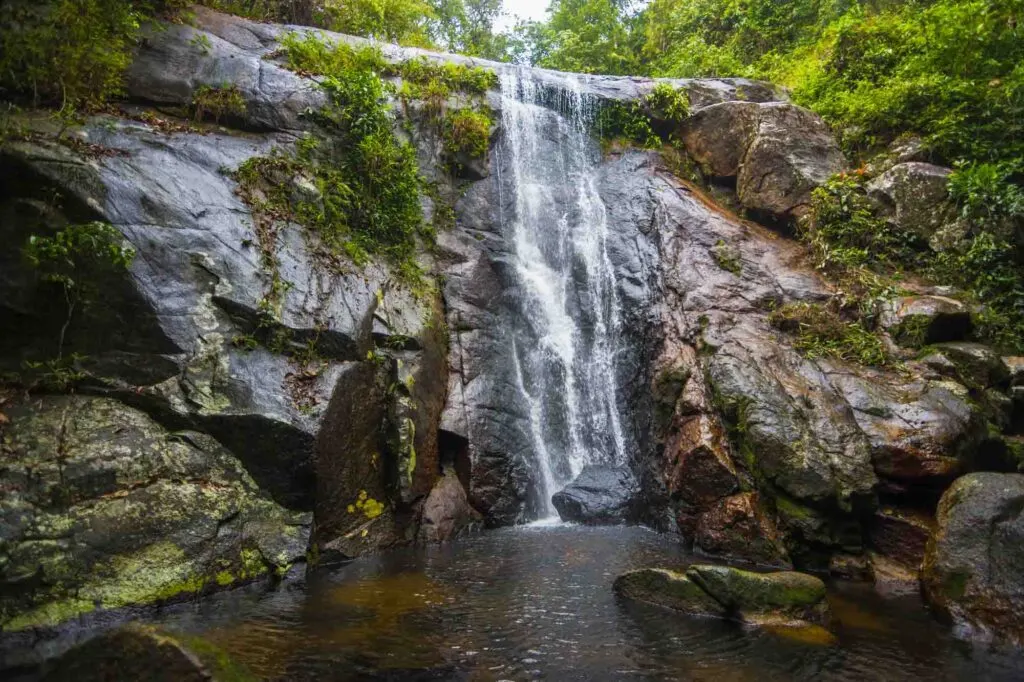 Located about 1.8 miles from Vila do Abraão, Feiticeira is Ilha Grande's largest waterfall towering 49-feet high. On top of that, it is surrounded by tropical forest and has an inviting pool where you can swim and cool off if visiting during the summer.
To get there, you need to go on a challenging hike with steeps through the forest and vegetation that might have grown over the path.
Still, there are a few points along the trail where you have a beautiful view of the island and sea, so it's definitely worth it.
You can choose to go back to Vila do Abraão or continue to Feiticeira Beach, which is lovely and enjoyable. From there, you can take a water taxi back to the village.
Along the way, you will see remnants of an aqueduct built by slaves in the 19th century.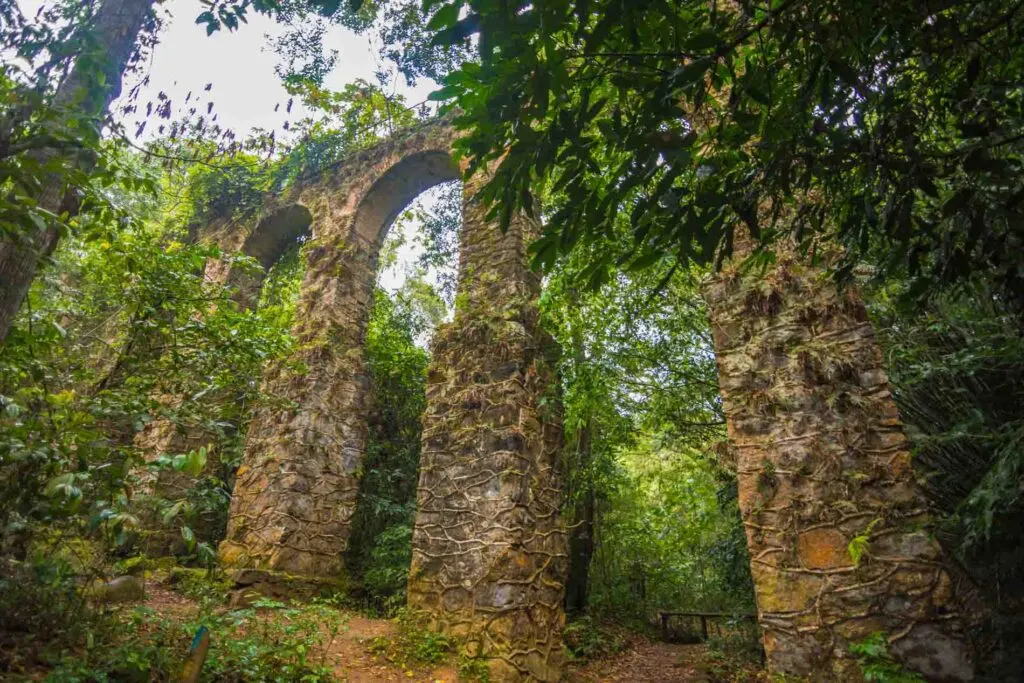 8. Party in Brazilian-Style
Although small, Ilha Grande has a lively nightlife scene. The main club, Aquario Club, doesn't get started until about 12/12.30 am, but it goes until late—about 5 am.
DJs, locals and from around the world, keep everybody dancing and singing along. Usually, they play a mix of various Brazilian music styles and international hits.
Often, the music consists of electronic mixed in with Brazilian beats that get people moving!
9. Spot Native Wildlife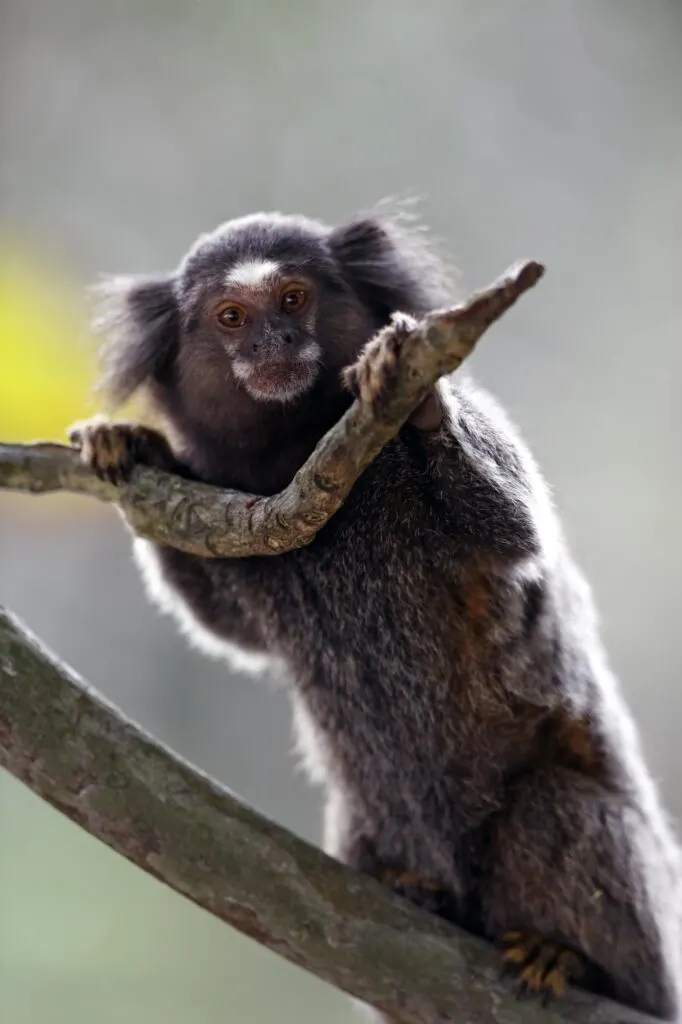 While visiting Ilha Grande, you can also see many wild animals. Some of the native wildlife includes howler monkeys, marmosets, and many bird species that you can see while hiking or strolling around the forest.
On top of that, there are countless fish and turtles in the turquoise water near Ilha Grande.
The best way to spot these creatures is by taking a boat ride out into the open waters around Ilha Grande. Along the way, dolphins may swim alongside visiting boats, and you get a great view of them from the boat.
10. Hike to Dois Rios Beach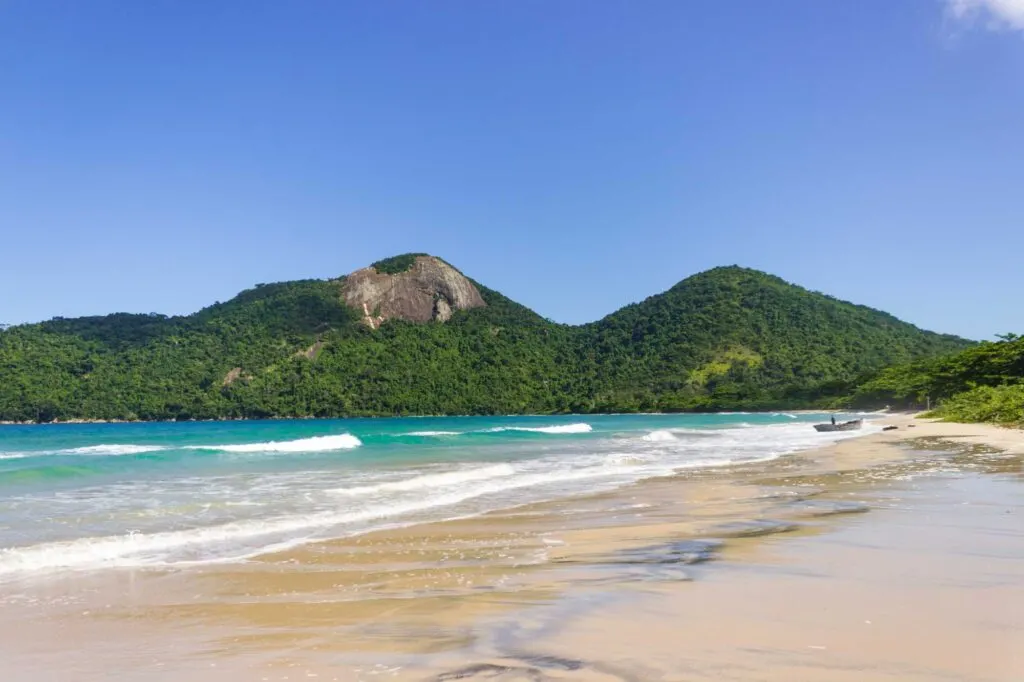 Hike to Dois Rios Beach, which is located in the village with the same name. This 9.95-mile hike from Abraão village is moderate and will reward you with calm forests, a wild beach, and the Dois Rios. It's an out-and-back trail along a dirt road.
Once arriving at Dois Rios, you'll be welcomed by towering palm trees similar to the ones at Rio de Janeiro Botanical Garden.
The Dois Rios Beach is fantastic, and if the ocean isn't too rough, go for a swim. The nearby rivers also provide a good swimming spot with their calm water.
Good to know: there's no 3G signal in Dois Rios.
12. Visit Candido Mendes Prison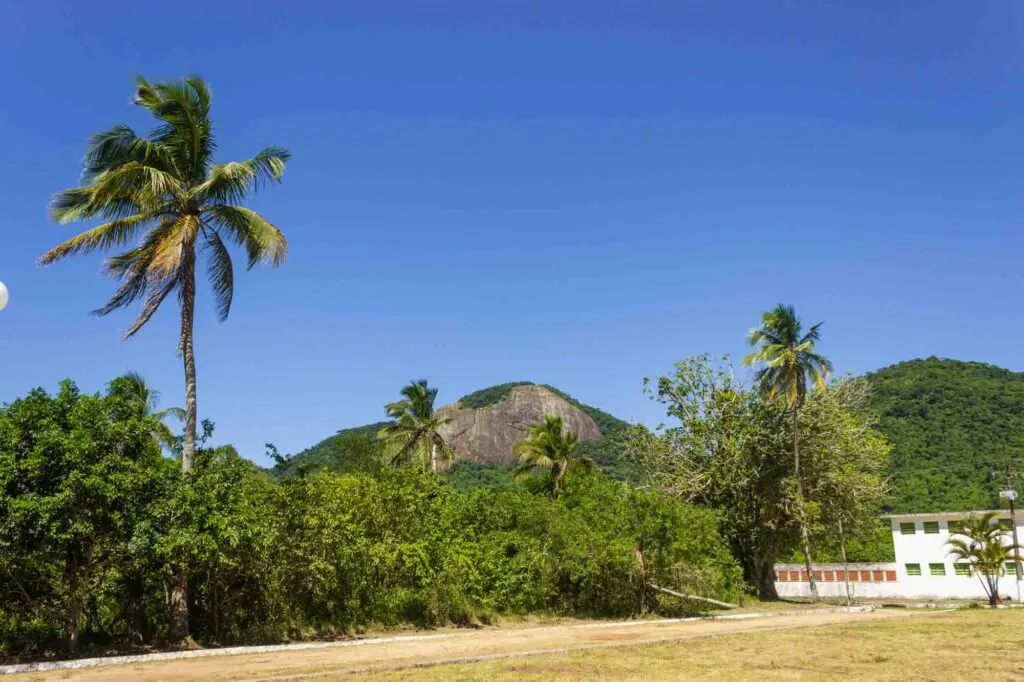 If you're interested in a bit of history before heading back to Abraão, visit the ruins of Candido Mendes prison in Ilha Grande, Brazil. The place was abandoned in 1993.
Some political prisoners were kept here, including Graciliano Ramos, a Brazilian writer, and a number of innocent people. Today, this place is a reminder of all sadness and darkness it happened here.
Nearby this prison, you can find the Ecomuseum, whose goal is to present the records of the history and memory of the penitentiary system in the state of Rio de Janeiro, especially Ilha Grande.
On top of that, this museum develops activities with the community, as well as projects for the preservation, investigation, and dissemination of knowledge, material and immaterial heritage, and social memory support related to the history of the prison system and the region.
13. Soak Up Some Sun at Lagoa Verde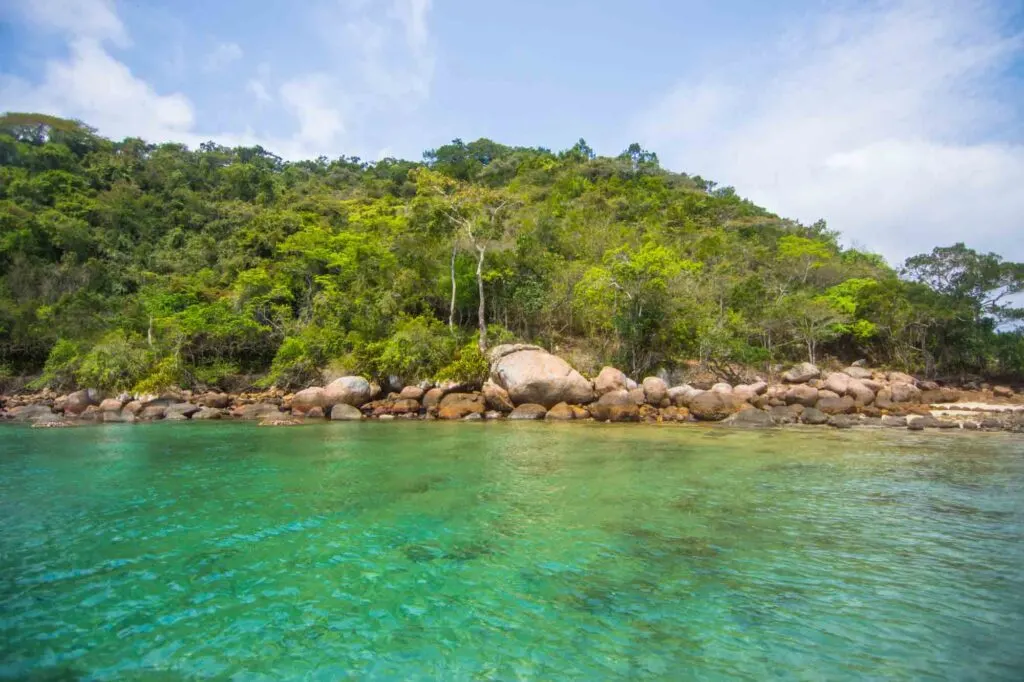 Lagoa Verde has marine-rich waters filled with fish, seahorses, and sea turtles hence why it is an excellent place to snorkel in Ilha Grande, Brazil. The greenish coral reefs give this clear water its name.
I think it's safe to say that Lagoa Verde and Lagoa Azul are the best attractions in Ilha Grande.
Here you can swim, snorkel, dive (it's shallow, though), paddleboard, and relax in a boat.
14. Sip Some Caipirinhas by the Beach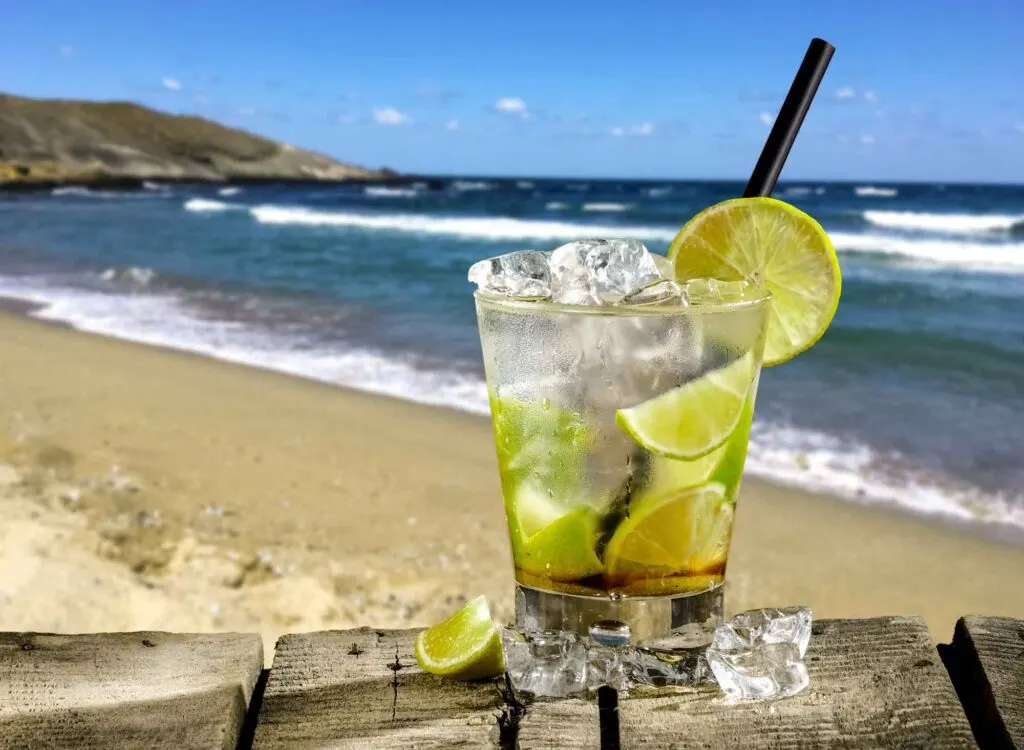 Caipirinha is a traditional Brazilian cocktail, and you can find restaurants selling them on some beaches in Ilha Grande, Brazil. They are refreshing and delicious on a warm summer day.
Just be sure not to gulp it down because it tastes like lime juice, but it is strong.
For me, drinking caipirinha (or two) by the beach is seriously one of the best things to do in Brazil. I love it.
The caipirinhas are made with chunks of lime, sugar, ice, and cachaça, a delicious Brazilian liquor.
15. Watch the Sunset
Arguably, one of the best things to do in Ilha Grande, Brazil, is enjoy the sunset by the beach.
You can enjoy a colorful sunset here. No photos, videos, or paintings can show this magical moment that is simply priceless. And that's why you should come and watch for yourself!
The sunsets are all different, but they are always majestic; golden colors play with deep blue shades of the sea during this magical moment when the day changes into night. I love it.
Final Thoughts on Visiting Ilha Grande, Brazil
Ilha Grande is a place that will take your breath away. The beaches are pristine, the wildlife abundant, and Brazilian culture is well alive throughout this paradise island.
If you enjoy beach vacations or want to visit Brazil's not-so-well-kept secret for an authentic experience, I highly recommend making time to travel to Ilha Grande!
If you enjoyed this blog post about Ilha Grande, Brazil, be sure to share it with a friend! Obrigada!