Looking for the best tourist attractions in Brazil? You're in luck–I've got a list of the all-time best Brazil tourist attractions covering all 26 states!
Tropical weather, hearty food, and music-soaked culture, Brazil is a sensory overload! This country of continental proportions is highly underrated as it has mesmerizing beaches, deserts, waterfalls, islands, animals, national parks,…I could go on!
So in today's article, I talk about some of the best tourist attractions in Brazil–this way, you have a better idea of what to include in your itinerary.
But mind you, while I do discuss some incredible Brazil attractions–at least one in each state–I barely scratch the surface of my country–Brazil is massive and occupies almost half of the continent!
Whether you're traveling to Brazil or daydreaming, this list of fantastic places in Brazil will spark some wanderlust in you. Let's get to it!
Looking for accommodation in Brazil? Then you might want to check out our articles about the best hotels in Brazil.
Best tourist attractions in Brazil
These are the most famous attractions in Brazil spread across the 26 states.
Copacabana, Rio de Janeiro
A buzzing city in the background separated from the clear beach by a black and white promenade decorated by a wave motif: Copacabana Beach is one of those places in Brazil that you have to experience to understand.
Locals enjoying the weather, sporting, or just sunbathing all year round, but especially on the weekends, including the New Year's party, are some of the things you will see here.
For any international visitors, this Rio de Janeiro beach is hands-down one of the must-see tourist attractions in Brazil.
Even if you're not in the mood to put on your swimsuits, just take a stroll on the promenade and sip some caipirinhas while soaking the Brazilian vibes–you will love it!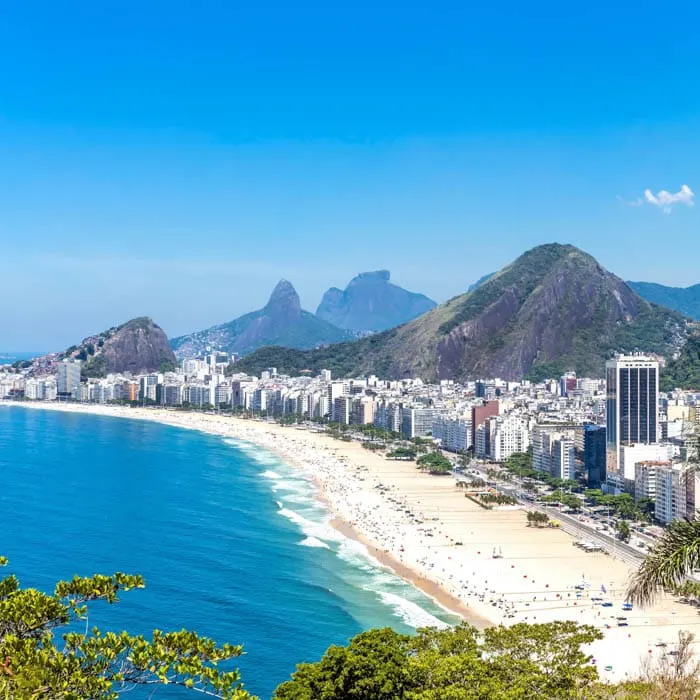 Pelourinho, Bahia
Of all Brazil tourist attractions, Pelourinho in the historic center of Salvador is a unique place with universal values in the country (and it also is a UNESCO World Heritage Site).
As Brazil's first capital, from 1549 to 1763, Salvador witnessed the blending of African, Amerindian, and European cultures.
It was also, from 1558, the first slave market in the New World, with slaves arriving to work on the sugar plantations. Unsurprisingly, this multicultural past echoes to the present day in the historic center's rich tangible and intangible heritage.
That's why a stroll around the Pelourinho is not just a touristy thing to do in Brazil, but an enriching cultural activity.
Visit the convents, churches, and museums in this square with colorful Baroque houses and learn about Brazilian history–it is quite an experience!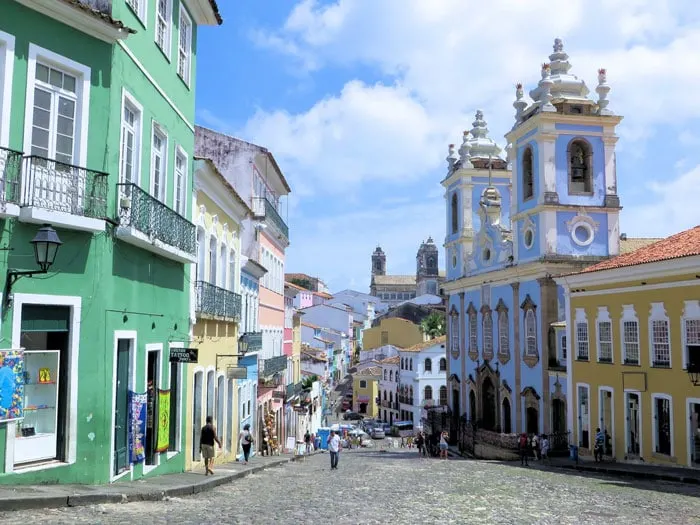 Brasília Cathedral, Goiás
Brasília Cathedral is an artwork both inside and outside. Designed by the acclaimed Brazilian architect Oscar Niemeyer, the cathedral is modern and quite different from most religious sites in Brazil, let alone South America.
The round church has 16 concrete columns that converge to a central elevated circle, towering 138ft (42m) in the sky. Not only that, but the building is surrounded by a shallow pool that reflects its beauty.
Inside, the paintings, tiles, sculptures, and stained glasses make you think you are in a sort of museum, not necessarily in a religious site.
Besides, the Brasília Cathedral was elected by the city's inhabitants as the number one wonder of Brasília, making it one of the main tourist attractions in Brazil.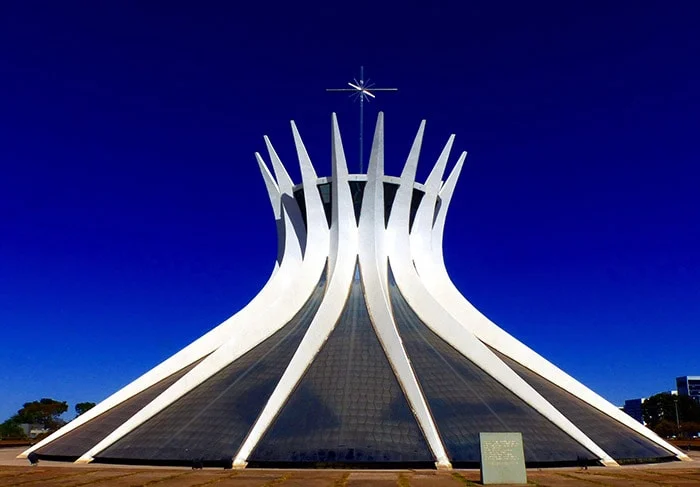 São Paulo Museum of Art (MASP), São Paulo
Most commonly referred to as MASP, this museum is not only an art institution, but it also is a major landmark in Brazil.
It houses over 11,000 art pieces from international and Brazilian artists, making its collection one of the most important in the Southern Hemisphere.
Still, another reason why the São Paulo Museum of Art is unique is its architecture. The rectangular structure resembling a suspended container is held up by red columns that perfectly contrast with the concrete's roughness.
From the free span underneath the museum, you can spot the São Paulo Downtown or attend an antique fair every Sunday, one of the best things to do in São Paulo!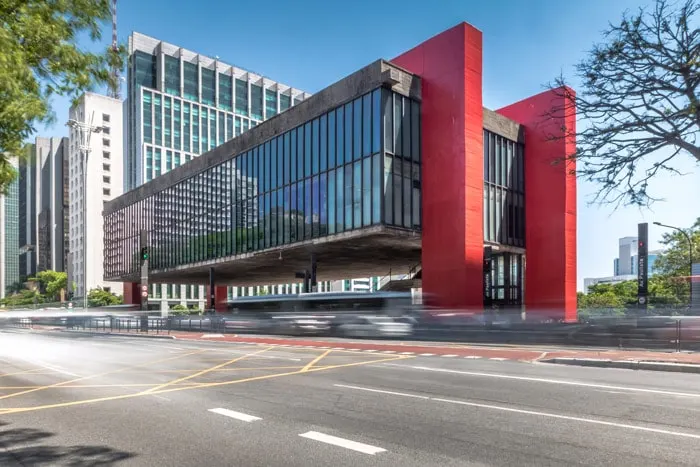 Aparados da Serra National Park, Rio Grande do Sul
Located in the south of the country, Aparados da Serra National Park is a paradise for outdoor lovers and one of the best places to visit in Brazil.
The park is home to the mind-blowing Itaimbezinho Canyon, magical waterfalls, and biking and hiking trails.
Despite being relatively small–about 39.5 sq mi (102.5 sq km), the park is characterized by rich biodiversity, resulting from its various relief and location–Aparados da Serra is located between coastal, grasslands, and Araucaria moist forests.
Some of the animals you can spot here are the neotropical otter, ocelot, brown howler monkey, red-spectacled amazon parrot, maned wolf, and the cougar–the last three mentioned are all endangered animal species at the moment.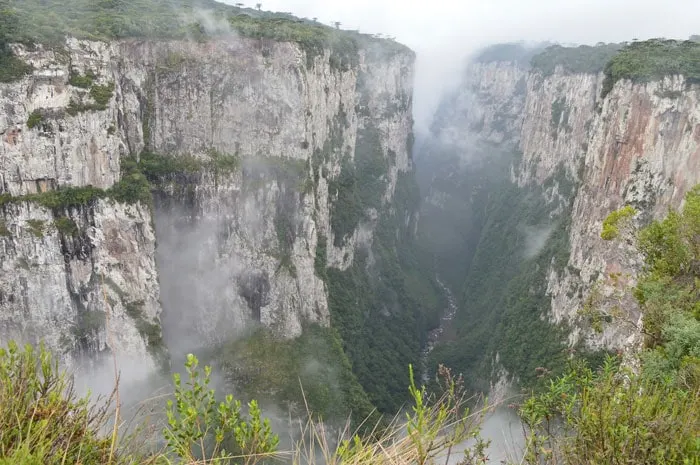 Chapada dos Guimarães National Park, Mato Grosso
As one of the main attractions of the Brazilian savannah, the Chapada dos Guimarães National Park has mesmerizing spots to offer–from massive sandstone formations to lookouts with a view that reaches the Pantanal to pretty waterfalls!
Beyond that, there are a few ways to explore the park, most of which require a local guide, but the park administration has a full list of certified guides.
Thankfully, you don't need a guide to get to the Véu de Noiva Waterfall viewpoint, which offers incredible views of the landscape.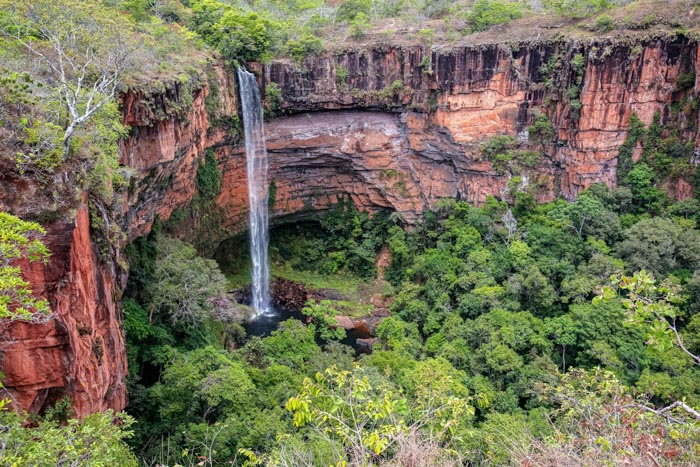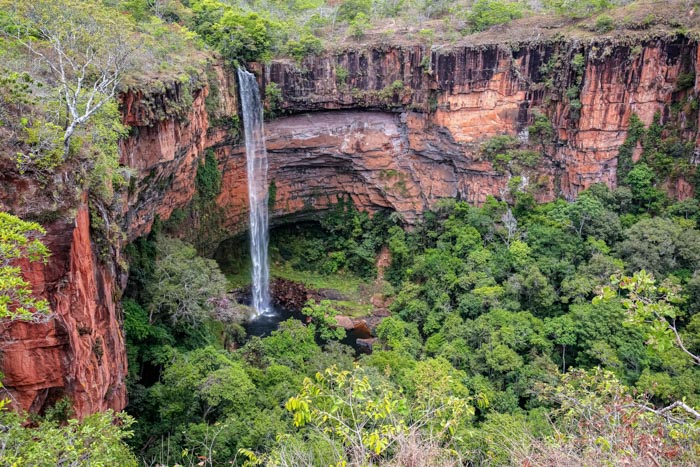 Rio Branco Palace, Acre
Inaugurated in 1930, the Rio Branco Palace – the seat of the Acre State Government – had its design inspired by neo-Greek architecture.
It is a beautiful white structure shining among the abundant nature of Rio Branco City.
The building was inaugurated still unfinished, but today, both residents and tourists can get to know the space that is one of the milestones of the Rio Branco modernity project milestones.
Brazil fact: Acre, which lies within the Amazon Rainforest, is one of the least visited states in Brazil.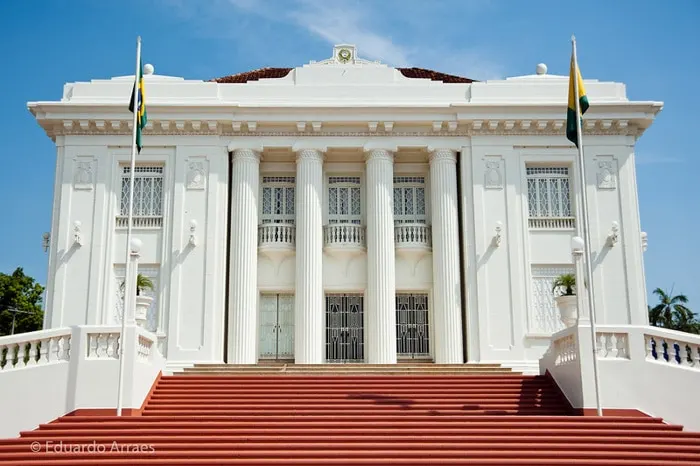 Niterói Contemporary Art Museum, Rio de Janeiro
This UFO-shaped museum overlooking the Guanabara Bay showcases artworks from international and Brazilian artists.
The quirky building is 52ft (16m) tall and has a diameter of 164ft round (50m). It's hard to miss as this is one of the best tourist attractions in Rio de Janeiro.
And in case you needed more reasons to visit this spot, know that Oscar Niemeyer designed it.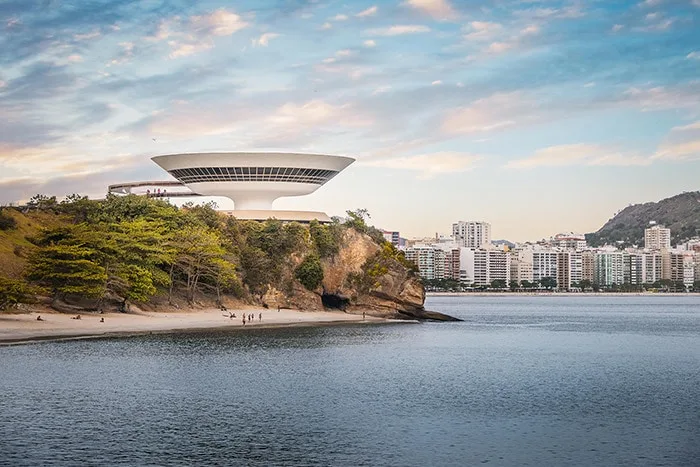 Botanical Garden of Curitiba, Paraná
The postcard-worthy botanical garden is one of Curitiba's main attractions and rightly so because it has an impressive and colorful garden and has a fantastic greenhouse.
The park is packed with flower gardens, suited places for picnics, and several photo ops.
Moreover, the external garden has a lovely French style with beautiful designs and walks between the areas colored by flowers and a fountain that yields good clicks.
Inside the glass-and-steel greenhouse, it is possible to see species of plants typical of tropical areas.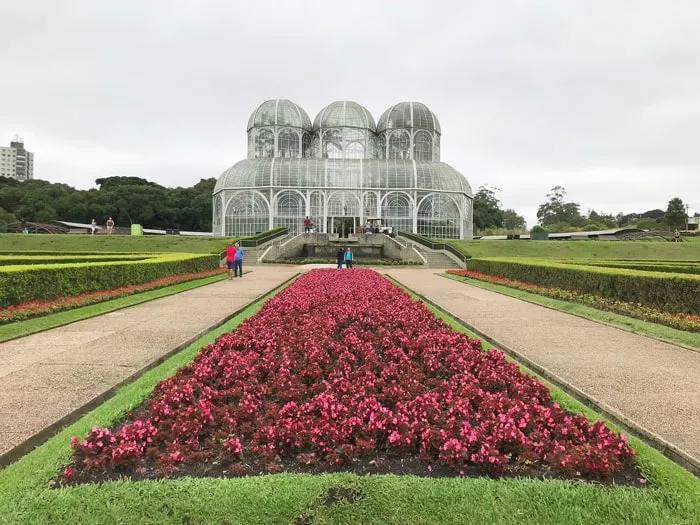 Fumaça Waterfall, Bahia
As one of the most magical sceneries of the Chapada Diamantina, Fumaça Falls is Brazil's second-highest waterfall with a drop of 1,115 feet (340m).
Fumaça translates to smoke in Portuguese. The reason for this name is that the waterfall is so high the water dissipates into a spray before striking the pool below, creating a dramatic mist almost like smoke.
While both the lower and upper part of Fumaça Falls can be visited, most tourists visit the upper part as it is a more leisurely hike than the lower one.
Fumaça Waterfall is by far one of the most adventurous tourist attractions in Brazil as the moderate 7.5 miles (12km) trek should take no more than 6 hours altogether, including time at the waterfall. That's quite a trek!
Once at the falls, you must crawl out onto the edge of the clifftop to be able to see the water turning into smoke – it's not for the faint-hearted!
Fernando de Noronha, Pernambuco
Fernando de Noronha is a unique archipelago off the coast of Pernambuco State. This paradise is a UNESCO Heritage Site with a fragile ecosystem, so tourism is severely controlled here.
The government controls tourists' influx by charging a daily environment tax that increases the longer people stay on the main island. (Although they haven't been doing a great job at ensuring the place is protected. No surprises here.)
Anyway, the water surrounding the island is jam-packed with fishes, dolphins, corals, and even sea turtles, which happen to spawn on the island.
For that reason, visitors can't even wear shoes or sunscreen in certain areas and beaches. So much care is taken so that the rare local fauna and flora can survive the modern world, and locals take these rules seriously.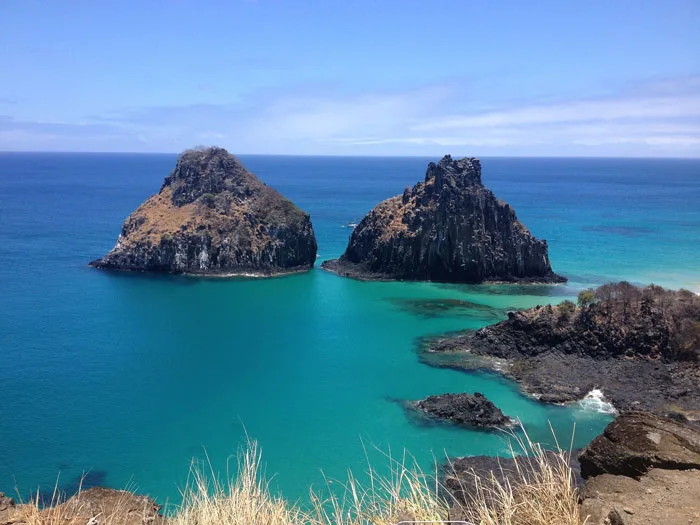 São José de Macapá Fortress, Amapá
The land where the Amapá State is was once disputed by the English, French, and Dutch for almost three centuries.
As a way to protect the Brazilian border, locals built the São José Fortress in 1782, and to this day, it is the only standing fortress from that time.
Surrounded by 33-feet (10-meters) high walls, the construction has eight buildings open for visitation.
Something interesting about this place is that the fortress is right next to the Amazon River (great tours in the area), giving you fantastic views of the world's largest river.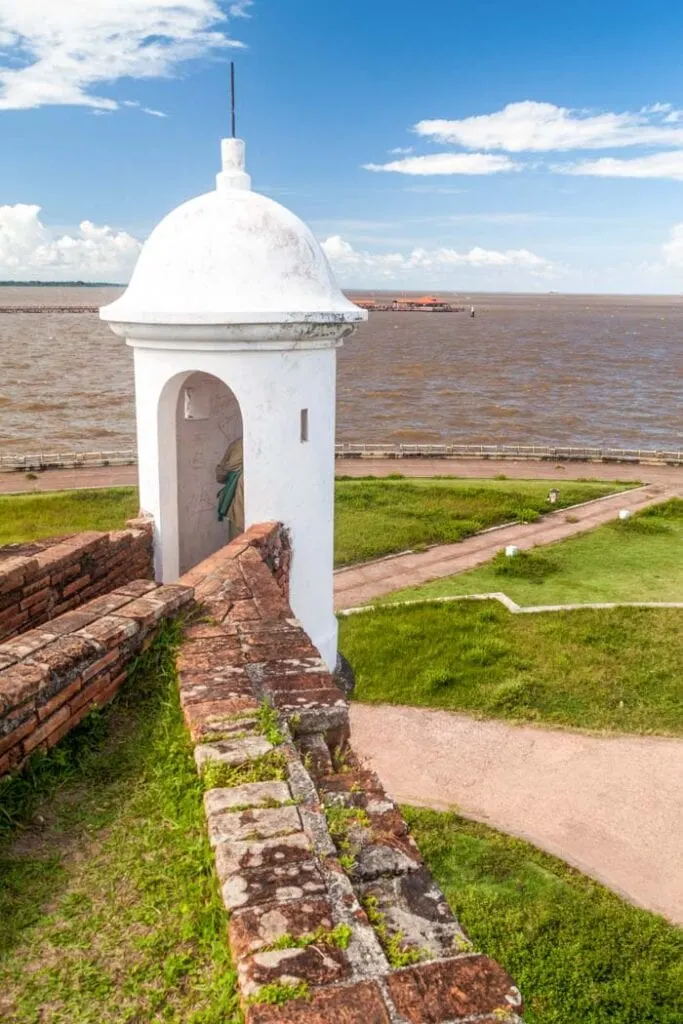 Campos do Jordão, São Paulo
This Swiss-inspired town in the countryside of São Paulo is the perfect tourist attraction in Brazil to experience the closest we have to the winter in the northern hemisphere.
The half-timbered houses, fondue restaurants, and overall winter vibes make Campos do Jordão, Brazil's highest city, a must-visit place!
Here you can shop 'til you drop, chew more than you can bite, go museum hopping, and hike in the mountains. Whatever you choose, you'll have a lovely time in this town, which is the perfect day trip from São Paulo City.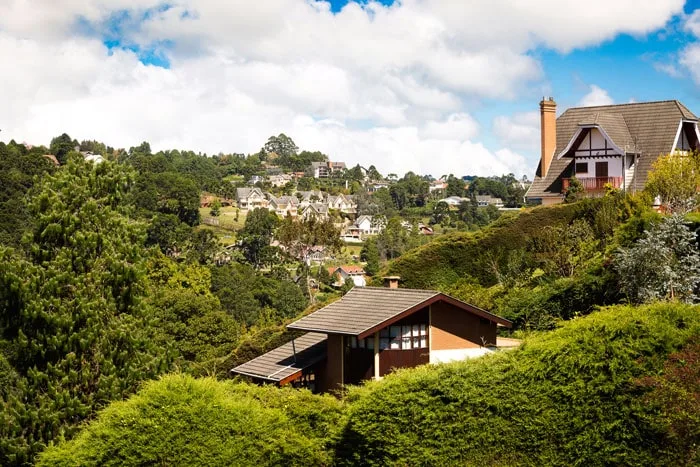 Museum Sergipana People, Sergipe
As the first interactive museum of the northeast of Brazil, the Museum Sergipana People showcases the collection of the material and immaterial cultural heritage of Sergipe State.
They exhibit the local slang, clothing, traditions, crafts, animals, and more!
It's an incredible museum for children and adults to learn more about such a culturally rich Brazilian state's history and culture.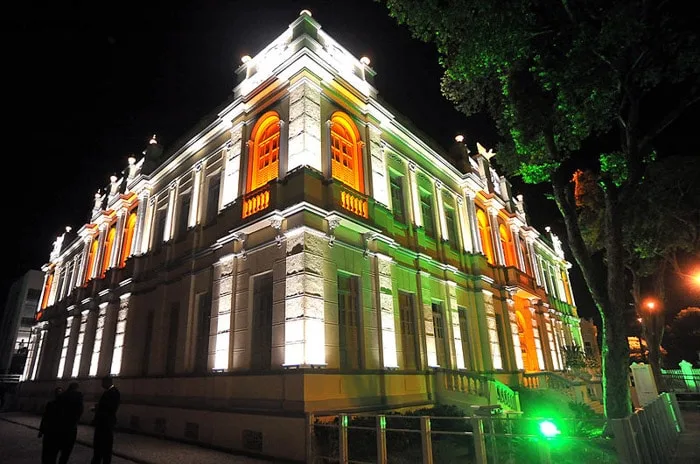 Campeche Beach and Island, Santa Catarina
By far, Campeche Beach is one of the prettiest beaches in Florianópolis, not to be confused with the place with the same name on Santa Catarina Island.
As one of the major tourist attractions in Brazil, this teeny tiny island named Ilha do Campeche is incredible.
The place is known as the Caribbean of Southern Brazil for its white sand stretch and crystal clear water teeming with fish.
If that wasn't enough, Campeche Island also houses an important archeological site, rock inscriptions, and hiking trails.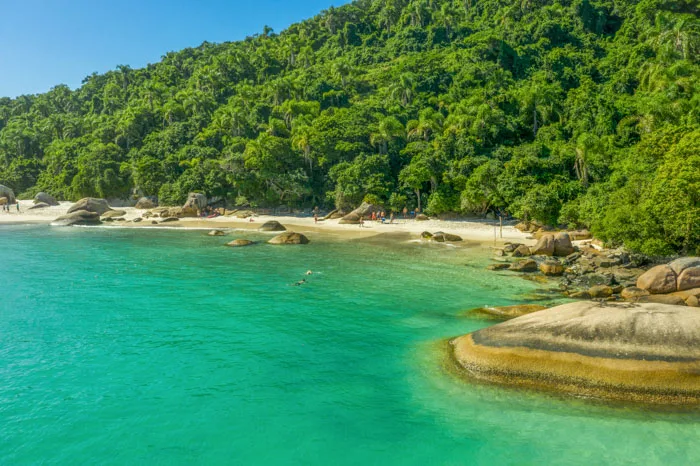 Green Coast, Rio de Janeiro and São Paulo
Green Coast, Portuguese Costa Verde, is a coastline that runs from southern Rio de Janeiro State to northern São Paulo State.
This region has some of the prettiest tropical places you will ever visit, and no, I'm not dramatic.
Some of the towns in this region are Angra dos Reis, Ilha Grande (natural paradise), Paraty (Portuguese colonial architecture), Trindade, Ubatuba, and Ilhabela, which also has some of the most beautiful beaches in São Paulo.
It is miles and miles of mountains clothed in velvet green on one side, perfect beaches on the other. You can see the best of the country on the Green Coast without straying unmanageably far from the city.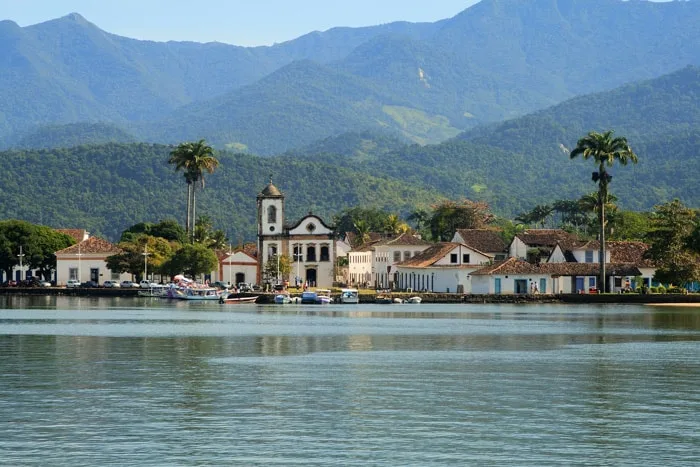 Samba school rehearsal, Rio de Janeiro and São Paulo
Carnival in Brazil is more than just an event; it is an expression of our culture as the samba parades are a sensory overload with colors, songs, sensations, and parties.
While you should absolutely go to the sambadrome and have a first-hand experience of the biggest holiday in Brazil, I know it can be considerably more expensive to travel to the country around Carnival–if you're concerned about how much a trip to Brazil cost, anyway.
So if you're traveling to Brazil in the other months, you could join a samba school rehearsal instead and still have a taste of this great party that Carnival is.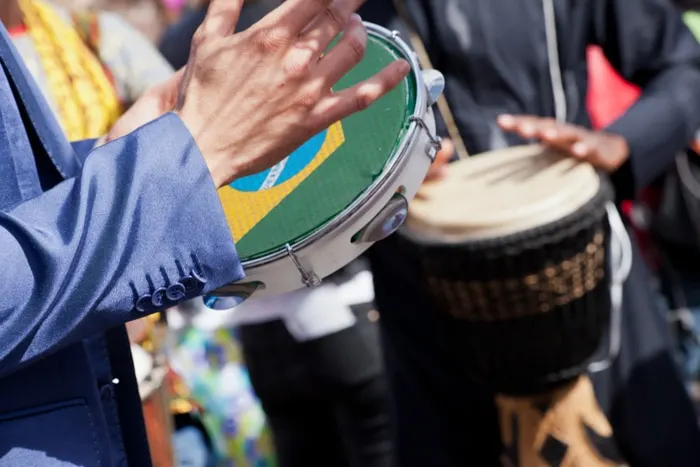 Seixas Natural Pools, Paraíba
Only a few minutes by boat from João Pessoa, the Seixas Natural Pools are incredible and make excellent photo ops–do include a waterproof camera in your Brazil packing list!
The natural pools of Seixas are formed by huge banks of coral that imprison the seawater.
You can scuba dive or snorkel in these waters teeming with colorful wildlife, or simply swim around while enjoying the excellent weather.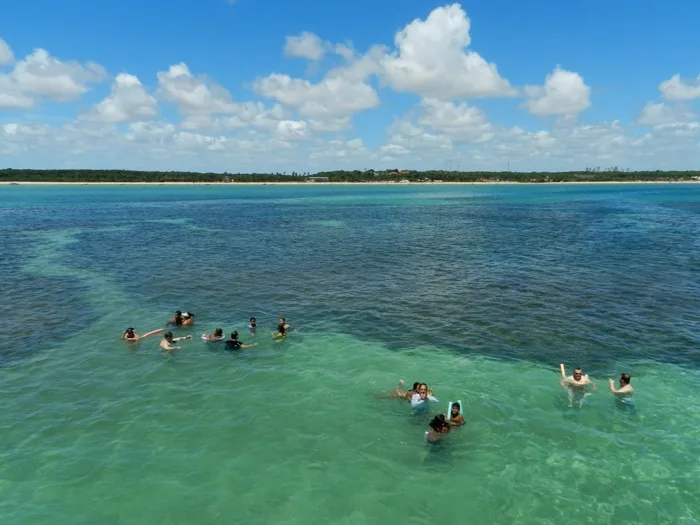 Iguazu Falls, Paraná
Iguazu Falls is an incredible natural wonder and one of the biggest tourist attractions in Brazil.
We share the honor of having such a waterfall with Argentina as the Iguazu Falls are right at both countries' borders. You can reach it from the cities of Foz do Iguaçu in Brazil or Puerto Iguazú in Argentina.
With 275 falls, cascades, and drops, the Iguazu Falls majestically span 1.7 miles (2.7km) in width.
Devil's Throat, its longest drop, is 269 feet (82m) high, making it taller and broader than Niagara Falls. It also is one of the most splendid waterfalls in Brazil.
The thundering of millions of liters of water cascading down and crashing into the Iguazu River is a sound you won't ever forget.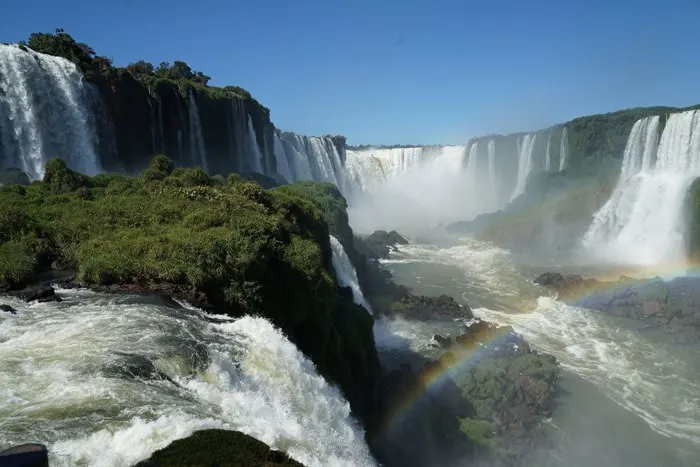 Christ the Redeemer, Rio de Janeiro
Of all Brazil attractions, Christ the Redeemer is arguably the most famous landmark, one of the New Seven Wonders.
Besides, the Christ the Redeemer Statue, which represents Jesus Christ looking over Rio, has become a symbol for the city and Brazil. Stats-wise, it is 98ft (30m) tall, and its pedestal is 125ft (38m).
Standing atop the 2,300-ft (700-m) Corcovado Mountain and overlooking the whole city–from Niterói to Ipanema and beyond, the Christ the Redeemer Statue is one of those things to do in Rio de Janeiro that you can't afford to miss!
The view you have from this spot is simply incredible and will make you want to stay in Rio for good.

Click here to buy the train tickets to the Christ statue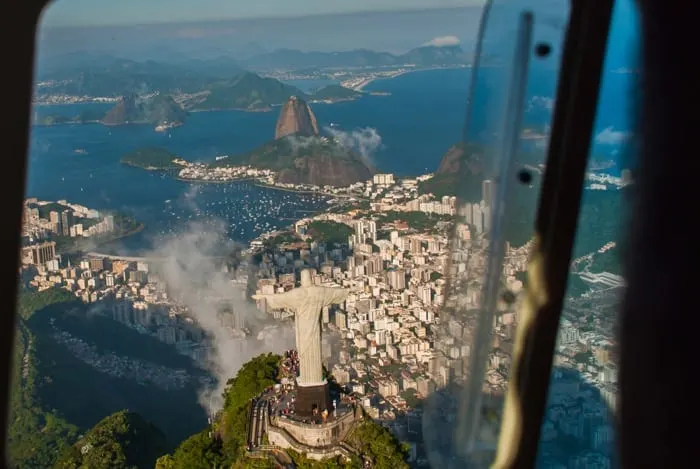 Mount Roraima, Roraima
Mount Roraima, the highest table-top mountain in South America, marks the three-country-point of Brazil, Guyana, and Venezuela.
To reach its top, you must hike to the Venezuelan side, though, as this tepui only has massive steep walls on the Brazilian side.
Mount Roraima was made famous in 1912 when Sir Arthur Conan Doyle wrote his fictional novel entitled "The Lost World, a tale of modern dinosaurs."
Also, if you watched Up, the Pixar movie, you might have seen this massive mountain already.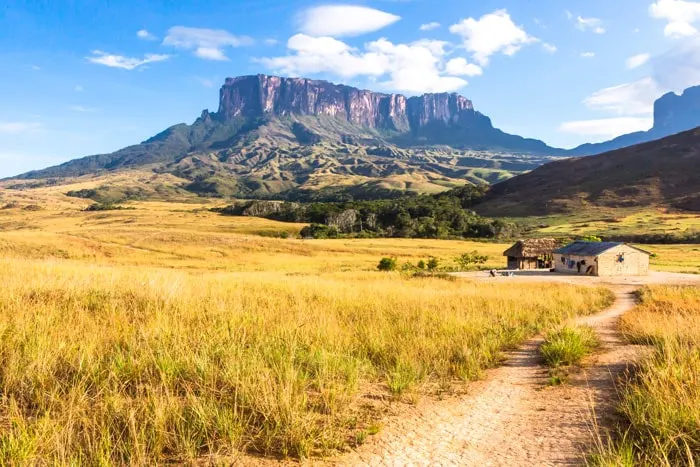 Amazon Theater, Amazonas
Right in the heart of the Amazon Rainforest, Amazon Theater is a charming opera house in Manaus City, and it was chosen by Vogue magazine as one of the most beautiful ones in the world.
The theater is the state's leading cultural and architectural symbol because it keeps alive much of the rubber cycle's history, the golden age of Manaus, the Amazonian capital.
It's impossible not to be mesmerized by the concave ceiling, which features four paintings made in Paris.
Outside, the famous dome draws attention for its exuberance–it is composed of 36,000 ceramic pieces in the Brazilian flag colors.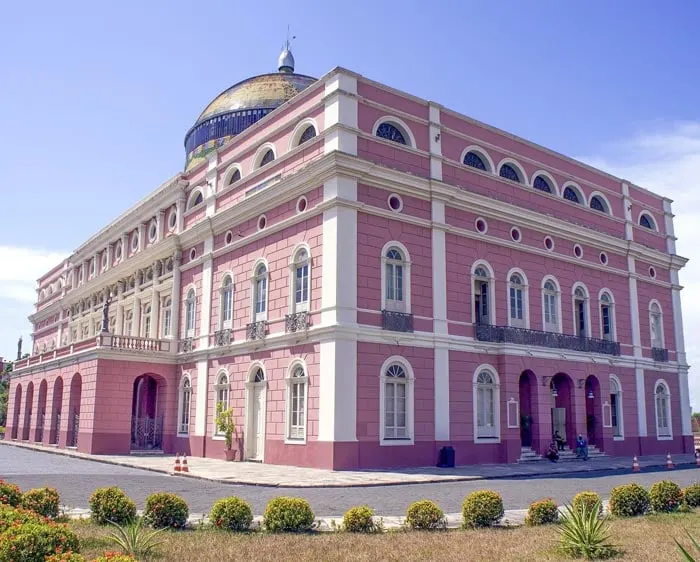 Alter do Chão, Pará
Hidden deep in the Amazon Forest, Alter do Chão is a laid-back town elected by The Guardian as having one of the prettiest beaches in Brazil.
While most Brazilian beaches are in the Atlantic Ocean, Praia do Amor is formed at Tapajós River every dry season, July-January.
Beyond that, Alter do Chão hosts one of the most traditional Carnival's parades, including musicals, quite different from the ones in SP and RJ.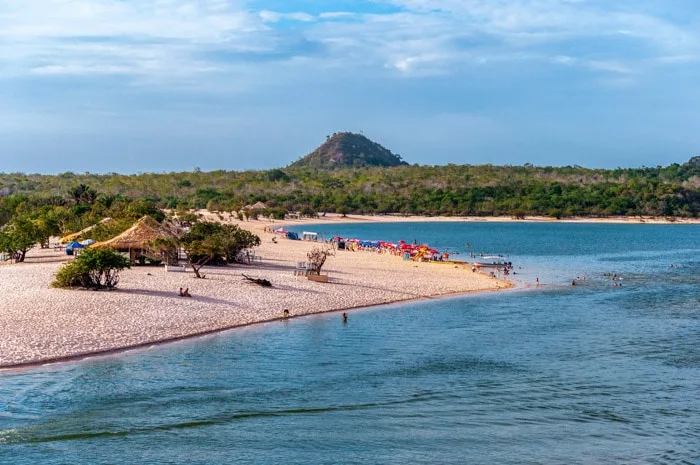 Historic Center of Olinda, Pernambuco
Founded in the 16th century by the Portuguese, Olinda is a colonial town with its past linked to the sugar-cane industry.
Rebuilt after being looted by the Dutch, its basic urban fabric dates from the 18th century. Nowadays, the harmonious balance between the buildings, gardens, Baroque churches, convents, and numerous small chapels all contribute to Olinda's particular charm.
The roadsides and hedgerows' lush vegetation all form a landscape in which the salient feature is the town nestling in a mass of greenery, bathed in tropical light, with the sandy shore and ocean below.
All of that to say that Olinda is a unique place in Brazil!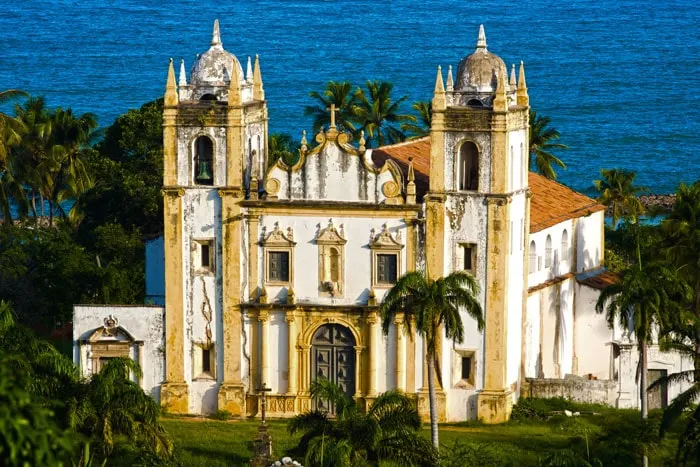 Sugarloaf Mountain, Rio de Janeiro
The Sugarloaf Mountain is not only a postcard-worthy spot (and a must-do Rio de Janeiro tour), but it also is arguably one of the most important tourist attractions in Brazil.
Be sure to have your health checked before your visit because the view is absolutely breathtaking!
When I got to the Sugarloaf for the first time–after waiting in line for over 2 hours–I remember looking down at Praia Vermelha and Copacabana. At that moment, I ultimately understood why we Brazilians call Rio de Janeiro the Marvelous City.
It's such an incredible view. I have no better words to describe it.
No matter if you spend a day or a week in Rio de Janeiro, the Sugarloaf Mountain is a no-brainer.

Click here to buy the cable car ticket.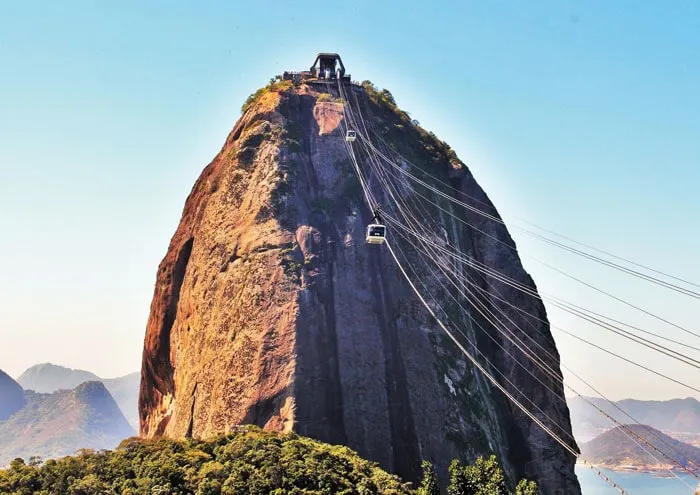 São Francisco de Assis Church, Minas Gerais
This modern church designed by Oscar Niemeyer is far more than a religious site; it is an art gallery.
With displays made by Cândido Portinari and Paulo Werneck and a garden designed by Roberto Burle Marx, Brazilian artists, this quirky church is a postcard-worthy spot in Brazil.
The building's appearance pays homage to Minas Gerais–it's a curvy shape alluding to the state's mountain.
Beyond that, São Francisco de Assis Church is in an area named Pampulha in the capital of the state, Belo Horizonte. The city is famous for having some of the best Brazilian food in the country.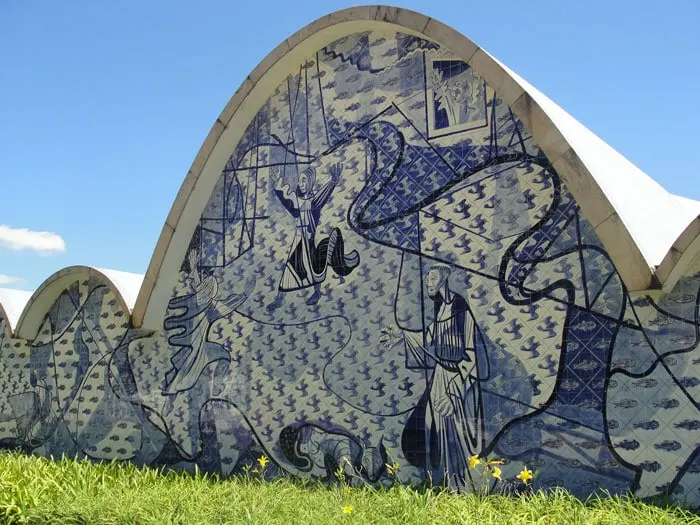 Maragogi, Alagoas
This resort town is a tourist attraction on its own. With turquoise water, fine sand, and coral reefs, the beaches are incredibly inviting in this area.
Beyond that, Maragogi is a popular honeymoon destination in Brazil because of these features and rightly so as this place is the best visual representation of paradise.
Local tip: Hop on a boat and cruise between the Carneiros, one of my favorites beaches.
Needless to say that snorkeling or scuba diving are two must-dos in such beaches teeming with marine wildlife.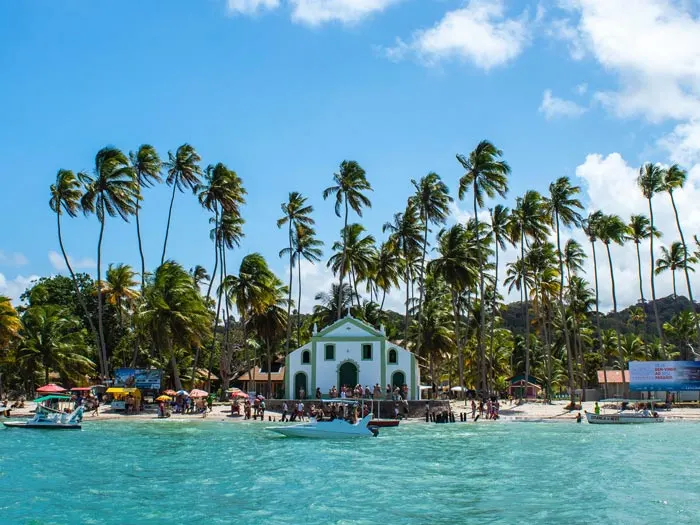 Ouro Preto, Minas Gerais
Ouro Preto (Black Gold) is a former colonial mining town in Brazil and a UNESCO World Heritage Site.
Founded at the end of the 17th century, Ouro Preto was the focal point of Brazil's golden age in the following century. Still, with the gold mines' exhaustion in the 19th century, the city's influence declined considerably.
Nowadays, many churches, bridges, and fountains remain as a testimony to its past prosperity and the exceptional talent of the Baroque sculptor Aleijadinho.
The white-washed buildings, pastel-colored details, and cobblestone streets complete the small-town vibe.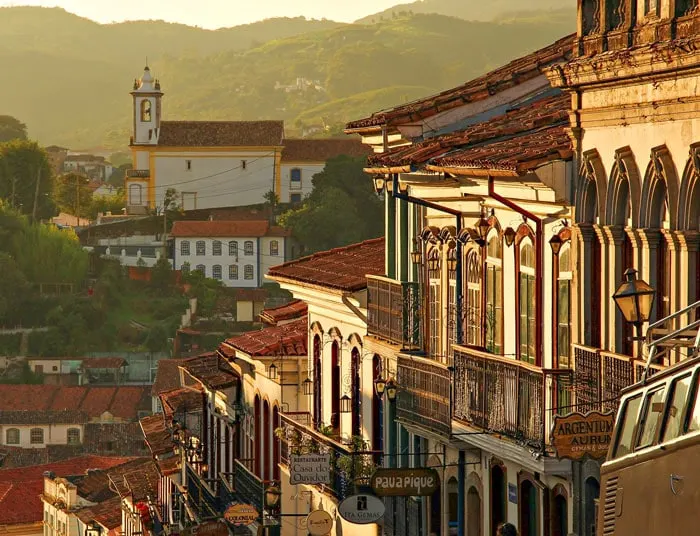 Lençóis Maranhenses, Maranhão
White sand dunes sprinkled with rainwater forming dark-blue lagoons in a desert going as far as the eye can see–that's a pretty succinct description of this tourist attraction in Brazil.
I know, beautiful beaches and abundant jungles are the things associated with the country, not dunes. Yet, this national park in Brazil is one of the prettiest places you could dream of visiting.
This extensive, environmentally protected coastal area in the northeast of the country is an untouched oasis. A bucket list must!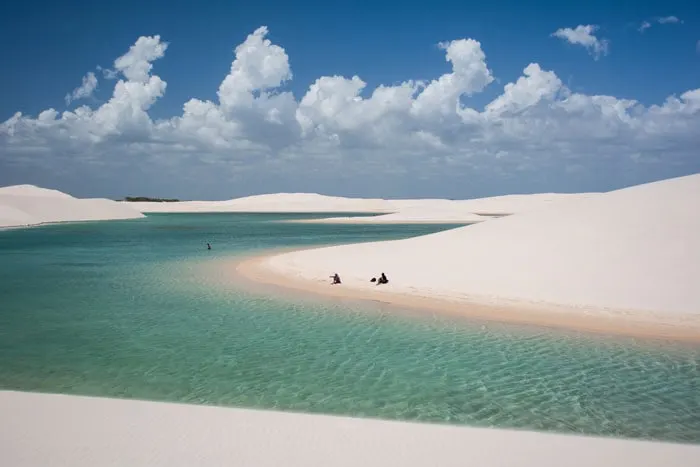 International Nativity Scene Museum, Rondônia
Imagine visiting a museum with over 3,000 art pieces of the nativity scene?
That's absolutely possible in Porto Velho, Rondônia's capital.
Christmas in Brazil is a very important holiday, and this museum celebrates this religious scene all year round.
Namely, it showcases works by artists from Brazil and over 50 countries, made from recyclable materials, straw, nutshells, plaster, gold straw, stones, clay, and ceramics.
However, the museum's highlight is the Permanent Monumental Nativity Scene – A single large nativity scene measuring over 538 ft² (50 m²) that tells from the history of humanity's creation until the resurrection of Jesus Christ. The artwork is listed as an Artistic Heritage of the State of Rondônia.
Serra da Capivara National Park, Piauí
This incredible national park is a UNESCO World Heritage Site because it bears exceptional testimony of one of the oldest populations to inhabit South America.
Many of the numerous rock shelters in the Serra da Capivara National Park are decorated with cave paintings, some more than 25,000 years old!
This mind-blowing place is highly underrated when it is, in fact, one of the most interesting tourist attractions in Brazil. While planning your trip, be sure to include it in your itinerary!
Jericoacoara, Ceará
Jericoacoara, a small fishing village in Brazil's northeast, is famous for being a mecca of windsurfing and kitesurfing Ceará.
Besides, this idyllic place with a laid-back vibe will reinvent your definition of paradise.
From streets paved with sand to dunes by the sea and pleasant hammocks in the water, Jeri is a top tourist attraction in Brazil and a place that will make you stay for longer than you had initially planned. Wanna bet?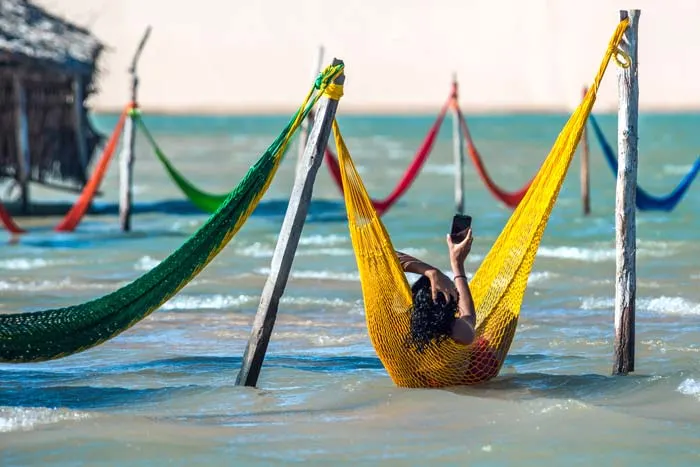 Genipabu Dunes, Rio Grande do Norte
This complex of dunes appeals to tourists of all ages and styles, which is why visitors from all over the world flock to this place every year.
Usually, they come to enjoy the crystal clear waters, the tall palm trees swaying lazily in the breeze, and the changing sand dunes, of course.
The Genipabu Dunes are continually shifting due to the stiff winds in the region, shaping the landscape.
They also happen to be a major attraction where people can sandboard and go on buggy rides, making this a combo of laid-back and adventurous vacation in Brazil.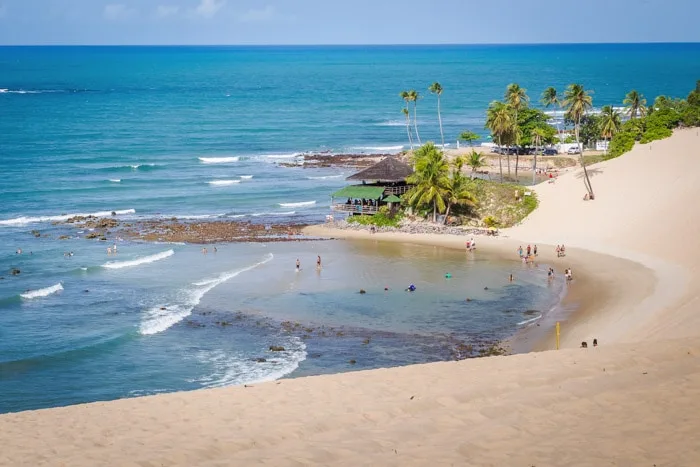 Jalapão State Park, Tocantins
Among golden dunes, grand landscapes, clear springs, and waterfalls, Jalapão is a mecca for ecotourism-lovers.
Amid the Cerrado of Tocantins, Jalapão is slowly being discovered by tourists looking for a few days of rest away from large urban centers.
This place is considered a fantastic tourist attraction in Brazil. Here you can float in springs, watch the sunset from the dunes, climb to the top of the Serra do Espírito Santo, raft through Cachoeira da Velha, and swim in the turquoise waters of Formiga Waterfall, among other things.
Put simply, Jalapão is a superb place to unwind!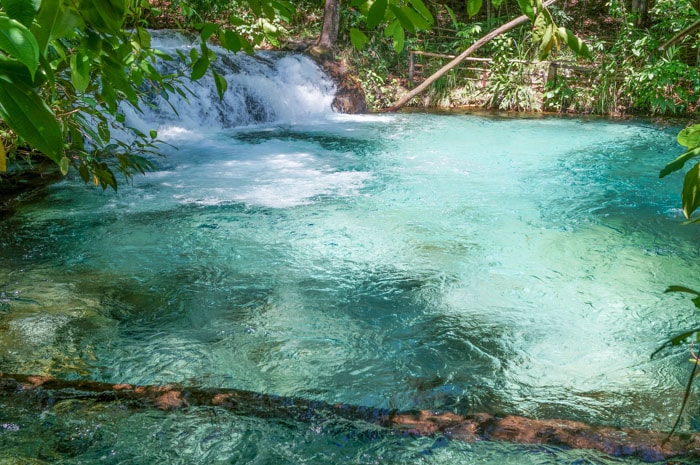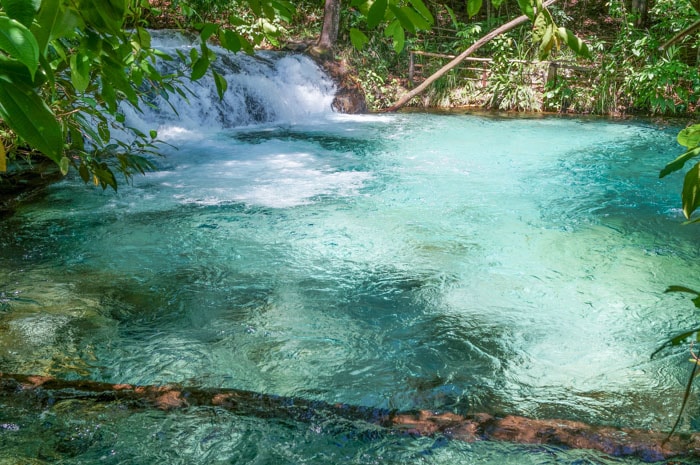 Pantanal, Mato Grosso do Sul and Mato Grosso
The Pantanal is not only a rich region but also a natural wonder!
While it is located in Western Brazil, the Pantanal also extends into portions of Bolivia and Paraguay. Besides, this place encompasses the world's largest tropical wetland area and the world's most extensive flooded grasslands.
The Pantanal is a UNESCO World Heritage Site with rich fauna and flora. For instance, some of the animals you can spot here are the giant armadillo, giant anteater, giant otter, marsh deer, hyacinth macaw (the largest species of parrot macaw), toucan, jaguar, and piranha.
Put simply, the Pantanal is a must-visit in Brazil!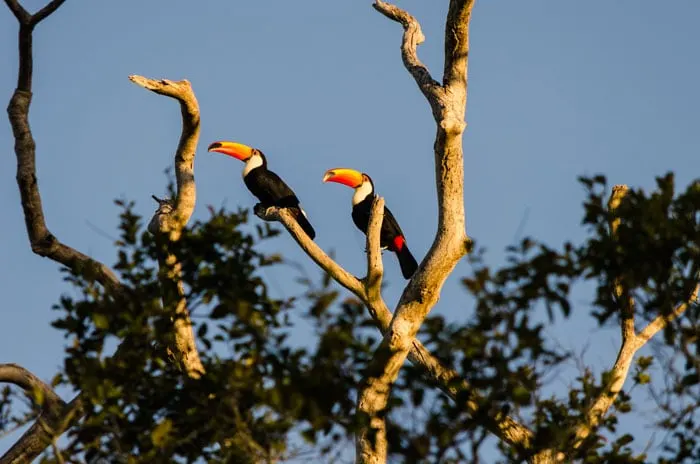 Penha Convent, Espírito Santo
This 17th-century convent could be just another religious site, but its location makes it unique.
Penha Convent is built atop a 505-ft (154-m) high hill and is accessible by those who climb the 116 steps up. Once at the top, the view of Vila Velha, Vitória Bay, and the Atlantic Ocean are breathtaking!
This convent built by Afro-Brazilian slaves also houses a museum to Our Lady of Penha that showcases sacred pieces, liturgy, clothing, and objects from the Convent's historical collection–they are over 400 years old.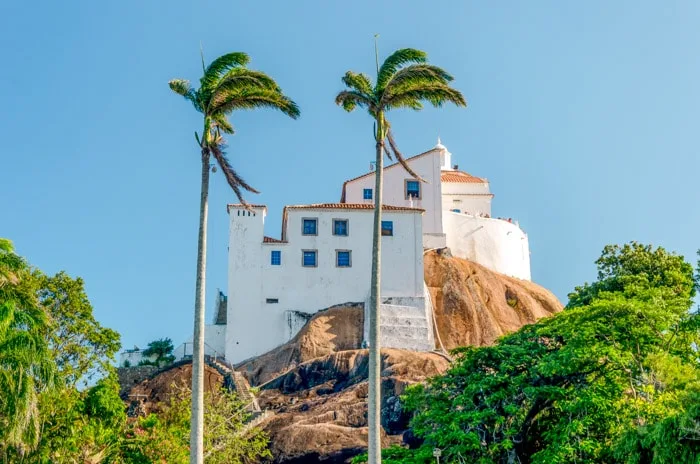 Bonito, Mato Grosso do Sul
First things first. Bonito means beautiful in Portuguese, and this place was called so for a reason–Bonito is one of the major eco-tourism hubs in Brazil.
Filled with caves, crystal clear rivers, and magical waterfalls, Bonito is everything you could dream of an adventure vacation.
Besides having mesmerizing landscapes, this region also offers the chance to spot native animals of Brazil, such as sucuri (anaconda), jaguar, jacare cayman, anteater, and maned wolf.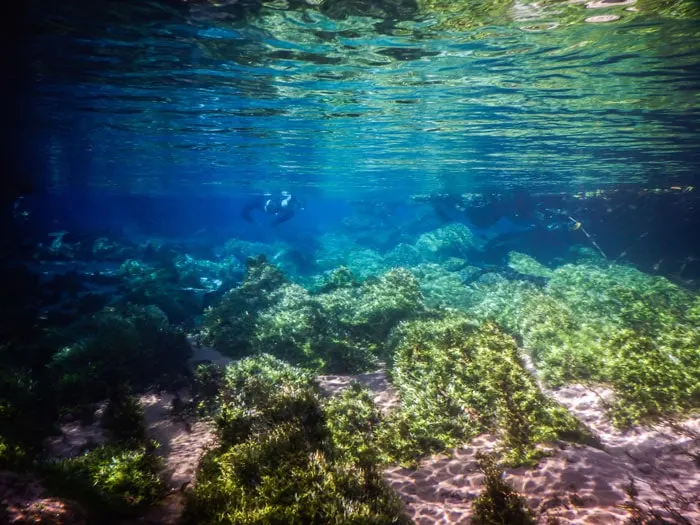 Other tourist attractions in Brazil that you won't want to miss
Porto de Galinhas, Pernambuco
Ipanema Beach, Rio de Janeiro
Boipeba and Morro de São Paulo, Bahia
Ibirapuera, São Paulo
São Miguel das Missões, Rio Grande do Sul
Municipal Market, São Paulo
Canoa Quebrada Beach, Ceará
Chapada dos Veadeiros National Park, Goiás
Lagoinha do Leste, Santa Catarina
Honey Island, Santa Catarina
Oscar Niemeyer Museum, Paraná
Municipal Market, Santa Catarina
Tiradentes, Minas Gerais
Leblon, Arporador, Copacabana Fort, and Pedra da Gávea, Rio de Janeiro
Want to deepen your understanding of Brazilian culture or simply in Brazil? Then you might want to check out these shows and movies on Netflix, as well as these books about Brazil.
Did you like this article about the best tourist attractions in Brazil? Then share it with a friend who might like it too!