Looking for jaw-dropping places to visit in Brazil? You came to the right place.
Brazil is a real mosaic.
In this country of continental proportions, we received cultural influences from different people around the world, and this is even more evident when we visit a few places in Brazil.
From tiny colonial towns with massive historical baggage to untouched beaches and mountains in the four corners of the country, diversity is everywhere.
For that reason, I couldn't write about only 10-20 best places to visit in Brazil as a Google search showed me most websites are doing. No. The full list of the best places to go in Brazil is far more extensive.
Covering an area nearly as big as Europe and the United States, the country has countless vacation destinations worth visiting and experiencing.
Best places to visit in Brazil
In a nutshell, I worked my butt off to write this article so you can decide where to travel in Brazil. Seriously, I wrote down all the places that I strongly believe you'll love and should visit on your next trip to South America.
Some of these places you have already heard about, others you probably had no idea existed.
But at the end of this article, I'm sure you'll be glad you got to learn about these magical places.
Without further ado, let's get to the 101 best places to visit in Brazil that you can't miss.
Wanna know the most beautiful places and destinations in Brazil? Read on!
Not enough time to read this article in one sitting? Save it for later!
Before you check out the best places to visit in Brazil
No matter where you go or for how long, travel insurance is the most essential item you need for any trip.
Many things can go wrong before, while, and on the way back from your vacation. And although this statement might sound too negative, it's true.
You can get injured, robbed, need medical attention, or have your flight canceled, to name a few.
Now imagine trying to solve any of those situations in a strange country where you don't speak their language? Save yourself the hassle.
For a couple of dollars a month, you're covered for many situations.
I often travel for my job, but never without travel insurance because it's not worth the risk. The company I use is Safety Wing, and I'm satisfied with them. Click here to get a quote.
Accommodations in Brazil
Looking for places to stay in the country? Browse our articles about hotels in Brazil to find accommodation in the cities you're visiting.
Outside the main destinations (aka Rio de Janeiro, Amazon, and São Paulo), hotels are pretty affordable. To compare properties and score the best deals, I always use Booking.com. It's easy to use and reliable.
Best vacation spots in Brazil
Christ the Redeemer, Rio de Janeiro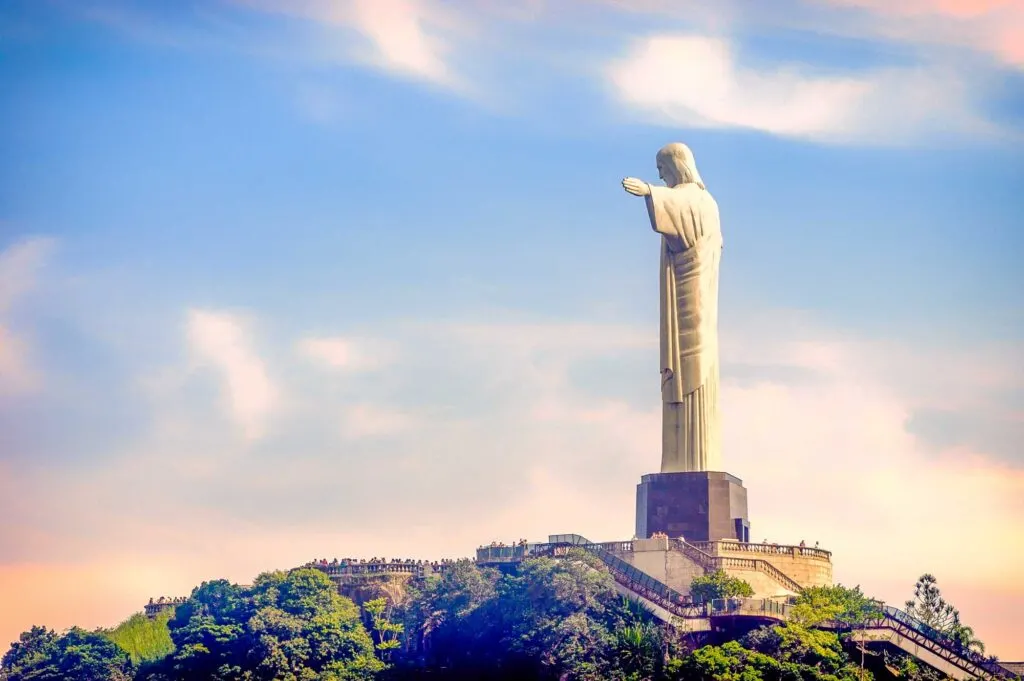 Known as Brazil's symbol, Christ the Redeemer is among the world's most famous landmarks.
Surprisingly, the statue itself isn't so high—it's 98 ft (30 m) high, and it stands on a 26-ft (8-m) pedestal—, but the mountain where it is located is massive.
To be more precise, it's a 2,300-ft (700-m) high mountain, and from there you have a fantastic view of the city. It's like Christ is watching over Rio de Janeiro.
Batman Alley, São Paulo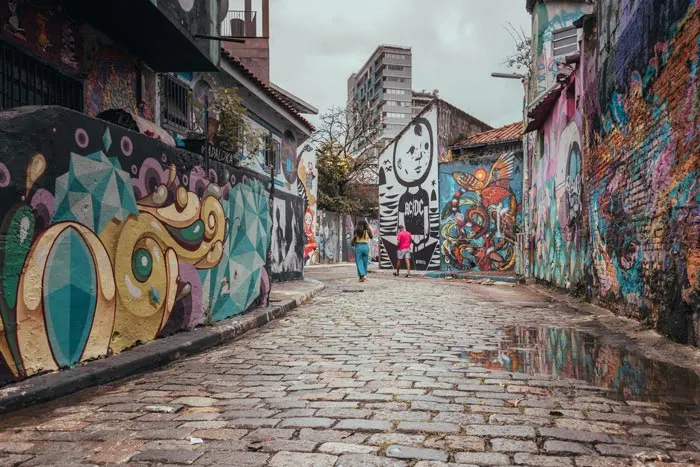 As a concrete jungle, São Paulo evolved its art scene with the city's elements—buildings, museums, and alleys.
Among the many graffitis you can spot throughout São Paulo, Batman Alley holds arguably one of the most interesting temporary open-art exhibitions.
In truth, Batman Alley is one of the most unique places to visit in Brazil. That's because artists come here often to create new paintings on top of the prior wall art, and the cycle goes on.
Read next: Where to stay in São Paulo
Ipanema Beach, Rio de Janeiro
Hitting the beach is one of the best things to do in Rio de Janeiro, and Ipanema Beach is a delightful place to soak up the summer vibes.
While it does offer scenic views of the Dois Irmãos Hill and a pleasant sand stretch, know that this beach in Rio de Janeiro is highly touristy.
It is one of the most famous places in Brazil, after all.
I avoid crowds at all costs, so my best Brazil travel advice is to visit touristy beaches early in the morning during summer and weekends.
Ipanema neighborhood is one of the best places to go in Brazil for singles (but also for those traveling with a partner) because of the charming bars and venues in the area.
Chapada dos Guimarães National Park, Mato Grosso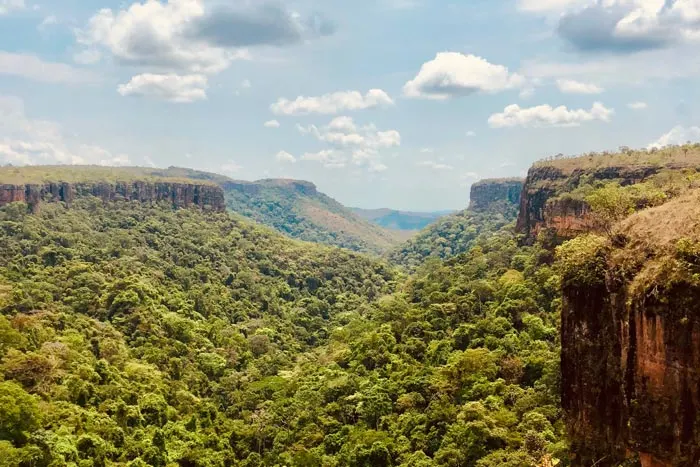 Chapada dos Guimarães is an eco-tourism hub in Brazil, which has several archaeological and paleontological sites. The park also has river springs, waterfalls, protected environmental areas, and hiking trails.
One of its highlights is the local postcard, the Véu da Noiva Waterfall (English: Bridal Veil).
The water comes from among a dense forest plunging for 282 ft (86 m) against a granite wall. It's beautiful. And note that this is one among the many jaw-dropping locations in the whole park.
Pelourinho, Bahia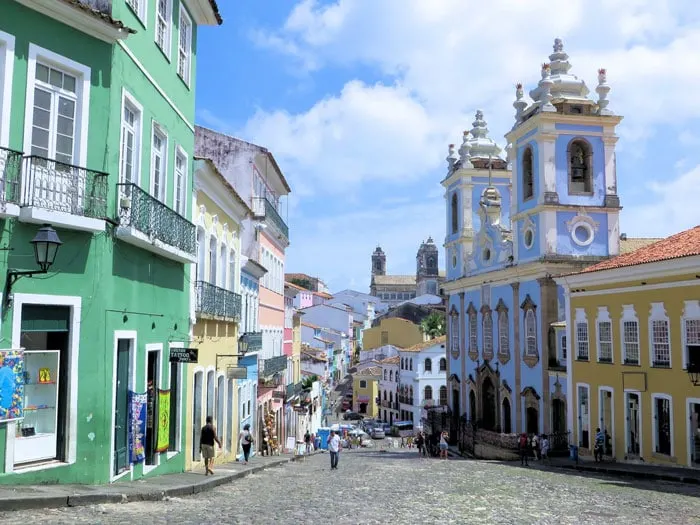 Nestled in the country's first capital, Pelourinho is the historic center of Salvador, one of the cheapest places to visit in Brazil.
The area is sprinkled with colorful colonial houses divided by cobblestone streets and unified by Brazilian history—from slavery to freedom.
Marvel at the Renaissance urban settings adapted to a colonial site and how the civil, military, and religious architecture mixed with each other. It's a unique place to visit in Brazil.
Itaimbezinho Canyon, Rio Grande do Sul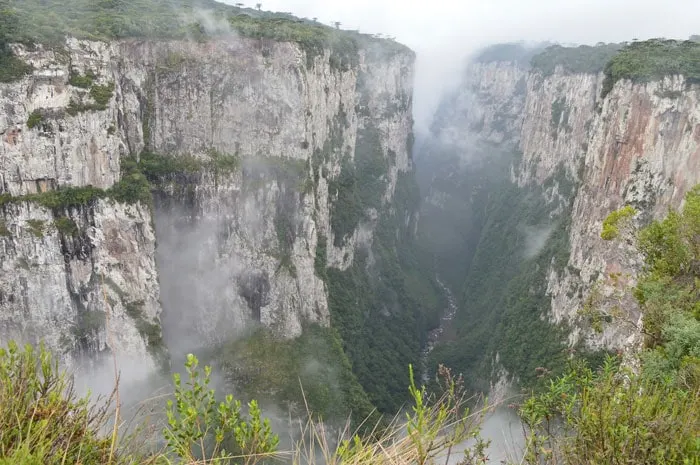 About 3.6 mi (5,8 km) long and almost half-mile deep, the Itaimbezinho Canyon is pretty or deadly. Or both. Probably both.
There are three hiking trails and many beautiful views, including some near the edges. Take care.
The area is covered by Atlantic and Araucaria Forest and cliffs, where a bunch of animals finds a place to call home. This is the biggest canyon in Brazil.
Porcos Bay, Pernambuco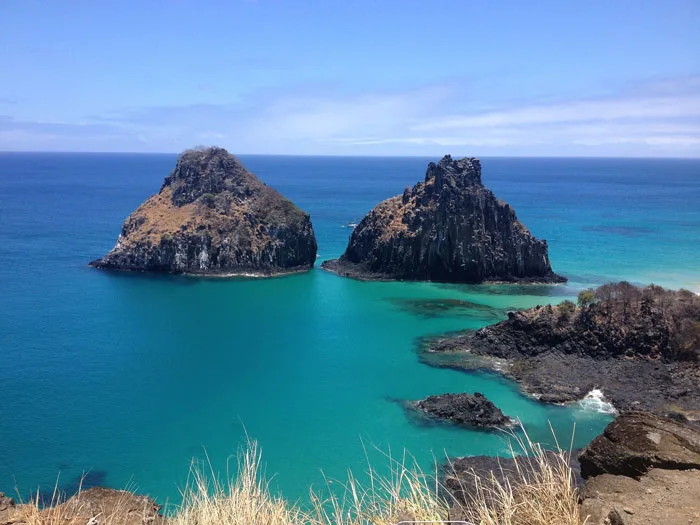 It isn't easy to access this destination in Brazil, but the effort is rewarded. This tiny beach has a narrow strip of sand and lots of rocks in the sea, which form transparent water pools.
A towering rocky seawall and the view of the Dois Irmãos Hill complete the breathtaking look of this protected area in Fernando de Noronha.
This archipelago is considered one of the best vacation spots in Brazil.
Blue Lake Grotto, Mato Grosso do Sul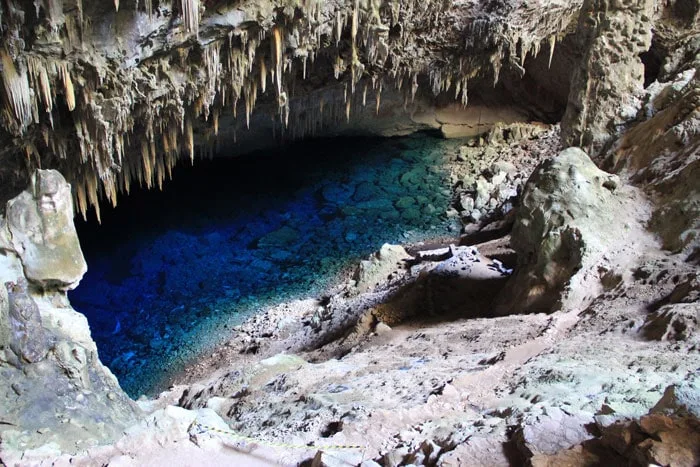 Blue Lake Grotto is a natural monument and protected area in Bonito. You wouldn't think a beautiful blue lake is inside this cave from the outside as its hidden entrance is modest.
Stone steps take you down the cave where the bright blue lake lies.
Many animal skeletons from the Ice Age period were found in this cave, including a 9.8-ft (3-m) high sloth and a saber-toothed cat.
Tip from a local: The lake is at its brightest from Sep–Feb.
Paradise Lake, Maranhão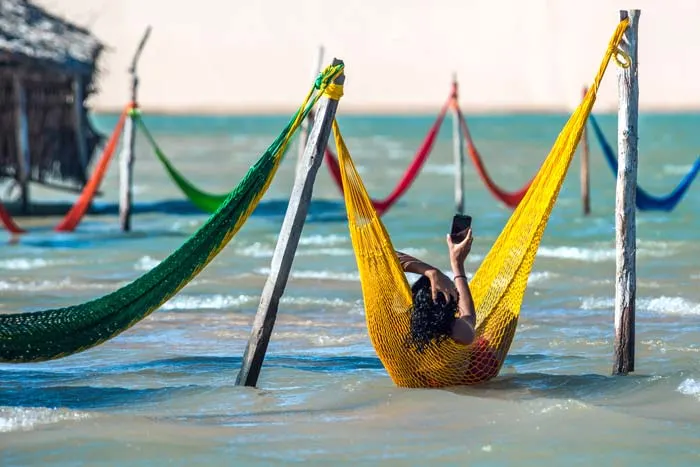 Paradise Lake is a body of light and dark blue water among sand dunes.
Locals and tourists venture on stand up paddle, sailing, or relaxing on a hammock in this lake with small waves—ideal for people traveling with kids.
The restaurants around the lake put tables and chairs near the water so that people can relax even while eating.
Campos do Jordão, São Paulo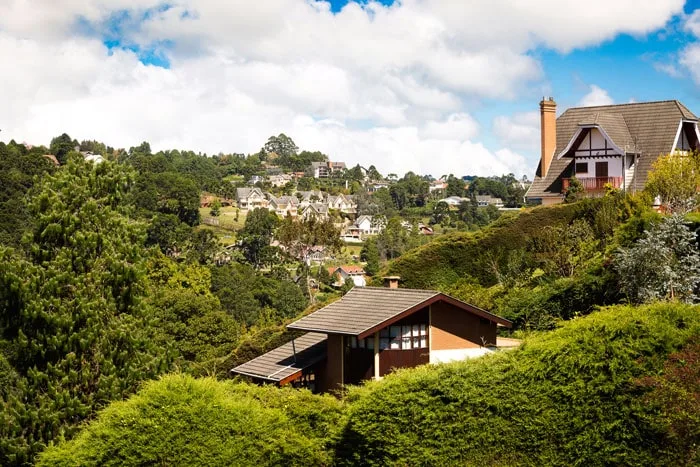 Campos do Jordão is a Swiss-inspired town 112 miles (180 km) away from São Paulo City. It's also one of the best places in Brazil where people can experience the European influence in the local architecture.
The half-timbered houses and cozy venues make this town unique.
Popular during winter, the charming Campos do Jordão is also an excellent destination during spring (Sep–Nov) when the smell of flowers fills the air.
Patacho Beach, Alagoas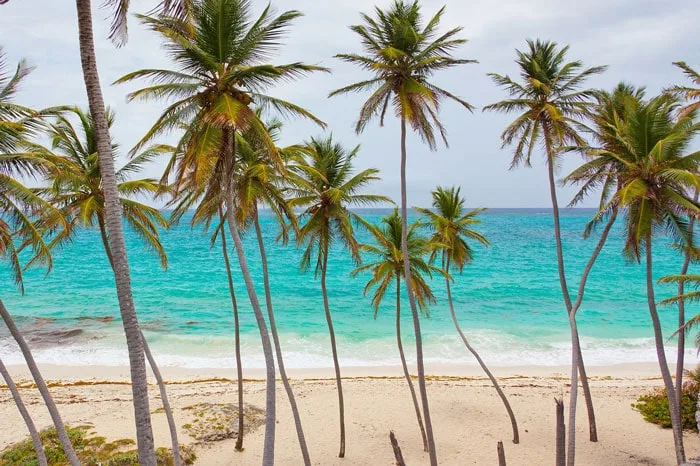 Unlike most beaches in this list, Patacho in Porto das Pedras is a paradisiac wild beach. No structure or toilets, no crowds or cars, only a few locals selling coconuts, soft drinks, and beers.
The lack of structure might be a downer for many people, but you'll forget about it when you feel the lukewarm crystal clear water on your legs.
As a backdrop, palm trees line up by the shore as far as the eye can see. If you get tired of doing nothing, take a boat from this beach to natural pools nearby. Either way, you won't regret it.
Historic Center of Ouro Preto, Minas Gerais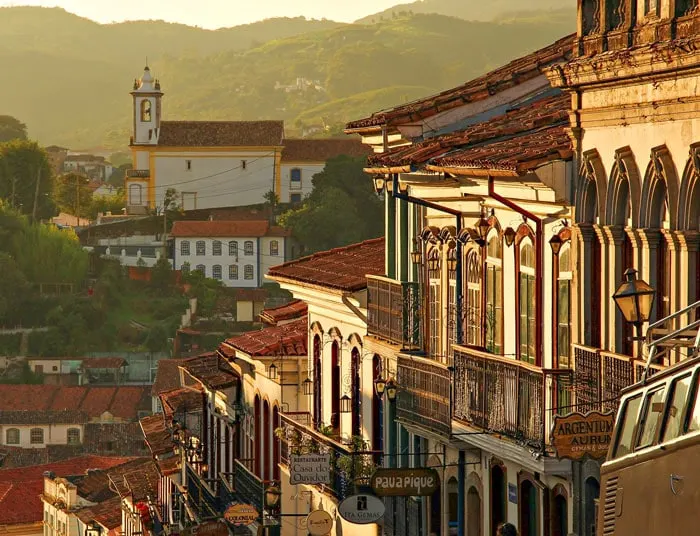 Set in a remote and rugged landscape, Ouro Preto is a former colonial mining town, which has maintained most houses, churches, and bridges from its period of prosperity.
The city probably heads the list of historical places in Brazil, and it's a UNESCO World Heritage Site not only for its exceptional Brazilian Baroque constructions but also for the originality in mixing the traditions of both cultures—Brazilian and Portuguese.
Also, Aleijadinho was born and raised in Ouro Preto, where he designed the Church of São Francisco de Assis and its sculptures.
Aleijadinho, also known as Antônio Francisco Lisboa, was one of the best Brazilian baroque artists.
Ouro Preto is one of the most significant places to visit in Brazil where you can learn the local history.
Abrolhos Marine National Park, Bahia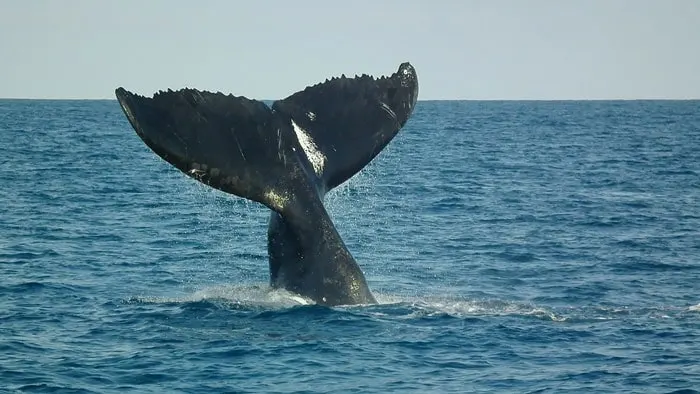 This archipelago located 43 mi (70 km) away from the coast is a singular place in Brazil and an adventure hub for those looking for crystal clear waters to dive in.
The water visibility is about 65 ft (20 m) from December through March, but from July through November, curious humpback whales are swimming around the route there.
With such tempting options, it's difficult to choose when to come. I know.
Naturally, you can also spot the hundreds of colorful fishes and interesting species that live in this marine national park. It's a long sailing day, but undoubtedly worth the trip.
Tip from a local: Using repellent or sunscreen before swimming harm wildlife. To protect yourself and the environment, cover your body with UPF clothing and apply reef-safe sunscreen on exposed skin.
Caracol Falls, Rio Grande do Sul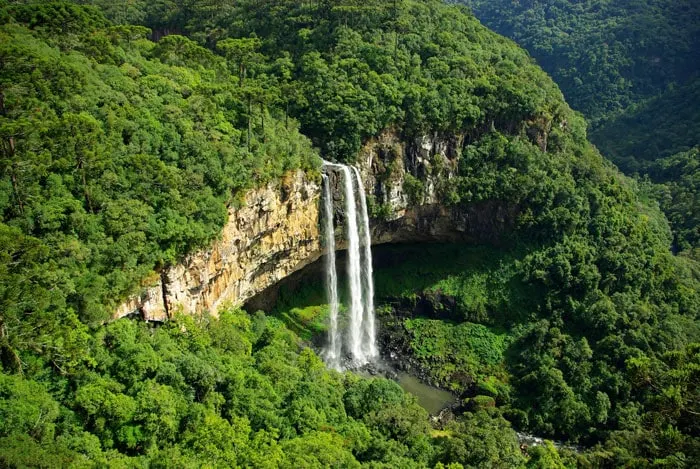 Caracol Falls isn't majestic as Iguazu or Niagara, but it has a remarkable setting.
Among the dense forest, a subtle stream of water has an uninterrupted drop of 426-ft (130-m) against basalt rock cliffs, and it cascades down looking like a bridal veil.
On sunny days, a beautiful rainbow appears to complete the magical scene.
The falls can be seen either from a cable car or an observation tower nearby. Both are beautiful.
Read next: 19 Tempting reasons to visit Brazil
Fervedouros do Jalapão, Tocantins
Fervedouros are water springs where people can easily float due to the pressure coming from the aquifer. That's why you can't sink in these natural pools.
Currently, about 20 springs are spread across Jalapão and have clear waters for a relaxing day out.
Depending on the weather, the waters can even turn light blue but remember NOT to use sunscreen and repellent as these products pollute the clear waters.
Meeting of the Waters, Amazonas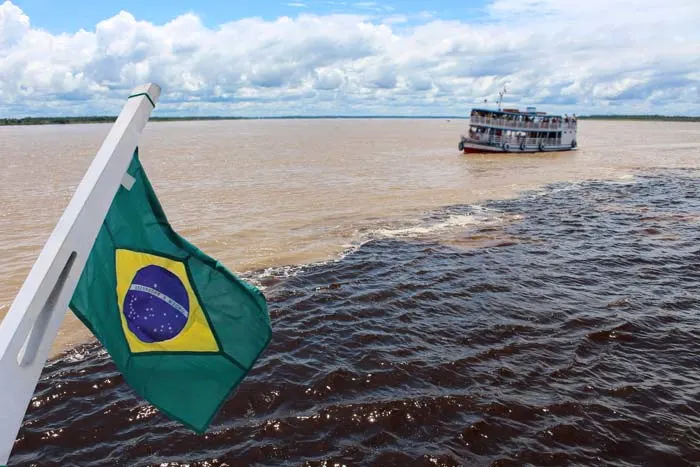 The difference in speed, temperature, and density between the Amazon River and Dark River makes their confluence a mesmerizing place to go in Brazil.
For miles and miles, these rivers run side by side without mixing. While Dark River, as the name suggests, is dark, it also is warmer than the Amazon River. The latter has a muddy color and runs two times faster than the former.
Such a phenomenon makes the Meeting of Waters an exciting attraction in the Amazon region. Unfortunately, as the waters of both rivers are far from clear, you can't spot any animals while sailing here.
Copacabana Beach, Rio de Janeiro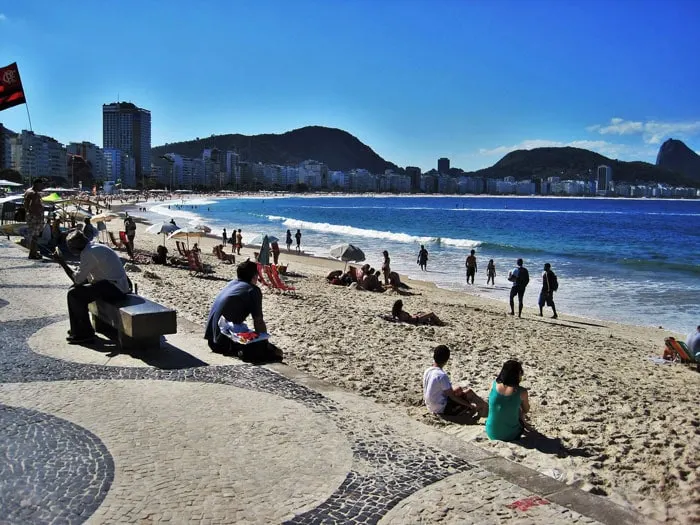 Next to Ipanema, Copacabana Beach is unmissable with its undulating black and white—Portuguese inspired—promenade and clear waters.
Although the light beige sand stretch is long, Copacabana can get jam-packed on warm days.
If you don't want to sunbathe here, I understand, but you must visit Copacabana once to see Rio de Janeiro's main beach. While here, look left to spot the Sugarloaf Mountain.
And don't worry about the tiny bikinis. I know (and have heard) that this is one of the most famous things in Brazil, or better put, from Brazil.
Foreigners usually make a big deal out of it, but Brazilians won't. So if you want to wear it (or not), it's ok. Nobody will bat an eye here. Just dress the way you feel more comfortable.
Poti Canyon, Piauí
According to scientists, Poti Canyon is about 400 million years old. The spectacular fauna and flora together with prehistoric rock carvings make this canyon a breathtaking place.
About 197 ft (60 m) high, the canyon is hidden in a desert wilderness creating an oasis in the region. Tourists often come here to kayak or sail in a tour boat.
Despite the awe-inspiring landscape, only a few people know about this underrated vacation spot in Brazil.
Lençóis Maranhenses, Maranhão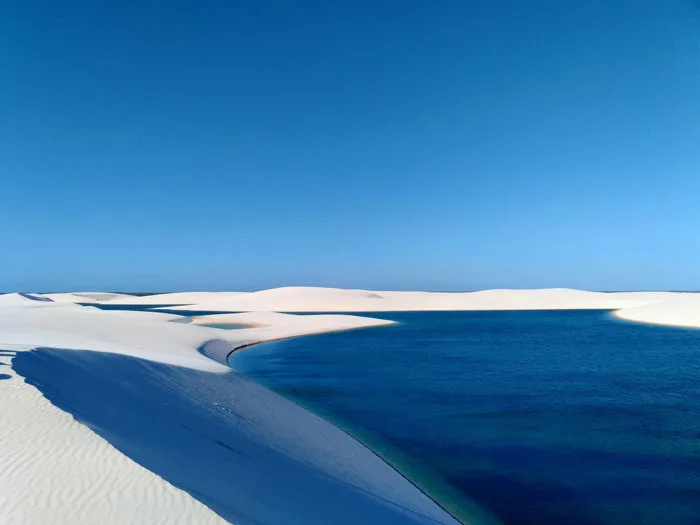 White sand dunes, clear waters, and mesmerizing views, the Lençóis Maranhenses are arguably one of the best places to visit in Brazil.
The protected area is a national park with lakes formed between dunes in the rainy season so that the best time to visit the park is Jun-Aug, the local winter.
During this time, the temperature is enjoyable, and the lakes are starting to dry. The landscape at Lençóis Maranhenses is out of this world. Like a magical setting.
Alto da Ribeira Touristic State Park, São Paulo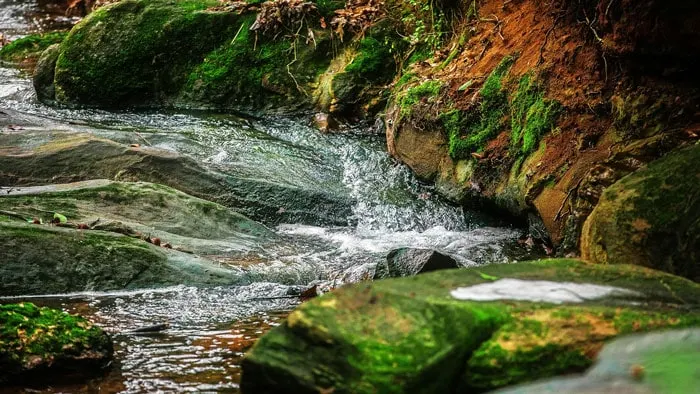 Also known as Petar, this state park is one of the most exciting ones in Brazil.
It not only has the most extensive cave opening in the world but also holds the most significant portion of Atlantic Forest in Brazil, which is one of the reasons why it's considered a UNESCO World Heritage Site.
The park covers an area of 65,405 American football fields. Whoa, that's a lot!
Also, due to the natural landscape scattered with caves and rocks, adventure sports, such as climbing, and abseiling are common in the park. For that reason, the special Brazilian police and firemen also train in this area.
Wildlife-wise, a few animals can be spotted here, such as the Ornate Hawk-Eagle, and the jaguar.
Paulista Avenue, São Paulo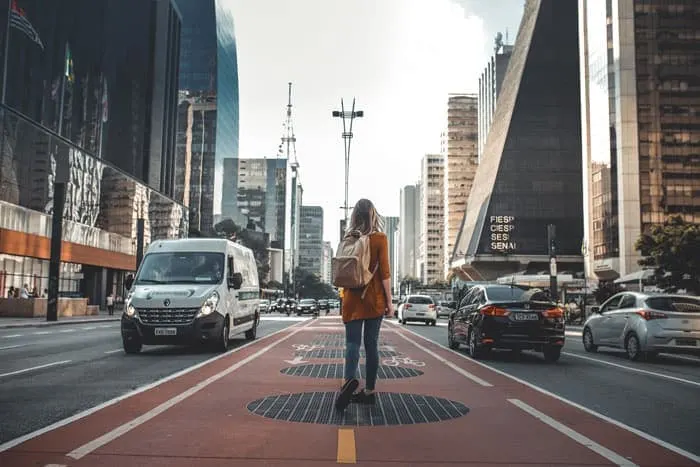 Paulista Avenue is a summary of Brazil: Diversity in every corner along a 1.7-mi (2,8-km) long avenue. The area attracts all crowds—from business tied-up folks to hippies and rock 'n roll fans.
You can find all sorts of shops and venues in this avenue. Also, many parades of all kinds take place here, such as the Gay Parade and New Year's Eve Party as well as demonstrations for political reasons.
On Sundays, the avenue is closed for cars so that locals and tourists can ride a bike, skateboard, or wander through the area without worrying about cars.
Prata River, Mato Grosso do Sul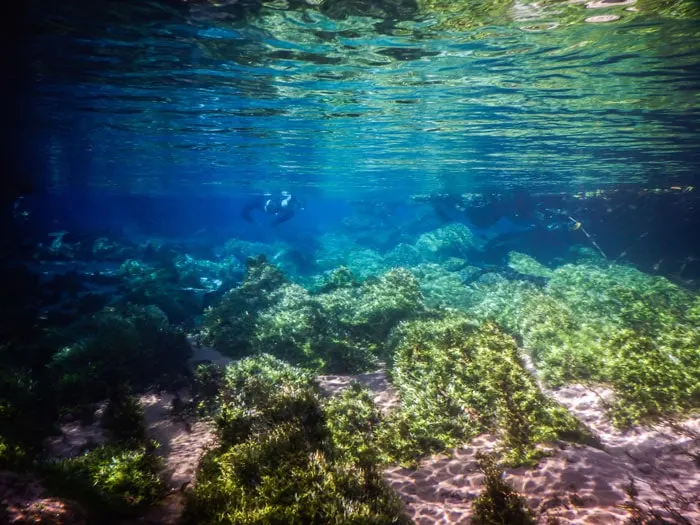 Striking nature and unique wildlife, the Prata River is an ecological hub in Brazil, and arguably in South America.
National and international tourists come here to snorkel in crystal clear waters, and although rare, visitors can spot many Brazilian animals, such as alligators, snakes, and countless species of fish in Prata River.
Iguazu Falls, Paraná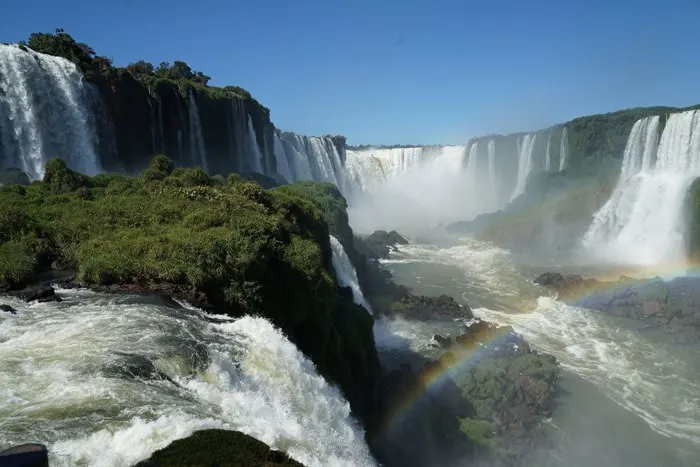 The second-most visited place in Brazil and the world's most significant falls, Iguazu Falls is 9,120 ft (2.780 m) wide and has a total drop of 262 ft (80 m).
These waterfalls, located inside a national park with the same name, are among the most beautiful natural wonders in the world.
When you see this awe-inspiring landscape by yourself, you'll understand why.
Iguazu Falls are among the best places to visit in Brazil or at least one you can't miss.
Fun fact: Iguazu (Portuguese: Iguaçu) means "big water" in Tupi-Guarani, the first official language in Brazil.
Read next: Vacation packages and tours in Brazil
Barra dos Remédios Beach, Ceará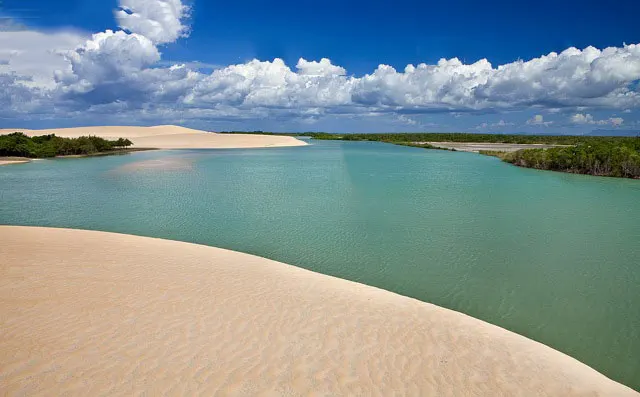 Perfect place for those who want to disconnect, Barra dos Remédios is a beach among sand dunes with nothing around but nature.
Bring your water, food, and a trash bag to enjoy a day in Ceará's Caribbean. To get there, you need a guide because there are no signs and you need a proper 4×4 car or dune buggy.
Holambra, São Paulo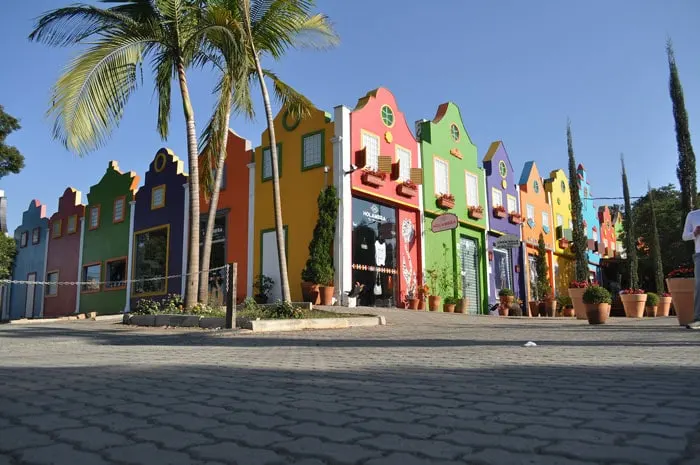 Imagine the cute architecture of the Netherlands combined with the tropical weather of Brazil?
That's right, Holambra is a Dutch-inspired town in the countryside of the state, which is a perfect day trip from São Paulo.
Besides the sweet, colorful houses, you can experience more of the Dutch culture in São Paulo. Stroll around the tulip plantations, see Van Gogh's paintings (replicas of course!) and visit a windmill.
Porto de Galinhas, Pernambuco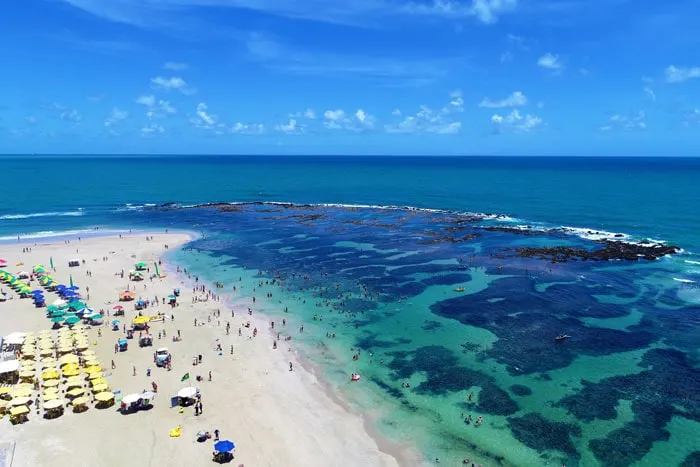 Porto de Galinhas is the main tourist center of Pernambuco's southern coast.
The place's fame is due to the diversity of natural beauty, such as the clear mangrove swamp, the white sand beach, and the coconut trees aligned by the shore.
This natural pool is home to colorful fish and turtles in the middle of a paradisiacal setting formed by coral reefs. Honeymoon-worthy location.
Chapada das Mesas National Park, Maranhão
Chapada das Mesas is a national park jam-packed with breathtaking hidden paradises. Blue Well is one of them.
And as the name says, this is a bright blue well where tourists can swim, relax, and find some relief for the heat.
Moreover, the park also has exciting hiking trails, caves, and some of the best waterfalls in Brazil. Need I say more?
Sugarloaf Mountain, Rio de Janeiro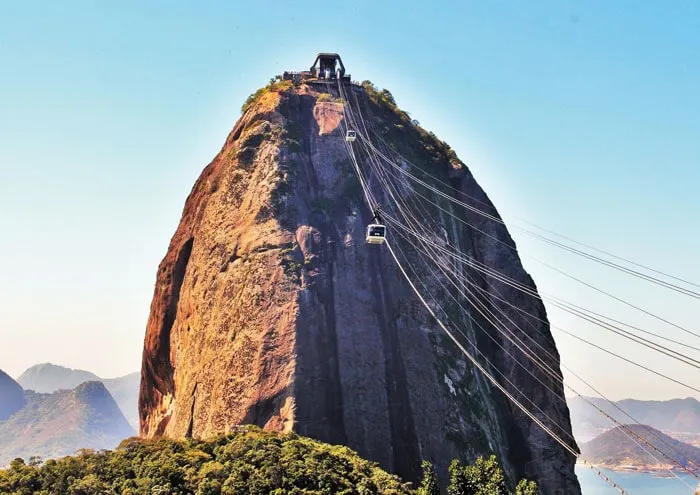 Rio de Janeiro is nestled among lots of hills and mountains. Some of them are next to the sea, and Sugarloaf is one of them.
From the ground level, the first cable car takes you to Urca Hill, where you'll have a magnificent view over Rio.
But the next cable car takes you to the Sugarloaf Mountain, and there, my friend, you feel like Jack in Titanic, like the queen/king of the world.
That's the place where you understand why people call Rio de Janeiro, the Marvelous City.
Canoa Quebrada Beach, Ceará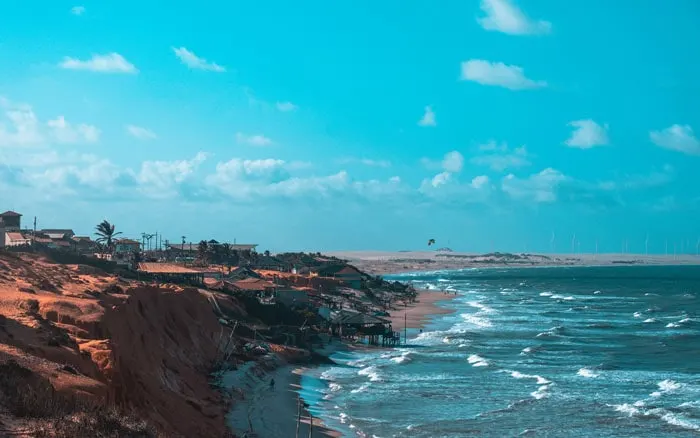 With its calm and warm waters, Canoa Quebrada Beach is surrounded by orange cliffs, which makes the perfect contrast with the blue sea.
The beach is not only loved among kitesurfers and windsurfers and is considered one of the best in the country to practice these sports due to strong winds.
If you're feeling adventurous, know that you can have lessons and rent the equipment right there on the beach.
Botanical Garden of Curitiba, Paraná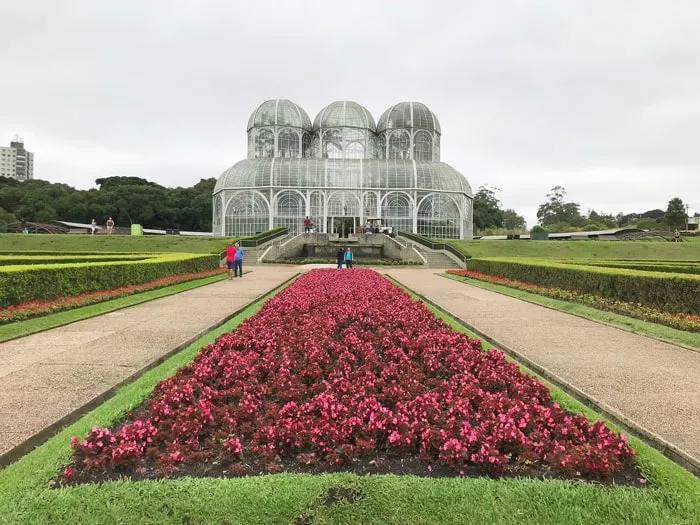 Among the most famous postcards of the city, the Botanical Garden of Curitiba is often the most popular one.
The garden is one of the favorite places in the city not only for tourists but also for the inhabitants of Curitiba themselves.
Besides this massive green and colorful French-inspired area, a metallic greenhouse houses botanical species that are a national reference, as well as a pretty fountain.
Pantanal, Mato Grosso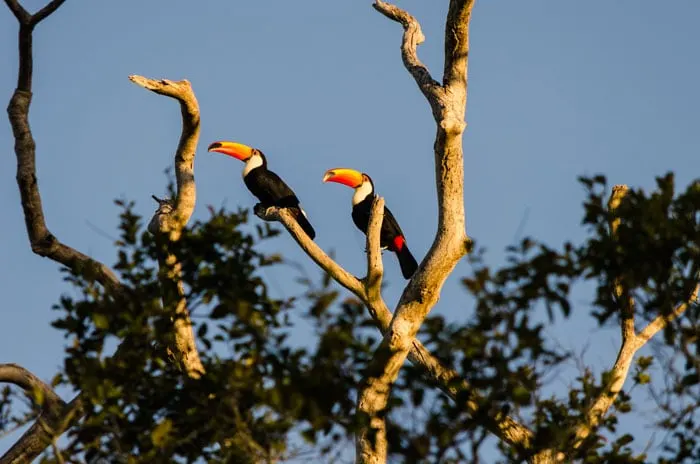 The world's largest swamp is a heaven for nature lovers and adventurers. That's because the Pantanal has a diversified flora with plants from the Amazon Rainforest, Atlantic Forest, and Cerrado, to name a few.
Besides that, this region has over 1,000 animal species, such as the jaguar, piranha, and toucan.
At Pantanal, you experience more of Brazil's wildlife than you would in most regions of the country. (Or even in many countries out there.)
Serra dos Órgãos National Park, Rio de Janeiro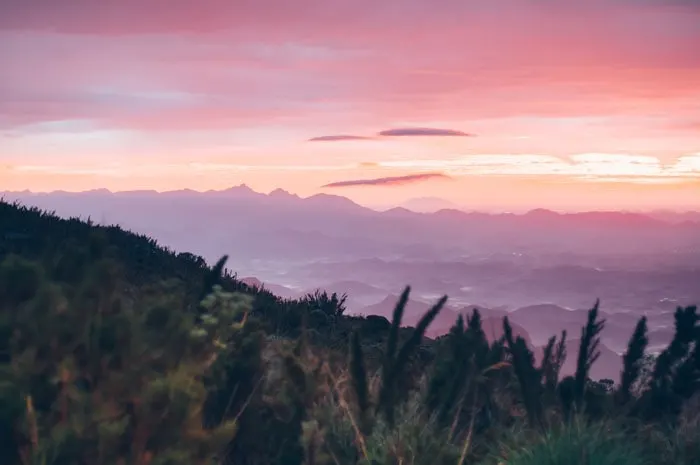 At Serra dos Órgãos National Park is the Serra dos Órgãos, a mountain range in Rio de Janeiro covered by extensive areas of Atlantic Forest. On a clear day, you can spot the mountains from Rio de Janeiro City.
Besides the mountains' dramatic features, countless waterfalls and hiking trails are spread across this massive park.
Xingó Canyon, Sergipe
The imposing Xingó Canyon, one of the most beautiful places in Sergipe, is the perfect combination of breathtaking landscapes and natural wonders.
There you can let your adventure self swim in the light green waters of the São Francisco River, go stand up paddle, or even rappel the canyon.
One thing is for sure, you won't want to miss the sunset from the top of Xingó. It's beautiful!
Missions of São Miguel, Rio Grande do Sul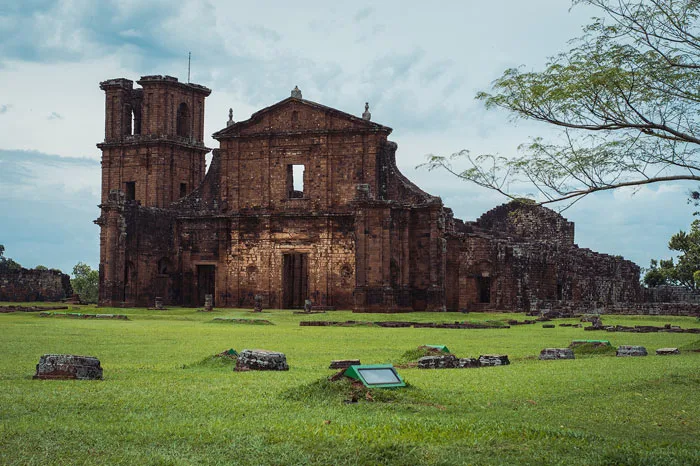 The Missions of São Miguel are composed of the ruins of five missions from the Jesuit Mission settlements within the land of Guarani, indigenous peoples of Brazil.
These missions were built between the 17th and 18th centuries.
São Miguel Arcanjo Church is the most well-preserved building among the ruins.
The site was recognized as a UNESCO World Heritage Site due to its ability to integrate the productive land and the religious mission in the area.
Castelhanos Beach, São Paulo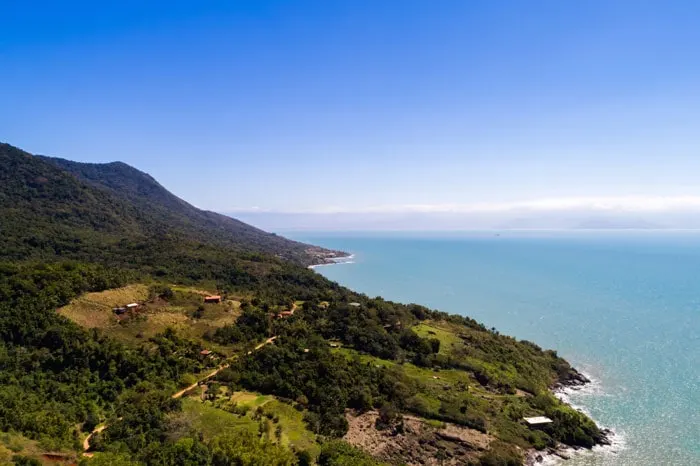 Castelhanos Beach is one of the main beaches in Ilhabela, a paradisiac island off the coast of São Paulo, and one of the most beautiful ones in Brazil. The only problem is that it is challenging to reach it.
On the way to the beach, you face over 12 mi (20 km) of dirty and irregular roads making a 4×4 indispensable.
Alternatively, taking a boat there might cut the hassle, but the sea must be calm for that.
At the beach, all you see are a few modest and improvised restaurants, a dense forest in the background, and beautiful blue-colored water ready to jump in.
Mount Roraima National Park, Roraima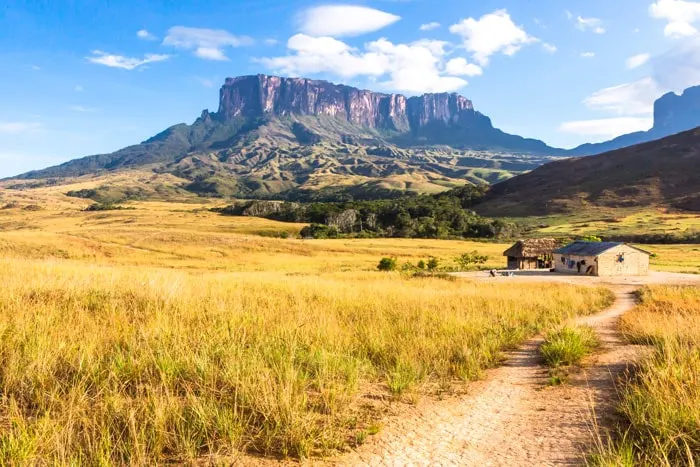 Have you watched Up? Then you've seen this place already. In the movie, Carl finds Paradise Falls near the park where Mount Roraima is.
The falls exist indeed, but with another name—Angel Falls—, and it's the world's highest waterfall reaching heights of 3,212 ft (979 m).
Mount Roraima itself is monstrous. The mountain is 9 mi (14 km) long and 9,222 ft (2,810 m) tall at its highest point—a beast.
For full disclosure, to trek the Mount Roraima you must do it through Venezuela because there's no hiking trail on the Brazilian side, which is an impressive national park and requires previous authorization.
Furnas Canyon, Minas Gerais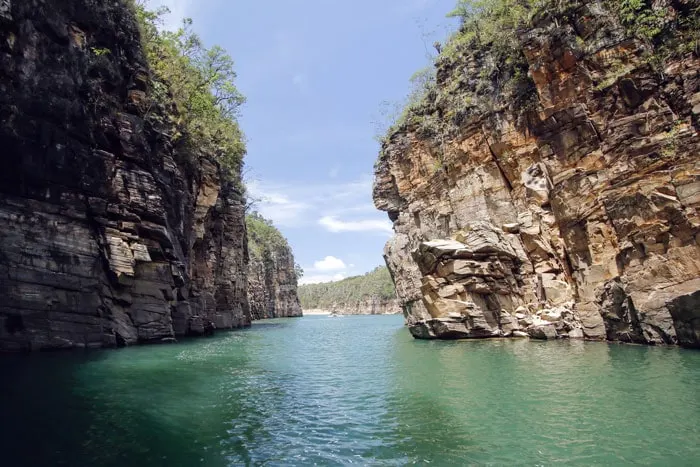 The Serra da Canastra region is full of beautiful waterfalls, and among the many cities bathed by these waters, Capitólio City attracts the majority of the tourists.
In addition to the waterfalls and lookouts in Capitólio, the most sought after tour is the one at Furnas Lake.
Locals call it "Minas Gerais' Sea" because of its beautiful color ranging between blue and green.
At Furnas Lake, the rugged canyons rise over 66 ft (20 m) high in the sky from where you have magical views of the region.
Búzios, Rio de Janeiro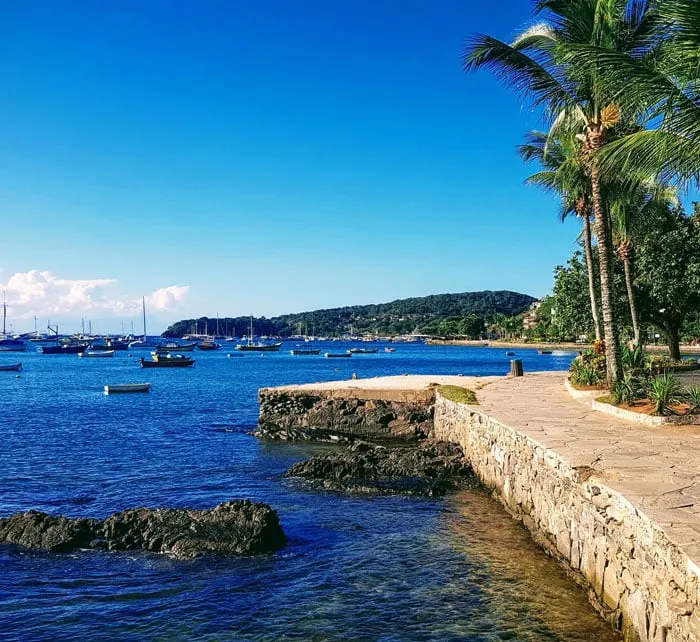 The town's name is Armação de Búzios, but people often call it Búzios only. Búzios has about 23 pristine beaches and a scenic town center.
Wander through Rua da Pedra, the central street, to find lots of boutiques, restaurants, bars, and clubs.
Among its beaches, Ferradurinha draws the most attention for having blue water and being a good snorkeling location. On the other hand, the red sands and calm settings of Forno Beach make it a mesmerizing place in Búzios.
Pipa Beach, Rio Grande do Norte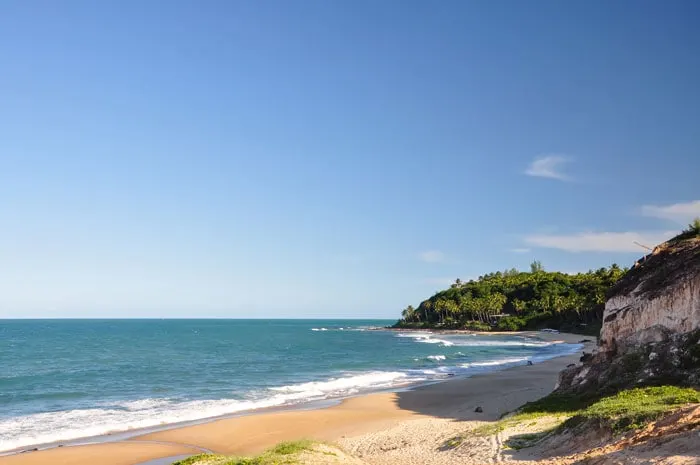 Pipa Beach is famous among international tourists because there's a location where you can watch wild dolphins at Dolphin Bay.
So keep your camera ready because these curious animals often swim around this area.
Oh, and remember not to try to interact with them or give them food as they're wild animals.
Eixo Monumental Avenue, Goiás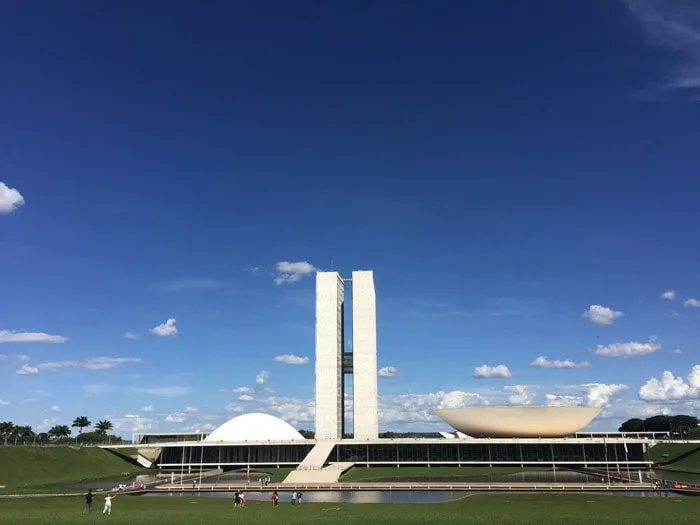 As the capital of Brazil, Brasília houses the three independent powers—the legislative, the executive, and the judiciary—and the main buildings of the government are at or around the Eixo Monumental Avenue.
Oscar Niemeyer, the acclaimed Brazilian modern architect, designed the city together with two other colleagues, hence why the city has the shape of an airplane.
Wander through this avenue and spot the memorials along the way, the Mané Garrincha stadium, and the peculiar Metropolitan Cathedral of Our Lady of Aparecida, among others. It's a beautiful area!
Chapada dos Veadeiros National Park, Goiás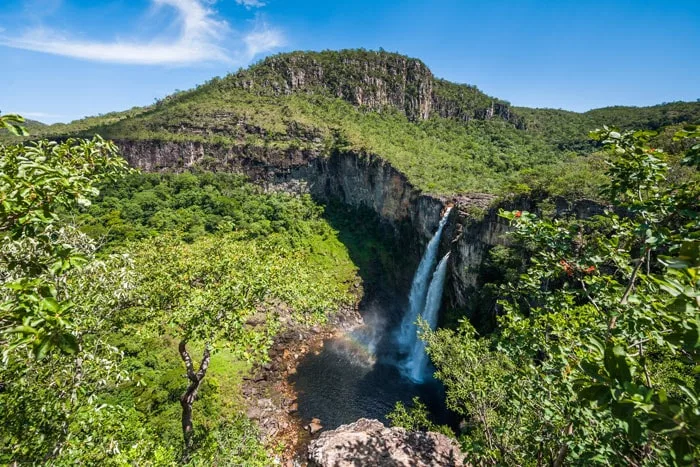 Chapadas dos Veadeiros is home to incredible scenarios and biodiversity.
Right in the heart of the country, this national park is home to several plant species, hundreds of springs, rivers, waterfalls, ancient rocks, and breathtaking landscapes surrounded by the Brazilian cerrado, a tropical savanna.
In some parts of the park, they have preserved former gold panning areas, which are part of local history.
Also, Chapada dos Veadeiros is known as one of the most mystical spots in Brazil because of the quartz crystals and the rock paintings scattered around the park.
Parque Lage, Rio de Janeiro
Once the residence of the Brazilian industrialist Enrique Lage and the Italian singer Gabriella Besanzoni, Parque Lage is a mansion among subtropical forests.
The little palace lies at the foot of the Corcovado, mountain where Christ The Redeemer is.
Nowadays, the park is public and has plenty of walking trails surrounding the mansion, including one to Christ The Redeemer. Also, the manor houses an art school and a courtyard cafe.
Sé Square, São Paulo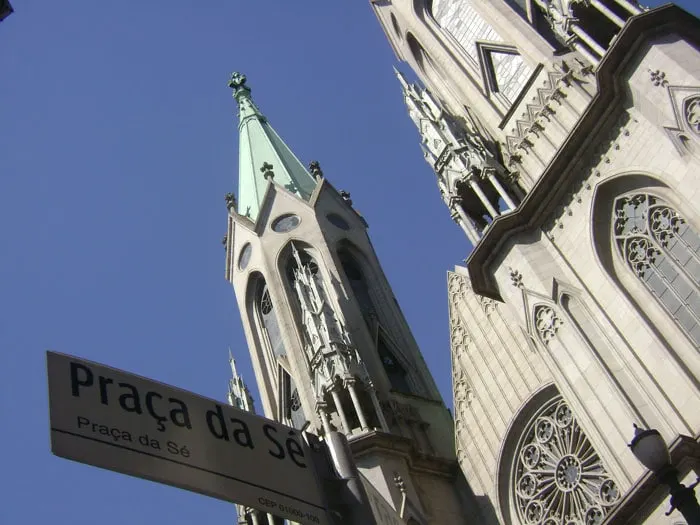 São Paulo's ground zero, Sé Square is the most traditional place in the city.
Many historical demonstrations took place here, but today the square houses the neo-gothic São Paulo Cathedral and is surrounded by palm trees and lots of shops.
The streets around the square have some of the oldest buildings in the city, which are pretty. But for full disclosure, many homeless and drug addicts have been living in this area in the last few years. Sad.
Gramado, Rio Grande do Sul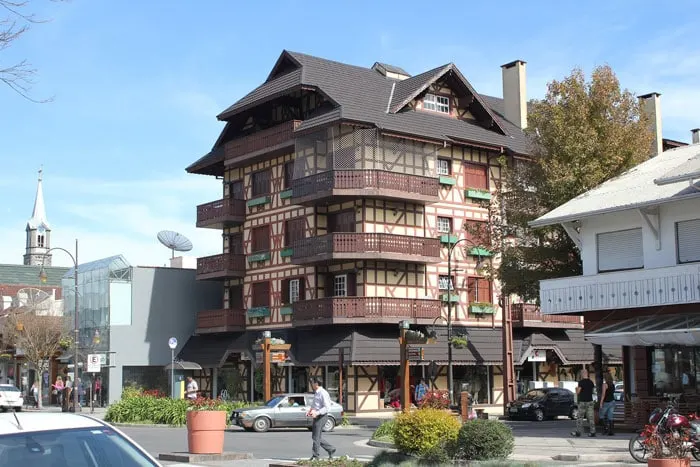 Gramado is a small city in the south of Brazil, which was highly influenced by the Germans in the 19th-century.
Small, beautiful, and charming, the city continually invests in attractions, landscaping, beautification, signage, and anything else that can encourage its primary source of income, tourism.
With its peculiar architecture, Gramado has a European atmosphere that mixes a bit of German, Italian, and even Swiss.
In winter, the cold of the mountains adds extra charm to the streets full of little shops and bustling cafes.
Bombinhas, Santa Catarina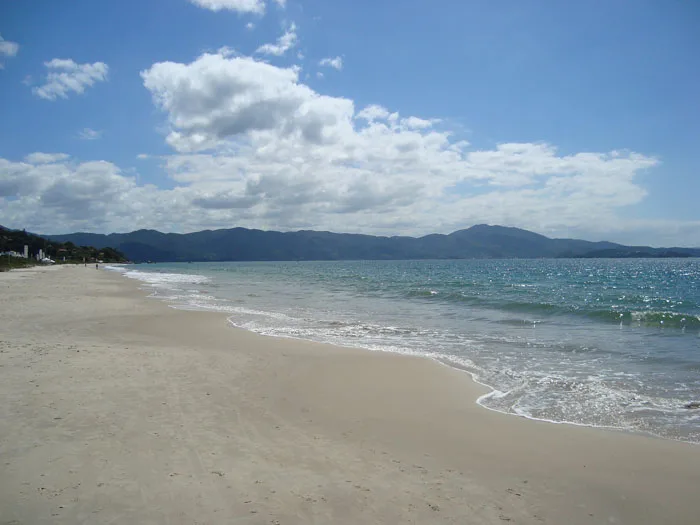 Bombinhas is a peninsula surrounded by 39 beaches of all kinds. Some wild, some with infrastructure, some with a calm sea, and others sought by surfers.
All known for the beautiful landscapes and clear waters.
The fauna and flora of Bombinhas (both on land and in the sea) are essential aspects of the local life, making it an ideal place for nature and beach lovers.
Bombinhas is also one of the safest places to visit in Brazil.
Carneiros Beach, Pernambuco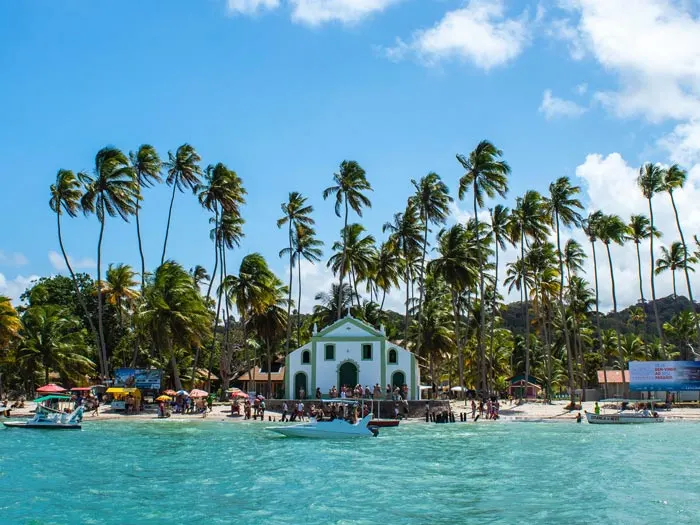 Carneiros doesn't have a vast sand stretch, but it certainly has most attributes of a postcard-worthy beach.
The coconut palms shadowing the clear sand, transparent green sea, and natural pools full of colorful fish, make Carneiros one of the best places in Brazil to chill out.
To complete the picture, an 18th-century little church right on the beach looks straight out of a fairytale book. If I were to choose a wedding by the beach, this would be the place.
No wonder hundreds of tourists disembark here to spend a lazy day in paradise.
Ilha Grande, Rio de Janeiro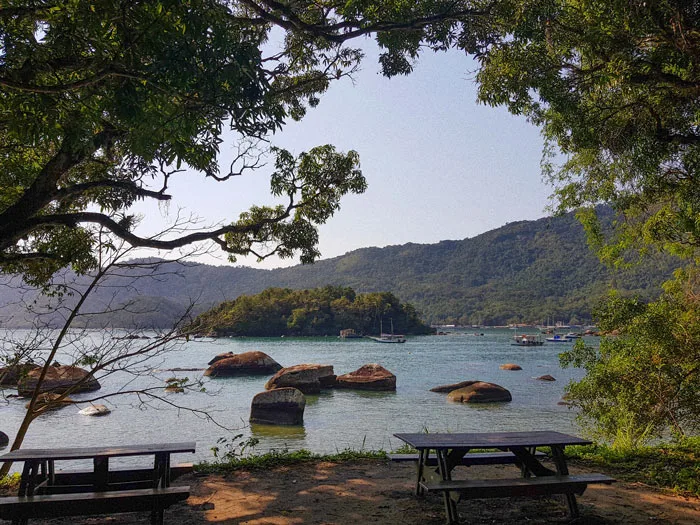 Ilha Grande is an island off the coast of Rio de Janeiro, and it's known as an undeveloped paradise because the island doesn't have much infrastructure.
Its attractions and activities are all nature-related, such as snorkeling, sailing, hiking, and kayaking, to name a few.
The landscapes won't disappoint either. Blue waters, dense forest, waterfalls, lakes, and caves. Seriously, Ilha Grande is one of the best vacation spots in Brazil.
João Pessoa, Paraíba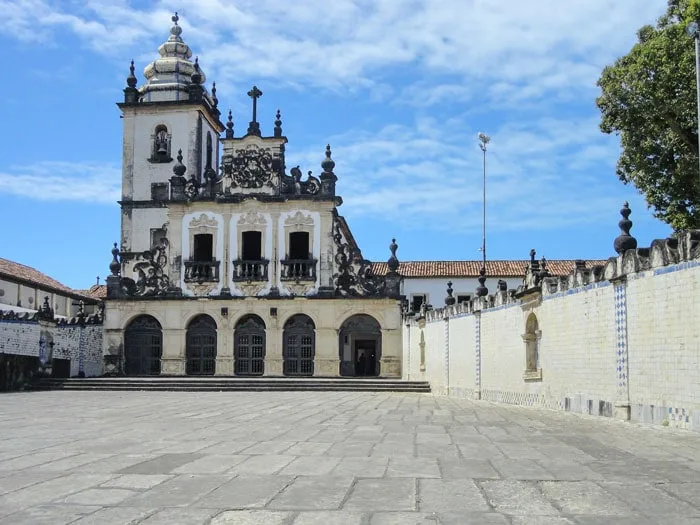 João Pessoa is the first mainland city in the Americas to see the sunrise every single day.
Besides the beautiful beaches, the city has good infrastructure, organized traffic, extremely friendly and welcoming people, historic churches, a center filled with colonial houses, and tranquility not seen in many large metropolitan areas.
Jalapão State Park, Tocantins
This state park is a popular destination among ecotourism and adventure lovers.
Located in the state of Tocantins, Jalapão has abundant clear waters, mesmerizing plateaus, and wild mountains with savanna climate, as well as the savanna landscape with orange dunes, waterfalls, springs, and impressive rock formations. Whoa, that's a lot!
For the more adventurous ones, know that the region is also ideal for sports, including rafting, canoeing, abseiling, and hiking/cycling trails.
Paraty, Rio de Janeiro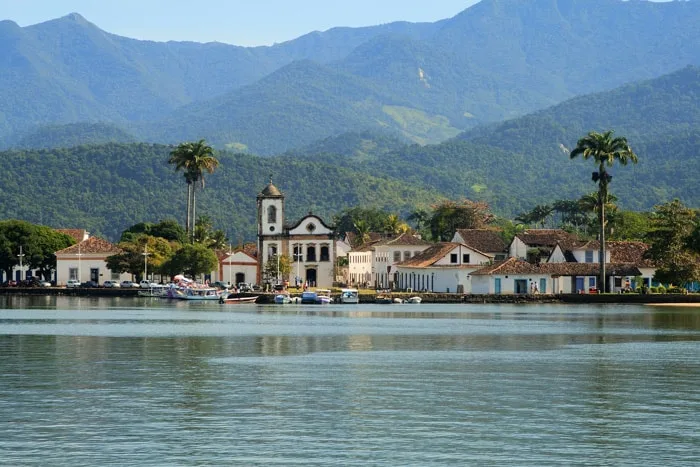 Cobblestone streets, whitewashed houses, and beautiful nature, Paraty is a sweet colonial town and has exceptional historical importance in Brazil.
Together with Ilha Grande, the town is a UNESCO World Heritage Site for its culture and biodiversity.
Also, Paraty has four protected areas of Atlantic Forest, which are part of one of the world's most important biodiversity hotspots. A trip to Paraty is a trip to Brazil's soul.
Água Milagrosa Cenote, Mato Grosso
Água Milagrosa is a 600 ft (200 m) deep cenote with transparent watercolors that switch between hues of turquoise and emerald depending on the time of year.
To access the cave, visitors must walk a light trail for about half a mile and then walk down an uneven staircase of more than 150 steps. The effort is worth it.
The water visibility is around 197 ft (60 m) between April through September.
However, such clear water still won't allow you to see the bottom of the lagoon, which is unknown to this day. The deepest a diver reached was 597 ft (182 m).
Pedra da Gávea, Rio de Janeiro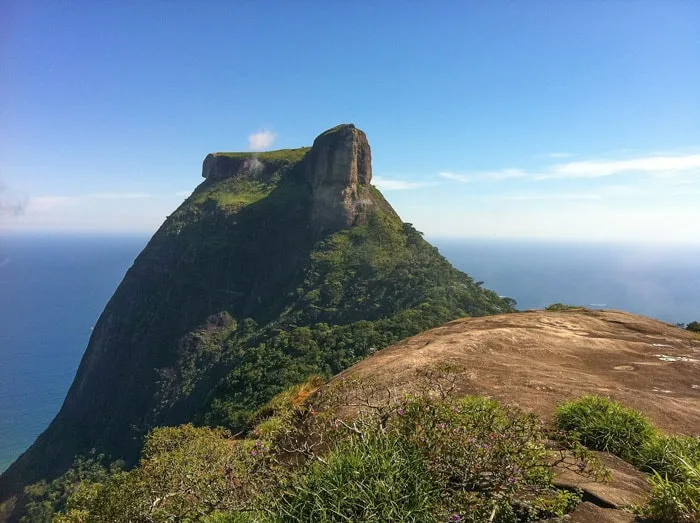 The highest monolithic mountain directly in the ocean, Pedra da Gávea is 2,769 ft (844 m) high, and to reach the summit, hikers must venture on a 2.5-3-hour challenging hike.
That's why visitation without a guide and equipment is not advised.
But so much effort is rewarded with panoramic views of Rio de Janeiro—Christ The Redeemer, Sugarloaf Mountain, the city, and Dois Irmãos Hill.
Farol Beach, Rio de Janeiro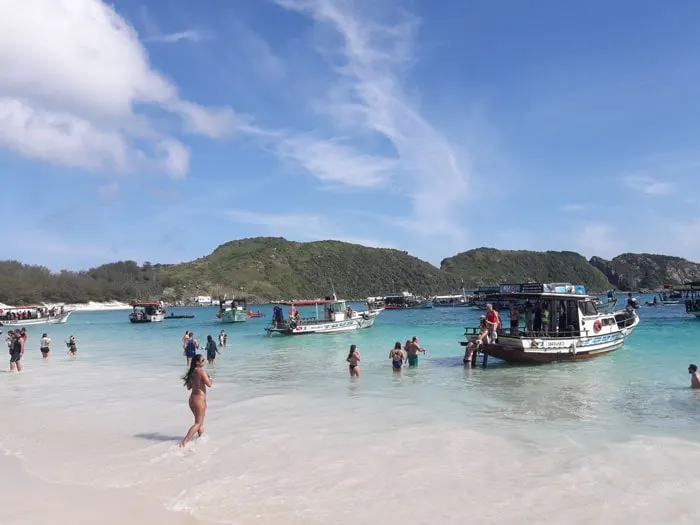 Chosen as the 2nd most beautiful beach in Brazil, Farol Beach is located on an island off the coast of Arraial do Cabo. Farol is my husband's favorite place to visit in Brazil as it was the cleanest water he had ever seen in his life.
This beach is protected by the marine, hence why access to it is restricted—only 250 people can be on the beach at the same time.
Fish swimming between your legs and birds diving after them in search of lunch in crystal clear water, that's the scene that keeps playing itself the whole day.
Or at least for the entire 40 minutes, you're allowed to be on this beach.
Chapada do Araripe Park, Ceará, Pernambuco, and Piauí
Chapada do Araripe is an offbeat destination in Brazil that holds plenty of hypnotizing landscapes.
Unlike other parks-chapadas, this one is located in a semi-arid region, and because it has abundant water, the place is considered the lungs of the backlands.
Also, the park is home to Araripe UNESCO Global Geopark, which holds one of the largest deposits of fossils from Lower Cretaceous in Brazil and in the world.
Pomerode, Santa Catarina
Pomerode is a rather unusual place to visit in Brazil as locals call it the most German city in the country.
They say that because the town was founded by German immigrants, and even today, most of their traditions, architecture, and language are preserved.
Yes, German in Brazil. It sounds crazy, but it's a reality. But for disclosure, know that they speak a dialect, not the German you would hear in Berlin, for example.
Learn more about Pomerode's history, visit the museum with the same name, which explains the development of the city and the region.
After that, you can follow the half-timbered houses route to see the Brazilian influence on German-styled houses. (This route is part of Brazil's historical and artistic heritage.)
MASP, São Paulo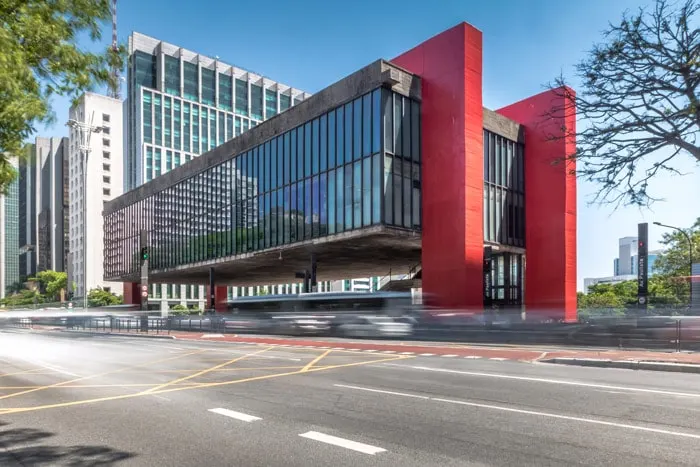 MASP, Museum of Art of São Paulo, is among the most significant museums in Brazil. The gallery is an open space where all paintings and photographs are exposed.
Besides being the city's postcard, the São Paulo Museum of Art is home to the most important European collection in the southern hemisphere.
Fun fact: In 1968, Queen Elisabeth II inaugurated the museum in its new address at Paulista Ave.
Joaquina Beach, Santa Catarina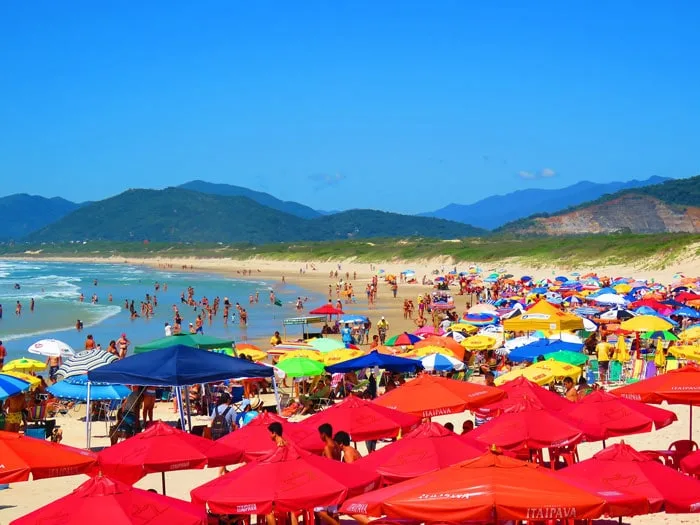 Joaquina Beach got famous in the surfing community because of the Hang Loose Pro contest in 1986.
Although the winds in Joaquina brought sports enthusiasts from all over the world, the surf is not everything this place has to offer.
A long stretch of soft and bright sand, inviting sand dunes, and a perfect place to watch the sunrise complete the landscape of one of the prettiest beaches in Florianópolis.
Imperial Museum, Rio de Janeiro
Brazil was a Portuguese colony for 322 years already when in 1822 it became the independent Empire of Brazil.
This empire didn't last long, and in 1889 Brazil became the republic we know today. But the historical events of the Empire of Brazil are documented at the Imperial Museum in Petrópolis.
Besides having priceless artworks, the museum is also based on an invaluable building—the former summer palace of Emperor Pedro II, surrounded by a garden.
Chapada dos Parecis, Mato Grosso and Rondônia
Ecotourism and adventure sports are the main economic activities in this region where about 26k people live. Visiting Brazilian Indian tribes is also an excellent option to get immersed in Brazilian culture.
With countless untouched natural beauties, rivers of crystal clear water, waterfalls, natural stone monuments, and caves with millenary inscriptions, this land is owned by the Nambikwara and Parecis Indian tribes.
The latter obviously inspired this park's name.
Tabuleiro Falls, Minas Gerais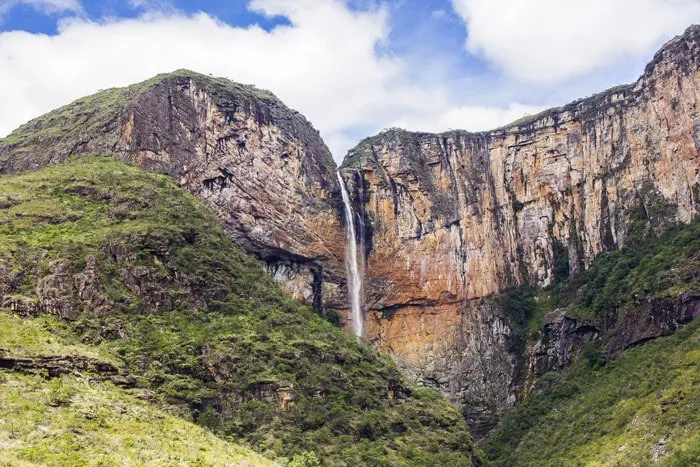 Tabuleiro Falls is the highest waterfall in the state and the third highest in Brazil.
The falls have an uninterrupted drop of 896 ft (273 m) against heart-shaped cliffs, which you can only see after an easy 1.6 mi (2,5 km) hiking trail.
But for the more adventurous souls, know that it is possible to hike to the top of it. Prepare yourself for a 5 mi (8 km) intermediate hike, and watch out for the edges. Finally, take in the view and enjoy it.
Igreja Hill, Santa Catarina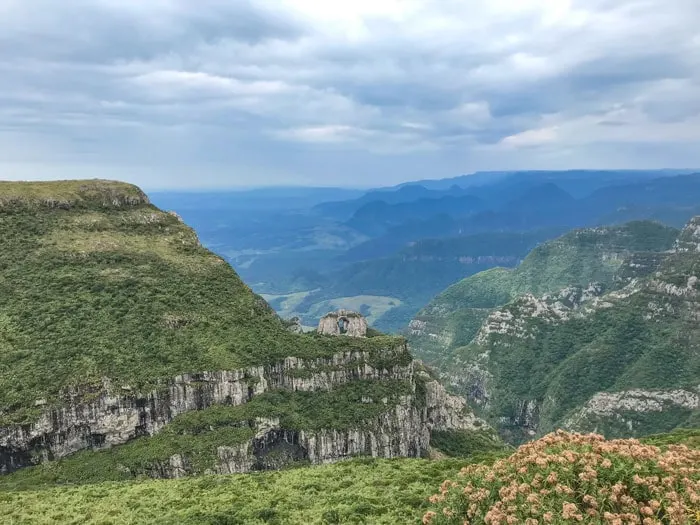 One of the most visited attractions of Santa Catarina, and also one of the most beautiful ones, is Igreja Hill. This location is considered the highest inhabited place in the southern region of Brazil.
From there you can see the Pedra Furada, a 98-ft (30-m) high rock formation with a hole in the middle. The full view is breathtaking as you can see mountains and hills going as far as the eye can see.
Belém, Pará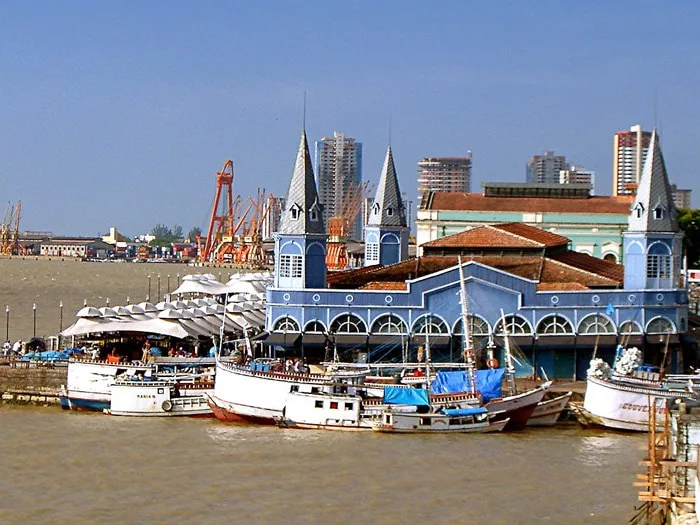 Belém is a port city that preserved most of the Portuguese colonial architecture in its old town.
A few good examples of it are the Paz Theater but also the Ver-o-Peso Market, which offers the most varied flavors and aromas of Pará.
This massive open market on the shores of Guajará Bay brings together hundreds of stalls of fruit, fish, herbs, spices, sweets, essences, crafts, and more.
An ideal place to have a taste of Brazil as Belém is a rather foodie city with deep Brazilian roots and flavors.
Historic Center of Goiás, Goiás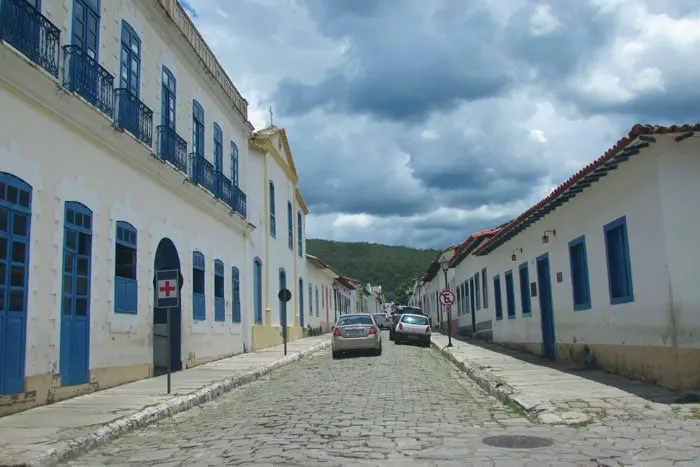 Whitewashed and pastel-colored colonial houses, cobblestone streets, and a piece of Brazilian history in every corner, the Historic Center of Goiás is rightly a UNESCO World Heritage Site.
Not only made of cute little streets, but this place is also home to a few delicious Brazilian delicacies, such as pastelinho and coconut rose.
In a nutshell, Goiás city center is the perfect place to experience colonial architecture, unique culture, and authentic food.
Sunset Dune, Ceará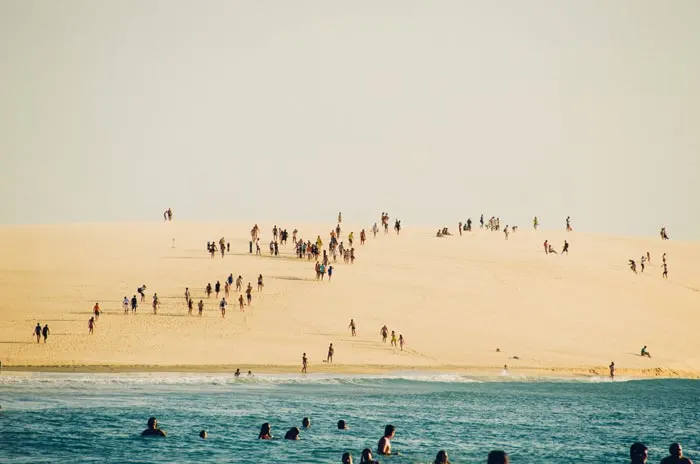 This place might look like a simple sand dune during the day, but during sunset, it gets jam-packed with tourists looking for romantic views.
Watching the sunset on this dune in Jericoacoara is nearly a ritual where people celebrate weddings or bring champagne.
Either way, it's the perfect way to finish a memorable day.
Chapada do Guarani, São Paulo
Apart from offering a massive number of attractions, the State of São Paulo is rich in routes and circuits that tell the history of the region.
The Chapada Guarani Circuit, for example, is a natural paradise about 124 mi (200 km) from the state capital.
With its abundant nature, this route, which sits on the Guarani Aquifer—one of the largest underground water reservoirs in the world—integrates the cities of Brotas, Analândia, Itirapina, Torrinha, São Pedro, São Carlos, Descalvado, and Santa Rita do Passa Quatro.
As expected, the region has plenty of adventure activities such as rafting, canoeing, trekking, paragliding, mountain biking, and many others.
I said 'as expected' because Brotas is the national capital of adventure. But don't think its neighbors São Pedro and Itirapina are far behind. The whole region is a perfect adrenaline-rush route.
Espelho Beach, Bahia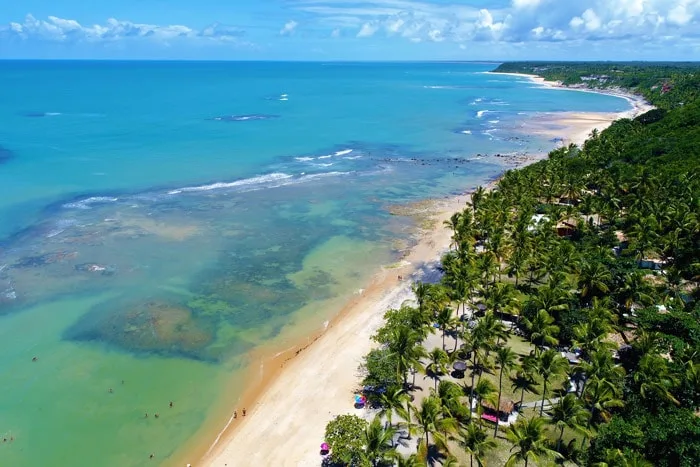 Espelho Beach is considered one of the prettiest beaches in Brazil. Here, you'll find everything a beach needs to be among the most beautiful ones in a country where people are not strange to paradises.
This beautiful beach has clear and calm water, a vast expanse of sand, natural pools, restaurants, and beachside bars. Not to mention the surrounding cliffs that contribute to the unique landscape.
Inhotim Museum, Minas Gerais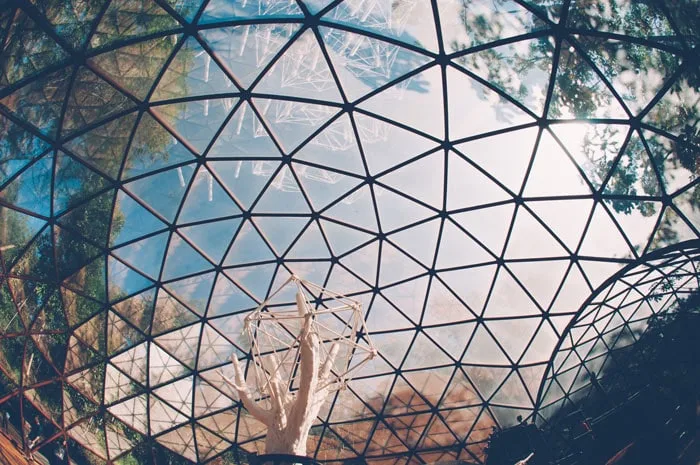 The Inhotim Institute in Brumadinho houses a museum complex with a series of pavilions and galleries featuring works of art and outdoor sculptures of contemporary art.
And although located near the horrible dam disaster of 2019 in Brumadinho, the museum wasn't affected.
Concept-wise, Inhotim works in a way that is far from the one urban museums do.
That's because Inhotim's experience is primarily associated with the development of a spatial relationship between art and nature that enables artists to create and display their works in unique conditions.
Visitors are invited to experience actively the surrounding space by walking through gardens, forest landscapes, and rural environments, and getting lost among lakes, trails, sculptures, mountains, and valleys.
Domingos Martins, Espírito Santo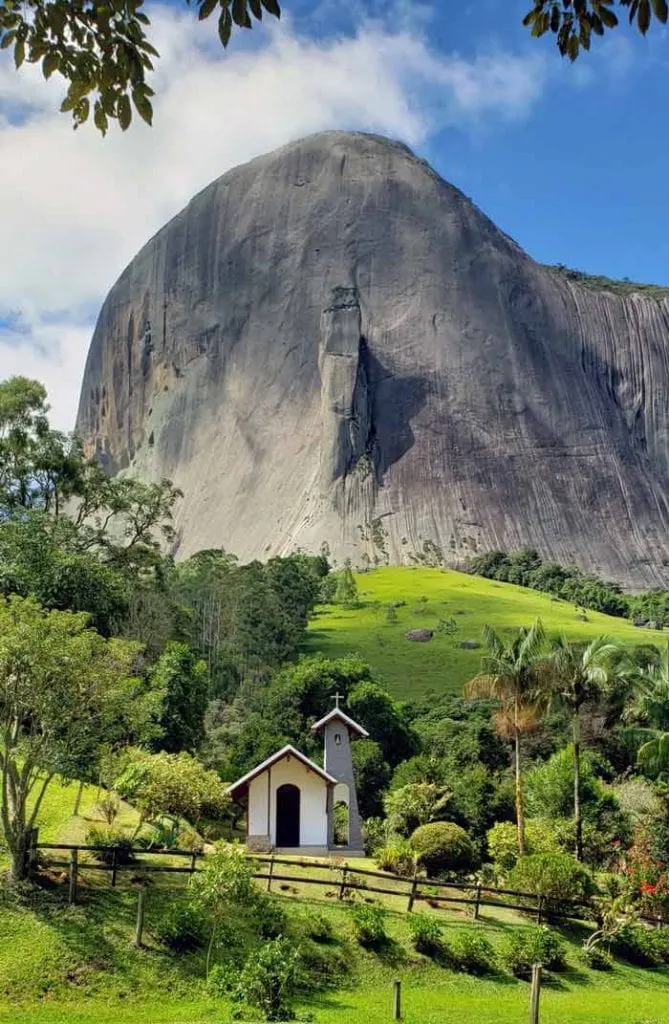 In the mountainous region of the state, you'll find a city colonized by Germans and Italians which is as charming as it could be.
The city of Domingos Martins preserved the European culture and incorporated it in many aspects of local life, such as in the gastronomy, architecture, and folk festivals.
Apart from these European-inspired urban settings, the region also offers natural pools, waterfalls, hiking trails and places ideal for rappelling, tubing, and rafting.
Natural Pools in Maracajaú, Rio Grande do Norte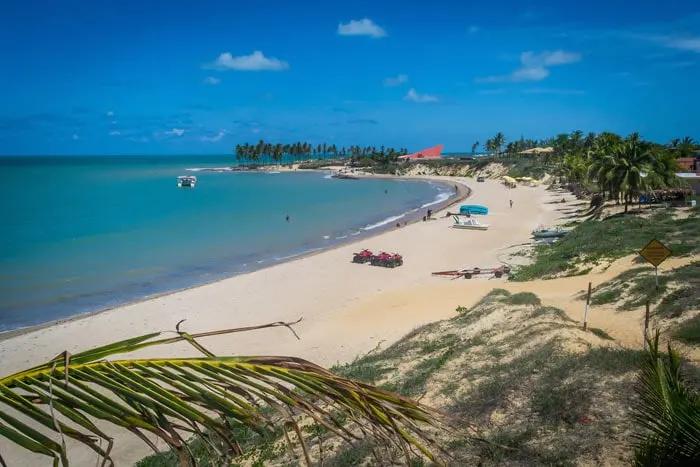 The Maracajaú Parrachos are a mesmerizing example of natural pools on the Brazilian coast where the color of the sea is as pretty as the Caribbean sea, if not more beautiful.
Here, tourists snorkel around the coral reefs and spend some time in contact with nature before returning to Maracajaú Beach, a beach with calm sea and palm trees aligned by the shore.
Brasília National Park, Goiás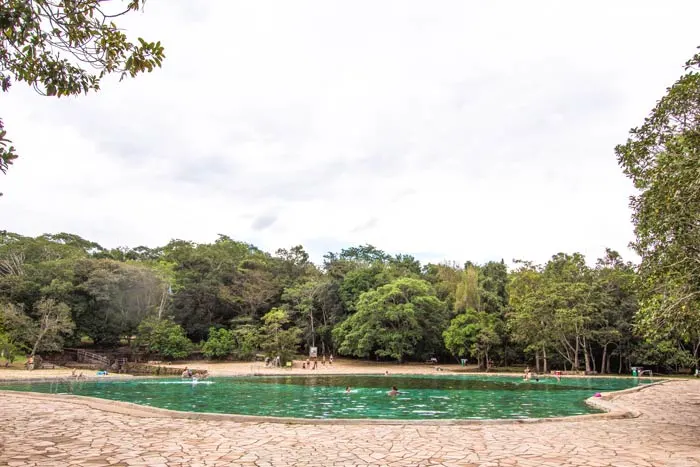 Many people don't know, but Brasília has a national park with beautiful pools made of wells nearby.
Flora and fauna-wise, the park houses not only the savanna vegetation typical of this part of Brazil but also rare and threatened species, such as the Yellow Faced Parrot, Maned Wolf, and Giant Anteater.
Sucuri River, Mato Grosso do Sul
A hidden gem in the central-west region of the country, Sucuri River runs through Bonito, an ecotourism hub and a mesmerizing place to visit in Brazil.
Tourists come to this transparent blue-hued water river to snorkel and see wildlife. But what many people don't know is that a few sucuri snakes (also known as anaconda) reside in this paradise.
Well, there's nothing to fear, though. Most tourists never see snakes as they come out more often during wintertime, but if they do come out, know that these snakes don't approach humans—also, they're nowhere as fast as J-Lo's movie.
Apart from that, you'll be accompanied by a professional guide who knows the region and the animals.
Manaus, Amazonas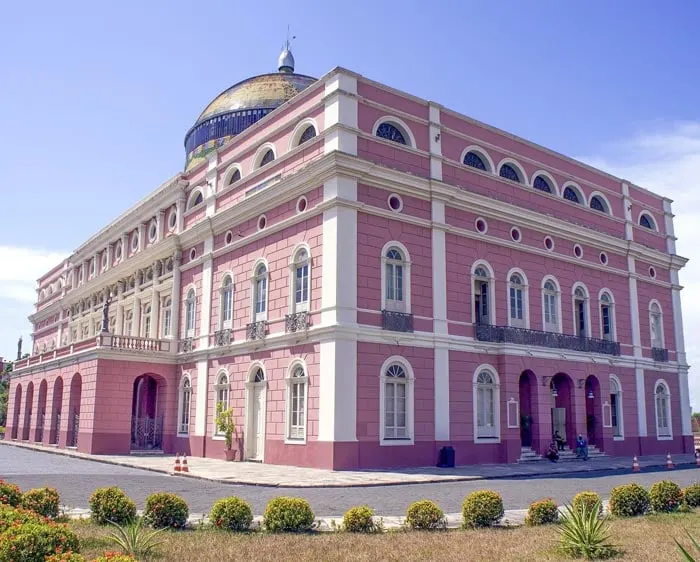 Amazon Rainforest's main entrance is an exciting and pretty city.
From the exceptional Amazon Theater—one of the best tourist attractions in Brazil—to the impressive Amazon Museum, the city has so much contrast in its landscape that it clearly shows the country's diversity without even noticing it.
The Meeting of the Waters and a visit to a Brazilian Indigenous tribe also attract many tourists to Manaus.
Serra da Capivara National Park, Piauí
Serra da Capivara is the only park in Brazil which is home to flora and fauna typical of the Caatinga ecosystem.
The Caatinga ecosystem is only found in the countryside of the northeastern area in Brazil, and it's characterized by tropical dry vegetation.
Having one of the oldest cave paintings in South America, the park is a UNESCO World Heritage Site, and it has the highest concentration of archeological sites in the continent.
Rio Branco, Acre
Hearty food, incredibly friendly people, and an excellent ecotourism point, Rio Branco is by far the most underrated capital in Brazil.
Most Brazilians of other states haven't been to Acre, and to be honest, they have no idea what an unpretentious yet remarkable place they're missing.
Take some time to enjoy the local cuisine, visit Brazilian Indian tribes, or go museum hopping.
Either way, a visit to the city is sure to bring you closer to authentic Brazilian culture and traditions you won't see anywhere else.
Balneário Camboriú, Santa Catarina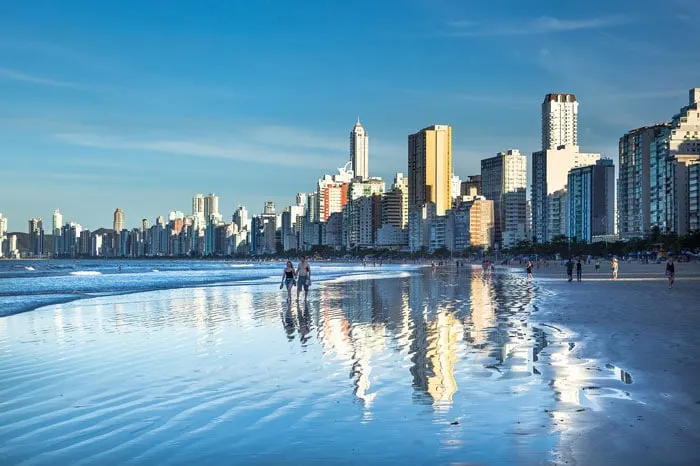 On the coast of Santa Catarina, Balneário Camboriú is filled with nature and modern architecture.
Brazil's highest building, paradisiac beaches, excellent hiking trails, and soft adventure sports are some of its attractions.
The city also has a Christ The Redeemer, but far more modest than the one in Rio de Janeiro.
On each day of the week, the statue will be lit up with a different color, and each color represents a beautiful state of mind, such as love, peace, etc.
Tiradentes, Minas Gerais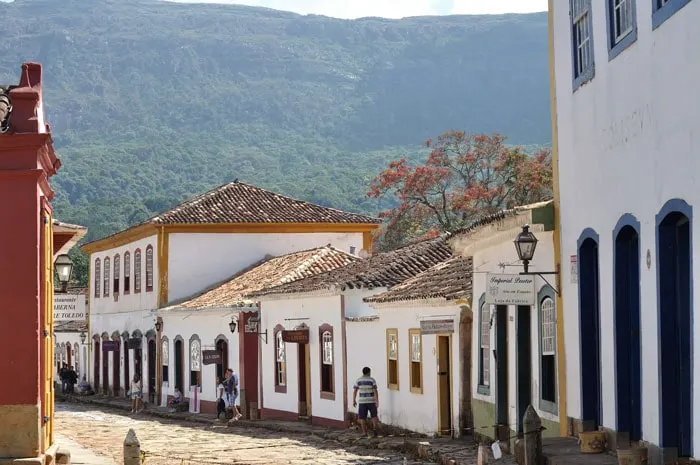 A colonial town with remarkable architecture features, Tiradentes is jam-packed with colonial mansions and has a small-town feeling without losing the best of Minas Gerais traditions.
Perfect place for those who want to learn more about Brazilian history and disconnect from the bustling world out there.
Among its attractions, Santo Antonio Church is the highlight of the city with its ornate interior made of gold and its facade designed by Aleijadinho, the Brazilian sculptor.
Morro de São Paulo, Bahia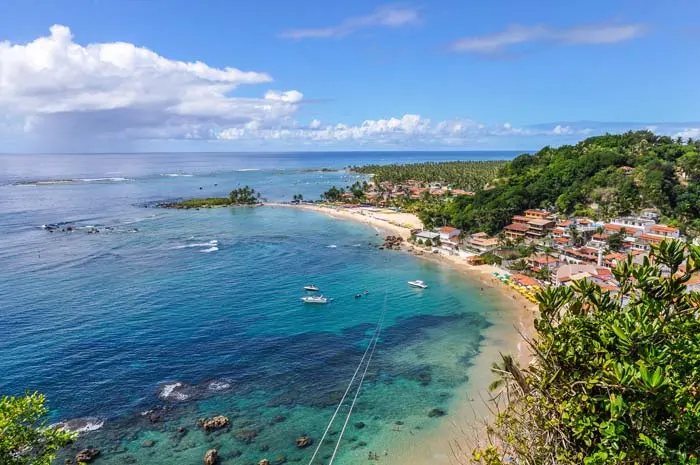 Famous for having jaw-dropping beaches and landscapes, Morro de São Paulo is a car-free village on an island off the coast of Bahia.
Although its main attractions are the beaches, there are still other things to do as well as tours to take around the area.
Something that many people do every single day here, something like a ritual, is to go to Toca do Morcego or Forte de Morro to watch the sunset.
It's romantic and beautiful, but Morro de São Paulo is also known for being a top party place in Brazil.
Oh, and if you want to travel in the region, you might want to check out Boipeba Island, too.
Serra do Rio do Rastro Road, Santa Catarina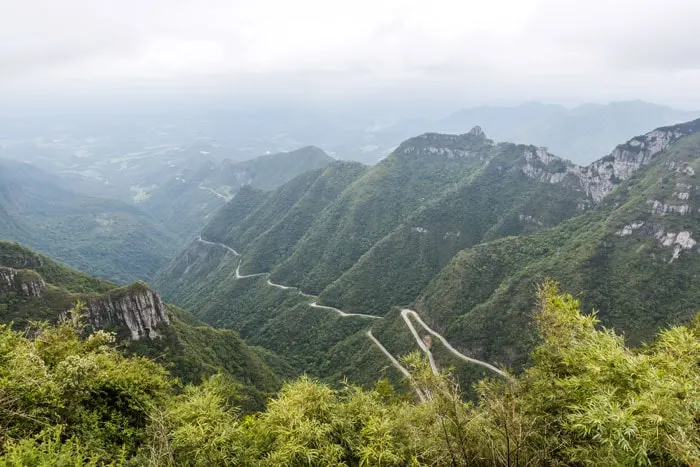 This highway (SC-390) in Santa Catarina is among the most impressive ones in the world. That's because it's characterized by steep climbs and hairpin curves. To be more exact, 284 curves in total.
Driving on this road is a remarkable adventure, so don't forget to pull over in one of the designated spots to take in the dramatic views.
Also, a lookout at the end of the road, at 4,662 ft (1.421 m) high, offers the perfect place to photograph the road, and at night, this highway is fully illuminated.
Ipiranga Museum, São Paulo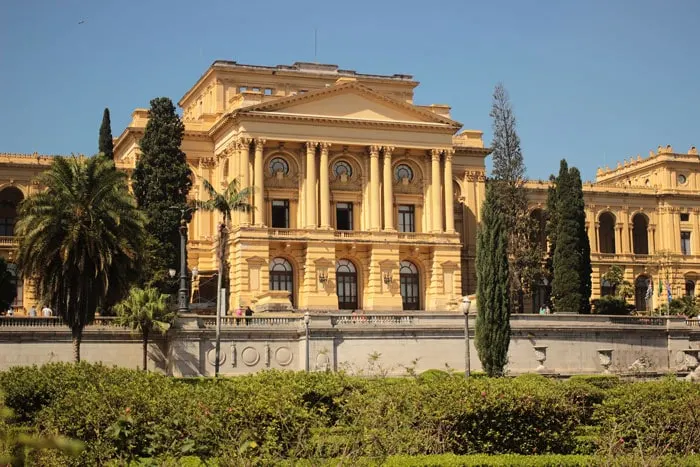 There is no better place to learn about Brazilian history than in the Ipiranga Museum.
The museum is settled near the bank of the river with the same name, where Emperor Pedro I proclaimed independence from Portugal.
That event marked the beginning of the Republic of Brazil, and that's why you can hear about it in our national anthem or even see Pedro Américo's visual representation of it—the Independence or Death painting.
Moreover, the Ipiranga Museum is surrounded by a well-maintained garden with fountains and statues making reference to our independence.
The Ipiranga Museum is closed for reform until September 2022, but the gardens are open for visitation.
Ibirapuera Park, São Paulo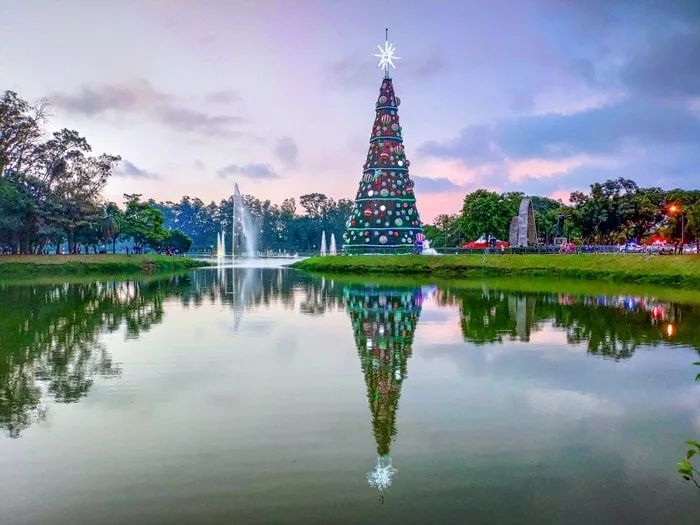 My favorite place in São Paulo to sunbathe, picnic, jog or wander around. This urban park is a gem, and you didn't visit São Paulo if you didn't visit it.
Oscar Niemeyer, Brasília's architect, led the project back in 1954.
Apart from being an enjoyable place to chill out, Ibirapuera Park also houses three excellent museums, a Japanese garden, and ceramic exhibit, and a unique pavilion for temporary expositions shaped as a Brazilian Indian hut.
Taipu de Fora Beach, Bahia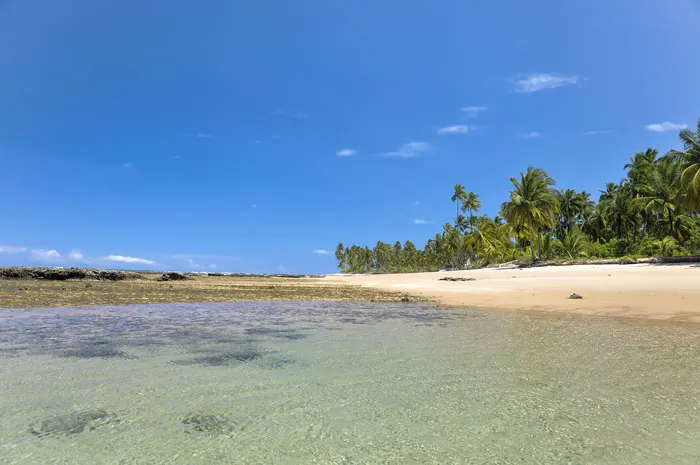 Taipu de Fora Beach is 4 mi (7 km) long with crystal clear water and thousands of coconut palms aligned by the shore.
Coral reefs decorate both extremities, making it a perfect place for snorkeling.
Along the coast, you will also find surf schools, beach clubs serving drinks and regional dishes, inns, and holiday homes.
Serra da Canastra National Park, Minas Gerais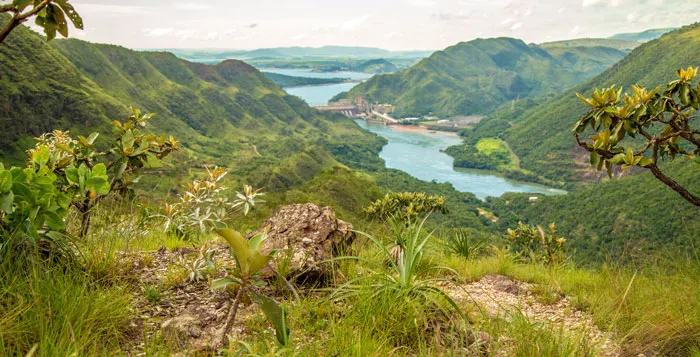 Without effort, you can spend a whole week exploring the Serra da Canastra Park. In fact, you'll probably have to because countless soft adventure activities are available in the park.
Hiking trails, rivers, lakes, waterfalls, jeep tours, motocross, kayak, and rappelling are a few options as well as tasting cheeses.
You read it right, tasting cheeses in the national park.
The most typical and famous gastronomic product of Canastra is the cheese, which is considered a National Cultural Heritage.
Simply put, this national park is an ecotourism and gastronomic paradise filled with the Brazilian savanna, wild animals, and lots of activities.
Bandeira Peak, Espírito Santo and Minas Gerais
The third highest mountain in Brazil, Bandeira Peak is located on the border of the states of Espírito Santo and Minas Gerais.
The peak has this name because Emperor Pedro II ordered the placement of the Empire flag (Portuguese: Bandeira) on top of the mountain. At that time, this peak was considered the highest and most imposing point in Brazil.
To reach the summit of this 9,488-ft (2.892-m) high peak, you can follow either hiking trails in one of the bordering states. Both are easy and take about one hour to finish. The view you get from the summit is spectacular.
Belo Horizonte, Minas Gerais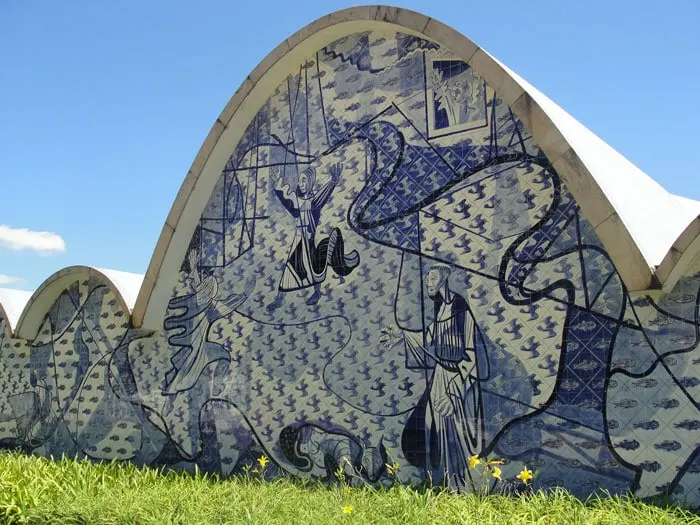 Get ready for a good marathon of cultural spaces, parks, world heritage sites, restaurants, and pubs. Loads of pubs!
Belo Horizonte is one of the best cities in Brazil for foodies. The town is known for having a unique gastronomic circuit, abundant cultural life, and excellent architectural structures worth the shot.
Or shots, if you will.
Not to mention that the city is the gateway to several historic towns, such as Diamantina, Ouro Preto, and Tiradentes.
Coffee Museum, São Paulo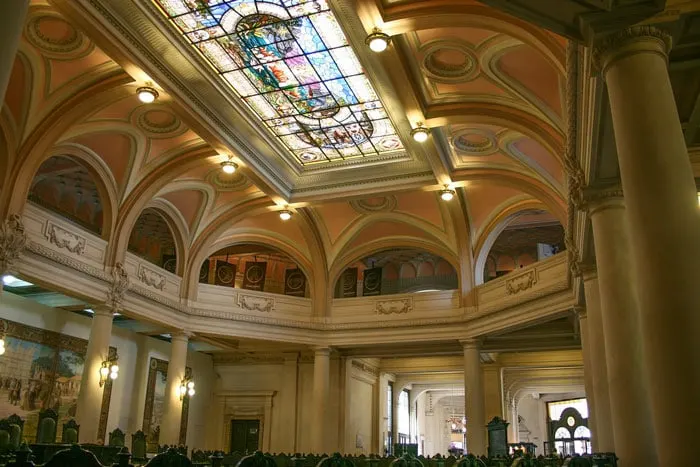 Located in the former coffee exchange building in Santos, the Coffee Museum is a baroque and neoclassical construction from the 1920s that reflects the power of São Paulo's industry at the time.
And as the world's top coffee-producing country, Brazil has a deep coffee culture.
After learning about coffee history and development in Brazil and the world, stop by the cafe on the ground floor to have a few sips of this beverage, and buy some to take home. It's a unique souvenir.
Cabo Frio, Rio de Janeiro
Cabo Frio is a popular vacation destination in Brazil because of its blue water and white sand stretches. But the town has more than paradisiac beaches.
Stroll around its photogenic historic center to feel the quiet atmosphere, or follow a path over the rocks at the end of Forte beach to reach Saint Matthew Fort, a 17th-century construction.
Today the place houses local artists' exhibitions. Also, the magical view it offers over the Atlantic Ocean and Cabo Frio makes it an ideal point to photograph the region.
Locals enjoy watching the sunset here, and why not, daydreaming.
São Roque Wine Route, São Paulo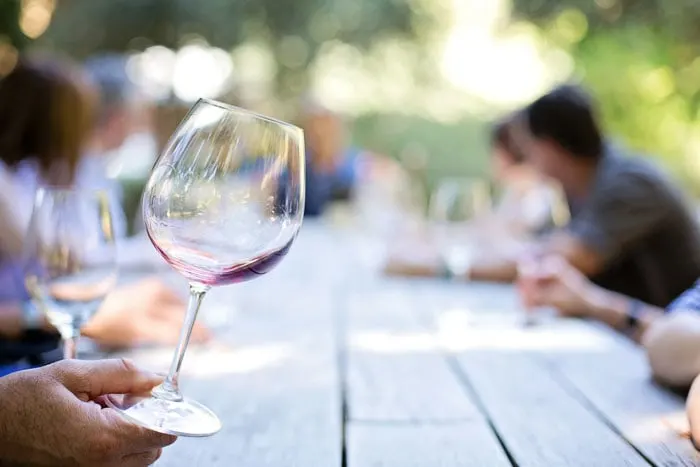 More than 30 wineries, distilleries, restaurants, and hostels make up the Wine Route, a perfect day trip from São Paulo City.
Here you can buy artisanal liqueurs, sweets, local products, and of course, Brazilian wine.
Naturally, one day isn't enough to visit all of these places, so if you can't spend much time in the region, reserve at least half a day to see the best of it.
The wine route in São Roque is one of the best places to visit in Brazil for foodies.
Cataguás Island, Rio de Janeiro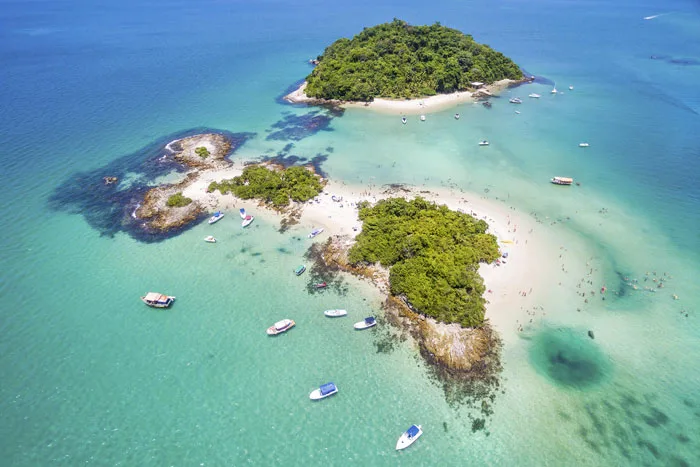 Angra dos Reis in Rio de Janeiro has 365 astonishing islands. One for each day of the year.
And among all these islands, Cataguás, also known as Cataguases, is the closest to the Brazilian mainland, meaning it becomes jam-packed in specific periods of the year.
Cataguás is a top location to sunbathe, snorkel, or scuba dive. Take in the bluish-green water and spend some time watching as some species of fish and marine animals swim along the corals.
Carrancas, Minas Gerais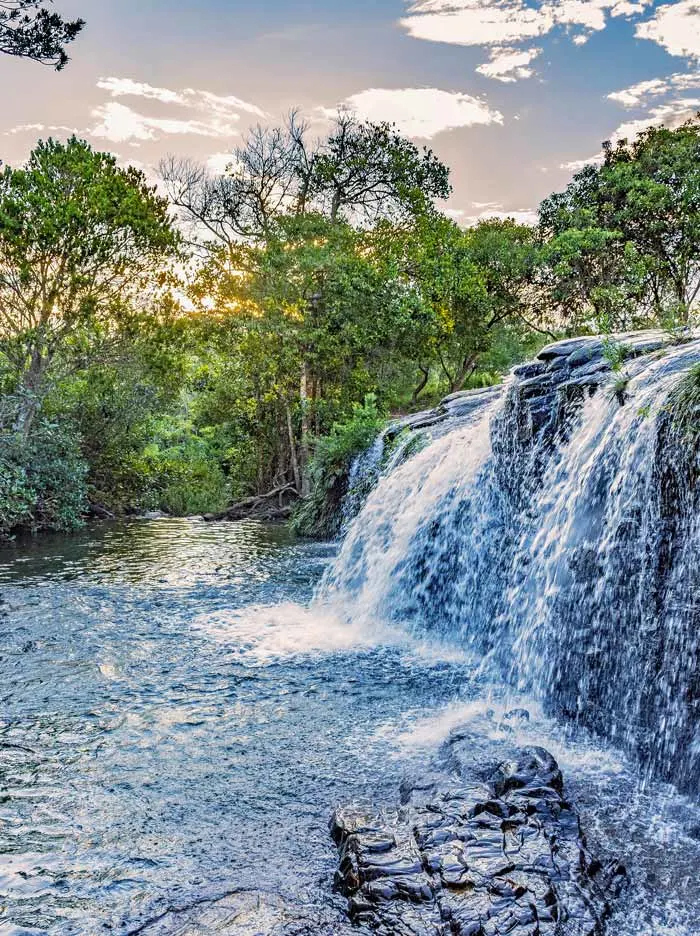 Imagine a tiny town with a calm town center and a modest stone church that impresses by its ornate interior. Nothing extraordinary so far. True.
But it turns out Carrancas is not only a cozy small town but also the Waterfall's City.
That's because over 70 waterfalls are scattered around its surroundings. It's an array of falls, wells, lakes, natural pools, and more. More places to go in Brazil, and add to your bucket list. Sorry, not sorry.
São Luís, Maranhão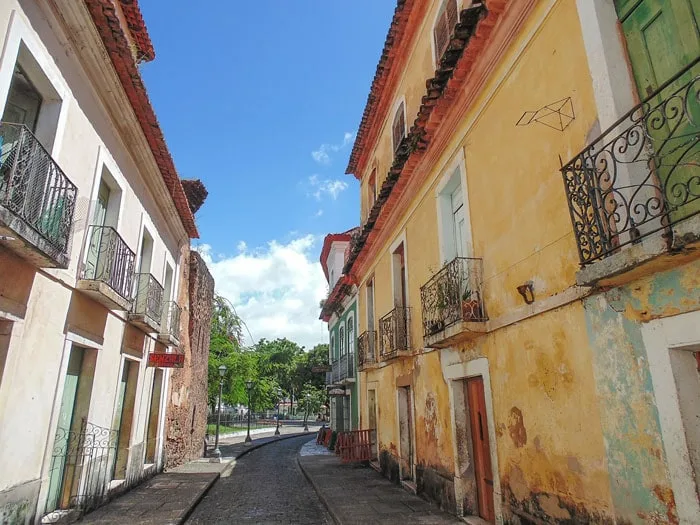 In São Luís, Brazilian culture lives, and it's remembered more than in many cities scattered around the country.
The quaint Historic City Center, together with its over 3k colonial mansions is a UNESCO World Heritage Site.
And although many of these mansions are poorly preserved, the city has the biggest collection of Portuguese tiles outside of Portugal in its streets and looks somehow charming.
São Luís' streets are also where many events throughout the year take place, such as Bumba-meu-boi in June, which depicts the death and resurrection of a bull.
Maceió, Alagoas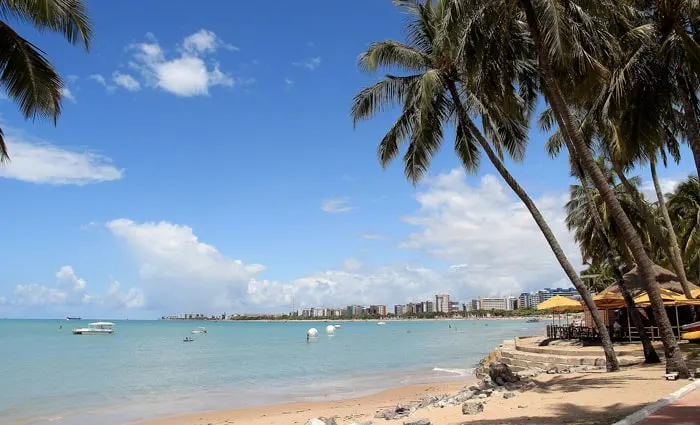 Maceió has one of the most beautiful shores of Brazil, and all this beauty is mainly due to the blue sea and the numerous trees aligned by the coast.
Most visitors travel here in search of pristine beaches and good sunny days in front of the sea.
If that's what you expect from this trip, be ready because you'll find so much more: excellent food, crafts, and a pleasant atmosphere that translates the overall feeling in the city.
Jaú National Park, Amazonas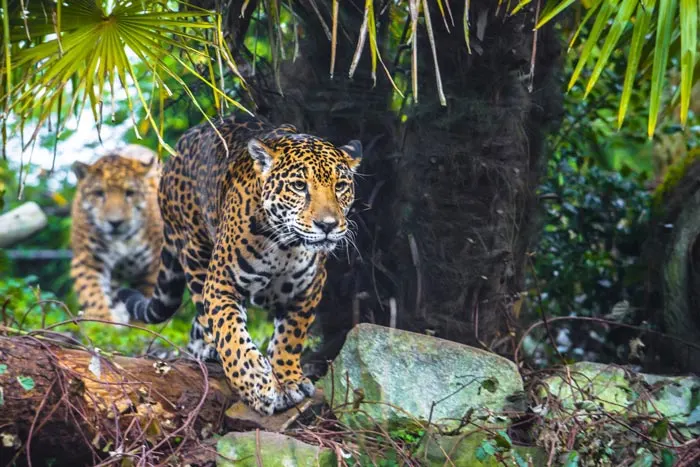 The Jaú National Park protects one of the largest areas of tropical forests in the world.
It stands out because the park contains the majority of the ecosystems recorded in the Amazon, including dryland forests and periodically flooded lowland forests.
If the world had a heart, Jaú National Park would be a significant part of it. The unique fauna and flora of this place make it a biodiversity hotspot as visitors can observe countless bird species, jaguars, monkeys, and giant otters, to name a few.
Urucá Falls, Roraima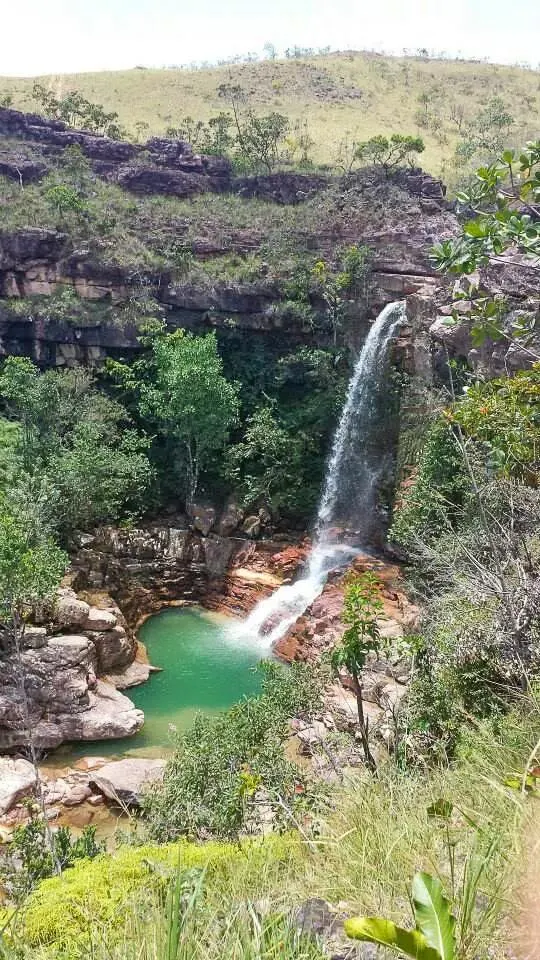 At the border with Venezuela and Guyana, Uiramutã County has many natural sites, but the Urucá Falls stands out.
The waterfall reminds a 65-ft (20-m) bridal veil over a cliff covered with vegetation plunging into an emerald natural pool.
The whole area surrounding the fall is ideal for day hiking and waterfall spotting.
About 88% of the county's population is indigenous—the highest concentration in the state.
Alter do Chão, Pará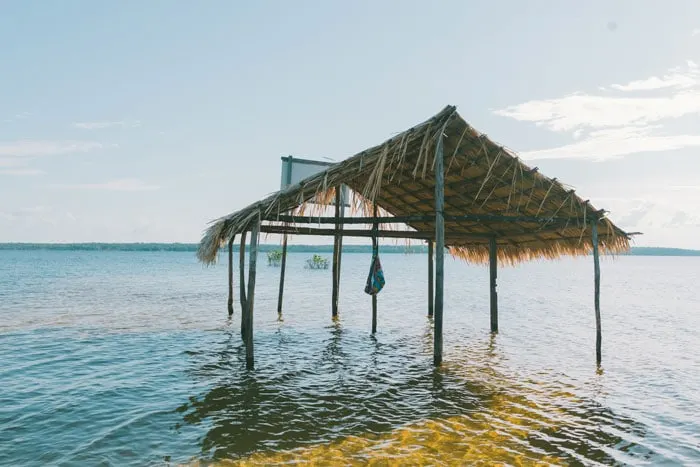 Hidden deep in the Amazon Forest, Alter do Chão is a laid-back town, which was elected by The Guardian as having one of the prettiest beaches in Brazil.
The town has numerous temporary white sand stretches that form beaches at Tapajós River during the dry season.
The most famous beach is Ilha do Amor, a peninsula filled with basic restaurants and that can be explored by canoe or stand-up paddleboard.
It's also the departure point for boat tours to nearby forest reserves and isolated communities. Needless to say that Alter do Chão has the best indigenous art stores in the Amazon region.
Recife, Pernambuco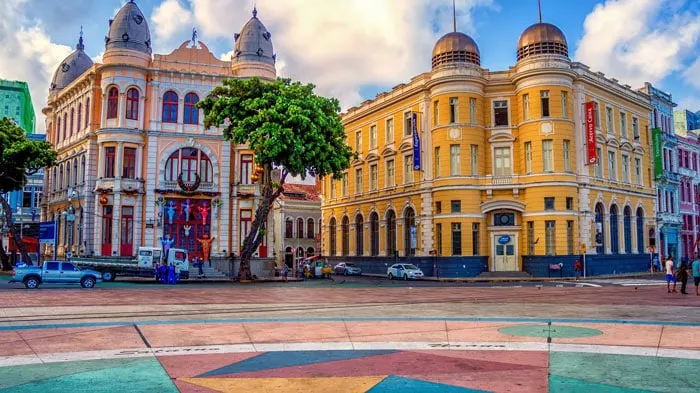 Capital of Pernambuco and one of the most multicultural cities in Brazil, Recife overflows with diversity.
Land of frevo, maracatu, and mangue beat, the city bustles with history and culture.
On top of that, Recife has several exciting attractions for all tastes. From Boa Viagem Beach to the Historic City Center, Recife is home to excellent museums, bars, restaurants, courtyards, and churches where the regional culture is lived at its best.
Itacaré, Bahia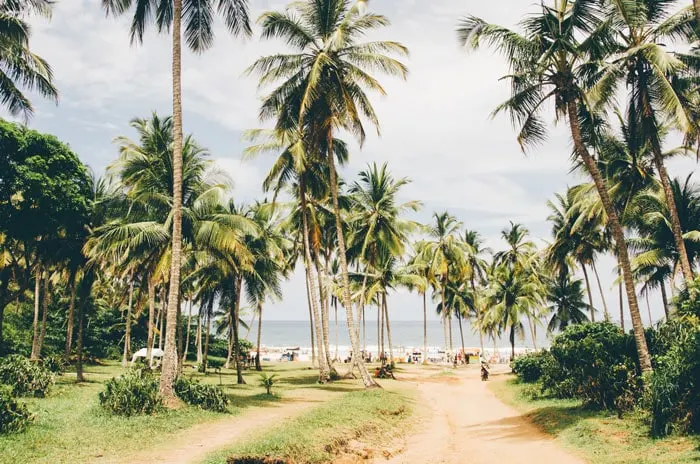 Itacaré is a multi-layered eco hub and cultural pot with white sand beaches, untouched nature, friendly people, and finger-licking good food.
As if that wasn't enough, Itacaré is also a perfect place for surfing and watching capoeira with the sea as background. Capoeira is a typical Brazilian mixture of martial arts moves with music.
All of these aspects make the city an excellent vacation destination in Brazil.
Nova Veneza, Santa Catarina
Nova Veneza, as you might have imagined, is a city inspired in Venice and it was founded by Italian immigrants who came from that Italian city.
Museums and restaurants show a little more of this connection between both countries, but Lucille is the gem in Nova Veneza's crown.
Lucille is an original Venetian gondola at the main square, and it's a gift from Italy.
Only four original gondolas were donated by the Italian government to other nations, and this is one of them.
Curitiba, Paraná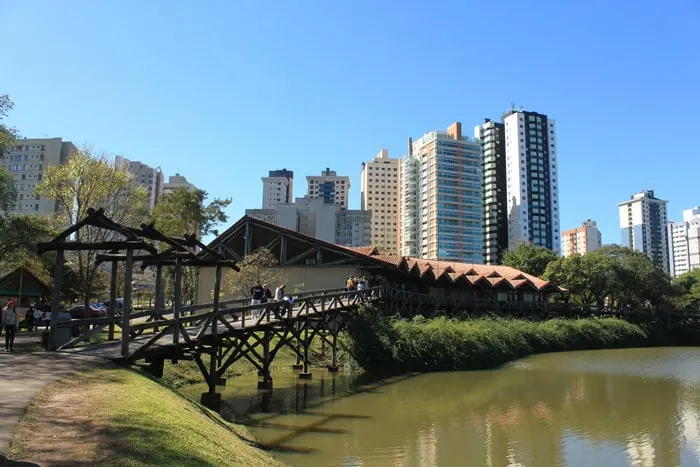 Enjoyable parks with beautiful constructions and wildlife, the famous botanic garden, and even a Ukranian Memorial, Curitiba is surprisingly filled with exciting things to do.
Also, the city boasts a unique art scene between the street art and museums scattered around town.
The highlights are the Oscar Niemeyer Museum, Rail Museum, and the Holocaust Museum, the first in the country.
Santo Antônio de Lisboa, Santa Catarina
One of the oldest districts of Florianópolis, Santo Antônio de Lisboa is a tiny town heavily influenced by the Portuguese.
The colonial houses, together with the cobblestone streets, make this a magical place with a lovely laid-back atmosphere.
Food-wise, Santo Antônio de Lisboa is a foodie's heaven because it combines the best of two cuisines: the Brazilian and the Portuguese.
Historic Center of Olinda, Pernambuco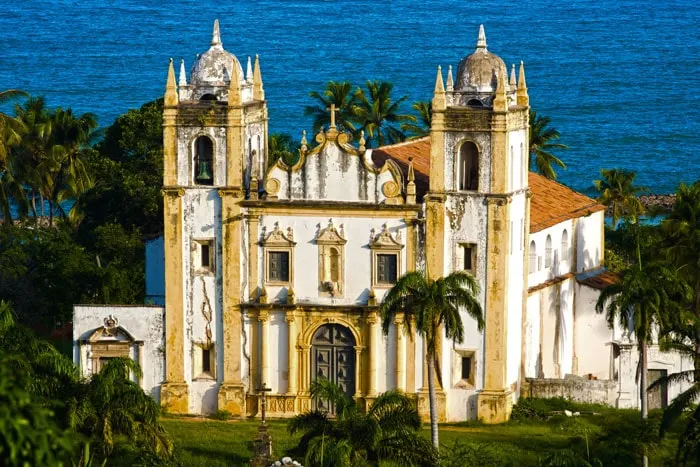 Considered a UNESCO World Heritage Site, the historic center of Olinda has a harmonious balance between the buildings, gardens, baroque churches, convents, and lots of tiny chapels.
All of these constructions contribute to Olinda's particular charm.
This 16th-century city was founded by the Portuguese, but it was later rebuilt after being looted by the Dutch, hence why its basic urban fabric dates from the 18th-century.
Chapada Diamantina National Park, Bahia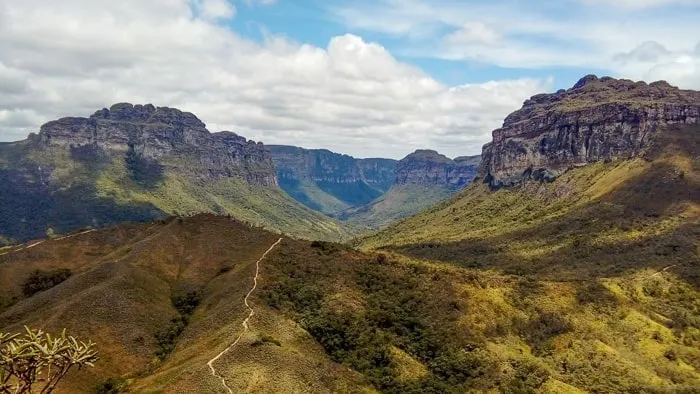 Arguably the most beautiful national park in Brazil, Chapada Diamantina is jam-packed with breathtaking natural scenes.
From canyons, waterfalls, and caves to hill and lookouts, the park has plenty of options for hiking and enjoying what nature has to offer.
To explore most of it, you might need a guide, though, as the park covers an area of 284,047 American football fields.
Brazil Travel resources
I want your trip to Brazil to be remarkable. That's why I've created several resources that will be handy while planning your vacation.
So after reading this article about the best places to visit in Brazil, take a look at things you can do in the country.
Moreover, don't miss my articles on the most essential Brazil travel tips and public holidays, which are an excellent resource for first-time visitors.
If this will be your first time in Brazil, check out my Brazil Trip Planning guide.
For transportation, check out my guide to avoiding taxi scams in the country.
Inspired by this article about the best places to visit in Brazil? Then save it to your Pinterest or share it with friends!