It should come as no secret that Airbnb has some remarkable properties, many of which are unique in their own rights and offer unparalleled stays across the world. If you're searching for the best Airbnb in Rio de Janeiro, you're in luck.
This article is a complete guide to the coolest Airbnbs in Rio de Janeiro with a pick for the city's main neighborhoods.
If you are planning to take a trip to Rio de Janeiro and want to experience the city from a local point of view, you will want to stay at an Airbnb.
It offers the utmost privacy and freedom to go and come as you please. Besides, there are several Airbnb in Rio de Janeiro that suit different needs and budgets.
That's why I put together this list of excellent houses and apartments to rent in Rio de Janeiro that cover the five major tourist areas. So whether you are a solo traveler, a couple, or a family/group of friends, there is something spectacular for you!
Check out the 15 best Airbnbs in Rio de Janeiro!
Quick answer: Best Airbnb in Rio de Janeiro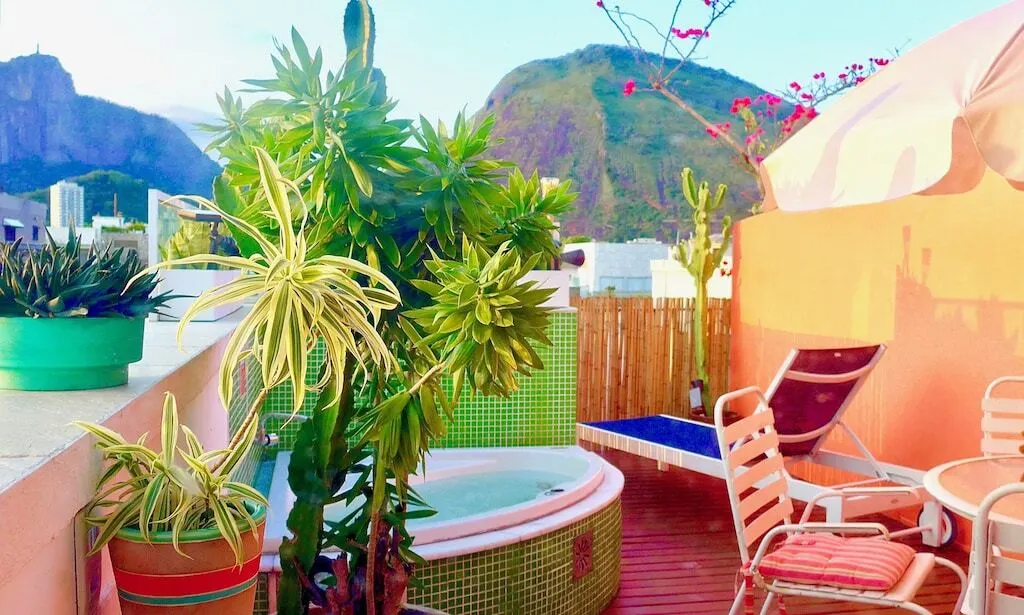 Charming duplex in Ipanema (3BR, 3B)
Best overall Airbnb in Rio de Janeiro
This lovely duplex has an unbeatable location (near the Ipanema Beach) and has incredible views of the Christ statue and Rio's lake. Besides, it offers all amenities you would need!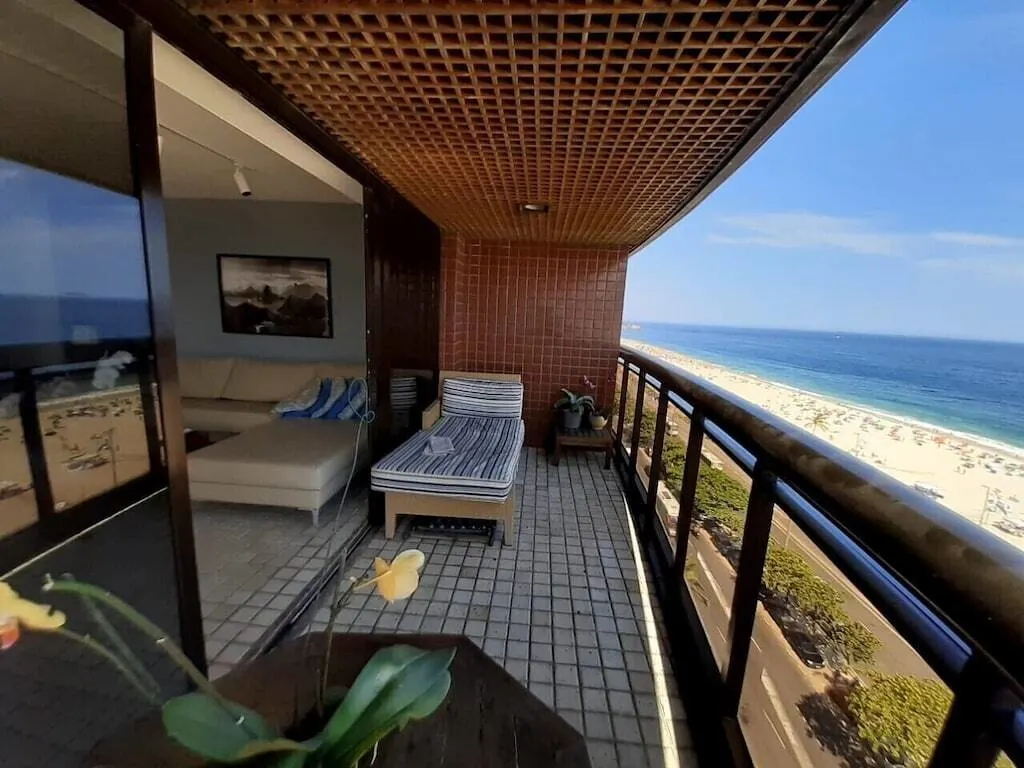 Stylish Apartment in Ipanema (2BR, 2B)
Best Beachfront Airbnb in Rio de Janeiro
Stylish and modern apartment in one of the best neighborhoods in Rio. The building is in across the beach, has a doorman, and is within walking distance to restaurants and shops.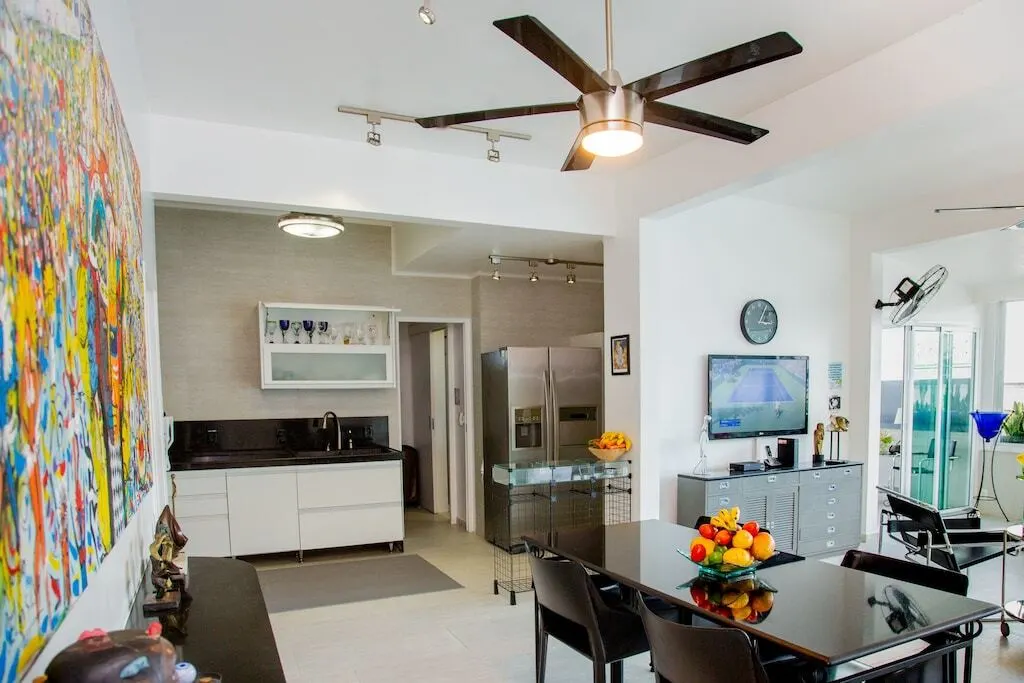 Modern Penthouse Apartment w/ Fantastic View (3BR, 3B)
Best Copacabana Airbnb in Rio de Janeiro
Just a few steps away from Copacabana Beach, this modern penthouse offers jaw-dropping views of the city in a comfortable, artistry luxury setting.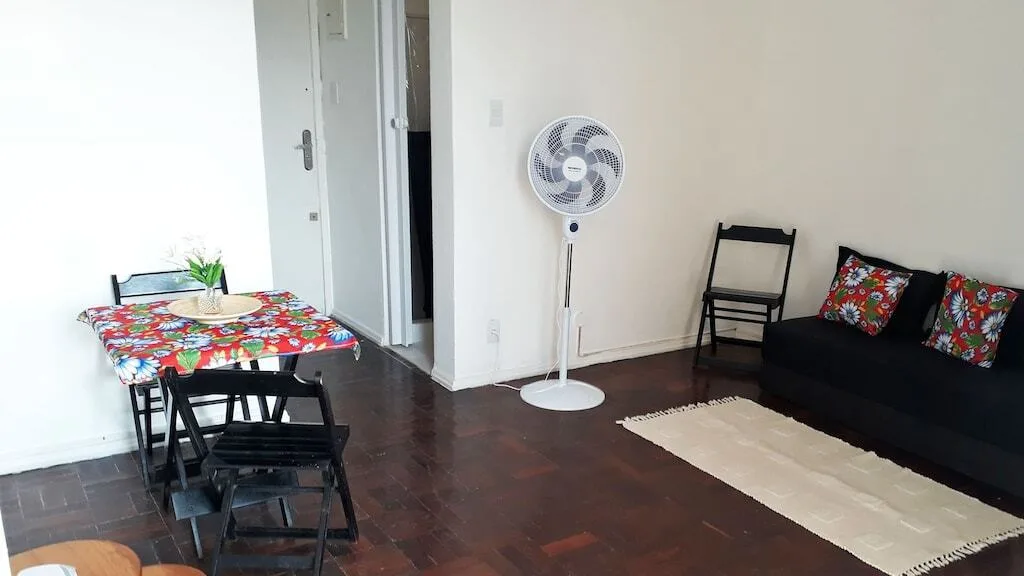 Cozy Place Near Facilities in Lapa (1BR, 1B)
Best Airbnb in Rio de Janeiro for Backpackers
Top-notch location, minimalist and cozy decoration, and all facilities within walking distance, including bars, restaurants, airport, and attractions.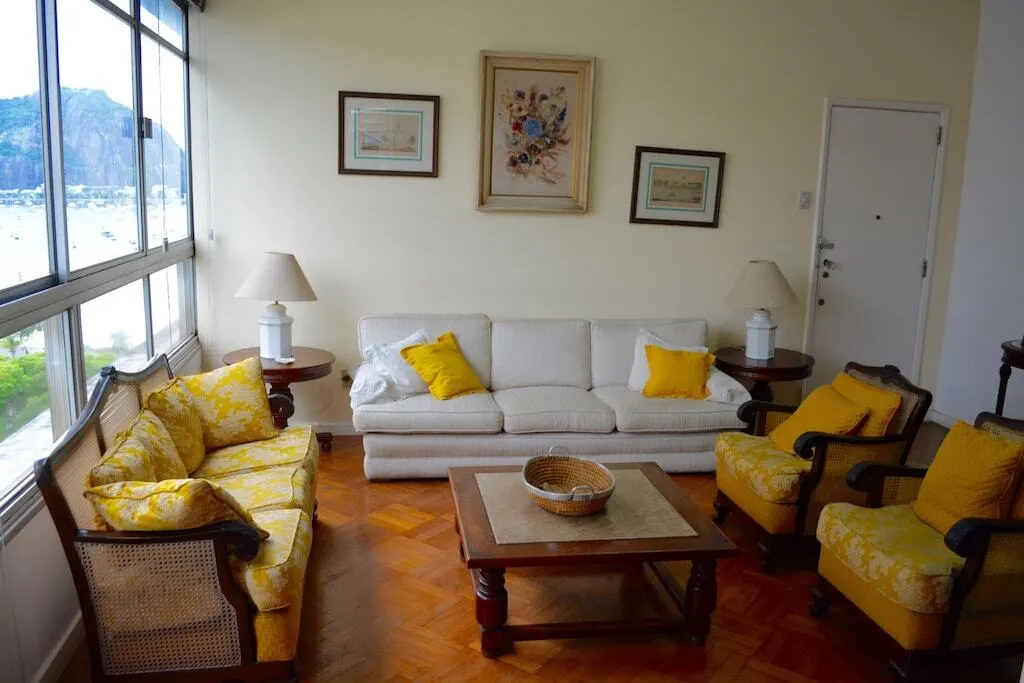 Penthouse in Botafogo for Families (5BR, 4B)
Best Budget Airbnb in Rio de Janeiro for Families
Rustic and spacious penthouse in Botafogo to accommodate a family. Views of Sugarloaf and Christ the Redeemer Statue from rooftop terrace!
Best Airbnb in Rio de Janeiro (VRBO, Penthouses, & More!)
Best Airbnb in Ipanema
The Duplex From the Magazine Covers, Floating Above Ipanema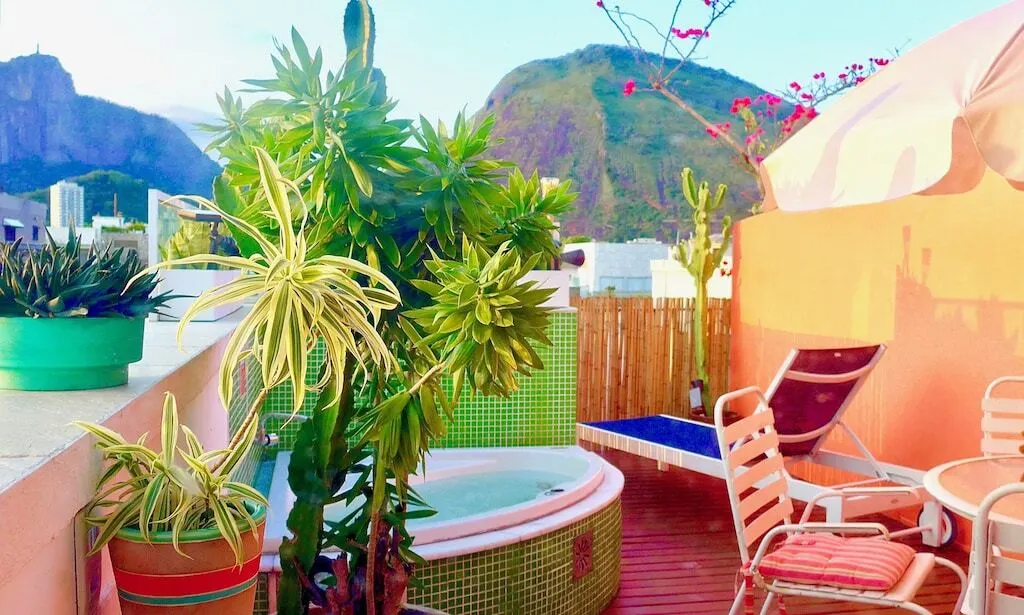 If you're looking for more than just a place to sleep, this is undoubtedly a unique Airbnb in Rio de Janeiro. This duplex penthouse on Ipanema was featured on magazine covers worldwide.
This residential street property has easy access to one of the most famous beaches on Earth, Ipanema. The perfect location is also one of the safest in the city.
The duplex has three bedrooms and three bathrooms. It's very spacious and stylish, kind of floating ahead of Christ the Redeemer Statue, which you can observe from two different outdoor decks on two separate floors.
The excellent views — inside and out — are outstanding. So if you're into retro and chic with a bit of a twist, you'll really like it here.
The special features include an airport pick-up service, a 24-hour concierge and security, a curated art collection, and a digital fun zone.
There is also a lovely private heated outdoor jacuzzi.
Additionally, you can order a maid service and an experienced babysitter who will deal with kids from three months to eight years.
That said, if you're planning to get frisky, we suggest you find another Airbnb in Rio de Janeiro. This one is a residential family building, and the hosts explicitly ask not to throw parties or bring people you don't know home.
Looking at the reviews, I've learned people enjoyed the prime location, the safety, comfortable beds, and a beautifully designed lounge here. However, some tourists have warned that it can get noisy since it's next to elementary school.
Either way, it's the perfect spot to relax and enjoy the sweeping views of Rio de Janeiro.
Ipanema Beach Front Apartment for Sunset Lovers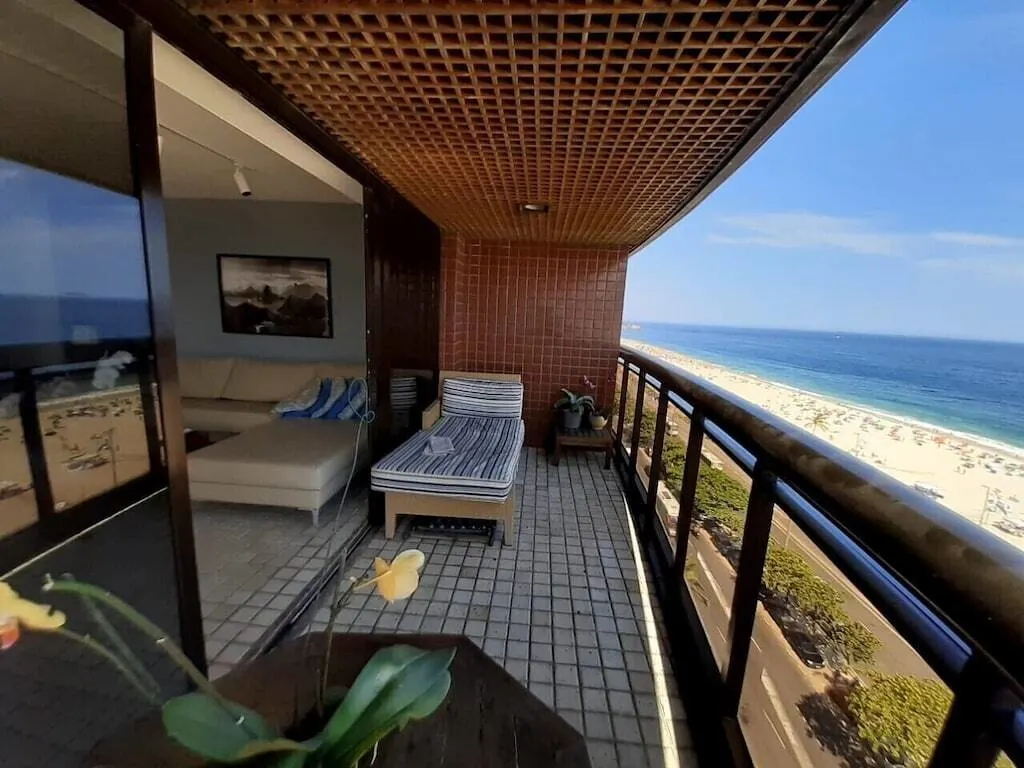 If you're a sucker for a beautiful sunrise and sunset, you'll love this property. This beautiful beachfront apartment on Ipanema has two suites, two full baths and was recently remodeled with a fully equipped kitchen. A large balcony with a lounge and breakfast table make mornings more enjoyable.
Besides, the property is ideally located, with shops, restaurants, and bars at your walking distance.
It has exceptional reviews, primarily for its stunning views, amazing location, and lovely owners. It seems like they're helpful and friendly people who made sure their Airbnb has all the amenities of a first-class condo.
For example, the residents can enjoy a pool and spa, a 20-meter heated swimming pool and rooftop swimming pool, a jacuzzi, and a spa whirlpool.
Still, you're within walking distance from Ipanema Beach, so you can easily divide your time as you wish.
The Quiet-Zone Penthouse in the Heart of Ipanema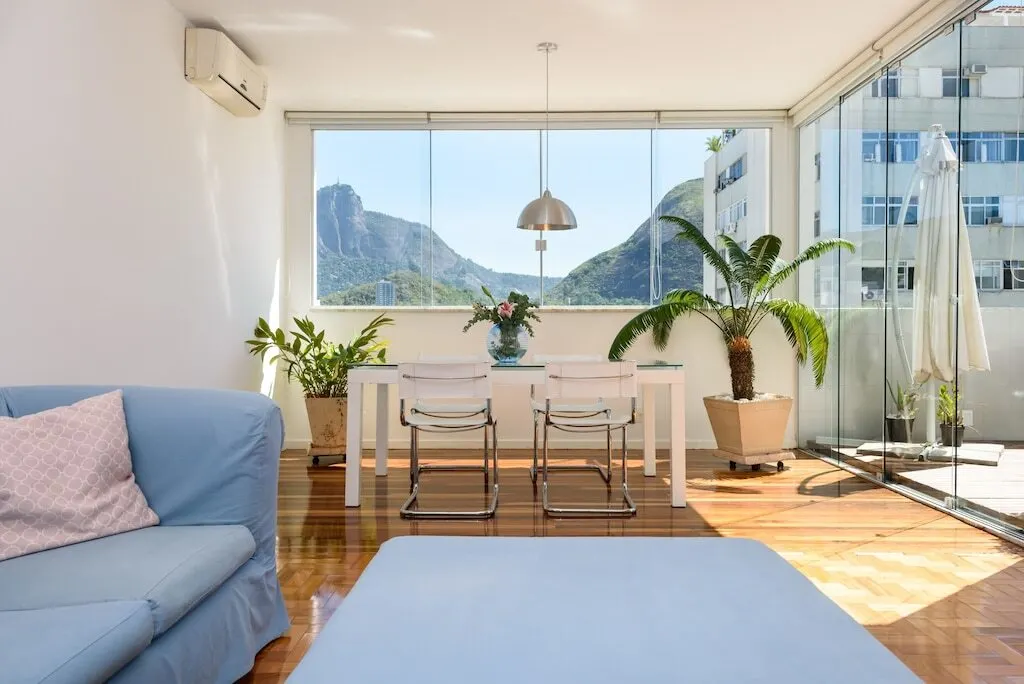 Those looking for a quiet place in a full-of-life Ipanema will really like this bright and peaceful penthouse with a terrace. One of the best things this charming apartment offers is the awesome location and a lovely view of Cristo Redentor from a 161.5 square feet deck.
The newly refurbished 2-bedroom property is ideally located – next to the square "Nossa Senhora da Paz," only two blocks from the beach. The famous streets are chock-full of exciting things to see and do, such as "Vinicius de Morais" and "Farme de Amoedo" which are just around the corner.
This luxury penthouse is undoubtedly unique for its ambiance and the vibe of the outdoor space. It's suitable for couples, business people, or families. However, you should know that the penthouse is on the 9th floor, but the elevator only takes you to the 8th. So, you have to walk up one floor.
Reviews for this place are exceptional, with people mostly praising the lovely design of the condo and the views. Also, many say you simply can't beat the convenient location.
The Place Between the Sea and the Lagoon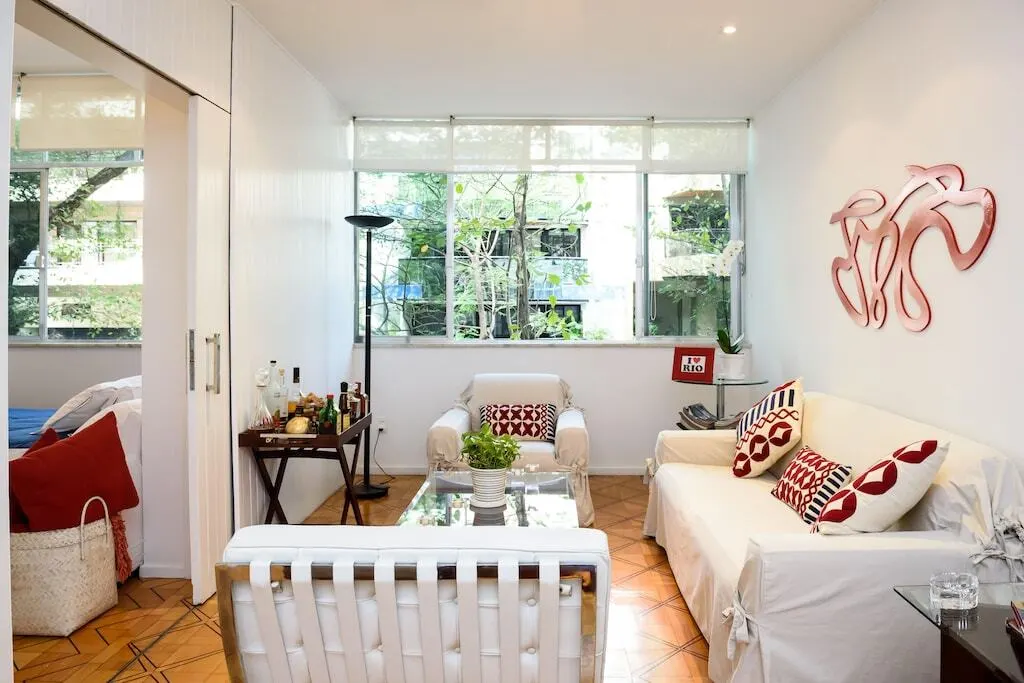 If you want a comfortable Rio de Janeiro Airbnb, but that doesn't need to be massive, you will be satisfied with this place. This rental unit has three bedrooms and two baths, as well as all the popular amenities you could need.
All rooms have split air conditioning and WiFi, cable TV, Netflix, and a safe.
The location is excellent; the Garden of Allah which divides Ipanema and Leblon is approximately 328 feet from the property, with H. Stern Museum, Our Lady of Peace Square, and the Rodrigo de Freitas Lagoon close by.
Best Airbnb in Copacabana
Copacabana Airbnb With Winning Views – Both Mountain and Ocean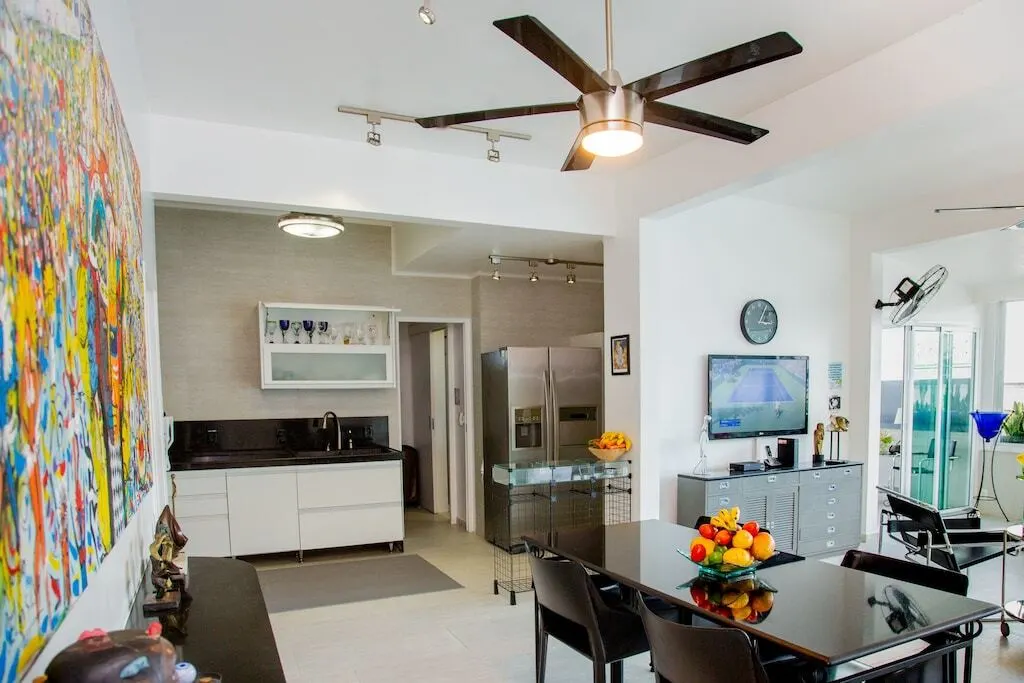 If you're looking for an Airbnb in Copacabana and need a spacious place, you might like this practically designed property. It has three bedrooms, three full baths, and a vast open space living room area.
In fact, this Copacabana apartment has 12 feet high ceilings and is filled with art by Brazilian artists and many plants. The luxury penthouse is especially suitable for business people since it also offers a separate office. But, if you're more into partying and sleeping in, you'll be happy with the black-out window treatments in bedrooms. A maid is provided once a week.
This is truly a unique Airbnb in Rio de Janeiro, mainly since it offers views of the ocean and the mountain from its two patios. Moreover, lovely cross ventilation and a breeze are coming from the ocean thanks to the sliding glass doors connecting the small and large patio.
That said, one of the unique features of this Airbnb is definitely the fact that this beautiful apartment is the only one on the floor. Thus, you'll have lots of privacy.
Tiny Living Right Above the Copacabana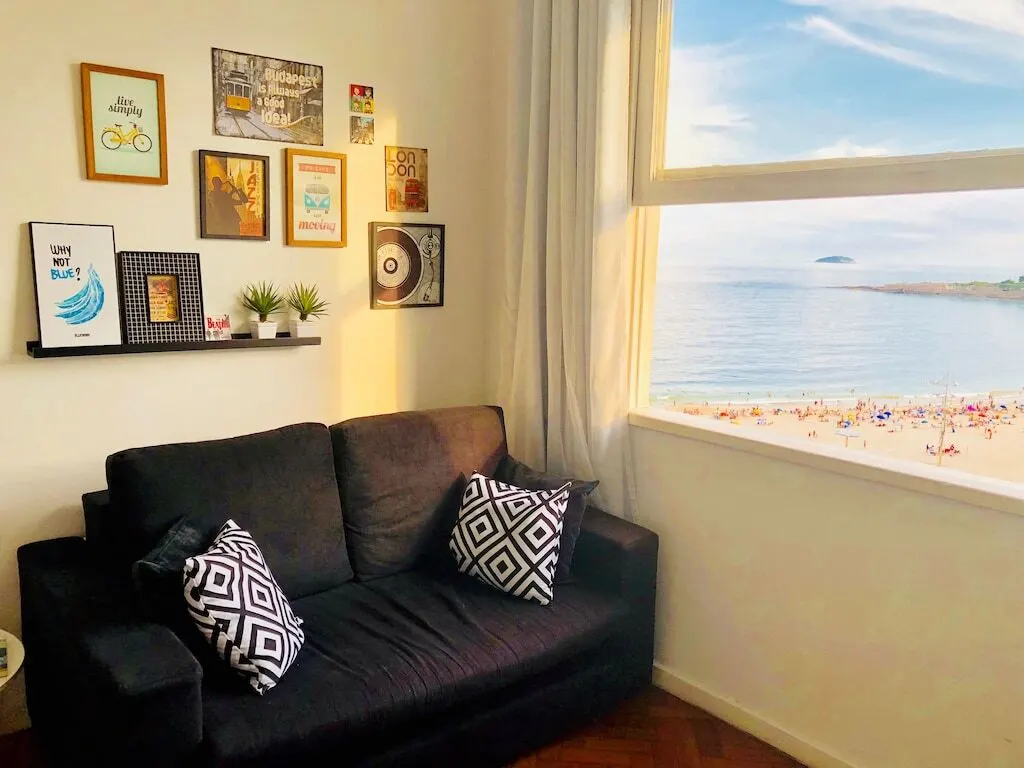 The cozy one bedroom apartment rental just above Copacabana beach can sleep four people at most, but it's a bit tiny. However, it's pretty bright and offers a stunning living room and bedroom view.
Since the owners also use the property, it has all the amenities you might need during your stay.
However, you should be aware that the hosts tend to change the price in the high season and during festivals, which is pretty standard for Rio de Janeiro. So, make sure to check the pricing thoroughly.
Reviews are still excellent, primarily because of the owners' location and hospitality.
The Retro Rental in the Heart of Luxury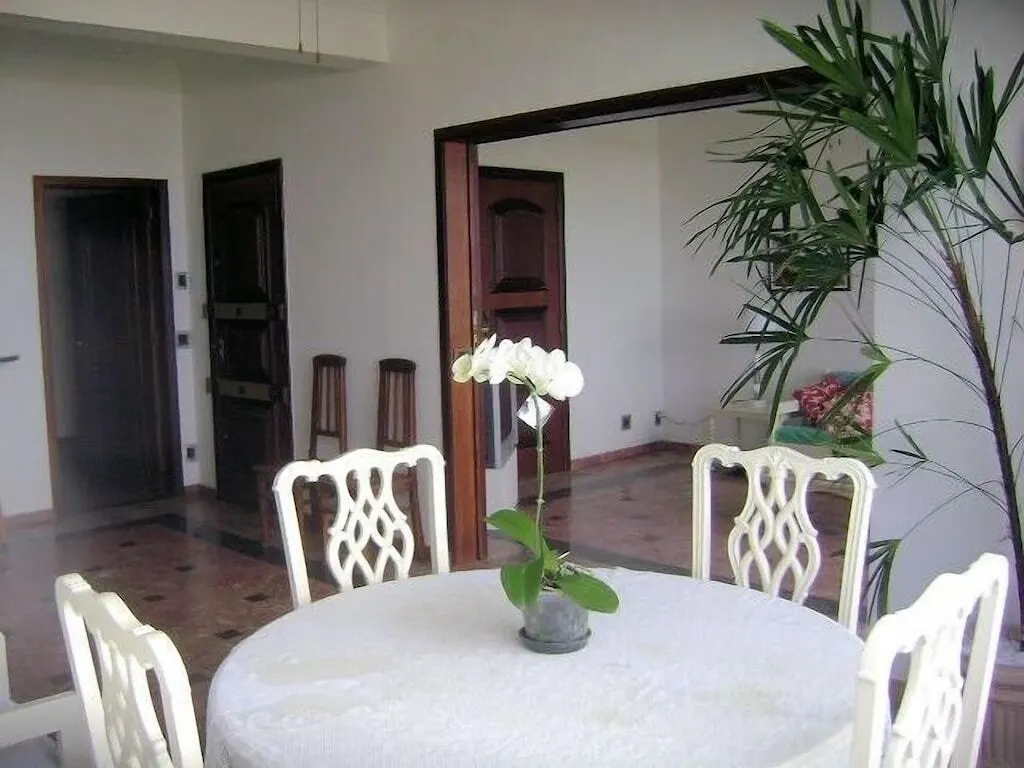 The property is located in a high luxury building in Copacabana, right across the street from the world-famous beach. Every room of the Airbnb provides a fantastic view of the beach and the ocean.
Families love this place since the two suits with an open kitchen are large enough to be comfortable for a bigger crowd. However, many lovely restaurants are right around the corner.
That said, I do have to admit that although it's a part of a luxury building, this Airbnb is not that modern. To explain, some may find the furniture a bit outdated. Those into retro might like it, though. I like it because it feels like home since I grew up in a similar house.
Still, this Rio de Janeiro Airbnb has terrific reviews, especially from families who stayed there.
Best Airbnb in Santa Teresa
The Centenary House Made to Make Your Instagram Look So Cool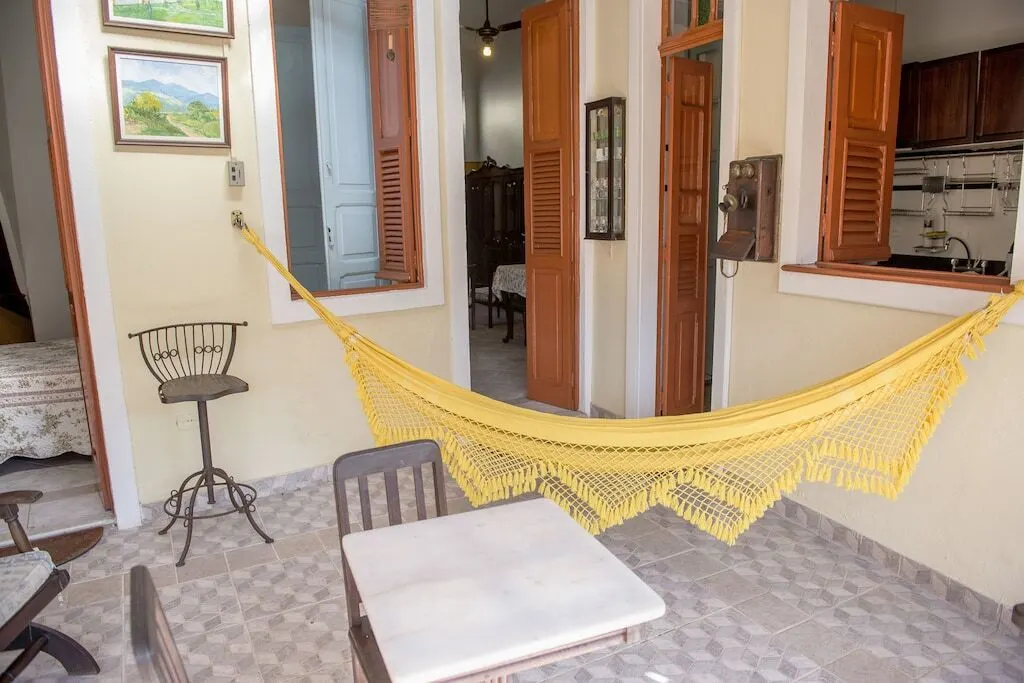 This beautiful centenary house is located right in Largo dos Guimarães, the heart of the Santa Teresa neighborhood with famous bars and restaurants. The property is a true Instagram heaven, preserved by historical heritage. In fact, it's located just 50 steps from the main point of Santa Teresa.
The three-floor house, divided into separate units, looks very comfortable but has only one bedroom. It's filled with antique furniture and decoration, some dating from the last century. So there is lots of vintage stuff in one of the most unique Airbnbs in Rio de Janeiro. But no worries, it also has all the modern amenities of this age.
There is also a cozy balcony with a hammock to relax and soak in the views.
This place is something special, but if you're looking to party, do events, or photoshoots, know that those activities are forbidden.
1885 Colonial Villa in the Heart of Santa Teresa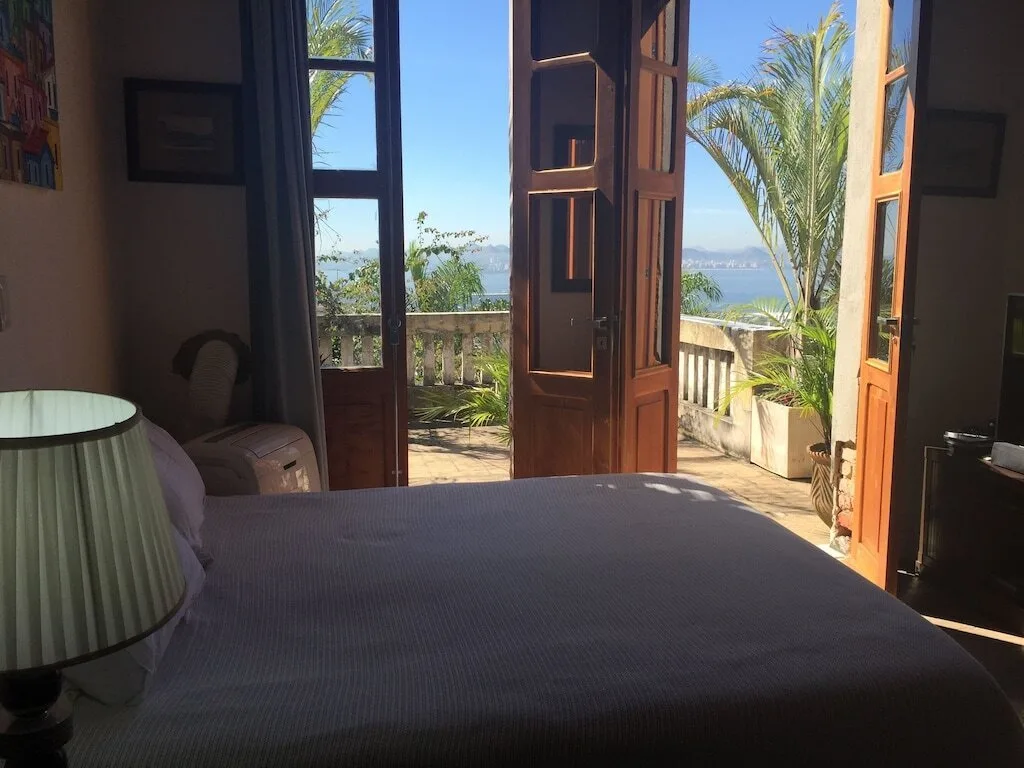 Perfect for larger groups, this sea-facing Colonial villa located in the inner city south zone of Santa Teresa offers exceptional panoramic harbor views. It was built in 1885 by a French architect in the former nobility quarter of the imperial capital. The property has a lovely tropical vibe with a pool and rich flora.
It's perfect for business people since it's very close to the central business district. However, you'll still feel peaceful thanks to lovely tropical gardens. In addition, there is a direct view of the iconic Sugar Loaf and Urca Bay. Moreover, you can see the Tijuca National Park from the upstairs library.
The villa is huge; it has five bedrooms, three bathrooms, and five reception rooms. There is also a pool and a grill.
All in all, if you're looking for a place for a fancy bachelor's or bachelorette's party, or any kind of gathering, this might be the Airbnb in Rio de Janeiro for you.
Best Airbnb in Lapa/Center
Simple Airbnb in Lapa For Backpackers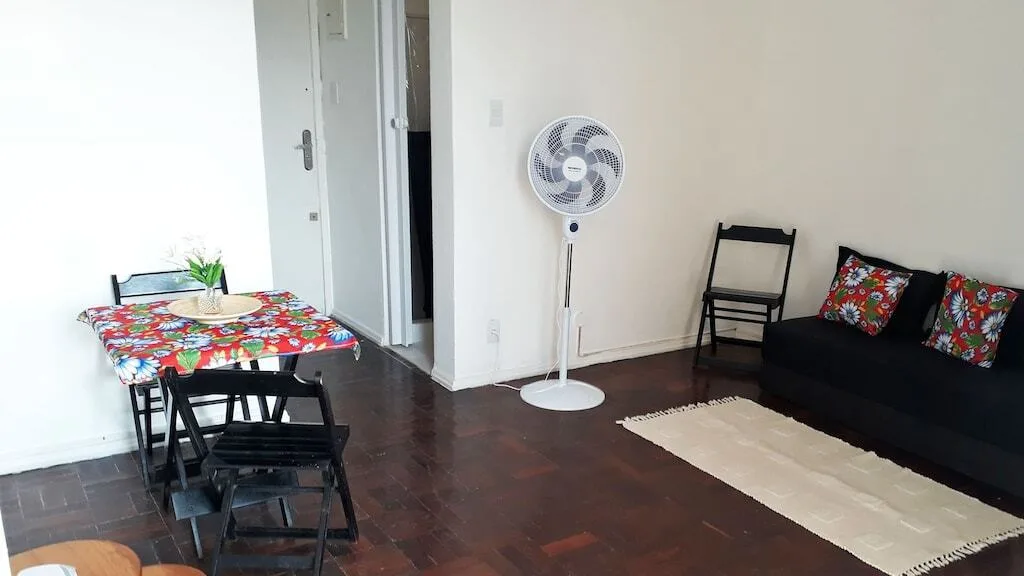 How you would feel staying in this Rio de Janeiro Airbnb in Lapa depends on how demanding a guest you are. However, if you're looking for a place to crash and shower, then I'm sure this property would suffice.
However, truth be told, it looks a bit basic. It seems clean, and it has the furniture you'd need.
The location is excellent, though. Praça da Cruz Vermelha, Sambodrome, and Arcos da Lapa are very close by as well as many facilities.
There are only three reviews, but they are all exceptional. People who stayed there say this Lapa Airbnb is a cozy space to relax and a second home away from home.
Bohemian House With Jaw-Dropping View in Rio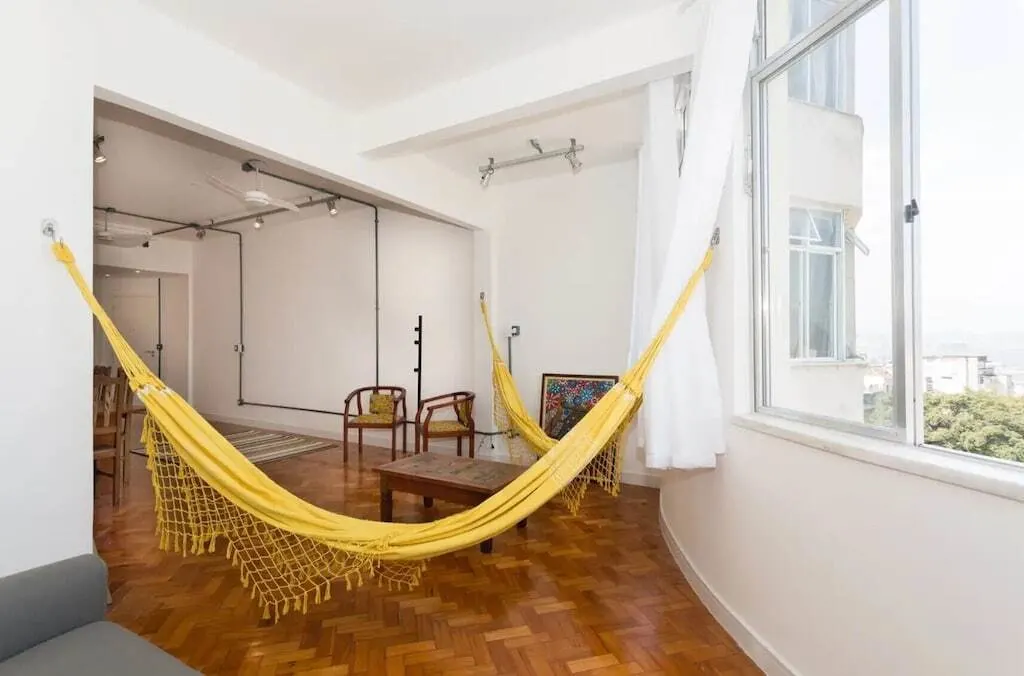 You know those postcards with panoramic views of the old bohemian Rio? Well, you could live those, as well as the ones of the iconic Sugarloaf and Guanabara Bay, from this charming 2-bedroom Airbnb in Santa Teresa.
Here, you'd rent the entire loft, located on a beautiful cobblestoned street, steps away from the Bonde station (streetcar). The neighborhood is fun, with many street parties throughout the month and all the perks of a beloved local hangout.
The apartment is bathed in light and really breezy, without too much stuff or details but with a rustic and relaxed vibe. However, the kitchen is modern and fully equipped, and the furniture is very well-designed. Moreover, there is a lovely hammock you can enjoy the fantastic views from.
This certainly looks like one of the most unique Airbnb's in Rio de Janeiro from the pictures.
Artists' Paradise Airbnb in Lapa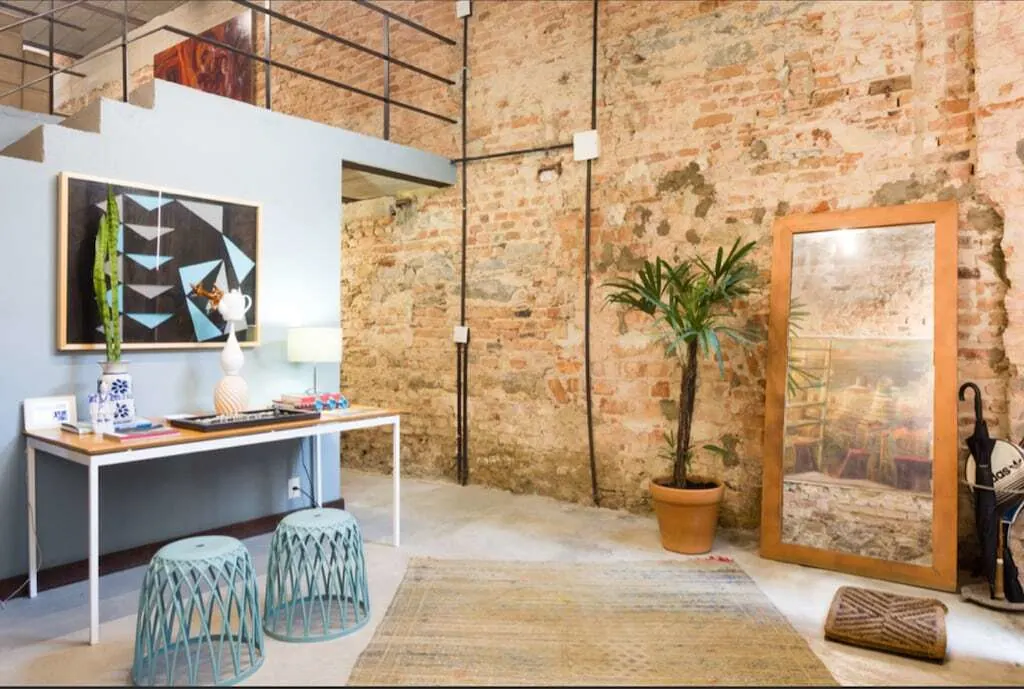 One of the most beautifully designed Airbnb's in Rio De Janeiro with a stylish retrofit design, hands down. The house in Lapa is enormous, and it's created as a fusion of industrial and rustic style. The property has four bedrooms and five private bathrooms to accommodate a large group of people.
The interior design is impeccable. In fact, I strongly feel this is the place for artistic and creative souls.
The location is fantastic, with Paris Square and Selaron Steps just around the corner and the Santos Dumont Airport only 1.5 miles away.
Best Airbnb in Botafogo
Explorers' Home Base With Genuine Rio Vibe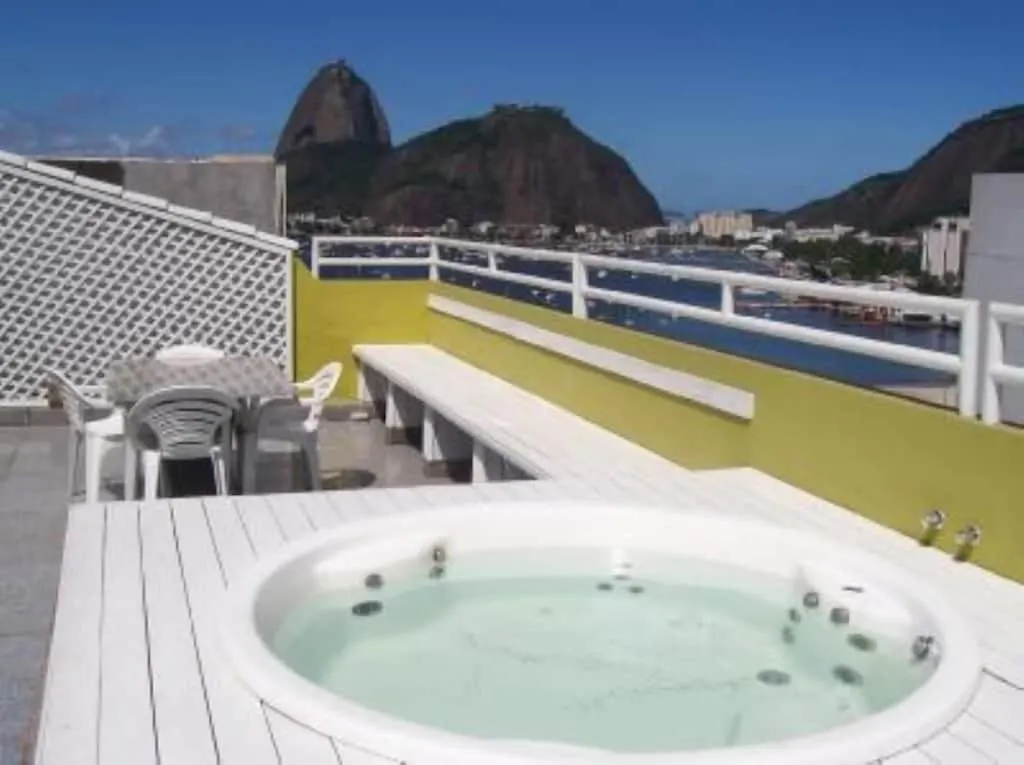 This is the first Airbnb in Rio de Janeiro on our list to state it's pet-friendly, so that's a plus. Also, it's very close to the marina, the bay, and three minutes from Botafogo Praia Shopping. Guanabara bay is an 8-minute walk away.
The apartment has three bedrooms and four bathrooms, with a lovely deck where you can grill. The view from the rooftop terrace is fantastic. People mostly praised this Airbnb for its location and the beautiful views.
Can you imagine yourself watching the sunset here while sipping your favorite beverage?
From here, you can quickly check out other exciting neighborhoods of Rio if you choose this property as your home base. Simply hop on the metro at either a Botafogo Station or Flamengo Station. Both are just a few minutes' walks away.
A Family Safe Haven of Rio de Janeiro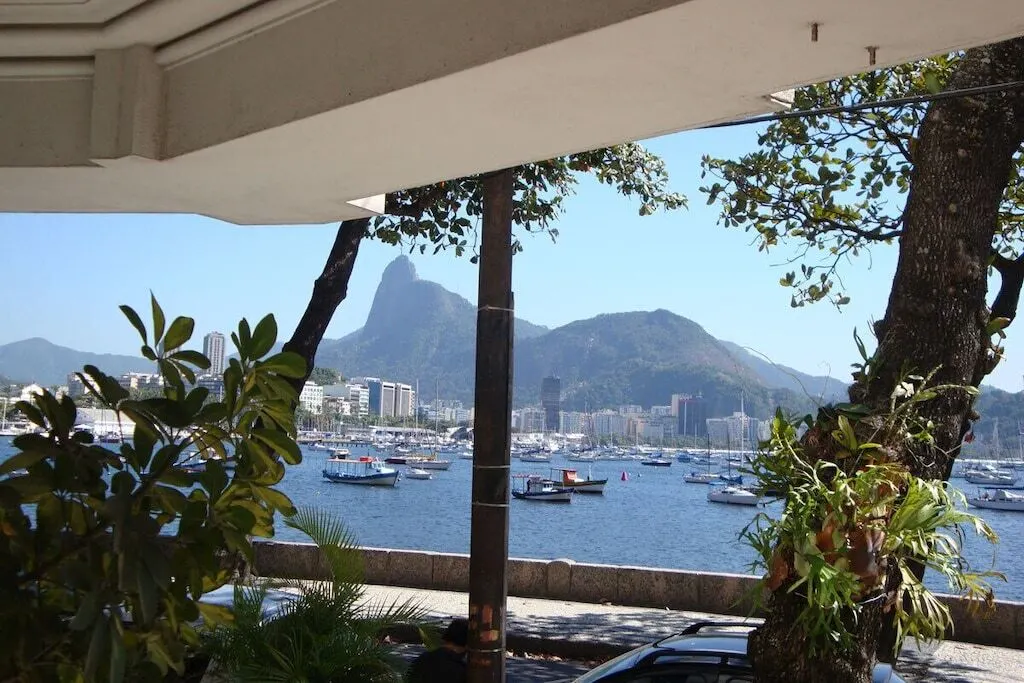 Families love staying here since it's one of the safest Airbnb's in Rio de Janeiro. The apartment is in Urca, Rio's safest neighborhood, sleeps five people, and seems pretty comfortable. In fact, there are anti-noise glass windows, so you can relax adequately.
The kitchen is fully equipped with all the works; a dishwasher, microwave, a stove, and ceiling fan. There is also a washing machine. That said, I must disclose that the kitchen is the most modern-looking room in the house.
The rest of the place looks very retro, with mostly vintage furniture. If modern decoration isn't a hard demand, you'll love this Airbnb in Rio!
The balcony looks cozy, though, with a wooden bench filled with lovely plants.
Sugarloaf Mountain is close by, and Sugarloaf Cable Car, Flamengo Beach, and Attero do Flamengo Park. Moreover, the place offers stunning views of the Corcovado and the sea.
Retro Penthouse to Soak in the Views of the Iconic Christ Statue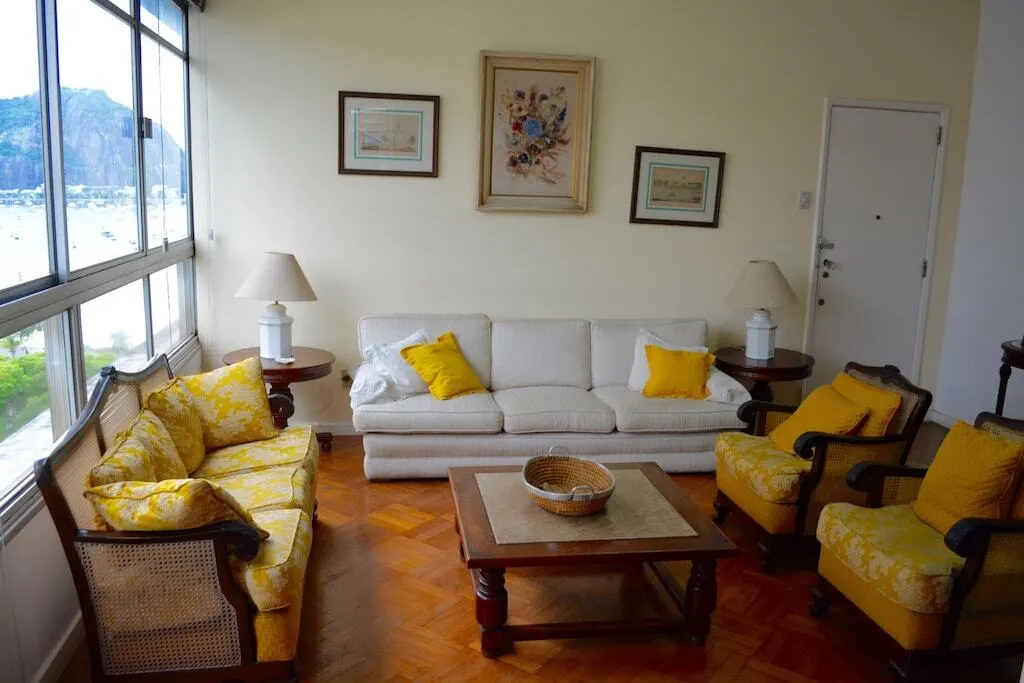 Strategically located next to two metro stations and near Botafogo Beach, this entire apartment is excellent. It is a sizeable two-floor apartment on Botafogo that looks like a good base for exciting exploration. The place seems ample and comfortable.
It has five rooms, four bathrooms, and a large terrace to soak in the fantastic views of Cristo Redentor and Pão de Açúcar.
This Rio de Janeiro Airbnb is spacious and clean, but don't expect modern furniture. In fact, it has a rustic and simple but lively decoration. Pretty much in line with the local decoration, which is a positive point for me.
I mean, why would you stay in an Airbnb if you don't want to experience how it is like to live like a local? Besides, three reviews say they made a solid choice choosing this Airbnb in Rio de Janeiro.
Rio de Janeiro Travel
You're traveling to one of my favorite Brazilian cities, Rio de Janeiro! That's so exciting!
Thinking of that, I wrote a few guides to help you plan your trip to Brazil!
Like this comprehensive list of things to do in Rio de Janeiro as well as this accommodation guide to Rio, in case you prefer to stay in hotels and hostels, instead of Airbnbs.
Also, suppose you're looking for tours in Rio to give you a better understanding of the city and visit some landmarks, like the iconic Brazilian statue. In that case, this article linked above covers the best tours in different categories throughout the town.
Last but not least. Be sure to read this article about the best and prettiest beaches in Rio de Janeiro to know precisely where to go for a tan.
I hope you enjoy your trip!
Did you like this article about the best Rio de Janeiro Airbnbs? Then share it with a friend who might like it too!