Looking for the best beaches in Rio de Janeiro to visit on your trip to Brazil? I've got you covered with this extensive guide on the prettiest beaches in Rio!
Rio de Janeiro is a captivating place filled with the most vibrant coast and some of the most mesmerizing beaches in Brazil.
Here, the urban fabric mixes perfectly with the natural landscape, making it challenging to keep your jaw from dropping.
And I'm not exaggerating.
Anyone visiting Brazil should include at least a couple of these beaches in their itinerary. After all, hitting the beach is one of the best things to do in Brazil!
In this article, I've listed the top 10 Rio de Janeiro beaches that you can easily reach from the city center, and are entirely worth your time!
But! Because there are so many picturesque places to visit in Brazil, I decided to include the 5 best beaches in Rio de Janeiro State, outside of the city.
This way, you know what places you can visit if you feel like going on a day trip from Rio.
Are you trying to decide where to stay in Rio de Janeiro? Don't miss my extensive Rio de Janeiro neighborhood guide and tips on where to stay in Rio de Janeiro. But if you prefer a local environment, you might want to check out these Airbnb in Rio de Janeiro instead.
This article explains the best places to stay based on what you want to experience in the city, as well as your budget.
Tips for visiting Rio de Janeiro beaches
MAP -> If you want, you can use this interactive map on your smartphone where I pinned all the beaches in this guide. Click here to open the map.
Some beaches are dependable on the tide, meaning the sand stretch disappears when the tide is high. A useful rule of thumb is that the tide is usually low in the morning, so plan your visit accordingly.
While safety is often a concern for many tourists, most beaches in Rio are relatively safe. Having said that, my best advice is don't bring flashy objects and be mindful of your surroundings.
Avoid hanging around the beach at night, especially if you're a solo traveler.
Many times, the best time to hit the beach will be in the winter because it rains less. Still, enjoying the summer vibes on a beach in Brazil is a unique (and pleasant) experience.
Some of the beaches I'll mention below are secluded and have no internet connection. If being connected is essential to you, consider renting or buying a pocket WiFi – it's affordable, and you can share it with your friends!
You might want to check out my Brazil packing list to be sure you won't forget essential items.
Pin it!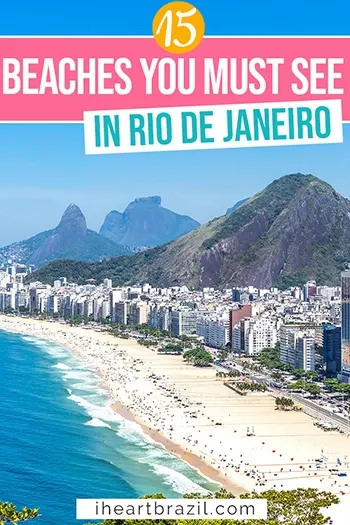 Best beaches in Rio de Janeiro City
I've been to the city and state of Rio de Janeiro countless times.
Still, I'm often pleasantly surprised to find new spots where I can sunbathe, have one (or two) cachaça drinks, and disconnect from the world.
These are just some of the reasons to visit Brazil. I hope you can get some nice ideas out of this list!
Ipanema – best beach in Rio to experience the local vibe
Do you know that beach in Rio de Janeiro known for a certain girl?
That's right, the song Girl of Ipanema was inspired by a beautiful girl walking towards the sea at this spot.
Hence why it's one of the most famous beaches in Rio de Janeiro.
After Copacabana, this is by far the most popular urban beach. There might be crowds on holidays and weekends, and you can't really see the Christ the Redeemer statue, yet it's a fantastic place to feel Rio.
In essence, all tribes come here to enjoy the swaying palm trees guarding the soft sand stretch, from surfers to tourists and locals working out to beach vendors.
Although its 2,6 km promenade has lots of places to enjoy the views, Posto 9 and Arpoador Rock remain local's favorites.
At Arpoador Rock (Portuguese: Pedra do Arpoador), most locals and tourists come to watch the sun setting on the horizon and painting the beach in orange hues.
If you're traveling with your significant other or planning a Brazil honeymoon, this spot should be in your itinerary!
Need I give you more reasons why Ipanema is one of the best beaches in Rio?
Prainha Beach (Little Beach) – best Rio de Janeiro beach to avoid the crowds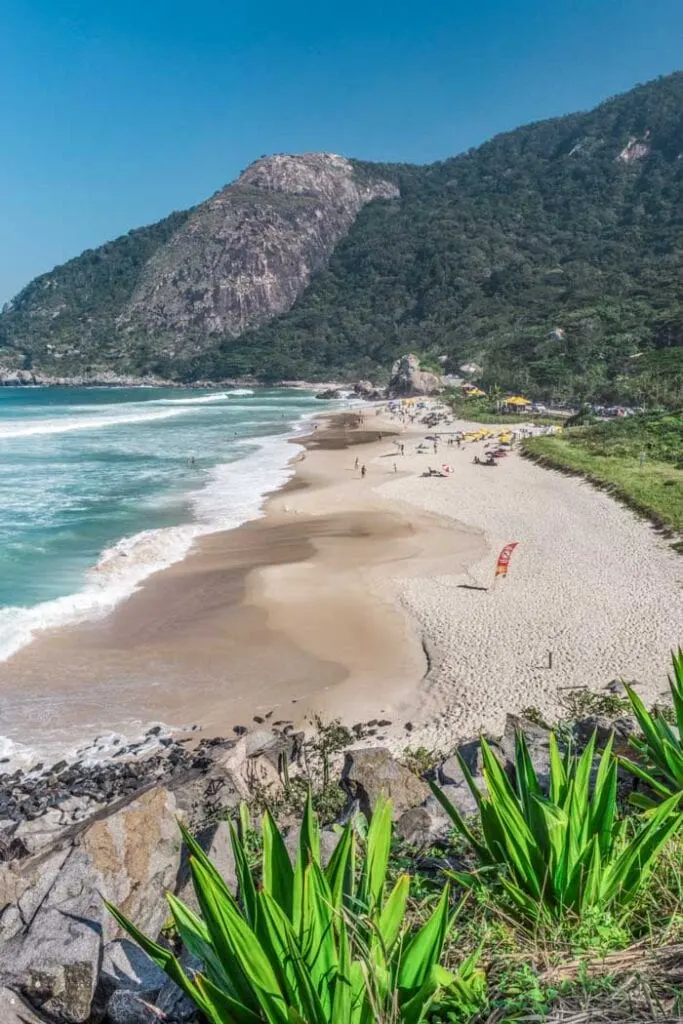 Nestled between two hills covered in Atlantic forest and bathed by undulating waves, Prainha Beach is a short sand stretch without much infrastructure.
There is no way to reach it by public transportation, parking spots are limited, and only a couple of kiosks serve refreshments for the visitors.
Still, Prainha is so strikingly beautiful that all the effort is worth it.
This place, located in the western region of the city, is considered a natural sanctuary for its blue sea and lush green surroundings.
To get here, you will want to either take a cab or rent a car. It's a straightforward route from Rio de Janeiro's southern region and a pleasant escape from the city.
Once you arrive here, you'll understand why it is considered one of the best beaches in Rio de Janeiro.
Grumari – best beach in Rio de Janeiro for surfers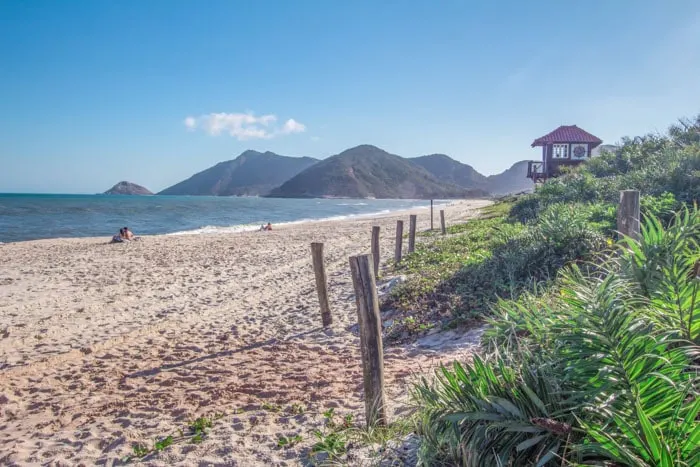 Although located in the same protected area as Prainha, Grumari is much bigger and yet equally preserved.
Here, the almost 3 km of clear sand stretches between two hills and is surrounded by Restinga. This tropical biome obviously contrasts beautifully with the blue ocean.
Grumari is one of the best beaches suited for surf because of its massive waves reaching 3 m high.
It's not a surprise that surfers come here on the weekends, filling the beach, which is far too empty during the week.
Good to know: Abricó Beach lies on the eastern end of Grumari Beach, and it is a naturist beach at weekends, while during the week, clothing is optional.
Praia Vermelha (Red Beach) – best beach in Rio de Janeiro for families traveling with kids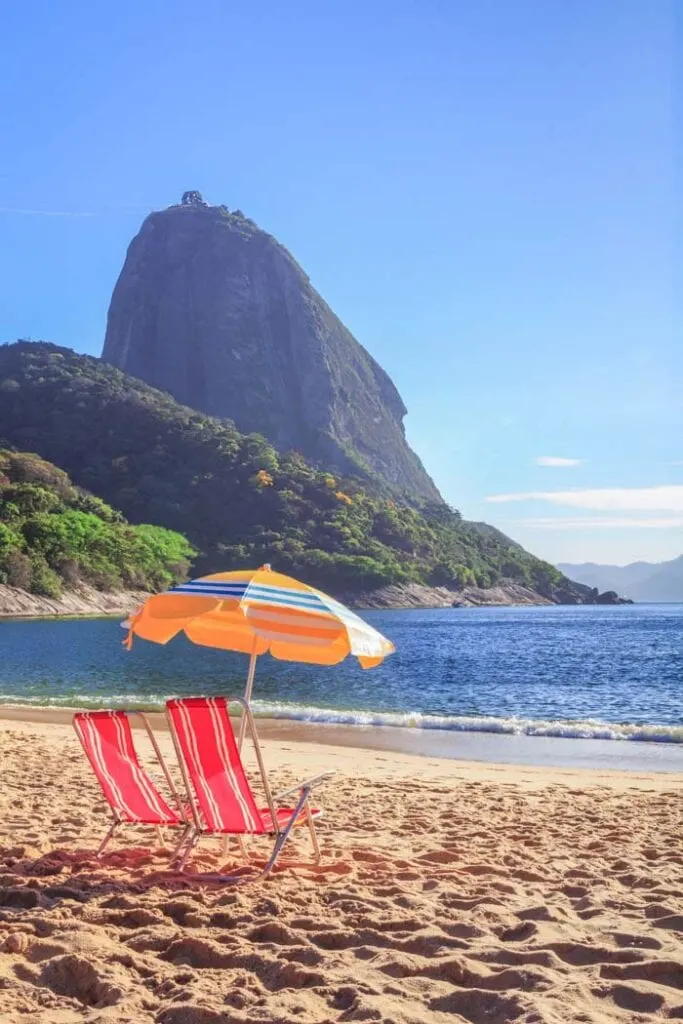 Praia Vermelha not only has one of the best landscapes in Rio, but it also is incredibly welcoming.
That's because this small beach lies at the foot of the Sugarloaf Mountain, giving you a unique photo spot of one of Brazil's most famous landmarks.
Beyond that, the sea here is very calm, which is perfect for enjoying the beach with kids, or who knows, to try out a new hobby, such as stand-up paddle – you can easily rent a paddle at the beach.
In the same breath, Red Beach is perfect for swimming in the sea because of the lack of waves.
When compared to Copacabana and Ipanema, Vermelha has really few beach vendors, especially during the week when it's emptier.
Vidigal – best beach in Rio to enjoy the local vibes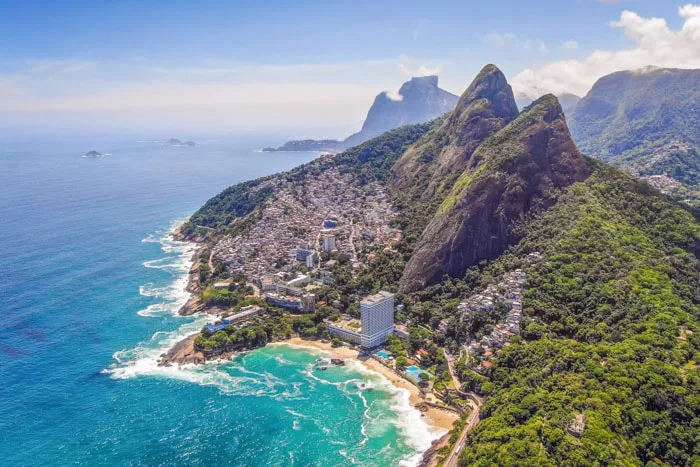 Located between Leblon and São Conrado beaches and right in front of a favela with the same name, Vidigal is a small beach that feels almost as it was private.
That is because the Hotel Sheraton Rio closed access to the beach when it was inaugurated in 1974.
However, all the Brazilian coast belongs to the State, so the hotel built stairs along the main road to allow passage to visitors to the beach.
The stairs are located at the southern end of Vidigal Beach, after the hotel.
And because Vidigal is somewhat hidden, you can sunbathe, drink some caipirinhas, and enjoy a much less crowded beach where locals hang out.
São Conrado – best beach in Rio de Janeiro to dream high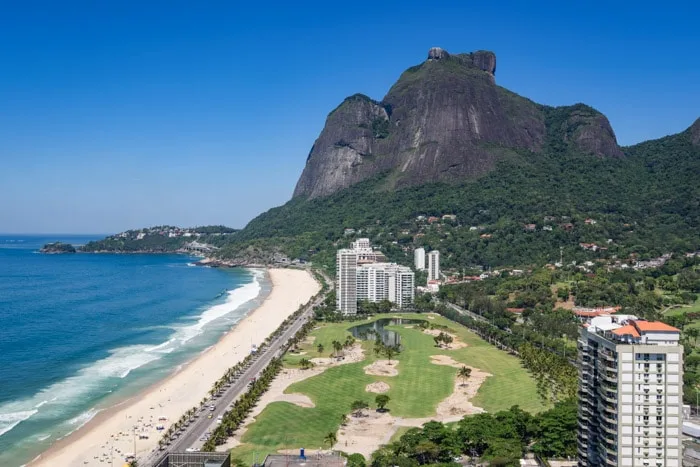 Right at the foot of Pedra da Gávea, São Conrado is a beautiful and offbeat beach in Rio.
This spot with clear sand and blue sea is often empty. Still, it is surrounded by luxury buildings, Rocinha favela (the biggest in Brazil), and the mountain landscapes, a rather illustrative definition of Rio.
Although São Conrado is a lovely beach to sunbathe, it is mostly known among locals for the adventure seekers that land in hang glides.
That's right. It's a popular activity in the city – people buy tickets to hang glide from Pedra Bonita, a surrounding hill, and land right here on the beach. Can you imagine the breathtaking views?

Click here to buy tickets for hang gliding in Rio
Leblon – best beach in Rio de Janeiro to see celebrities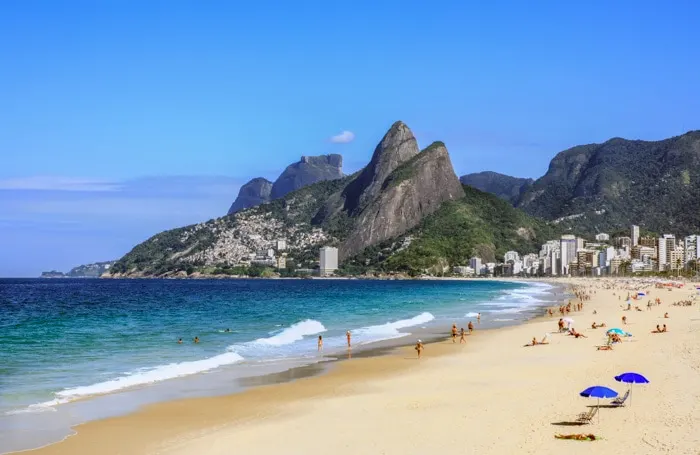 Right at the heart of Rio's south region, Leblon Beach neighbors Ipanema on the opposite end of Arpoador Rock.
Here at Leblon, lots of locals come to exercise, play soccer, volleyball, footvolley, surf, and more!
If you want to sunbathe in Rio and watch locals at the same time, Leblon Beach is your best bet.
Beyond that, Leblon is known in Brazil for being the celebrities' favorite beach, so you might see famous Brazilians hanging around here.
Leblon is less crowded than its neighbor Ipanema, making it a lovely beach to spend a day getting a tan and get some refreshing Brazilian drinks in one of the bars on the promenade.
Joatinga – best Rio de Janeiro beach to hang out with friends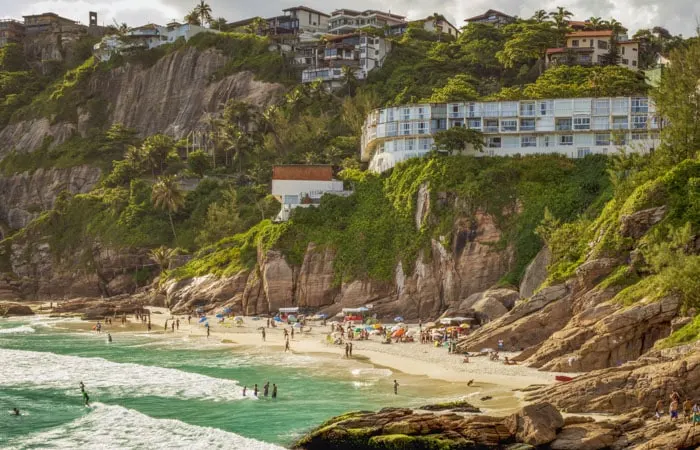 This small beach is full of beautiful and cool people, and unsurprisingly, it's a popular spot among surfers and young people.
Hidden between Barra da Tijuca and São Conrado, Joatinga is only accessible in low tide.
When the tide is high, the sand stretch disappears, leaving only the rugged coastline sprinkled with houses here and there.
Beyond that, the clear, blue sea is strikingly beautiful – it is, without doubt, one of the prettiest beaches in Rio de Janeiro!
Although hidden, Joatinga can get crowded on the weekends, especially in the summer – but remember, the early bird catches the worm!
To get to the beach, visitors must enter the Pascoal Secreto Condominium (Sargento José da Silva Street) because the stairwell that leads to the beach lies in this property.
Praia do Secreto (Secret Beach) – best beach in Rio with a remote feel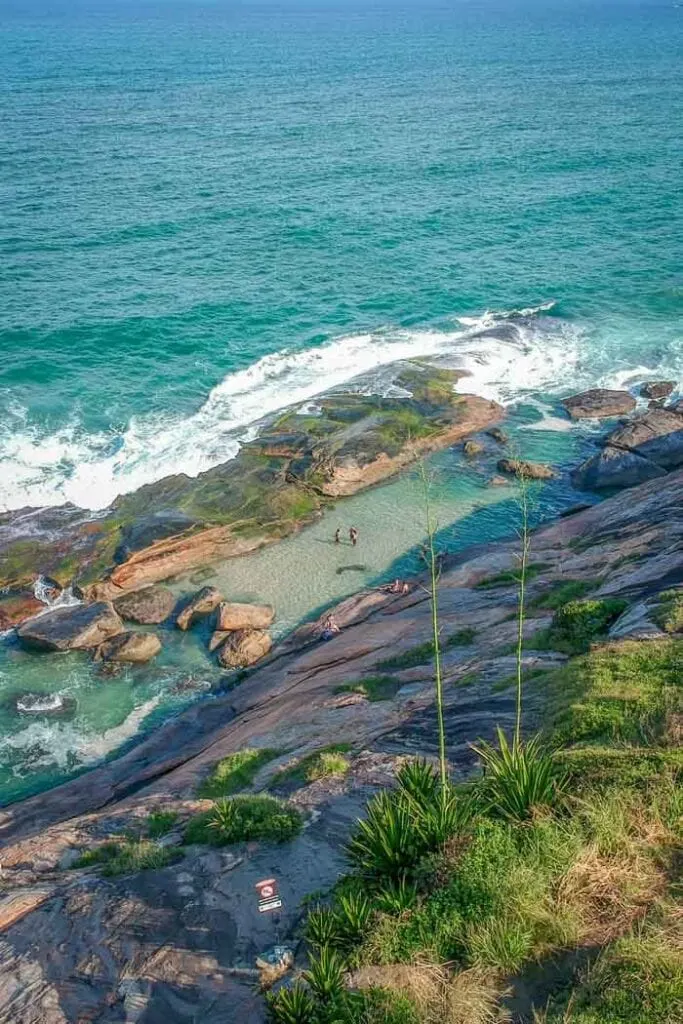 Just like Joatinga, Secret Beach only exists when the tide is low.
Located between Prainha and Macumba, this beach is actually a natural swimming pool where visitors can relish a calm sea.
Because the access to this spot is made through a short hike over rocks, Secret Beach isn't suited for elderly, children, or people with physical impairments.
Beyond that, there is no infrastructure on this beach, so be sure to bring your own food, refreshments, and trash bags.
Besides being such a secret beach, as the name says, this is a unique place to visit in Rio de Janeiro and a most welcome escape from the buzzing city.
Copacabana Beach – must-visit beach in Rio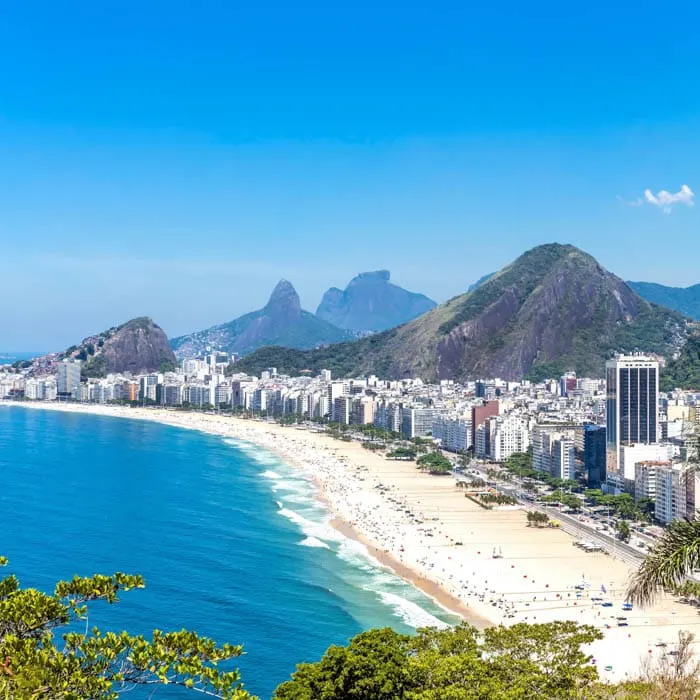 Copacabana needs no introduction.
Sunbathing or just hanging around the most iconic beach in Brazil is a must thing to do in Rio. Period.
As one of the top attractions in Rio, Copacabana is not only packed with tourists but also with locals practicing sports.
From volleyball to soccer and even live concerts, life happens on this lively beach every single day.
Needless to say, infrastructure is not a problem here. The unique promenade has lots of toilets, benches, and obviously, kiosks serving Brazilian food and maybe a delicious Brazilian lemonade.
The promenade, if you don't already know, has an iconic pattern that is inspired by the movement of the waves and is often used in souvenirs because of its unmistakable design.
If you want to avoid the crowds, you will want to arrive really early in the morning and during the week, and at all costs do avoid the last day of the year as it gets absurdly jam-packed from 5 AM on.
Alternatively, you can rent a bike and ride along the promenade to feel as if you were local – highly recommend it!
Best beaches in Rio de Janeiro State
These following beaches are located in the state of Rio de Janeiro, not in the city.
So to get to them, you will either need to take a bus or rent a car. In some cases, you can also go on a guided tour.
Whatever you decide, I assure you these places are insanely beautiful and worth your time!
Praia da Azeda, Búzios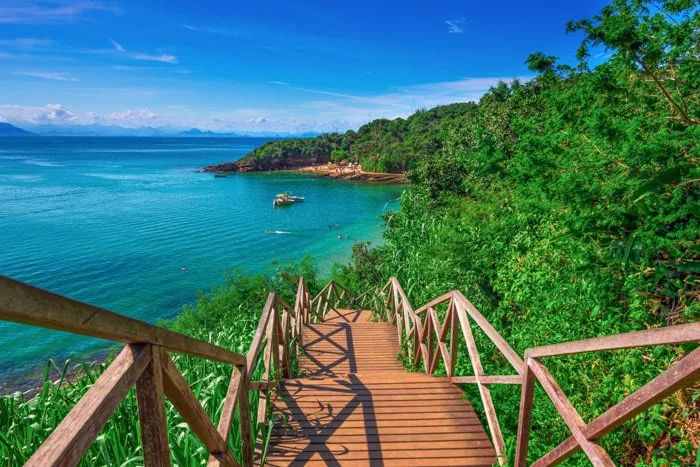 This snug, famous beach features not only sweeping views but also clear, calm water!
Praia da Azeda (English: Sour Beach), located only a few minutes' drive from the city center, is one of the most sought after beaches because of its striking landscape.
As a small sandy stretch surrounded by the Atlantic forest, Azeda is often crowded. Hence, you will want to visit it during the week when locals are working.
Beyond that, Azedinha, the next beach after Azeda, is like a daydream!
While Azedinha is more suited for children as the beach has a relatively big area of shallow water.
On the other hand, Praia da Azeda is suited for those who want to chill out, swim, and enjoy the beautiful surroundings. Yet, both beaches are ridiculously beautiful.
Lopes Mendes, Ilha Grande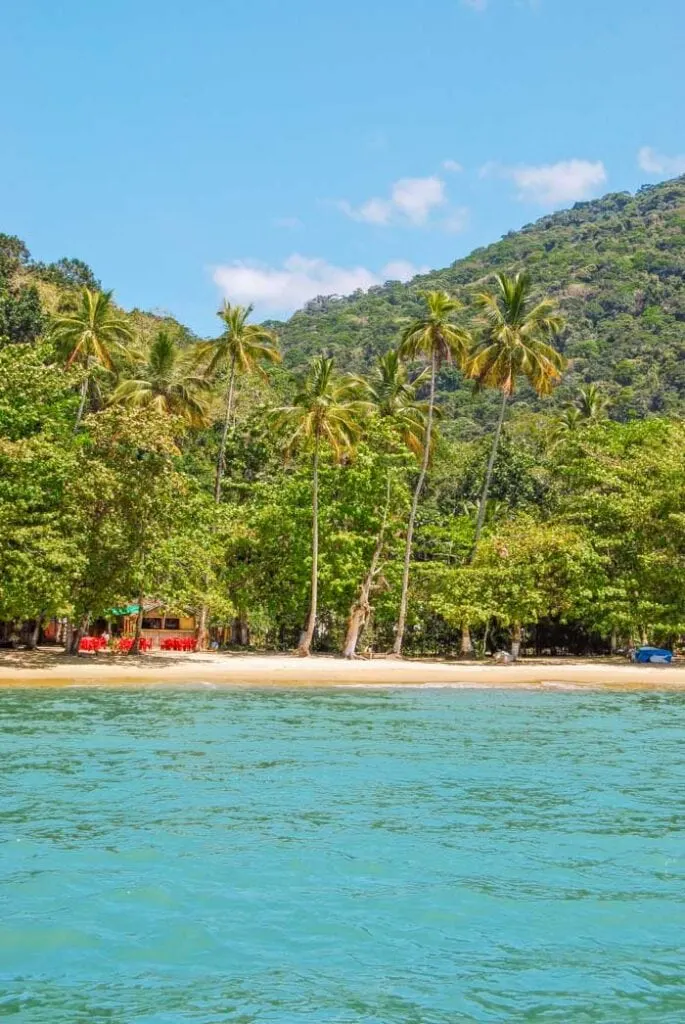 As one of the prettiest beaches in Rio de Janeiro, let alone in Brazil, Lopes Mendes is excellent for surfing because of the crashing ocean waves.
Beyond that, Lopes Mendes in Ilha Grande has approximately 3 km of fine white sand, a large area of shallow waters, and a landscape filled with bright blue and green hues.
It has often been voted as one of Brazil's prettiest beaches outside the northeast region, a region famous for having a jaw-dropping coast.
The Lopes Mendes is often calm, but beach vendors stick around during the high season.
To get from the village center (Vila de Abraão) to Lopes Mendes, visitors must hike an intensive 2,5-hour trail or take the boat.
I wrote a complete article about the best Rio de Janeiro tours, including a boat tour to Ilha Grande, where you can spend the whole day on fantastic beaches.
Praia do Sono, Paraty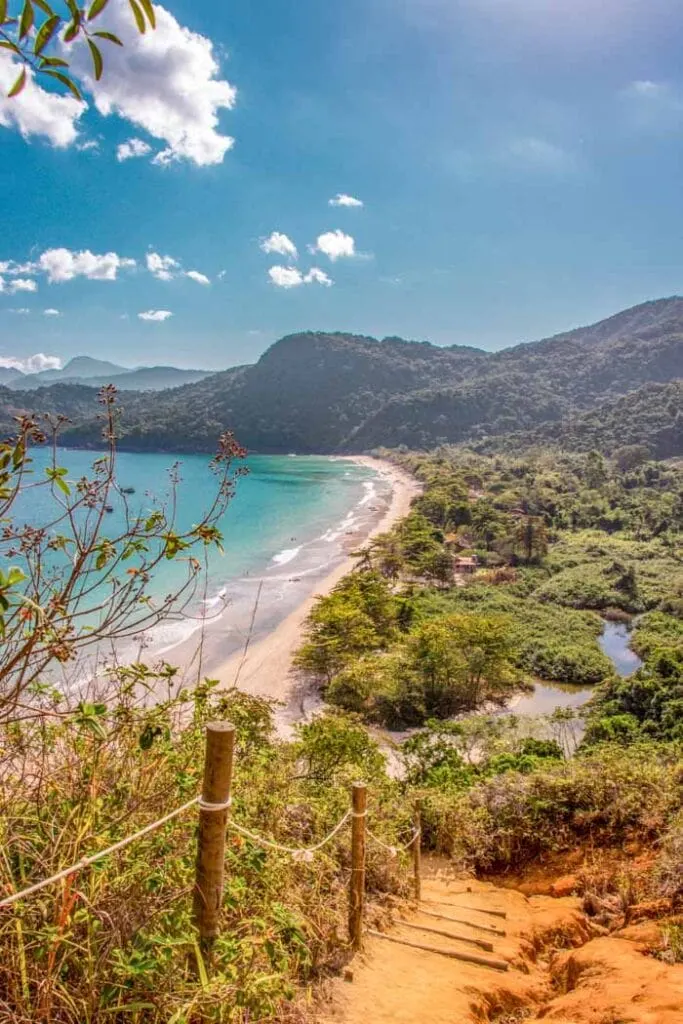 The Praia do Sono (English: Sleeping Beach) is a real paradise in Paraty, and it is surrounded by thick forest, perfect to connect with nature.
Waterfalls, hiking trails, and other stunning beaches are some of the attractions in this unique place.
It's important to note that Sleeping Beach is a secluded place accessible by boat and lacks WiFi.
Also, it can get too jam-packed during our holidays, so be sure to avoid those dates at all costs.
Oh, some of the best hikes in Brazil are here in Paraty, just sayin'!
Ilha do Japonês, Cabo Frio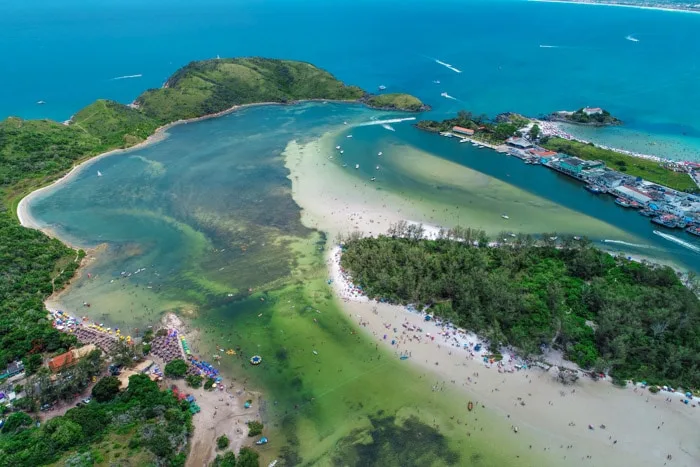 The Ilha do Japonês (Japanese Island) is an island in an open lagoon on the coast of Cabo Frio.
While reaching it by foot is perfectly possible during low tide (for adults only), it's advisable to cross by boat just to be on the safe side.
Besides, it isn't expensive.
Moreover, be sure to bring food, refreshments, and trash bags as there is no infrastructure on the island. Some boats sell food, though.
Here, the water is crystal clear and calm, being perfect for letting kids play around, to rent a stand-up paddle, or to recharge your energies.
Either way, Ilha do Japonês has some of the prettiest beaches in Rio de Janeiro.
Praia do Forno, Arraial do Cabo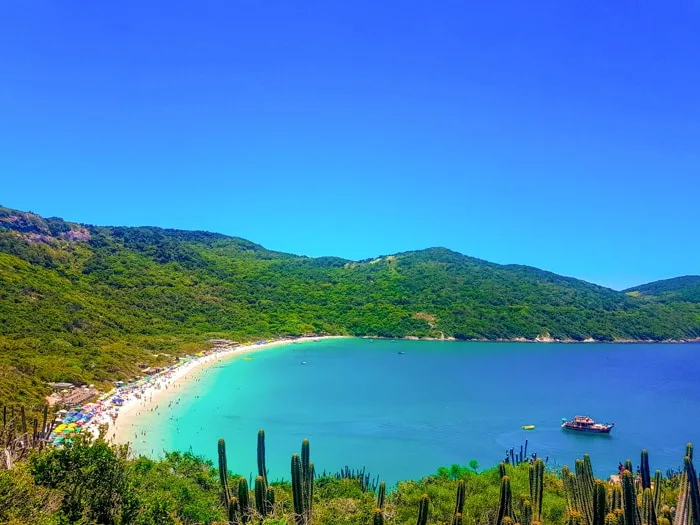 Often among the prettiest beaches in Brazil by magazine readers, Praia do Forno (English: Oven's Beach) in Arraial do Cabo is surrounded by hills covered in dense forest, giving it a feeling of a remote place.
However, visitors can easily access it by a short hiking trail or by boat, meaning it can get crowded.
There is little infrastructure here and a handful of modest restaurants offering food and refreshments.
Personally, Praia do Forno is one of my favorites because of its clear sand and bright blue water.
Brazil travel resources
I want you to have an incredible time in Brazil! To help you with that, I created lots of useful guides.
For example, this guide on Rio de Janeiro taxis is pretty handy, as well as this guide on how to buy a SIM card in Brazil.
And, if you're still planning your trip to Brazil, you will want to read my guide on how to budget for your trip, as well as this complete Brazil travel guide.
If you want to deepen your understanding of Brazilian culture, you might want to read more about a few topics. For instance, our flag and map are pretty interesting, as well as our national anthem.
Also, you will want to read some fun facts – who doesn't love fun facts!?
Beyond that, you can learn more about Brazil before leaving home through these Netflix movies, TV shows, and books about Brazil.