Traveling to South America and want some ideas of Brazilian souvenirs to bring back home? Here's a comprehensive list for you!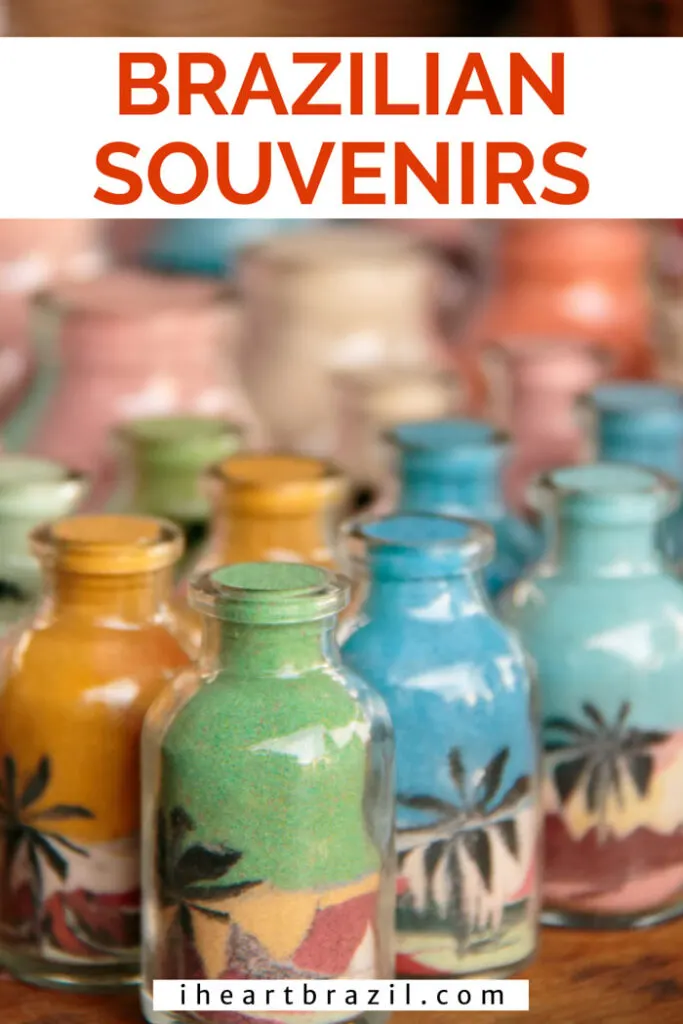 Unique souvenirs from Brazil
Are you looking for the coolest Brazilian souvenirs for family and friends?
Brazil has a rich culture steeped in tradition and history, making it one of South America's most exciting destinations and one of the most difficult to leave behind.
But it turns out, you don't have to leave it all behind. From colorful crafts to tasty treats and unique ornaments, Brazil's shelves are stacked with some of the best souvenirs you can find.
The people, language, and traditions are what make the Brazilian culture unique. But what most people don't realize is that each region of the country has its own customs and identities.
So, no matter where you're traveling to, you'll be able to snap up some Brazilian souvenirs that reflect the region's own traditions. Here's a list of my favorite souvenirs from Brazil you will love.
Best Brazil souvenirs to bring back home
Most of my favorite things to buy in Brazil are the unusual things you can only find in the country.
It's not about magnets, usual postcards, or mugs you can find everywhere in the world.
We're talking about traditional products of Brazil that will make your family and friends super excited.
1. Brazilian coffee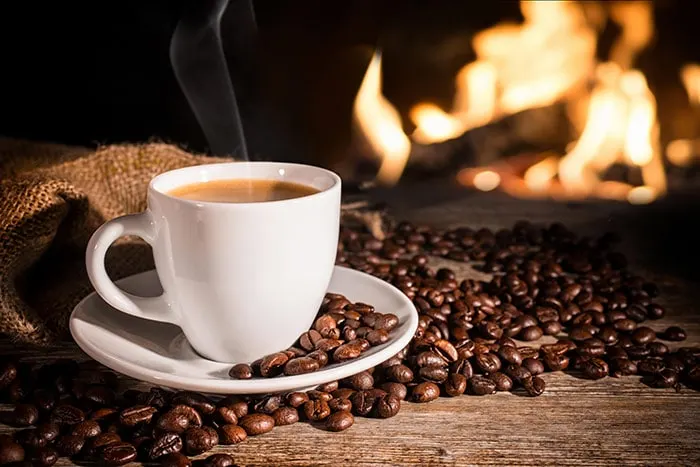 Brazilian coffee makes not only a delicious beverage but also an excellent souvenir to buy in Brazil.
As the world's biggest coffee producer, Brazil is a mecca for coffee lovers. Small family-owned coffee brands sell high-quality grains and powder to prepare this beverage at home.
Some excellent brands are Pimpinela Café, Bici Café, 3 Corações Café, Sendvic, Rots Coffee, Café Brasileiro, Sant' Anna Cafeteria, Pilão Café, James Café, Caffè Cavalluce, and Dom Thiago Cafés Especiais.
You can find it in most grocery stores or hip coffee-centered cafes in bigger towns.
2. Christ the Redeemer memorabilia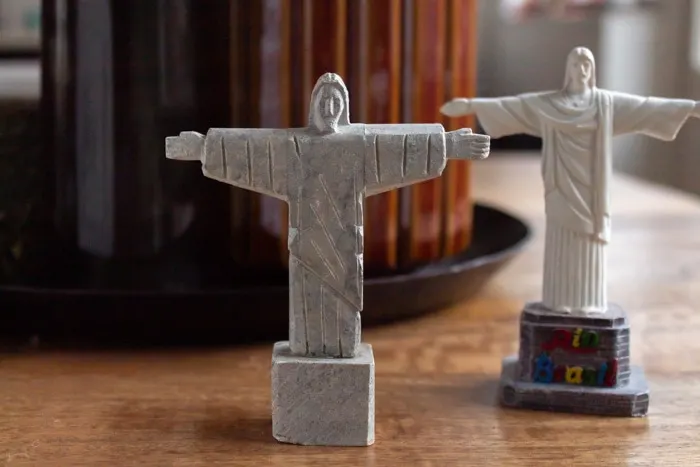 As a major landmark, Christ the Redeemer is portrayed in many Brazilian souvenirs, from memorabilia to keychains.
Yet, no souvenir is as symbolic as a miniature of the most imposing monument in the country, which is also a major tourist attraction in Brazil.
It is simple, affordable, and will make sure no one feels left out when you pass out your Brazil gifts. Grab these at any Rio de Janeiro gift shop.
3. Sugarloaf trinkets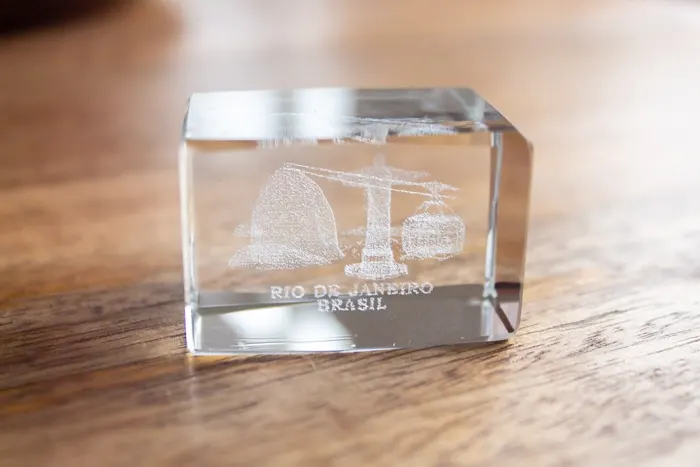 Just like Christ the Redeemer, the Sugarloaf Mountain is a symbol and incredible tourist attraction of Rio de Janeiro.
From steel to glass to wood, you can find the Sugarloaf Mountain miniatures in just any material and size. And they are not expensive!
You will find these in just about every major gift shop in Rio de Janeiro.
4. Brazilian book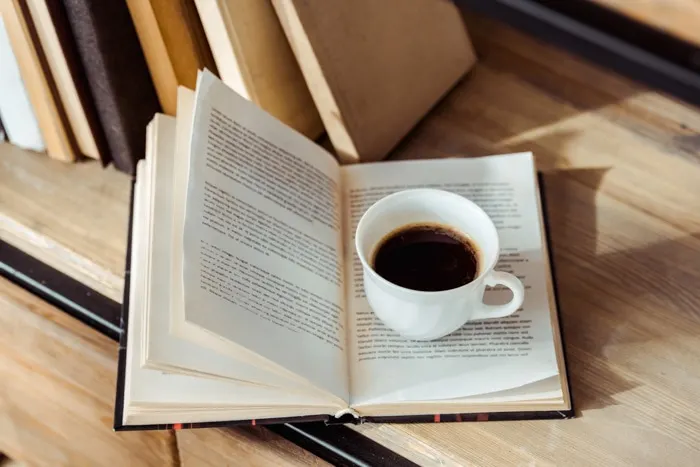 While most Brazilian authors are not popular internationally—except Paulo Coelho–they still have many high-quality published works worth checking out.
I know literature isn't something you would usually associate with Brazil. Yet, I guarantee you won't regret bringing some titles back home with you.
Here are some books: Captains of Sand by Jorge Amado, Symphony in White by Adriana Lisboa, Dom Casmurro by Machado de Assis, and The Slum from Aluísio Azevedo.
If you're not really into literature but would instead read a journalistic nonfiction book, this list of books about Brazil has excellent suggestions.
5. Cachaça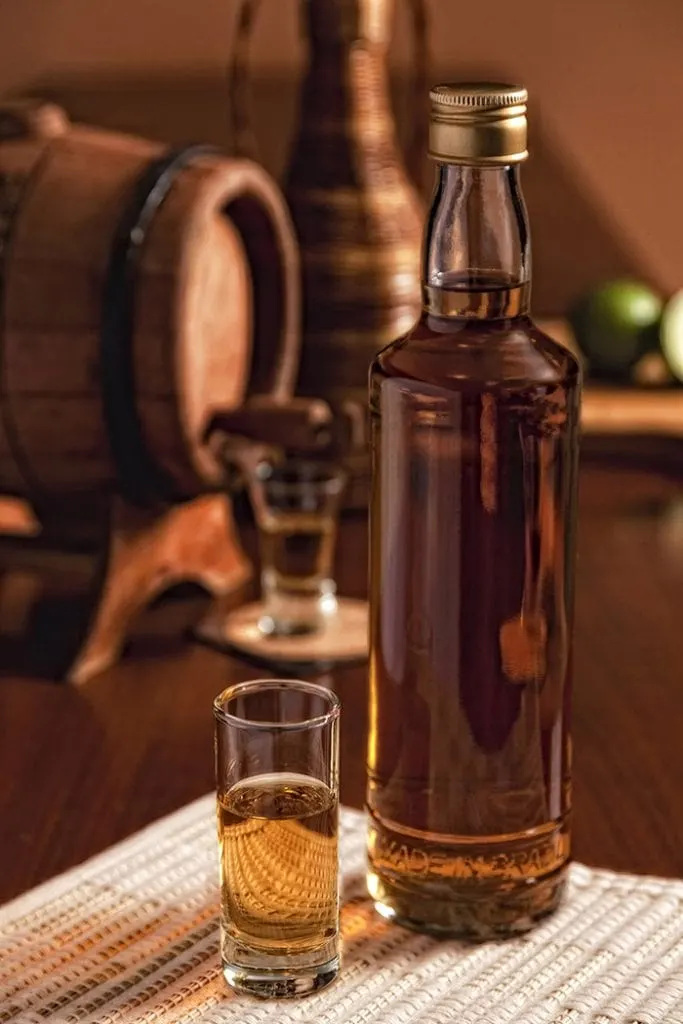 Hands down, one of the best things to buy in Brazil is cachaça. This Brazilian liquor made from sugarcane juice is strong and tastes grassy and vegetal–it's delicious!
It's with cachaça that we make the national cocktail, the caipirinha, together with most of our cocktails.
You can find bigger brands in grocery shops in Brazil, but smaller family-owned brands are easier to find in a bar or, depending on where you are in the country, in their own distillery.
Fact about Brazil: By law, cachaça can only be produced in the country, nowhere else. Otherwise, it should have another name.
6. Havaianas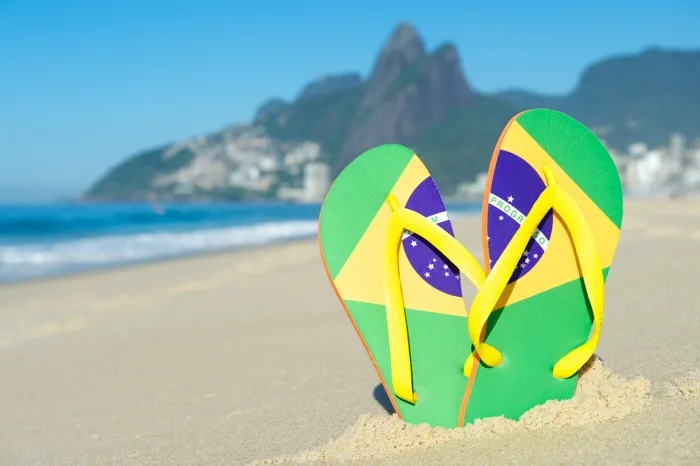 While I don't like to make generalizations as they border stereotypes, I honestly don't believe there is a single Brazilian in the country who doesn't own a pair of these flip flops.
As such, if you're looking for a Brazilian souvenir for you or a friend/relative, you will want to buy a pair of Havaianas.
They are a traditional product of Brazil and comfortable flip flops to wear at home or the beach. Besides, Havaianas are considerably cheaper in Brazil than abroad.
You can find these in an official store in the street or major shopping malls.
7. Canga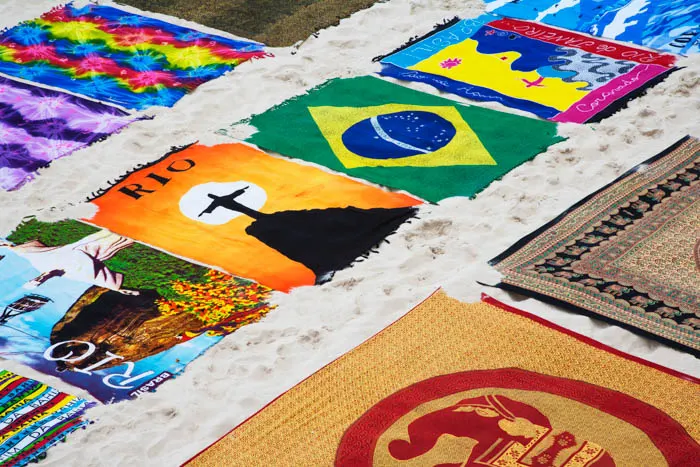 If you have been to a Brazilian beach, you have probably seen street vendors selling hundreds of cangas (similar to sarongs).
Canga is a Brazilian beach towel with multiple uses. Most Brazilian women have a collection of those in different colors and patterns, including me. They make a quick and excellent beach dress/tunic.
Even if you're not a woman, you can buy one of these sarongs in Brazil with the country flag, for example, and use it on the beach to sit on the sand while sipping a caipirinha. They are very handy and make an interesting souvenir!
8. Brazilian jersey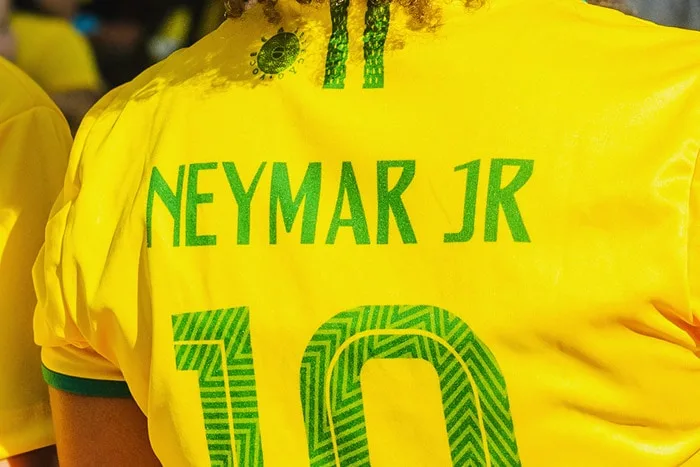 If you're a soccer lover, you need an official Brazilian jersey.
The traditional yellow-gold jersey with green details, also known as canarinho (Portuguese for little canary), is one of the most famous symbols of Brazil.
This t-shirt represents years of unique mastery our soccer players showed in the fields.
For that reason, a soccer jersey is a memorable Brazilian souvenir that is packed with emotions and passionate fans worldwide.
9. Gemstone crafts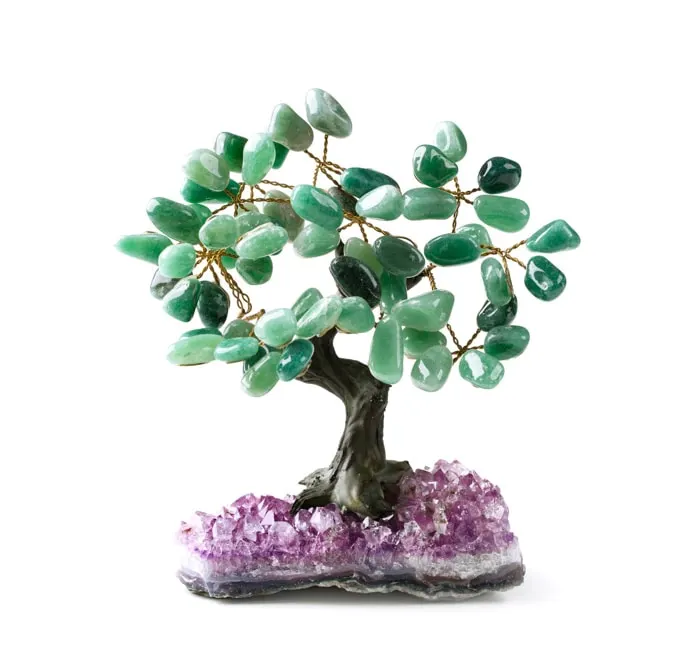 It is common to find gemstone crafts in Brazilian households.
I remember growing up in a house with at least a couple of crystal trees, árvore de cristais, and my sister had a couple of jewelry with them.
While this Brazilian souvenir can turn into an expensive find if made with precious stones instead of their more affordable counterpart, you can easily find small crafts for $15.
These crystal trees specifically are easy to find in gemstone stores or street fairs in major cities.
10. Swimwear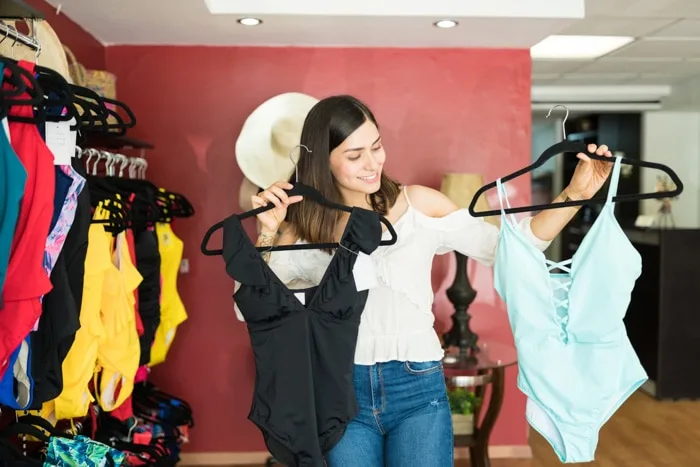 Whether you will wear it in Ipanema, Copacabana, or back at home, buying swimwear in Brazil is a must. After all, where will you find these tiny and stylish bikinis bottoms if not here?
For ladies, the typical Brazilian bikini has a higher cut and provides minimal coverage—and that's perfectly normal in the country.
For gentlemen, swim briefs or speedos are far more popular than swim trunks in Brazil. You can buy swimwear sold by the local vendors or at shops throughout the coastal cities.
11. Brazilian art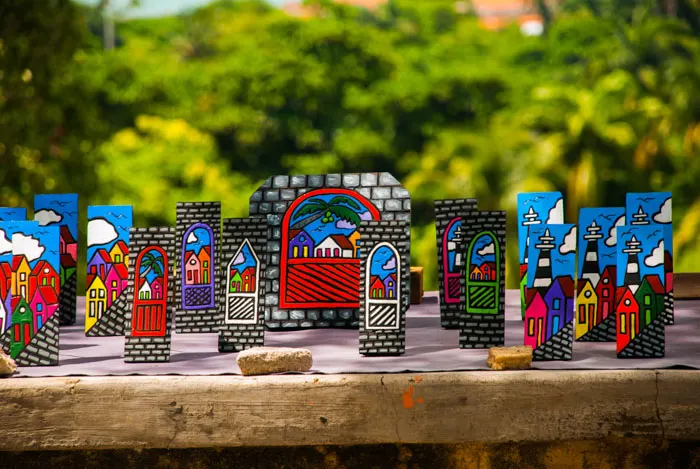 Although most people don't know many of our talented Brazilian artists, the country is filled with local artisans, and you can easily stumble upon excellent finds on street markets.
Needless to say that Brazilian art makes a perfect gift for someone special back home.
Our art is usually bold, colorful, and reflects our people, history, and landscapes.
12. Brazilian ceramics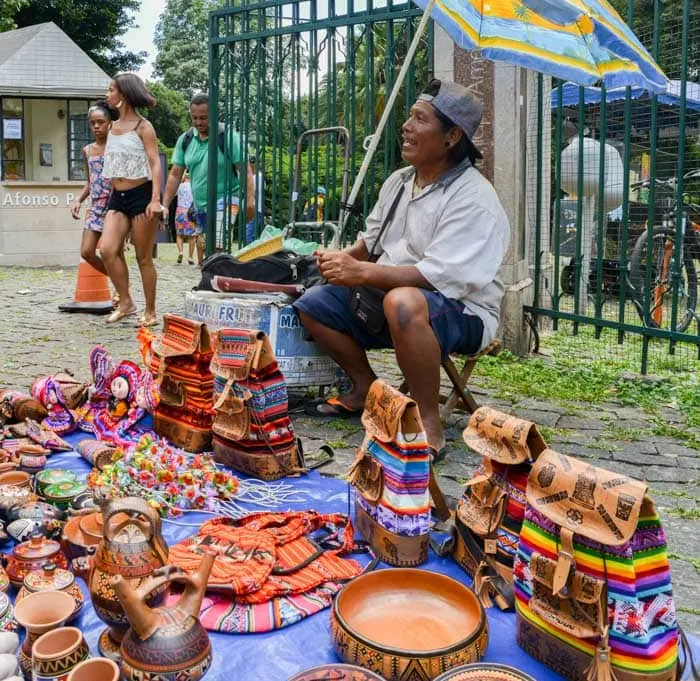 If you're looking for a Brazilian souvenir to gift a family member or yourself, you will want to look for ceramics in the country.
From pottery to home decor to religious statues, Brazilian ceramics are sure to please all tastes.
The best pottery in Brazil comes from different regions: the Amazon region, Ceará, Pernambuco, Bahia, Minas Gerais, and São Paulo.
These handmade gifts have different characteristics depending on which state they come from and the type or color of the clay utilized. The designs and decorations vary significantly from place to place.
You can find a plethora of objects made of ceramics throughout street markets.
13. Mate Yerba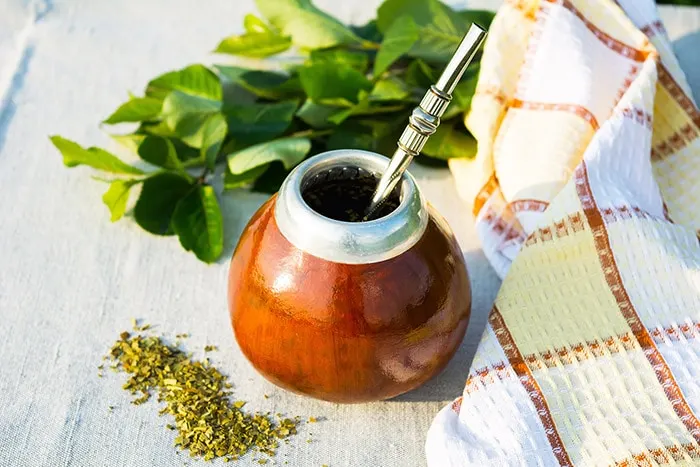 Mate yerba (Spanish) or erva-mate (Portuguese) is a herb native to South America's subtropical area. Namely, the southern region of Brazil, together with Uruguay, Argentina, and Paraguay.
Mate yerba is a highly popular tea (hot and iced) in Brazil that goes by chimarrão, tereré, or simply chá mate.
It's strong, earthy, bitter, and has a eucalyptus smell. If you're a tea lover, you should absolutely try this South American flavor!
You can find mate yerba in any grocery store.
14. Sand bottle crafts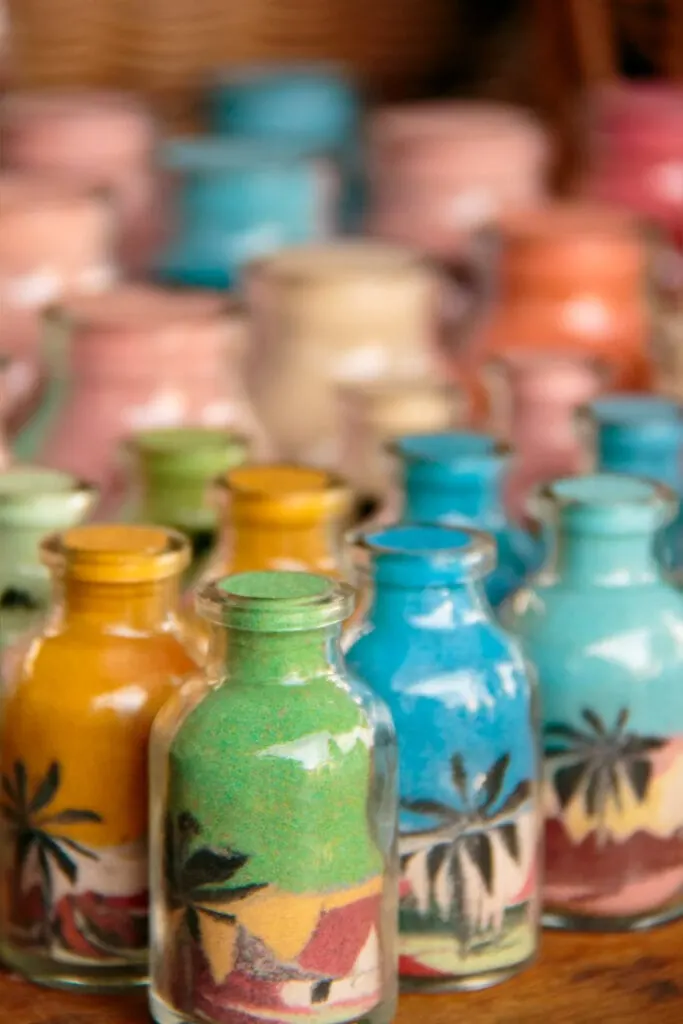 These sand bottles represent the landscape in the northeast of Brazil and a very traditional gift in the country.
I can't count in the fingers of my hands how many of these bottles I have seen in friends' houses. Usually, people who travel to this region of the country bring back these little bottles because they make a perfect souvenir.
Besides, they are a real artwork piece as they are all handmade. So beautiful!
You can find those in most gift shops in the northeast of Brazil.
15. Hammock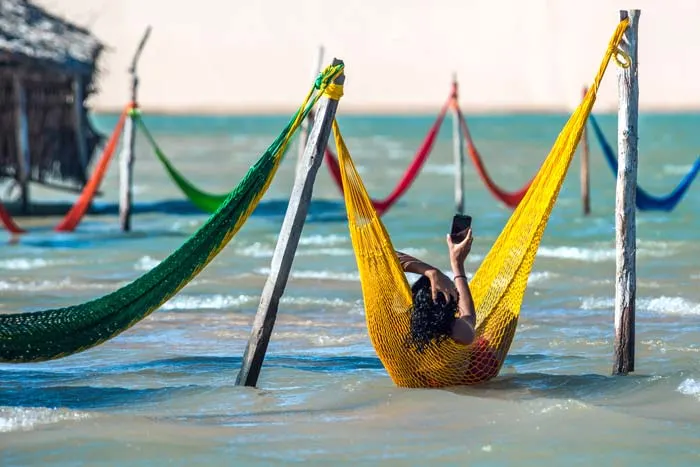 Hammocks are quite popular in Brazil, especially in the coastal areas and countryside.
While some are colorful and handmade, you can also find hammocks made of fabric and neutral colors.
Street markets and big chain grocery stores (Extra, Carrefour, Walmart) are good places to look for them.
16. Brazilian bracelet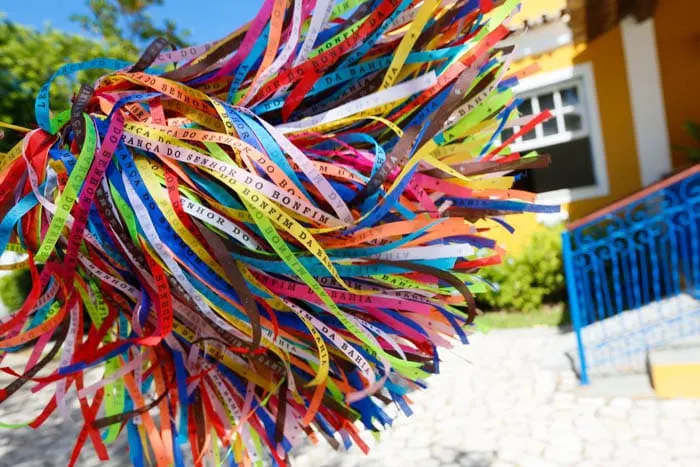 Street vendors sell these ribbons, bracelets, or whatever you wanna call them around the Senhor do Bonfim Church in Salvador.
We Brazilians consider it an amulet as it is thought to bring the wearer luck (which is why many locals have them).
Every time I visited Salvador, I would come back home wearing a few of these bracelets or tie a couple to my rearview mirror. (You can tie them on your ankle, hat, bag, wherever you like).
In popular superstition and folkloric tradition, the Senhor do Bonfim ribbon is wrapped twice around the wrist and tied with three knots.
Each knot precedes a wish made mentally, and that must be kept secret until the ribbon falls off on its own. Once it does, it means that the wishes will be granted.
17. Handmade sweets and food in general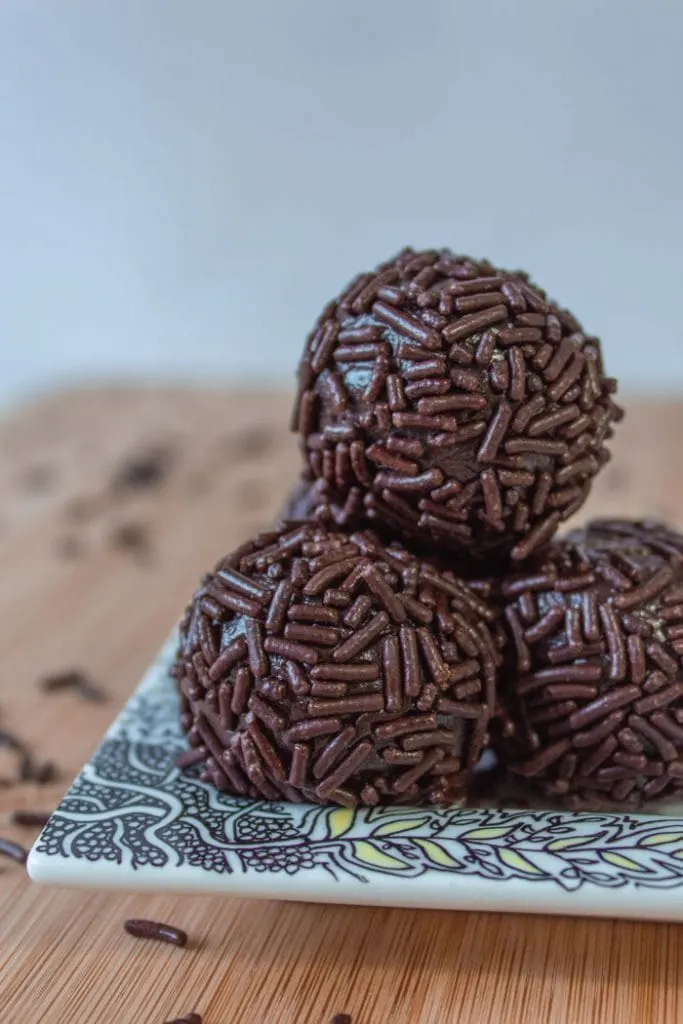 We Brazilians love food. That's an understatement, actually. We Brazilians are absolutely insane about food, making it easy for you to find delicious souvenirs to take back home.
You can find plenty of handmade sweets such as brigadeiro, dulce de leche, and goiabada (guava sweet) at street vendors and stores.
You can also find local cheese and many other delicious bites to give your family a taste of Brazil.
Brazilian gifts and souvenirs
This list of things to buy in Brazil has many traditional objects we locals have at home. That's what makes them so unique.
Whether you're looking for Brazilian gifts for a relative or friend, or souvenirs for yourself, these suggestions will give you excellent ideas of what to buy in Brazil and have a lovely souvenir from a fantastic vacation.
If you would like to learn more about the country from the comfort of your home, you might want to check out this selection of Brazilian movies and series on Netflix.
Brazil travel resources
You're traveling to Brazil! Yay, that's so exciting!
To make your trip hassle-free, I created many guides to help you plan your trip to Brazil.
For instance, you might want to read this article where I review how much a trip to brazil costs. I also wrote this Brazil packing list, SIM card guide, and holidays calendar.
If you're still in the inspirational phase of your plannings, take a look at these incredible places to visit in Brazil. I'm sure you'll find many reasons there to stay a little longer in the country. Or who knows, simply wanna come back a few more times.
After all, there are so many things to do in Brazil—the country is vast!
And while the departure day doesn't come, get a taste of our language through these Brazilian shows and movies on Netflix.
Did you like this list of souvenirs from Brazil? Then share it with a friend who might like it too!