As a Brazilian born and raised in São Paulo, who traveled plenty of times to Rio for work and leisure, I've built up this massive list of things to do in Rio de Janeiro, which combines some of the major tourist attractions with sights most visitors will never hear about.
Crystal clear beaches, incredible historic sites, and mesmerizing landscapes, Rio de Janeiro is by far one of the greatest cities in Brazil, let alone South America.
Here, the city landscape mixes so perfectly with the surrounding nature that it is difficult not to be impressed.
In this article, I will talk about 50 essential Rio de Janeiro experiences that will help you fall in love with the city.
It might even make you stick around a little longer than the typical itinerary of 3 days in Rio de Janeiro that so many tourists plan.
Although, I'm pretty sure you can use this list whether you have a few days or a few hours in the city.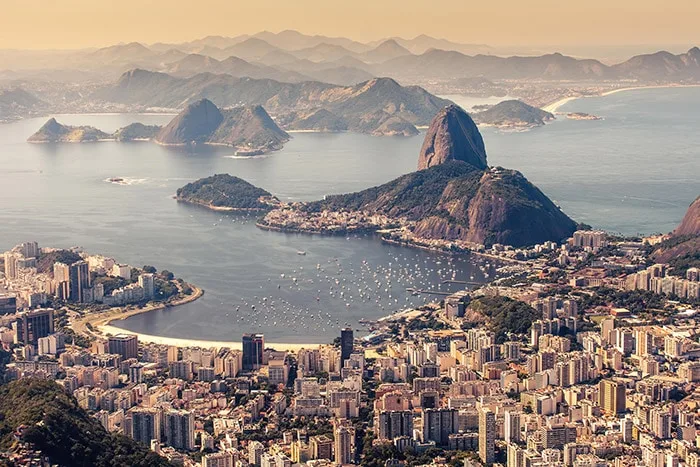 My personal favorite things to do in Rio de Janeiro
As I mentioned above, I will talk about plenty of must-see in Rio, as well as incredible places to go in the city.
Still, these are my all-time favorite things to do in Rio de Janeiro:
Cog Train to Christ the Redeemer Fast Track Tickets: Needless to say that Christ the Redeemer is the highest point in Rio de Janeiro, and the ultimate place to see the city. Since it's a popular location, you will want to book your tickets in advance if you don't want to wait.
Maracanã Soccer Game with a Local: You will only know how incredible it is to watch a soccer match in Brazil once you have cheered with locals in a stadium. I took my husband to Maracanã, and he absolutely loved it!
The Best of Rio Sightseeing Tour: Obviously, when my husband went to Rio I was the tour guide, but since you don't have me to show you around, this seems like the next best thing. It covers some of my all-time favorite sights like Christ the Redeemer, the Metropolitan Cathedral, Escadaria Selarón, and Sugarloaf Mountain. To top it off, the reviews for this guided tour are seriously ecstatic.
Are you trying to decide where to stay in Rio de Janeiro? Don't miss my extensive Rio de Janeiro neighborhood guide and tips on where to stay in Rio de Janeiro or this guide to the best Airbnb in Rio.
This article explains the best places to stay based on what you want to experience in the city, as well as your budget.
50 fun things to do in Rio de Janeiro
Here's a massive list of points of interest in Rio, as well as the best Rio sights.
Marvel at Rio de Janeiro from the Sugarloaf Mountain
Let's start off with Rio's postcard, the Sugarloaf Mountain.
This 1,299-ft (396-m) tall peak on a peninsula sticking out into the Atlantic Ocean offers mind-blowing views of the city.
A cable car takes you to Urca Hill, the smallest of the two peaks. There you can find a small open-air cable car museum and sweeping views of the city–from Botafogo extending to Flamengo and Downtown.
Take the next cable car to finally reach Sugarloaf Mountain, and then look down to marvel humbly at the city below.
It's absurdly beautiful!
Take in the view, stroll around to have different perspectives of this lovely place, and spot common marmosets, a monkey species–just remember not to feed them.
Don't miss out! Buy your cable car tickets here.
Tip from a local: To avoid the crowds, arrive at opening hours and preferably outside of school vacations.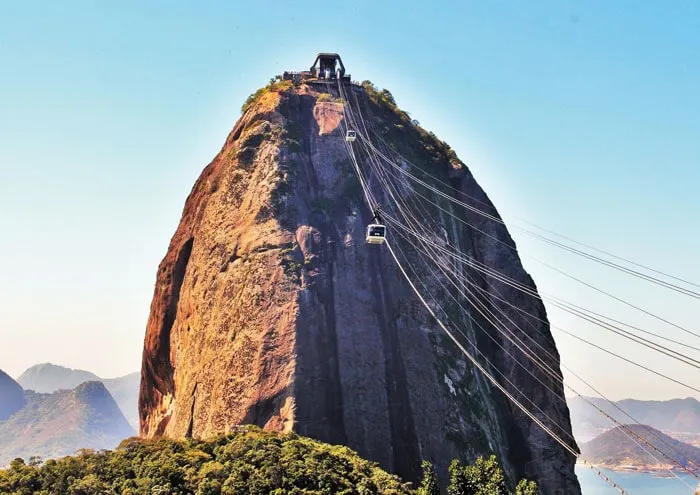 Get a glimpse of Brazil's wildlife and flora at the Botanical Garden
The fresh smell of nature purifying your body, happy birds singing above your head, and the peaceful statue of Christ the Redeemer watching over the city–that's the scenario you experience at Rio de Janeiro Botanical Garden.
Among buzzing streets and venues, these gardens act as an oasis where you can relax and have a deeper contact with nature.
Naturally, no trip to Brazil will ever be complete without catching a glimpse of the country's unique wildlife and flora.
And that won't be a problem for you here as you can spot sloths, turtles, as well as many species of birds and monkeys, among others.
Note that these animals aren't aggressive, but the garden's staff doesn't advise to pet or feeding them. After all, they're wild animals who need to feel safe.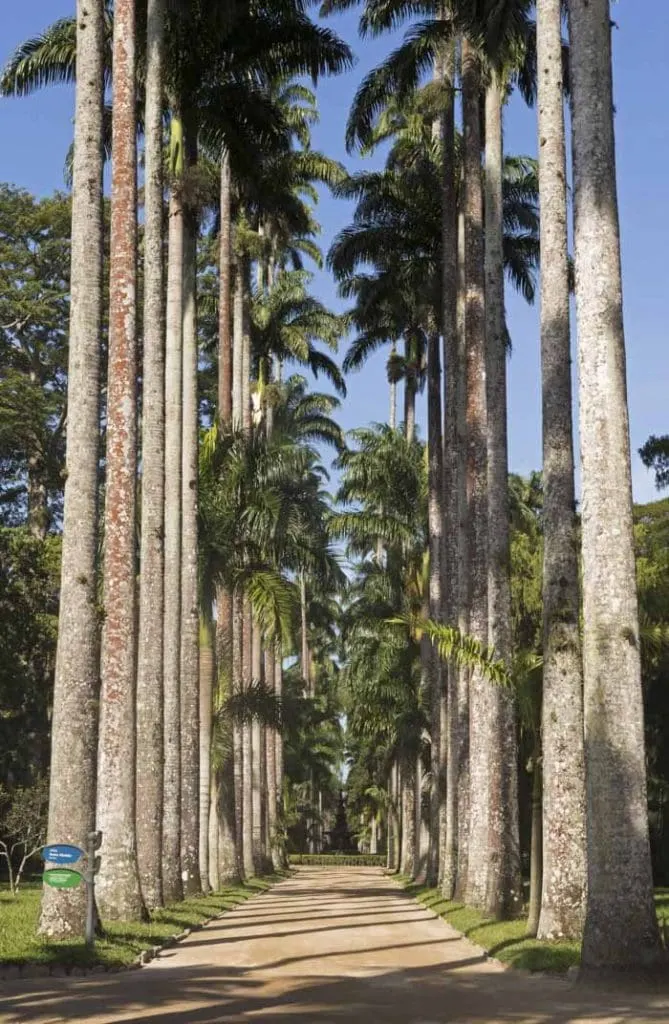 Go for a hike at Tijuca National Park
Beautiful waterfalls, high peaks, and well-marked trails make the Tijuca National Park another delightful place to connect with nature.
Here, you can see first-hand the Atlantic Rainforest that once covered Rio de Janeiro completely.
So pack comfortable walking shoes, grab your map at the park's entrance, and go explore this beautiful national park in Brazil.
Tijuca is not only a must-visit in Rio but also a place where you can make excellent day hikes. Along the way, you can spot iguanas, monkeys, and plenty of birds.
Beyond that, the waterfalls and caves are well worth your time.
And while the park has two excellent restaurants, you can also bring your picnic and enjoy having lunch in such peaceful surroundings.
Click here to book a day-hike with a local guide in Tijuca NP.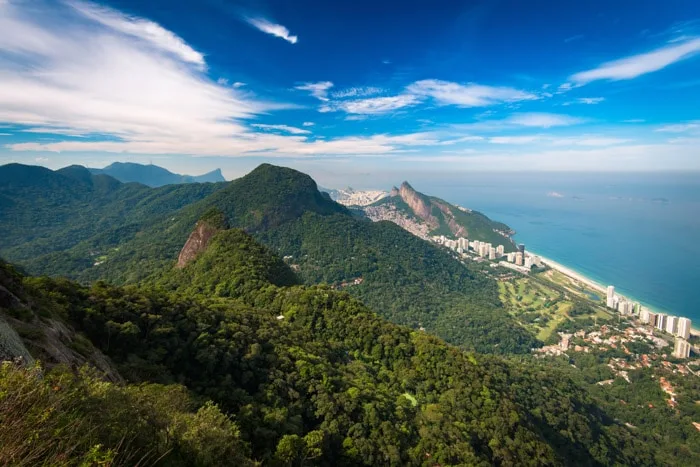 Hit the beach
You didn't visit Rio if you didn't visit one of its warm beaches.
While Ipanema and Copacabana would be most people's first choices, perhaps you might want to visit somewhere less touristy.
Obviously, lots of Brazilians hit Ipanema and Copacabana beaches. Still, you will soon realize they get jam-packed with tourists in no time.
Having said that, do go for a stroll along these places. After all, these are Brazil's most famous beaches.
But! I wrote a handy guide on the best beaches in Rio de Janeiro that you can use to plan your trip!
This guide covers not only the best beaches in the city but also in the state, in case you wanna go on a day trip.
Go on a boat tour to the best swimming spot in the state
Now that I took my husband to visit Brazil and places like Rio, it's fair to say I know boat tours in the region.
I can personally recommend the boat tour by S2 Rio, and the most time-efficient tour with them is the Angra dos Reis and Ilha Grande small-group tour.
You'll visit jaw-dropping beaches in Ilha Grande, snorkel in clearwater, and really hit the highlights in terms of natural must-see spots in a short period.
Check availability for an Angra dos Reis and Ilha Grande boat tour.
Tip from a local: To avoid harming the sea life, please, use reef-safe sunscreen. This helps to maintain such a beautiful place, beautiful and full of life.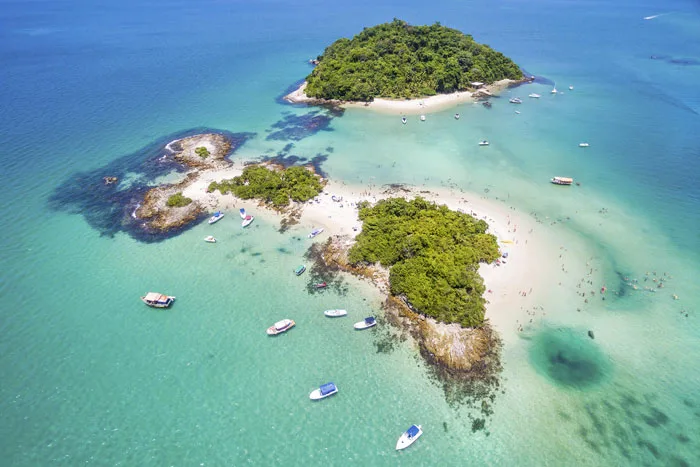 Stroll along Copacabana Beach
Copacabana Beach is perhaps one of the world's most famous beaches.
And although the clear water and extensive sand stretch are lovely, Copacabana can get pretty crowded, especially on the weekends.
For that reason, I often suggest going to other beaches, Ipanema, for instance, to sunbathe and drink some caipirinha.
However, going for a stroll along Copacabana's unmistakable promenade is a must!
The distinctive black and white design is perhaps Burle Marx's most iconic work and weaves up the entire 2.5 mi (4 km) side along the beach.
The wave motif, which is inspired by the motion of the ocean, also serves as an inspiration to many souvenirs from Brazil.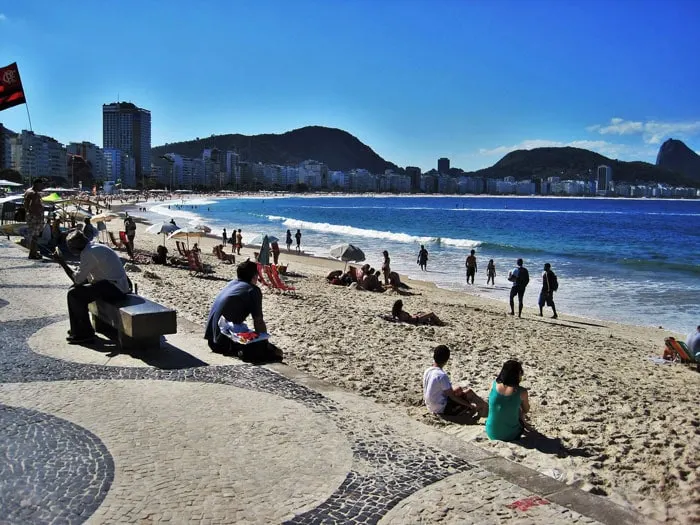 Overlook the city together with Christ the Redeemer
Visiting Christ the Redeemer is one of the things to do in Rio that you can't afford to miss.
The statue is one of the significant landmarks in Brazil, and perhaps the most recognizable one.
This is the world's biggest art deco statue, and it lies atop the Corcovado Mountain (English: hunchback), a 2,000-ft (700-m) granite peak located in the Tijuca National Park.
The statue overlooks the city and welcomes tourists from all over the world with open arms.
Needless to say that the panoramic view is simply jaw-dropping, and makes you realize why we Brazilians call Rio de Janeiro the Marvelous City.
Check availability for a Christ the Redeemer train ticket
Tip from a local: While planning to visit Christ the Redeemer Statue, you will want to arrive early in the morning to avoid the crowds and scorching sun.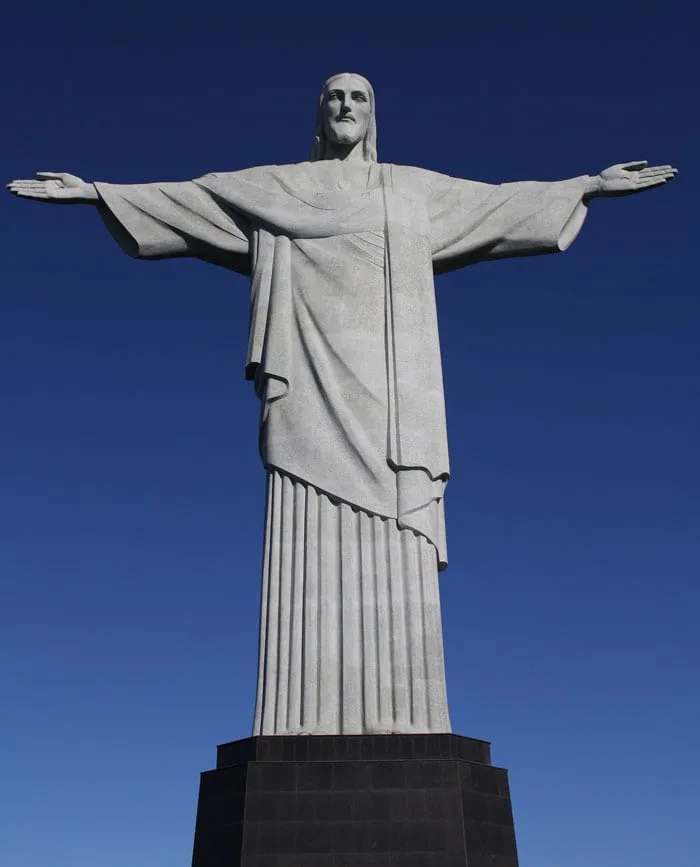 Visit a fairytale castle in Rio
That's right. Rio has a lovely fairytale castle not far from its city center.
The castle in Ilha Fiscal, an island in Guanabara Bay, is today a museum that remembers the time when the city was the capital of the empire, and also shows the Navy contributions to Brazil.
Back in the day, the customs department was based on this island and served the local port, hence the name Fiscal Island.
Important events happened here, including what we call the last empire's ball, which took place just a few days before the proclamation of the republic.
Fun fact about Brazil: Salvador was Brazil's first capital. Then Rio de Janeiro, and finally the last city, Brasília.
Discover the samba bars in Lapa
Brazilian music is lively and welcoming. We also have classier bossa nova songs, but most are dancy.
Mind you, I was born and raised in SP, but I have to admit samba bars in Rio are just unique.
Therefore, if you're curious about the great rhythms of Brazil, head over to Lapa, or join a pub crawl in the area, and have a great time in Rio's most lively neighborhood.
Order a "chopp" (Pron: sho-pEh), aka cold beer in Portuguese, or a caipirinha, which is a Brazilian cocktail, and let the energy run through your body–it's contagious!
If you want a few recommendations, I particularly had a fantastic time at Barodromo, Leviano, Bar da Lapa, and Rio Scenarium, which was elected by The Guardian as one of the world's best bars.
Visiting Lapa bars is one of the best things to do in Rio de Janeiro at night. Go for it!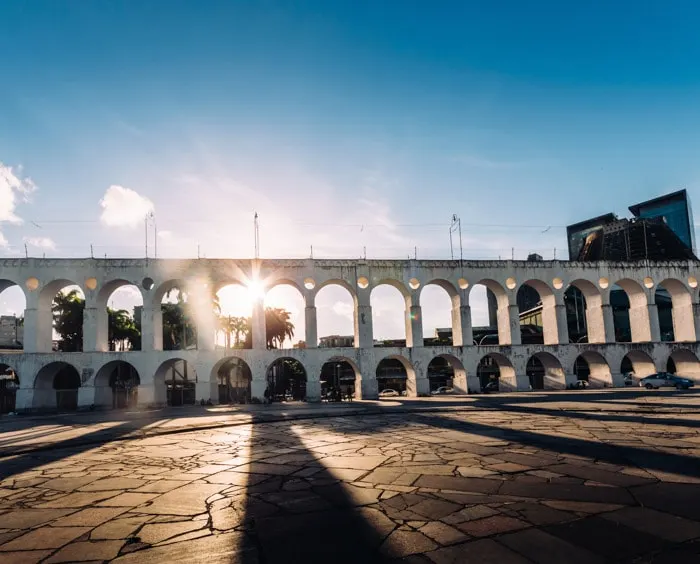 Photograph the world's most colorful stairs
(To the tune of Snoop Dogg's "Beautiful"…)
Connecting Santa Teresa to Lapa, Selarón Steps add colors to a neglected part of Rio de Janeiro City.
Since Snoop Dogg and Pharrell Williams recorded here, the stairs have improved and became one of the must-sees in Rio de Janeiro.
This massive mosaic work was done by Jorge Selarón, a Chilean artist. According to him, the mosaic is a tribute to the Brazilian people who welcomed him so warmly.
He moved to Rio in the 1980s and lived in one of the houses along the stairs. Over the years, he gathered titles from plenty of countries around the world and made this incredible art piece.
Selarón Steps is one of those places you must visit in Brazil.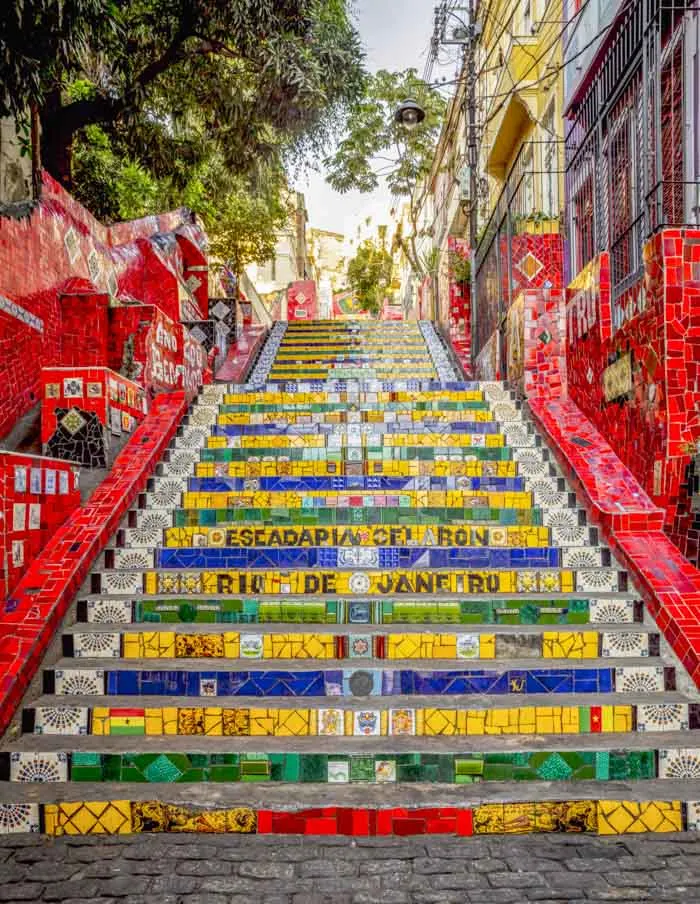 Hike to Pedra da Gávea
Striking nature, jaw-dropping views, and the certainty of an epic adventure: hiking to Pedra da Gávea will blow your mind.
Why should this be on your list of places to go in Rio de Janeiro? Because you will hike uphill through the fantastic rainforest in Rio.
Once at the top of the rock, look around you.
You will forget everything you have ever heard about "breathtaking views."
This is an entirely new level of beauty and splendor.
This rock, Pedra da Gávea, is the world's largest coastal monolith and one of the best tourist attractions in Brazil. The top of the Pedra da Gávea is 2,762 ft (842 m) above sea level, meaning you've reached the highest point of Rio de Janeiro.
From here, you can literally look over the city, the mountains in the Tijuca forest, and Leblon Beach.
But before you put your hiking shoes on, I recommend you book a local guide as the trail can be quite challenging at the end, and it requires some equipment.
The Pedra da Gávea is a hotspot for adventure lovers, and if you're looking for a unique thing to do in Rio de Janeiro, you've found it.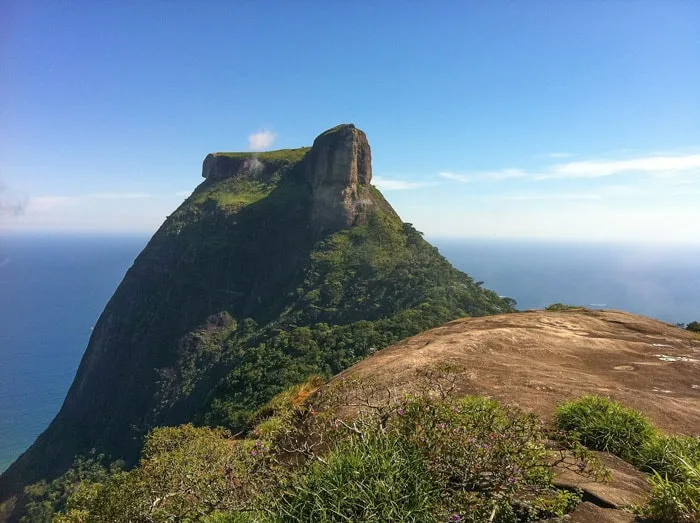 Watch the sunset from Arpoador
Between Copacabana and Ipanema, a peninsula called Arpoador (English: harpoon thrower) offers one of the coolest spots in the city for surfing and watching the sunset.
The Arpoador is a rock formation with several paths to make it easier to scale the rocks.
Mind you, Rio faces east, so the sun usually sets somewhere near Pedra da Gávea, at the end of the beach on your right side, not on the sea.
Either way, it is a beautiful place to disconnect from the world and connect with nature.
It goes without saying, but watching the sunset from the arpoador is one of the most romantic things to do in Rio de Janeiro.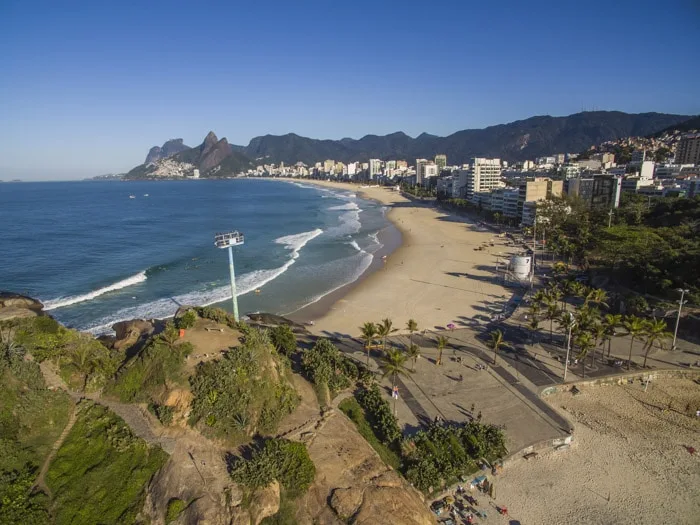 Watch a soccer match in Brazil
Brazil and soccer.
Although I won't stereotype my fellow Brazilians, the people here who do love soccer are passionate.
And it is fair to say that Maracanã Stadium is the local temple.
Maracanã has already hosted some of the most important Brazilian soccer classic matches and earned historical moments of international soccer too.
To visit the stadium, I highly recommend you watch a soccer match with a local so that you can feel the energy. It's incredible!
At least, that's what my husband said when I took him to the stadium. Though I'm sure it must be pretty impressive to experience it if you have never been to a game in South America.
Check availability for a soccer match in Maracanã.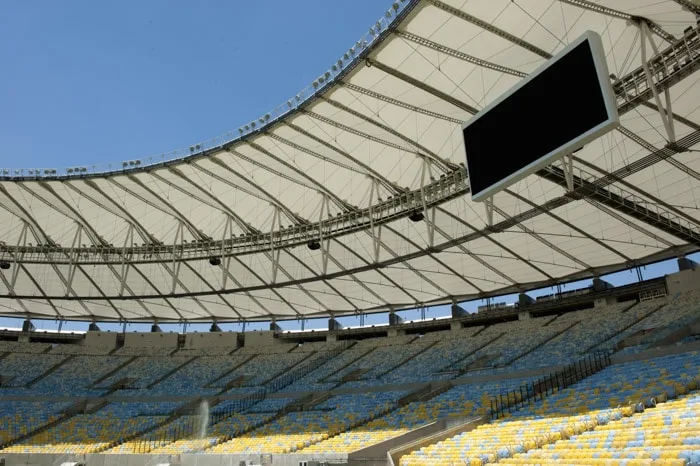 Imagine a sustainable world at Museum of Tomorrow
When people think about Brazil, they usually think about soccer, carnival, and beaches.
Although the mainstream media never mentions it, many Brazilians are actively engaged with sustainability and science matters.
And that's what the Museum of Tomorrow is all about.
The museum showcases what needs to change in the world so that disasters can be avoided. It displays what we need to do as a community to maintain our home planet.
And now you understand why it's called the Museum of Tomorrow, the future–our future.
Beyond that, the institution's leading exhibition is almost entirely digital. That's because the museum focuses more on ideas rather than objects.
Architecture-wise, the building ranks as one of the world's most extraordinary buildings as it looks like a solar-powered dinosaur skeleton.
This museum in Rio de Janeiro is a little trippy, a little hippy, very worthy, but rarely dull.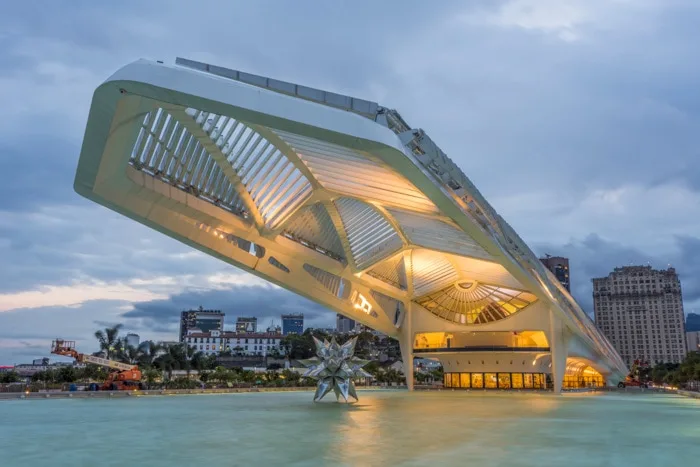 Get an adrenaline rush by hang gliding from Pedra Bonita
Afraid of heights? Well, it is an excellent time to challenge yourself then.
Near Pedra da Gávea, a small hill called Pedra Bonita sticks out in the sky.
While the hike to Pedra Bonita isn't as challenging as the hike to Pedra da Gávea, the view is still astonishing.
However, the best vistas you get to see once you fly away, or better put, you hang glide from this hill.
Many locals and tourists buy tickets to hang glide over Rio, and Pedra Bonita is the departure point.
As you take off, you see Rio de Janeiro's most perfect view: beautiful vegetation following the pulsing city, clear sand, and vibrant blue sea.
Pedra Bonita is one of the highest points in the city, which guarantees an adventure of a lifetime. This is one of the top attractions in Rio.
Check availability for a hang gliding over Rio.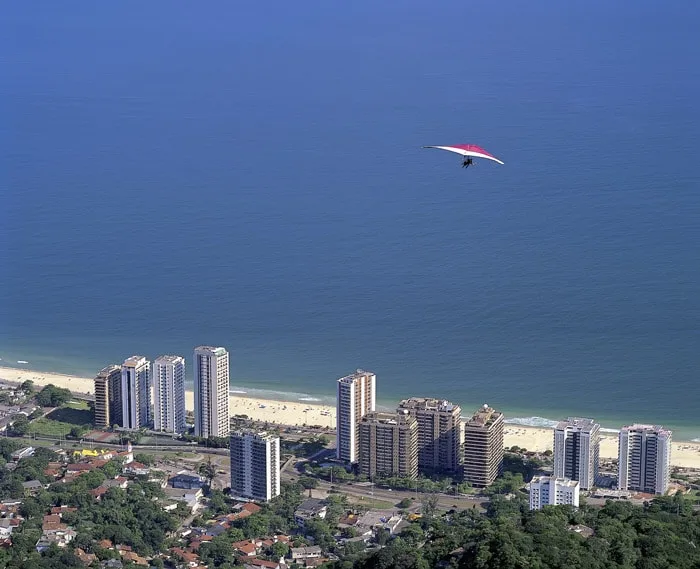 Have coffee in a former Italian mansion
Imagine an old Italian villa being used as a visual art school, which is tucked at the foot of the Corcovado Mountain, where the statue of Christ the Redeemer is.
Oh, and this mansion is surrounded by native Atlantic rainforest vegetation as it is part of the Botanical Garden.
This place exists, and it is called Parque Lage.
This mansion is a delight of pure green, cultural, and art programs. The park, together with the main building, is considered a national heritage site and dates back to the 19th-century.
In the courtyard, a café that uses plenty of organic products serves delicious coffee by the pool.
It's a unique setting that you can't afford to miss.
Take a "dangerous" photo hanging off a cliff
You might have seen pictures of people hanging off a cliff in Rio, living dangerously.
Turns out, the rock most people are hanging off is called Pedra do Telégrafo, and there is simply nothing dangerous about it.
What they don't show in their photos is that the rock is hanging low, and when positioning your camera at a different angle, you can create an optical illusion of a dangerous cliff-edge drop.
Tip from a local: If you also want a "cliff-hanging photo" without having to wait long in line, you will want to start the trail early in the morning (5.30 AM-6 AM) on weekdays. And in that case, you might want to hire a local trail guide to help you along the way too.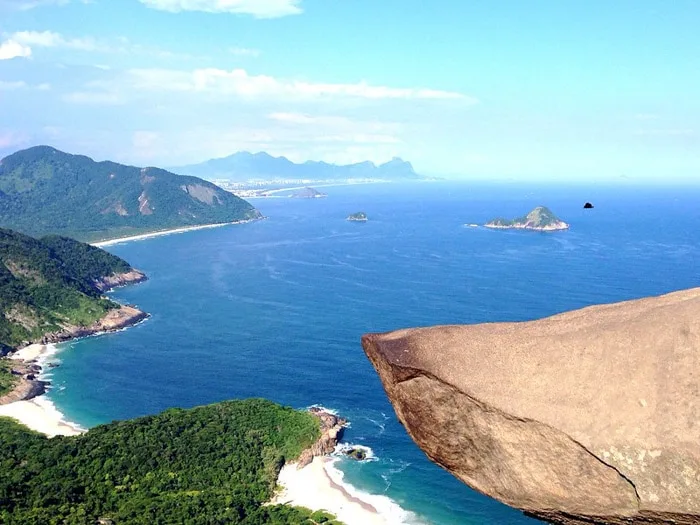 Visit the cathedral-like Royal Portuguese Reading Room
Visiting this library is like leaving Rio and getting into another city in another century.
The four walls of this reading room are covered in wooden shelves layered into three floors, and the stained-glass dome adds a cathedral-like feeling to the place.
This 19th-century room was also elected one of the world's most beautiful libraries by Travel + Leisure magazine.
Needless to say, the architecture is striking. Still, the books and documents collection don't disappoint either. You can even see rare books in the main room. They are protected by glass, like Os Lusíadas (1572).
So take your time and visit this unique place in the city. After all, the Royal Portuguese Reading Room is one of those lesser-known tourist attractions in Rio de Janeiro.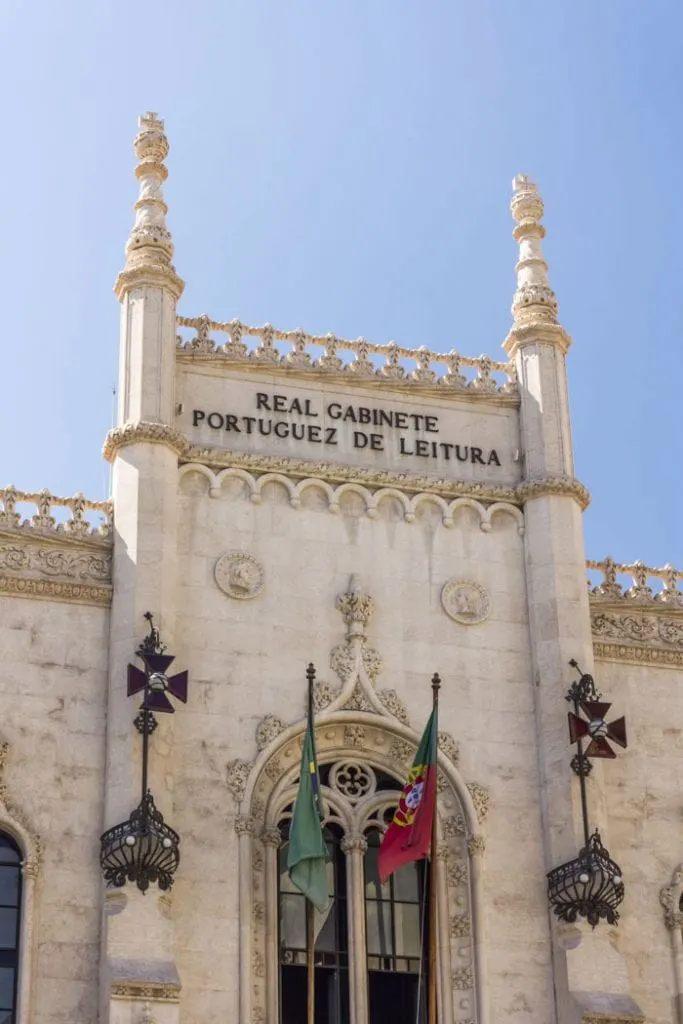 Hike the Dois Irmãos Hill for unique views of Rio
Seen from Ipanema Beach, Morro Dois Irmãos (English: Two Brothers Hill) is one of the city's postcards.
This hill is an incredible place to visit in Rio de Janeiro because you have not only unmissable photo ops but also breathtaking views from the lookouts.
From the first lookout, you can see Rocinha, the largest favela in Latin America, and Pedra da Gávea.
From the second lookout, a whole new landscape opens up for you, but that is not even the summit yet.
Finally, from the summit of the bigger hill, you can take in the view of the entire South Zone of Rio, from Leblon to Botafogo, in addition to Niterói, Serra da Carioca, and the Cagarras Islands.
You will want to hire a local guide because the hike begins in a favela.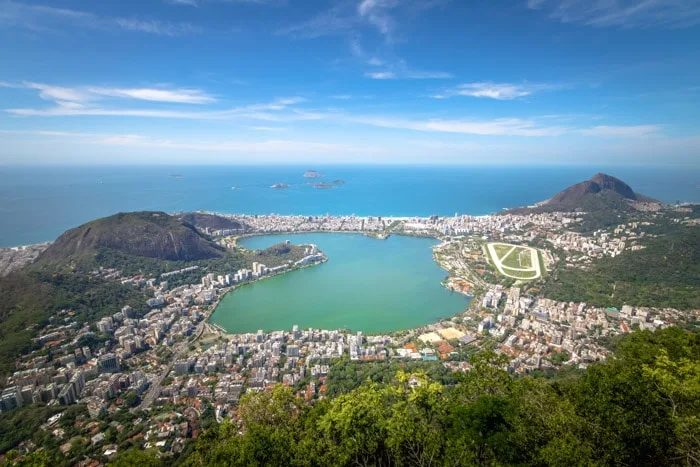 Marvel at one of the most beautiful theaters in Latin America
The Municipal Theater is an imposing 19th-century building, and it happens to be one of the leading concert houses in Latin America.
Architecture-wise, the building is astonishing, and the eclectic style was inspired by the Palais Garnier in Paris.
While the exterior is gorgeous, the interior of the building is even more delightful.
You can catch a performance to see its beautiful interior architecture and decoration.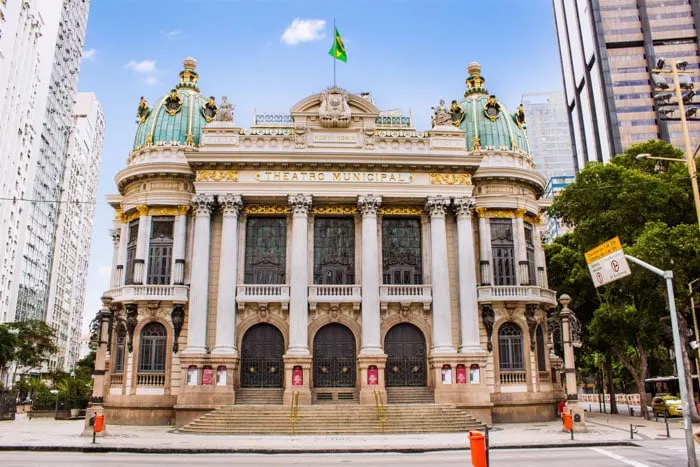 Fly in a helicopter over Rio's most iconic sights
The city is absolutely gorgeous from the street level. Still, one can't deny that nature mixing with the urban landscape makes Rio ridiculously pretty.
Therefore, you will want to enjoy a bird's eye perspective of the most iconic landmarks in the city. In other words, flying over Rio in a helicopter is a once-in-a-lifetime experience!
This tour company I linked above offers 30 or 60-minute flights over spectacular sights in the city–from Barra da Tijuca to the Corcovado Mountain and everything in between. Honestly, this Rio de Janeiro tour is insane!
Be sure to take your camera with you. You will want to relive that moment over and over!
Check availability for a helicopter tour in Rio.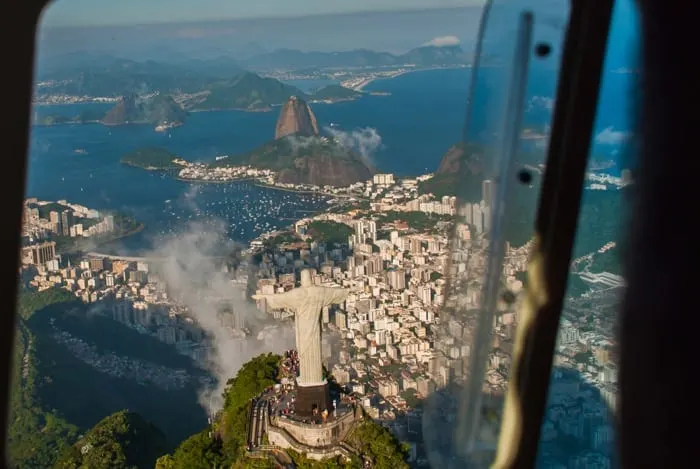 Visit Brazil's most important cultural center
The Bank of Brazil Cultural Center in Rio de Janeiro is relatively young (1989), but it quickly became one of the most important cultural centers in Brazil, let alone on a global scale.
According to the Art Newspaper, CCBB-RJ is often one of the world's most visited cultural institutions in a year.
The art center is located in a beautiful neoclassical building in Downtown, and it has sister institutions in another three cities, São Paulo, Belo Horizonte, and Brasília.
Go on a zero-carbon emission bike tour with a local
Rio is a relatively big city. Tourist attractions are often far apart from each other. While the good weather makes it lovely to walk around, you can quickly get around Rio using the metro.
The downside is you miss all the fun and colorful sights at the street level.
But, dear readers, you can solve that problem by taking a bike tour in the southern part of the city.
By doing that, you will visit fantastic beaches in Brazil, stop by trendy places, watch the sunset in the best spot in Rio, and really hit the highlights in terms of Rio South's must-see spots in a short period.
Check availability for a bike tour.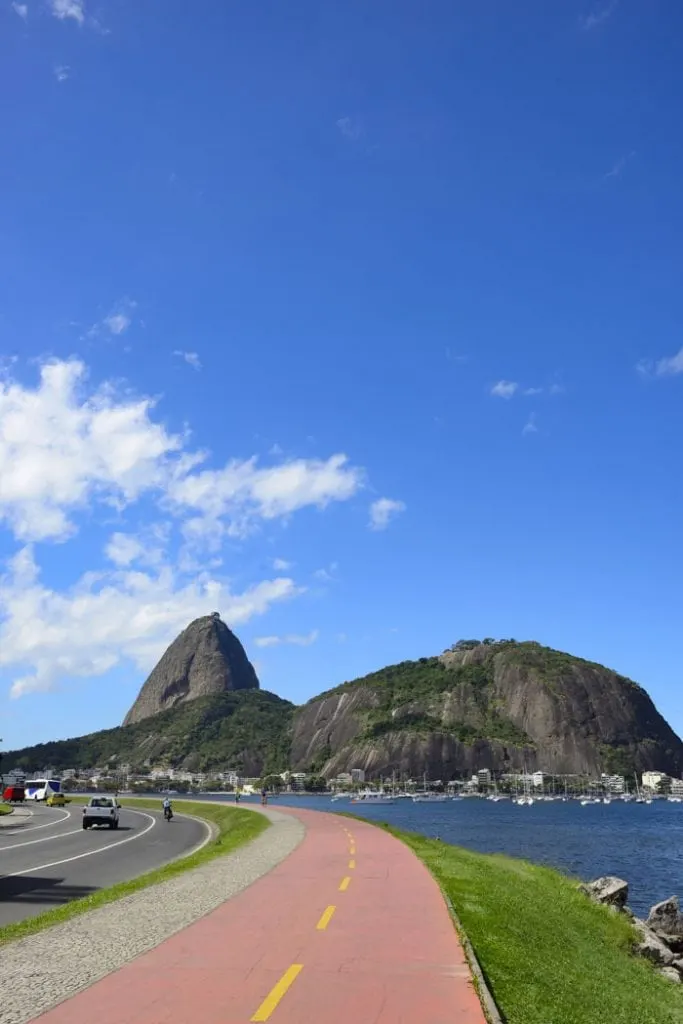 Learn about Brazilian history
Holding a magnificent collection of more than 285 thousand items, the National Historical Museum has the most important exhibition of Brazilian history.
Surprisingly, it not only showcases items of Brazilian history, but also of art history, museology, and fashion.
Beyond that, documents, books, manuscripts, paintings, and photographs are among the artworks in the exhibition.
Learn about local culture in a favela tour
I researched a lot before writing this recommendation because people living in favelas are people like you and me, not animals in a safari.
And while some tourists might go on a favela tour for voyeurism, these initiatives I will mention below are a way to give the local communities a voice. It's a chance to tell their story.
Also, I don't believe every tour is ethical, and that's also one of the reasons I spent a long time researching how a trip like this can be ethical and help the local community.
Turns out, many tours run by favela residents share a percentage of the tour price with the community, boosting the local economy.
These tours also focus on teaching tourists the real story of those favelas and bringing visitors in contact with locals.
I haven't taken a favela tour yet, but I will once I'm in Rio again. Then, I will update this article with my experience.
Based on my research, these are ethical favelas tours:
Most tours take donations too, not money though, only books, school, and art supplies, for example.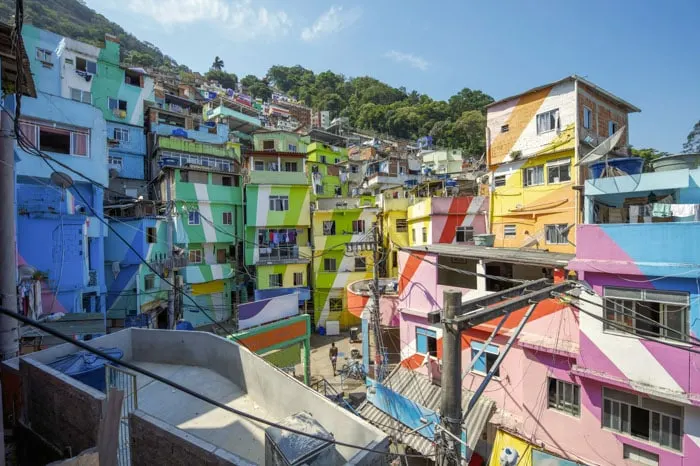 Chill out in the house of a professional skateboarder
If you're into skateboarding, you probably know who Bob Burnquist is.
But if you like me don't know much about this sport, know that this guy made Tony Hawk (the legend) lose his voice in one of the competitions as Burnquist made a trick never seen before.
Bob Burnquist is an American-Brazilian skateboarder, who opened up his house in Rio de Janeiro to welcome people to a cultural and chilled-out experience.
On the weekends, you can have a cold beer and a burger while listening to some music in one of the hip couches in the garden.
Graffitis, a skateboard track, and several exhibitions are also part of the combo.
Drink juices of national fruits
Brazil is the perfect place to grow juicy and sweet fruits because of our tropical weather.
Therefore, one of the things you must do in Rio is drink juices of national fruits.
Obviously, you can find many venues in Rio de Janeiro to try these Brazilian fruits–one of them is Bibi Sucos.
Some of the other fruits you can find here are the persimmons, cashew, cacao, sugar apple, goldenberry, pitaya, cupuaçu, and soursop, my favorite.
If you get hungry, order açaí with fruits or savory tapioca (cassava starch). Both are traditionally Brazilian and fill up well.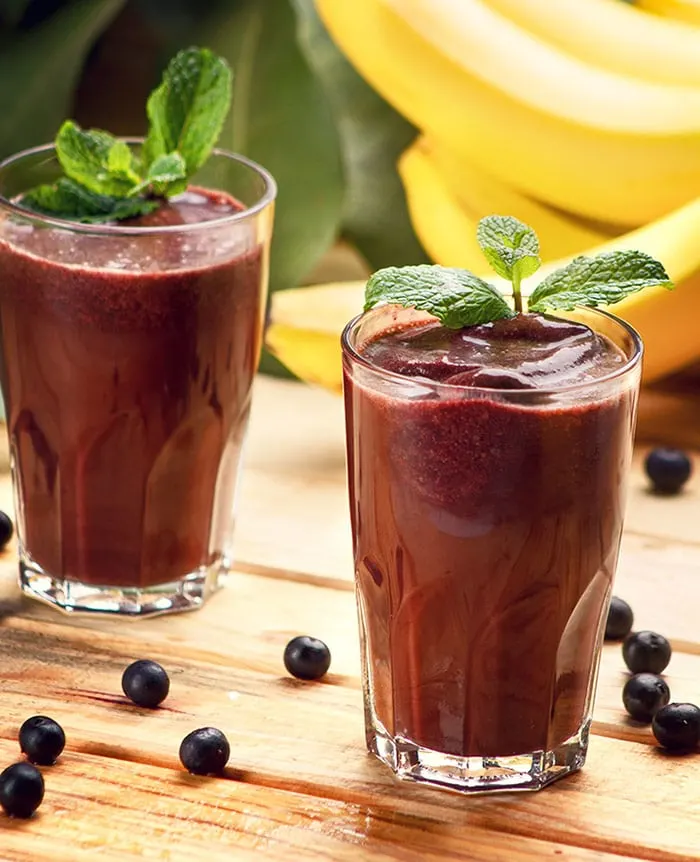 Connect with nature in the former house of a landscape architect
If you are looking for things to do and see in Rio where you can connect with nature, head over to Sitio Roberto Burle Marx.
The area is Marx's former residence, and the property gardens host one of the most significant collections of tropical plants in the world.
As a talented landscape architect, he managed to transform simple landscapes into art by using asymmetrical designs and local, tropical plants.
Beyond the gardens, the property also holds a museum and his personal collections.
Visitation to the property is only allowed by appointment.
See the city from a new perspective
Chinese View, or Vista Chinesa in Portuguese, is a lookout in the Tijuca NP built as a tribute to the Chinese community who brought the cultivation of tea to Brazil.
The gazebo in oriental style has a strategic location and panoramic view of the city.
It's such a lovely place!
From here, you can see the Two Brothers Hill, Vidigal favela, and Rodrigo de Freitas Lagoon, where the world's biggest Christmas tree is built every year.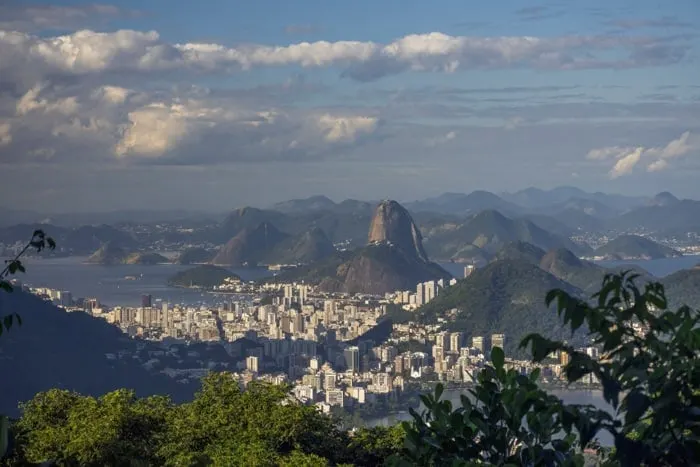 Chill out and relax at Urca Wall
Beautiful people, cold beer, and one of the most incredible views of the city make the Urca Wall (Portuguese: mureta da Urca) a fantastic meeting point.
And don't think Urca Wall is a bar or something. It's a spot along the street where locals sit on the short wall bordering Guanabara Bay to drink and enjoy the excellent weather.
The spot is tucked at the foot of Sugarloaf Mountain and is a great place to watch the sunset in Rio.
Simply arrive, order some appetizers and beer at the restaurant nearby, and enjoy the warm late afternoons in Rio as you watch the lights go on in the city.
Travel in time by taking the Santa Teresa tram line
Bohemian and picturesque, Santa Teresa is a lovely neighborhood in Rio.
Perched up high on top of a hill, this area is filled with colonial buildings and cobblestone streets, providing tourists with the quintessential Brazilian experience.
It's a popular neighborhood with great music and food scenes. Together with Lapa, this is one of the best places to enjoy the nightlife in Rio.
Beyond that, the only remaining tram line in the city starts at Downtown and runs through Santa Teresa. It's a nice ride uphill.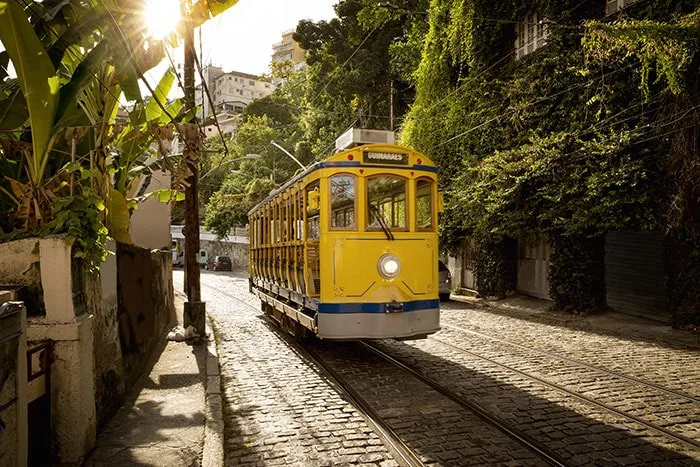 Dive into the Brazilian art world of the 19th century
Although Brazil has a short art history when compared to Europe, the country still boasts beautiful artworks from different centuries.
And as far as Brazilian art from the 19th-century is concerned, the Belas Artes National Museum has the biggest and most significant collection in the country.
Its collection is composed of 100,000 fantastic items, which are divided among paintings, drawings, sculptures, objects, documents, and books.
Beyond national art, the museum also showcases a small collection of African and European art.
Listen to Gregorian chants at São Bento Monastery
São Bento Monastery is one of the most beautiful colonial churches in Brazil.
The site was built in the 17th-century on São Bento Hill, and the simple façade hides a baroque interior richly decorated in gold.
Carved wood objects designed by Frei Domingos da Conceição and made by Alexandre Machado, as well as paintings by José de Oliveira Rosa, are among the monastery's treasures.
On Sundays, a mass with a choir of Benedictine monks singing Gregorian chants takes place in the morning.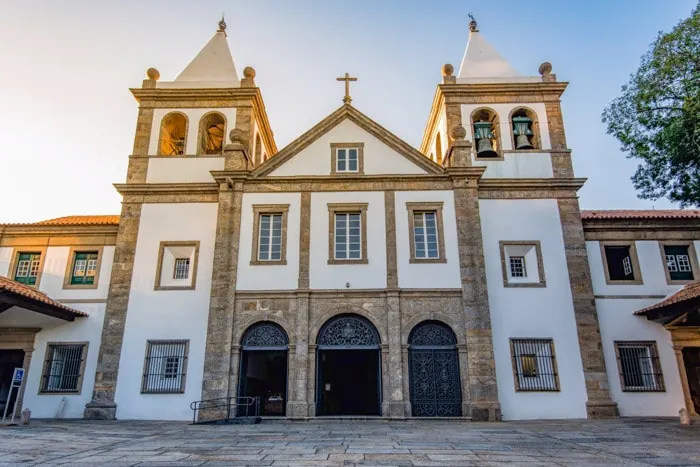 Shop souvenirs at Feira de São Cristóvão
Wondering where to go in Rio for great food and souvenirs?
Then head over to Feira de São Cristóvão.
Rio's largest fair is filled with products and goodies from the state of Bahia.
Over 700 stalls sell traditional products from the northeastern state, including finger-licking-good dishes of Brazilian cuisine.
From live music to liquors to clothing and crafts, you can shop excellent souvenirs at this fair to bring back home.
Join the party at a carnival school rehearsal
In Rio de Janeiro, the samba school parties begin long before the carnival.
For instance, the rehearsals for the Sambadrome (Sambódromo) parade start somewhere in the middle of the year.
Around that time, the school courts open their doors for all the community–from young to old to tourists.
And while most rehearsals happen in the school courts, some occur in the streets of Rio de Janeiro, but without the carnival costumes, of course.
Either way, it's a unique experience and one of the best things to see in Rio.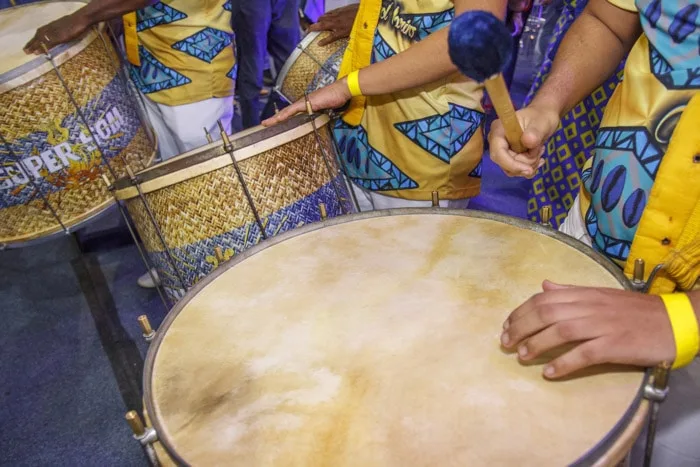 Sip cachaça in a thematic bar
The word here is cachaça.
This Brazilian liquor made from sugarcane is our beloved national drink.
Most of our cocktails are made with cachaça, including caipirinha.
And at the thematic bar Cachaça Social Club, you can have a demonstration of the sugarcane extraction and distillation, as well as sip some caipirinhas yourself–from the traditional recipe to other creative variations.
Marvel at the Candelária Church
While sightseeing in Rio, be sure to add the Candelária Church to your itinerary.
It's an old church in the middle of a modern neighborhood, which is the heart of the city.
Architecture and history-wise, this roman catholic church is both impressive and moving.
That's because Candelária is next to the place where several slave ships were brought to the city, but also where eight homeless boys were executed in the early 1990s.
From centuries back to recent times, Candelária Church is a historical place to see in Rio.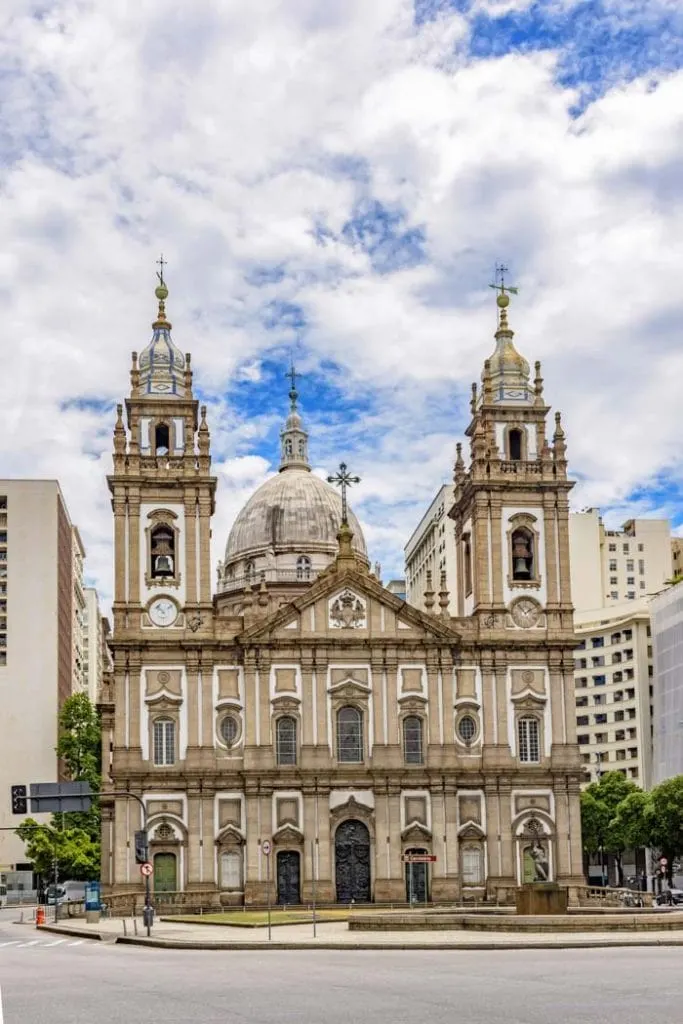 Escape into the glamorous past of Rio de Janeiro
The Republic Museum is based at Catete Palace, an essential building in Brazilian history where major historical events took place, including the tragic fate of Getúlio Vargas, a politician.
Catete Palace was the presidential residence from 1897 to 1960, but today is home to the Republic Museum.
The museum offers a real glimpse into the life of Brazilian politicians. Also, it's a great place to learn about Brazil's colonial times as well as when it became a republic.
The site is well maintained, and the adjacent park is lovely. It feels like a little oasis near the hustle and bustle of Rio de Janeiro.
Experience choro & samba in a traditional bar
Unpretentious, informal, but very classic, Bip Bip has some of the best live samba presentations in all of the city.
And when I say it's an informal bar, it really is. You shouldn't expect to find a table or a waiter. It is a self-service place.
It's a small bar where the musicians often sit inside around a table while the clients stand around them enjoying the night.
And this reflects precisely the reason why locals come here: to listen to good live Brazilian music while having a cold beer. No more, no less.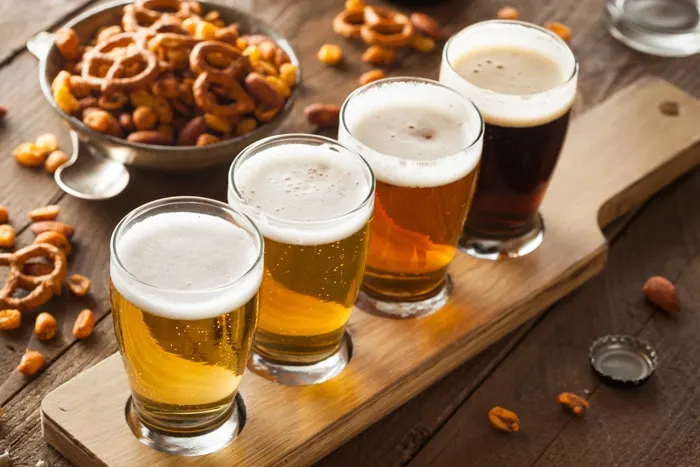 Learn about Brazilian modern art
Located at Flamengo Park, the Museum of Modern Art of Rio is a Reidy's and Burle Marx's project.
The museum showcases a collection of roughly 6,600 modern and contemporary art pieces.
Most of its exhibition is made of artworks from national artists. Still, some are from international creators, such as Andy Warhol and Auguste Rodin.
It is a lovely museum!
Pop in a church inspired by Mayan pyramids
Peculiar and quirky, the Metropolitan Cathedral of Rio doesn't look like a church from the outside.
The designer Edgar de Oliveira Fonseca chose the architectural style of the Mayan pyramids for this late 1970s project.
Conical and gray. That's what you see from the outside. But inside, the stained glass windows add a majestic look to this religious building.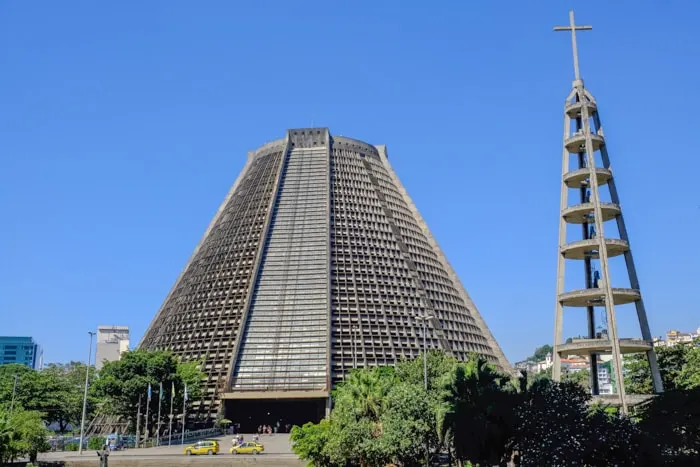 Dance samba in a historical place
At Pedra do Sal (English: Rock of salt), locals enjoy pleasant evenings outdoors with lots of cold beer and authentic samba, chorinho, hip hop, and even rap.
This street party happens on Monday and Friday nights. Still, it can get pretty crowded.
Beyond that, the area has a deep historical meaning: a slave market was based in this area, which is known as Little Africa.
Nowadays, people sing and dance here the genre that bonds African and European music together, the samba. It's best to take an Uber there.
Bargain for souvenirs in the Hippie Fair
A hippie hangout in the 1960s, this fair in Ipanema is a fantastic place to browse for crafts, decor pieces, and arts.
Oh, and the food stalls are excellent too.
This street fair happens every Sunday, and here goes rule number one for buying souvenirs: never pay the price on the tag.
Bargain. Bargaining is part of the charm in this Hippie Fair.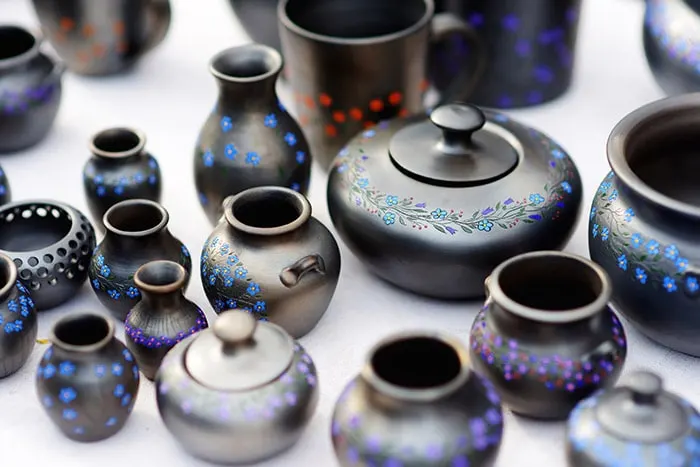 Pop in a cultural center built around the ruins of a mansion
Located in Santa Teresa hill, Parque das Ruínas has one of the most beautiful views of the neighborhood and Guanabara Bay.
Beyond that, the site also has a great cultural center, which finds its place in the ruins of socialite Laurinda Santos Lobo's former house.
Her house was a meeting point for Rio's artists and intellectuals for many years until she passed away in 1946.
Nowadays, it produces and diffuses different forms of artistic expression.
You will want to visit the property while exploring Santa Teresa. This is one of the most unusual things to do in Rio de Janeiro for sure.
Have tea in one of the world's most beautiful cafés
While drinking tea isn't the most top thing to do in Rio de Janeiro, you will want to experience this traditional tea room in the heart of the city.
Confeitaria Colombo is part of the cultural and artistic heritage of Rio. The place is inspired by European cafés, and it used to host fancy balls for the city's upper class since its opening in 1894.
Architecture-wise, the art nouveau building, together with the stained glass ceiling, makes it one of the most beautiful cafés in the world. These are U City Guides' words, but I agree with them.
Have lunch in an iconic location
Have you ever listened to The Girl from Ipanema? This melody is one of the most famous Brazilian songs in the country, let alone in the world.
This song gained life in 1962 when Vinicius de Moraes and Tom Jobim were drinking together in this exact same bar and saw a young woman, Helô Pinheiro, walking graciously towards the ocean.
The bar was called Veloso, but today is Bar da Garota de Ipanema, and it rightly deserves the name.
It's a lovely (and iconic) restaurant in Rio de Janeiro with excellent food and Brazilian drinks.
Have a seafood feijoada in a favela
It's not just seafood.
It's a seafood feijoada.
David, a former fisherman, created a variation of the national dish with a personal touch.
Feijoada is essentially a stew of black beans, which is usually prepared with pork. Still, David turned it into a seafood dish, and that's one of the delicious bars he serves in his bar.
Unique, to say the least, this unpretentious bar has a favela maquette covering a wall on the top floor, portraying where the bar is.
Located at the Chapéu Mangueira neighborhood at the Babilonia Hill, this favela went through a pacification process in 2009, and today many people walk uphill or just take an Uber to have a taste of this original dish.
Go cachaça tasting
Founded in 1985 by three friends, the Academia da Cachaça was meant to give the national beverage, cachaça, the attention it deserves.
With the years and success, this bar started serving more than caipirinha, the local cocktail made of fruit, sugar, and cachaça on the rocks. It began serving national dishes and other drinks too.
Now, you can have an infusion of fruits and herbs in the national liquor, coconut cocktails, and other cocktails from the house. Always using Brazilian fruits and local alcohol, of course.
If you're not sure whether or not you should drink a full glass of caipirinha, maybe you should try the caipirinha tastings (2 mini glasses).
Have a few sips of it while nibbling pastel, a Brazilian street food. You won't regret it.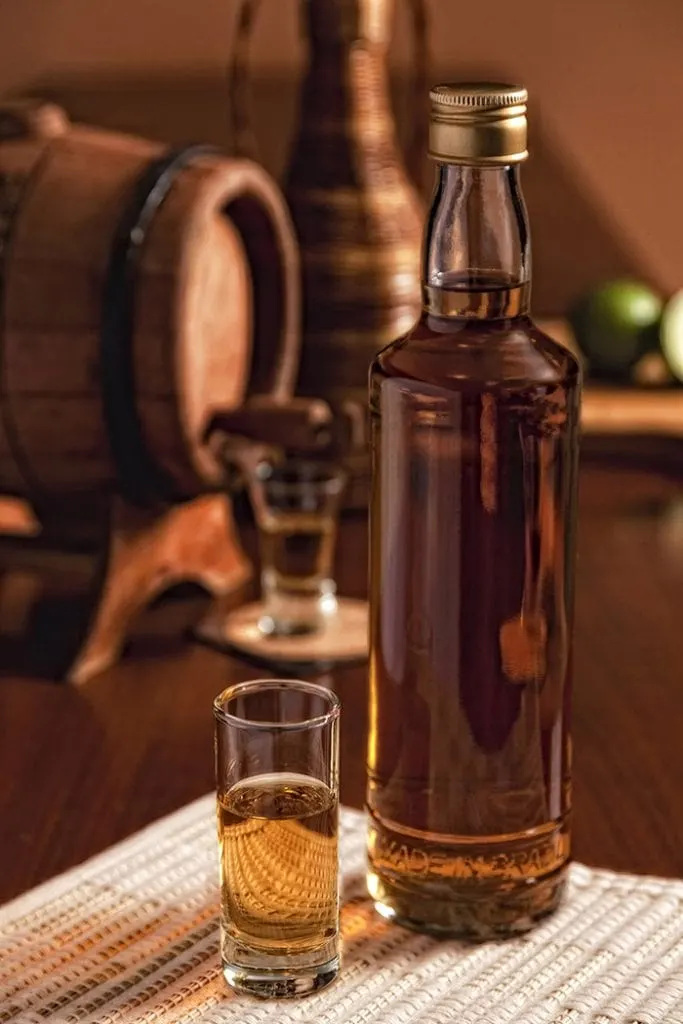 Have a quintessential carnival experience in Rio de Janeiro
Hand-downs, one of the best things to do in Rio de Janeiro during the carnival, is celebrating this massive holiday in Brazil in our carnival temple (aka Sambódromo).
Roughly 80,000 people gather to watch this event in the bleachers, while thousands of people dressed up in colorful costumes sing their hearts out for their passion: carnival.
It's a once-in-a-lifetime experience, and one you can't afford to miss.
By buying this ticket, you get subway tickets to the parade area and admission to watch the performances of the best samba schools.
Check availability for a carnival parade ticket.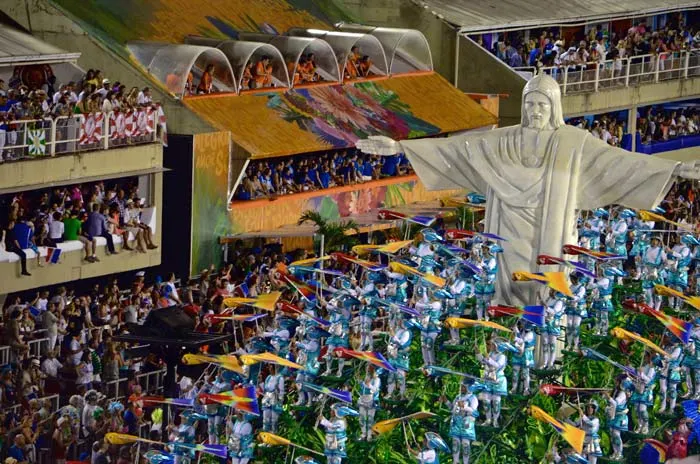 Go on a day trip from Rio
Rio is amazing. No doubt about that–the city is fantastic.
Having said that, one of the best things to do in Brazil is to discover underrated cities and towns most tourists never visit.
You can quickly go on plenty of fun and exciting day trips from Rio, such as Petrópolis and Teresópolis.
Also, there are some other places well-worth the trip in Rio de Janeiro State, such as Arraial do Cabo, Búzios, Cabo Frio, Paraty, and Trindade.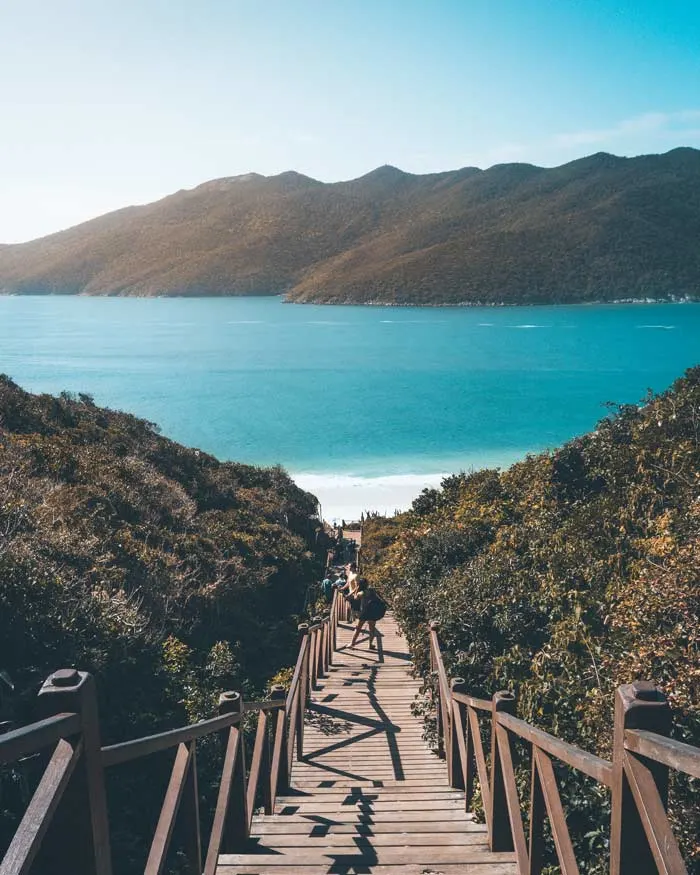 Tips for visiting Rio de Janeiro
Be sure to use a repellent with picaridin to avoid the annoying mosquitoes' bites.
Rio de Janeiro is a coastal city with lots of nature spots, meaning a hat and reef-safe sunscreen are essential items.
If you decide to go on a favela tour not mentioned in this article, please, do your own research to ensure the tour operator is ethical and gives back to the community you will visit.
I understand safety in Rio is a concern for many tourists. Still, if you use common sense and be sensible of your surroundings, you should be fine.
Don't show off flashy things like watches, camera, and jewelry.
Last but not least: don't be paranoid! The 8 PM news paints a much more dangerous picture than most tourists will ever experience. Enjoy your trip!!
Rio de Janeiro travel resources
I want you to have a perfect time in Rio de Janeiro. To help you with that, I wrote several useful guides.
If you're in the first stages of planning your trip to Brazil, you will want to check this complete Brazil travel guide, as well as our holiday calendar to avoid any setbacks.
Beyond that, you might want to check out this guide before budgeting your trip to Brazil.
As for packing, you probably know what you will pack for the country, but there are few essentials you should definitely add to your Brazil packing list.
And remember that the country is vast (see map), meaning RJ is only a city among many other fantastic towns in Brazil, which is one of the reasons why you should visit the country for at least, let's say, two weeks.
That's it for today, gals and guys. Enjoy your trip!