Here's my take on the best beaches in Brazil that you can't afford to miss!
If you are looking for the best and most beautiful beaches in Brazil, you have come to the right place!
Brazil, for most of my international friends, means one thing: summer. Even our winters are warm when compared to most countries.
It's the place my friends return to every year because it simply screams vacation time.
With a base on the east coast of the continent, Brazil beaches are chilled out and surrounded by enchanting landscapes, which are pretty good reasons to visit the country.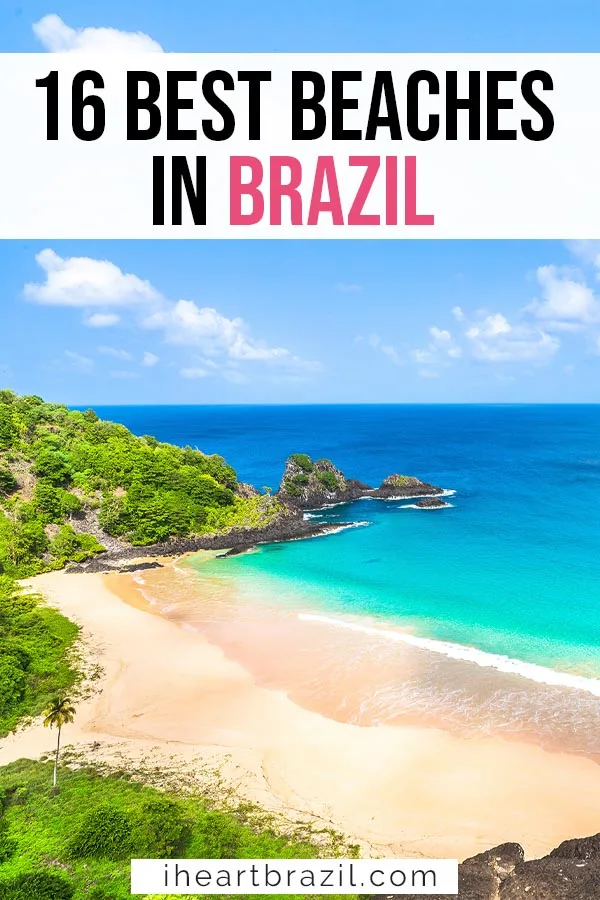 When summer arrives, there's only one place where most Brazilians go. From the north to the south of South America, beaches in Brazil are big business.
This post is full of insider information about the best beaches in Brazil and has a map at the bottom so that you can find these places when you choose to visit.
Put simply, this guide will help you choose which of the Brazil beaches are best for your visit and will break them down by area to make it easier for you to decide! Enjoy!
Tips for visiting Brazil beaches
While many of these places are urban beaches, other spots I will mention are secluded or include some hiking. You'll want to wear good walking shoes for that.
More often than not, it's sunny and warm in Brazil, so be sure to pack sunscreen, hat, and repellent. Also, I wrote this practical Brazil packing list with things you must bring with you (but that you're probably forgetting!)
Always take water with you! Water, water, water!
16 Most Beautiful Beaches in Brazil
These are the best Brazil beaches divided by region.
Best Brazil beaches – North Brazil
Ilha do Amor Beach in Alter do Chão, Pará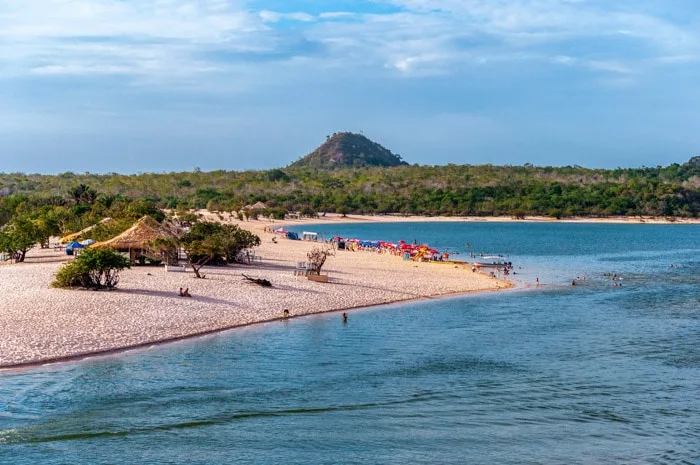 Hidden deep in the Amazon Forest, Alter do Chão is a laid-back town, which was elected by The Guardian as having one of the prettiest beaches in Brazil.
The town has numerous temporary white sand stretches that form beaches at Tapajós River during the dry season, July-January.
The most famous beach is Ilha do Amor, a peninsula filled with basic restaurants, which can be explored by canoe or stand up paddleboard.
At Ilha do Amor, the beaches have white sand, crystal-clear water, and are surrounded by an overwhelming green area – it's a unique setting!
Best Brazil beaches – South Brazil
Lagoinha do Leste Beach, Santa Catarina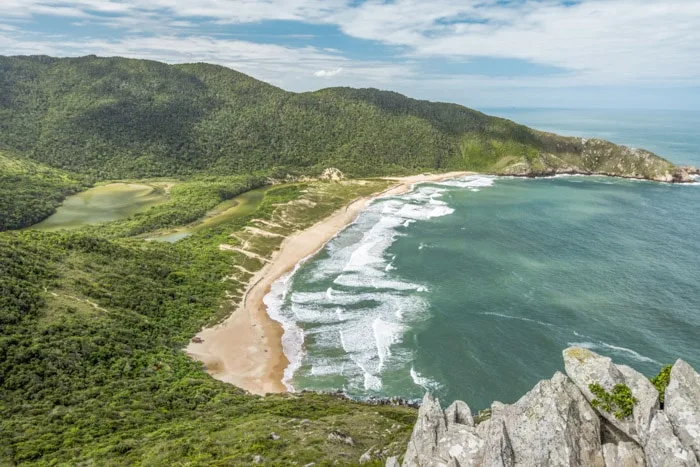 Lagoinha do Leste, although fantastic, is not for every tourist.
To get to this wild beach in Brazil, you must take a boat or hike your way there.
Two trails allow visitors to reach this paradise. The first one is short (1 hour) but steep and goes through an enclosed forest, while the other path is longer (~2h30), but it leads you through two other beaches packed with jaw-dropping vistas.
Obviously, so much effort is clearly rewarded, dear reader. Once you arrive in this paradise, you will understand why some consider it one of the most beautiful beaches in Florianópolis, Santa Catarina State.
The sea has strong waves and is perfect for surfers, but a lagoon behind the beach, which gives name to this places, is ideal for standup paddle.
Campers will also have a blast here since the beach is very calm.
Mind you, there is no infrastructure whatsoever, so bring your food, drinks, and trash bags.
Guarita Beach, Rio Grande do Sul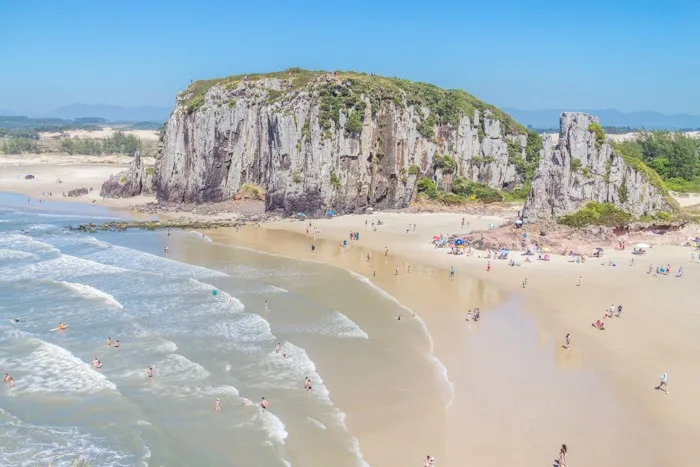 Guarita Beach in Torres City is considered one of the best, and sometimes even the best beach in Rio Grande do Sul.
Especially appealing to adventurers, Guarita Beach has strong waves making it perfect for surfers.
Beyond that, a massive hill on the beach creates a unique spot to watch the sun setting over the town – locals and tourists love it!
Good to know: If you're traveling to Brazil during the southern winter – June-September -, the water might be relatively cold as Rio Grande do Sul is the southernmost state in Brazil.
Best Brazil beaches – Southeast Brazil
Bonete Beach, São Paulo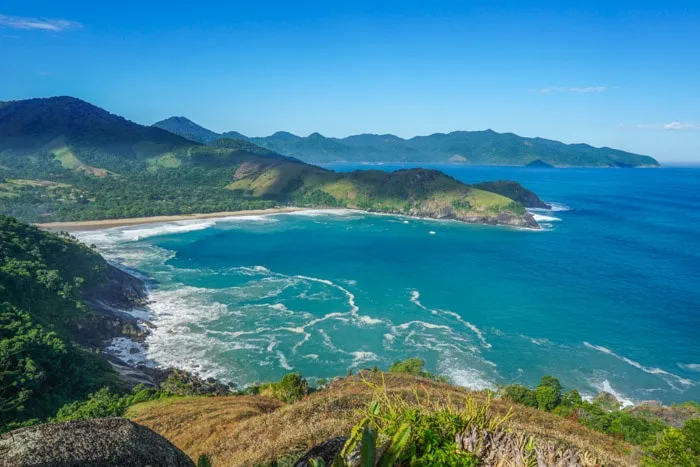 Just off the coast of São Paulo, Ilhabela is a paradise that holds some of the prettiest Brazilian beaches.
To get to Bonete, a jaw-dropping beach in São Paulo, you must go on a 30-minute boat trip to the other side of the island or venture on a 4-hour hiking trail through the forest.
Along the way, waterfalls and native trees will protect you from the sun and heat, especially when traveling in warmer months.
Once at Bonete, you will realize the trip was worth your while. It's a secluded Brazilian beach with a few inns, a couple of small-family-owned restaurants, and enclosed by Atlantic forest and crystal clear water.
The only problem you may face in this paradise will be the urge to stay – totally understandable!
Forno Beach, Rio de Janeiro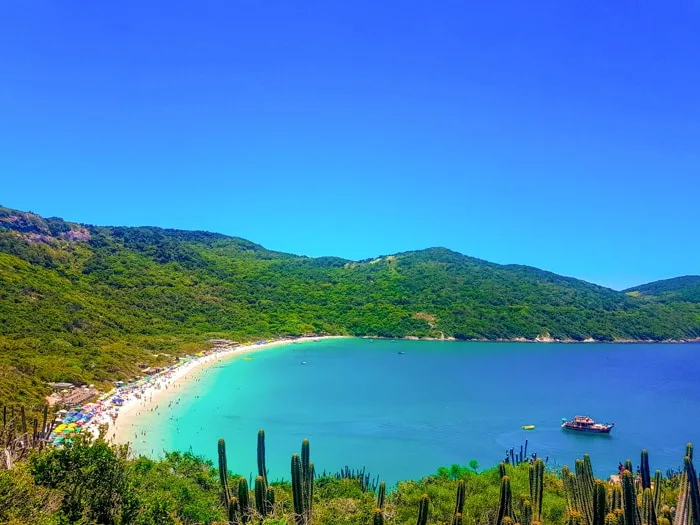 As one of the prettiest beaches in Brazil, Praia do Forno is encircled by hills covered in dense forest, giving it a feeling of a remote place.
However, visitors can easily access Forno Beach (English: Oven's Beach) by a short hiking trail or by boat, meaning it can get crowded.
There is little infrastructure here and a handful of modest restaurants offering food and refreshments.
Personally, Praia do Forno is one of my favorite beaches in Rio de Janeiro State because of its bright sand and vivid blue water.
Obviously, Ipanema and Copacabana in Rio City are not only the most famous beaches in Brazil, but they are also mesmerizing. Still, for me, Forno Beach in Arraial do Cabo is unique!
Castelhanos Beach, São Paulo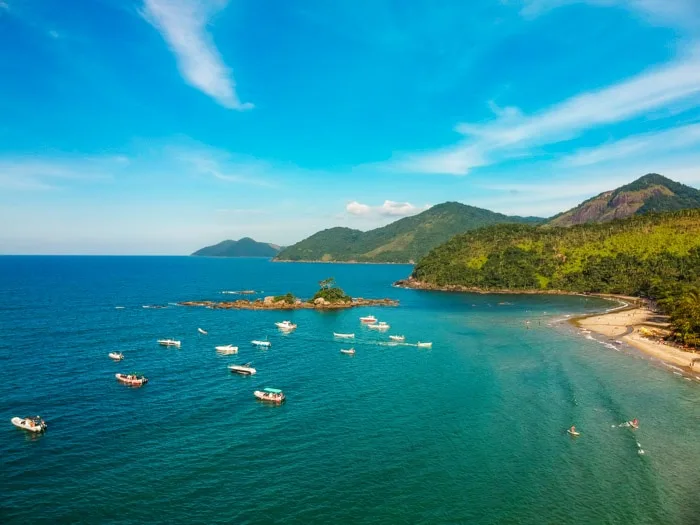 Considered one of the most beautiful beaches in Brazil, Castelhanos Beach is the top beach in Ilhabela for lots of adventurers.
That's because the primary access to this isolated beach is through a 22km dirt road where only a certain number of 4×4 vehicles, motorcycles, or bicycles are allowed every day.
For those who do not have a suitable vehicle, travel agencies in the city usually do the tour at an affordable price!
Castelhanos is a long heart-shaped beach with turquoise water, and all of that is encompassed by a nearly untouched landscape.
The only signs of civilization you will see are a few small family-owned kiosks that serve refreshments in some spots of the beach.
Beyond that, trails beginning at Castelhanos lead to nearby beaches as well as to a waterfall.
Best Brazil beaches – Northeast Brazil
Maragogi, Alagoas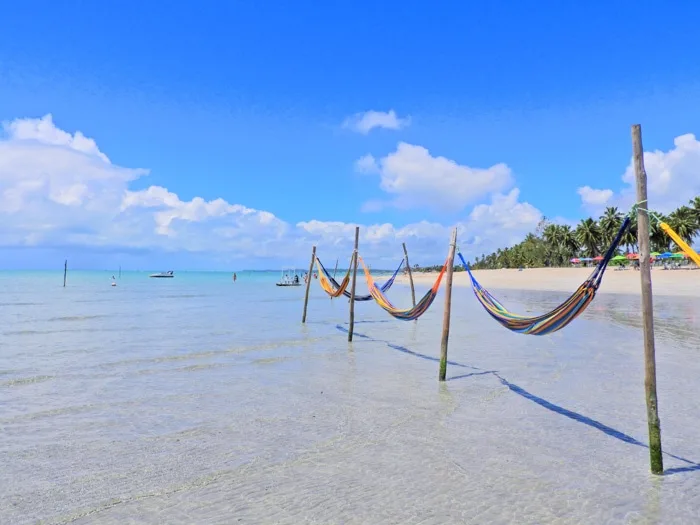 Maragogi has hands-down a few of the most beautiful beaches in Brazil!
Not only the swaying palm trees are inviting, but a sand path called Moises Way reveals itself in Barra Grande when the tide is low. It is like a white serpent floating on the vivid blue sea.
Beyond that, Maragogi is a place packed with natural pools and hammocks in the water. Those who come to Maragogi don't want to leave. But can you blame them?
A short boat ride takes you to a reef area with the natural pools teeming with colorful fishes – it's a spectacular spot to snorkel.
Caraíva Beach, Bahia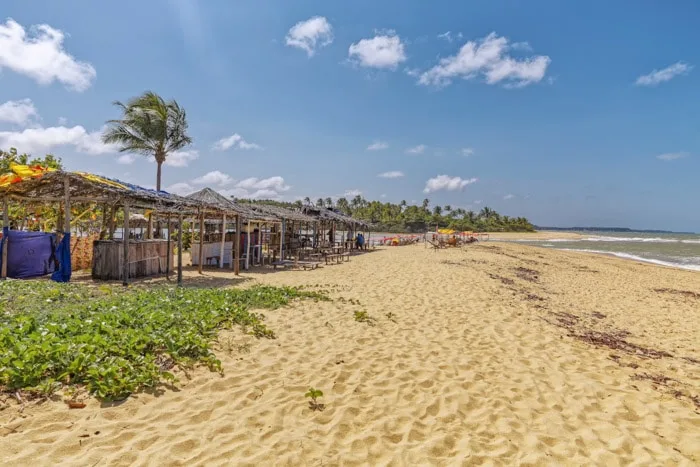 Caraíva is a seaside village located in the middle of the spectacular South Coast of Bahia.
About 70km from Porto Seguro International Airport, Caraíva is still little known among tourists and has a reputation of a rustic spot – it's definitely not for those who seek a luxurious beach destination.
It's safe to say that Caraíva, a car-free village, has an unspoiled beauty and many beaches where you can sunbathe and wander in perfect solitude.
There are just a handful of inns, and when you walk along the beach, there's little sign of civilization.
If you want to visit hidden gems in Brazil, Caraíva Beach is your best bet, but come fast before the word gets out.
Porto de Galinhas Beach, Pernambuco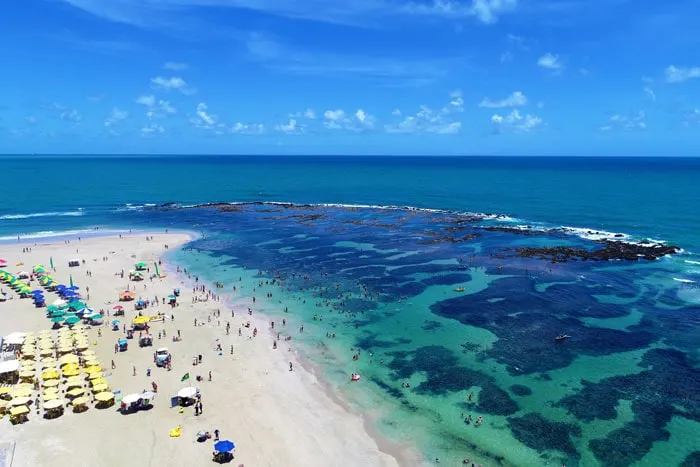 Porto de Galinhas is not only one of the most unique places to visit in Brazil, but also a paradise for nature lovers.
This beachside town is packed with breathtaking beaches and natural pools teeming with marine life.
The most famous beach takes the same name as the town, and because it stretches for miles, it hardly gets crowded even though most tourists sunbathe here.
That's because several bars and restaurants are in this area of the beach, near the town.
But if you wander a little further, you will find untouched spots backed by swaying palm trees and vegetation.
If you're into snorkeling, it will be hard to resist the turquoise sea teeming with fishes and wildlife.
Pipa Beach, Rio Grande do Norte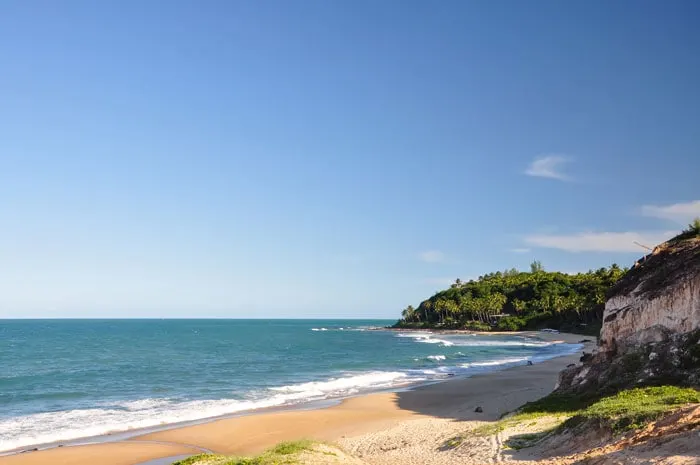 Pipa Beach is famous among international tourists because there's a location where you can watch dolphins in the wild.
So keep your camera ready because these curious animals often swim in the Dolphin Bay. In this broad inlet, they corner fishes to feed themselves with.
Beyond that, Pipa is a rustic beach in Brazil backed by cliffs and about 85km from Natal.
It's a pleasant place to swim, sunbathe, and even surf some waves!
Jericoacoara, Ceará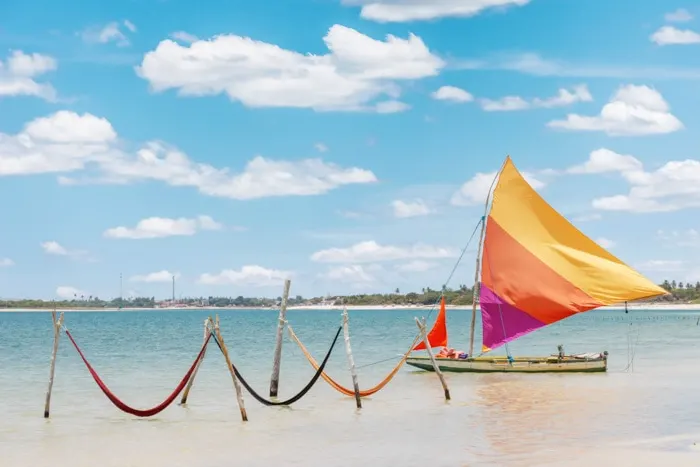 Jericoacoara is not only one of the most popular beaches in Brazil but also among the most sought after beaches by visitors from all over the world.
Framed by massive dunes, which are its main highlight, the place has several lagoons where tourists unwind and enjoy the beautiful landscapes from the hammocks in the middle of the water.
Not only that but Jericoacoara – or Jeri for close friends – is very popular among kite surfers and windsurfers due to the strong winds swooshing these shores.
Because Jeri is quite a touristy spot, it has excellent infrastructure with a variety of restaurants and inns.
Oh, and this tiny place is inside the Jericoacoara National Park.
Tambaba Beach, Paraíba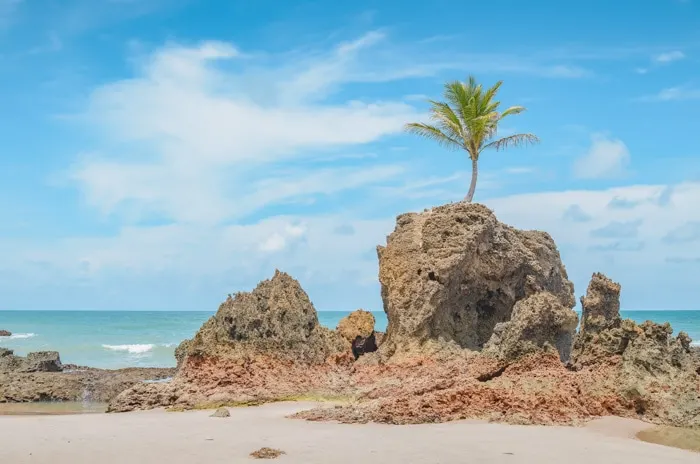 Tambaba is very popular throughout the country as it was the first official nudist beach in Brazil.
Extremely secluded, this beach is only 300m long and has rocky cliffs surrounding the entire strip of sand, guaranteeing the privacy of all visitors.
For safety reasons, unaccompanied visitors are not allowed in this nudist beach in Brazil.
However, if you're curious about its beauty but don't feel like showing more than usual, you can stay in a small area where you are allowed to wear bathing suits.
The warm sea, the cliffs, and the emerald waters make Tambaba one of the best Brazilian beaches.
Canoa Quebrada Beach, Ceará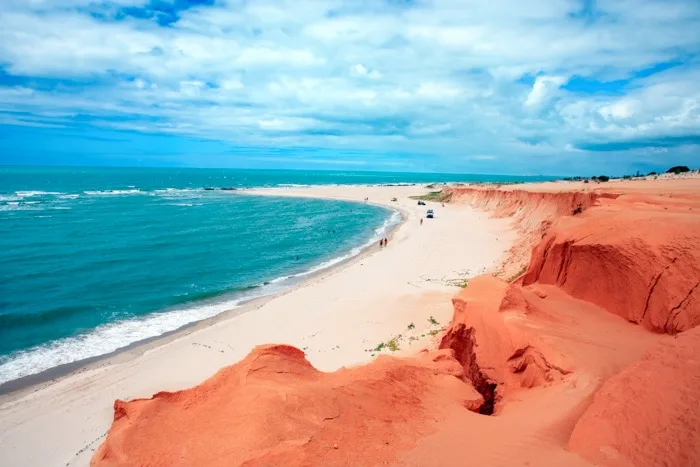 Canoa Quebrada Beach is one of the most famous beaches in Ceará because its beauty includes red cliffs, turquoise sea, and white sands and dunes.
It is possible to go on buggy rides, hike, sail in the calm waters of the region, or venture out and practice water activities like windsurfing.
Vendors sell local crafts, which are great souvenirs to take back home, by the way.
Besides, it is the ideal beach for those who enjoy the hustle and bustle, as it offers a fun nightlife with lots of forró – typical Brazilian music style – and reggae.
Carneiros Beach, Pernambuco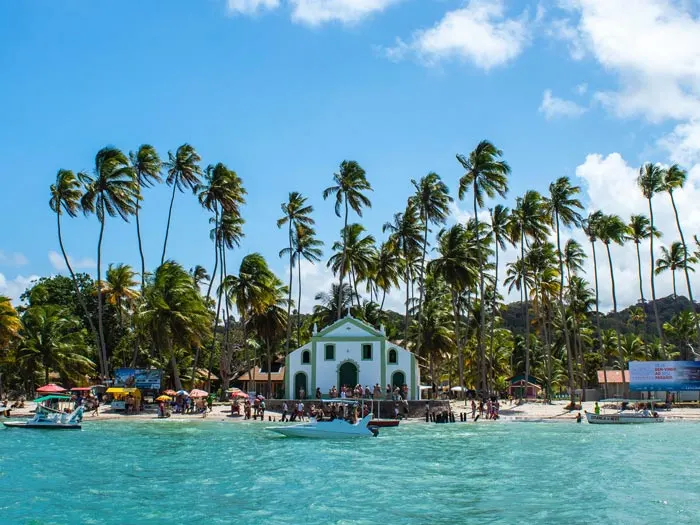 Carneiros doesn't have a vast sand stretch, but it certainly has most attributes of a postcard-worthy beach.
The coconut palms swaying by the clear sand, greenish-blue sea ahead, and the natural pools teeming with colorful fish, make Carneiros one of the best beaches in Brazil.
To top it off, an 18th-century chapel right in front of the sea looks straight out of a fairytale book. If I were to choose a wedding by the beach, this would be the place.
I mean, who wouldn't want to get married in a small chapel by the sea?!
Between Porto de Galinhas and Maragogi, Carneiros Beach is the perfect spot to sunbathe, reconnect with nature, and get married, or simply enjoy your honeymoon in Brazil.
No wonder lots of tourists disembark at Carneiros to spend a lazy day in paradise.
Quarta Praia, Bahia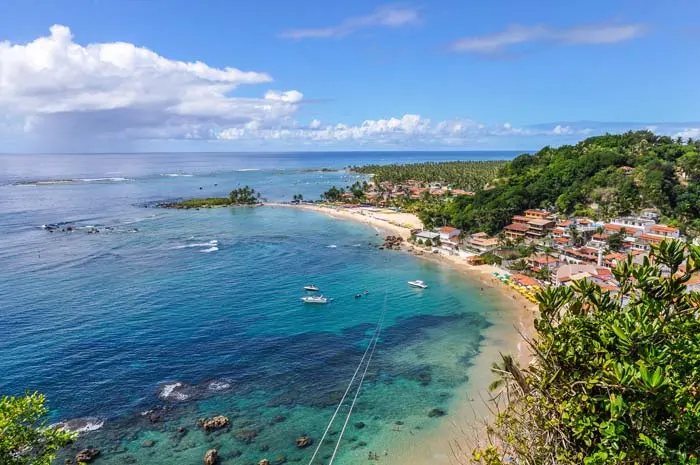 The Quarta Praia (English: Fourth Beach) is the longest beach in Morro de São Paulo.
Surrounded by beautiful nature, towering coconut trees, mangroves, and the Atlantic forest, Quarta Praia is considered a quiet beach with little infrastructure.
It is a place to unwind, reconnect with nature, and turn off the WiFi, preferably while drinking coconut water (which is one of the best things to do in Brazil!).
Beyond that, Quarta Praia has clear sand and very calm, crystal-clear waters where you can easily see the fish in the natural pools formed along the coast.
As mentioned, this beach is located in Morro de São Paulo, Bahia State. This region has attractions for every type of tourist, from the most party-loving ones to the most chilled out folks who just want to relax!
If you want to see more of the region, Boipeba is a nearby island that is well worth your while.
Sancho Beach, Pernambuco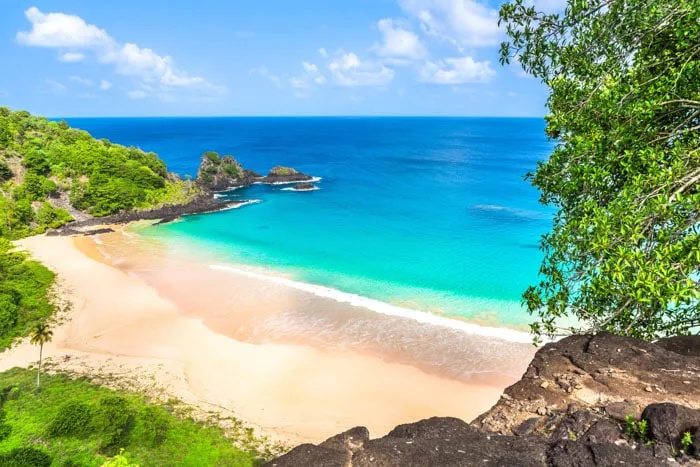 Sancho Beach is one of the most prominent beaches in the archipelago of Fernando de Noronha, a Brazilian landmark known worldwide for its infinite and enchanting natural attractions.
This UNESCO World Heritage Site is also a true paradise in addition to being a great diving spot with excellent visibility and abundant marine life.
Sancho Beach has clear, warm waters ranging from dark blue to light green and is surrounded by cliffs, white sands, and lots of vegetation.
It is possible to reach this breathtaking beach in Brazil both by land and sea. Still, those who choose the sea route can spot marine wildlife such as dolphins and turtles up close since they spawn on this location.
Access to the beach is limited to certain times to respect the animals and give them enough space.
Best beaches in Brazil map
There are so many beautiful beaches in Brazil that it may be hard to keep track. That is why I put together this handy map for your use.
You can download it on your phone in the Google Maps app to make it easier for you when you may be without WiFi.
Use this map of the Brazil beaches to see where they are all located and which ones are nearby where you are currently at.
Who knows, you may get to see multiple in one day as some are closer together than you may think!
Click here to open the interactive map.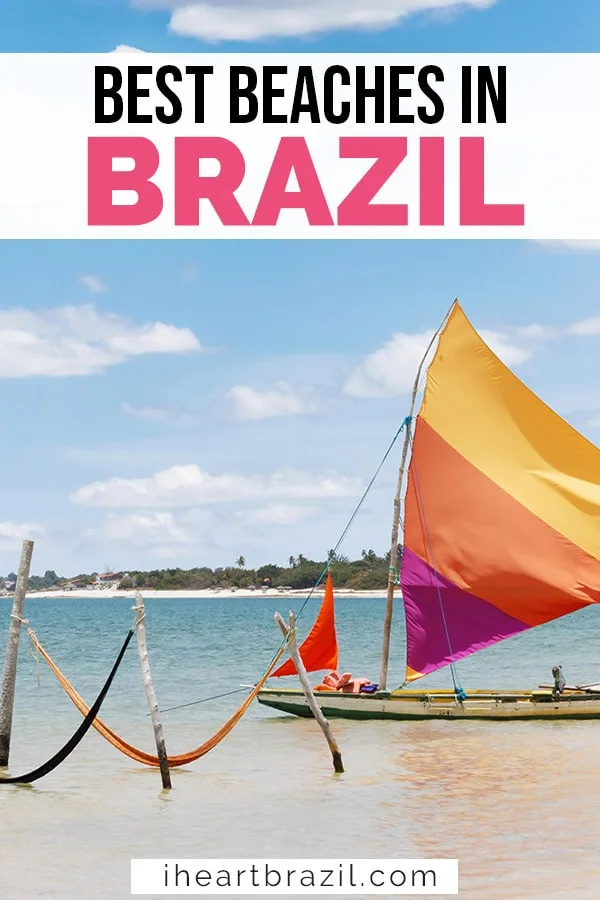 Brazil travel resources
You're traveling to Brazil! That's so exciting!
I really hope you have a fantastic vacation, that's why I wrote a few handy guides to help you plan a trip to Brazil.
For example, in this Brazil travel guide, I give you lots of tips and a general idea of essential things you should know about the country.
You might want to budget for your vacation and know beforehand how much a Brazil trip costs.
If you want to stay connected in the country, here's a guide on how to buy and activate a Brazilian SIM card.
That's it for today! Happy travels!
Did you like this article about the best Brazilian beaches? Then save it to your Pinterest travel board!