"How much does a trip to Brazil cost?" "Is Brazil expensive for tourists?"
In this article, I answer these and other questions you might have while planning your Brazil trip.
It's not a secret that Brazil is one of the most expensive countries in South America. Still, for those travelers who earn in dollars, pounds, or euros, the 4-to-1 exchange rate makes the country surprisingly affordable.
It's important to note that Brazil is a country of extremes.
And because of the wide variance of pricing across the country, one of the most common questions I get about it is also one of the most difficult ones to answer: How much does it cost to go to Brazil?
In big cities, such as Rio de Janeiro and São Paulo, food and accommodation are considerably more expensive than in other areas, but that doesn't mean you can't travel in the country on a tight budget.
From a basic Brazil travel budget to what to expect when planning a luxury getaway, here's how much a trip to Brazil costs.
Not enough time to read this article in one sitting? Save it for later!
How to use this trip to Brazil cost guide
Unless otherwise stated, the average cost to travel to Brazil mentioned in this post are given in USD.
As for this guide, I'm assuming you're traveling during high-season, late-December–mid-March, except during the week of Carnival and New Year's Day.
These are big holidays in Brazil, and prices can vary dramatically.
Keep in mind that every traveler and the cost of every trip to Brazil is unique. This Brazil budget guide is only a reference so that you can plan your vacation.
Here, I've put together a rough estimate of what a solo traveler can expect to spend at diverse price points on a trip to Brazil, if you're traveling with another person and can split the costs, you will be able to lower these numbers further.
About flying into Brazil
I intentionally kept the cost of getting to Brazil out from this Brazil budget guide, purely because the flight ticket price varies dramatically based on where you are coming from.
For travelers departing from Europe, flights are relatively affordable when booked in advance. That's a route I take often.
For travelers departing from Australia or North America, flights are much more expensive, unless you live in Florida, of course, which is the nearest state to Brazil.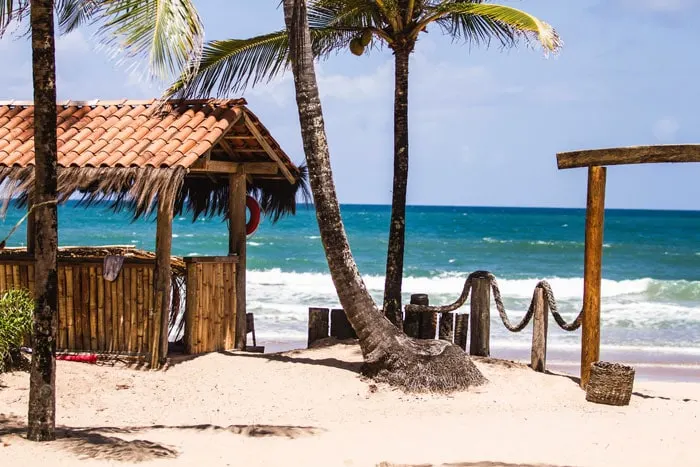 Budget trip to Brazil cost: $55-70/day
While the average cost of living in Brazil is relatively high when considering local salaries–that is especially true in São Paulo and Rio de Janeiro–the average cost of a trip to Brazil can be very low.
Thanks to the 4-to-1 exchange rate, you can easily travel to Brazil on a shoestring budget.
You will want to book your flights and accommodation well in advance to snag good deals. It takes a little planning, but it's doable.
Accommodation
You can find accommodation in Brazil at all price points, including the lowest one, with dorm rooms in hostels starting at $5 per person/night.
Many simple hotels offer a private room for a little more money, you just need to find them.
Otherwise, you can certainly find dorm rooms around $10-20 per person/night.
But be sensitive regarding the location. For instance, it's unlikely a hotel in the Amazon Rainforest will be cheap since there aren't many options available.
Rio de Janeiro and São Paulo are the most expensive cities in Brazil. Still, you might be able to find good deals if you book well ahead, and preferably not during a major holiday.
Transportation
Transportation within cities isn't expensive or hard to manage on a budget for a trip to Brazil.
The bus system is always an option and a cheap one too. A one-way ticket costs $1 in most cities.
When available, the metro is also not costly, and even Uber is relatively cheap.
In fact, I would take Uber in São Paulo to go everywhere because I was a bit lazy, and it is cheap.
For sightseeing, you're better off using public transportation or Uber. Still, for a day trip to another town or to continue your trip within Brazil, buses are the most affordable option.
However, if you want to visit a faraway waterfall, a secluded beach, or a national park in Brazil, you might need to rent a car when a guided tour is not available.
Check rental car prices for your trip to Brazil.
Food
Food in Brazil can be as cheap or expensive as you want.
Most cities have small, family-owned restaurants that offer a full plate with rice, beans, meat, and salad for $5–they're simple, but the food is usually delicious.
My husband and I once paid that amount for a meal in Arraial do Cabo, and he could not believe it–the plate was so full he didn't finish it.
Groceries are affordable, especially if you avoid tier A shops, such as Pão de Açúcar. Also, you might want to check out neighborhood street fairs that sell fresh Brazilian fruits and vegetables.
You can also buy street food for lunch. Coxinha and pastel are both delicious, cheap, and fill up well.
Note that most hostels allow full use of their cooking facilities, and some might even include breakfast in the dorm price.
Tours & attractions
Ticket and tour prices vary a great deal based on the attraction and where you are.
Major attractions like the Christ The Redeemer Statue and Sugarloaf Mountain cost a bit to visit—somewhere $20-30—increasing the average cost of a trip to Rio de Janeiro, for example.
However, there are enough free places to visit in Brazil that there's no reason you should buy a ticket if you're traveling on a tight budget.
For instance, many museums have free admission or are very cheap.
This way, you can easily keep your trip to Brazil's cost down and don't break the bank.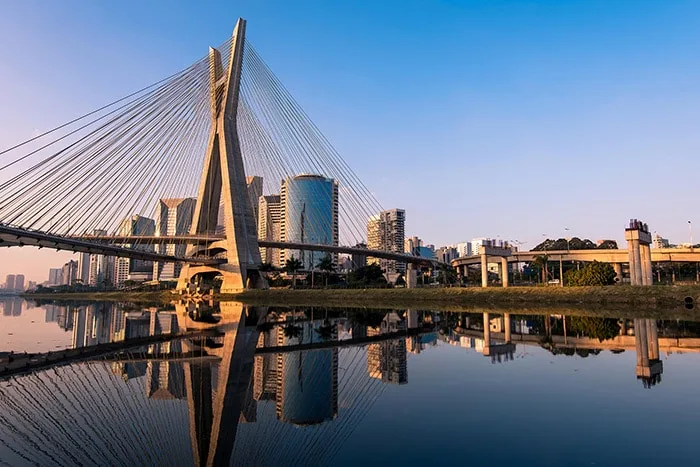 Mid-range trip to Brazil cost: $100-120/day
While traveling Brazil on a strict budget is entirely doable, traveling the country on a mid-range budget can be much simpler and more comfortable than you think.
Accommodation
As said, if you plan ahead and book your accommodation well in advance, you can find excellent accommodation in major cities, including affordable hotels in Rio de Janeiro–Brazil's most visited city.
From big cities to small rural towns, you can easily find accommodation in Brazil well under $90/day, often including breakfast.
Though you don't want to splurge every night when budgeting your trip to Brazil, you might find room to stay in a nicer hotel for one or two nights.
Read next: Best neighborhoods in São Paulo
Transportation
Traveling Brazil on a mid-budget allows you to take Uber a little more often if you like.
But during peak hours, traffic jams can escalate to a whole new level, and in those cases, you're better off taking the metro.
I still recommend you avoid renting a car to travel within a city because the motorcycles make the traffic jam chaotic. Again, to travel to other towns, a rental car is the way to go.
Check rental car prices for your trip to Brazil.
Food
On a mid-range budget, food in Brazil will look like a breakfast included in your hotel price and two meals out per day.
Mind you, eating out in Brazil doesn't have to be expensive. In fact, it can be pretty affordable if you choose the restaurant carefully, instead of simply walking in the first eating venue you see.
Besides, Brazilian food is heavy, and it fills up well, so you might find that having some small snacks in between is more than enough to go through the day.
Tours & attractions
When budgeting your trip to Brazil cost, you will want to include a small part of it for tickets and tours in the country, such as visiting Christ The Redeemer Statue, taking the cable car to the Sugarloaf Mountain, and a guided tour in the Iguazu Falls.
Naturally, you won't have to set aside a massive part of your budget for tickets, as some of the best things to do in Brazil, whether you are on a strict budget or not, are free.
Luxury trip to Brazil cost: $200/day & up
Like most destinations around the globe, how much a trip to Brazil costs on a luxury budget will be purely based on your taste.
Accommodation
Brazil has plenty of upscale hotels and resorts with top-notch service, and if you're lucky, an excellent view, like this hotel in Copacabana or this hut in the Amazon Rainforest.
At this price point, you can also consider staying in all-inclusive resorts in Brazil–it's worth every penny.
Years ago, I stayed at Med Club Trancoso and absolutely loved it. Everything was perfect–the food, drinks, facilities, views, and location.
Again, the sky is the limit.
Transportation
For transportation in the cities, Uber will be your best option. Again, avoid driving in big cities if you are not used to the way things flow–motorcycles have their own rules.
As for traveling in the country, you can rent higher-end and more comfortable cars, which I highly recommend as the roads in Brazil often lack in maintenance.
Either way, road tripping in Brazil is a complete delight and the best way to see the country.
Check rental car prices for your trip to Brazil.
Food
Traveling Brazil on a luxury budget allows for unique food experiences.
Although you can find delicious appetizers in reputable bars, Brazil has no shortage of high-end restaurants.
For instance, taking cooking lessons, a detailed food tour, eating out every day, and dining in Michelin-rated restaurants are some food experiences to consider.
Tours & attractions
When calculating your trip to Brazil cost on a luxury budget, you will want to set aside some portion for a few unique experiences in the country.
Think a helicopter tour over São Paulo or Rio de Janeiro, cruise tours in the Amazon Rainforest, the world's most famous carnival parade in Rio, scuba diving in one of our marine national parks, and spa days in fantastic resorts.
Final words on the cost to travel to Brazil
While Brazil prices are unfortunately very high for residents, the country offers many possibilities for travelers of all budgets.
The average cost to travel to Brazil can vary dramatically based mostly on your accommodation, transportation, food, and tour choices, so choose carefully if you're on a strict budget.
Either way, I hope you have a fantastic time in Brazil.
If you have more questions regarding prices in Brazil, feel free to ask in my Facebook community, where other travelers can also chime in.