The São Paulo Museum of Art Assis Chateaubriand, also known as MASP, has one of the most important collections in the southern hemisphere.
The museum having over 11,000 art pieces from national and international artists, is also considered the most important one in Latin America.
Being a private and non-profit museum, MASP is considered the very first modern museum of the country, a landmark in Brazil, and a notorious icon of contemporary architecture.
Words do not bring justice to this gorgeous building. Still, in this article, I will introduce you to this unique museum in São Paulo.
I will talk about the museum's history, collection, architecture, and practical information for visitors. After all, visiting the São Paulo Museum of Art is one of the best things to do in SP.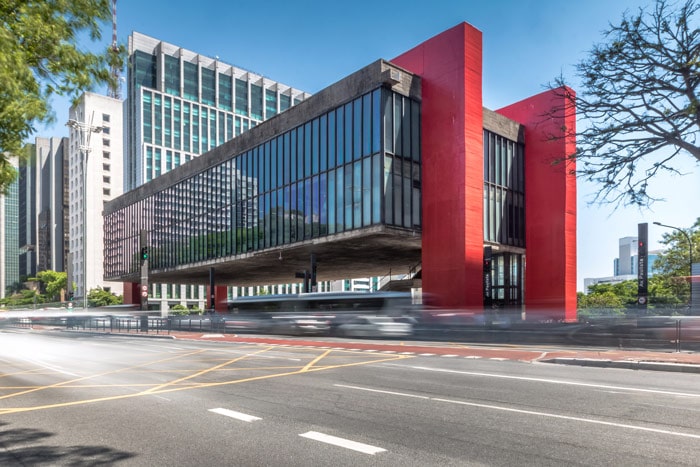 São Paulo Museum of Art
MASP, a diverse, inclusive, and plural museum, has the mission to establish, critically and creatively, dialogues between past and present, cultures and territories, through the visual arts. To this end, it should enlarge, conserve, research, and disseminate its collection, while also promoting the encounter between its various publics and art through transformative and welcoming experiences.

The museum's mission
MASP History
Again, MASP was considered the first modern museum in Brazil–its creation dates to 1947.
Assis Chateaubriand, an entrepreneur and patron, and Pietro Maria Bardi, writer and curator, founded together the São Paulo Museum of Art.
Pietro was the founding director of MASP for 49 years.
Back then, MASP had its exhibitions spread through four floors in the same building where Diários Associados, Chateaubriand's communication company, was based.
The São Paulo Museum of Art was located on that address in Downtown for 21 years, and it only migrated to its current address on Paulista Ave in 1968.
The building where MASP is today located was designed by Lina Bo Bardi, an Italian-born Brazilian architect and Pietro Maria's wife, at the invitation of Chateaubriand himself.
After 10 years of construction, MASP was inaugurated at the new address at the presence of Queen Elizabeth II as she was in São Paulo at the time.
The ground where MASP has been located was a meeting point mostly used by the upper class of São Paulo, called Belvedere Trianon.
In 1951, the place was overthrown, giving place to a large pavilion where the first International Biennial of São Paulo took place.
Years later, the Biennial migrated to the Ibirapuera Park, giving place to the construction of the museum.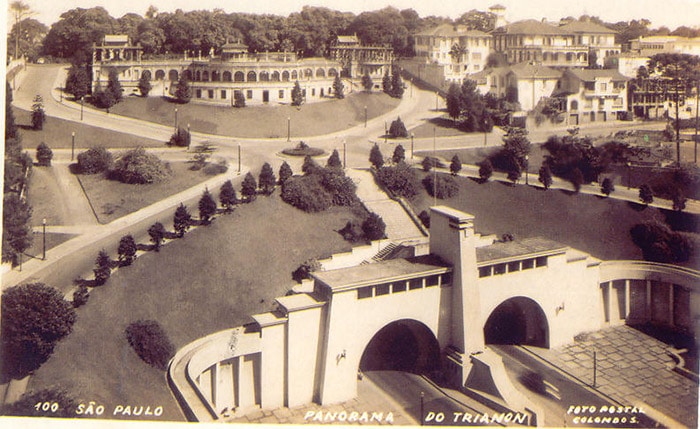 MASP Museum Collection
For starters, MASP holds roughly 11,000 works of art, making it the most excellent museum in South America, let alone Latin America. Its collection is massive.
Chateaubriand gathered many of these art pieces himself. Still, as a private non-profit organization, the museum receives donations from individuals and corporations.
Although MASP alone has the largest and most important collection of European art outside Europe and the United States, its collection also includes material from Africa, Asia, and the Americas.
Among its artworks, the whole catalog consists of paintings, clothing, videos, sculptures, photographs, and archaeology pieces from different periods.
Importance of the São Paulo Museum of Art
Born from the genuine desire to spread the word, protect, and disseminate works of art among the Brazilians, MASP continues to this day fulfilling its mission.
In 2003, the museum was listed as a national heritage by IPHAN (National Historical and Artistic Heritage Institute).
And to this day, the São Paulo Museum of Art holds important pieces of national art contemplating artists such as Tarsila do Amaral, Candido Portinari, Anita Malfatti, and Di Cavalcanti.
However, MASP also has an acclaimed international collection from great artists, such as Rembrandt, Van Gogh, Monet, Rafael, Renoir, Modigliani, and Picasso.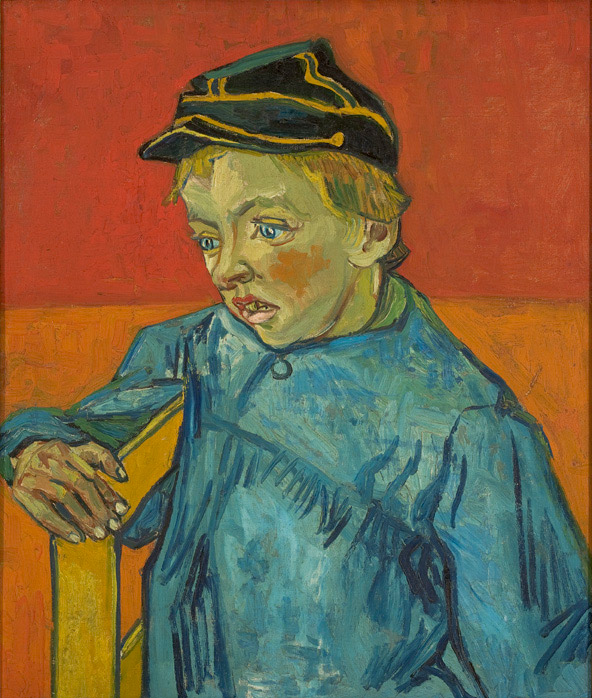 MASP Architecture
As said, the ground where the museum is based was once the Belvedere Trianon.
Back then, the land belonged to José Borges de Figueiredo, a Portuguese doctor who sold those grounds to the City Hall for a tiny amount compared to its real value.
But the doctor only agreed on this donation under one condition: the City Hall should never allow the construction of any structure that would block the vista to São Paulo Downtown.
From the free span underneath MASP, one can spot the July 9th Ave leading the way towards the city center. It's a beautiful view, and Figueiredo did not want the city to lose such a beautiful vista.
Therefore, to comply with this condition, the architect Lina Bo Bardi designed a rectangular structure with a free span underneath it.
The building is held 26.2 ft (8 m) above the ground by four massive lateral concrete beams reaching 58 ft (17.5 m) high. The whole structure resembles a suspended container.
The museum's walls are made of glass to balance the roughness of the concrete.
Also part of the museum's property, the complete structure includes an underground theater and a small auditorium for corporate events.
While the free span underneath the MASP was designed as a place where people can gather and hang out, that area is still widely used by the population for the most diverse purposes.
From political demonstrations to concerts to fairs, the São Paulo Museum of Art is a place where several significant events take place in the city.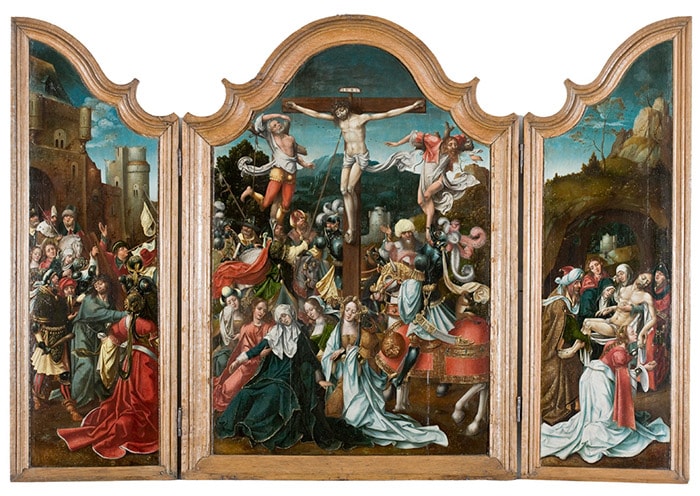 Expographic design
Lina was not only the architect but also responsible for the exhibit design of the museum.
She developed the concept of an open, ample exhibition space where paintings were fixed to acrylic pedestals, therefore making the whole area visible at once.
With this design, Lina wanted to mimic the floating idea of the building. From the gallery to the main structure, Bo Bardi created a compelling dialogue between lightness and mass.
So while strolling underneath the building, you feel absolutely no sense of oppression, even though a massive concrete block is above your head.
The substitution of traditional walls for the acrylic pedestals, however, became a big point of debate.
Mind you, Lina was a foreigner and a woman, and back in the day, the architecture market in Brazil was mostly dominated by men. Gaining the respect of locals wasn't easy for her, but she kept going forward anyway.
When her husband retired in 1996, the new director, Júlio Neves, replaced her expography project with plain walls, which were removed in 2015. The exhibition is to this day, as Line planned and wanted.
Lina's work was so notorious that in 2015 The Guardian elected a theater she designed, the Teatro Oficina, as the world's most beautiful stage.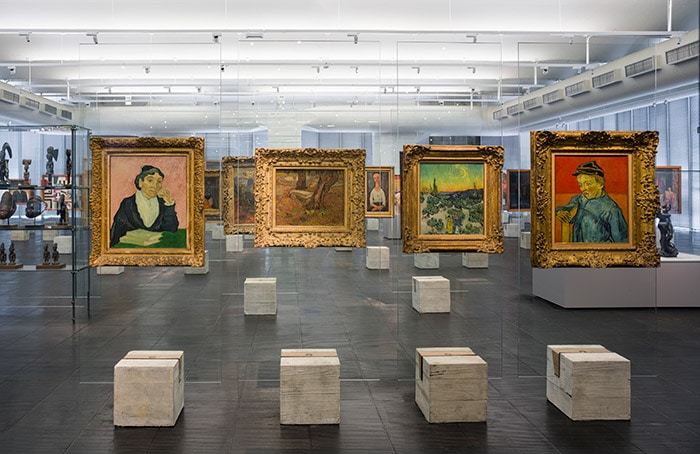 The construction of the museum
The development of the building took 10 years to be fully completed. It was inaugurated on November 7th, 1968, in the presence of Prince Philip and Queen Elizabeth II of England, who gave the inaugural speech.
Originally the outer lateral beams were not painted red.
Until 1989, the columns were concrete gray. Still, due to successive water infiltrations, they had to be renovated, and on that occasion, they were painted red.
Practical information
Here is all the information you need to visit MASP:
How to get to the São Paulo Museum of Art:
The museum is located two blocks from the Trianon-MASP metro station, line green.
As you leave the station, you will find yourself on Paulista Avenue. It's a 2-minute walk.
Address: Avenida Paulista 1578, CEP 01310-200 São Paulo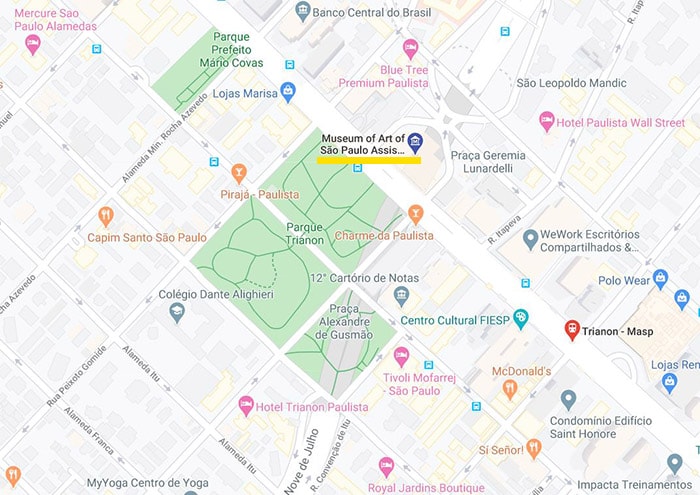 Opening hours:
The museum is open on Tuesdays (10 am-8 pm), Wed-Sun (10 am-6 pm), and it's closed on Mondays.
Besides Mondays, the MASP opens typically on national holidays, except on December 24th, 25th, 31st, and January 1st.
Tickets:
Adults pay R$40
Students pay R$20
People older than 60 years old pay R$20
Children under 11yo don't pay
On Tuesdays, admission is free of charge.
The MASP is not only accessible to people with reduced mobility but also free of charge for them, including a companion.
Tip from a local: While you can buy your ticket with any credit card, American Express clients get a free ticket for every one ticket they buy.
São Paulo travel resources
I want you to have a fantastic time in São Paulo, and that's why I wrote several useful posts for you.
For instance, if you're traveling to São Paulo for the first time, be sure to read my article about what to do in SP and the best hotels in the city.
If you want to have a deeper understanding of the local culture, you might want to take a guided tour in the city or go on a couple of day trips from the capital.
You will also want to read my taxi guide, which is very helpful to get to and around the city.
To help you plan your trip to Brazil, give a read to the country travel guide. It summarizes the significant aspects of Brazil and essential things for tourists.
Don't forget about travel insurance!
Before you leave for Brazil, make sure you have a valid travel insurance policy because accidents happen on the road. I have been paying for Safety Wing travel insurance for a little over a year now, and I happily recommend them to my family and friends.
If you get sick, injured, or have your stuff stolen, you'll be happy to have the ability to pay for your medical bills or replace what was stolen.
Because, for just a couple of dollars a day (depending on how long your policy is for), you're going to get lots of things covered. Be smart and get travel insurance.