If you're looking for the best and most beautiful beaches in São Paulo, you're in luck – I have an inspiring list here!
It's not a secret most tourists come to Brazil for summer vacation. After all, it's not only a tropical and beautiful country but also has some of the best beaches in South America.
Yes, the beaches in Brazil are that amazing! I might be biased, though.
Anyway, many people ask me if São Paulo have beaches, and the answer is absolutely yes!
While the beaches in Rio de Janeiro are far more popular, São Paulo also has paradisiac places throughout its northern coast.
There are São Paulo beaches for all tastes – calm spots to chill out, secluded places perfect for adventurous activities, tranquil waters ideal for swimming, and massive waves for surfing.
What's not to love?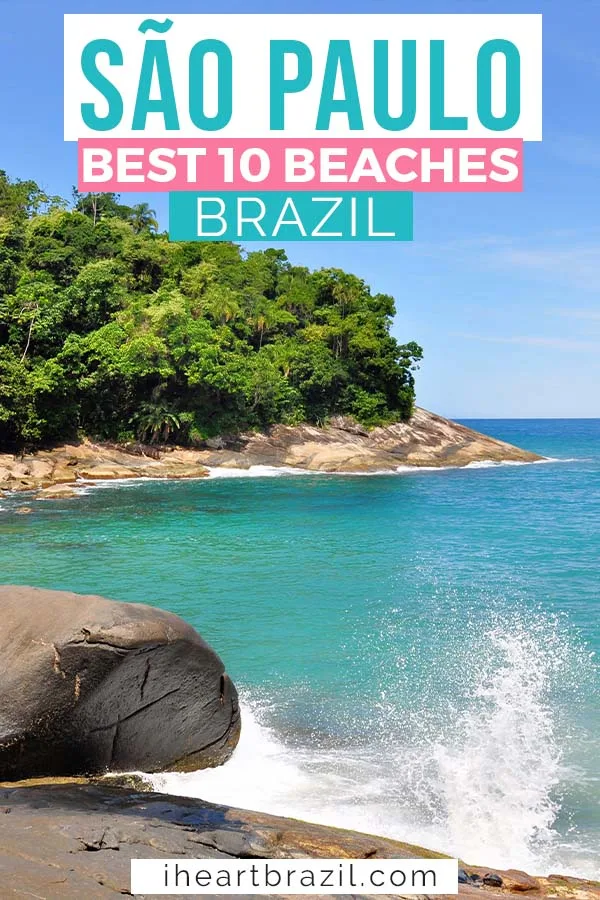 Are you trying to decide where to stay in São Paulo City? Don't miss my extensive SP neighborhood guide and tips on where to stay in São Paulo.
This article explains the best places to stay based on what you want to experience in the city, as well as your budget.
Tips for visiting beaches in São Paulo:
São Paulo City is about a 1-hour drive from the coast. Still, you can reach most cities I'll mention here by bus. Buses depart from Jabaquara Bus Station (beaches #2 & #3) or Tietê Bus Station (all the others).
You can quickly drive from SP city to all of these beaches, which gives you more flexibility. Although traffic signs are in Portuguese, it is not difficult to follow. After all, you just need to follow arrows toward the city of your interest. Click here to rent a car.
FWIW – Praia translates to beach in Portuguese.
You'll want to add a repellent to your Brazil packing list if you're visiting beaches in São Paulo that are surrounded by nature rather than the city.
Best beaches in São Paulo
Here're the best São Paulo beaches in no particular order.
Bonete Beach, Ilhabela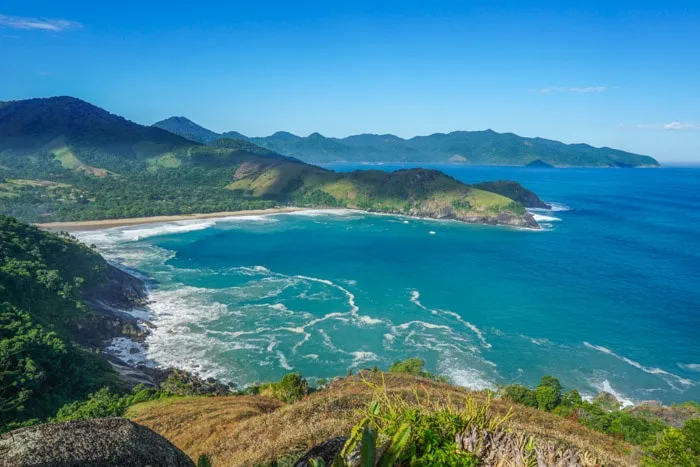 Bonete Beach is one of the prettiest sand stretches in Ilhabela, an island just off the coast of São Paulo.
While there are many beautiful beaches on the western side of this small paradise, Bonete is on the eastern side. Therefore, you have two options to get there: a laid-back trip or an adventurous one.
Namely, you must take a 30-minute boat trip to Bonete or let your adventurous side shine and venture on a 4-hour hiking trail through the forest.
If you choose the adventurous option, you will spot beautiful waterfalls along the way to cool down and refresh yourself. The native trees will also offer some welcome shade, especially if you're traveling in the Brazilian summer.
As soon as you arrive at Bonete Beach, you will realize the trip was absolutely worthwhile.
It's a secluded São Paulo beach with a few inns, a couple of small family-owned kiosks/restaurants, and surrounded by Atlantic forest and crystal clear water.
In other words, it is one of the best places to visit in Brazil!
Boraceia, Bertioga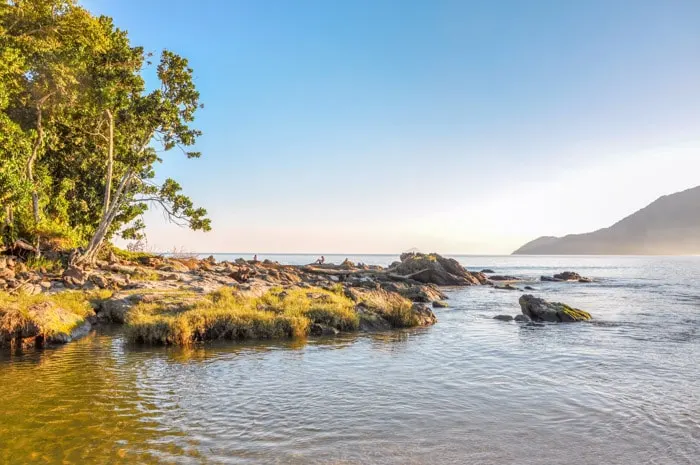 Located on the border between São Sebastião and Bertioga, Praia da Boraceia is one of the most extensive beaches in this region.
With a wide strip of sand, Boraceia is ideal for those looking for an excellent area to practice sports. It is an excellent place to jog, wander, bike, play paddleball, and even soccer.
Beyond that, Boraceia has a very calm and shallow sea, which pleases families with small children.
Despite not being among the most beautiful beaches in São Paulo, Boraceia is a beach that attracts many people because it is tranquil, extensive, and has functional parking space.
There are no tall buildings on the beach, and most restaurants are kiosk on the sand, making it ideal for those who prefer beaches with less infrastructure.
Tombo Beach, Guarujá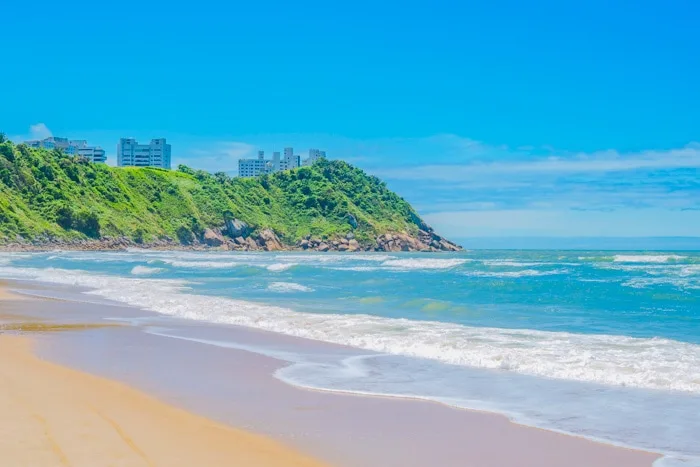 Praia do Tombo (English: Tombo Beach) is located only three kilometers from the center of Guarujá. It is urbanized, with a good structure of kiosks and a pleasant boardwalk.
This beach in São Paulo received several times the Blue Flag, which is an international indicator of the beach's high environmental and quality standards.
Beyond that, Praia do Tombo has big waves, attracting young surfers and adventurers.
However, the wide strip of sand and the seaside with calm waters is also appealing to many families with children who can enjoy sunny days in Guarujá.
Oh, and Guarujá is an excellent day trip from São Paulo because of its proximity – only 1h30 away by car.
Maresias Beach, São Sebastião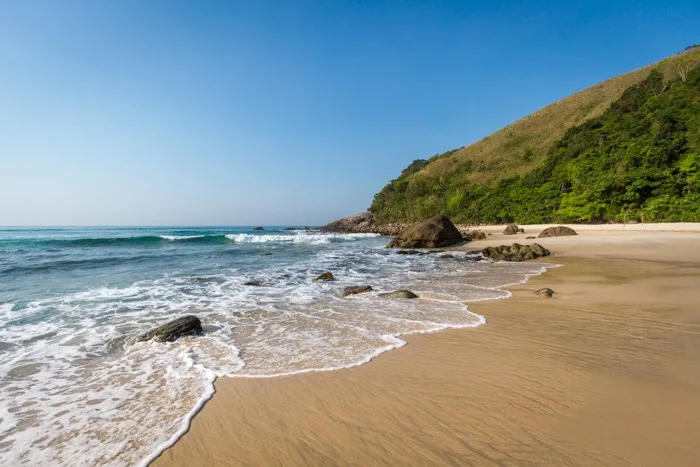 Famous with massive waves, Maresias gained even more prominence after revealing the surfing talent Gabriel Medina, a two-time world surfing champion.
Maresias Beach is where several surfing championships and circuits take place. The right end of the beach, Canto do Moreia, offers excellent conditions for brilliant maneuvers.
Anyone who wants to invest in surfing can rent boards at stores in the region and even try some classes at local schools, including Gabriel Medina's surfing school.
Beyond being a good surfing spot, Maresias Beach is also ideal for swimming and sunbathing.
The long strip of sand, excellent infrastructure, and lively nightlife make Maresias a complete destination for vacation in Brazil.
Castelhanos Beach, Ilhabela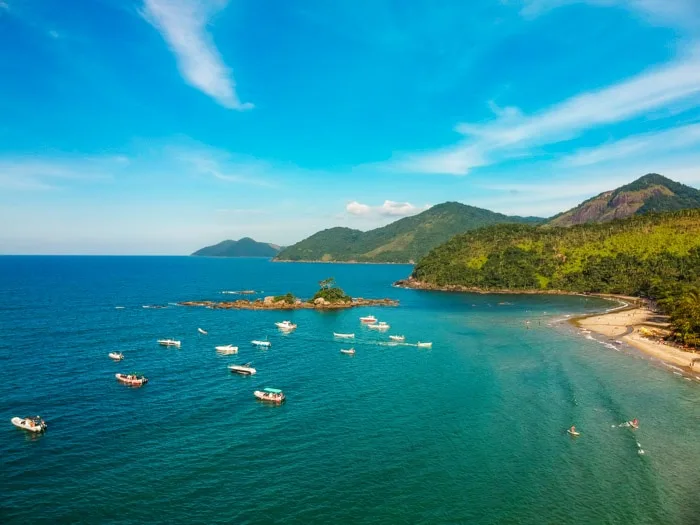 Castelhanos is not only considered one of the most beautiful beaches in São Paulo but also in Brazil.
It has a long sandy stretch separating the turquoise water from a nearly untouched forest.
The only indications of civilization in this area are a couple of small family-owned kiosks that serve refreshments.
Beyond that, trails beginning at Castelhanos lead to nearby beaches as well as to a waterfall.
To get to this isolated beach, you must first drive through a 22km dirt road where only a certain number of 4×4 vehicles, motorcycles, or bicycles are allowed every day.
However, local travel agencies also take tourists to this heart-shaped beach at an affordable price!
Juquehy Beach, São Sebastião
When it comes to popularity, Juquehy Beach – or Juqueí – and Maresias Beach are even.
Surrounded by elegant inns, always busy, and full of restaurants and kiosks, Juquehy is an ideal destination for tourists who like to be in a lively place.
Unlike Maresias, Juquehy's commerce is not as developed, and the region looks more like a residential area full of apartment buildings.
For this reason, Juquehy is usually more laidback. The center of this beach is always the busiest area, but you just need to walk to its extremes to find emptier spots.
The sea at Praia de Juquehy is usually quite tranquil, ideal for families with children.
For those who prefer a little more waves and, who knows, would consider going surfing, the right end of the beach is the place to be.
Praia Vermelha do Centro, Ubatuba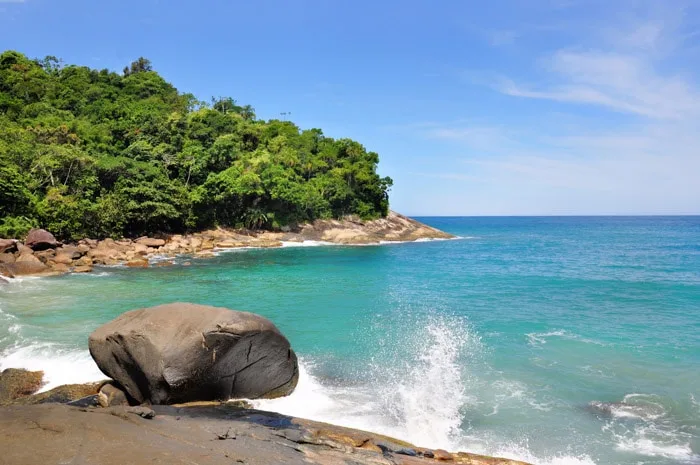 Praia Vermelha do Centro is an excellent option for those who are staying in the central region of Ubatuba and do not want to travel around a lot.
This beach especially pleases tourists who seek to combine practicality with a beautiful look.
With good waves for surfing, Praia Vermelha do Sul is the hotspot for young people and athletes.
The place is known among the locals for receiving the party-goers who want to finish the night with a beautiful sunrise. Also, it's a famous luau spot in high season.
If you are looking for a lively but not crowded beach, Praia Vermelha do Centro is right for you.
Mind you, it is worth mentioning that this beach has a steep drop off and strong waves, making this place not suitable for children and those who can't swim.
Portinho Beach, Ilhabela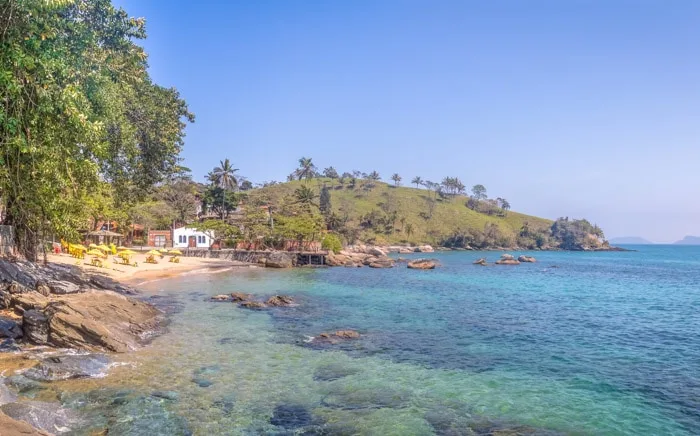 Portinho is a charming beach in Ilhabela, which is part of the Ilha das Cabras Submarine Ecological Sanctuary.
Obviously, fishing, hunting, and collecting marine animals is absolutely prohibited due to the preservation of the sanctuary.
But because the water visibility goes up to 10m, Portinho is ideal for diving and spotting wild animals.
Size-wise, Portinho is tiny. This beach is only 60m long and has only a few parking spots and kiosks selling refreshments and snacks.
Order a caipirinha and sip it while taking in the view – this is by far one of the best things to do in Brazil!
Still, it is a beautiful and pleasant place to enjoy the Brazilian summer outdoors.
Jureia Beach, São Sebastião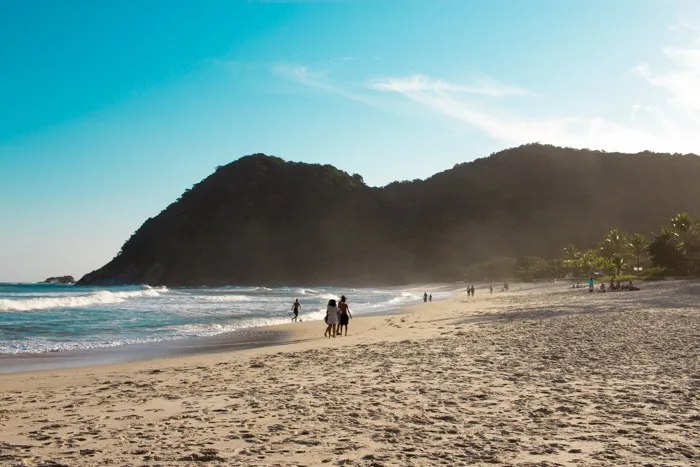 Praia da Jureia is a gem for those who enjoy beaches surrounded only by nature.
Despite having some summer houses here and there, Jureia remains almost untouched.
Protected on both ends by hills covered by the Atlantic Forest, Jureia Beach is ideal for those seeking peace and tranquility amid the bustle of São Sebastião.
Beyond that, this beach has a soft white sand stretch backed by coconut and almond trees. The sea, although rough, allows bathing and swimming without significant risk.
Mind you, there are no restaurants or bars here—just a few stalls serving refreshments and snacks.
Praia das Couves, Ubatuba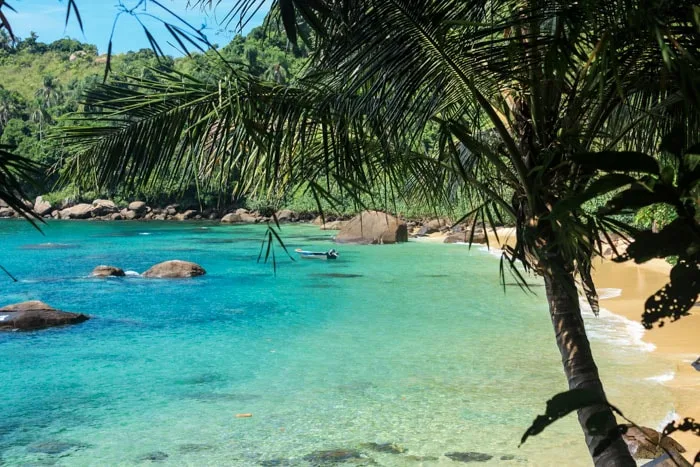 Couves Beach is located at Ilha das Couves, a tiny island just off the coast of Ubatuba City.
After a short 15-minute boat trip departing from Picinguaba Beach, you arrive in Fora Beach. It's a beautiful spot on the island, but still not your final destination.
Go on a 5-minute hike trail to Couves Beach, which is larger and prettier.
The blue-greenish water surrounded by massive trees is a landscape to remember!
Mind you, Ilha das Couves only has two beaches, meaning it can get crowded on weekends and holidays.
If you want to go on a road trip around this region, know that Paraty, the southernmost city with beautiful colonial architecture, is less than an hour away!
Packing tips for your trip to São Paulo
Here are some of my favorite items that you should consider packing for your trip to São Paulo! These are the essential travel items that I use and love.
A concealed travel pouch may be one of the most important items you bring with you.
This RFID blocking concealed travel pouch is lightweight and comes in a couple of neutral colors.
Besides, it has lots of organization to give you peace of mind. You can keep your most important documents safe and secure next to your body.
If you have a pouch already, you may not want to invest in a new one. However, if yours doesn't come with the RFID protection, these RFID sleeves would be handy to prevent identity theft.
This configuration comes with enough credit card/passport sleeves, perfect for those traveling with their family. They are slim, too, so they will easily fit into your current wallet or pouch.
These are the ones my family uses not only when traveling but at home as well.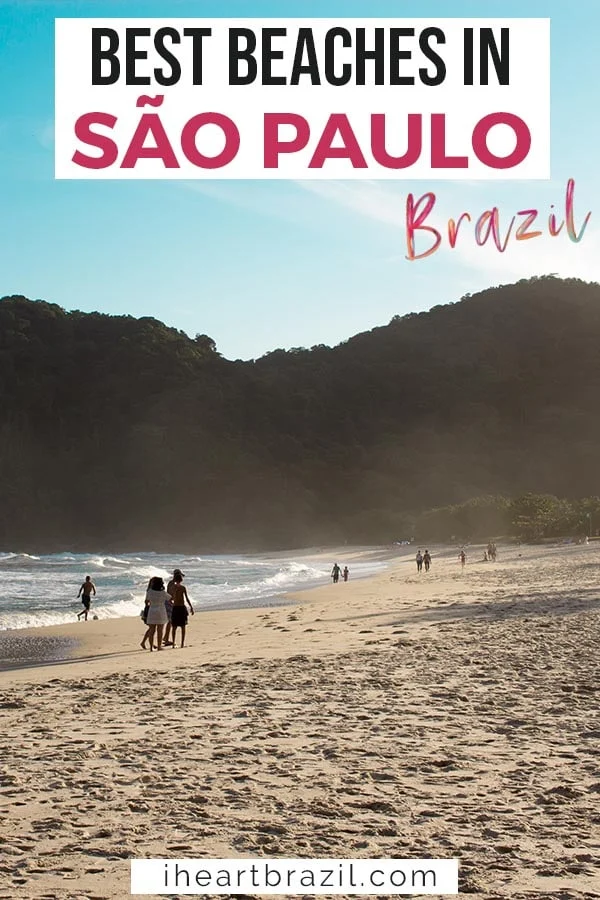 If you have a camera on your packing list, you need to add additional memory cards to your list as well.
Unless you are packing a computer for your trip, you will not be able to upload photos and clear your existing memory card.
Purchasing additional memory cards cost under $20 and take up no space in your luggage. Having a backup can have the potential to save you a lot of heartache if something goes awry!
There is nothing worse than coming across that perfect moment and then finding out you don't have enough space to capture it on your camera!
Similarly, if you plan to capture your trip on a smartphone, I beg you to bring some way back up your memories. The best way to do this is with a portable smartphone flash drive.
A flash drive is a small storage device that you can connect to your smartphone and then safely and efficiently download photos onto this device.
If you are planning on taking lots of pictures with your phone, you will want to consider an external charging battery.
This high-speed phone charging battery is the exact one I carry with me on my trips – and it can be used for a variety of smartphones.
One of the things I like the most about it is that its charging capabilities hold up for several uses, so I do not have to worry about it while out and about. And if I forget to recharge it at night, it will still be good to go the next day.
Also, I never leave home on a trip without my reusable bottle. The 16-ounce size is ideal for travel, and it will fit nicely in the backpack's or purse's pocket.
Also, it is not too heavy to carry when filled with water. And the insulated material keeps your drink cold (or warm) for hours and hours!
Maybe you are traveling a long distance, and packing space is a premium. Then this foldable water bottle would work well for you without taking up much space in your suitcase – and it comes in a set of two.
Beyond that, you will want to bring a backpack or daypack with you to store snacks, water bottles, extra clothes, repellent, etc.
This practical backpack would be great. It is very affordable and is available in several colors for you to choose from.
Because it folds down into a zippered pouch, it makes it much easier to pack.
Maybe you need a more sturdy backpack for your international travel.
This antitheft backpack has a charging port, is water-resistant, and can comfortably carry up to a laptop. It comes with a security-coded lock, and it is inexpensive as well.
Oh, and don't forget to bring along a universal power adapter if you are traveling abroad.
This universal travel adapter will charge your phone at the end of a busy day – Brazil has different plugs than the USA and Canada.
Map of São Paulo beaches
There are so many beautiful beaches in São Paulo that it might be hard to keep track. To help you find your way through the coast, I put together this handy map for your use.
Feel free to download it on your smartphone and use it in the Google Maps app. Also, keep in mind you can save it so that you can see the map even when you have no WiFi.
Use this map of the São Paulo beaches to see where they are all located and which ones are nearby where you are currently at.
Who knows, you may get to see multiple in one day as they are closer together than you may think!
Click here to download the map.
Did you like this article about the best beaches in São Paulo? Then help me spread the word and share it with a friend who might like it too!