This strawberry caipirinha cocktail is the perfect drink when having friends over on a hot summer day!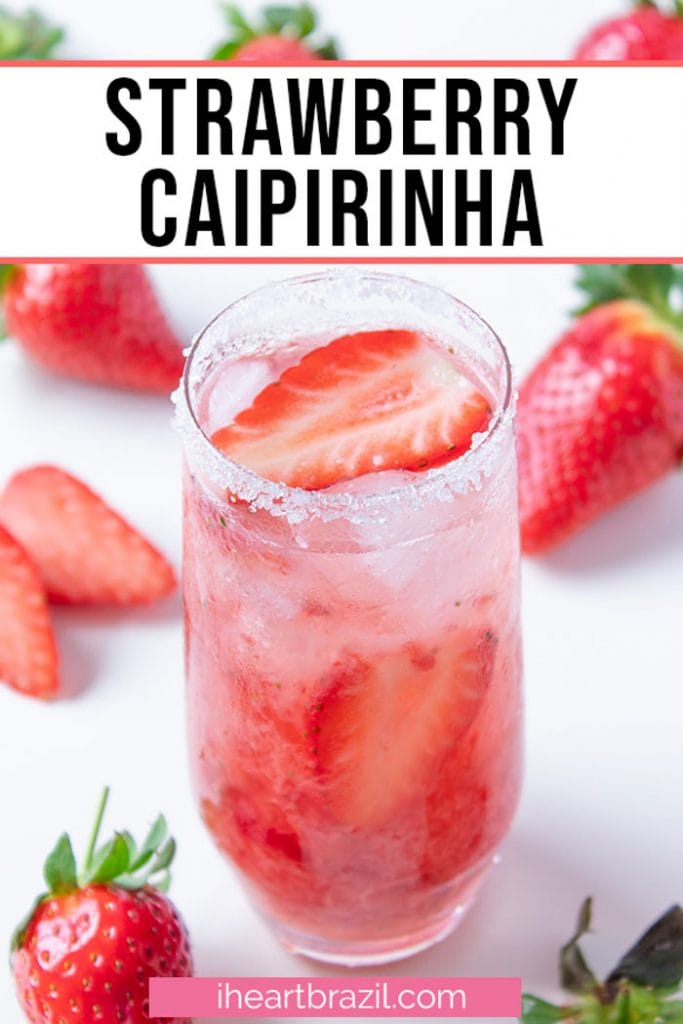 You can call the caipirinha the national drink of Brazil. It is traditionally made with lime, but did you know it also tastes great with strawberry?
Well, I do. At least, as a Brazilian, I should know it!
That's why I want to share this strawberry caipirinha recipe with you. If you're a fan of strawberry drinks, this cocktail is right up your alley!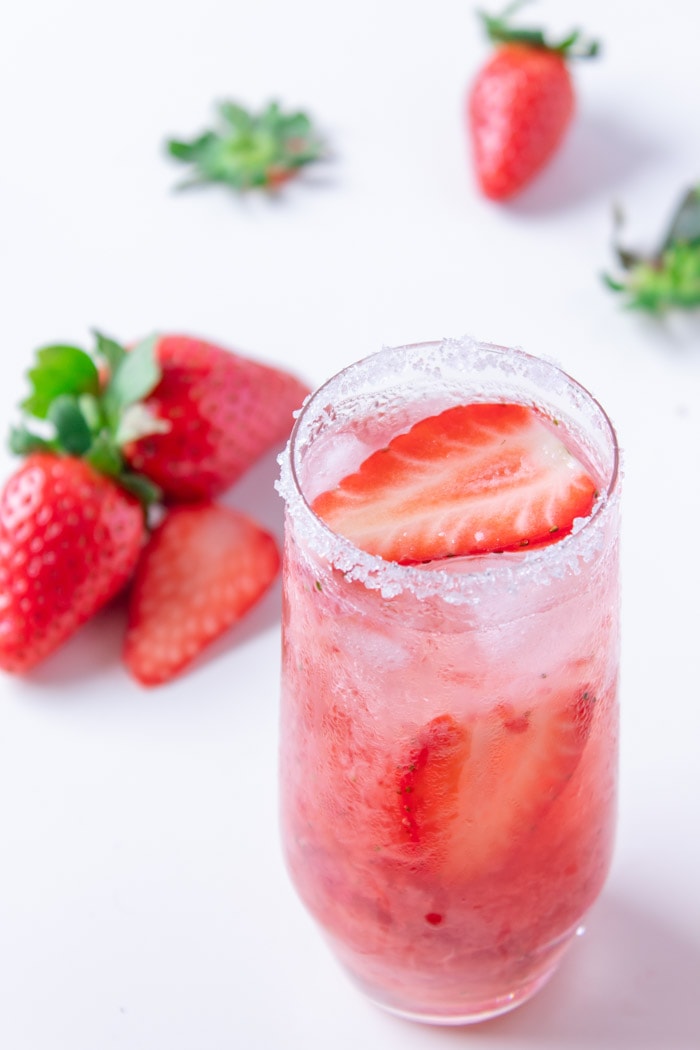 FAQ about strawberry caipirinha
Is strawberry caipirinha a strong drink?
It is pretty strong because it has cachaça in it. Cachaça is distilled between 38% and 48% ABV.
Even though it is quite strong, this strawberry drink doesn't taste very strong, so take care ;-).
Alternatively, you could try my caipirinha coffee recipe as it is slightly less strong than this one, or this somewhat creamy Brazilian coffee cocktail.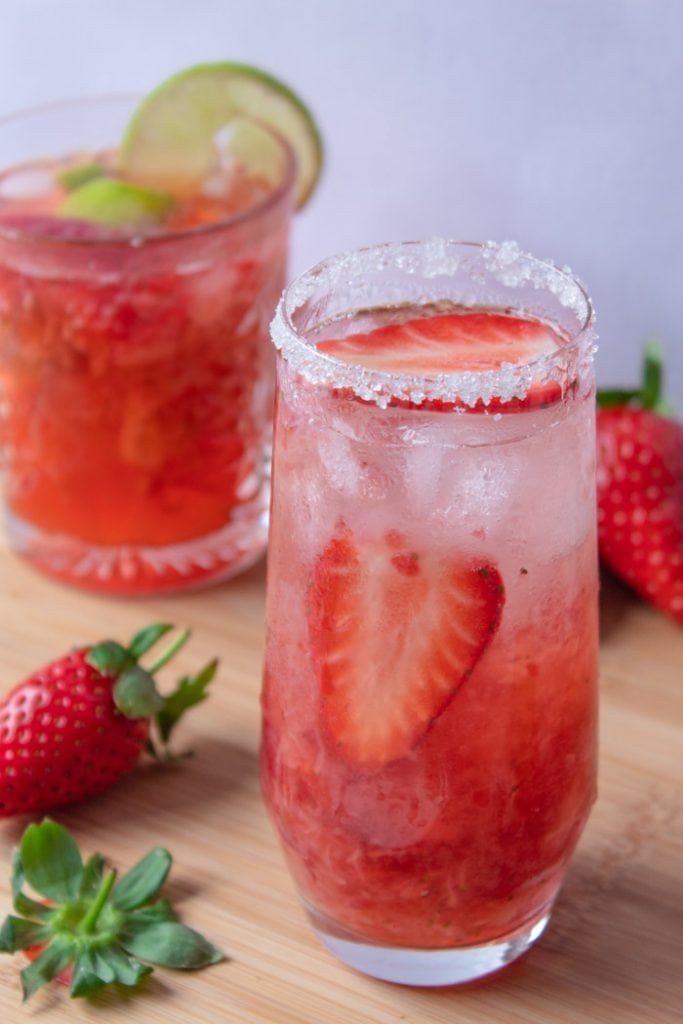 Can it be made with any spirit other than cachaça?
Caipirinha variations are always made with cachaça, and variations with fruits are called caipifruta.
If you would like to replace cachaça with, for example, vodka, it is another Brazilian cocktail called caipiroska.
But we also have a less strong version of caipirinha, which is made with sake. It is called caipisake.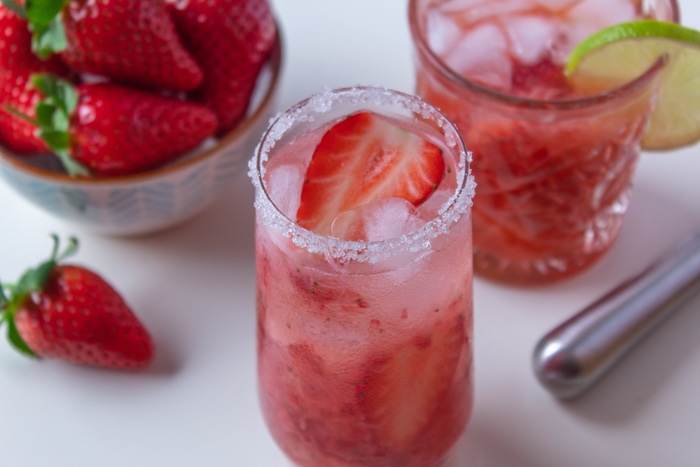 Tips for the perfect strawberry caipirinha
It is best to use superfine sugar because its crystals are so small they easily dissolve in your drink.
Save one strawberry to decorate glass
Put your cocktail glasses in the fridge for a while before making your cocktails. This way, they stay nice and cold for longer.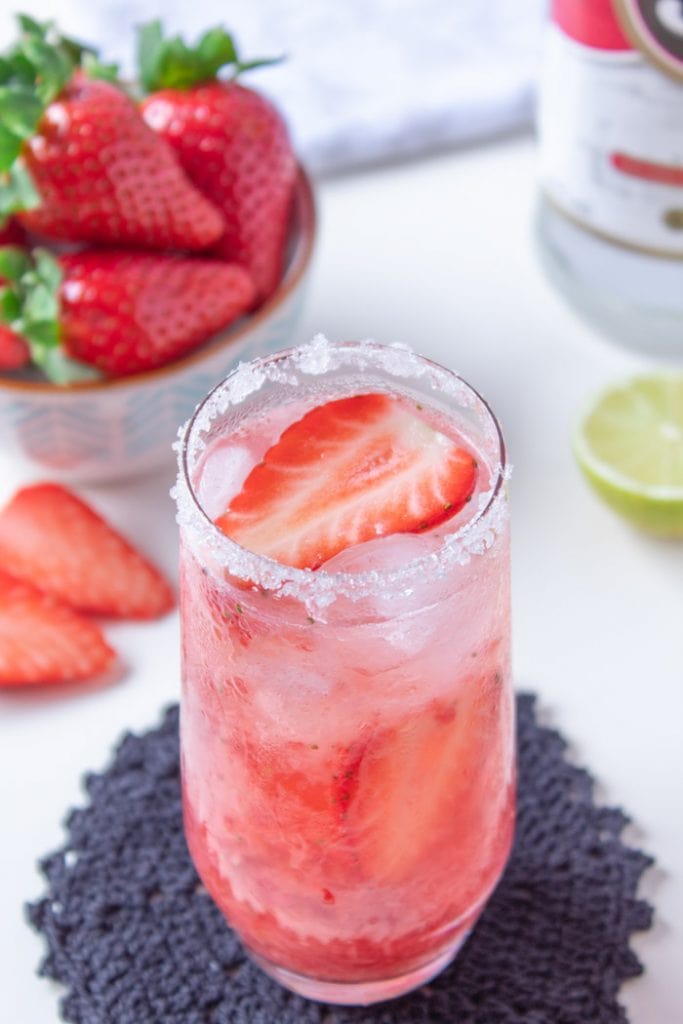 Strawberry caipirinha ingredients
Now, let's see what you'll need to prepare these divine strawberry cocktails. You basically need four simple ingredients, being:
Cachaça: This is a strong Brazilian liquor made from fermented sugarcane juice. You could compare it to white rum. If you like this cocktail, you might also like these other cachaça drink recipes.
Strawberries: For a sweet and nectarous drink, use ripe strawberries.
Sugar: We usually prepare this drink with superfine sugar such as caster sugar.
Ice cubes or crushed ice: Cubes are fine, but the look of crushed ice gives a nice touch to your strawberry cocktail.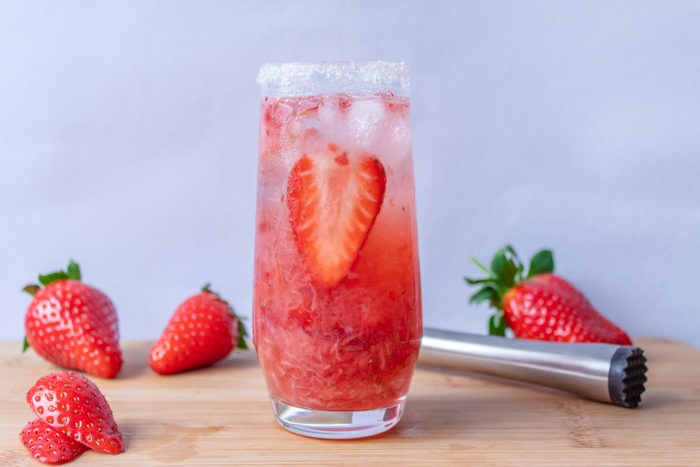 How to make a strawberry caipirinha
Great, now that you know the ingredients of our delicious cocktail, it's time to make one.
First, wash the strawberries and remove the stem. Depending on the size of your strawberries, it might be handy to cut them in half before muddling. Save one beautiful strawberry for decorating the glass.
Add the sugar to the cocktail shaker and add the strawberries one by one and muddle them until the whole has a pulpy texture.
Don't worry if there are still some bigger pieces of strawberry left: it looks nice, and you can just eat them after you've finished your drink.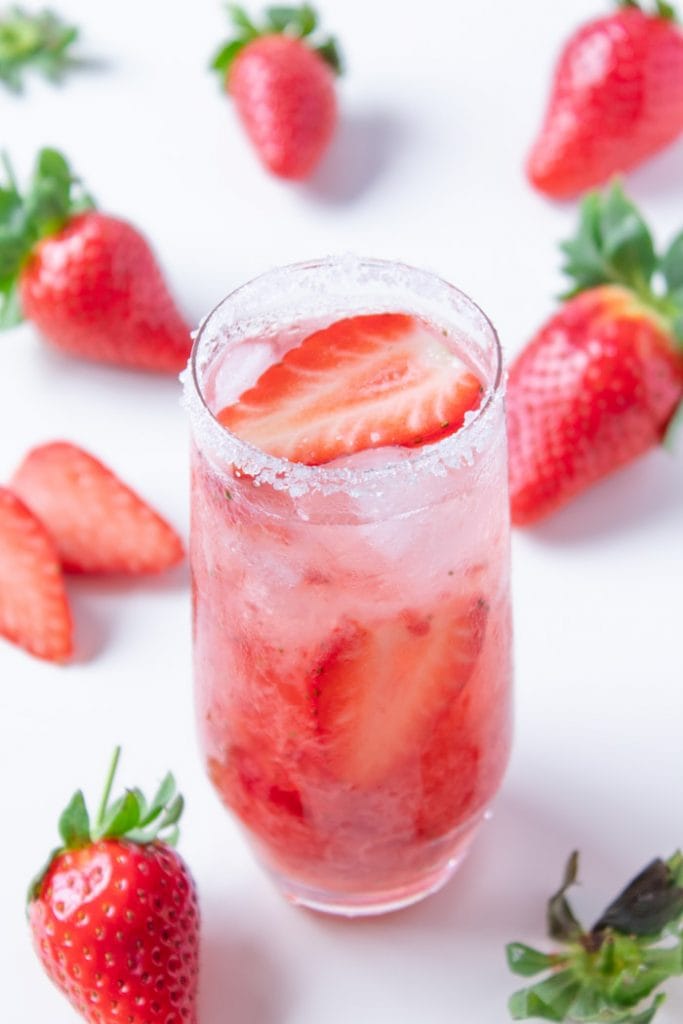 Now add the ice and cachaça to the cocktail shaker and put the lid on the cocktail shaker. Here comes the fun part!
Shake the cup until your drink has mixed well.
If you do not own a cocktail shaker, no worries! Simply muddle the sugar and strawberries in a glass and add the cachaça. Stir it well and add the ice to finish it off.
Finally, pour the drink into a highball glass or tumbler glass and decorate it with the strawberry you kept aside.
Enjoy your drink! Or as we say in Brazil: saúde!
Did you like this strawberry caipirinha recipe? Then save it to your Pinterest board or share it with a friend who might like it too.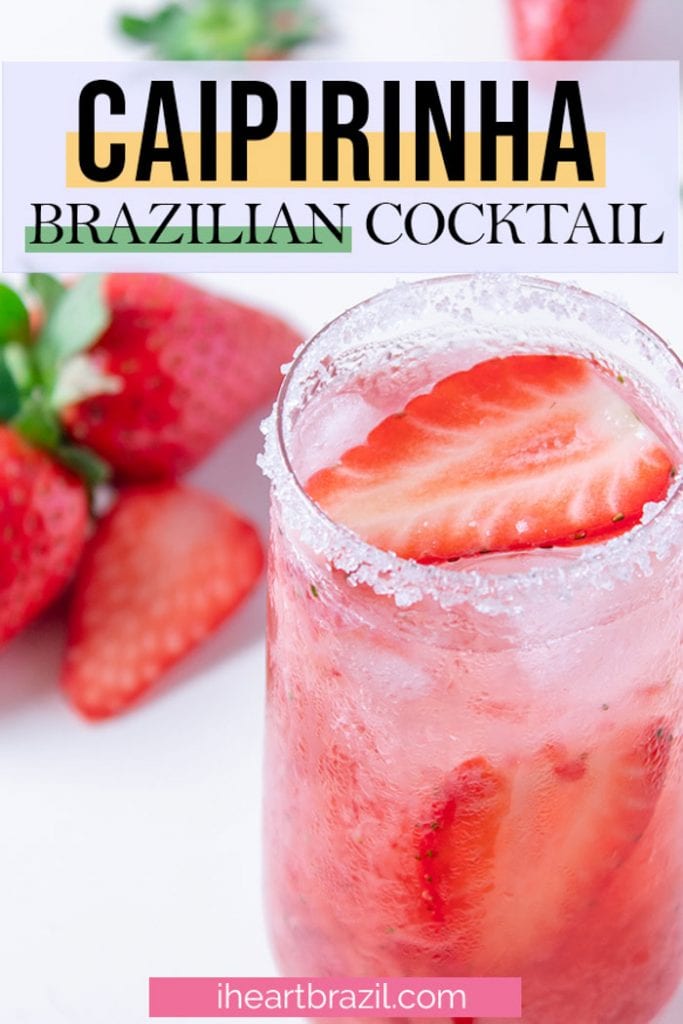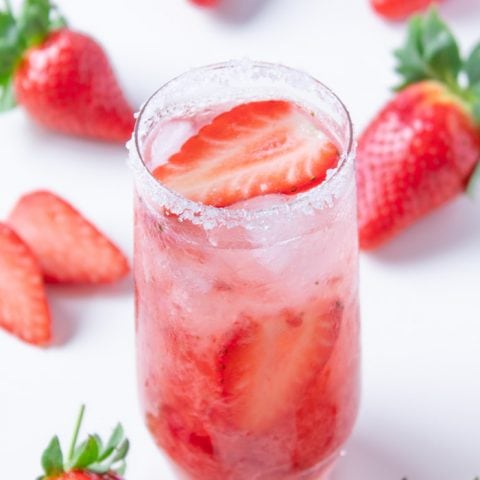 Strawberry Caipirinha
This strawberry caipirinha cocktail is the perfect drink when having friends over on a hot summer day or during holidays!
Ingredients
4.6 ounces (130 grams) strawberries
3 fluid ounces (90 milliliters) cachaça
1 tablespoon sugar
A handful of ice cubes or crushed ice
Instructions
Wash the strawberries and remove the stem. If the fruits are big, cut them in half.
Put the strawberries in the cocktail shaker and add the sugar.
Muddle until the mixture has a pulpy texture. Don't worry if there are still some pieces of strawberry in your glass: you can always eat them once you've finished your drink!
Add the ice and cachaça.
Put the lid on the cocktail shaker and shake it.
Pour the drink into a glass.
Enjoy, or as we say in Portuguese, saúde!
Recommended Products
Nutrition Information:
Yield:

1
Serving Size:

1
Amount Per Serving:
Calories:

90
Total Fat:

0g
Saturated Fat:

0g
Trans Fat:

0g
Unsaturated Fat:

0g
Cholesterol:

0mg
Sodium:

2mg
Carbohydrates:

23g
Fiber:

3g
Sugar:

19g
Protein:

1g
Don't forget about travel insurance!
Before you leave for Brazil, make sure you have a valid travel insurance policy because accidents happen on the road. I have been paying for Safety Wing travel insurance for a little over a year now, and I happily recommend them to my family and friends.
If you get sick, injured, or have your stuff stolen, you'll be happy to have the ability to pay for your medical bills or replace what was stolen.
Because, for just a couple of dollars a day (depending on how long your policy is for), you're going to get lots of things covered. Be smart and get travel insurance.