Looking for the best hotels in Curitiba? You're in the right place as I'll talk about top-rated hotels in the city.
So, you're visiting Curitiba, Paraná, and need a good place to stay but have no idea where to start. I get that!
It can be pretty overwhelming to look for accommodation in a faraway city where you have never been before. But, you're in luck, dear reader!
Yes, that's right. In today's article, I'll list the best Curitiba hotels sprinkled throughout the city.
Beyond that, I wanted to make sure this hotel guide would be helpful to you, so I handpicked only top-rated hotels in Curitiba that are close to famous attractions, airports, or bus and subway stations. Let's get to them!
Summary of the best Curitiba hotels
Best hotels in Curitiba
3-star hotels in Curitiba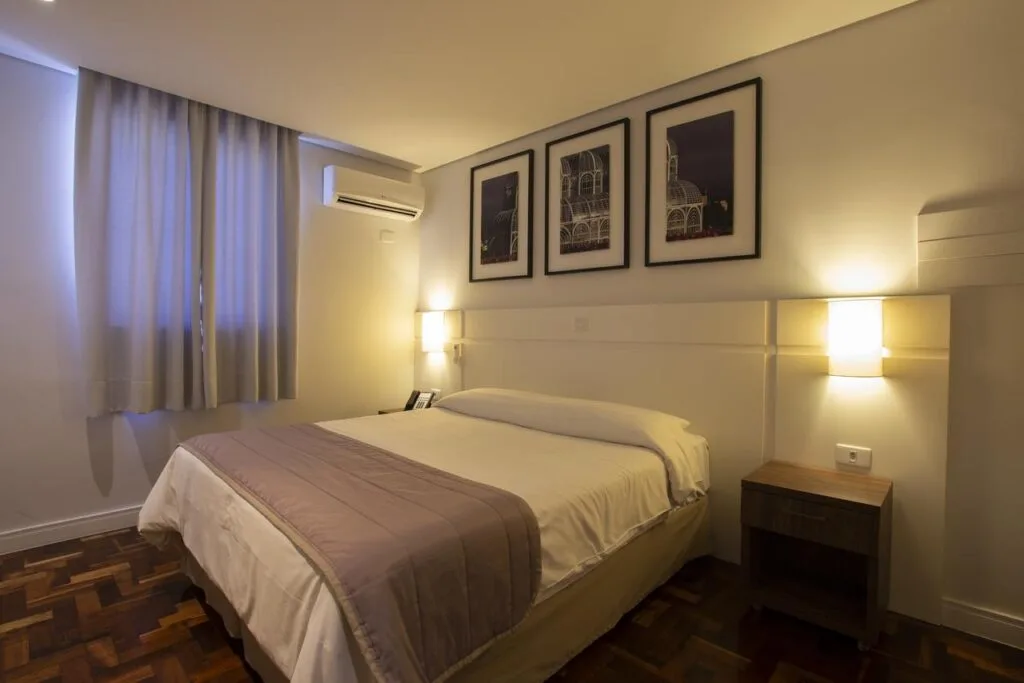 This hotel in Curitiba is located in the city center, close to various main attractions and landmarks. Namely, the Hotel Centro Europeu sits in front of the Osorio Plaza and has many shops and bars within walking distance.
The rooms are clean, with a flat-screen TV, minibar, and free WiFi.
They also include a complimentary breakfast with your stay, making it a decent hotel room for the price. The staff is amicable and eager to help arrange trips and activities for you, so you should take full advantage of a local's advice!
Click here to check availability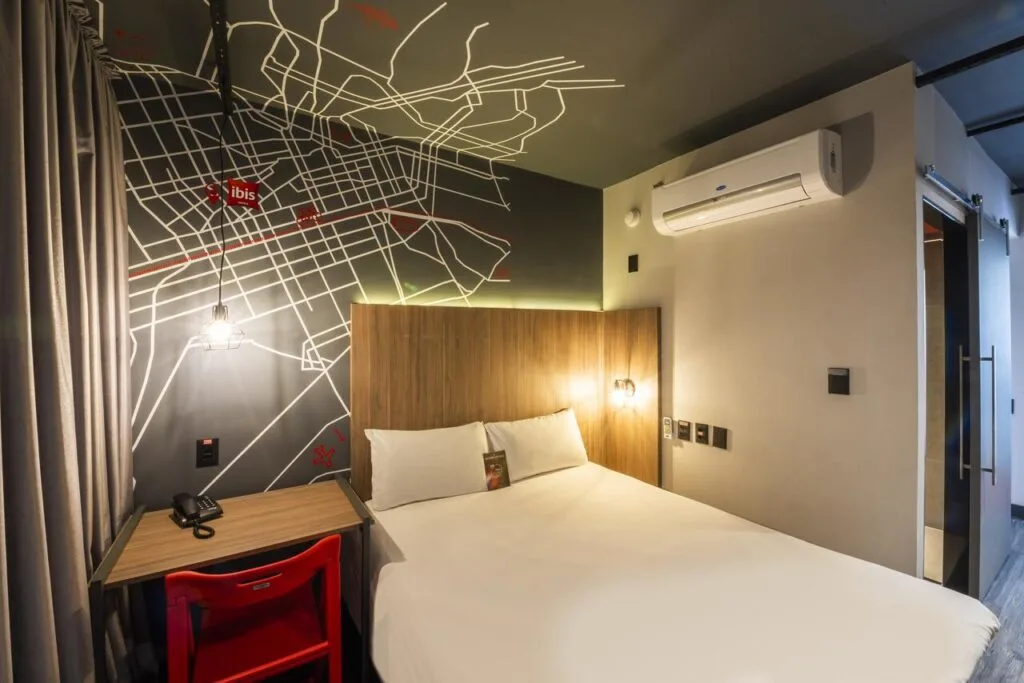 Located in the Batel District, the Ibis Curitiba is near all the best bars and restaurants in the entire city. If you want to stay in the center of everything, this is the hotel for you.
It's less than 10 miles from the airport and close to the Crystal and Novo Batel shopping centers. The building itself is historic and dates back to 1880, adding to its charm.
They offer air-conditioned rooms with free WiFi and a good breakfast buffet. With friendly staff, public covered parking, and a bar and restaurant inside, this hotel is an excellent value for its price.
Click here to check availability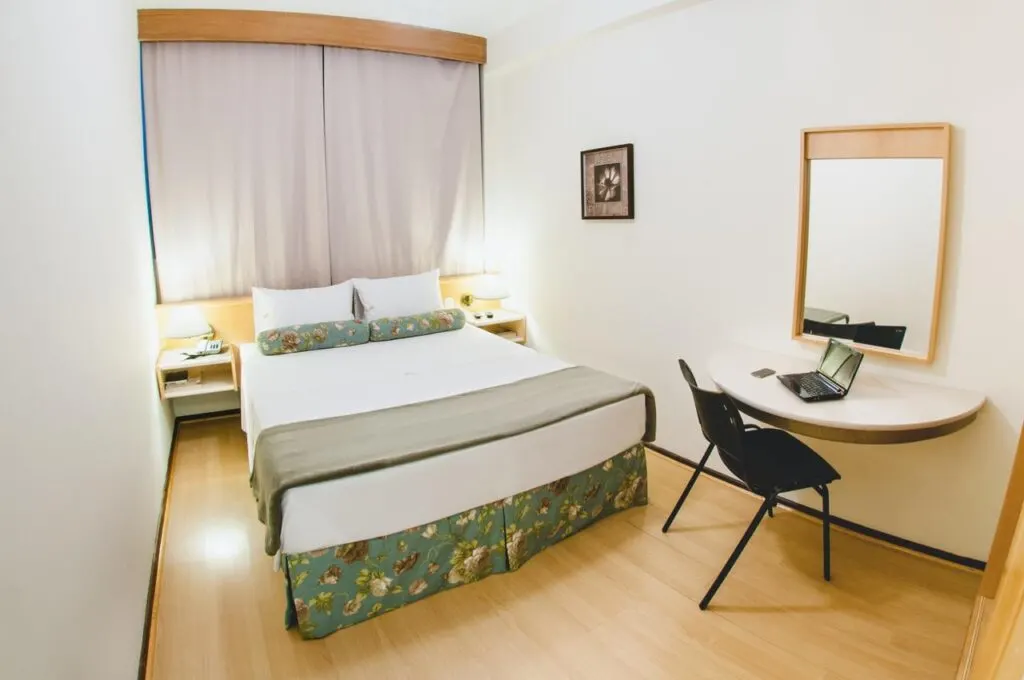 This family-friendly Curitiba hotel is close to many different attractions. You can visit popular tourist spots like the Japanese Gardens, Metropolitan Cathedral, or UFPR–Federal University since they are just a mile away.
There are also many Asian restaurants like Taj Bar and Lagundri, which are local favorites.
The Hotel Aladdin offers air conditioning, a minibar in every room, free WiFi, a 24-hour front desk, room service, complimentary breakfast, and paid private parking onsite. It's close to the bus station and popular with taxis so you can get around the city very quickly.
Click here to check availability
4-star hotels in Curitiba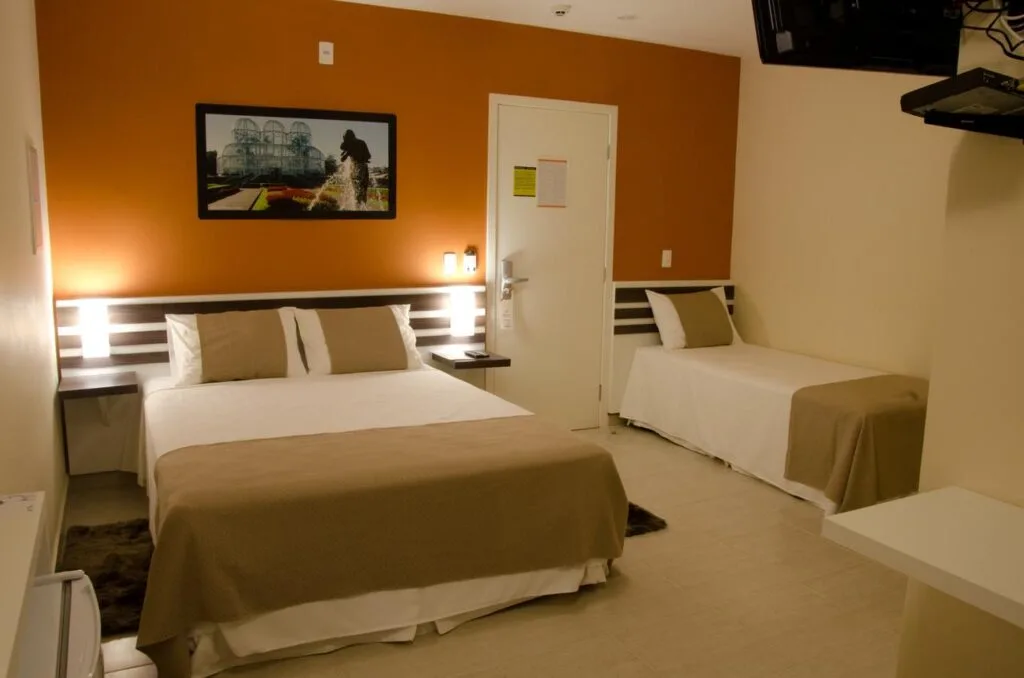 This accommodation in Curitiba is top-rated among travelers as it offers various amenities and a great family-friendly setting, all for a fair price.
It is 2.2 miles away from the Curitiba landmark Santuário Nossa Senhora do Carmo, within walking distance of beautiful parks like Parque Barigui and Parque São Lourenço, and not far from the airport.
There are even well-known restaurants like Cantinho da Picanha and Costelão Gaúcho just outside this incredible hotel.
Every room features a flat-screen TV, air conditioning, minibar, and free WiFi. The hotel also provides a 24-hour front desk, room service, complimentary breakfast, fitness center, and free parking for you to enjoy.
Click here to check availability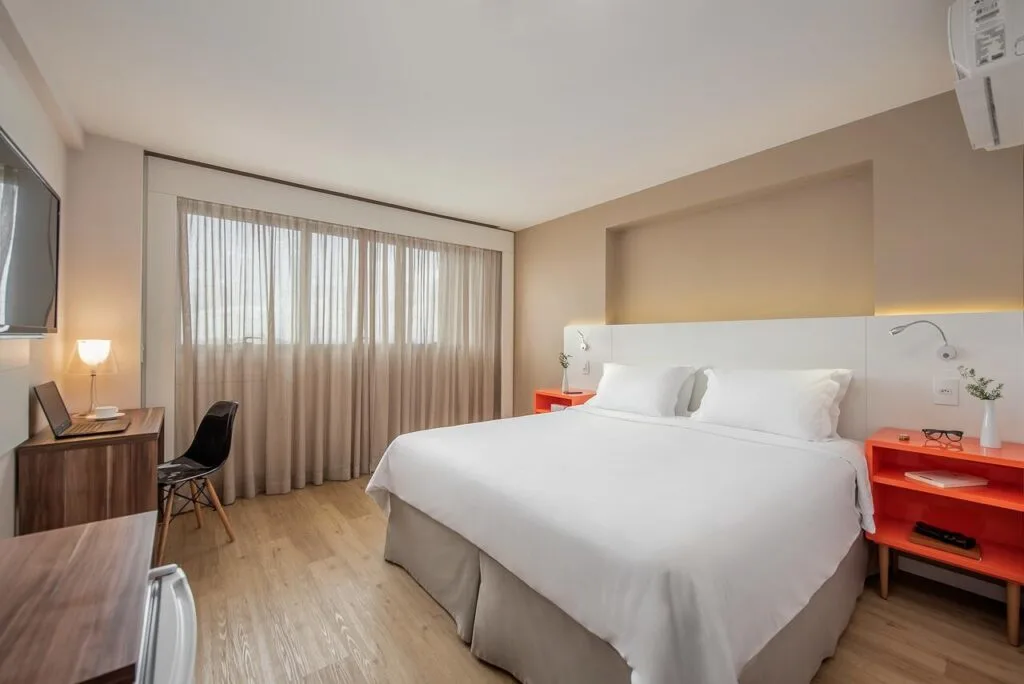 Less than a mile from the UFPR–Federal University and only 1.1 miles from the Metropolitan Cathedral, this hotel in Curitiba offers one of the best locations for your stay.
You can enjoy the Oscar Niemeyer Museum, Curitiba's Holocaust Museum, and Marumi State Park, all less than a mile walk away!
The Intercity Curitiba Centro Cívico is brand new, so you'll get to experience a modern room with premium bedding and beautiful decor.
Every room has air conditioning, a minibar, and free WiFi. You'll also get complimentary breakfast with your stay and private parking. Try one of the popular local seafood restaurants like Coco Bambu Curitiba or Iberico Restaurante while you're there!
Click here to check availability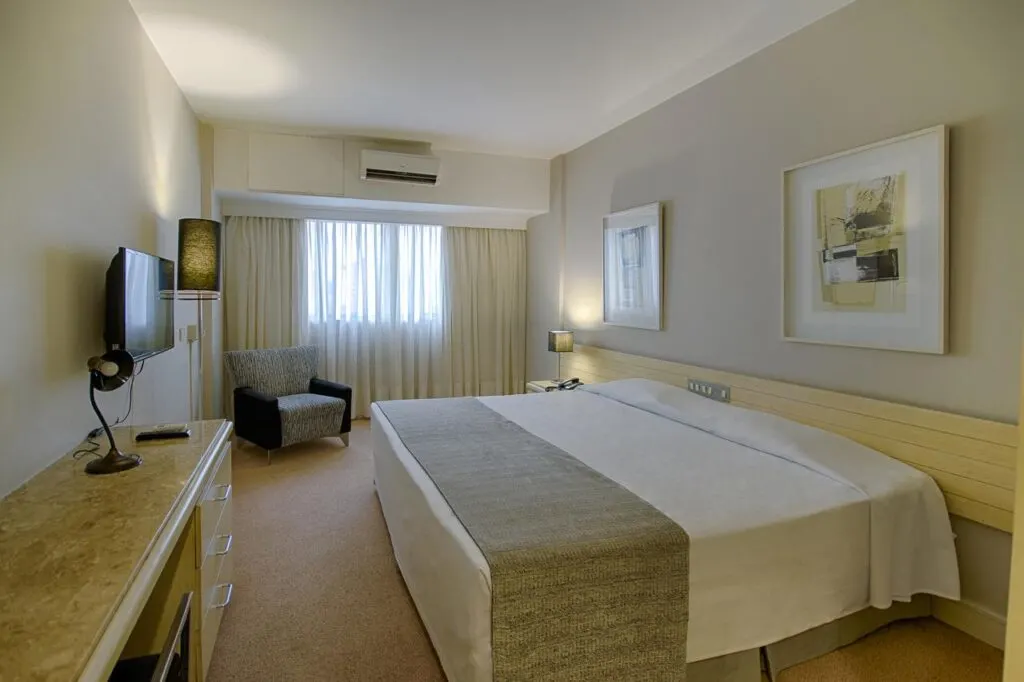 If you want a relaxing trip, consider staying at Victoria Villa. The staff are friendly and even provide concierge services to help you plan out your day.
You'll get a flat-screen TV, air conditioning, refrigerator, free WiFi, and complimentary breakfast. It's also one of the few hotels in Curitiba that has a pool!
The Japanese Garden, Bosque de Portugal, and UFPR–Federal University are all within walking distance. The hotel even serves a complete lunch buffet. However, the locals recommend Indian restaurants like Annapurna Inn and Swadisht, which are just outside.
Click here to check availability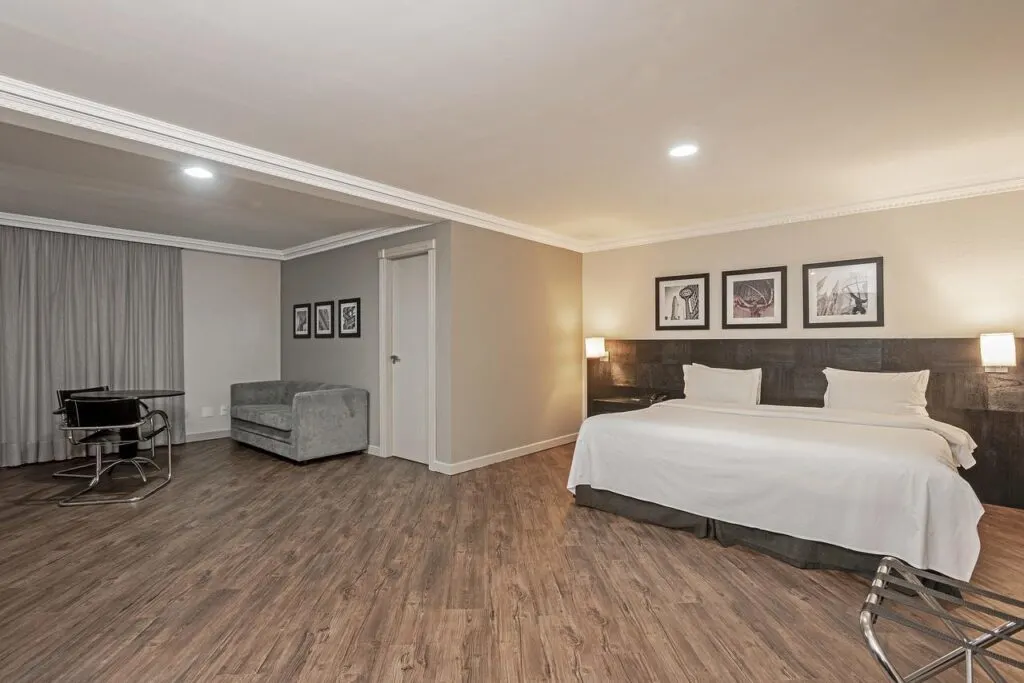 This is one of the best hotels in Curitiba, with its New York-inspired conceptual art and cosmopolitan style.
Located next to the Estação shopping mall and Curitiba bus station, you can access everything the city has to offer. The airport executive buses even stop near the hotel, so it's very convenient to travel around.
Rockefeller's rooms are beautifully decorated, with an in-room safe, flat-screen TV, and minibar. Not only that, but you'll also get a complimentary breakfast buffet with your stay and assistance from English-speaking staff. The only downside to its central location might be the noise and traffic.
Click here to check availability
5-star hotels in Curitiba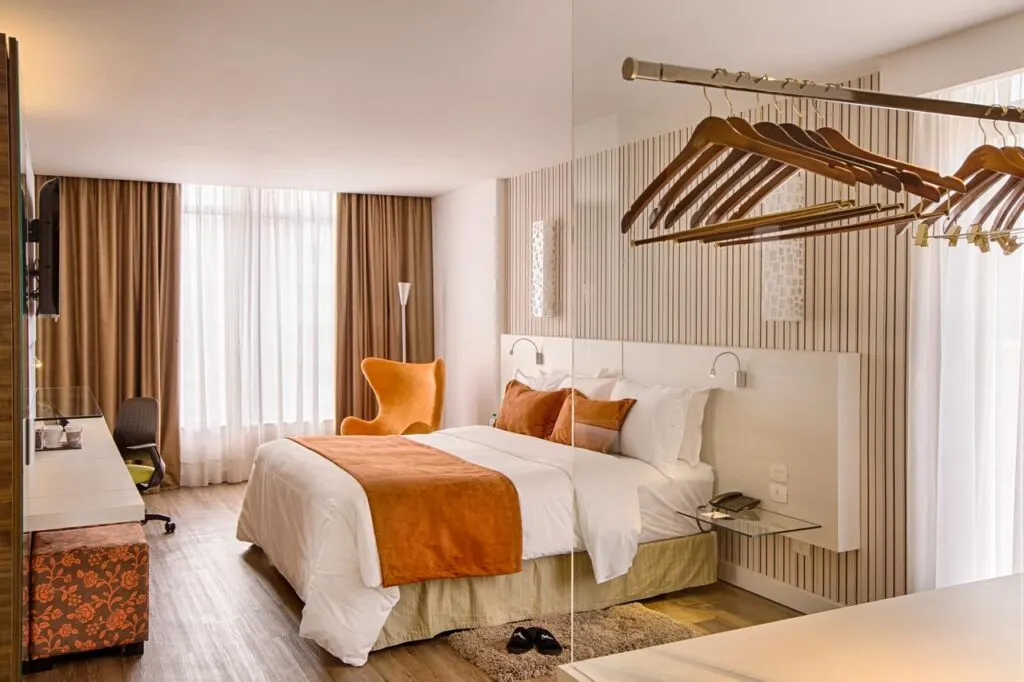 The Radisson Hotel was recently renovated, so you'll get to stay in a clean and modern room with wood floors.
The cost and benefits of this Curitiba hotel make it an incredible value. The beds are comfortable, the staff kind and helpful, and the views from the rooms are lovely.
It's also in a safe part of the city, so you won't feel as nervous walking around. There is a shopping mall, bus station, and fantastic restaurants all within walking distance.
Click here to check availability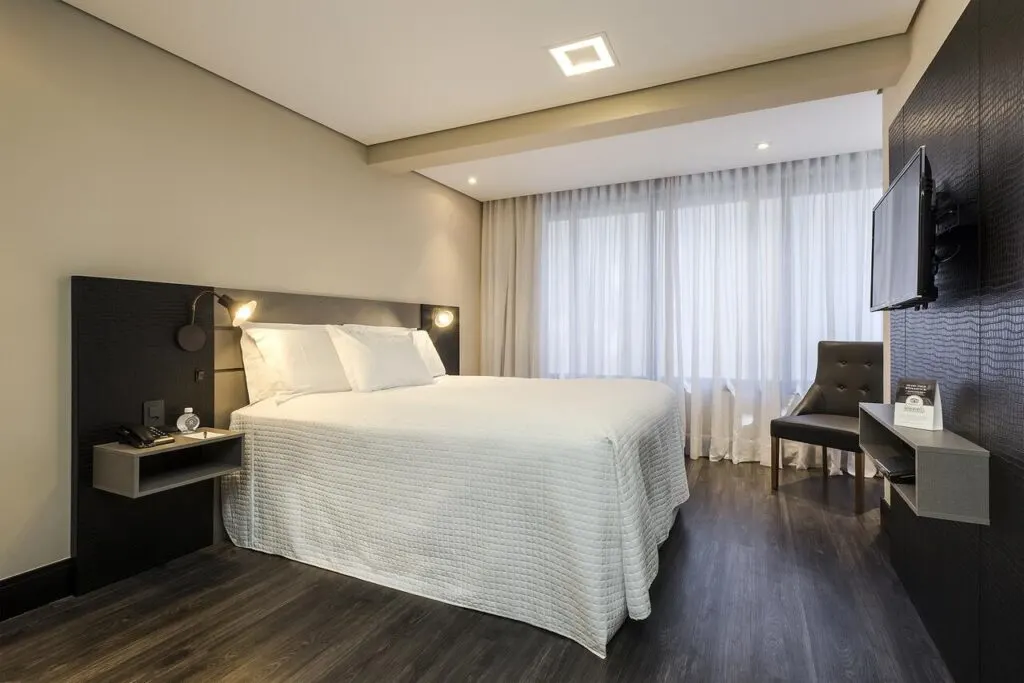 This luxury hotel in Curitiba is one of the most popular choices for travelers staying in the city and was recently renovated and modernized.
You'll get spacious accommodation with air conditioning, an LED tv, minibar, work desk, free WiFi and breakfast, and access to two restaurants, two bars, a spa, sauna, gym, and convention center–all in this high-end hotel.
Beyond that, you'll be staying in one of the best locations as it is central to nearly everything. The Contemporary Art Museum and the Rua XV de Novembro are only a six-minute walk away.
When you consider the amenities and fantastic location, their rooms are at a reasonably affordable price. Their Japanese restaurant is the best in the city and even employs a Michelin star chef!
Click here to check availability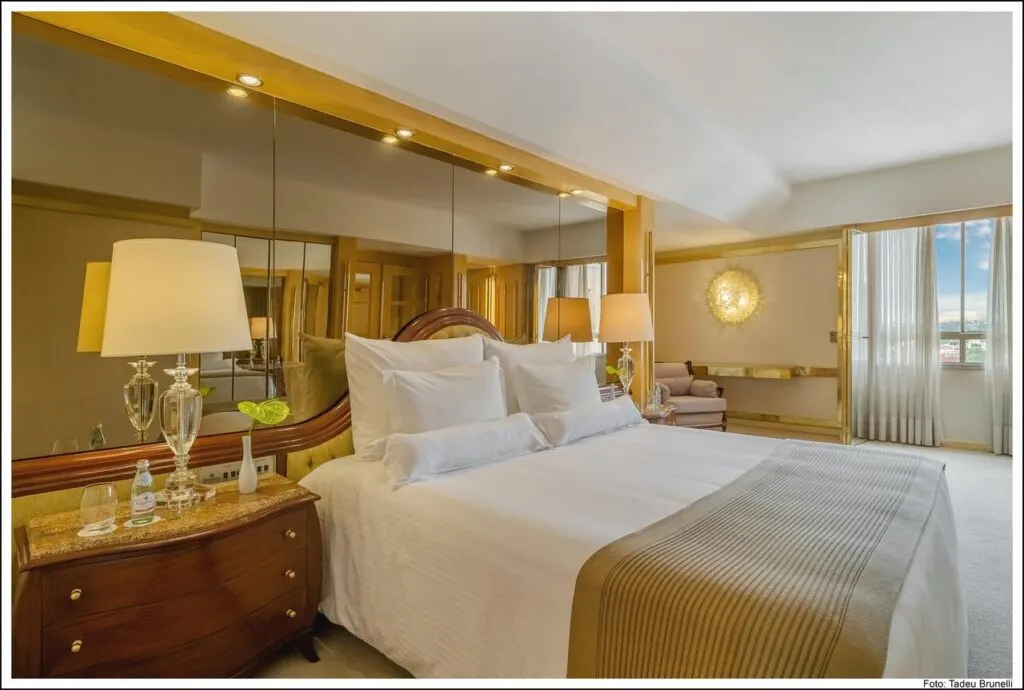 The Bourbon Hotel is one of the most traditional hotels in Curitiba, strategically located between the Downtown area and the Batel neighborhood.
It's located next to large convention centers with easy access to highways, shopping malls, popular tourist spots, and business and cultural centers. Beyond that, the hotel is just over 11 miles away from the Afonso Pena Airport, so you'll get to and from the city fairly quickly.
The bedrooms are clean and modern, with a complimentary breakfast buffet and valet for parking. If you don't want to eat at their two restaurants or the Japanese bar onsite, you can walk outside to try one of the city's best restaurants and pubs.
Click here to check availability
Brazil travel resources
You're traveling to my country–that's so exciting!
To help you plan a perfect trip to Brazil as a whole, I wrote a handful of practical guides. For instance, this budget breakdown where I show you in general lines how much a trip to Brazil costs as well as this packing list with must-have items.
I also covered the best things to do in Brazil as well as handpicked tours in the country, so you can get up close and personal with this culturally dynamic place.
But, if you want to see more of the country, check out the best places to visit in Brazil–this guide will give you lots of inspiration for landmarks, beaches, waterfalls, and tourist attractions you'll want to add to your itinerary!
That's it for today! I hope you enjoy your vacation and leave with the feeling that you need to book a trip back!
Did you enjoy this article about the best hotels in Curitiba? Then share it with a friend who might enjoy it too!