Although this Brazilian city is consistently praised worldwide for its abundant greenery, architecture, and cultural heritage, Curitiba isn't among the most visited places in the country. It's a shame because there are endless fun things to do in Curitiba, Brazil!
Curitiba is an important cultural, political, and economic center in Latin America. This innovative city has seen a higher economic growth rate in the last years than the national average, and it isn't planning to stop there.
From futuristic glass tube halls for bus stops to a massive green area per capita, Curitiba, Brazil, is a unique place to visit in the country, and you'll probably want to extend your stay.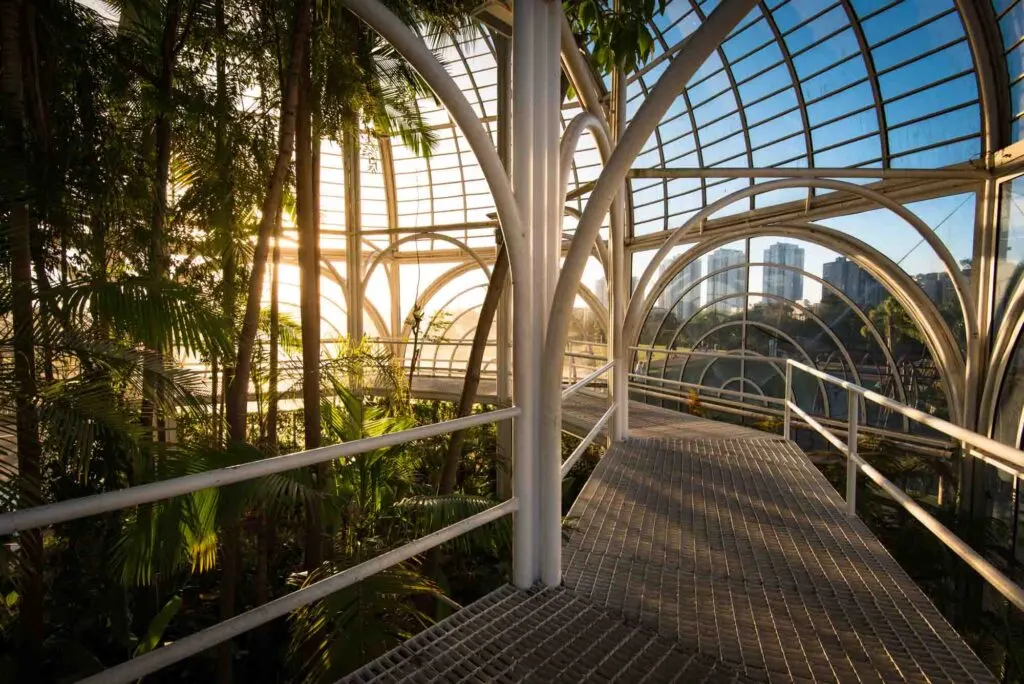 Visiting Curitiba, Brazil
To help you plan for your next trip, I've compiled a list of 17 different places to visit in Curitiba, all beloved by both tourists and locals alike. I'll share my favorite museums, parks, districts, and attractions with you and explain why they are a must-visit.
Instead of doing all the research and figuring out what to do in Curitiba by yourself, I provide you with detailed descriptions of the best attractions. So feel special, okay?
You'll get all the necessary information in one easy place to reference and use it to help plan your itinerary. So don't forget to bookmark this page!
If you are considering traveling to Curitiba, Brazil, or are curious about what the city has to offer, then continue reading to learn about my top 17 favorite things to do there!
Where to stay in Curitiba, Brazil
Here are two good options to stay in the heart of Curitiba. Since you'll most likely be walking your way around the city, you will want to stay in a well-located hotel. For more options, I wrote a complete guide about hotels in Curitiba.
Rockefeller by Slaviero
Located in the center, this hotel is close to many tourist attractions and has a shopping mall just across the street.
Radisson Hotel Curitiba

Exceptional stay


Great location (Batel District) near attractions, features an indoor pool and spacious rooms.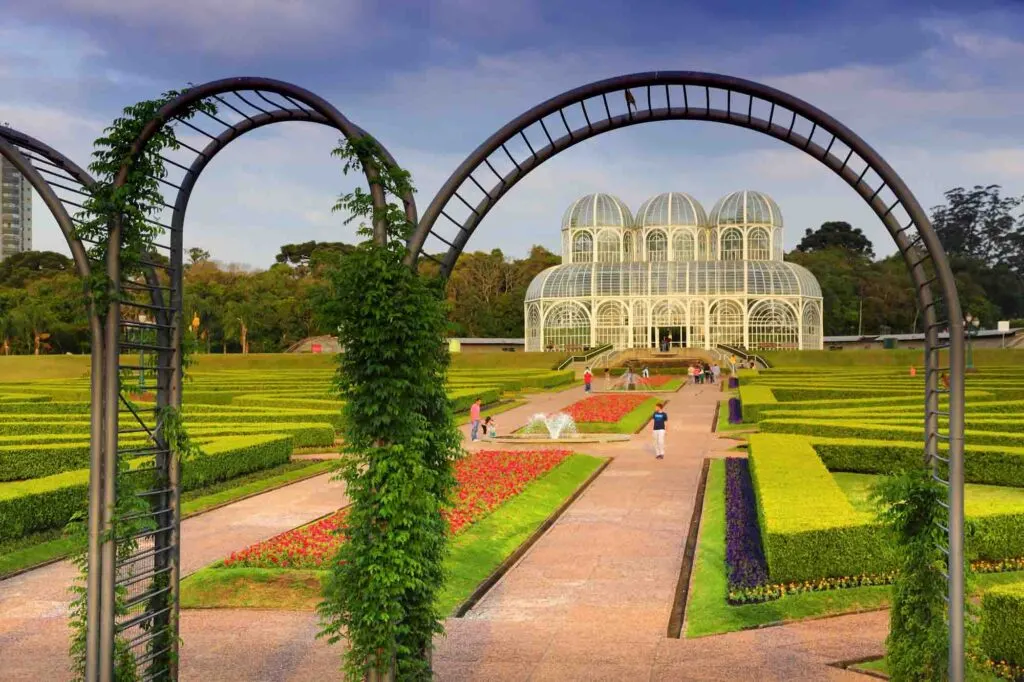 How to get to Curitiba City Center from Curitiba Airport
If you're getting to Curitiba by plane, chances are you're arriving at Afonso Pena International Airport.
This airport is only 11 miles away from the city center, and because of the short distance, there are multiple ways to get to Downtown.
The most complicated one, if you don't speak Portuguese, is by public transport. But because it is the cheapest option, I'll mention it here as well.
You're welcome, backpackers on a shoestring!
By bus: R$ 9 – pay the bus driver in local cash
Leave the airport toward Rocha Pombo Avenue. You'll take the E32 Aeroporto/Boqueirão bus there to the end stop–it takes about 20 minutes.
This bus runs roughly every 30 minutes.
From Boqueirão Bus Terminal, take the 505 Centro Cívico bus that will take you to the city center. This trip takes about 25 minutes.
Check on Google Maps where you need to get off the bus.
(There used to be a shuttle bus for R$ 15, but their service was temporarily canceled at the moment of writing.)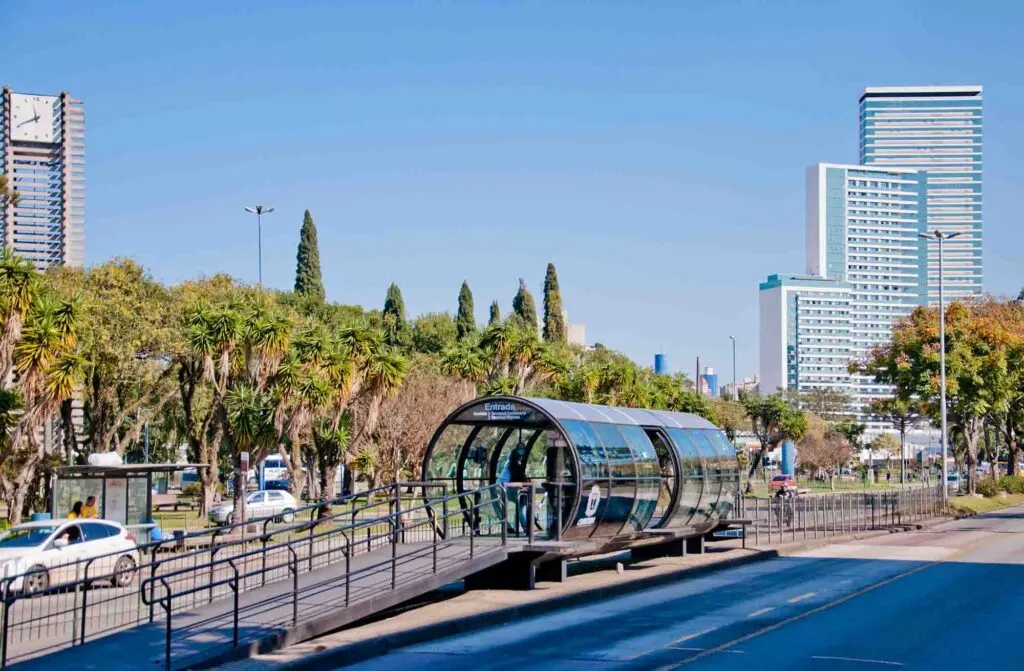 By Uber: R$ 40-50
After a lot of discussions, Uber was regulated in Curitiba, and the app is legal now. In general, a one-way trip to the city center costs about 30-40 reais (local currency).
For me, this is the best option since it is inexpensive and much more manageable than chasing buses.
By taxi: R$ 70-90
Pretty much the same as Uber, but you don't have to wait. Simply walk out of the airport and take a cab to your destination.
It can cost double, though.
Tours from Curitiba to other cities
If you want to go on a day trip from Curitiba, there are a bunch of different options to visit in Paraná State.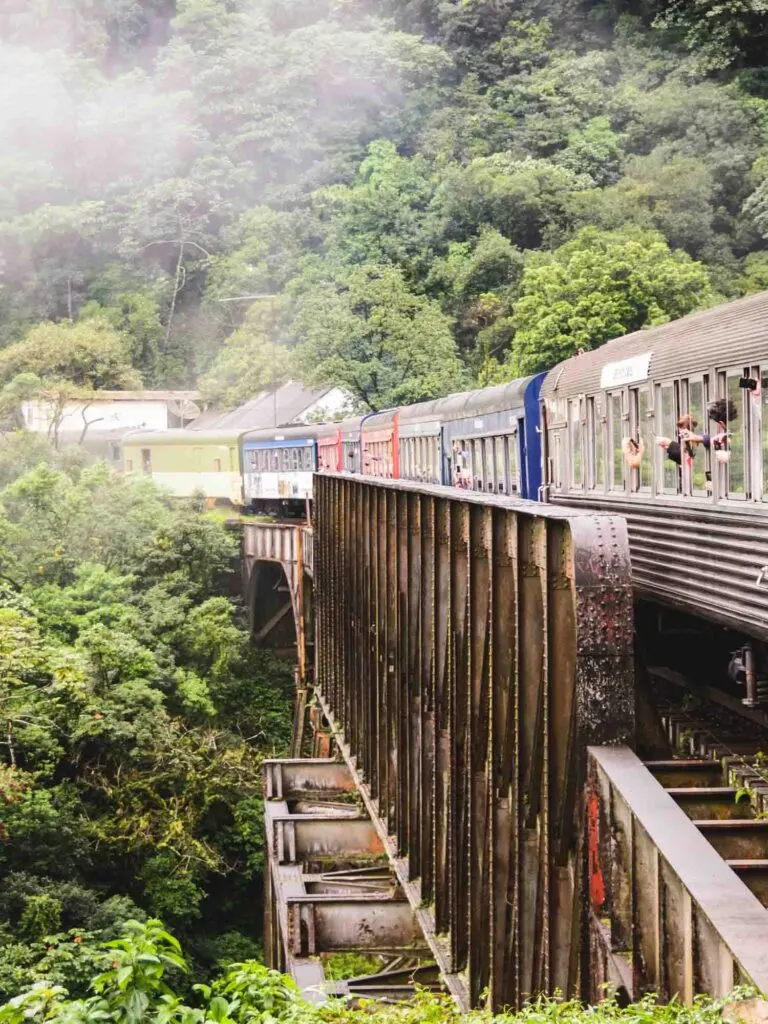 Best time to visit Curitiba, Brazil
In Curitiba, the summers are warm and mostly cloudy; the winters are short, cool, and partly cloudy; and it is wet year-round.
Over the course of the year, the temperature typically varies from 50°F to 79°F and is rarely below 42°F or above 86°F.
Best time to visit Curitiba: April through September
Driest months: July and August
Coldest months: June and July
Wettest months: October through March
Warmest months: January and February
The 17 best things to do in Curitiba
Check out below the best things to do in the green city in no particular order. Enjoy!
Walk the trails at the Botanical Garden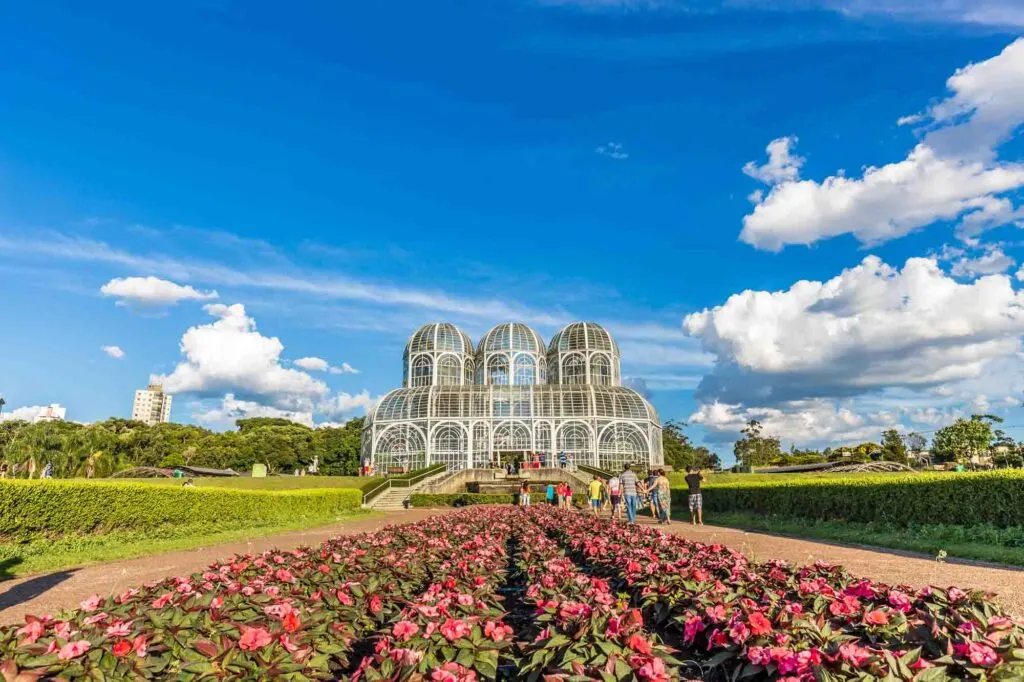 Ready to visit one of the prettiest landmarks in Brazil? Well, the Botanical Garden Curitiba is a significant tourist attraction in the country, designed in the French garden style with water fountains, waterfalls, lakes, and walking paths.
It's such a beautiful place that welcomes you with the sight of a carpet of flowers. And it turns out, it is one of the best things to do in Brazil.
It even has a gorgeous art nouveau-style greenhouse that sits on nearly 5,000 square feet. It's a beautiful park, complete with various museums, a theater, library, auditorium, and cycle track.
With 60 acres of land, you can easily spend a few hours strolling around the grounds and enjoying yourself.
Watch a play at the Wire Opera House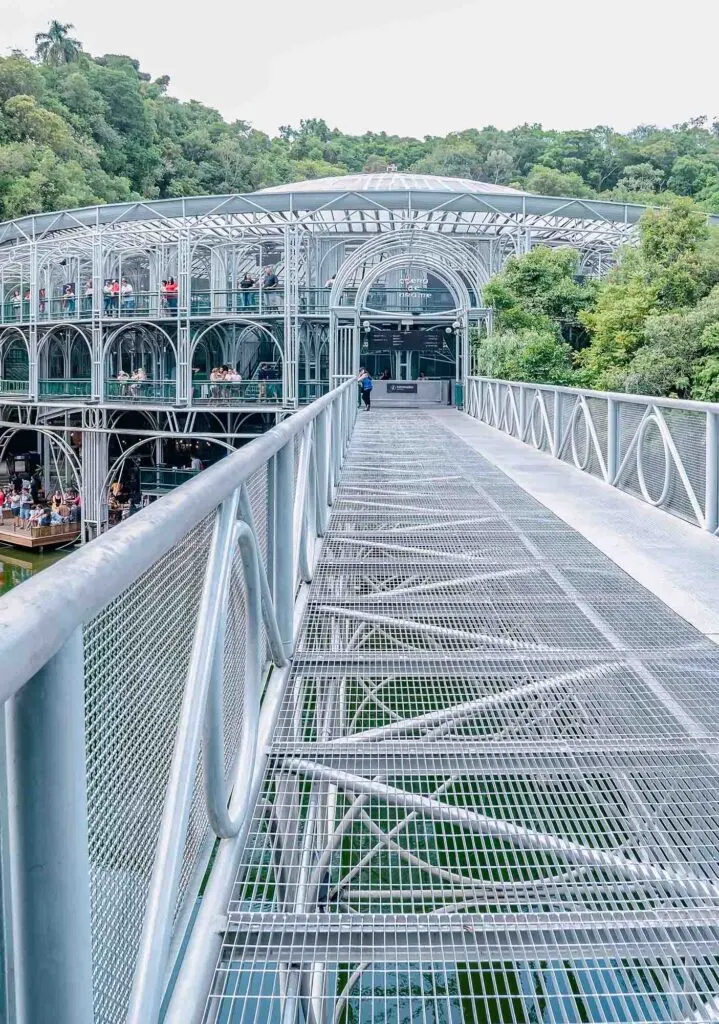 The Wire Opera House is considered a cultural mark of the city, displaying an extraordinary modern architecture display with its stunning circular steel structure and transparent ceiling.
The 3-level wired building is a beautiful contrast to its environment: it's surrounded by a forest and sits on an artificial lake which you can access via a walkway.
It is a fantastic place to watch a theater play or music performance if you have the chance.
Appreciate the visual architecture at the Oscar Niemeyer Museum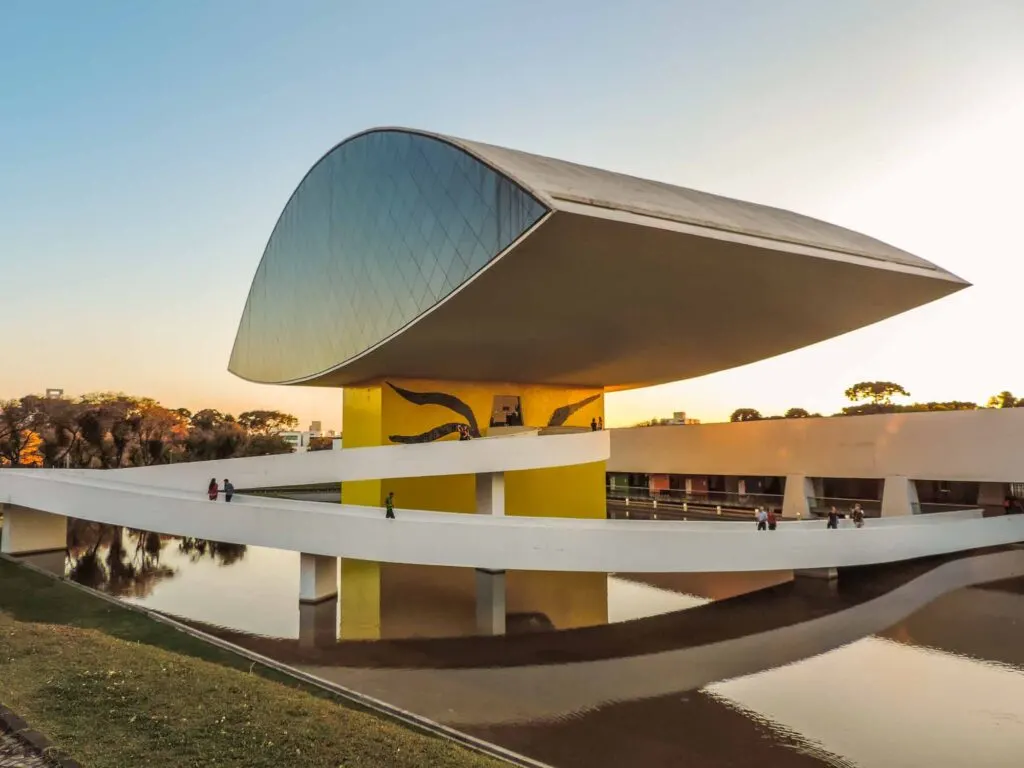 If you enjoy the visual arts and design, this museum in the Centro Cívico should be at the top of your list of things to do in Curitiba, Brazil!
This contemporary art museum is named after the famous architect who designed the first of the two buildings. He was known for his bold ideas and geometric shapes.
The most memorable part of this museum is Niemeyer's Eye, a 100-foot tall glass and steel structure in the form of an eye. It's very futuristic and makes for stunning pictures, especially with the pop of bright yellow.
Stroll through the gardens at Tanguá Park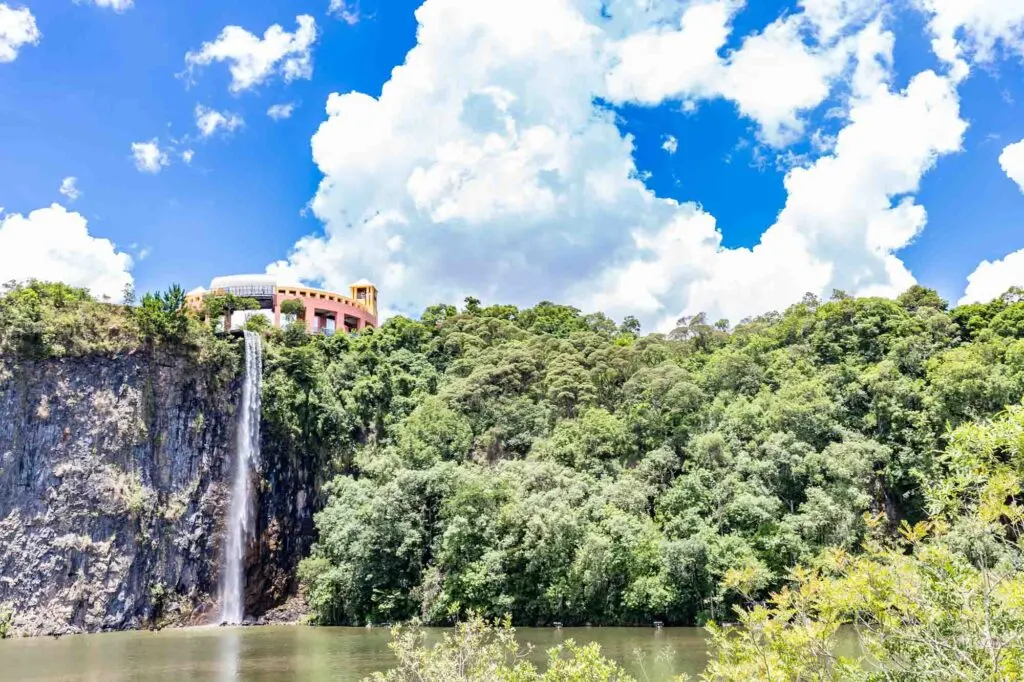 Tanguá Park was created to protect nature and prevent the area from being turned into an industrial waste recycling plant. It sits on over 100 acres and contains two quarries and a majestic waterfall.
When you walk down the cliffs to the lookout point on the water, you can't even tell that you're in a city. It's a beautiful spot to grab a meal and enjoy the scenery.
On sunny days many visitors enjoy riding bikes and walking through the French-style garden.
Buy fruits and spices from the Municipal Market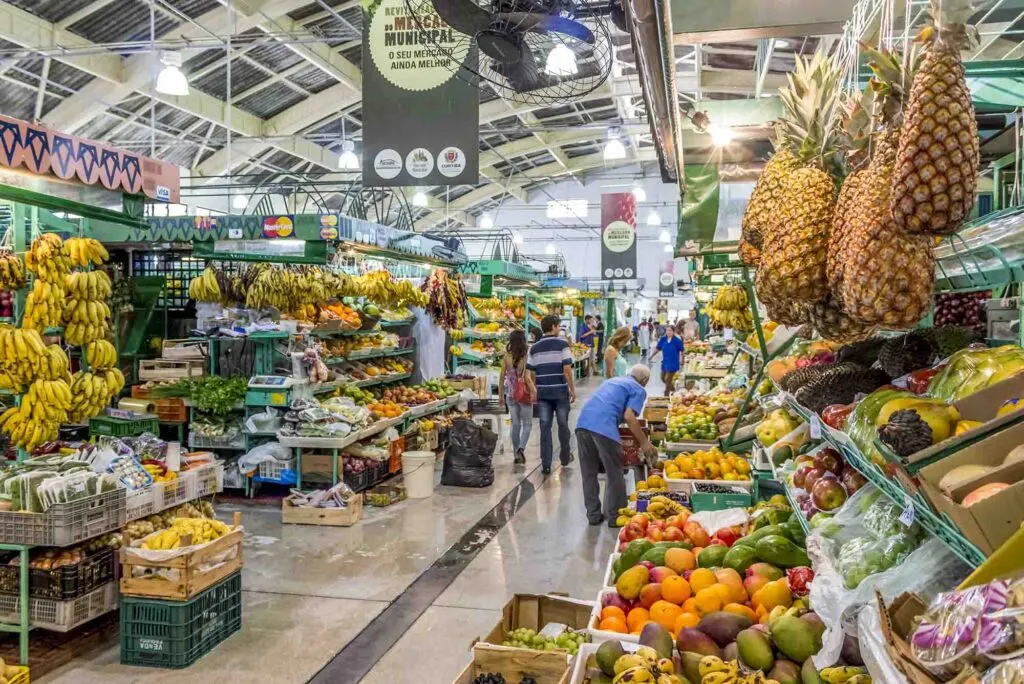 Even if you don't plan on doing any grocery shopping, visiting the Municipal Market is one of the most classic things to do in Curitiba. It's a great place to check out the local fruits and vegetables, coffee, and spices.
The sellers are incredibly friendly, and you can taste a lot of samples before purchasing. There is even a food court within the market for when you start to get too hungry looking at all the delicious fresh produce!
Check out the beauty of Curitiba Cathedral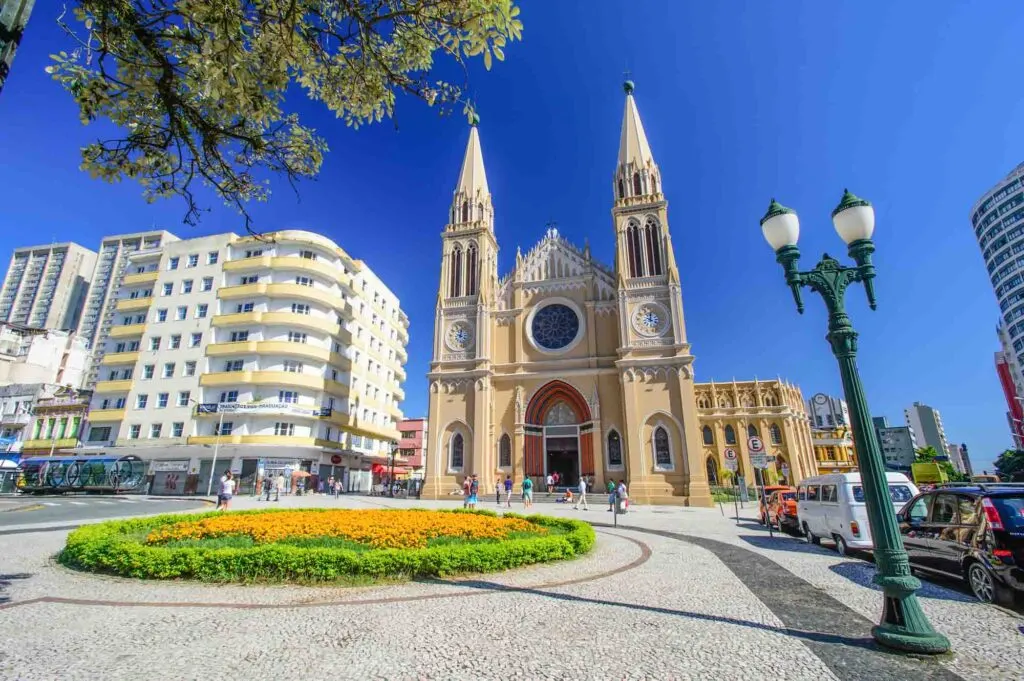 When traveling to Curitiba, Brazil, you have to stop by this small gothic cathedral in the old town.
You can wander through the church at any time during the day to appreciate the beautiful architecture, stained glass windows, and sculptures.
Take a seat in the pews and spend a few moments in silence–even if you're not religious, there's something so magical and serene about a quiet cathedral.
If you happen to be walking by while you're in Downtown Curitiba, it's worth a visit.
Take a tour of Curitiba's cultural history with its street art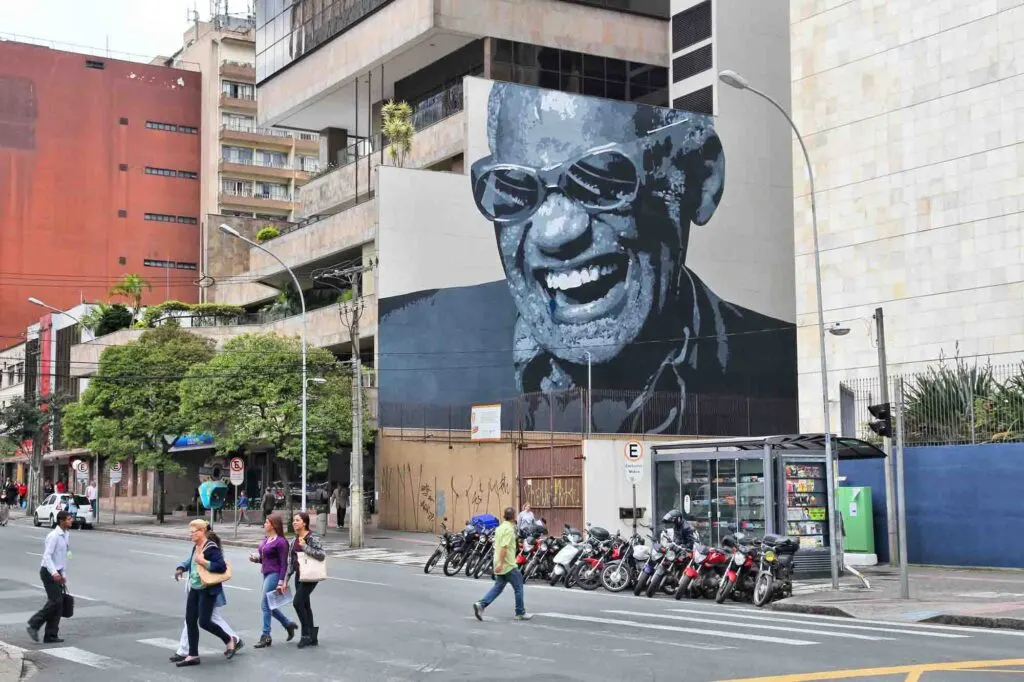 One of Curitiba's Historical Center's best aspects is the juxtaposition between the old buildings and the bright murals painted on them. It brings a lot of life to the city and blends modern and historic features very nicely.
Urban art is a fantastic way to revitalize and beautify a city, and it can be fun to walk around trying to find as many different designs as you can.
Wander through the Historic District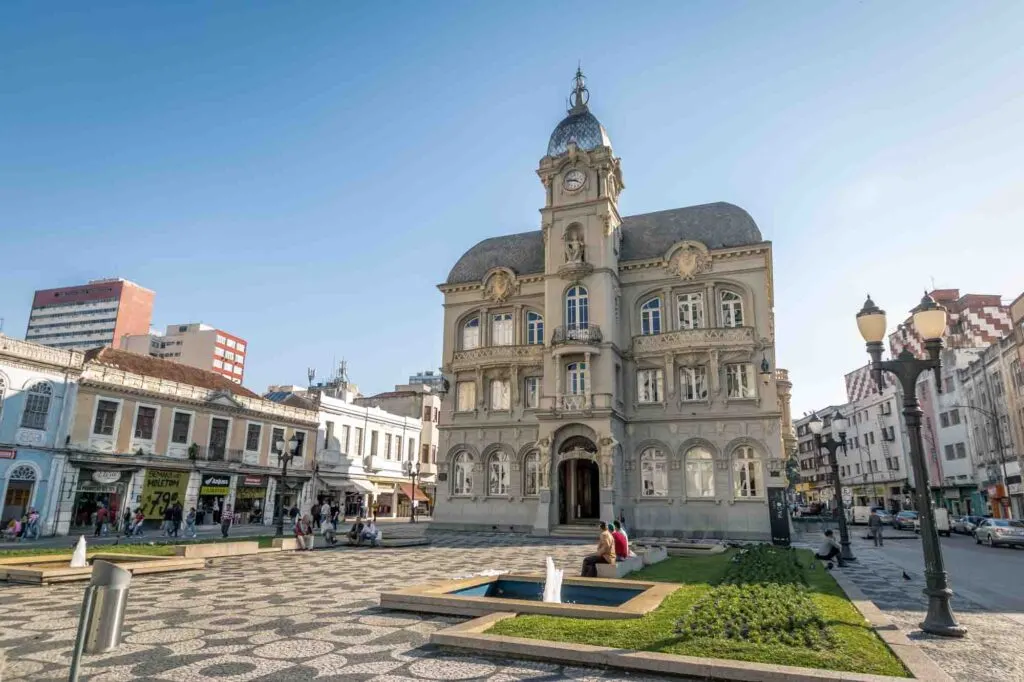 The Historic District is centrally located and offers so many things to do in Curitiba, Brazil. Check out the shopping centers, churches, street markets, and traditional restaurants!
You can find everything in Curitiba's Historical Center, whether you want to visit the Arabic Museum or drink a coffee in the original city hall at Paço da Liberdade.
The city is a feat of urban planning, melding modernity into its historic and charming buildings, and you can spend days just happily wandering around this area!
Find delicious meals in the Batel and Santa Felicidade districts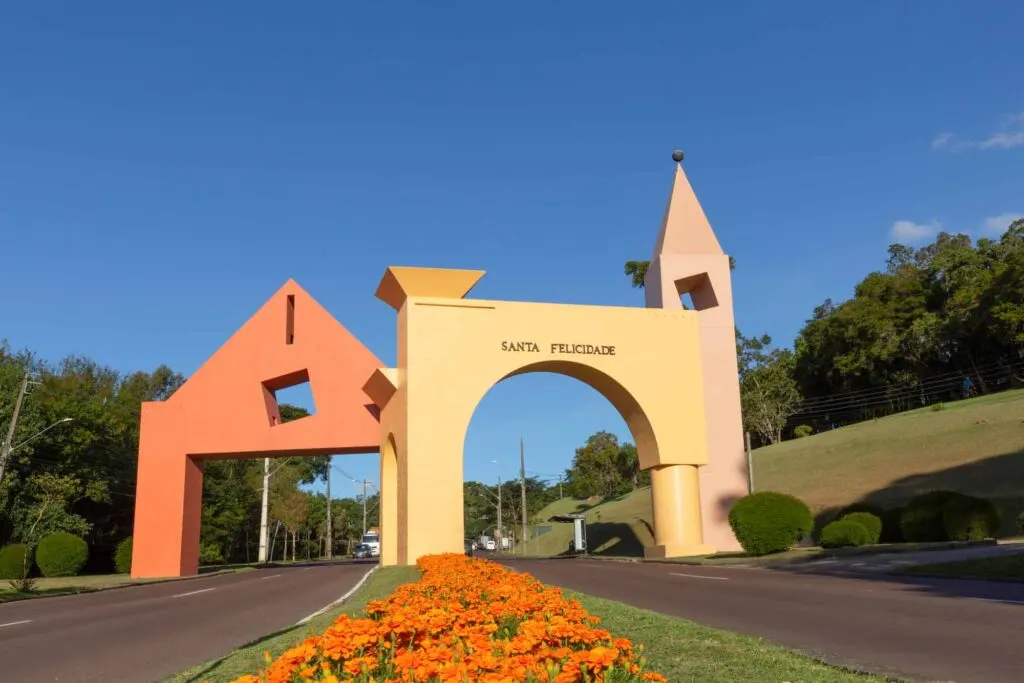 The best place to stay when visiting Curitiba is in the Batel District (remember the hotel I mentioned above?). It is the wealthiest neighborhood in the city and has an excellent reputation for its nightlife and restaurants.
Beyond that, Santa Felicidade is also known as Little Italy and is the gastronomic center of Curitiba, with various wineries, chocolate shops, and Italian restaurants.
Learn some history from the Ukrainian Memorial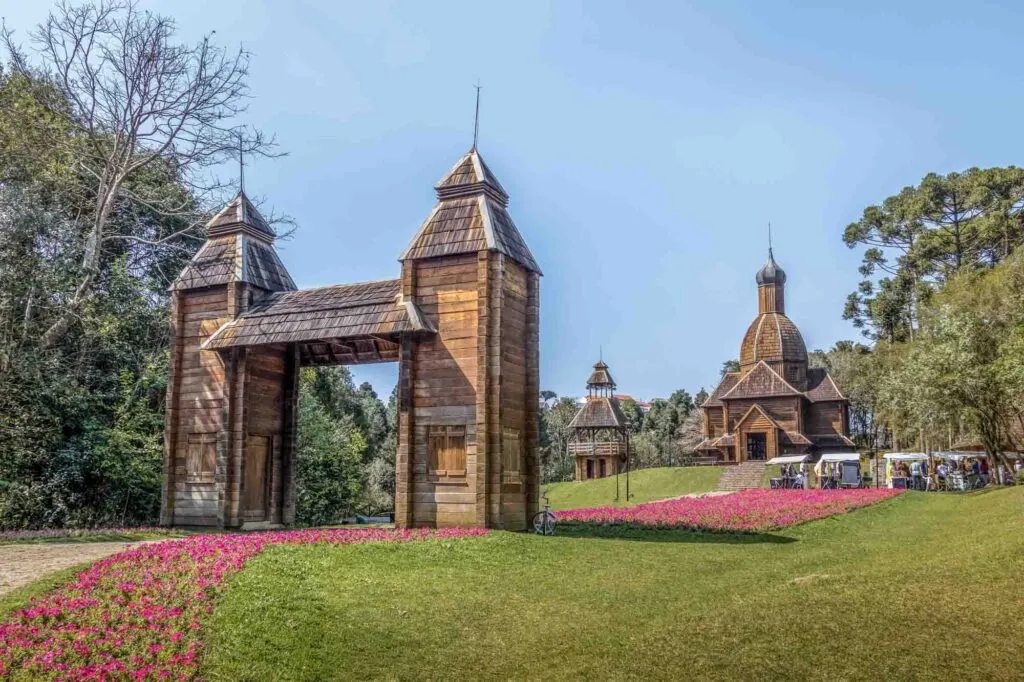 Located in Tingui Park, the Ukrainian Memorial was built to honor the immigrants who came in the late 19th century and significantly impacted the city.
The park is beautiful, featuring a model of a Byzantine-style church, brightly-colored egg sculptures, and a monument to commemorate the Holodomor in Ukraine.
You can meander through the gardens and learn about history at the same time.
Remember the past at the Holocaust Museum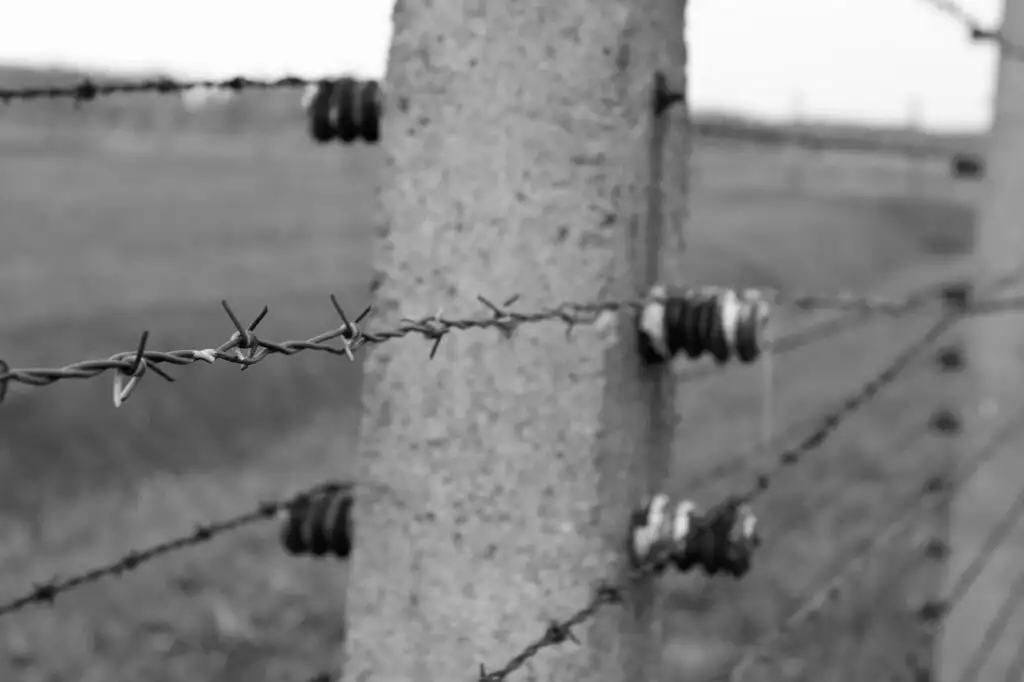 In 2011, Curitiba opened its Holocaust Museum to keep the memory of the victims and survivors alive.
The museum received contributions from various research institutions worldwide, such as the U.S. Holocaust Memorial Museum and the Auschwitz-Birkenau State Museum.
You might be surprised to see this on a list of things to do in Curitiba, but it's a powerful and emotional exhibit that's worth visiting.
Enjoy the scenery at Curitiba's parks and woodlands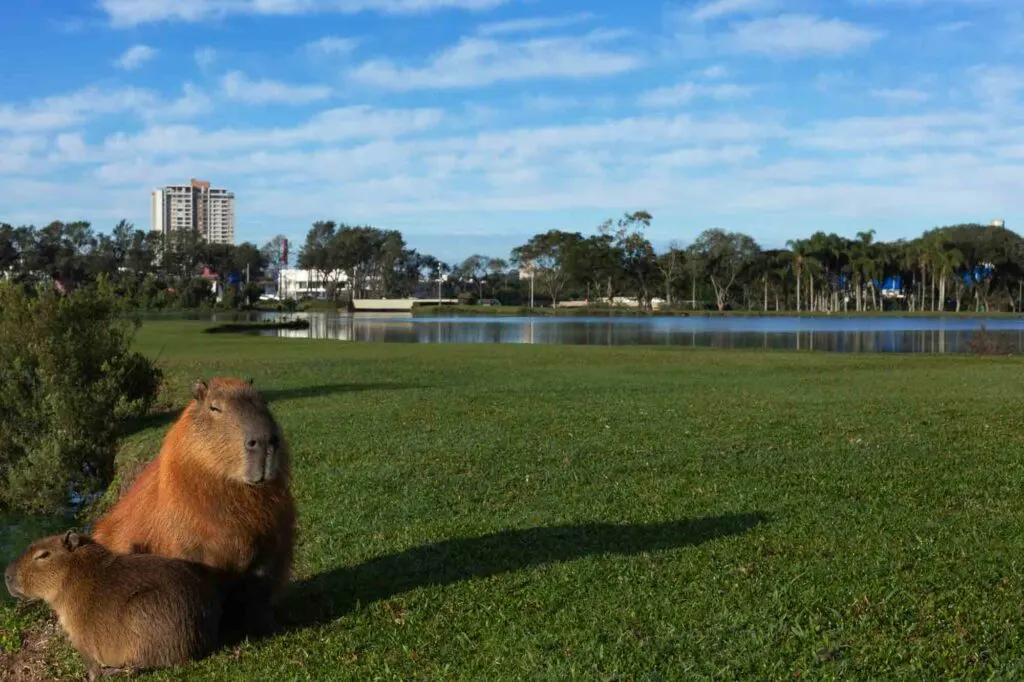 When traveling to Curitiba, you'll often forget that you're even in a city because beautiful forests and parks surround it.
With 560 square feet of green space per capita, Curitiba, Brazil, is genuinely the "greenest city" in the world.
Parque Barigui (Barigui Park) offers a large lake with grass fields, exercise equipment, and jogging and bike paths–it even has packs of wild capybaras, one of the animals you find in Brazil!
Passeio Público is the oldest municipal park in the city, featuring a lake, playground, and various birds.
Buy souvenirs at the Largo da Ordem Street Fair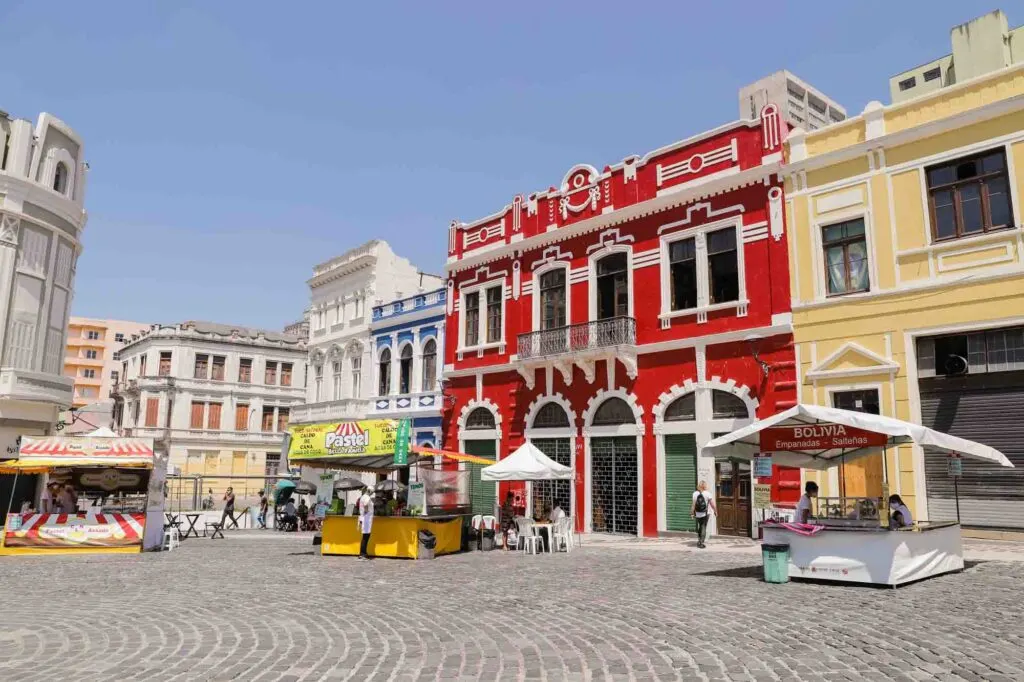 On Sunday mornings, you can explore one of the most popular places to visit in Curitiba.
This street fair spreads across six blocks around the Praça Garibaldi (Garibaldi Square) and features various handicrafts, music, and foods—great stands selling souvenirs.
You can enjoy street food from many different cuisines, listen to some live music, and appreciate each seller's artisanal goods. It has such a great atmosphere that even the locals love to come out and visit the market fair!
Pssst: The neoclassical Garibaldi Palace is on this square. While the palace is closed for events, it is well worth taking pictures of it!
Visit the shops at Rua XV de Novembro Street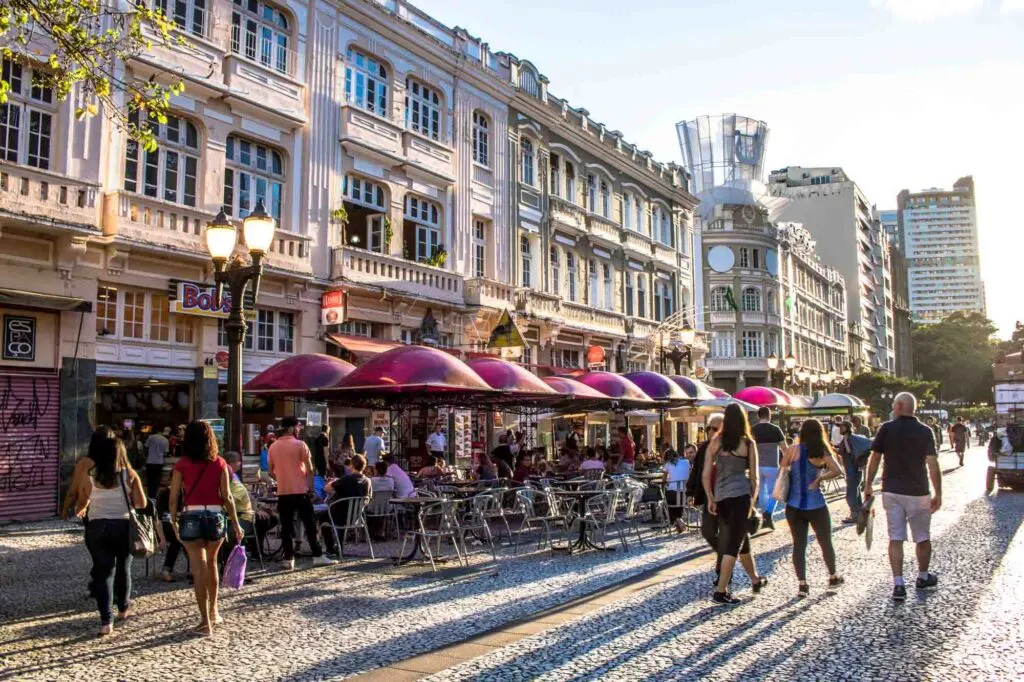 One of the loveliest things to do in Curitiba, Brazil, is walking down the Rua XV de Novembro Street.
Known as Flower Street, it is a very charming street mall lined with beautiful trees and flowers with shops and restaurants on either side.
You'll enjoy it whether you only want to try some street food or walk through to window shop. The stone paths, streetlamps, streetcars, and surrounding historic buildings add to the street's quaintness.
Explore the exhibits of the Museum of Contemporary Art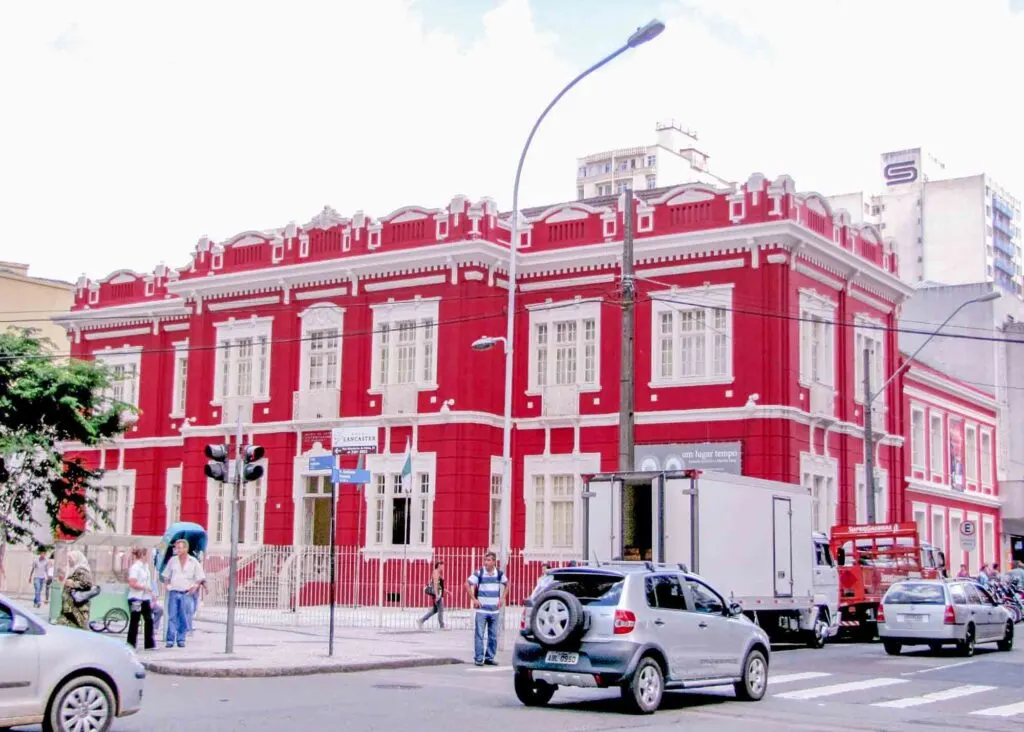 Located in the center of the city, this museum houses around 1,500 pieces of sculptures, drawings, paintings, and prints. It offers free admission and is open every day except for Mondays.
It's a great place to view the collections of Brazil's premier artists and those up-and-coming. The building itself is also a great tourist visit, with its bright reddish-purple facade.
Study local history at the Paranaense Museum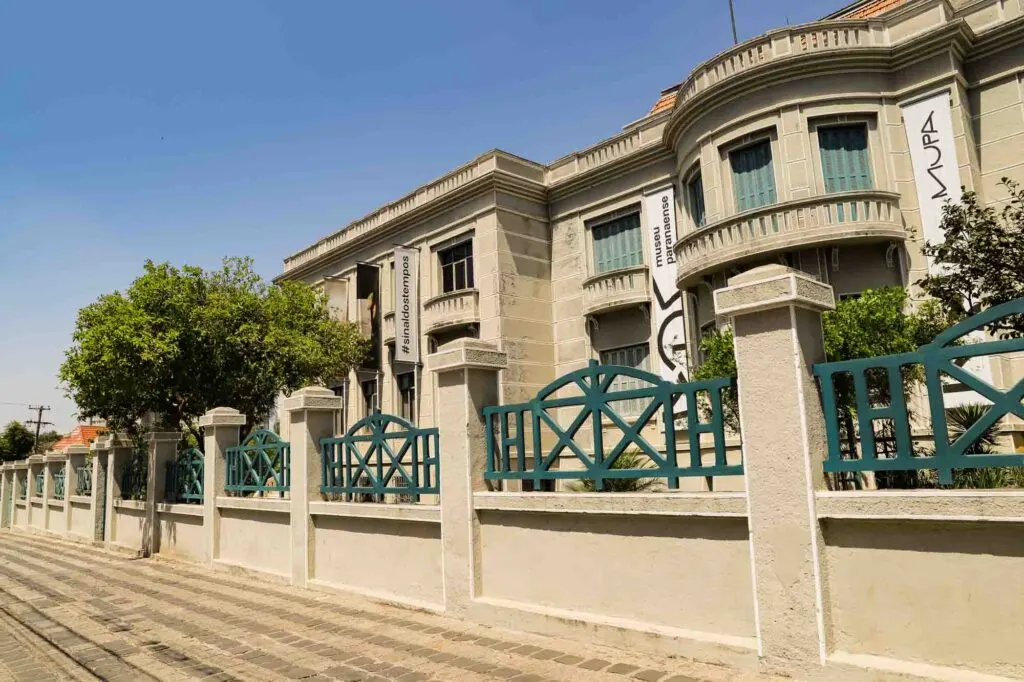 This museum is dedicated to the history of the Paraná State but still features pieces from other parts of the world.
It's massive, housed in a historic home, and even offers free admission. The employees there are experts and eager to explain the different collections, so consider taking a small tour with them.
It's a great place to visit on a rainy day and spend a few hours wandering through!
Take in the view from the Panoramic Tower (Torre da Telepar)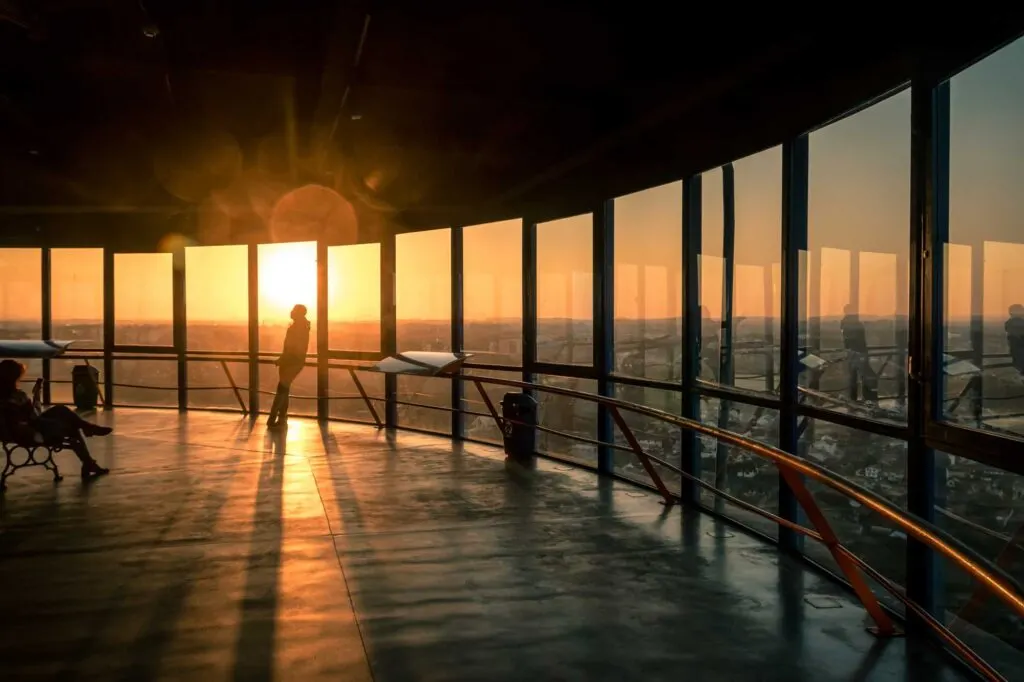 Visiting the Panoramic Tower is a favorite thing to do in Curitiba by both locals and tourists. It is open every day except Mondays from 10 AM to 7 PM and costs only a small fee.
If you didn't see the city from the tower's 360° view, did you even visit Curitiba?
There's an elevator that takes you to the top, where you can appreciate all the greenery and stunning architecture the city has to offer. Try going at sunset to get an even better picture!
Brazil travel resources
You're visiting Curitiba! That's so exciting!
To help you plan your trip to Brazil, I wrote a bunch of helpful guides.
For instance, this article with must-bring items + packing list comes in very handy for anyone traveling to Brazil.
If you're wondering how much a trip to Brazil costs, you might want to read this post I've just linked to and book your tours in advance to snag good deals.
Some of these tours are in the jungle, others to a beach, a city, and others to a waterfall. Either way, you're bound to have the time of your life with the diversity in landscapes we have–which is honestly one of the best reasons to visit Brazil.
If you're looking for more inspiration, browse other destinations I wrote about or check out our top tourist attractions—both pages can give you some incredible vacation destination ideas!
Did you find this article about Curitiba Brazil helpful? Then share it with a dear friend!