Wanna know more about Boipeba, Brazil? Well, my travel-loving friend, you are in the right place!
At the time of writing, I'm planning a trip to the northeast of Brazil – yes, another one. That's why I'm extra excited about this guest post by Mario from Rest and Recuperation.
He's a humanitarian and traveler, who writes about his job and wanderings in the link above.
And today, he's sharing his thoughts and tips on this paradise called Boipeba, Bahia – this is one of the prettiest Brazilian islands you could dream of! I'll let Mario take it away from here!
Boipeba, Brazil
On my last trip to Brazil, I traveled through the country for more than two months.
I visited unforgettable places in Brazil like Amazon and walked in lush plateaus in the Chapada Diamantina, trekking's paradise of Brazil (Mario's Italian guide: Chapada Diamantina).
Not only that, but I also saw some of the most famous beaches of the northeastern coast, and I swam in Fernando de Noronha's waters, a heaven on earth in the middle of the Atlantic Ocean.
And yet, no place stayed in my heart as Boipeba Island did. And trust me, I'm not just celebrating its beauty. I actually enquired about land prices to build a hostel on the beach!
Unfortunately, the research was as successful as I had wished for. Still, who knows, it might have only been postponed.
There are a few reasons why I wanted to stop for long, or good, in Boipeba, Brazil's pearl just off Salvador de Bahia.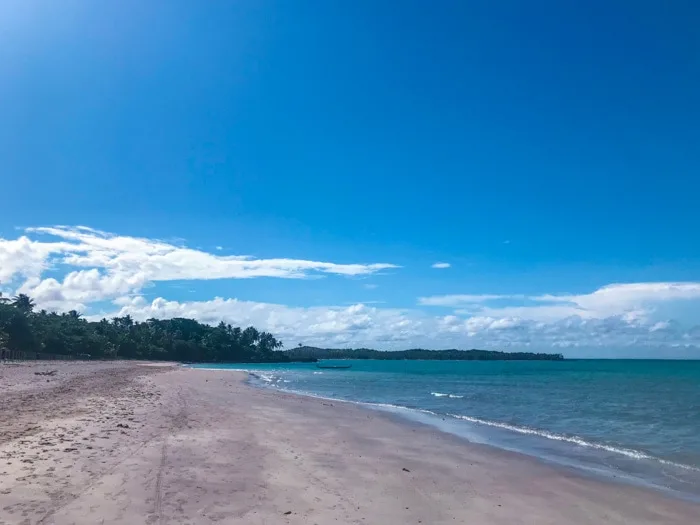 First of all, it is beautiful. Do you know that feeling after a day at the office, with a cloudy gray sky outside?
Do you remember your desire to be on a semi-deserted beach framed by turquoise waters and palms bent by the ocean's breeze? Well, that is Ilha de Boipeba, as it is known in Portuguese.
Do you want to know another compelling reason to visit the island? Boipeba, weather-wise, is perfect.
An average temperature of 77- 80°F (25-27°C) and some rain all year long, but made of short showers, just what it needs to keep it lush.
Not convinced yet?
Best hotel in Boipeba, Bahia
There is no better option, in my opinion, than staying at the Pousada Céu de Boipeba. In such a beautiful island, you need to choose accommodation at the highest point to oversee all of it.
All rooms have a private balcony over the forest. The blue ocean in the background creates a clear division of colors. In essence, this accommodation is equipped with all you need for a very comfortable stay.
The bar of the hotel has a view of almost 360 degrees over the island so that you can see both dawn and sunset, with incredible shades of orange.
This is the perfect spot for an abundant and healthy breakfast or for a caipirinha!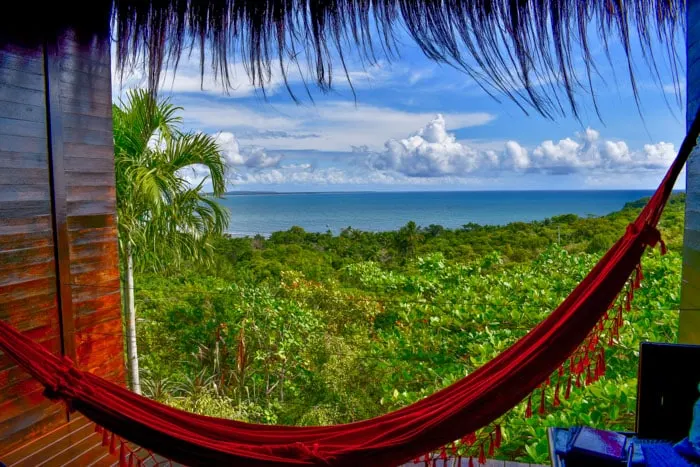 The beaches of Boipeba
What do you expect to find on an island in this paradise? Beautiful beaches, of course. Well, there is no disappointment here, as some are among the prettiest beaches in Brazil.
The most popular is the beach of the village of Boipeba, on the northeastern end of the island that has the same name.
From here, Tinharé Island (Ilha de Tinharé) is only a few dozen meters away. You can reach the more famous sister island with a swim, or a kayak.
The village has narrow and sandy streets and one lovely feature: there are no cars. The only mean of transportation is our legs or carts pulled by stubborn and peaceful donkeys.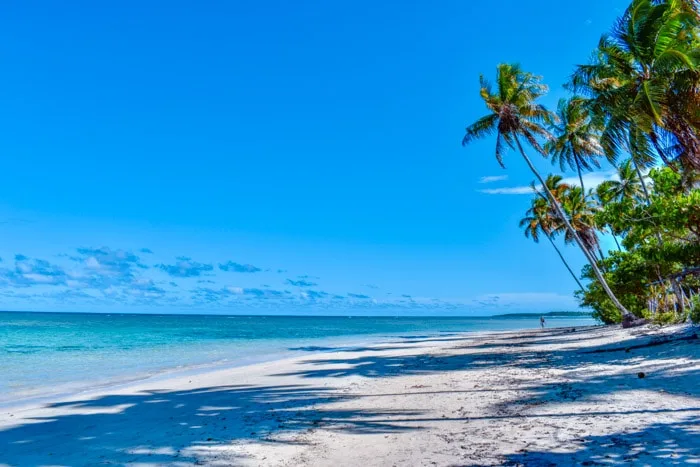 Boipeba is Bahia's best beach destination if you want to be off the beaten path as it has so much to offer.
The most beautiful beaches are those facing the open ocean. Praia da Cueira, one kilometer and a half from the village, is mesmerizing! Oh, and it's always half empty. Such a great combination!
At the southern tip of Praia da Cueira, you can wade across a low part of the sea and end up in a virgin palm grove. Some more meters ahead, and here you are back into a new pristine and even more secluded beach.
This is the area known as Moreré with a hippie vibe underlined by some areas for meditation and camping, as well as soothing natural pools.
Boipeba could be an excellent place for a yoga retreat, too.
What to do in Boipeba
Swim in natural pools, go on boat tours, eat lots of tropical fruits, and stroll around the village are some of the things you can do in Boipeba.
The active part of the village is along the coast, where the majority of bars and restaurants are. But at sunset, locals go towards the center of the island, in the main square overlooked by the church.
Young and old people meet here to spend some time with friends and to eat tapioca, one of the most famous Brazilian food.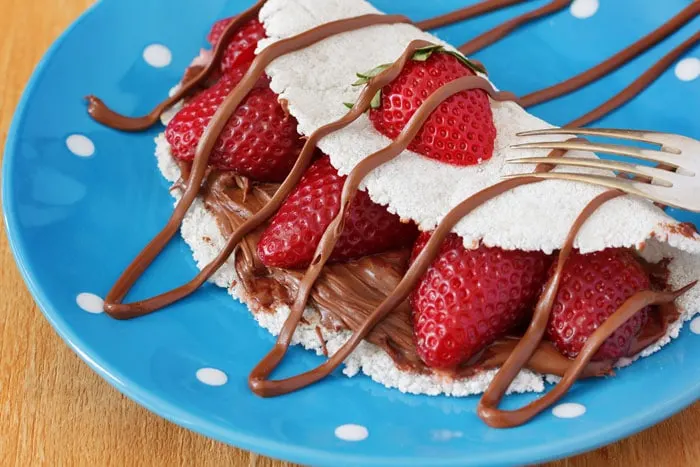 Tourists do some people watching or shopping while having a break from the hot temperatures of a day chilling at the beach, which is one of the best things to do in Brazil.
I would have loved to spend my full days strolling up and down Boipeba beaches without a goal.
Or stopping by those little wooden shacks for a fresh coconut or cold cachaça drinks (cachaça is a Brazilian liquor) and observing young boys and girls trying to surf the waves.
Boipeba is a place to connect with nature and relax. Also, since it is such a romantic place, it is an ideal spot for a magical honeymoon in Brazil.
How to get there
While being quite short, it is not the easiest trip to go from Salvador to Boipeba.
There are two ways of covering those hundred kilometers between the two locations.
My prefered one is to take the ferry at the Hidroviario San Joaquin to Bom Despacho, a bus to Valença, then a speedboat to Boipeba.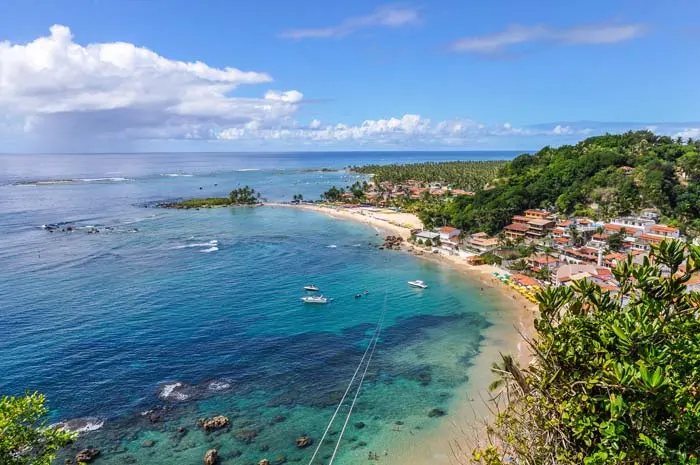 Salvador de Bahia has another port, from where you can get the ferry to Morro de São Paulo, on the Ilha de Tinharé. From there, an off-road vehicle can take you to the southern point, where a boat will collect you.
Whatever method you choose for the Salvador de Bahia – Boipeba journey, you will need at least two hours and a half, if all connections end up well.
Where to eat in Boipeba, Brazil
You cannot leave the island without having lunch at Guido's, one of the restaurants in Praia da Cueira.
If you speak Portuguese, you can have a chat with the owner while he cooks tasty moquecas on some open-air stove.
For dinner, try Pousada Flor da Lua. A romantic atmosphere on the beach is a proper setting for the delicious sizzling octopus.
The next day, go to Pousada Santa Clara, Boipeba's best restaurant. The menu changes every day, but you could choose between three entrées, four or five main dishes, and three exquisite desserts.
Did you like this article about Boipeba, Brazil? Then help me spread the word and share it with a friend who might like it, too!