Located in the great state of Bahia, Salvador is a city filled with culture, history, and food. If you're planning a trip there, you're in luck; there are so many fun things to do in Salvador, no matter what type of traveler you are.
Salvador de Bahia, Brazil, possesses an energy and breathtaking beauty that very few spots in the world can match.
Once Portugal's colonial capital, today Salvador is the pumping heart of the country's Afro-Brazilian community.
A city full of traditional food, life, and music, with drum corps playing local melodies next to an abundance of historic buildings almost daily.
At the same time, on the other side of this colonial city, completely different energy flows as crowds of spiritual and religious citizens celebrate African gods at Candomblé ceremonies.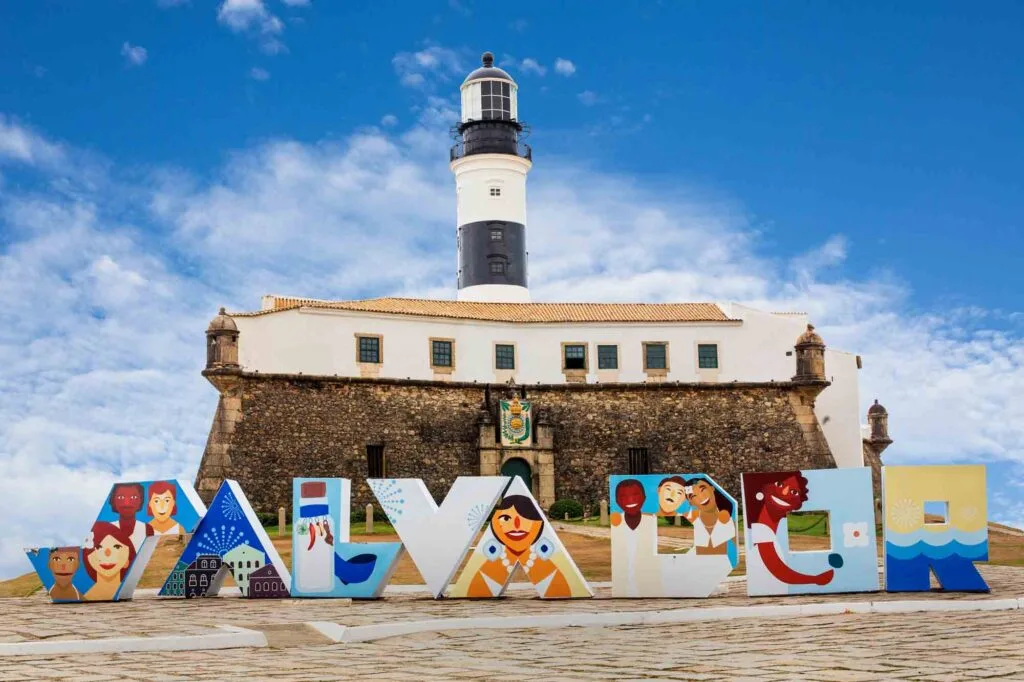 Salvador, Bahia
If you look at the city closely, you will realize there's no other place in the western hemisphere where the past colonial culture mixes so flawlessly and harmoniously to create a vivid picture of history and beauty.
Fantastic food, culture, and religion, you can't ever run out of things to do in Salvador.
That's why by the end of this article, you will know exactly what to do in Salvador during your next visit.
From epic historical landmarks to beautiful colonial architecture, Salvador truly has it all, and you'll know exactly what places are worth visiting.
The largest city in northeastern Brazil, Salvador is considered one of the most exciting places for tourists and locals alike. It truly is one of the best places to visit in Brazil, and you'd regret missing out on it during your next vacation.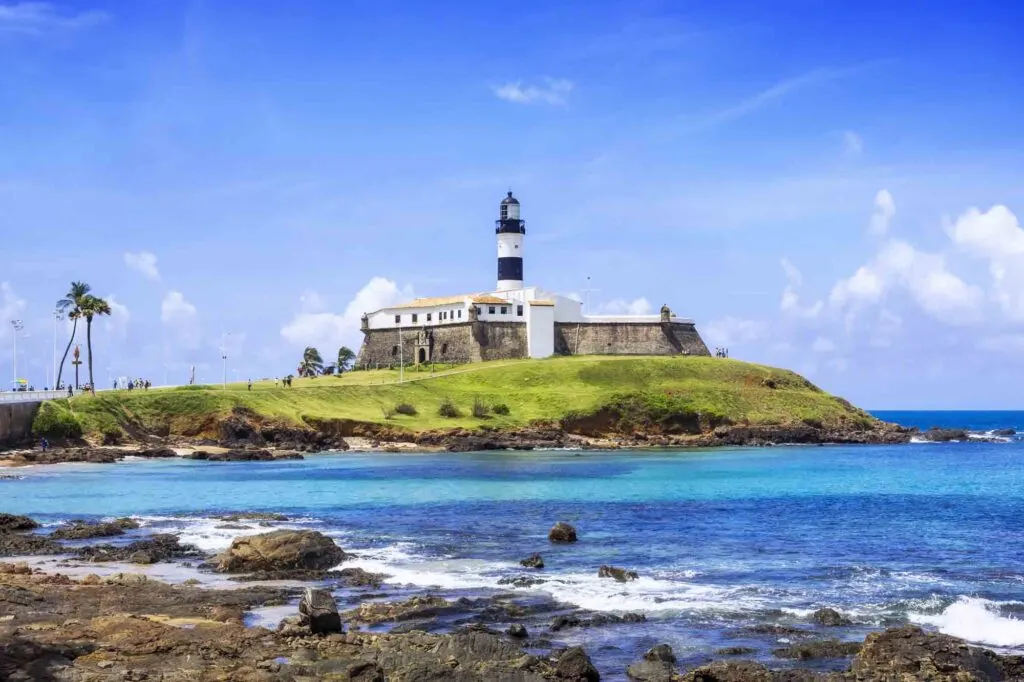 My Favorite Things to Do in Salvador, Brazil
African Heritage Tour – this tour is hands down one of the most culturally fulfilling experiences in the city. The local guide will lead you through the streets of downtown and Pelourinho while explaining these places' culture, history, and role in the African slave trade. Note: Pelourinho is today not only the center of African culture in Brazil but also an incredibly vibrant place! That's why this tour is excellent to learn about this tragic moment in our history and how both cultures dance along nowadays (approx. 4 hours)!


Historic Tour – I absolutely love historical tours. When I visit any city in Brazil or abroad, I always go on a tour to hear more from a local about that place—never disappointed! Anyway, this tour takes you on the major highlights of Salvador in a full-day experience that includes lunch. Your guide and you will walk through Salvador and stop in more than 10 historic sites!


Cooking Experience – Salvador has a strong food scene with the best Brazilian cuisine has to offer! This 5-hour tour takes you to a local family's kitchen, where you'll learn to cook traditional dishes (and drinks). Before that, the guide will also take you to a local produce vendor to pick the fresh ingredients for your experience. All of that while learning about the beautiful culture of Salvador.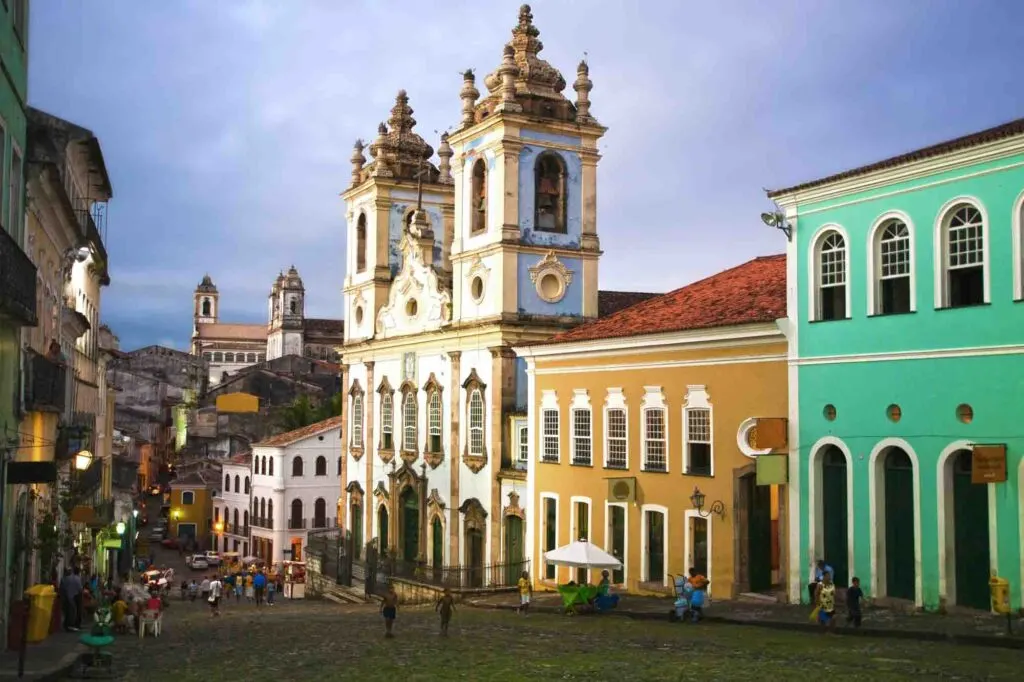 Where to Stay in Salvador, Brazil
To make your trip planning a bit easier, I selected two excellent accommodation options that guests rave about.
Both of them are located in the heart of town, near most attractions, so it's easy for you to find your way through the city or find an Uber.
Pssst: wanna celebrate Carnival in Salvador? Then you'll want to book your tickets way in advance. Trust me!
Bahiacafé Hotel (Booking.com | Hotels.com)

Boutique Hotel


This lovely hotel is located in an 18th-century building in the Pelourinho District and is full of character. With beautiful decoration, Bahiacafé offers breakfast in a clean space and cozy atmosphere. Besides, it's competitive rates!


Fera Palace Hotel (Booking.com | Hotels.com)

High-End Experience


Located in the heart of the city, this 5-star hotel has everything you'd need and want on your vacation. From a jaw-dropping ocean view to a swimming pool and wellness center, Fera Palace is perfect for those who want more comfort during their stay. Besides, it features a handy snack bar and restaurant on-site.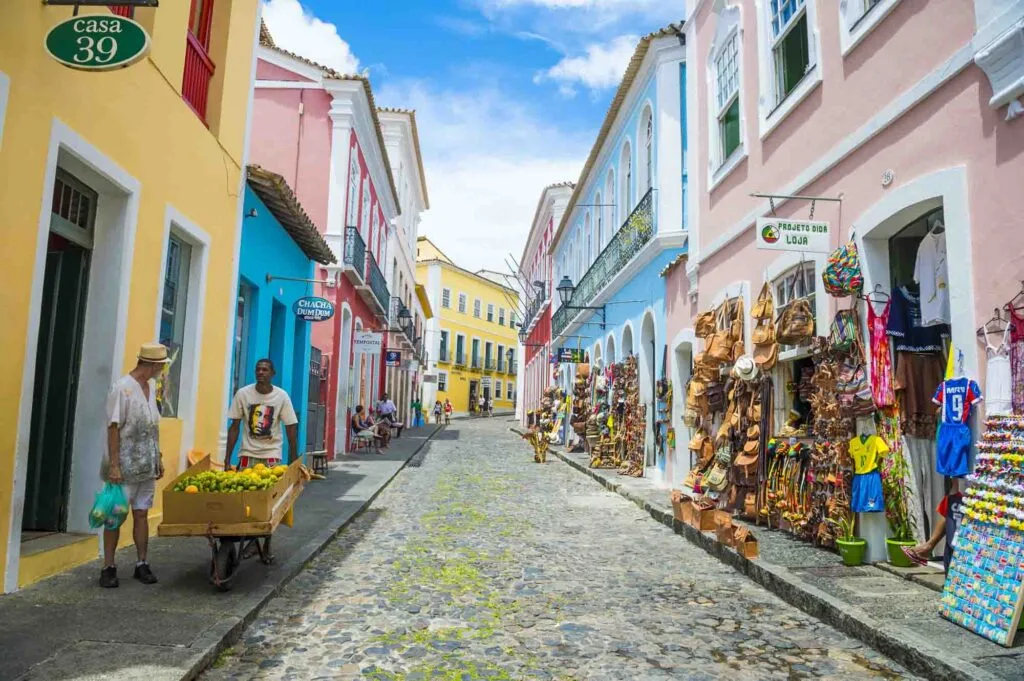 How to Get to Salvador City Center From the Airport
Salvador, Brazil, has one international airport, Deputado Luís Eduardo Magalhães International Airport (SSA), and it's located about 16 miles from the city center.
Transfer Salvador Airport
While there is a cheaper option to reach the city center, this transfer is hands down the best option because 1) it's ridiculously affordable and 2) it drops you off at your hotel.
So basically, it is an Uber in a van, minibus, or bus but for public transportation-like fares.
The driver will be waiting for you at the gate, holding a sign with your name. Then they will drive to your hotel, and that's it.
No hassle, no trouble trying to figure out what that Portuguese word on the ticket service means. What's not to love?
Metro
One of the cheapest ways to get to Salvador Downtown, but once there, you'll have to take an Uber because the metro isn't near most hotels.
At the airport, you can take a free shuttle to the Airport Metro Station, and from there, head over to your destination. The metro ticket costs about one dollar.
Also, the metro runs from 5 AM-12 AM.
Taxi/Uber
It's not a surprise that a taxi is the most costly option, right. If you're taking a taxi, be sure to go for the pre-paid ride to avoid surprises at the end.
For that, head over to the taxi counter at the exit and pay for your ride there—it's 100% safe. (Fee to the historical center is R$140 as of 2021).
On the other hand, Uber definitely costs less, but since its pricing is dynamic during peak hours, it might change a lot depending on when you call a car.
Still, if I had to give a ballpark figure, it would be between R$35-R$70 to Downtown.
Where? Departure floor, doors B3 to B5. But there are signs too!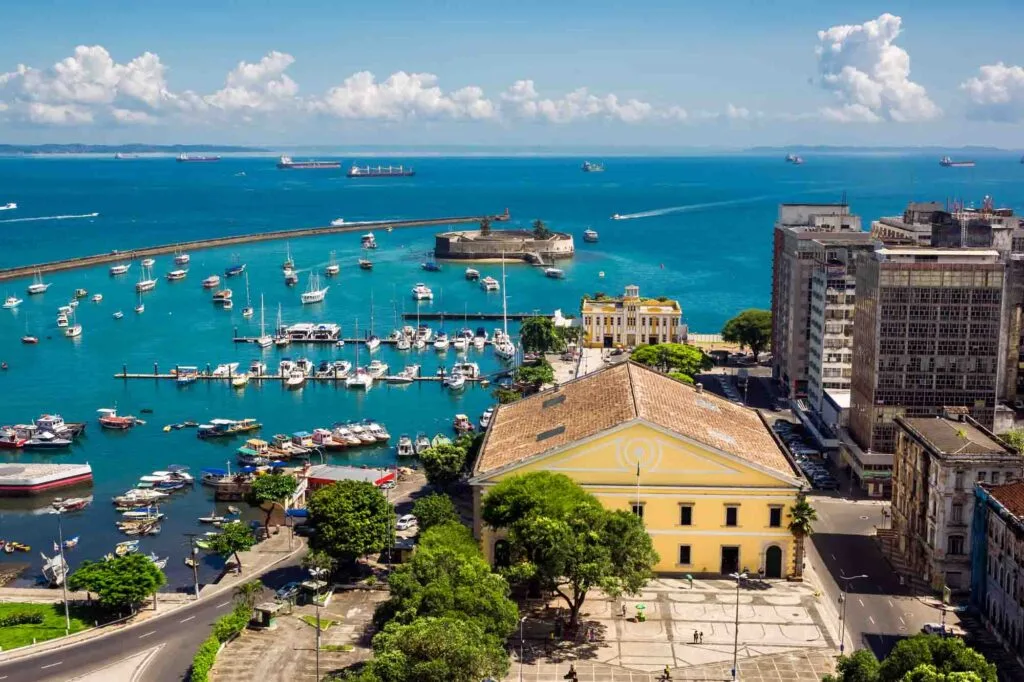 Tours From Salvador to Other Cities
Bahia is one of the most incredible states in Brazil. It has it all: culture, nature, food, and (usually) good weather!
And to help you make the most of your time there, you might want to check out these day trips and transportation options.
Cachoeira – For centuries, this city played a crucial role in the economy of Bahia due to its plantations. But today, Cachoeira is famous for its celebrations of African culture and religion, from Candomblé rituals to samba de roda (literally translated as circle samba (a dynamic music and dance practice with deep roots in Brazil's slave past). Beyond that, Cachoeira is filled with baroque and neoclassic buildings, which are national heritage sites. Highly recommend it!


Morro de São Paulo – This mesmerizing village on Tinharé Island is the perfect beach getaway! While this ticket isn't for a proper tour, but rather the transfer for a day trip, it's still worth it. The journey to Morro de São Paulo is a bit long and requires different transport means. Well, the staff takes care of that for you, so you can visit the village hassle-free and relax on the beach (you have about four hours in the village).


Chapada Diamantina – The local guide picks you up at your accommodation and takes you to one of the most breathtaking national parks in Brazil, Chapada Diamantina. If you're short on time, this full-day tour is perfect because it brings you to one of Brazil's biggest attractions. Personally, I'm a sucker for the sweeping views from Mount Pai Inacio. It's a bit costly and intensive tour, but worth the money. Click here to check availability!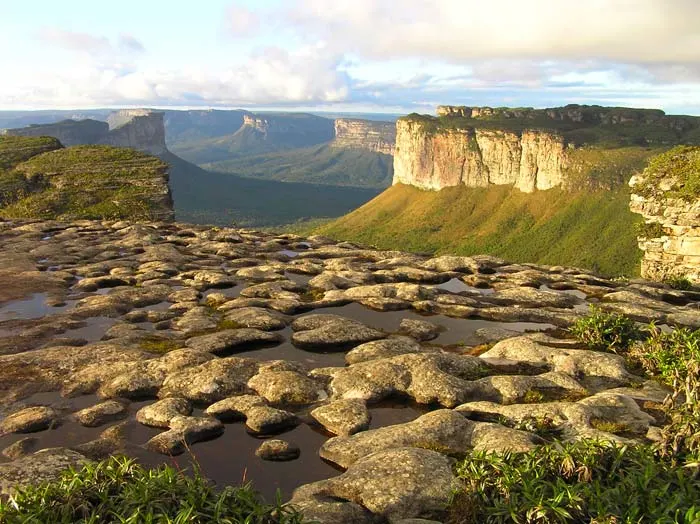 Best Time to Visit Salvador, Brazil
Bahia is known as the land of joy, and much of this is due to the superb parties that take place in Salvador. The mix of cultures makes the capital of Bahia a melting pot of art, which explodes at certain times of the year.
The summers are hot and oppressive, and winters are just warm. Lol
Over the course of the year, the temperature typically varies from 72°F to 88°F and is rarely below 68°F or above 91°F.
Best time to visit Salvador: December-March if you can handle warm weather. Otherwise, August-October
Driest months: January and February
Coldest months: July and August
Wettest months: April-July
Warmest months: January-March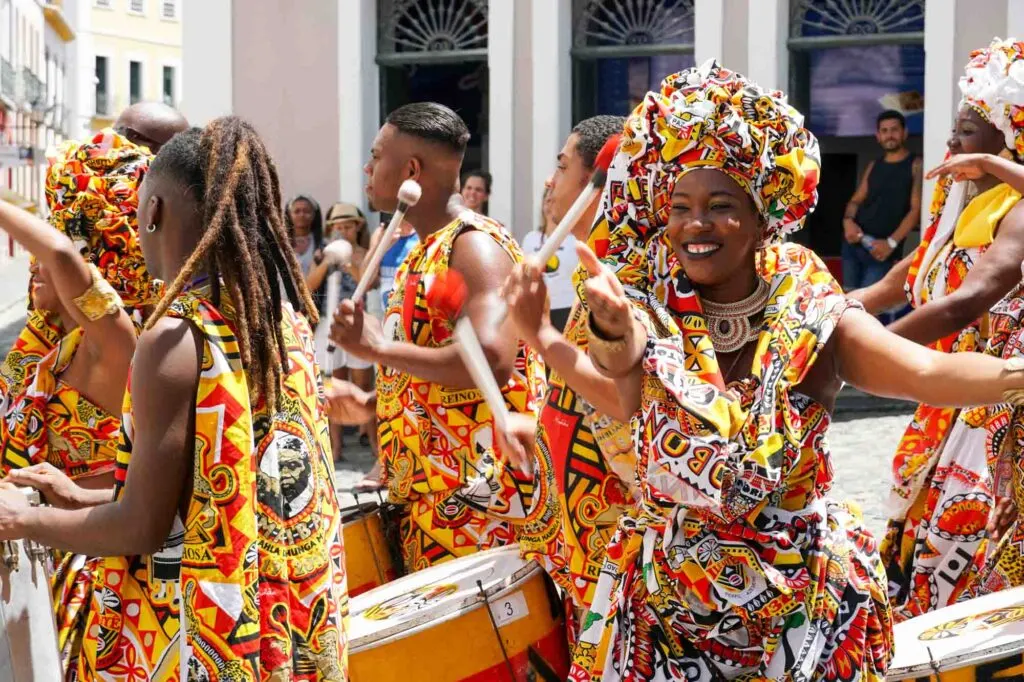 During the beginning of December, a few religious parties take place in the streets of Salvador, Brazil–Santa Barbara and Nossa Senhora da Conceição da Praia.
After Christmas, the next big party is our dear réveillon, or New Year's Eve, if you will. This celebration is filled with music, laughter, and white outfits.
From this moment until Carnival, there are multiple Carnival rehearsals and other religious parties and festivals in Salvador.
Another highly acclaimed cultural event is the Cosme and Damião Day, one of the most important religious holidays in Brazil.
21 Fun Things to Do in Salvador, Brazil
Here are my favorite things to do in Salvador in no particular order. Enjoy!
1. Walk the Cobblestone Streets of Pelourinho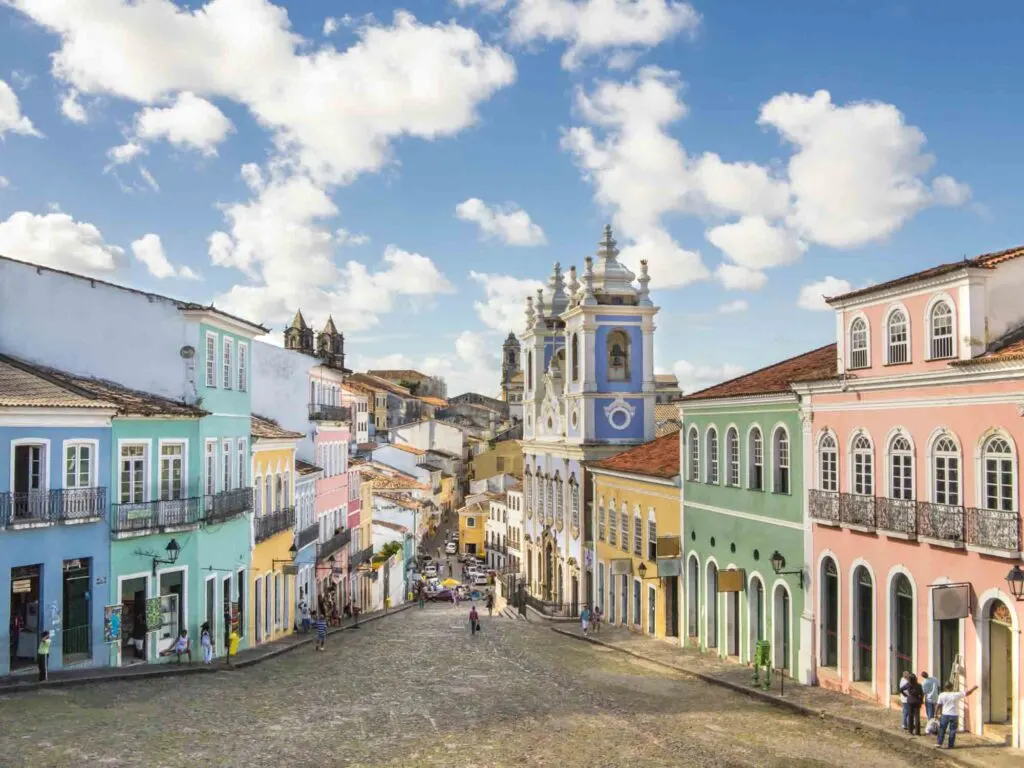 You didn't visit Salvador if you didn't wander through the streets of Pelourinho.
It's such a unique place that you'll absolutely want to take the time to walk the cobblestone streets of Pelourinho.
This area of Salvador is known for its arts and culture, and a lot of Portuguese influence can be found here. The buildings here are also extremely bright and colorful.
However, it wasn't always this way in Pelourinho. The word Pelourinho literally translates into whipping post in Portuguese.
Historically, this area is where slaves brought from western Africa were sold at auction, and that history shouldn't be forgotten when visiting Pelourinho.
Today it's classified as a UNESCO World Heritage Site together with the historic city center because Salvador is notable as one of the major points of convergence of European, African, and American Indian cultures of the 16th to 18th centuries.
2. Ride the Lacerda Lift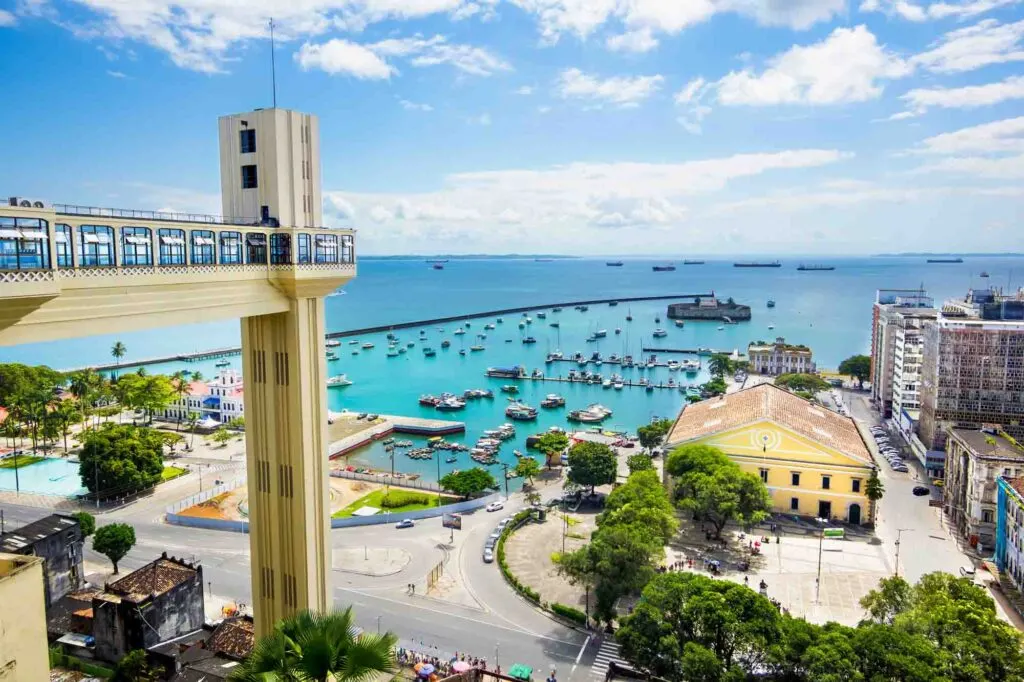 Easily one of the most popular Brazilian landmarks and places to go in Salvador is the Lacerda Lift.
It has tons of history dating back to the 17th century when an old pulley system was put in place here to help move objects from the Lower City to the Upper City.
The art-deco elevator that is standing today was built in the 19th century. It has many improvements through the years, and it can now up to 32 people in each elevator for a 30 seconds trip!
From the top of the elevator, you can get some of the best views that all of Salvador has to offer–the All Saints Bay, Mercado Modelo, and more.
3. Visit the Cathedral of Salvador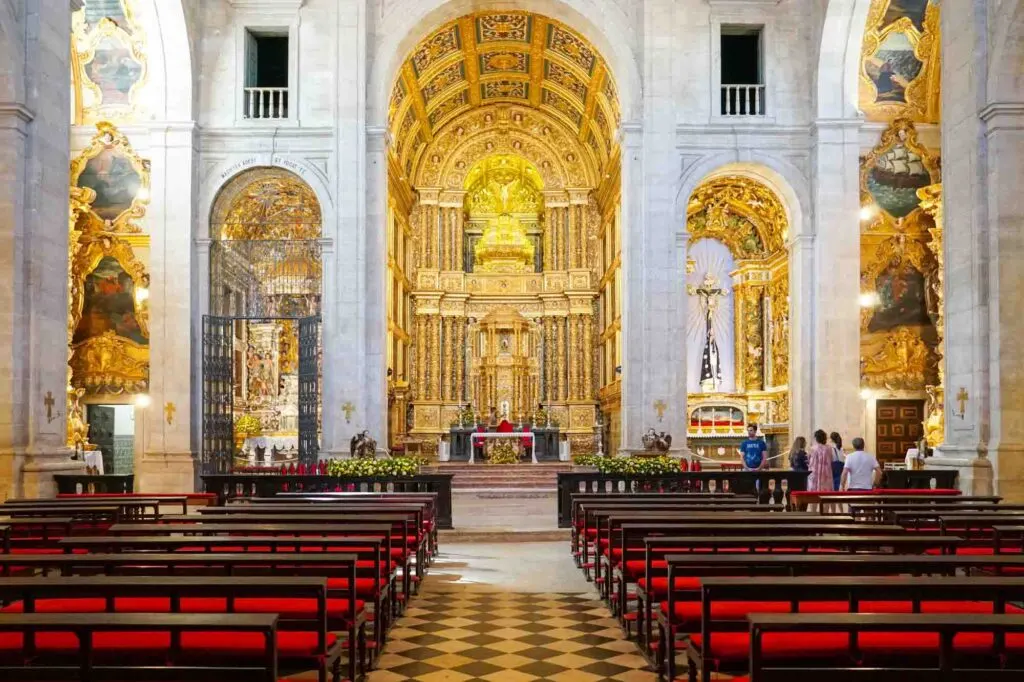 If you're looking for things to do in Salvador, consider visiting the Cathedral of Salvador. This church was built in the 17th century and is an excellent example of the Baroque style of architecture.
The best thing to do inside the church is to appreciate the statues and the altars, which are said to be some of the most important historical artifacts in this part of Brazil!
There is a small fee to get inside the church, but it's well worth it, and the money goes towards future events and restorations that the church may undergo.
4. See a Performance at the Bahian Folklore Ballet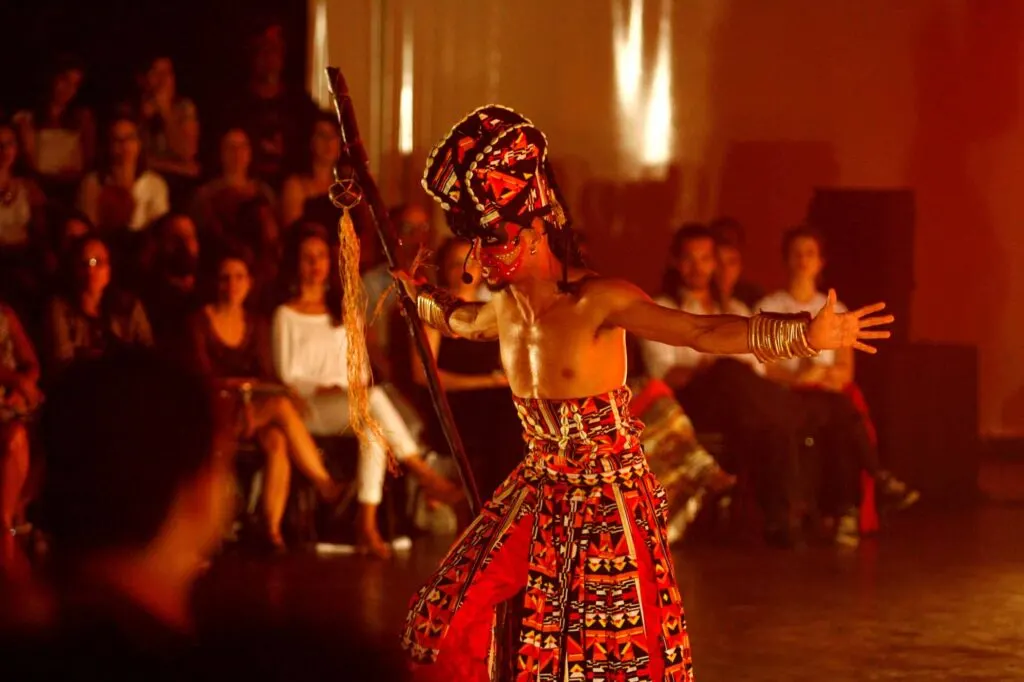 For a unique cultural experience, you absolutely must see a performance!
The Bahian Folklore Ballet was created years ago and is now one of the most important theatrical traditions in Salvador because of the passion and energy of the performers.
Besides, you can learn all about Bahia's history, culture, and influence, throughout the performance, including capoeira, Candomblé, and maculelê.
Click here to check availability
5. Take a Tour of the Rio Branco Palace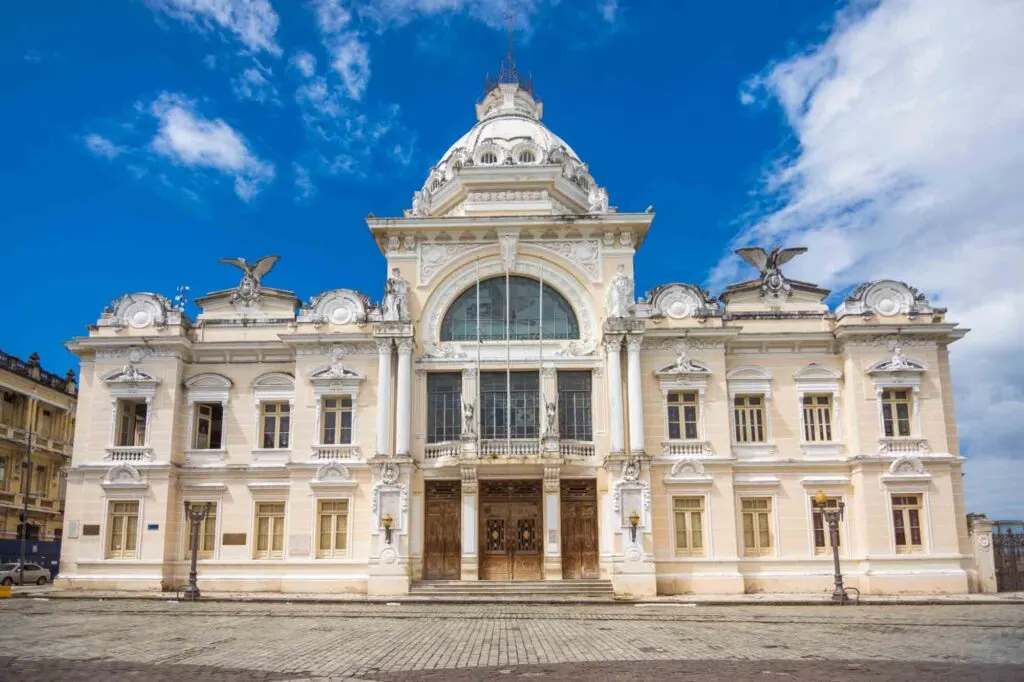 The Rio Branco Palace was built in the 16th century and is an essential museum in Salvador. It's one of Brazil's oldest palaces and is a truly magnificent piece of architecture.
While it served as a palace for a while, it also served as a governmental building for a time. Now, it holds small art galleries.
Throughout the museum, you can explore exhibits and artifacts that explain the history of the area.
Exhibitions include pictures, artifacts, and even written pieces that help educate visitors, including collections about social media issues and beyond.
Be sure also to take the time to check out the courtyard and balcony, which faces the bay.
6. Hit the Beach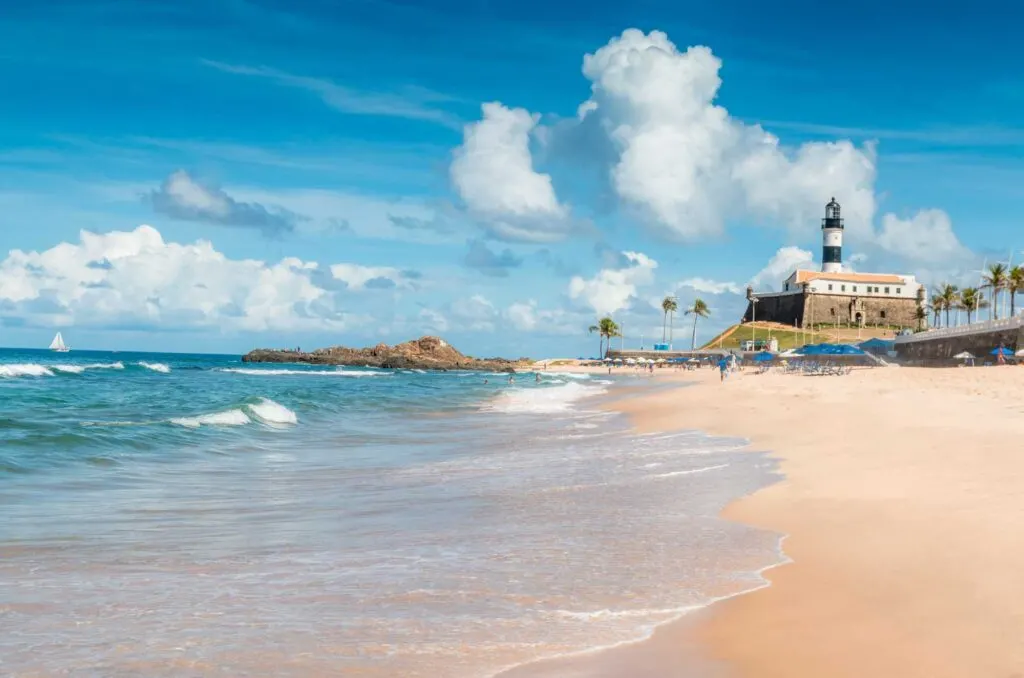 Capital of joy, axé, acarajé, and full of history, Salvador is home to some of the best beaches in Bahia.
So, if you are enjoying a vacation in Salvador, reserve a few days to hit a few Brazilian beaches. After all, sunbathing is one of the best things to do in Brazil.
For instance, Porto da Barra Beach although small and often crowded it has a beautiful view of the City of Salvador Foundation Landmark and is a lovely place to go for a stroll. (Arrive early to avoid the crowds.)
Beyond that, Farol da Barra Beach, Ondinha Beach, and Itapuã Beach are mesmerizing places worth checking out!
7. Admire the Church of São Francisco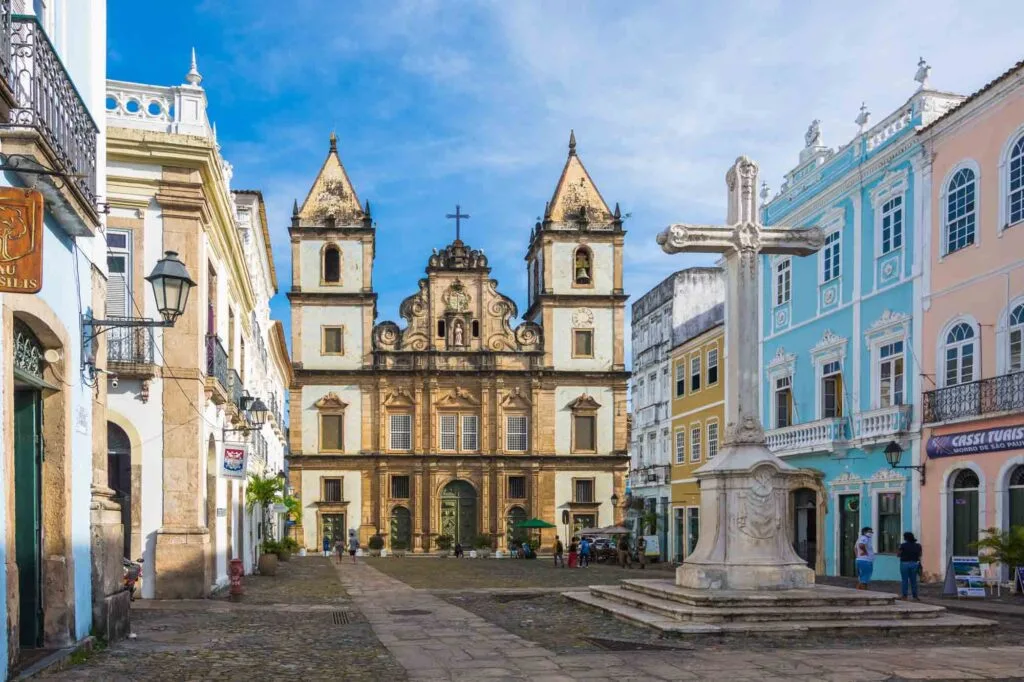 The São Francisco Church is situated in the historical center of Salvador.
The church was established when the followers of the Franciscan Order arrived in Salvador in 1587 and constructed a convent and church in the city.
However, this building was destroyed by the Dutch during the Dutch invasions of Bahia in the next century.
Later, Father Vicente das Chagas initiated a major renovation in 1686, which was completed in the 18th century.
Unsurprisingly, the convent and its church are important colonial monuments in Brazil. They were listed as a historic structure by the National Institute of Historical and Artistic Heritage in 1938.
The convent, church, and Church of the Third Order are some of the Seven Wonders of Portuguese Origin in the World and are an essential part of the UNESCO World Heritage Site Historic Center of Salvador.
If you're looking for places to go in Salvador and want to learn more about history, make a stop at the Church of São Francisco. You will not be disappointed!
Brazil fact: Salvador was Brazil's first capital!
8. Learn About the Benin and Nigerian Legacy at the Pierre Verger Foundation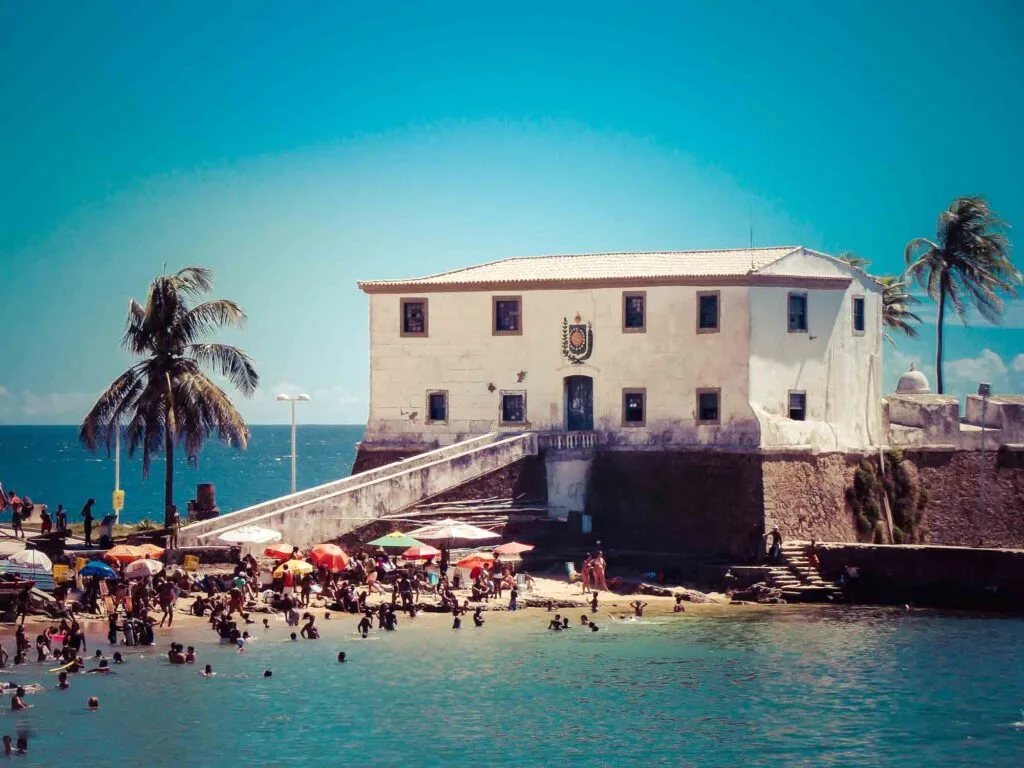 The Pierre Verger Foundation is situated inside of Pierre Verger's old home.
Pierre Verger was a famous photographer in the 20th century born in Paris but resided in Salvador for most of his life and dedicated the majority of his time to studying the African region along the Bight of Benin.
Within the building, you can explore a lot of exhibits emphasizing the common heritage of these places.
Besides, there's a library with books from his collection, photos he's taken, and more.
This is the perfect place to learn more about Pierre Verger and some of the most overlooked roots of Salvador, let alone Brazil.
9. Explore the Church and Convent of Our Lady of Mount Carmel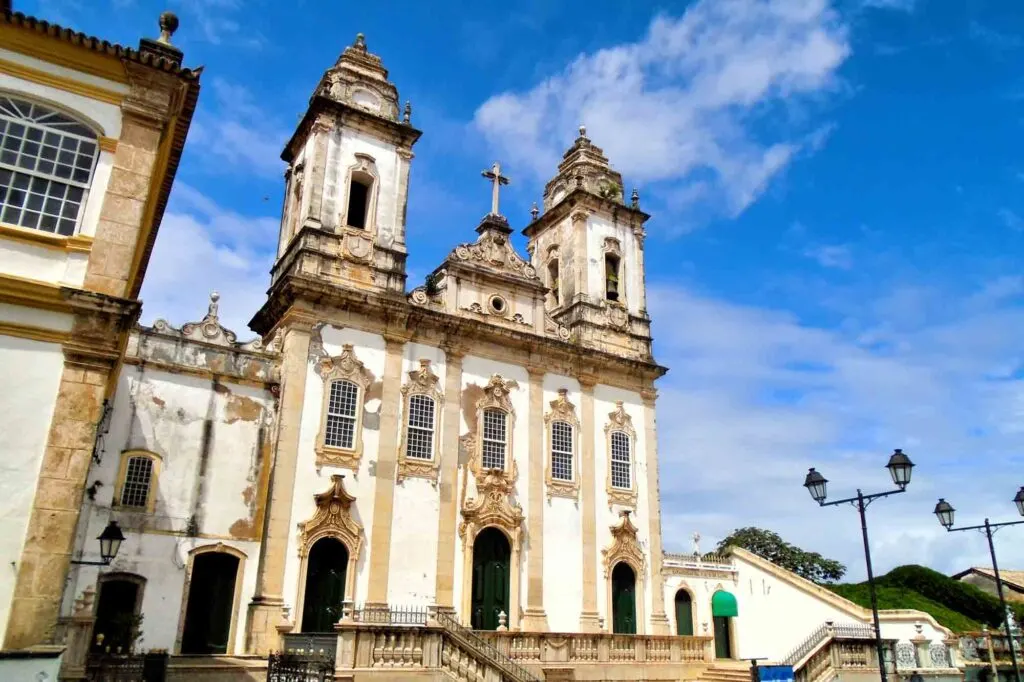 One of the top tourist attractions in Salvador is the Church and Convent of Our Lady of Mount Carmel.
It was built in the 16th century and served as a convent for some time, but it is now a Catholic church. While the interior may not be as lavish as some other churches, it's still worth visiting.
The church's simplicity is why most people visit here. It has beautiful architecture and breathtaking ceilings throughout.
Be sure to pay close attention to the fantastic details and ornaments on the building on the outside!
10. Wander Through the Rio Vermelho District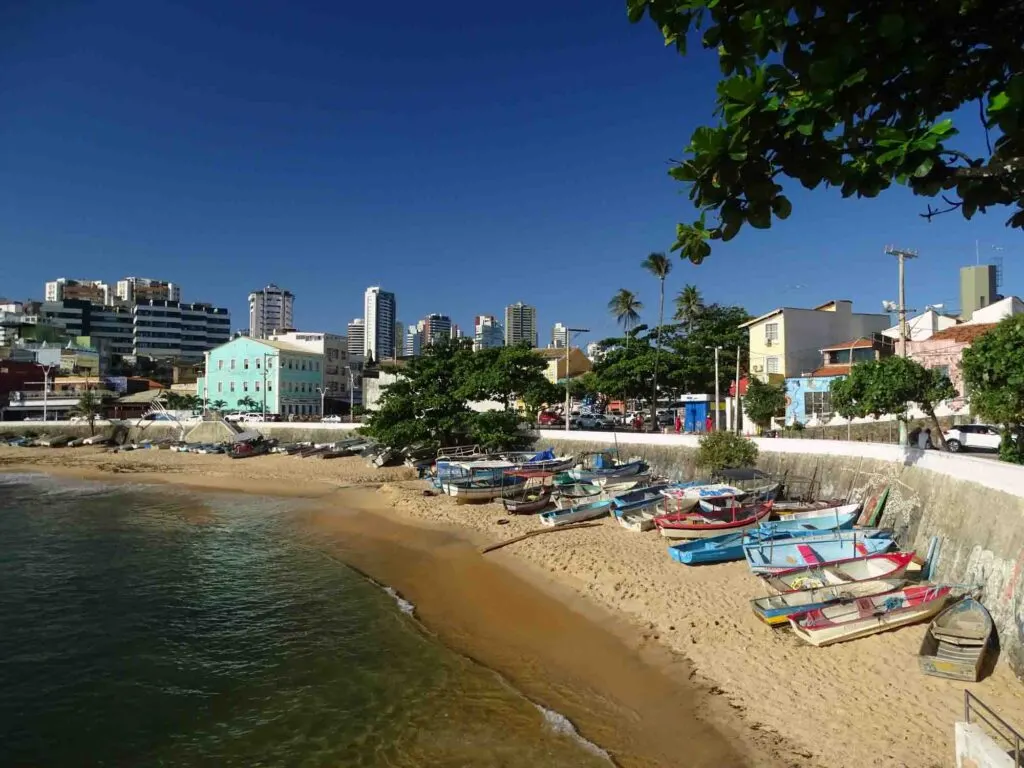 The Rio Vermelho district in Salvador has retained a magnetic bohemian beach vibe, even as the city's skyline has soared with glittering, cliff-top skyscrapers.
The area has been a place of cultural encounters since at least the early 1500s, when the Portuguese castaway Diogo Álvares is said to have washed up there, settled among the indigenous Tupinambá people, and married the daughter of a chief.
This early union has been celebrated in poetry, film, and even a Carnival march.
Today, Rio Vermelho is best known as Salvador's trendiest neighborhood, thanks to its cobblestone streets, plentiful beaches (some used mainly by small-craft fishermen), and an abundance of stylish hotels, music venues, art spaces, and restaurants.
If you're looking for the best part of Salvador, look no more. Visiting the Vermelho district might be one of the best things to do in Salvador for you.
11. Get to Know the History and Work of Brazilian Writers in Rio Vermelho House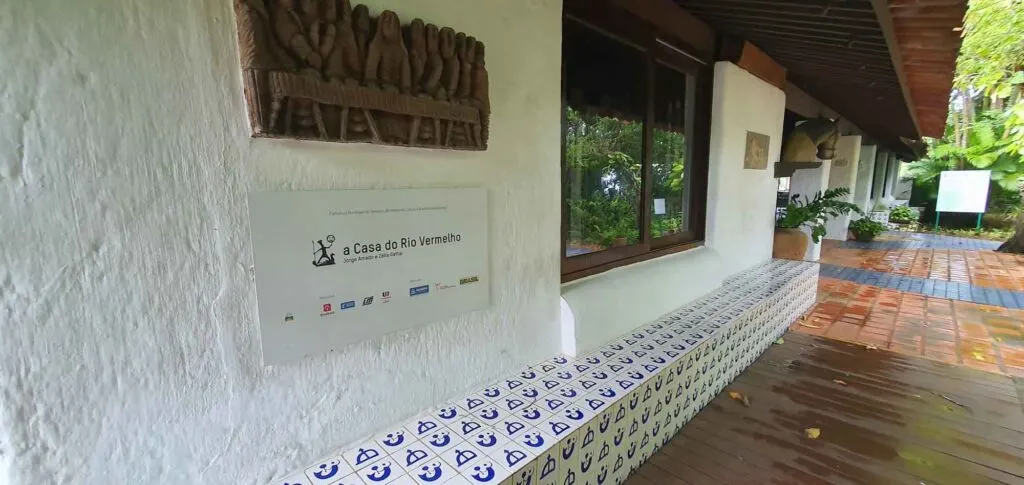 As said above, the Rio Vermelho district is a center of tourism and nightlife. There are many bars and restaurants in the area; it is a prominent place to eat traditional Bahian cuisine, especially acarajé.
However, the Rio Vermelho House is the perfect place for a cultural dive into the lives of some of the most important Brazilian writers, Jorge Amado and Zélia Gatai.
As their former residence, the house allows us to have a broad idea of the lives of these two, from friends and family to works and everything else from their lives.
It is an unforgettable tour in Salvador that you won't want to miss.
12. Live Through Culture in the São Joaquim Fair
The São Joaquim Fair is the city's largest free market, forming a diverse maze of gastronomic, sound, and cultural experiences.
Walking through the numerous alleys of Feira de São Joaquim, you'll fall in love with what Bahia has to offer.
Herbs of all kinds, fresh Brazilian fruits, pottery made in the Bahian Recôncavo, animals, clay crafts, baskets and straw bags, religious items, mouth-watering delicacies, and eye-catching colors.
In the Lower City, between All Saints Bay and Oscar Pontes Avenue, the free market is large in size and history.
Its corridors form a giant maze where you can take a deep dive, without filters and cutouts, into the Bahian culture soul.
The market is one of a kind and arguably one of the most exciting tourist attractions in Salvador.
13. Find a Wish Ribbon at Senhor do Bonfim Church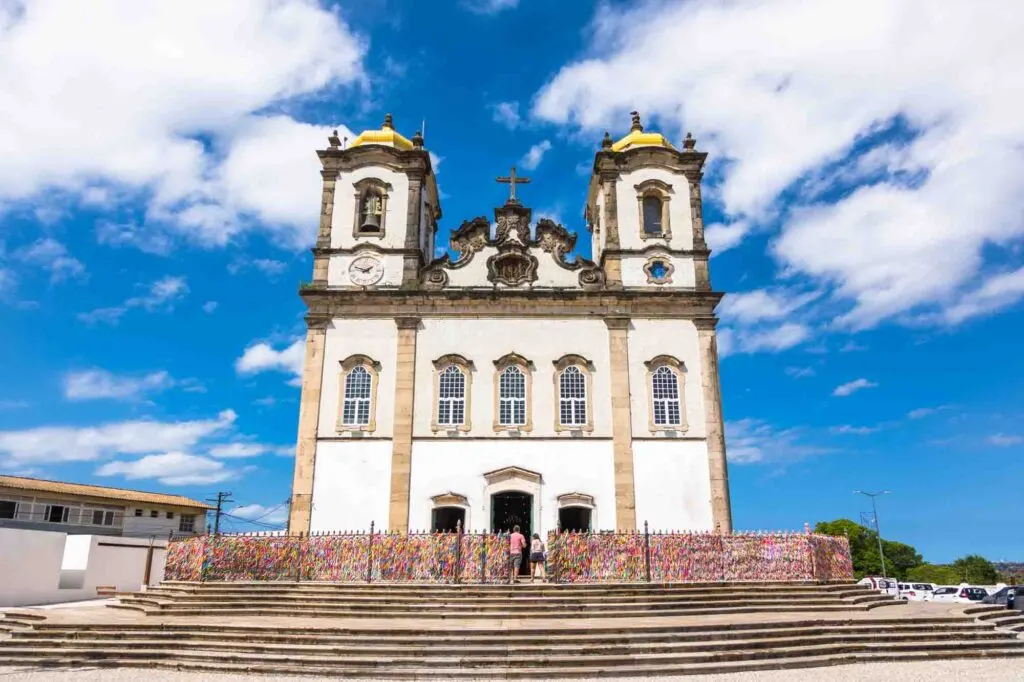 Visiting Senhor do Bonfim Church is one of the top things to do in Salvador. Built in the 18th century, this church is a world heritage site as of the late 1990s.
Also, it's considered to be one of the most popular churches to visit in all the city.
When visiting Salvador, you may find that lots of people have ribbons tied around their wrists. These ribbons are called wish ribbons which initially started with the Senhor do Bonfim Church.
People tie these ribbons in hopes of them helping to cure and aid their issues and sicknesses.
Buy yourself one and bring some back home because although simple, they are historically important and make a fun Brazilian souvenir.
14. Take in the View at Barra Lighthouse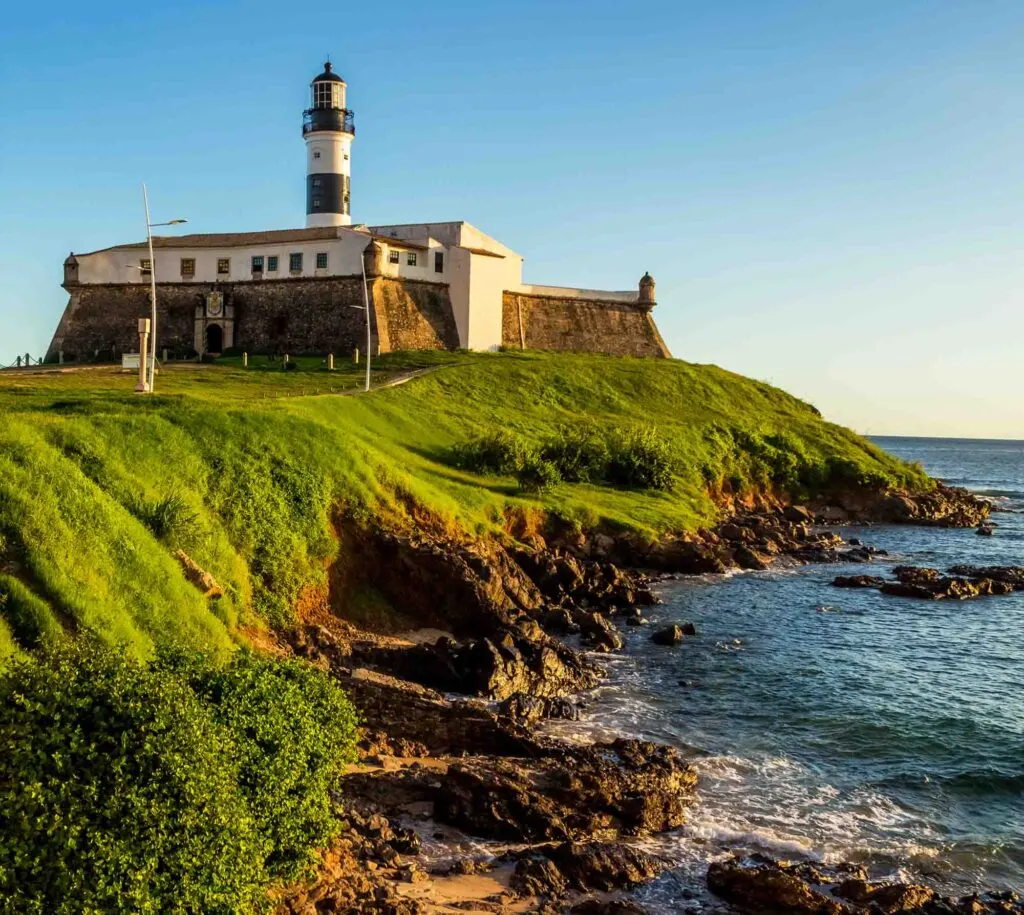 The best views in all of Salvador can arguably be found at the Barra Lighthouse! It's located on the Point of Santo Antônio next to the bay and is seriously breathtaking.
The lighthouse was built in the 17th century after a Portuguese ship, unfortunately, sank in the bay. The city wanted to take measures to make sure something like that didn't happen again.
Today, visitors can climb to the top of the tower and take in the view. There's also a museum near the lighthouse that is filled with lots of nautical artifacts and exhibits.
15. Visit the Bahia Modern Art Museum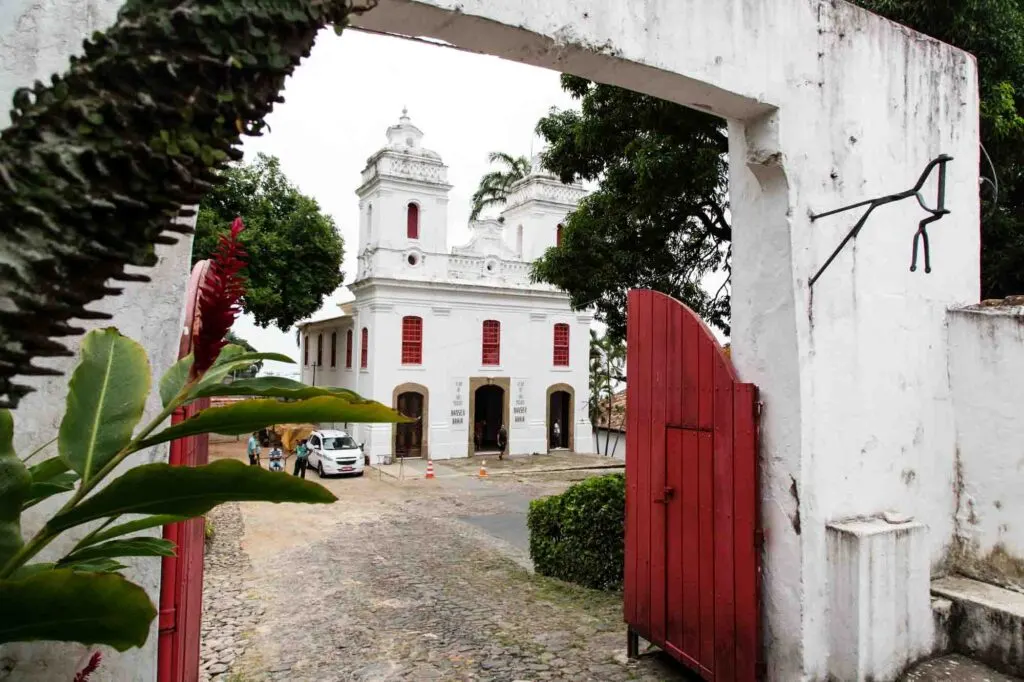 The Italian-born Brazilian architect Lina Bo Bardi created the MAM-BA intending to develop a museum school to encourage and expose the cultural production of the northeast. (She also designed the São Paulo Museum of Art.)
Opened in 1960, the Modern Art Museum of Bahia (MAM) was installed in the foyer of the Teatro Castro Alves, and in 1966 transferred to the Solar da Unhão, a building erected in the 17th century in the historical area of Salvador.
The main change that the architect did in the Solar da Unhão's structure was to demolish the second floor of the mansion to create a large wooden staircase, replicating those used in the bullock cart.
Despite the importance of Lina for the MAM-BA, the architect was fired in 1964 during the military coup.
Today, the MAM-BA is considered the main space for contemporary art in Bahia and one of the most important in the country. An audience of approximately 200,000 people visits every year.
Its five exhibition rooms receive works of famous artists from Brazil and abroad. The museum has an outdoor gallery (the Sculpture Park) and a movie theater, in addition to Rubem Valentim's room.
16. View the Exhibits at the Cultural Afro Brazilian Museum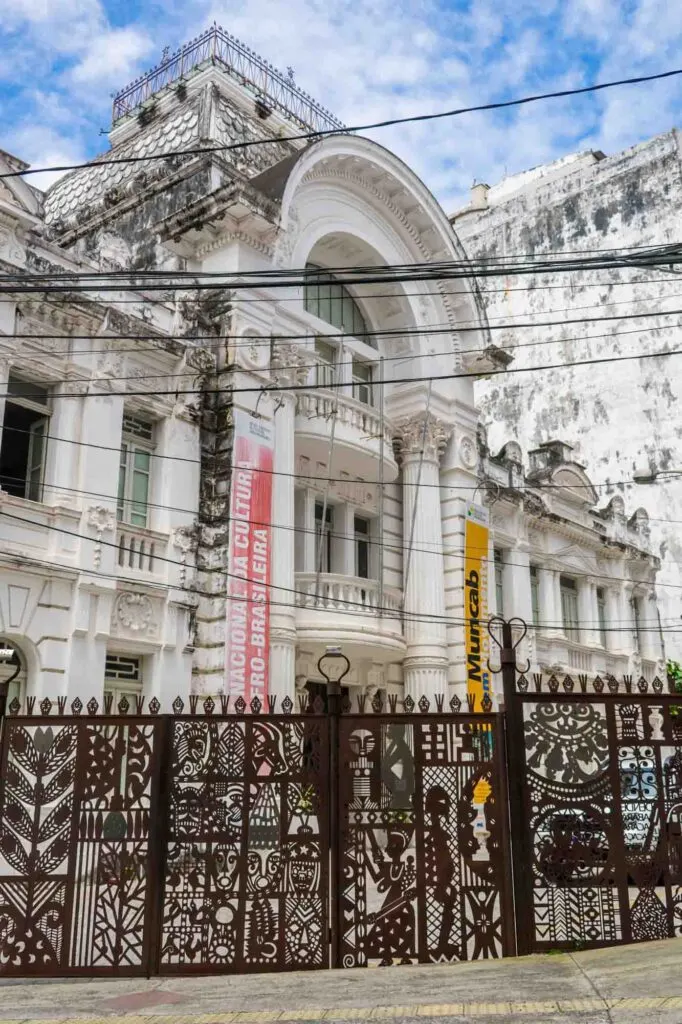 The Cultural Afro Brazilian Museum was opened to the public in the 1980s and is dedicated to educating the public on African culture and history within Brazil.
It's one of only a handful of museums in the country that focuses on the topic.
The museum preserves and disseminates collections referring to African and Afro-Brazilian cultures to strengthen relations with Africa and understand the importance of this continent in the formation of Brazilian culture, encouraging, on the other hand, connection with the local community.
It's a must-visit in Salvador if you really want to understand its roots!
17. See the Bronze Sculptures at the Palace of Arts Rodin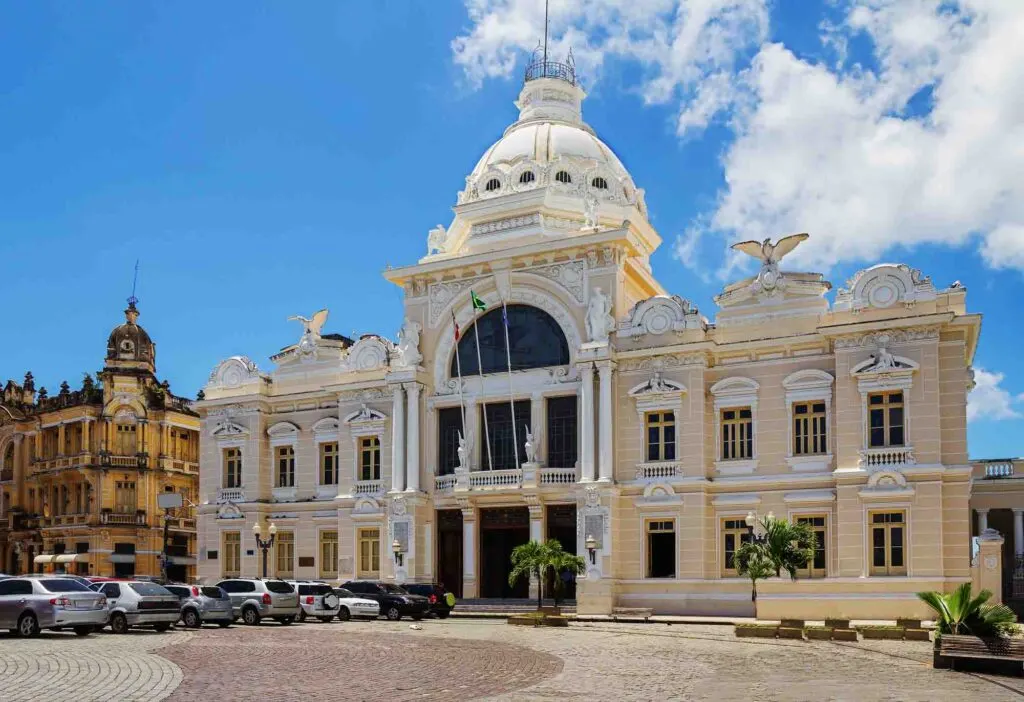 Also called "Villa Catharine," Palacete das Artes was Commander Bernardo Martins Catharino's home, who, by the way, also names two residential buildings in its surroundings.
The architect's design, Rossi Baptista, was idealized and decorated by Oreste Sercelli and was completed in 1912.
In the Mario Cravo Jr. Contemporary Room, the Palacete houses temporary exhibitions of essential artists in the plastic art scene of Bahia, Brazil, and other countries.
It also houses a shop and the Solar Café for a break during your itinerary.
However, Rodin's sculptures replicas are in the gardens together with centenary trees and diverse species of native flora.
The palace is a charming place and is a perfect attraction if you would like to visit a green area surrounded by art in the middle of Salvador, Brazil.
18. Watch the Sunset at Ponta do Humaitá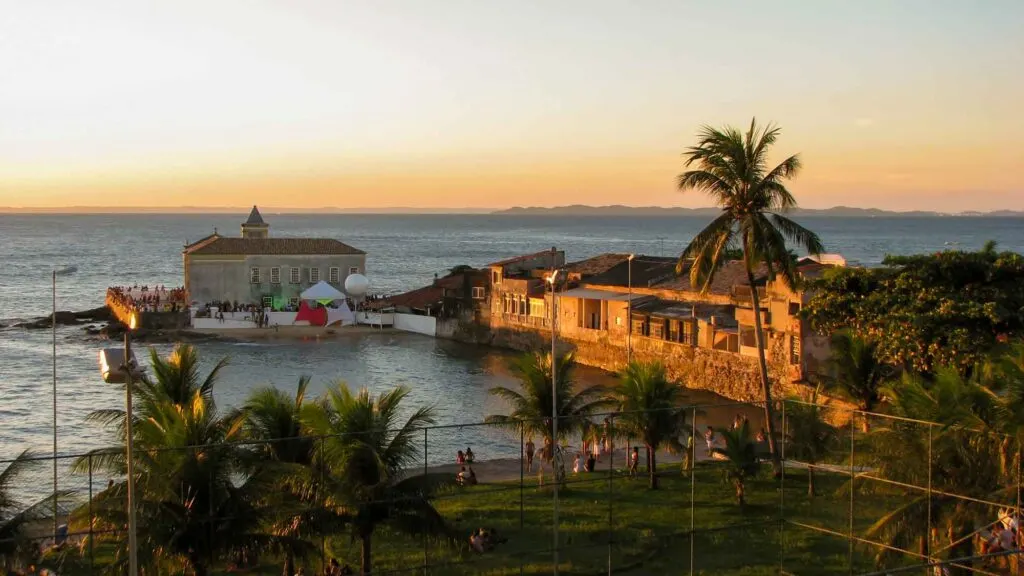 The Ponta do Humaitá is a beautiful place to visit in Salvador, and it is considered one of the best spots to catch the sunset.
There's a historic church here that was built in the 17th century, which features beautiful tiles.
Visitors and locals alike flock here, especially during the warmest months, because of how breathtaking it is.
Because so many people come here to take in the views of the sunset, you want to make sure you get there a little early to score some nice pictures and have a great view of the area.
19. Look for the Emperor's Chair at the Misericórdia Museum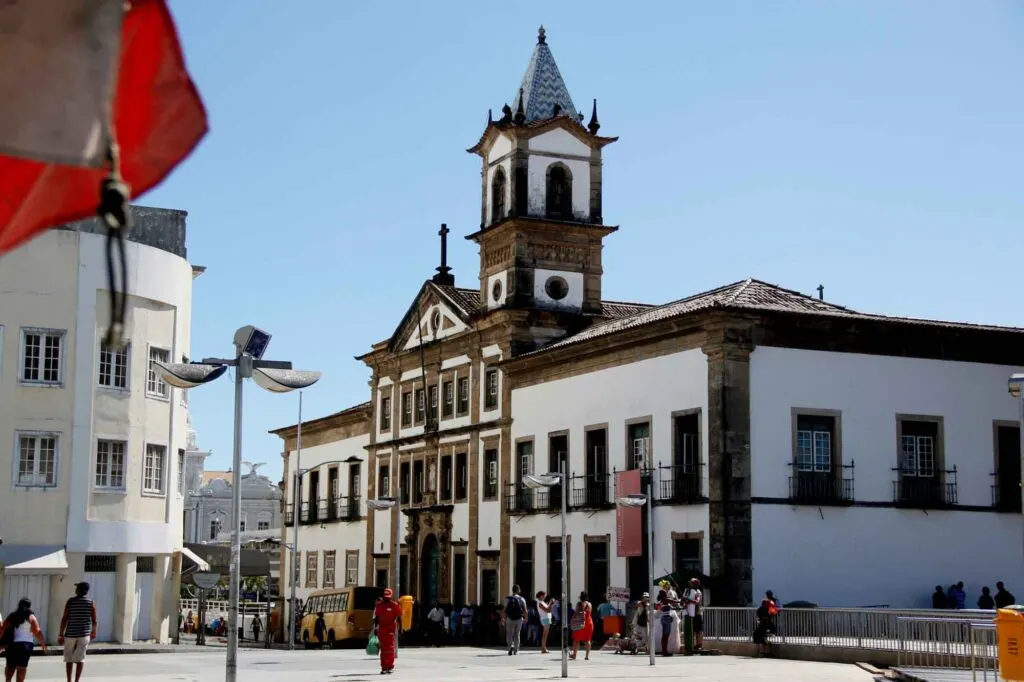 Another one of the best things to do in Salvador is to visit the Misericórdia Museum! The museum is inside of a mansion from the 17th century and is just as interesting as the exhibits and artifacts it holds.
One of the must-see pieces at this museum is the 19th-century chair that was made for D. Pedro II, Brazil's former emperor.
Throughout the museum, you can also find other furniture, paintings, artifacts, the first gas car of Bahia, and more.
20. Discover the History of the Church of Our Lady of the Rosary of the Black People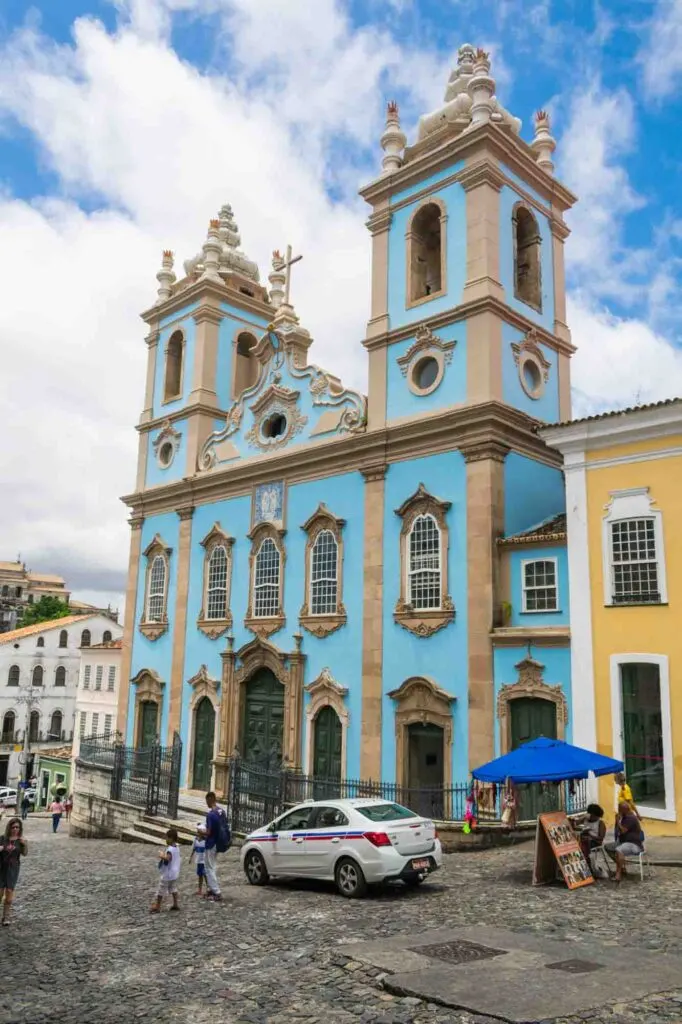 The Church of Our Lady of the Rosary of the Black People is one of the most important tourist attractions in Brazil.
That's because this 18th-century church has Afro-Brazilian roots and is considered a church of the Black Brotherhood.
The church itself is an architectural beauty with gorgeous detailing on both the inside and the outside.
It's built in the Rococo style, which was a popular architectural style at the time that the church was built. At the back of the church is a former slave's cemetery.
The celebrations and music sung during the services are inspired by Candomblé, which helps preserve the history of the black people in Brazil.
21. Learn More About Jorge Amado at the Casa de Jorge Amado Foundation
Established to preserve and promote the study of Jorge Amado's work (1912-2001) and his wife Zélia Gathai (1916-2008), the House of Jorge Amado Foundation was created in 1987.
It is headquartered in a colonial building of the 19th century in Pelourinho.
The foundation keeps a rich and diverse collection of the life and work of the writers as well as Bahian literature, with a massive photographic archive and more than 400 videos, including adaptations of their works for film and television, reports, interviews, and award ceremonies.
Amado's collection also contains manuscripts, articles, and speeches delivered by him.
It would be an understatement to say that Amado's life was exciting, and his work was incredible.
You will not be disappointed if you visit the House of Jorge Amado Foundation as it's one of the best things to do in Salvador, Brazil.
Wrapping Up on Salvador, Brazil
Culture-wise, Salvador is one of the richest cities in Brazil, let alone in the world.
So if you're traveling to Brazil, I urge you to include this city in your itinerary.
As you have seen in this article, there are tons of great things to do in Salvador, and if you plan your trip wisely, you can visit all of these great landmarks during one visit.
Brazil Travel Resources
You're traveling to Brazil! How exciting is that?
Very, I know. But it also is overwhelming. So to help you plan your trip to Brazil, I wrote a series of handful articles for you.
From tours to packing lists, there are a number of travel guides here on the blog that you can read to find literally everything you would need for your vacation.
I also wrote how much a trip to Brazil costs so you can have a rough idea of the prices.
But, you might want to check out these Brazilian movies and shows on Netflix to take the edge off the trip planning. Happy travels!
Did you find this article about Salvador, Brazil, helpful? Then share it with a friend who might enjoy it too!