Arraial do Cabo is an incredible place to visit in Brazil.
It's located in the state of Rio de Janeiro, and it's surrounded by beautiful beaches that are perfect for swimming, surfing, or just relaxing on the sand.
The city itself is simple but very special. Filled with friendly locals, it is one of those places where you just feel at home from the very beginning.
There are also some great restaurants where you can enjoy delicious local cuisine while taking in the view of the ocean, but what Arraial do Cabo really is famous for is its beaches.
That's right: Arraial is home to some of the most beautiful and famous Brazilian beaches.
If you love nature, then this is definitely a place worth visiting because there's so much natural beauty around every corner.
In this guide, you will find all the best things to do in Arraial do Cabo, plus valuable information to know before planning your trip there.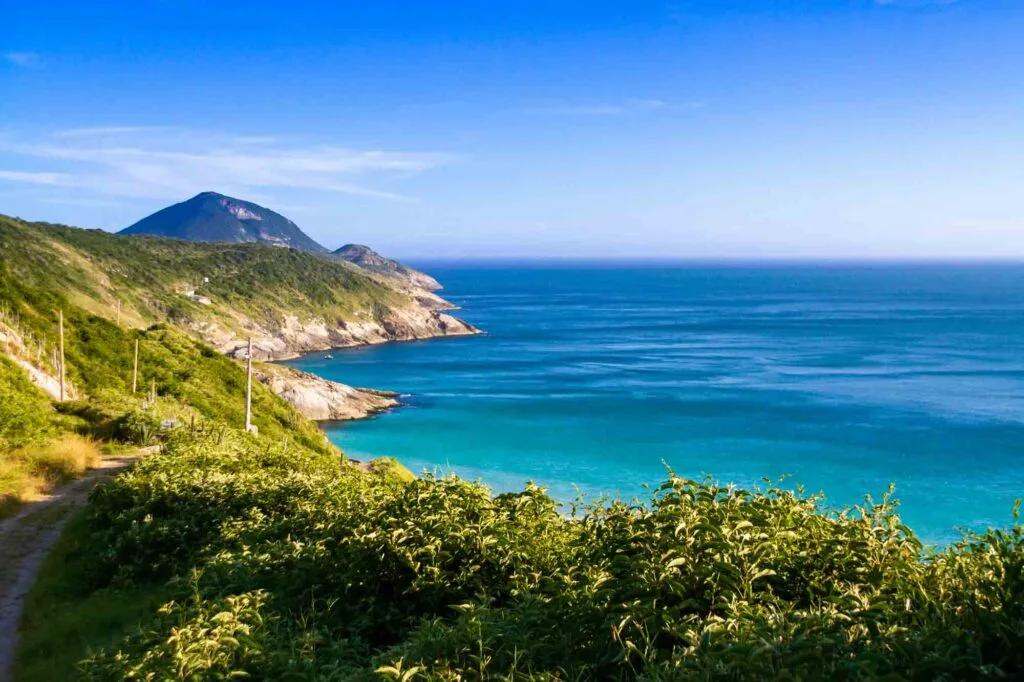 Where to Stay in Arraial do Cabo, Brazil
Arraial do Cabo is a small town, so it's best to stay near the beach, like at Praia dos Anjos. This way, you can explore Arraial do Cabo on foot.
However, if you are looking for a more exclusive and luxurious stay, you can stay at some of the beautiful villas at Pontal do Atalaia.
Cantinho dos Anjos (1BR | 1B): This apartment is perfect for solo travelers and couples, only half a mile away from Praia dos Anjos! You rent a small room with a kitchenette (super handy!). The property also has a number of items you can borrow, including SUP and bikes. Please, do yourself a favor and book one of the rooms with an ocean view! You won't regret it!! Click here to book it.

Casa Pontal do Atalaia (3BR | 3B): Only 1.3 miles from Pontal Beach, this vacation rental is spacious, offers free WiFi, and has the most breathtaking view you will find in town! The ocean view and BBQ facilities will make you want to stay in this house instead of exploring the city. I recommend this vacation home to families and friends traveling together because it's quite big! Click here to book it.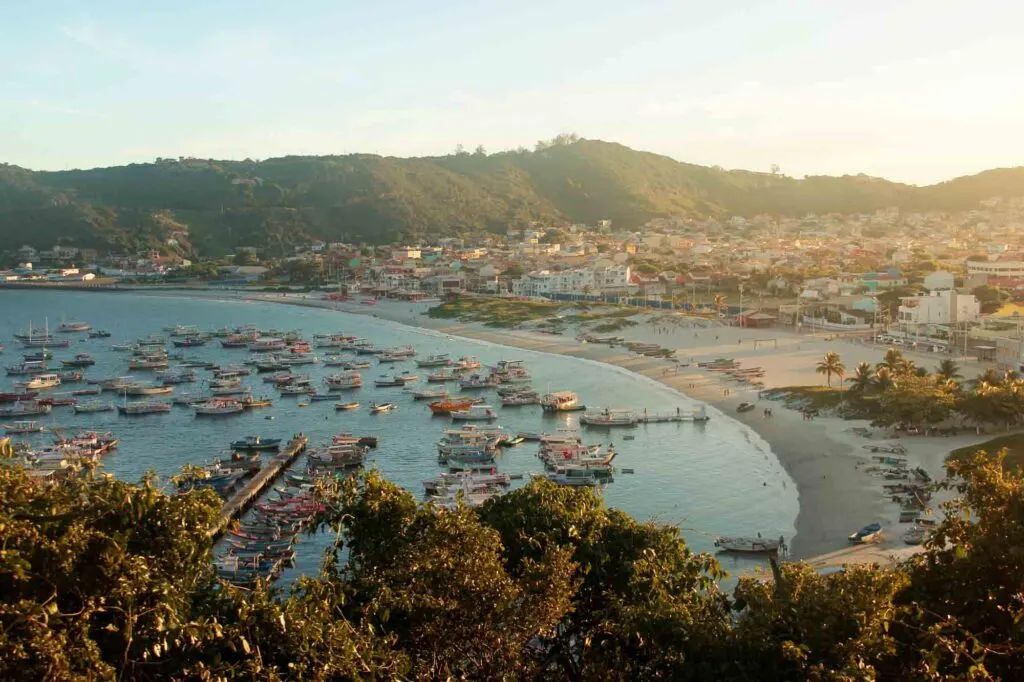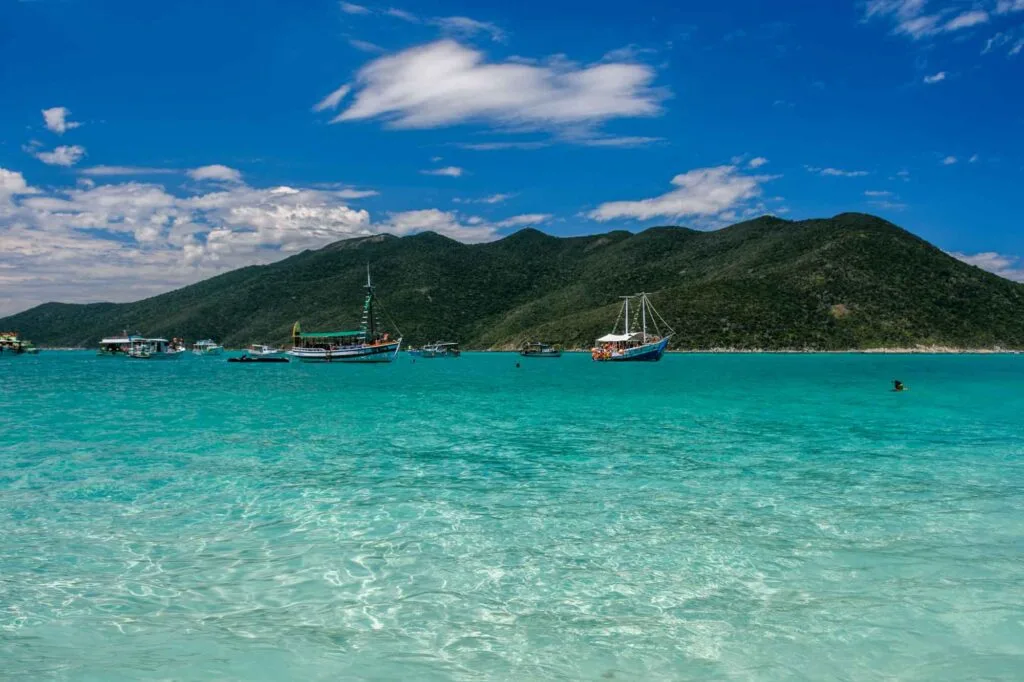 The Best Things to Do in Arraial do Cabo, Brazil
Looking for things to do in Arraial do Cabo, Brazil? I've got you covered!
Here are some of the best activities and attractions that this beautiful city has to offer.
As you already know this far, there are many great reasons to visit Arraial do Cabo.
You can check out these places on your own, but I recommend going on a tour with a local, so you don't miss anything!
1. Learn How to Scuba Diving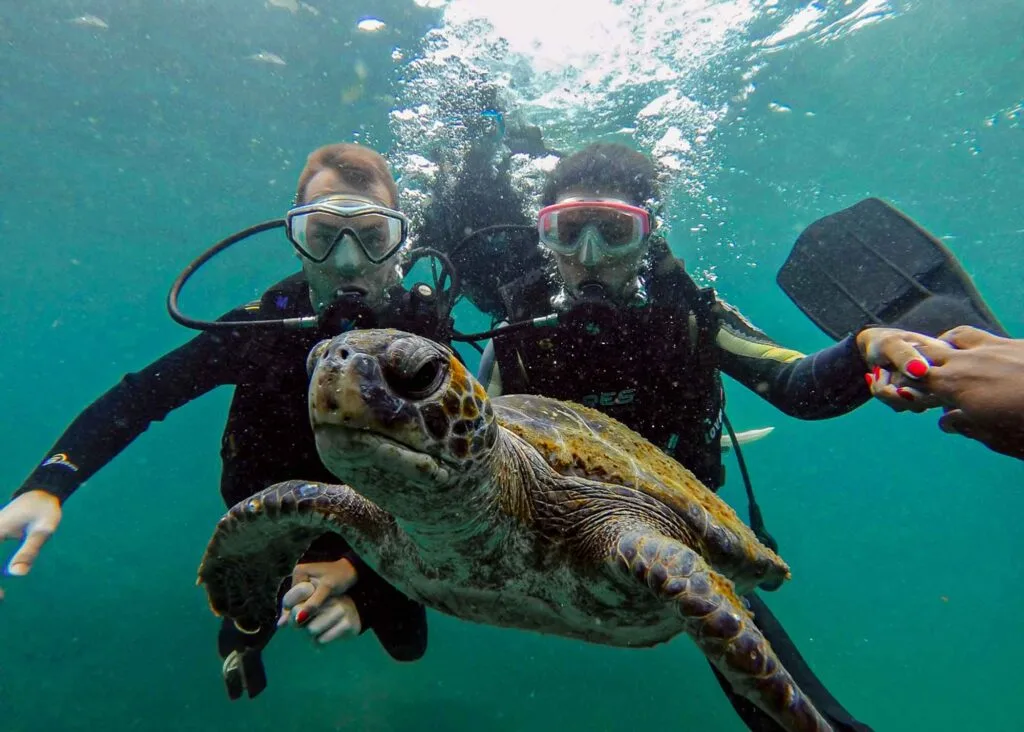 If you want to go diving, there is no better place than Arraial do Cabo. The town has relatively warm water filled with all sorts of sea creatures, including turtles, dolphins, whales, and even manta rays!
So depending on the season you come, you will be surprised with different marine life!
In order to protect these animals from being caught by fishermen, there is a protected area around the bay where fishing is prohibited.
Still, you can scuba dive in Arraial do Cabo one of the best places for scuba diving in Brazil.
Pssst: I, Bruna, gave my husband a scuba diving experience for his birthday, and it was a blast! I can't recommend it enough!
Click here to check availability
2. Go on a Boat Tour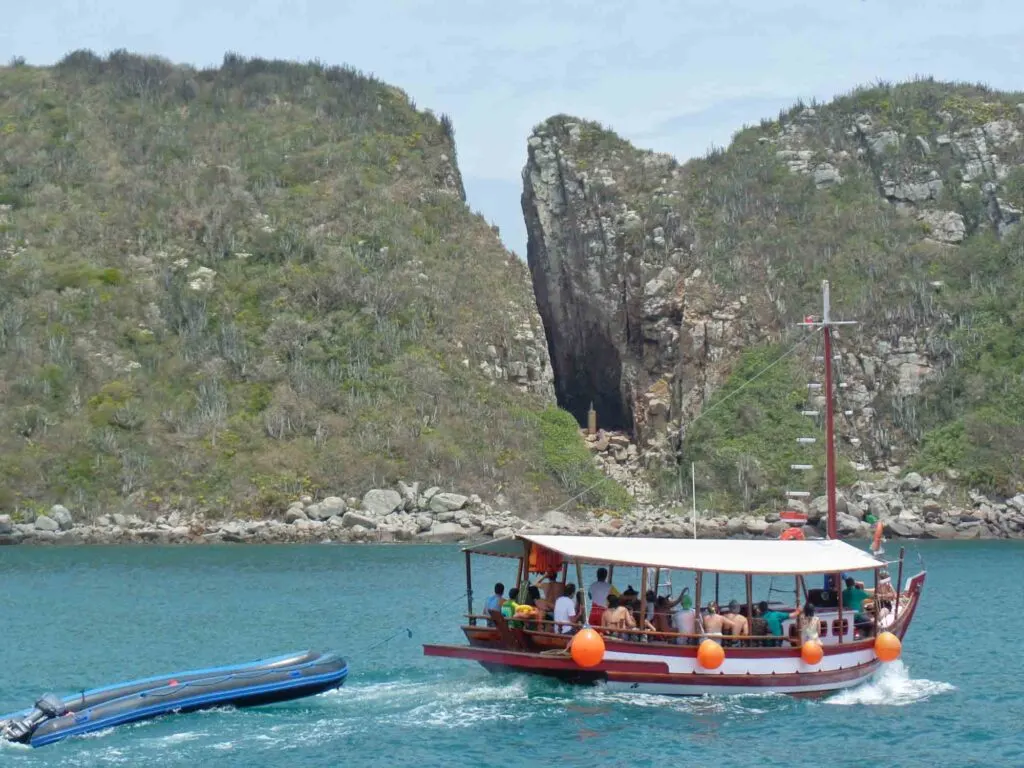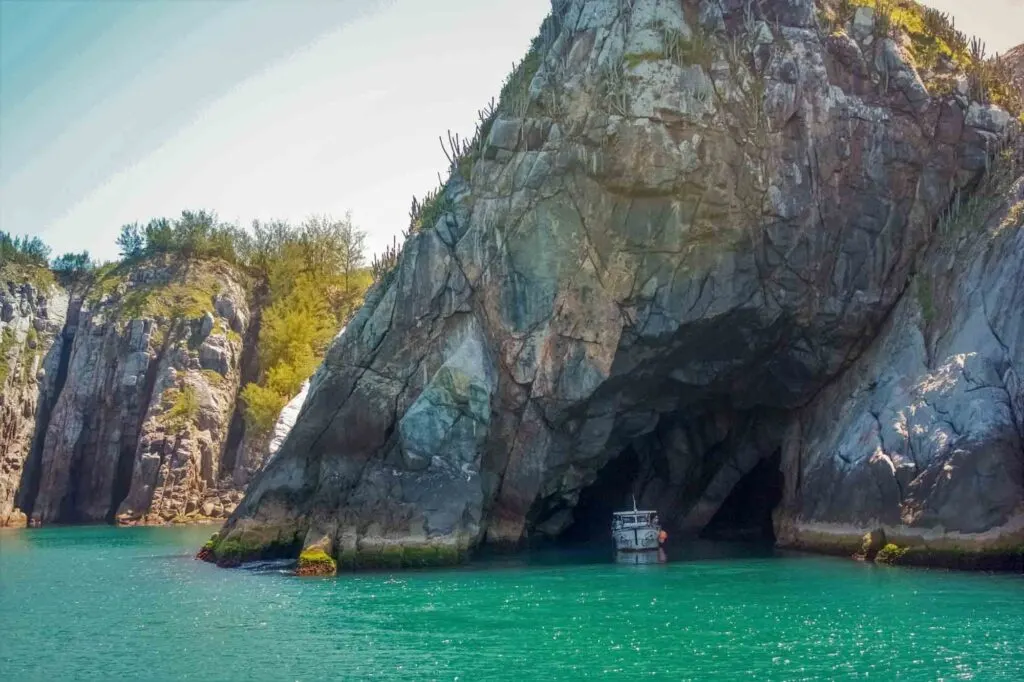 The best way to explore the gorgeous beaches of Arraial do Cabo is by boat.
Several tour operators offer day tours that will take you around the bay and show you some of the most beautiful beaches in the area, including Gruta Azul and Farol Beach!
Farol is a protected beach where visitors cannot bring food or drinks to preserve the local wildlife. It's a site protected by the Brazilian Marine, and once you get there, you will understand why it is such a special place.
These tours include a lot of fun activities like snorkeling, swimming, and partying and usually cost between 10 and 20 dollars.
Pro tip 1: Make sure to check if your chosen tour includes lunch or not! Many of them do, which makes the cost of the tour way more budget-friendly.
Pro tip 2: Make sure to check the weather before booking a boat trip. For safety reasons, in Arraial, it is not unusual for the Marina to forbid boats to sail when it's too windy.
Click here to check availability
3. Hike in Arraial do Cabo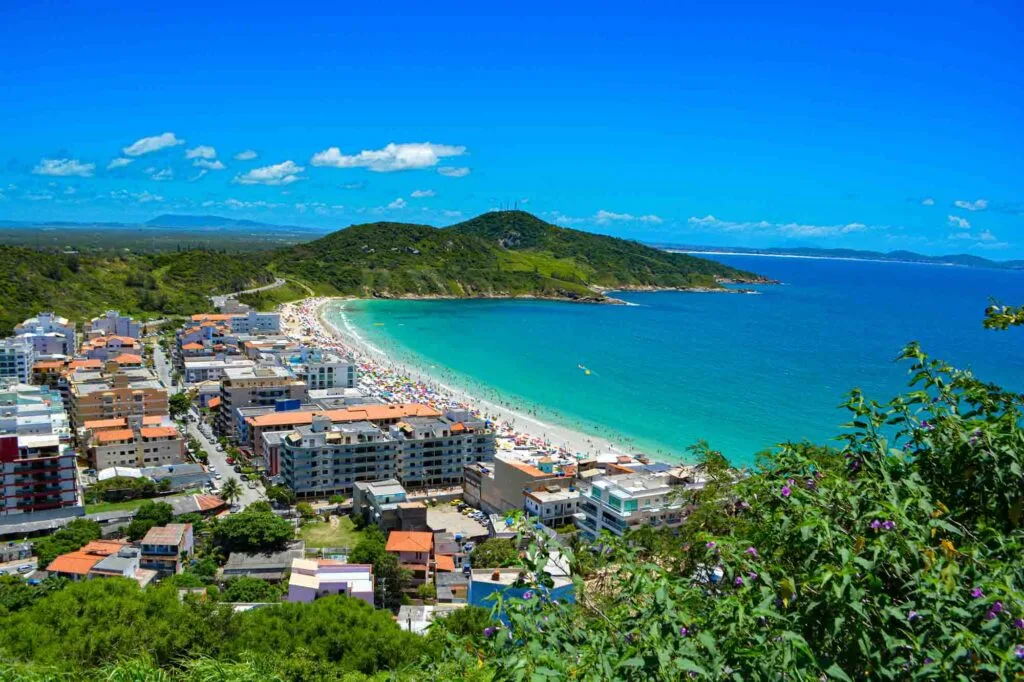 Arraial do Cabo is home to many great hiking trails that lead to some more distant beaches.
These trails are very popular because they offer incredible lookout points of the beaches.
Here are the most popular trails in Arraial:
Praia dos Anjos – Praia do Forno
Praia Grande – Praia Brava
Prainha Beach – Praia do Forno (Mirante da Cabocla)
Trilha Prainha – Praia do Pontal (Circuito Morro do Miranda)
Praia Grande – Lago do Amor
The trails are well marked and easy to follow, but you should always bring a map or download the trail coordinates before you go. Many paths lead to different beaches, so it's easy to get lost if you're not careful.
Pro tip: It's important to make sure you're adequately equipped with food, water, sunscreen, and mosquito spray before venturing out on your hike. If possible, try going during the day because it can be harder to spot snakes after dark.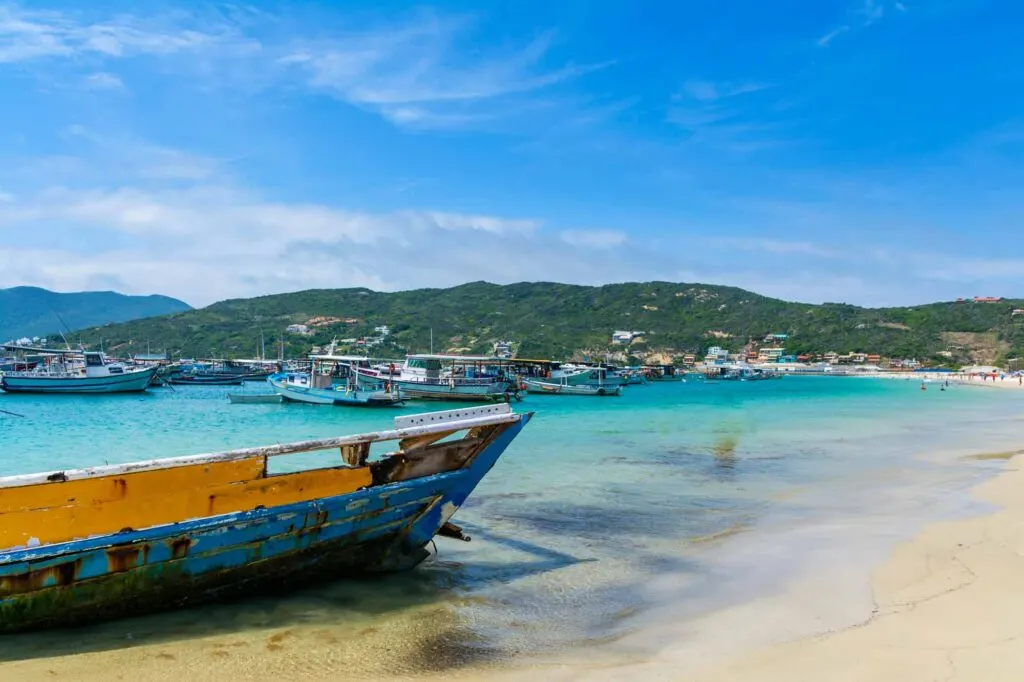 4. Go on a Buggy Ride
Ready for a unique experience in Arraial do Cabo, Brazil?
Then you will want to hop on a buggy tour around some beaches.
This 2-hour buggy ride takes you to some amazing beaches of Arraial do Cabo, where you can take lots of pictures and capture this incredible trip.
Highly recommend it!
Click here to check availability
5. Visit the Beaches at Pontal do Atalaia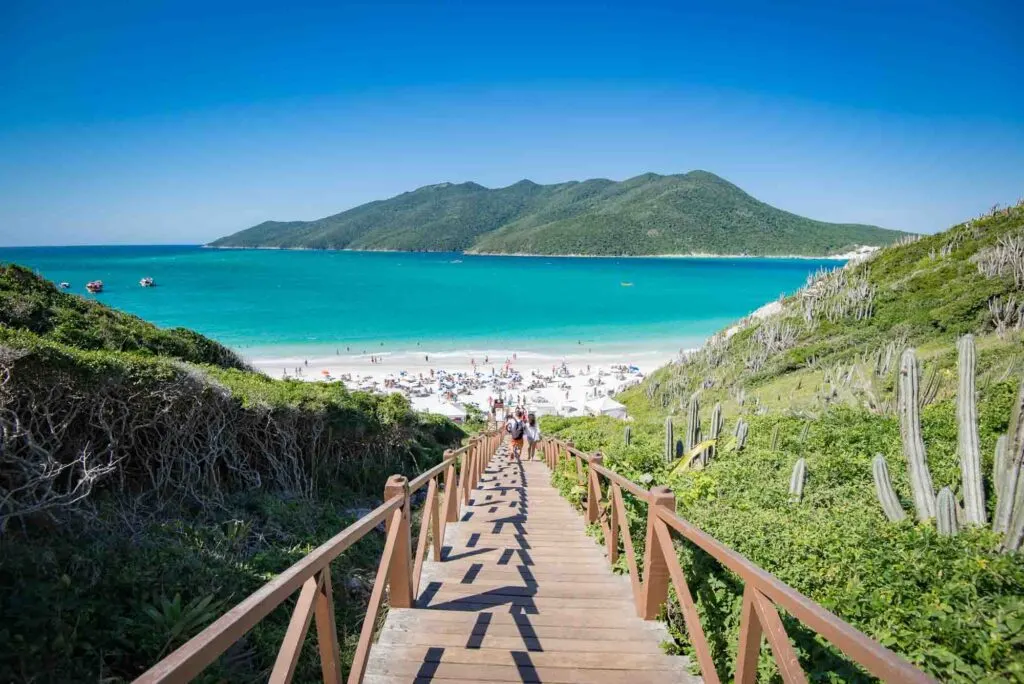 When most people picture Arraial do Cabo, they are thinking of the stunning beaches in Pontal do Atalaia.
These beaches are made up of very fine sand, have blue water, and are bordered by rocks on one side while also offering fantastic views of the Atlantic Ocean.
Also, the access to these beaches is through the Pontal do Ataiala staircase. This staircase got Instagram famous because of the aerial views it offers.
Although it is possible to walk here, I highly recommend taking a taxi instead because the journey can be quite long and the entrance to the beach is very steep.
6. Go on a Day Trip to Búzios or Cabo Frio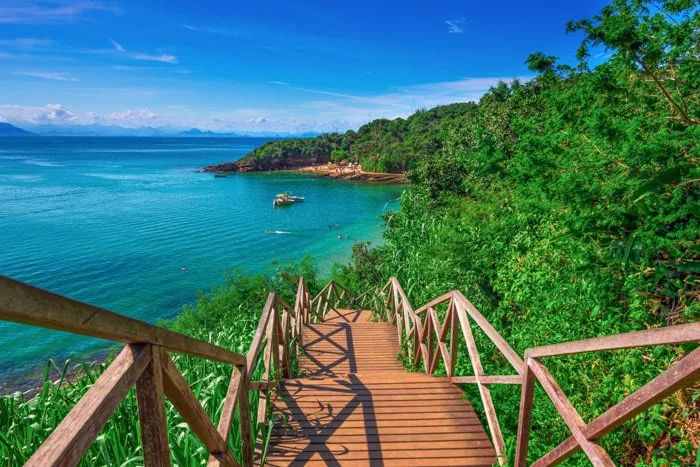 Less than a one-hour drive from Arraial do Cabo, you can find other great touristic towns such as Búzios and Cabo Frio.
These towns make for excellent day trips from Arraial do Cabo, and there are even public buses connecting them. Make sure to check the timetables before you go though!
Búzios is an idyllic town on the coast of Brazil, and it has a unique atmosphere that makes it very popular among tourists, so a guided tour with a local is highly recommended.
The contrast between its busy nightlife and serene beaches make Búzios a unique place to visit. The city is also home to many great restaurants and hotels.
When visiting Buzios, you cannot miss exploring Rua das Pedras, Orla Bardot, and relaxing at all the stunning beaches.
Cabo Frio is another beautiful town with lots of beaches to try during your stay in Arraial do Cabo. In comparison to Buzios, Cabo Frio is a larger city but still very worth visiting.
It is home to Bairro da Passagem, one of the oldest historic neighborhoods in Brazil, and to Ilha do Japonês, a new trendy tourist destination in Brazil that is frequently compared to places such as the Caribbean.
Also, Cabo Frio has a great array of fantastic restaurants to try and is home to Rua dos Biquínis, one of the best places to buy swimwear in the state.
You can read about the best things to do in Cabo Frio here.
Pro tip: Cabo Frio is a good place to visit in case it starts raining during your visit to Arraial!
7. Watch the Sunset at Praia Grande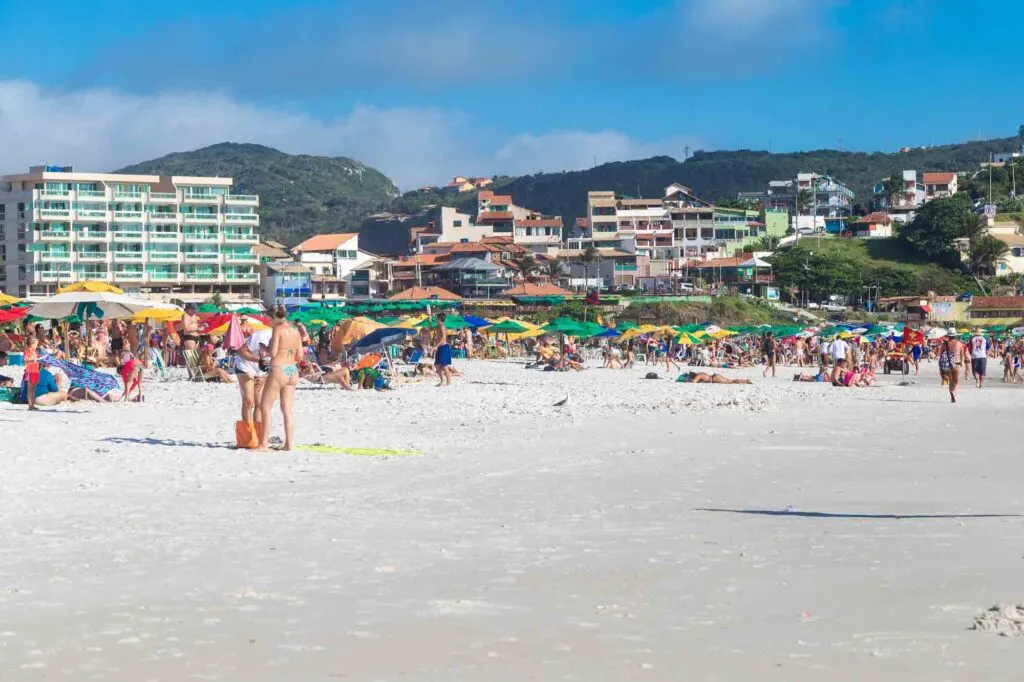 Praia Grande is one of the most popular beaches in Arraial do Cabo, and watching the sunset here is an absolutely unforgettable experience.
The best spot to watch it is directly from the sand, but there are also several restaurants and kiosks that offer amazing views as well.
Also, the best time to visit Praia Grande is during the week because it gets crowded over the weekend.
Wherever you decide to go, make sure you bring your camera!
8. Take Beautiful Pictures at Deck dos Pescadores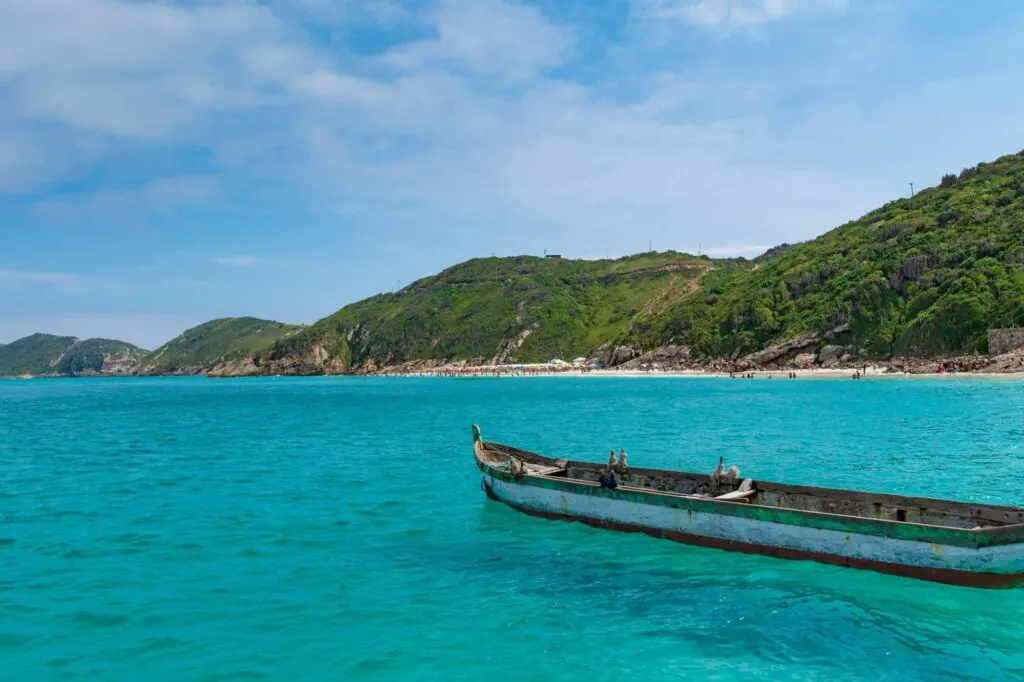 Deck dos Pescadores, "Fishermen's Deck" in English, is one of the most iconic attractions in Arraial do Cabo, and it's definitely worth checking out if you're into photography!
The deck is located on the end of Praia Grande and is easy to access. Here, you will find many photo ops and super Instagram-worthy sceneries. All that with the gorgeous turquoise water of Arraial do Cabo in the background.
Make sure to go here on a sunny day, so the water's color is at its best.
Pro tip: If you go alone or just really want to make sure you get really nice pictures, there is a local photographer always available on the deck!
9. Hike to Praia do Forno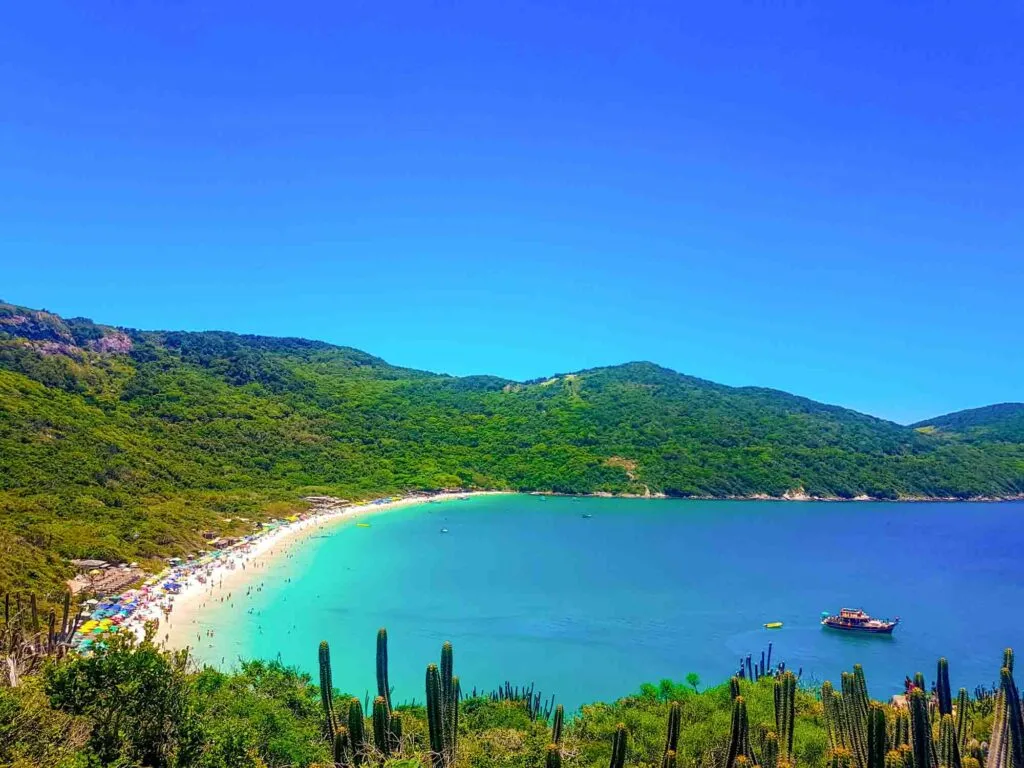 Praia do Forno is one of the most beautiful beaches in Rio de Janeiro State.
You can get to this secluded beach by going on a boat tour following an easy trail for about thirty minutes from the main road, but make sure you bring water and something to eat with you in case the restaurants at the beach are not open!
If you visit Praia do Forno during a holiday, make sure to get there as early as you can to secure a good spot on the sand.
Local tip: Once you reach the top of the hill dividing Praia dos Anjos and Praia do Forno, take in the view of Forno Bay! It's gorgeous!
10. Have a Caipirinha at Praça do Cova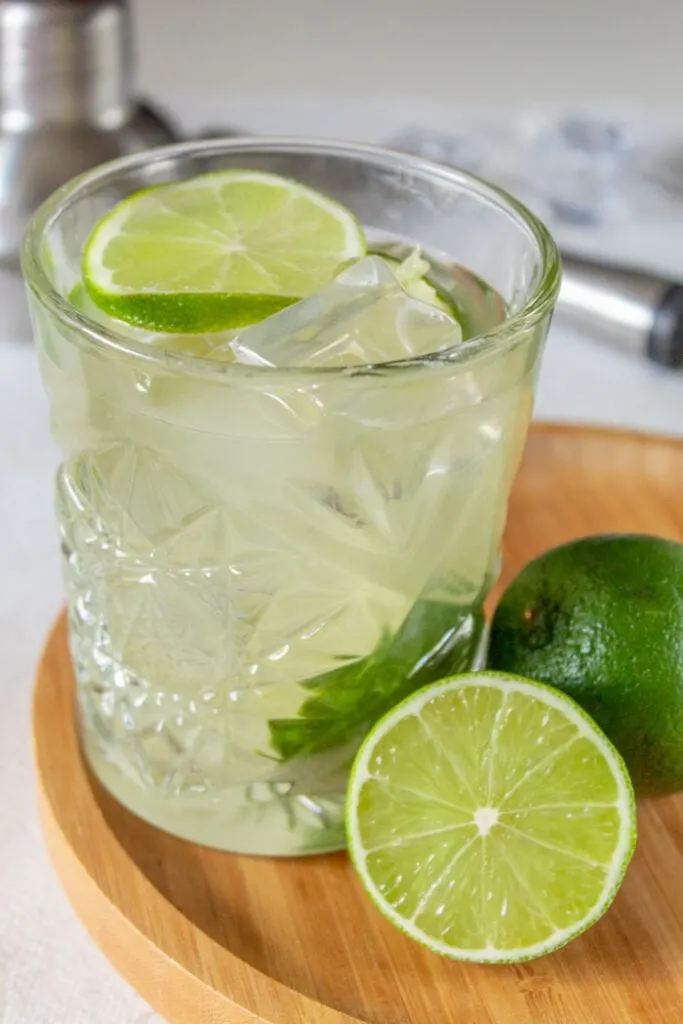 Arraial do Cabo is not really known for its nightlife since there are very few bars and restaurants in the city.
However, Praça do Cova, near the marina, is a good place to grab a drink – like a traditional caipirinha made with cachaça, a Brazilian liquor – and get something to eat.
This is where most locals reunite at night and it's hands-down one of the best things to do in Brazil!
These are some of the best restaurants to try at Praça do Cova:
Restaurante Portal Gourmet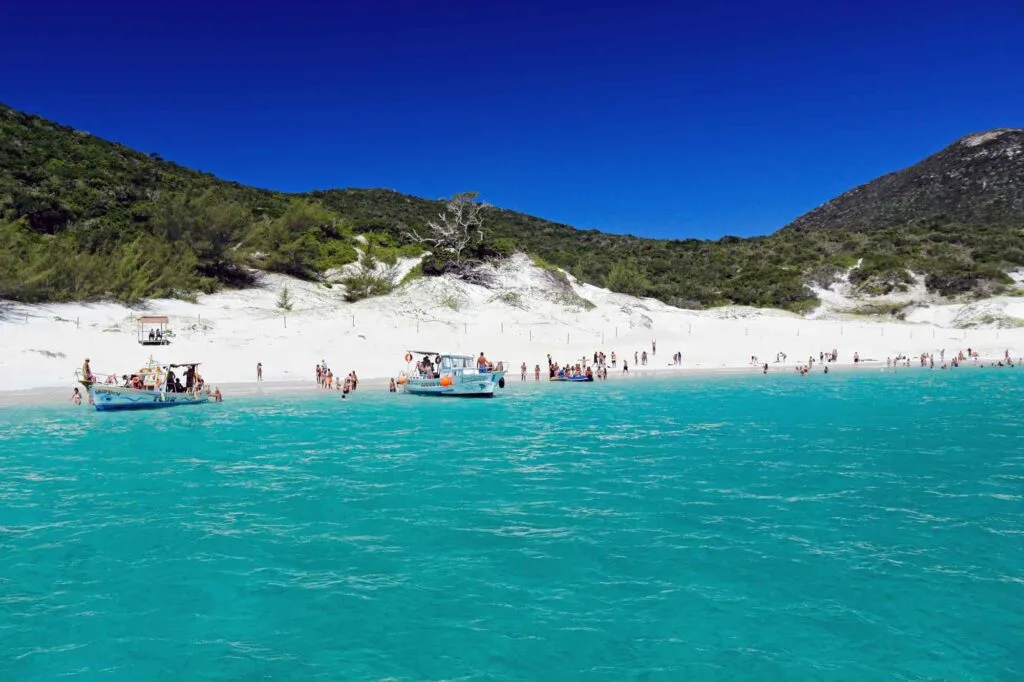 11. Surf at Praia Brava
Praia Brava is another beautiful beach in Arraial do Cabo.
To get there, it is necessary to hike for a couple of minutes and then descend a stone staircase with more than 300 steps. It is worth it, though!
This secluded beach is absolutely paradisiac and a great place for surfing or just relaxing on the white sand.
12. Have Dinner at Fixi in Pontal do Atalaia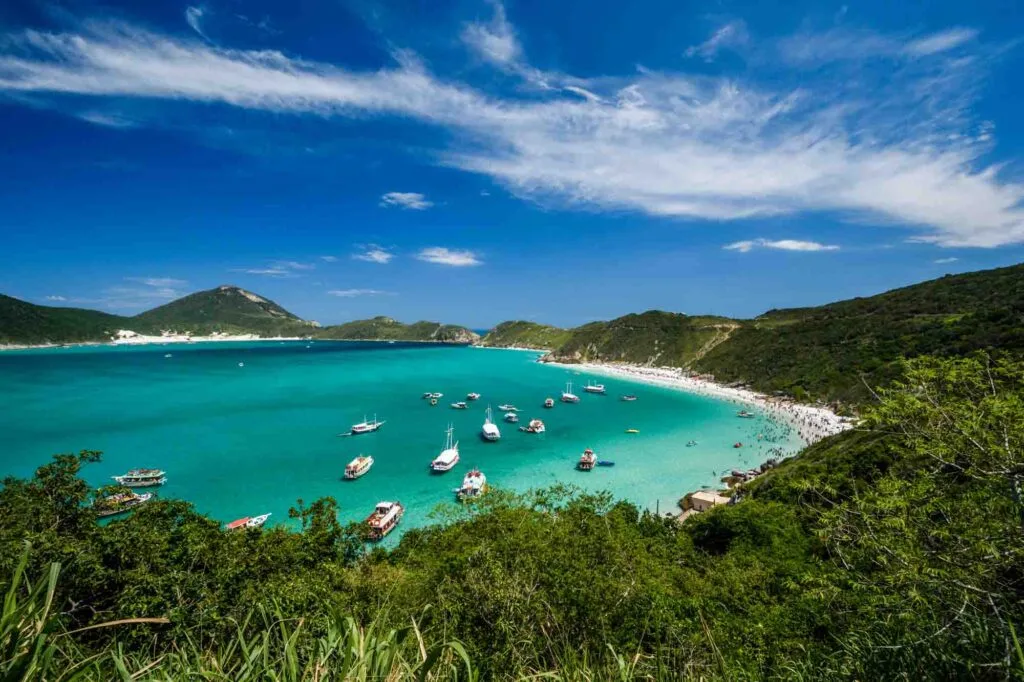 Fixi is undoubtedly the most high-end restaurant in Arraial do Cabo. If you want to have a fancy dinner and become acquainted with Brazilian food, this is the place to go!
The restaurant specializes in seafood + vegan food. The menu here changes daily because they only use freshly caught produce of the highest quality. Therefore, some kinds of fish are not always available.
Fixi offers delicious food, but what really makes this restaurant a must is the spectacular views of Pontal do Atalaia it offers.
The Best Time to Visit Arraial do Cabo
The best time to visit Arraial is during spring.
The summer is the peak season in Arraial do Cabo, making the hottest months December, January, and February. But be warned, the windiest month is October, followed by November.
Still, the best time to visit Arraial do Cabo is during spring, between September and May.
The weather is still nice enough for you to walk around barefoot, but it's not as hot as it would be during summer.
Therefore, this might also be the cheapest time to travel!
How to Get to Arraial do Cabo from Rio de Janeiro
The easiest way of getting from Rio de Janeiro to Arraial do Cabo without a car is by taking a bus.
Buses to Arraial leave from the Terminal Rodoviário Novo Rio and cost around 60 reais each way. The trip takes around four hours.
Alternatively, you can go on a day tour from Rio de Janeiro to Arraial, which includes a boat trip in Arraial do Cabo + lunch!
Click here to check availability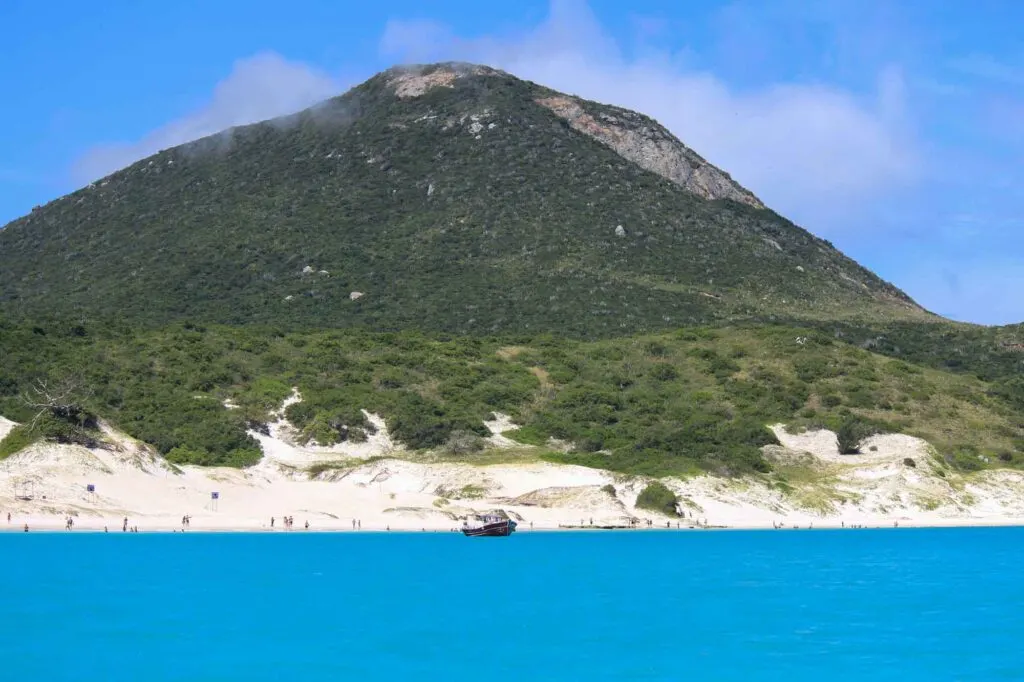 How to Get Around Arraial do Cabo
You can easily get around Arraial on foot as most attractions are within walking distance, nearly 20 minutes away from each other.
If you don't really feel like walking, Uber is available for a fair price. You can also rent a bicycle or scooter from shops close to the Marina.
If you plan on visiting nearby towns such as Búzios or Cabo Frio, you can take an Uber or even a public bus, which are very efficient.
Tips for Visiting Arraial do Cabo
Last but not least, here are some valuable tips for your trip.
You Don't Necessarily Need to Stay in Arraial do Cabo
As I previously mentioned, there is not much to do in Arraial do Cabo at night, so staying in Búzios or Cabo Frio and taking the bus to Arraial is a perfectly fine idea.
Arraial is Very Safe
Although the city in itself is not very touristic, I found Arraial do Cabo to be very safe. Feel free to walk wherever you want.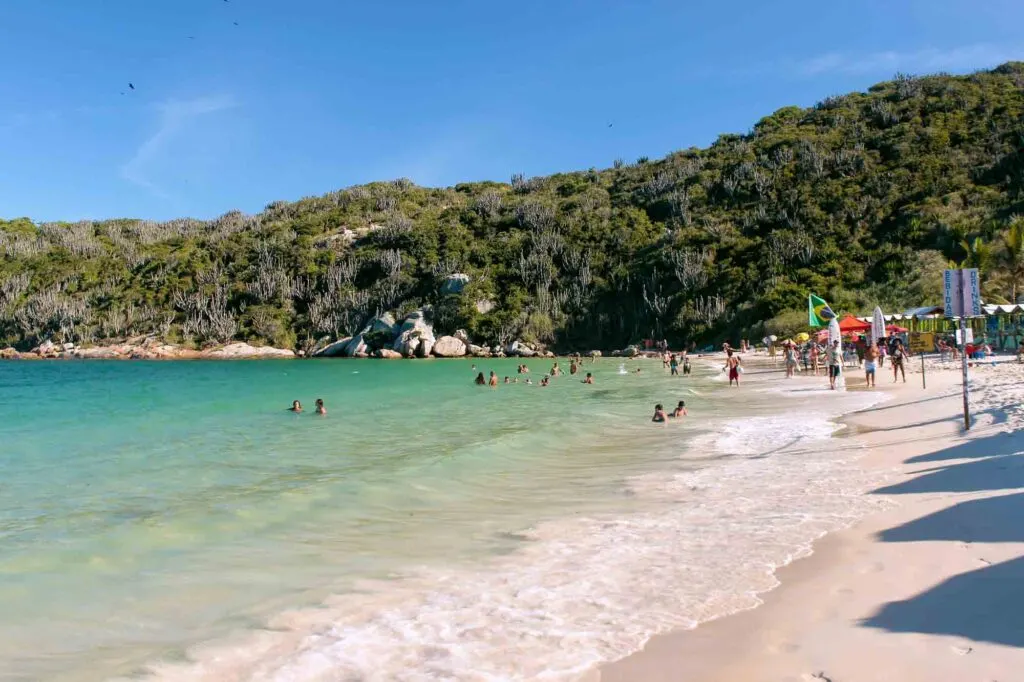 Talk to as Many Locals as You Can
One of the things that surprised me most about this place is how friendly the locals are.
Everywhere I went, people were extremely friendly and helpful. Get to know the locals – they're warm and always up for chatting.
There Is No Need to Take a Lot of Cash With You
Most places in Arraial do Cabo take credit cards, so there is no need to walk around carrying a lot of cash.
Wrap-Up: The Best Things to Do in Arraial do Cabo
That's a wrap! Now that you know all the best things to do in Arraial do Cabo, you can start planning your trip to this little piece of paradise.
I am sure you will love it as much as I did (:
Also, if you are visiting Rio de Janeiro before heading to Arraial, make sure to check out the best Rio de Janeiro travel tips here.
By Camila Neves from Travel Cami – Camila is a Brazilian solo traveler native from Curitiba, who loves writing and inspiring women to go after their dreams. Be sure to follow her journey on Instagram!