Paraty, Brazil, is a small colonial town backed by mountains and surrounded by a gorgeous emerald-green sea. If you're planning a trip there, you're in luck; there are tons of fun things to do in Paraty!
Whitewashed houses, cobblestone streets, and incredible nature. Paraty is a unique place to visit in Brazil, and although small, it is a rich town in many senses, but that also had a dark past!
Settled in the 17th century in Rio de Janeiro State, Paraty was the Portuguese safe port to export the gold mined by African slaves from Ouro Preto, Minas Gerais, and experienced an economic boom in the 18th century.
Paraty and Ouro Preto, and many towns along the way, were connected not only by a dark past but also by the Royal Road, which was the safe exit path for those precious metals (and you can still drive through today)—now, moving on.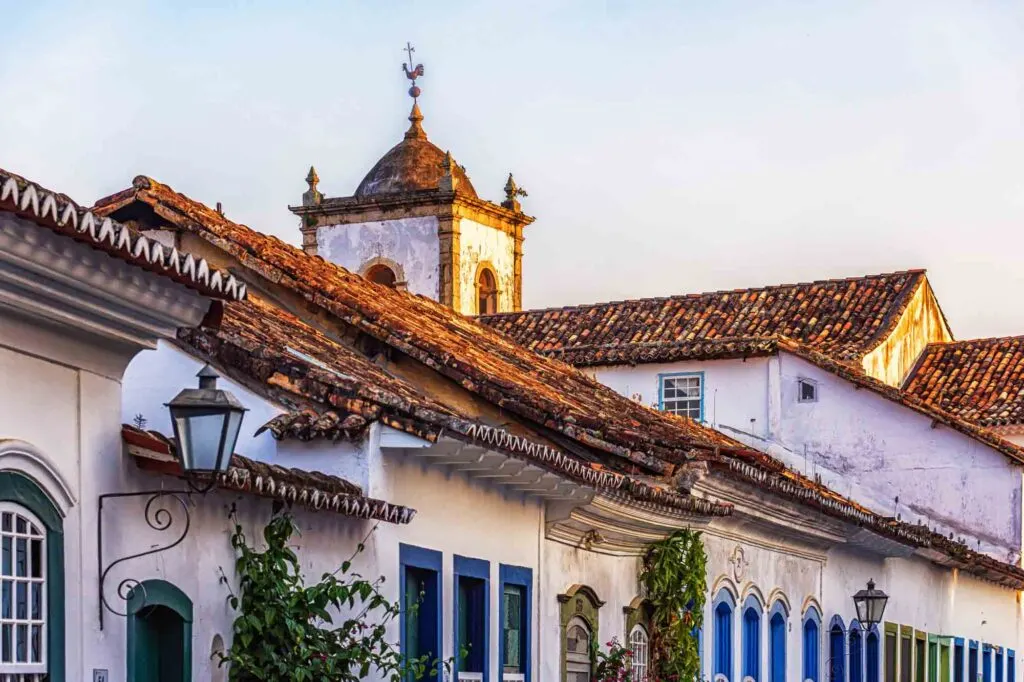 Paraty, Brazil
Culture, nature, and gastronomy, Paraty has it all, so you're truly in for a treat.
For culture, the town has historical buildings and churches as well as unique festivals throughout the year.
For nature, waterfalls, mountains, jungle, beaches, and the world's only tropical fjord.
For gastronomy, some of the most delicious Brazilian dishes and beverages are served in family-owned venues and distilleries.
Did I convince you?
I hope so because you can't afford to miss this place with so many incredible things to do.
Throughout this post, you'll learn all about what to do in Paraty to save yourself time researching on your own. Plus, everything to do on this list has been carefully vetted, so rest assured that they're worth doing.
Read on to find out the best places to go in Paraty!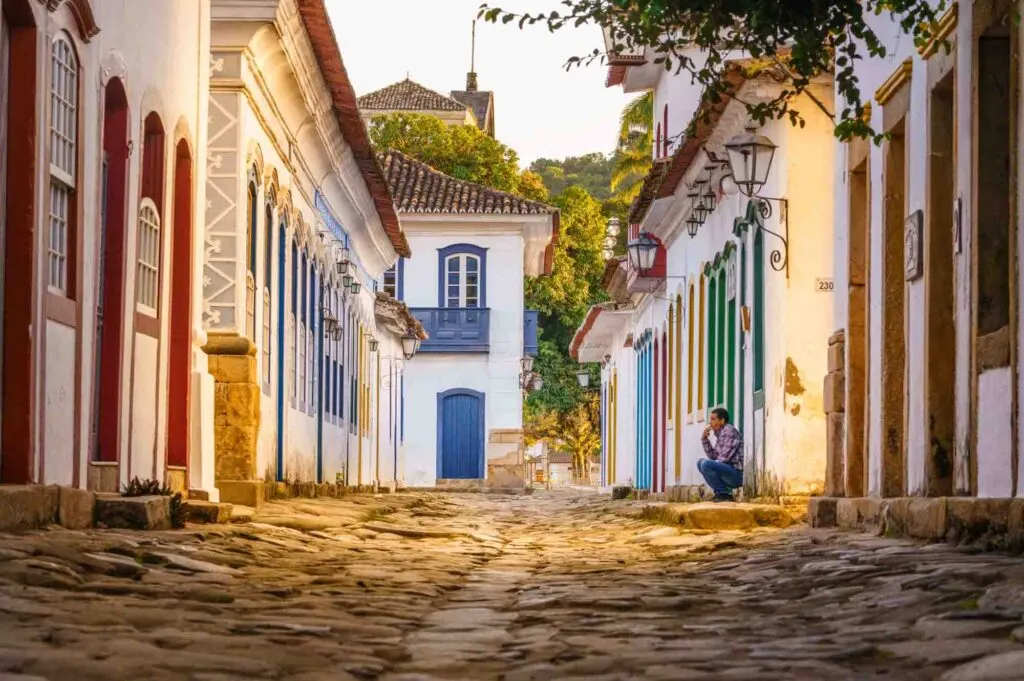 My Favorite Things to Do in Paraty, Brazil
Historic Tour – this 2-hour tour is an excellent way to learn the history and visit the highlights of Paraty with a local guide. From the colonial heritage to local produce industries to cachaça liquor, they will show you a side of Paraty you hadn't heard of before!


Mamanguá Sugarloaf Peak Hike – this 5-hour hiking experience takes you up to the 1,444-foot Mamanguá Peak. From there, you can take in the breathtaking view of the world's only tropical fjord, the Saco do Mamanguá. Mind you, it's a short but challenging hike, so dress accordingly and know your limitations. But if you do hike it, prepare yourself for the majestic view!


Kayak Experience – on this 4-hour eco-experience, you'll kayak through mangroves and beaches around Paraty Bay. All paddling equipment is included, including dry bags for your camera and phone. Even if you've never kayaked before, you can go on this experience since it's designed for all levels, which is a must because I love adventures but have poor balance. Anyway, it's a fantastic way to get immersed in the history and beauty of Paraty at the same time.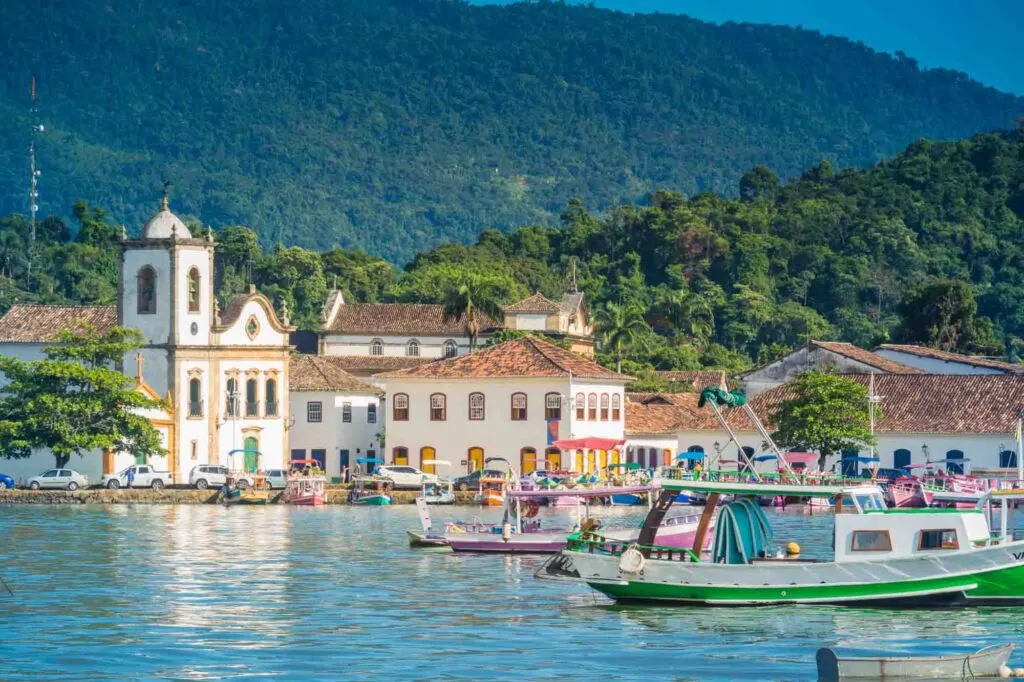 Where to Stay in Paraty, Brazil
I know that picking a place to stay can be overwhelming, especially when it's your first time in that town.
So to help you choose accommodation, I selected two excellent places that guests rave about. Both of them are in the heart of Paraty so you can do everything on foot.
Pousada Aconchego (Booking.com | Hotels.com)

Excellent Location


This cozy inn has a colonial architecture that gets you in the right vibe for town. Besides, it features a swimming pool, billiard table, air conditioning, free parking, and an excellent breakfast. The cherry on the cake is the affordable rate!


Pousada Literária de Paraty (Booking.com | Hotels.com)

Unique Colonial Setting


Although this inn is the most expensive of the two options, it's worth every cent! Pousada Literária de Paraty is set in a colonial-style building in the heart of town, and besides the swimming pool, gym, spa, and bar/restaurant, this inn boasts a library with over 1,500 books and movies! It's truly a unique place to stay that won't leave elegance and comfort to be desired.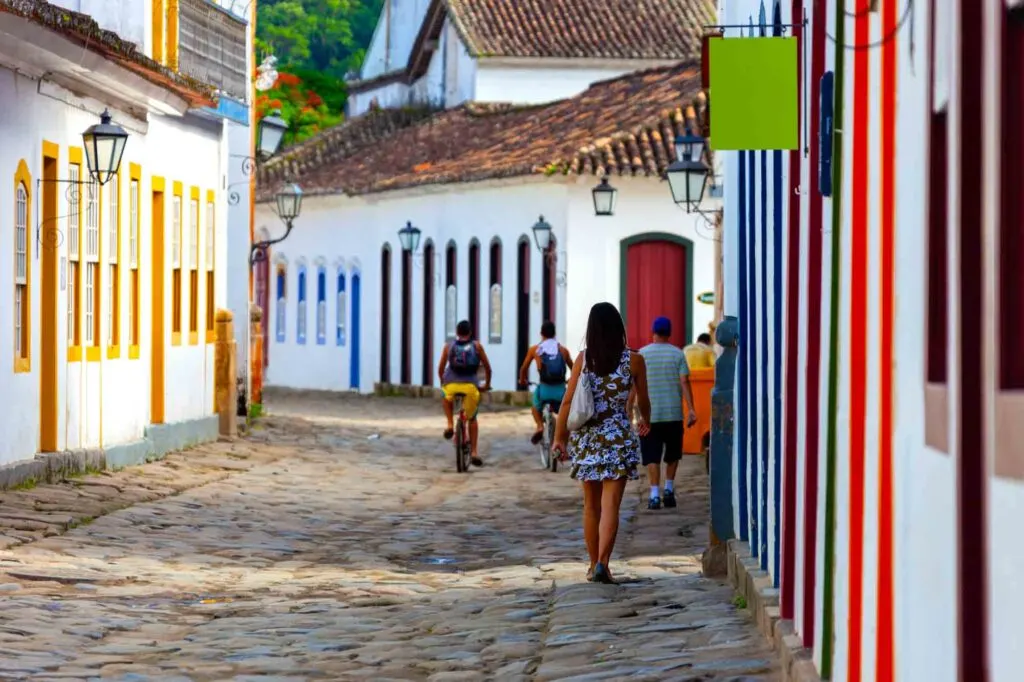 How to Get to Paraty
Since Paraty has no airports you won't find direct flights here, so you're limited to land and water transportation options.
Besides, the town is located between São Paulo, 168 miles away, and Rio de Janeiro, 155 miles away.
So if you're arriving by plane, you first have to go to one of these cities.
Good to know: there might be traffic jams on holidays and weekends.
By bus
Rio de Janeiro: it's a 5-hour trip from the Rio de Janeiro Bus Terminal (1 Francisco Bicalho Avenue). You travel with the Costa Verde company and can buy online tickets here.
São Paulo: it's a 6 to 7-hour trip from Tietê Bus Terminal, and you travel with Reunidas or Primar. You can find online tickets here.
Once you arrive in Paraty, the bus terminal is half a mile away from the town center.
By car
Alternatively, you can rent a car and drive yourself to Paraty. Both accommodation options above have free parking, so you'll be all set.
Rio de Janeiro: it's a 4.5-hour ride without traffic jams. To get there, take the BR-101 Highway (Rio-Santos) along the coast (beautiful view!).
São Paulo: it's a 4.5-hour ride without traffic jams. In this case, you'd take the BR-116 Highway until Guaratinguetá and then the BR-459 Highway.
Click here to rent a car in Brazil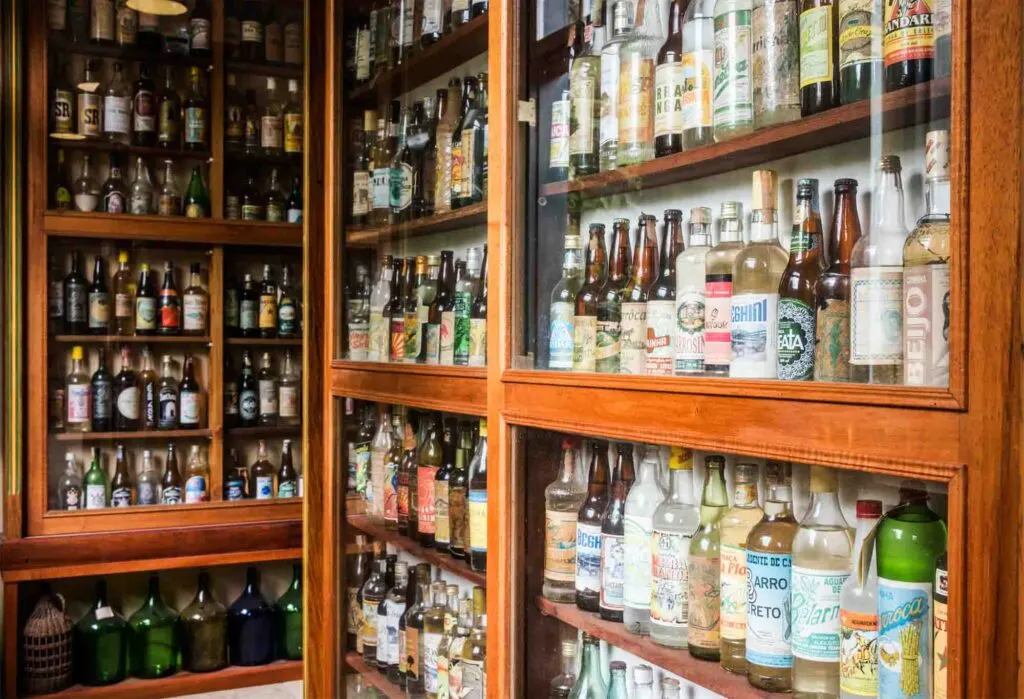 By shuttle bus
If you're not comfortable driving in Brazil or don't want the hassle of buying tickets with someone who may or may not speak English, you can buy the shuttle bus ticket.
Although more expensive than the conventional bus, this option can be organized today from the comfort of your home.
The bus can pick you up at either Rio de Janeiro airports or hotels in the southern part of the city.
Click here to check availability
Tours From Paraty to Other Towns
Paraty lies on the Green Coast and is surrounded by breathtaking places. So here are a couple of tours that take you to nearby paradises.
Trindade – ah, Trindade! I'm absolutely in love with this laid-back village! This little town has four beaches, a natural pool, many rock formations to climb on, and a lush green background that will make you want to stay. To cut the hassle, this 6-hour day tour takes you to this little paradise and provides you with snorkeling equipment to discover the clear waters of the natural pool! Click here to check availability!


Ilha Grande – this island off the coast of Rio de Janeiro is another mesmerizing place on the Green Coast. Beyond that, Ilha Grande State Park is a popular New Year's Eve spot and offers a wide range of natural attractions, such as turquoise beaches, waterfalls, incredible hikes, and more. To get there, you can purchase this ticket for the transfer. The driver will then pick you up in your accommodation (in Paraty), drive you to the port (3-hour drive), and direct you to board the schooner to the island (50 minutes). Click here to check availability!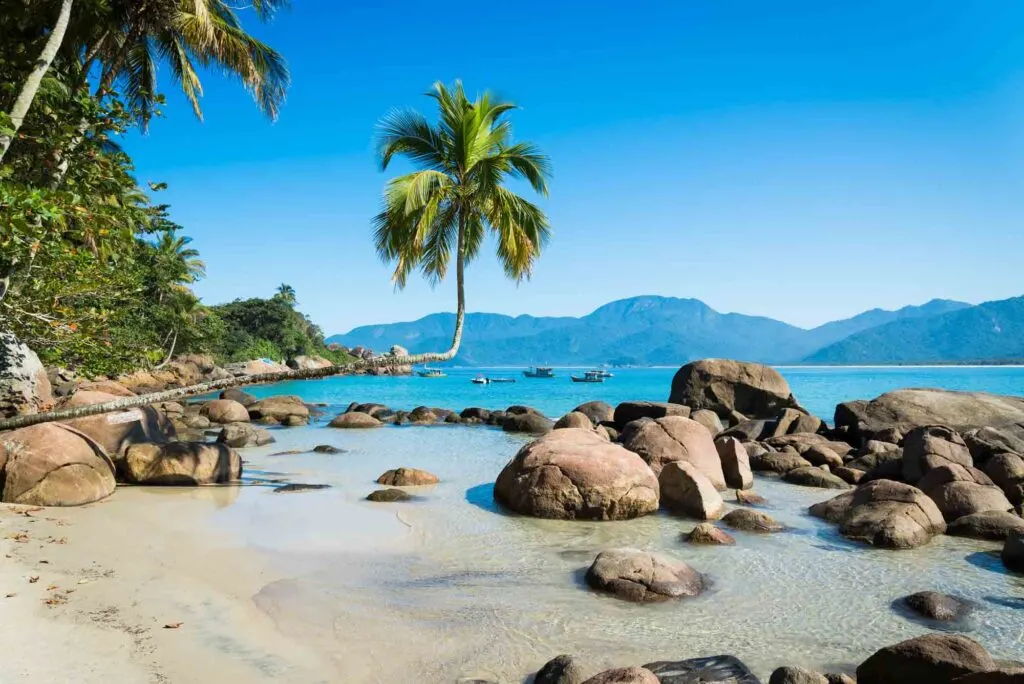 Best Time to Visit Paraty, Brazil
The summer in Paraty is usually short, hot, and wet. On the other hand, the winter is typically long, comfortable, and often clear.
Over the course of the year, the temperature typically varies from 64°F to 89°F and is rarely below 58°F or above 95°F.
Best time to visit Paraty: April-May and September-October.
Driest months: June-August
Coldest months: July-August
Wettest months: December-February
Warmest months: January-March
December and January are perhaps the worst months to visit Paraty because 1) it's school vacation and 2) summer in Brazil, meaning many people are enjoying the warm weather on the coast.
However, Paraty has some of the best festivals in Brazil happening throughout the year, and you might want to visit one of them.
For instance, the Bourbon Festival Paraty is a weekend festival where jazz takes the streets of this colonial town. It happens around May-June.
In July, the most wanted festival takes place, the FLIP (Festa Literária Internacional de Paraty).
If you're into any kind of art, you'll want to visit this incredible festival. Each year the festival celebrates an individual Brazilian writer.
In August, there is the Cachaça Festival. Cachaça is Brazil's beloved liquor, and as such a traditional product in Paraty, this festival is a must-visit.
15 Fun Things to Do in Paraty, Brazil
Here are my all-time favorite things to do in Paraty! Enjoy!
1. Walk Around the Historical Center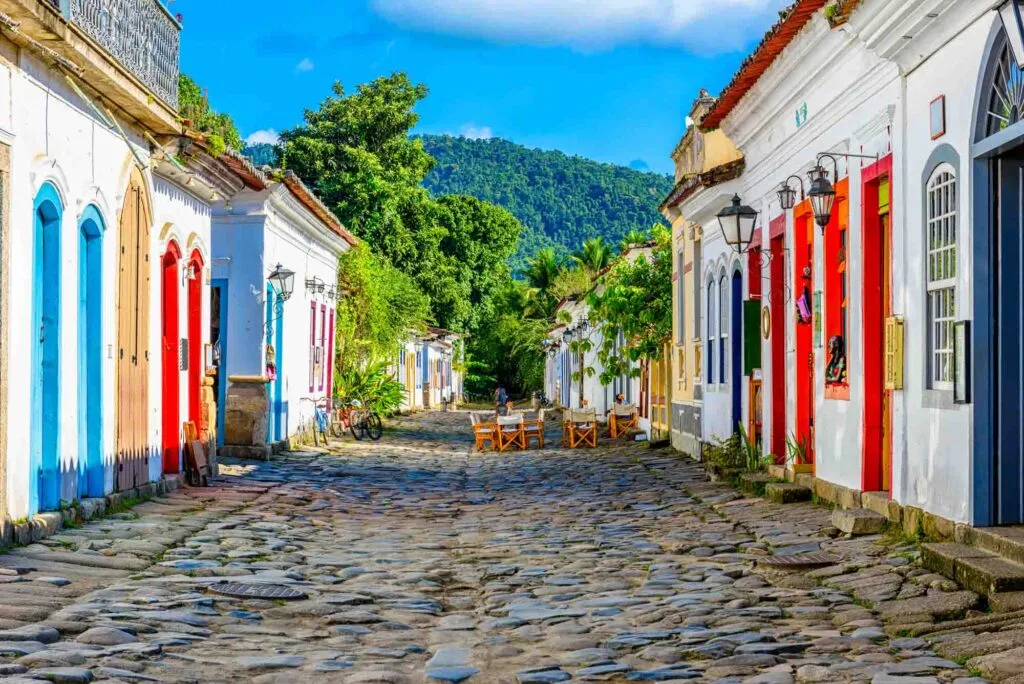 One of the best things to do when visiting Paraty is to walk around the Historical Center!
This is the oldest part of Paraty and is situated right next to the water. The area is filled with old churches, mansions, and other historical buildings dating back to the 18th and 19th centuries.
Instead of visiting this area of Paraty with a list of things to see, you can just walk around and see what you stumble across.
Tiny little alleyways are leading to interesting places if you just let your feet take you!
However, if you are the kind of traveler that likes having an itinerary, be sure to stop by the Our Lady of Remedies Church and the Casa de Cultura Museum.
Alternatively, you can take a tour of the historic part of town and deepen your understanding of this place so crucial in Brazilian history.
2. Relax at Sono Beach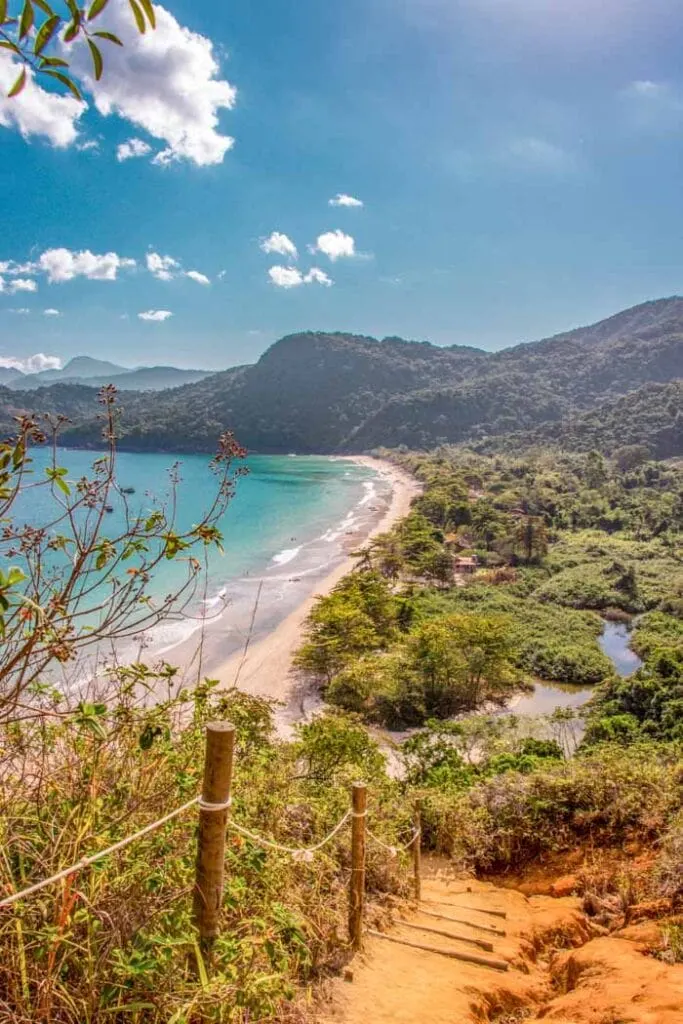 Head to Sono Beach for a relaxing afternoon, easily one of the top things to do in Brazil, not only Paraty.
This Brazilian beach looks like paradise on earth with its crystal clear turquoise waters and the lush rainforest surrounding it.
There genuinely is no better place to relax, and it turns out this is one of the best beaches in Rio de Janeiro.
This is one of the most popular day trips in the area, so the earlier you get there, the more likely you are to have this family-friendly beach to yourself.
Other beaches worth checking out:
Praia Grande: fishermen and boat hub, with a local fish market or fish shop. Not ideal to swim, but beautiful scenery.
Praia da Lula: clearwater beach surrounded by Atlantic forest.
Praia do Engenho: tiny beach with a lovely waterfall only 656 yards from the sand.
3. Sip Brazil's Greatest Liquor From the Paraty Distilleries
Did you know that Paraty is home to many different distilleries? It's true!
It's primarily because of the sugar cane that Paraty was known for historically, so it made sense to have multiple distilleries in the area.
In the 19th century, the town was such a well-known producer that cachaça was often referred to as "paraty."
And because this beverage is such a crucial part of the town's history, you have to visit one of them to experience some of the best Paraty has to offer.
Easily, the most popular distillery is Alambique Eugenho D'Ouro. Other great ones in the area include Alambique Paratiana, Alambique Cachaça Pedra Branca, Cachaça Coqueiro – Destilaria Engenho D'Agua, and Cachaça Maria Izabel.
When you visit, be sure to ask what that distillery is most known for so that you try their very best. Each distillery is known for something different, so take advantage of that when distillery hopping!
Alternatively, you can hop on a waterfall-cachaça tour and get a taste of the different sides of Paraty.
4. Walk Paraty's Gold Trail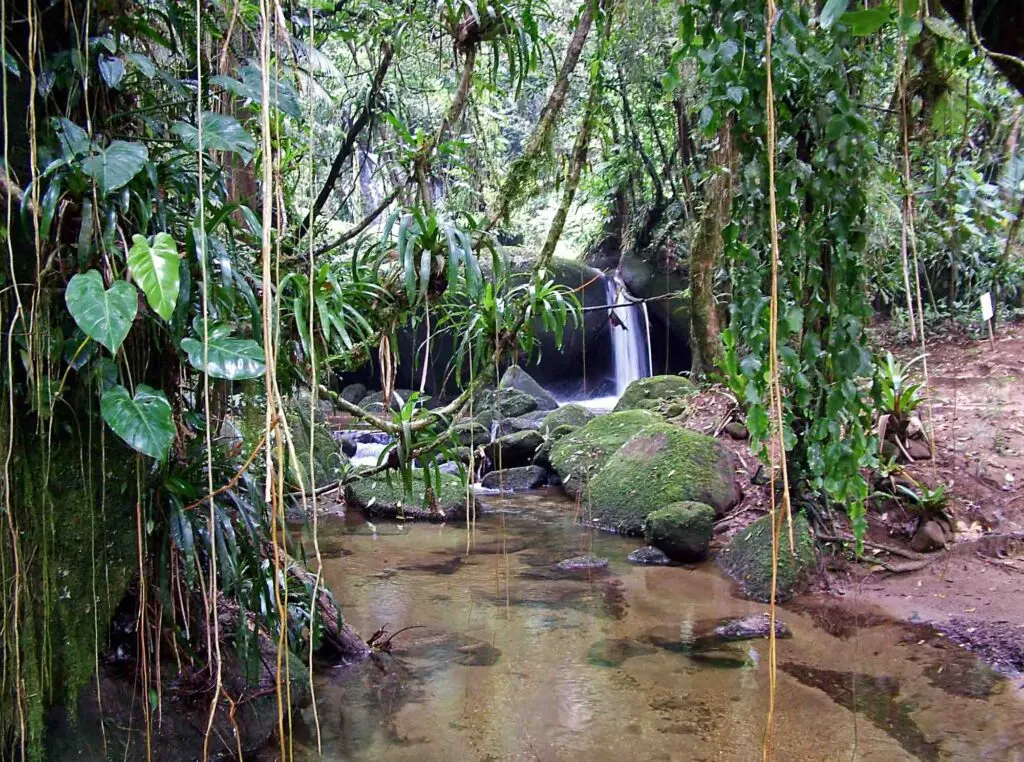 For a half-day trip, consider walking Paraty's Gold Trail. The Gold Trail is filled with history, as it's the course that slaves created to ensure the Portuguese could export the precious metals from Ouro Preto.
The best way to explore the Gold Trail is by going on a tour because you'll hear from a local the history of that place. That's invaluable!
This tour, in particular, takes approximately 5 hours and includes a hotel pickup if needed. Throughout the tour, you'll learn more about the history of the Gold Trail while you hike it.
Plus, because the tour is usually kept to a small number of people per trip, you'll be able to feel like you have a very intimate experience.
Make sure you book well in advance because tours tend to fill up quickly!
5. Go Island Hopping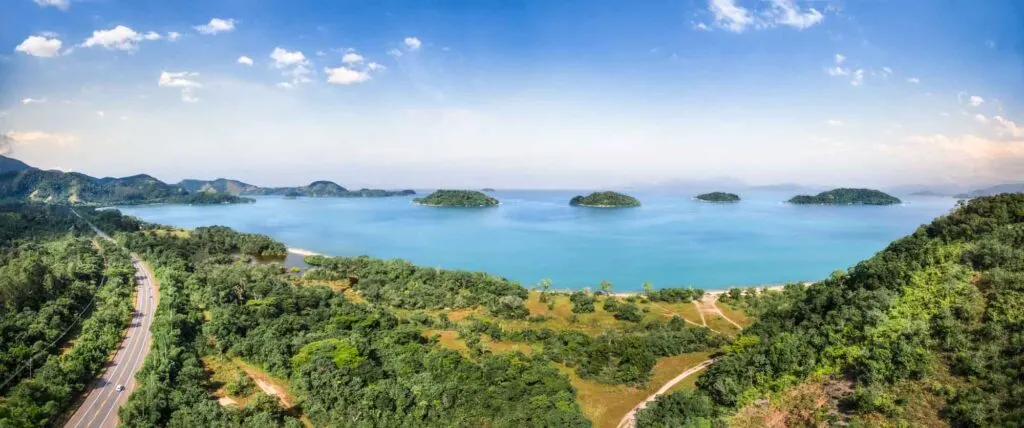 Some of the top tourist attractions in Paraty are the beautiful islands, so you should take the time to go and explore at least a few of them!
Beautiful beaches and islands surround Paraty, and missing that part of the paradise would be a waste of memories!
This half-day boat tour lets you experience a few islands (Comprida, Mantimento, and Algodão islands).
On top of that, the boat sails to a few beaches on the continent, but they are a bit further away.
Still, you'll only visit mind-blowing places teeming with fish and clear water.
6. Take a Boat Trip on Paraty Bay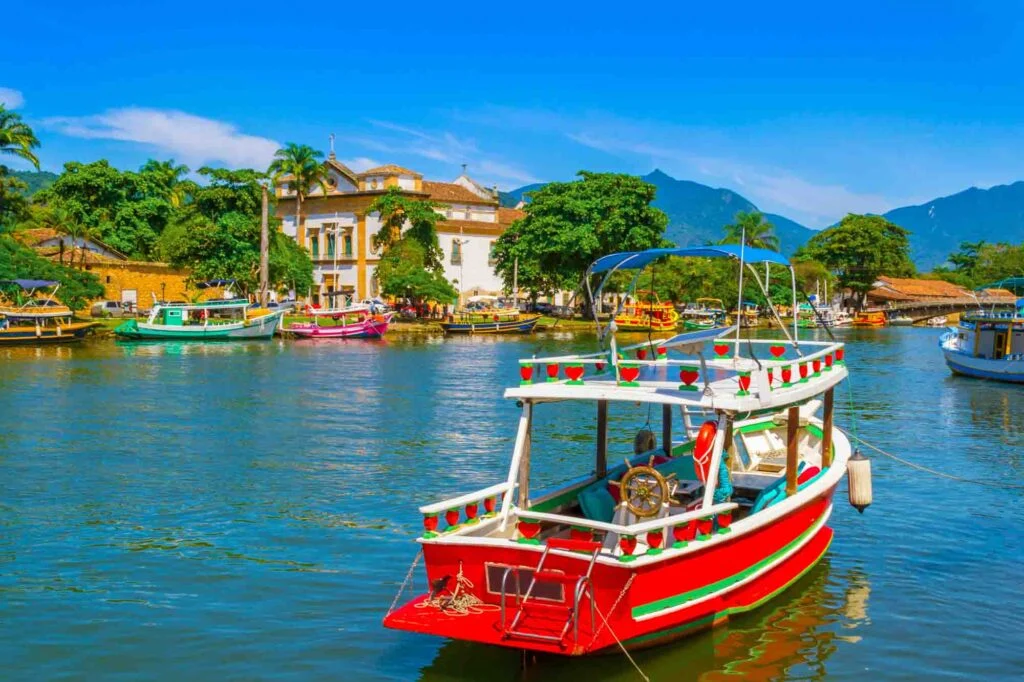 If you're wondering what to do in Paraty and you know you want to get out in the water, go on a boat trip around Paraty Bay! There are two different options for this.
First, you could opt to go on a bigger boat, usually geared towards tourists who don't mind traveling with larger groups of people. In this case, it will be more about enjoying the views aboard.
The second option is going on a private boat tour, which provides a much more intimate experience. (Sorry for not adding any link to this activity, but I couldn't find any!)
Whichever option you choose, you'll be delighted cruising around the bay and taking in all of the views.
7. Scuba Dive to Experience Paraty's Sealife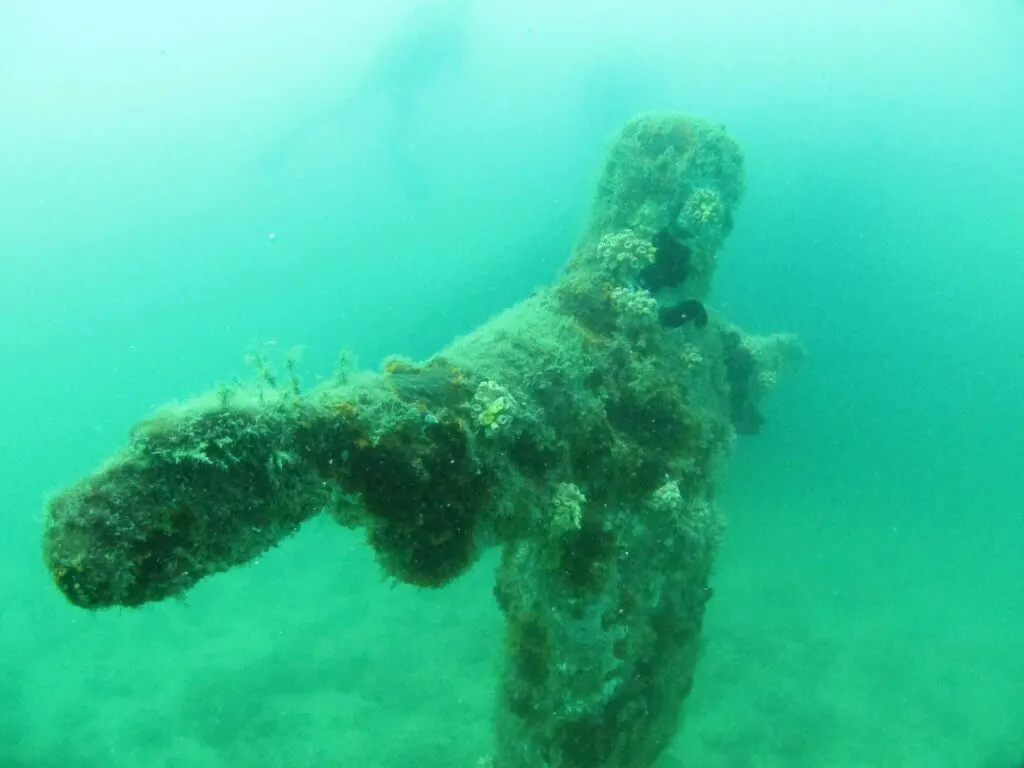 Because it's so gorgeous in this area of Brazil, one of the best things to do in Paraty is go scuba diving!
This is the perfect way to experience the underwater world of this emerald-green sea. Plus, you'll spend 40 minutes diving in an ocean teeming with wildlife (and a shipwreck).
Have you never scuba-dived before? Don't worry! This ticket is for beginners or people without much experience in diving, like me.
So, don't let your lack of experience hold you back from a memorable activity like this one.
8. White Water Raft on Mambucaba River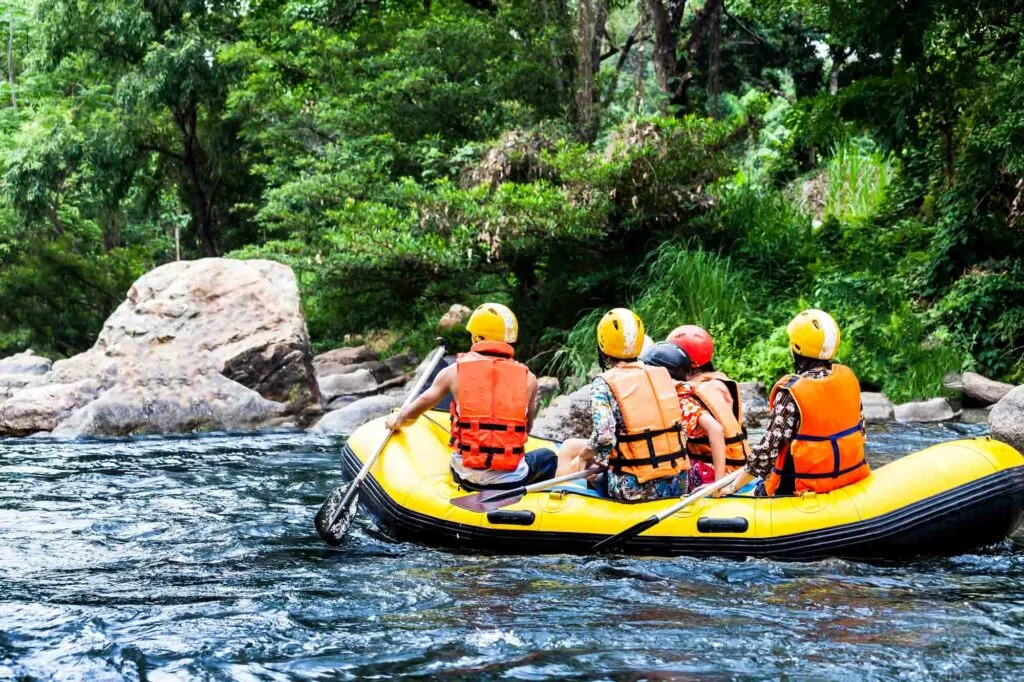 For a super fun outdoor activity, go white water rafting on the Mambucaba River! This is a 7-hour excursion and is perfect for those who love meeting others and getting their adrenaline pumping.
Activities like white water rafting, typically life vests, helmets, and safety training are included in your ticket price.
During the white water rafting trip, you'll also have a guide who will be with you at all times. This is to ensure safety because you'll be with someone who has done this many times before!
Whether you've been white water rafting or not, this activity is one that you'll never forget.
Plus, you'll get to experience nature in this great area that you wouldn't have seen otherwise.
9. Hike to the World's Only Tropical Fjord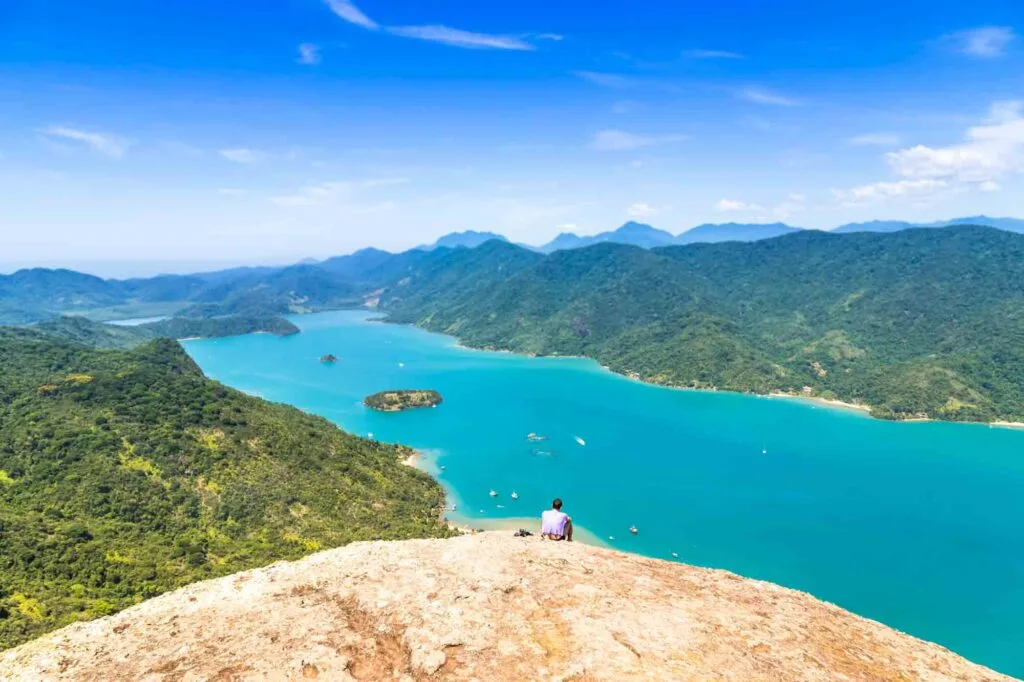 Another can't-miss outdoor adventure in Paraty is hiking to the world's only tropical fjord, Saco do Mamanguá.
While this is something you could try to do on your own, it's best to do with a local guide who knows the way.
This hiking tour takes approximately 5 hours and is excellent, especially if you want an intimate and personalized experience for your hike.
There is also a 1,444-foot elevation gain, which is why it will be helpful to have a tour guide with you–it's a short but challenging hike.
In the end, you'll be rewarded with a breathtaking panoramic view of the fjord and beyond. What's not to love?
10. Splash Around in the Waterfalls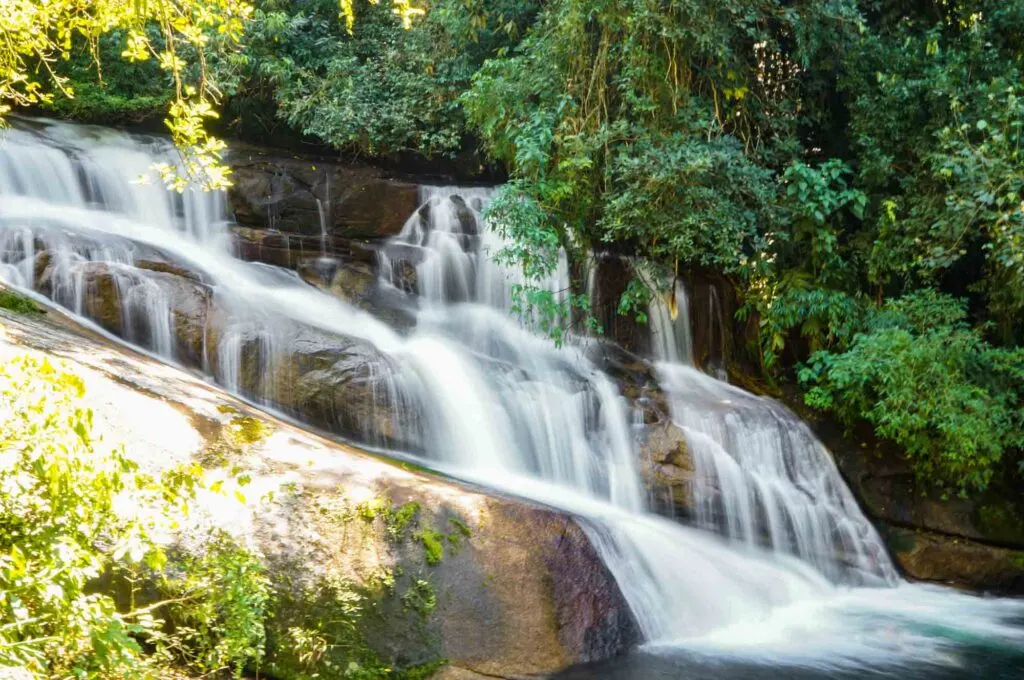 You can find an abundance of waterfalls in Paraty, and going waterfall-seeking is such a fun activity to do while you're visiting.
Each one is obviously different, so if you visit multiple ones, you'll be in for a real treat. Oh, and be sure you pack your swimsuit!
One of the most popular waterfalls is Pedra Branca Waterfall, which has a calming lake at the bottom.
Other incredible waterfalls include Tobogã Waterfall (you can slide right into the pool) and Tarzan Falls.
11. Visit an Indigenous Brazilian Village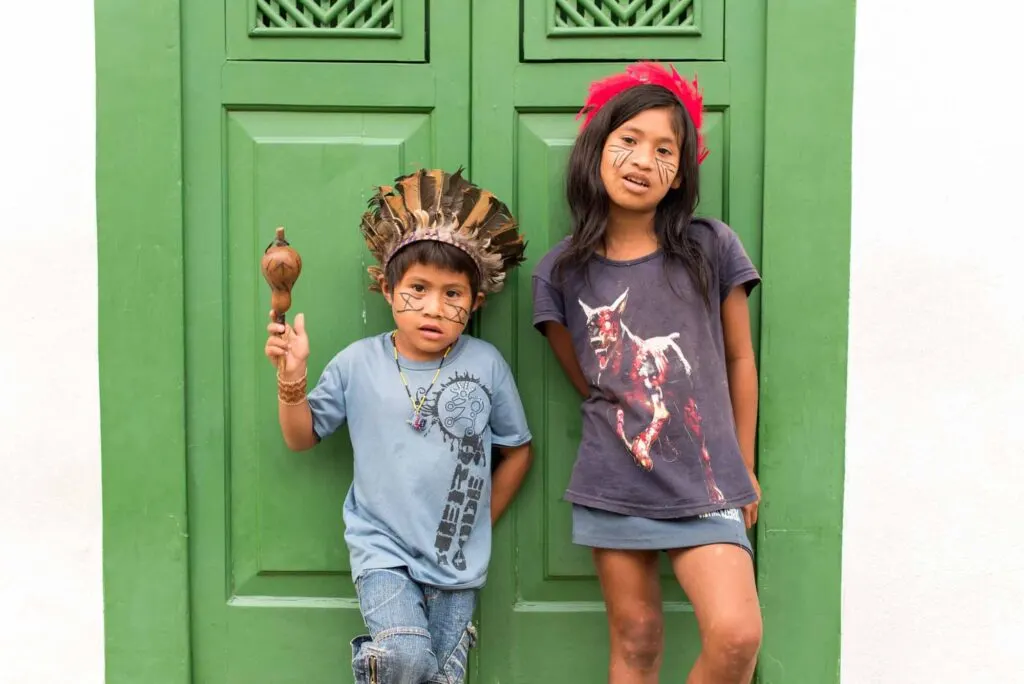 To learn more about and appreciate the area that you're visiting, go to an indigenous Brazilian village during your trip.
Unlike popular belief, there are many indigenous villages outside the Amazon, and the Caiçara is one of them.
For around $30, you can have a 4 to 5 hour trip with a tour guide, including transportation.
During the tour, the guide will bring you to an indigenous community as well as to a few other places, including beaches and a distillery. It's a combo of different aspects of Brazilian culture.
At the community, you'll get immersed in their lifestyle, arts, dance, and gastronomy. It's a once-in-a-lifetime experience.
12. Indulge at Banana da Terra Restaurant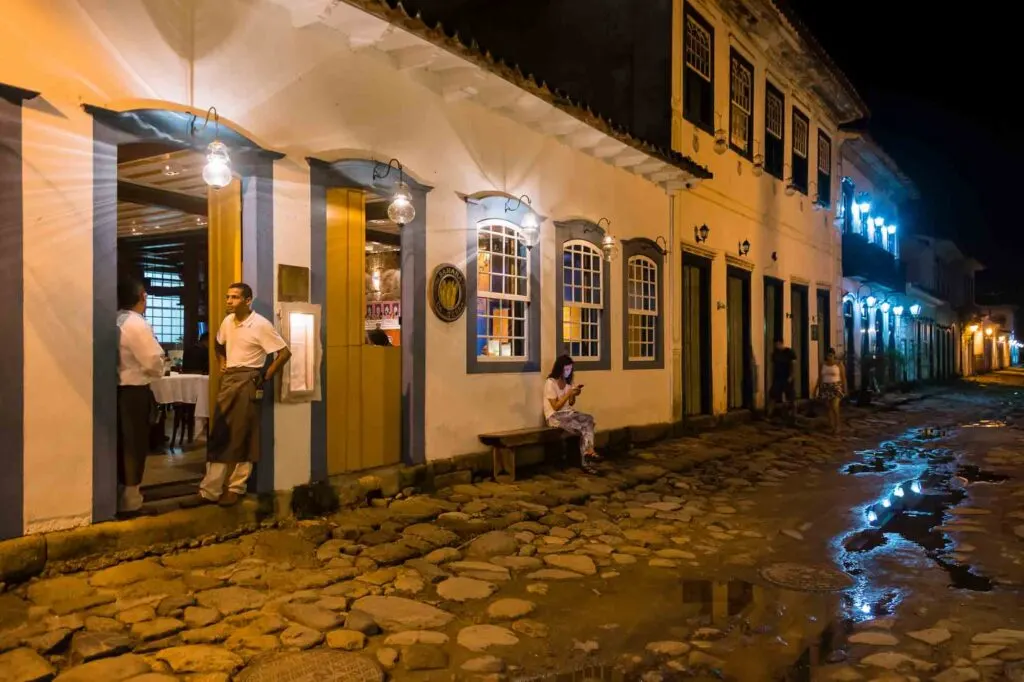 For some of the best seafood in Paraty, head to the Banana da Terra Restaurant. It's often ranked as the very best restaurant in all of Paraty, so if you like seafood, you can't miss eating here.
The menu is rather extensive, and it is a bit pricier, but the cost is well worth it.
Make sure to make a reservation on their website to ensure that you're able to go to this restaurant during your visit. Because this restaurant is so popular, it can be hard to get a reservation during peak season.
The restaurant itself has a very laid-back yet luxurious and elegant feel since it's based in a colonial villa with garden tables, making for a great night out in Paraty.
13. Hang Out at the Best Paraty Bars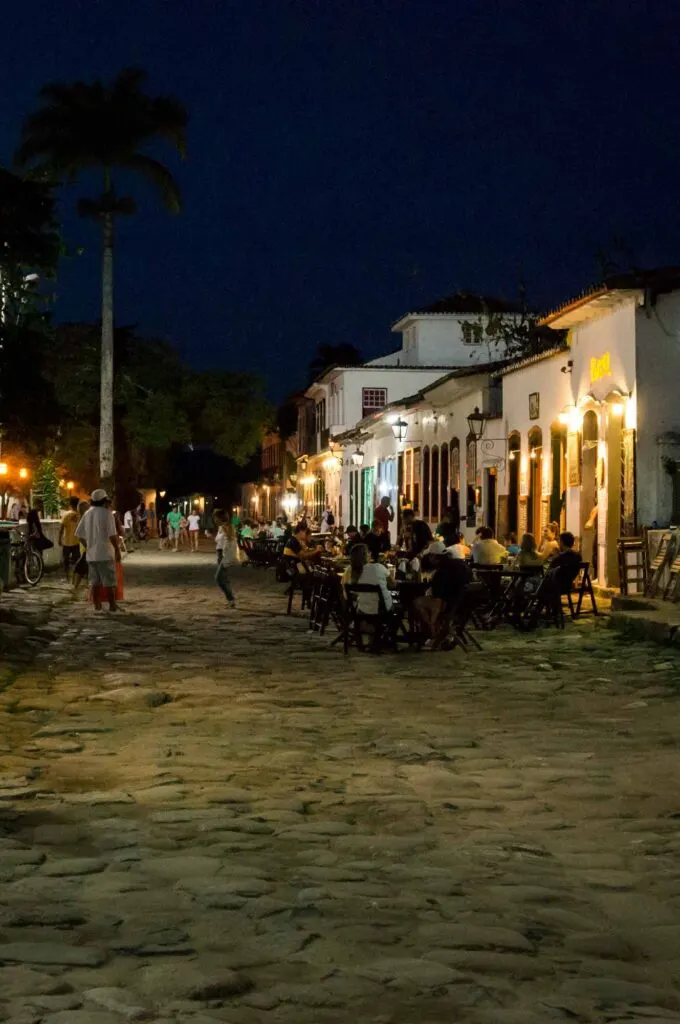 There are tons of great bars in Paraty, so take the time to go and hang out at some of them!
Cadeia Street has a number of places, side by side, making it perfect for a pub crawl.
Some of the most popular bars in Paraty include Cana da Praça Cachaça Bar, Cervejaria Caboré, and Sarau Bar & Restaurant. Most of them have mid-range pricing so that you won't break the bank.
Beyond that, this is one of the best ways to meet locals, and you can also often find some great live music.
14. Shop at Lapa and Comércio Streets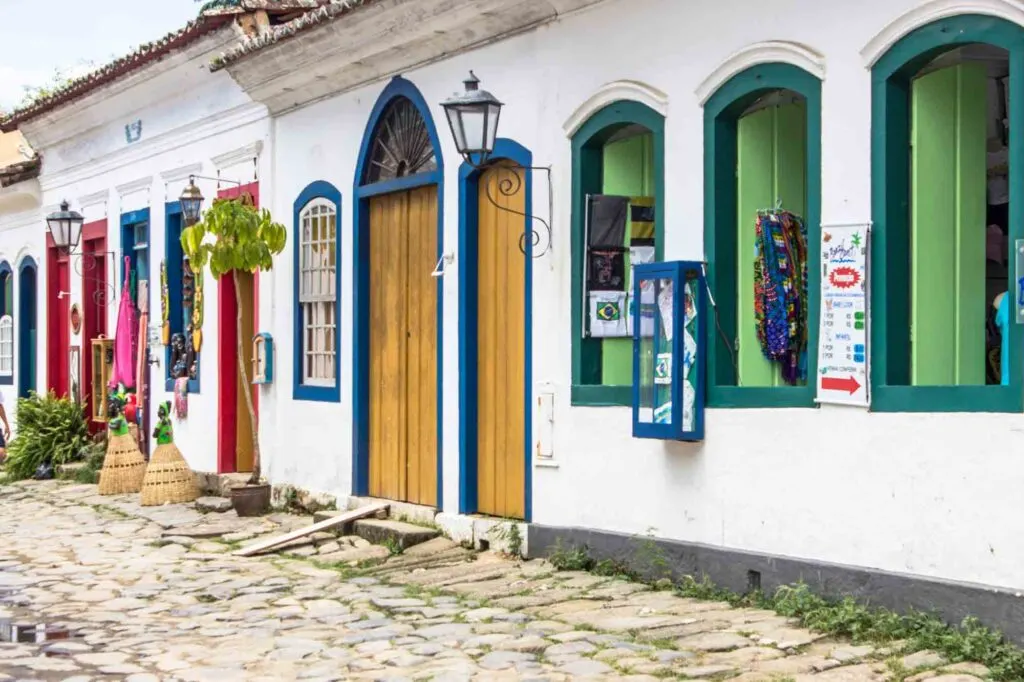 Make your way to Lapa and Comércio Streets for some shopping in Paraty.
Throughout this area of the city, you can find tons of things to buy from locals, like handicrafts, art, clothing, books, many souvenirs, and even find cachaça, which is obviously one of the most popular things to buy when visiting Paraty.
Even if you don't need to buy anything, this is a great place to go, explore, and take in the beautiful colonial architecture while experiencing the busy streets of Paraty.
15. Explore Serra da Bocaína National Park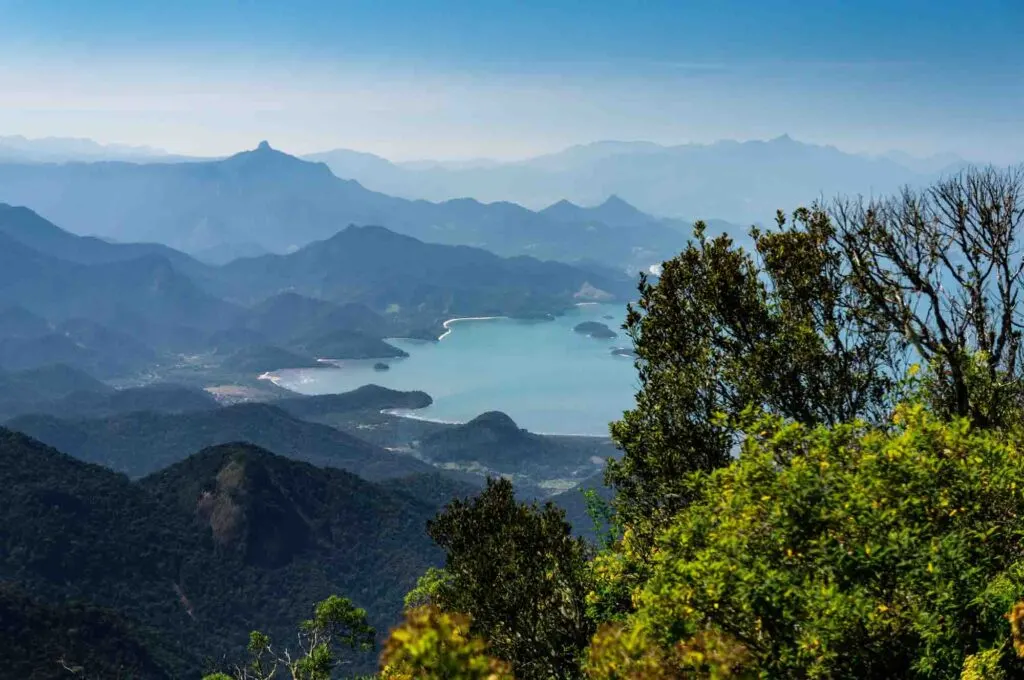 Last but not least, take the time to explore Serra da Bocaína National Park, one of the most enjoyable things to do in Paraty, Brazil!
This park is filled with beaches, natural pools, rivers, peaks, wildlife, and even gushing waterfalls that you won't want to miss.
Beyond that, this national park in Brazil also has tons of great hiking trails, including the Mambucaba Path, one of the park's most famous trails.
Exploring the park will probably take you at least a day if you want to experience all of it thoroughly.
However, if you want to have an unusual experience in this park, you might want to join this wild food tour. Wait, what?!
In this 6-hour tour, you'll explore the national park with a foraging expert who will change your concept of food–literally.
The guide will show you what incredible things the forest has to provide us. It's really a one-of-its-kind tour!
Wrapping Up on Paraty, Brazil
Paraty, Brazil, is such a unique colonial town with a rich history that should be remembered.
While walking through the cobblestone streets and colonial buildings, you'll go back in time and learn about a part of Brazil's roots.
Visiting this little town will create unforgettable memories that will leave you wanting to come back.
Brazil Travel Resources
Hey, you're traveling to Brazil! How exciting is that?
To help you plan your trip to Brazil hassle-free, I wrote a bunch of practical guides.
For instance, this packing list has the essential items you need for your trip. This guide covers the rough cost of a trip to Brazil, and these discuss how to get the infamous Brazil sim card, how to call the country from the USA, and how to make calls while in the country–helpful to know in case you need to call a tour guide or something.
Still, if you're looking for some inspiration, there is a number of landmarks and tourist attractions spread across the country.
Did you enjoy reading about Paraty, Brazil? Then share this article with a friend who might enjoy it too!