Cosmopolitan outlook, delicious food, and vivid spirit. Welcome to Porto Alegre, Brazil.
Located close to the Atlantic Ocean coast at the northern end of the freshwater Patos Lagoon, Porto Alegre is a lovely metropolitan city.
Capital of Rio Grande do Sul, the southernmost Brazilian state, Porto Alegre combines modern architecture with colorful cultural life and landmarks you won't be able to forget.
This jewel is an essential part of Brazilian culture and offers experiences you will never forget. However, with so many options, it can get quite a challenge to organize your traveling schedule.
At some point, you will have 30 landmarks to see and 3 days only. That's why I've compiled this list with the 19 best things to do in Porto Alegre, Brazil, so you don't get overwhelmed. I hope you enjoy it!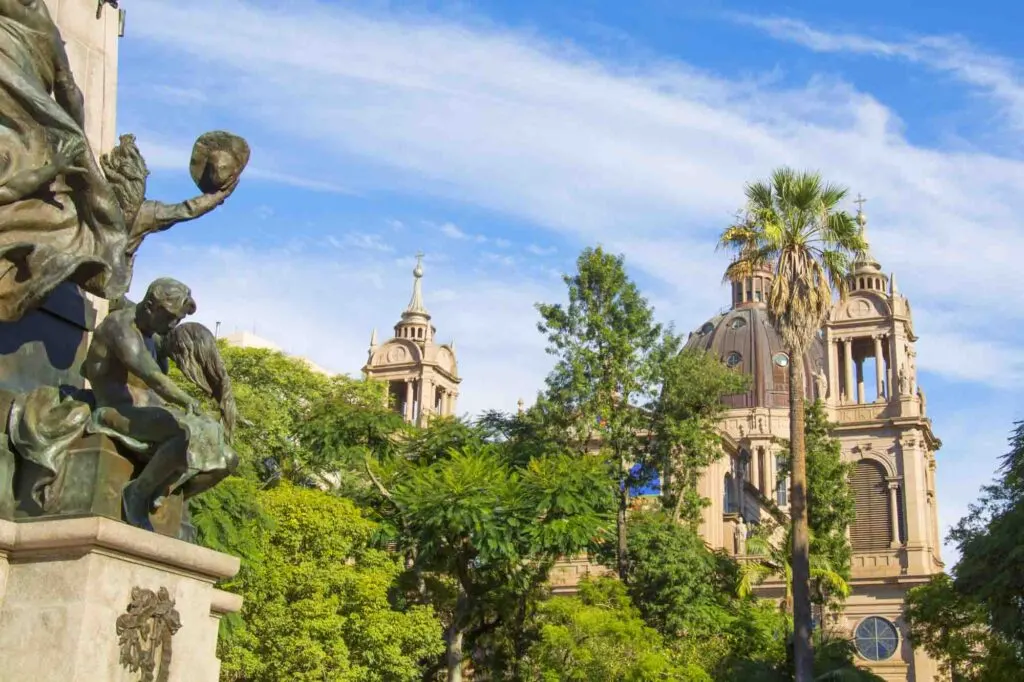 Porto Alegre, the southernmost capital in Brazil
Porto Alegre translates to "Joyful Harbour" and is the biggest city in Rio Grande do Sul.
The city is home to generations of immigrants from all over the world, including Spain, Italy, the Arab states, and Germany.
These diverse influences add layers to Porto Alegre's already rich history and gaucho culture. If you love diversity, Porto Alegro should be on the top of your Brazil bucket list.
If all of this sounds intriguing to you and you feel like booking a flight to Brazil any minute now, then keep reading.
My favorite things to do in Porto Alegre, Brazil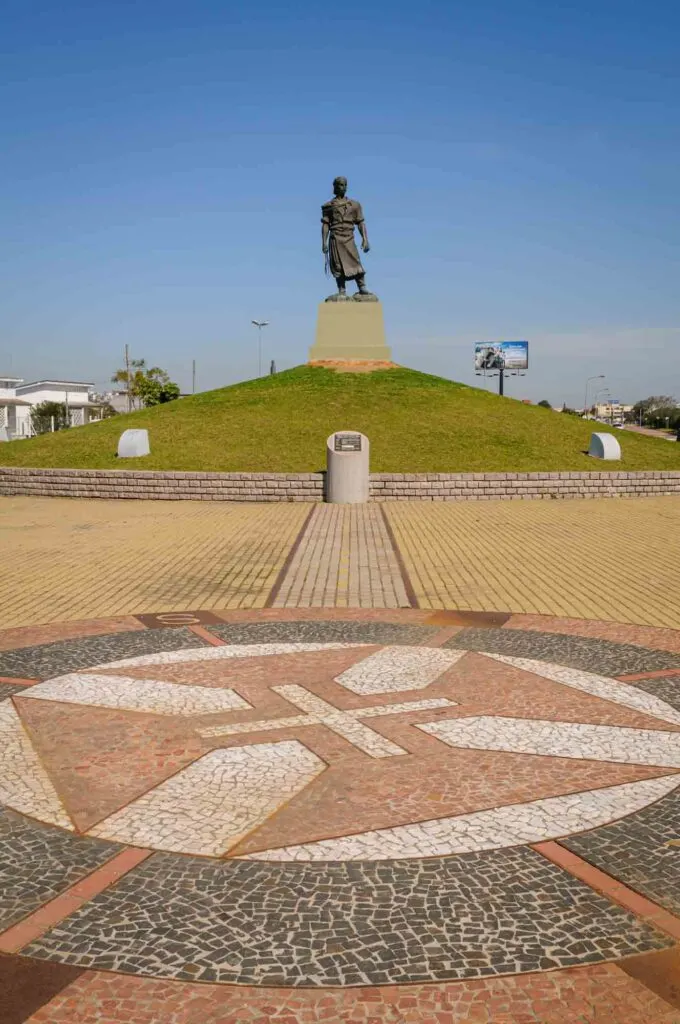 Bike tour – this bike tour takes you to the main attractions in Porto Alegre, and the English-speaking guide is prepared to tell you some stories and fun facts about those places. It's a great way to get to know a larger area of the city in a short time (approx. 2 hours), exercise, and have fun!


Historic tour – there's no better way to learn about a place than hearing about its history from a local—and that's precisely what this 4-hour historic tour offers. Your guide and you will walk through Porto Alegre and stop in more than 10 historical sites. Love it!


Sailing tour in Guaíba River – experience the beautiful city's landscape from another point of view: the Guaíba River. This 1-hour boat tour sails along the main islands in the river while the bilingual guide talks about the city's history. You can also spot multiple landmarks from the boat and have a lovely sunset (if you pick the right time and weather ;). Oh, there is a bar on board!
Where to stay in Porto Alegre, Brazil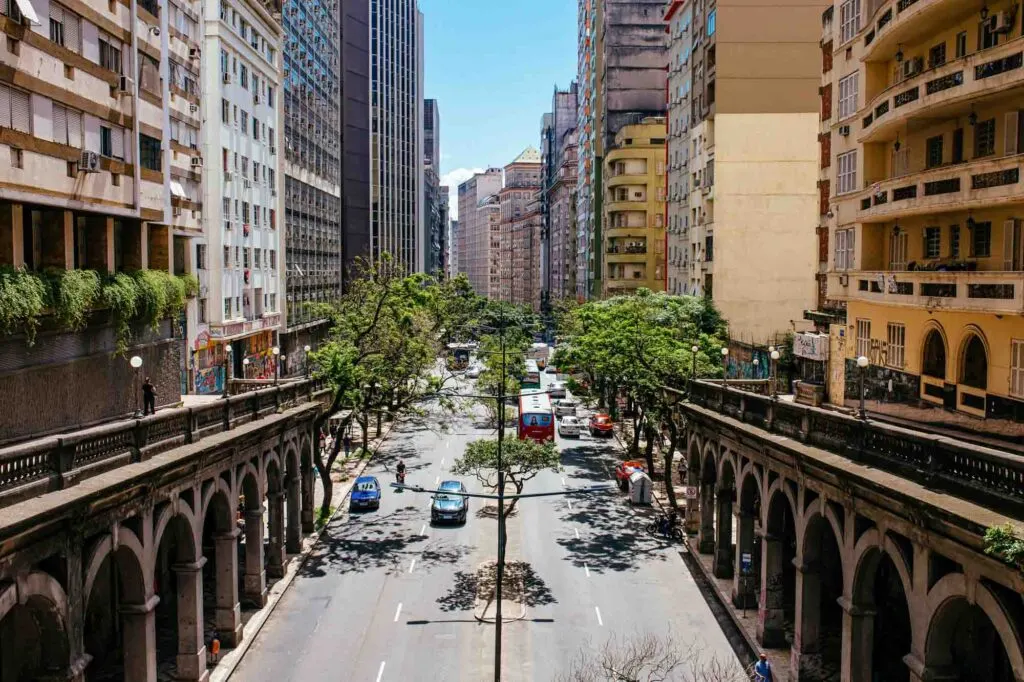 I selected some excellent hotel options to stay in Porto Alegre. They're located in the heart of town, near most attractions, so it's easy for you to find your way through the city.
Also, these are excellent options that won't break the bank.
Eko Residence Hotel (Booking.com | Hotels.com)

Extraordinary stay


This eco-hotel uses solar energy, has a water collection system, and has a few other features to minimize their environmental impact–love that! Besides, it's located near the center, and all rooms have a kitchen, so you can prepare your own meals. Still, breakfast (with veggie options) is well-reviewed!


Intercity Porto Alegre (Booking.com | Hotels.com)

Great location


This modern hotel is within walking distance of lots of restaurants, bars, and attractions. It features a fitness center, a highly rated breakfast, and an on-site restaurant.
How to get to Porto Alegre City Center from the airport
Porto Alegre, Brazil, has one main airport, Salgado Filho International Airport (POA), and it's located about 5.5 miles/20 minutes from the city center.
Metro/Train
It's one of the cheapest ways to get to Porto Alegre Downtown. From the airport, look for the atmospheric railway car which will take you to the train station.
Be sure to buy your ticket for the metro/train (about one dollar) at the airport. The whole trip, including the atmospheric railway car and metro, takes about 20 minutes.
Also, be sure to check out the timetables. The metro runs from 6 AM-11.30 PM.
Taxi/Uber
While a taxi is one of the most costly options, I thought it was worth mentioning it in case you arrive in the middle of the night or don't have the Uber app.
Without traffic jams and during the day, the trip to Downtown costs about R$35.
On the other hand, Uber costs about R$16, depending on the time, of course, and the trip takes 15 minutes.
Tours from Porto Alegre to other cities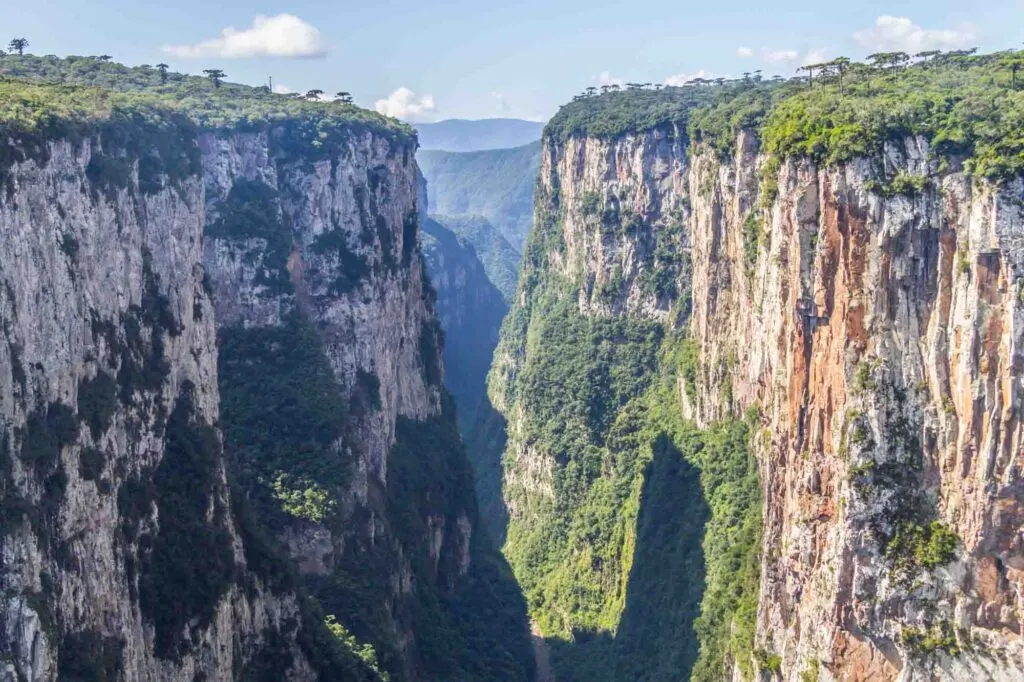 Filled with incredible nature and internationally-inspired towns, Rio Grande do Sul offers many other experiences than Porto Alegre.
Here are a couple of day trips or transportation options you might consider checking out.
Gramado and Canela for groups – Gramado is a German-inspired city with a lovely Bavarian feel. On the other hand, Canela is a bit more rustic and even simple, but it's filled with landmarks you won't want to miss. This tour with shuttle is perfect for friends or families traveling together. Still, if you want just the transport to these cities and prefer to explore them by yourself, you might want to book private transport.


Aparados da Serra National Park – This incredible national park has a breathtaking canyon, plenty of hiking trails, waterfalls, lookouts, and more. To get there, I recommend you rent a car and ride the 118 miles to the park. Because this trip takes about 2.30-3 hours, you might consider staying there for a day. It's well worth it!
Best time to visit Porto Alegre, Brazil
Because Porto Alegre is in the south of Brazil, the city has a cooler climate than the rest of the country.
Besides, due to the high humidity, the thermal sensations in Porto Alegre always end up being accentuated.
The summers are warm and humid, and winters are cold and wet.
Over the course of the year, the temperature typically varies from 50°F to 86°F and is rarely below 40°F or above 95°F.
Best time to visit Porto Alegre: April-May and October-November.
Driest months: April and May
Coldest months: June and July
Wettest months: August and September
Warmest months: January and February
If you want to enjoy some festivals in town, the biggest one is the Book Fair that takes place on Alfandega Square in the first half of November.
It's free and has a lot of international and national writers, authors, and releases.
Another highly acclaimed cultural event is the Porto Alegre Em Cena, one of the most important theater festivals in Brazil.
The first edition was in 1994 and, since then, around 50 shows are performed annually at popular prices, in public squares, theaters, and alternative spaces, attracting about 100,000 spectators at each edition. It takes place in September.
The 19 best things to do in Porto Alegre, Brazil
Here are some of the best things to do in Porto Alegre, Brazil, in no particular order. Enjoy!
1. Check out the Gasometer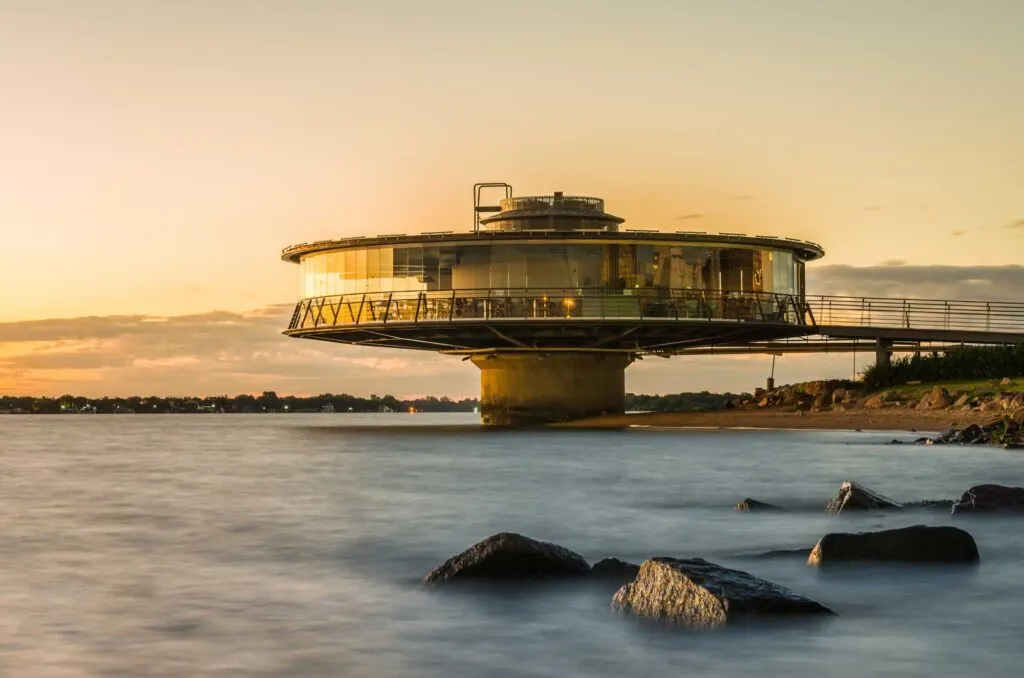 Note: The Gasometer is currently closed for renovation for an undetermined period, but you can still stroll around the area.
Located on the Guaíba River, Usina do Gasômetro is one of the most extraordinary buildings in the city.
The Gasometer, as English speakers call it, used to be a power generation plant that was deactivated and later became one of the most important cultural centers of Porto Alegre.
In 1974, its activities were permanently stopped, and in 1988, the site was opened to the public as a cultural center, fairs, stage for concerts, exhibitions, and other events.
You can climb the tower and take in a beautiful sunset from here.
2. Shop at the Porto Alegre Public Market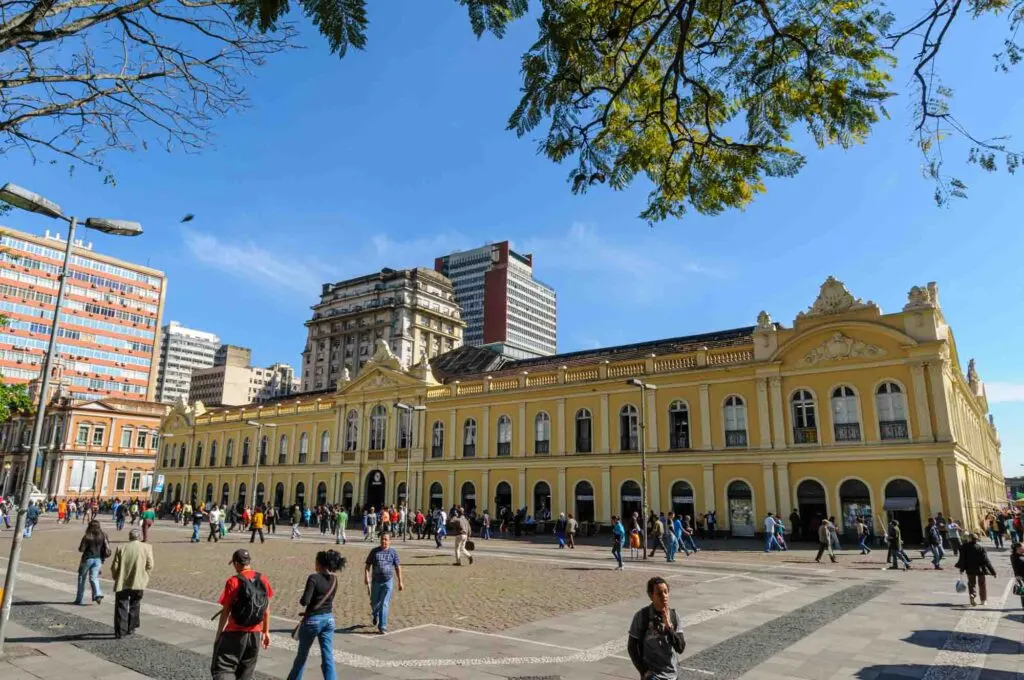 The city's oldest public market, Porto Alegre Public Market in Downtown, is not only an important historic landmark but also a popular meeting point in town, with plenty of enjoyable coffee shops and restaurants.
Beyond that, the Public Market is part of the city's roots, essentially for its traditional venues, such as the centenary restaurant Gambrinus, the ice cream parlor Banca 40, and one of the most traditional bars in town, the centenary Bar Naval.
With over 100 shops selling fresh produce and baked goods to locally raised meats and dairy products and handcrafted goods, the Public Market is the place to go for a snack and souvenirs. You can find anything from gold to meat.
3. Admire the Metropolitan Cathedral of Our Lady Mother of God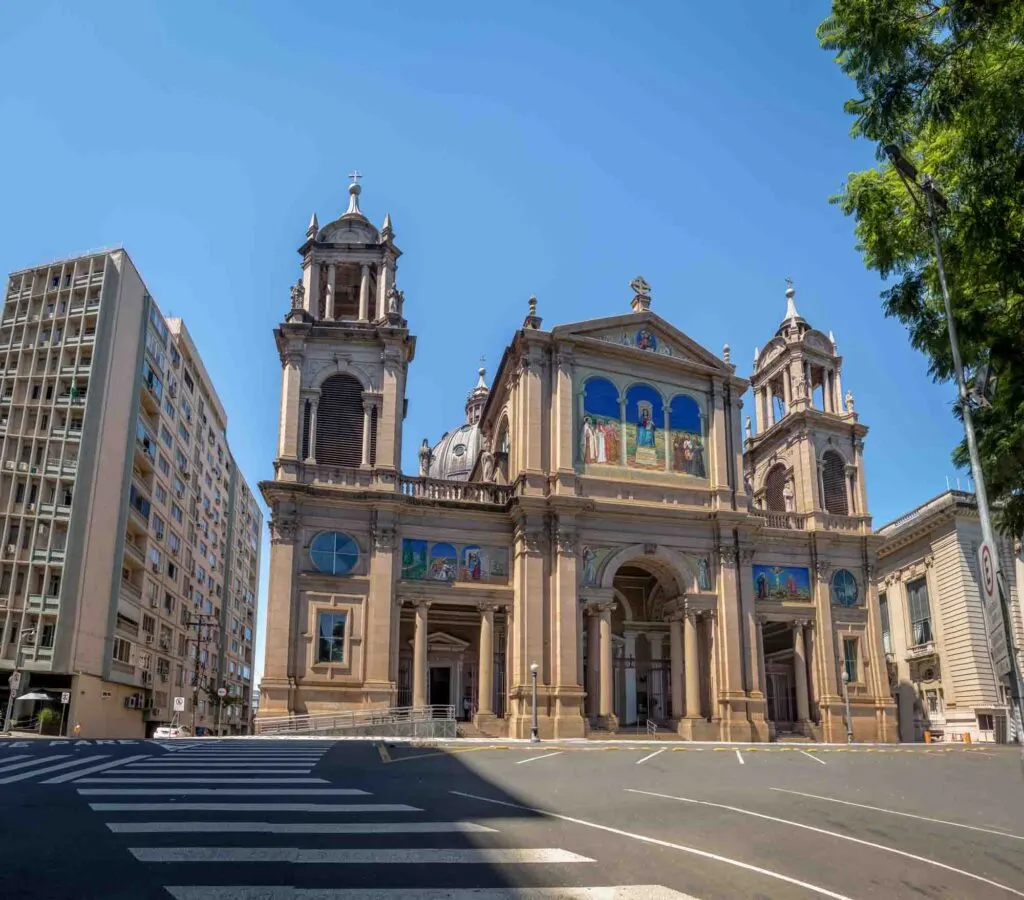 The Metropolitan Cathedral of Our Lady Mother of God is one of the most important monuments in the capital of Rio Grande do Sul.
Featuring stained glass and mosaics, this religious place is a must-see in the city.
The beautiful material used in the façade contains Murano crystal, which has approximately 10,000 shades of blue.
This cathedral, also known as an outstanding monument, will blow you away with its beauty. Don't forget to include it in your itinerary.
4. Visit the Rio Grande do Sul Museum of Art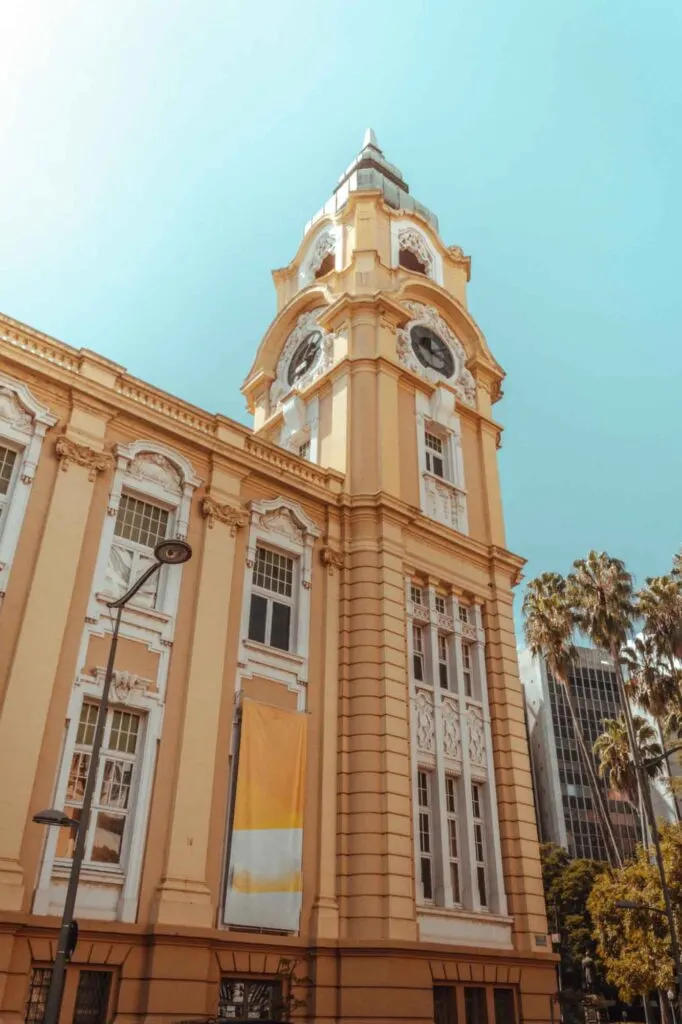 With its eclectic architecture and national heritage, it is one of the most noteworthy historic buildings in Porto Alegre.
Its design is usually attributed to Theodor Wiederspahn, a German-Brazilian architect, although influential local historian and artist Fernando Corona ascribes it to Germano Gundlach.
The Rio Grande do Sul Museum of Art has over 2,600 objects englobing all kinds of visual arts. It is located in Porto Alegre Downtown.
The collection's core is formed by art from the Rio Grande do Sul, which means you can see the city's art landscape.
If you pay a visit, you will have the opportunity to see some of the best artists in Porto Alegre. Art junkies, write this down.
5. Take a walk in the Moinhos de Vento Park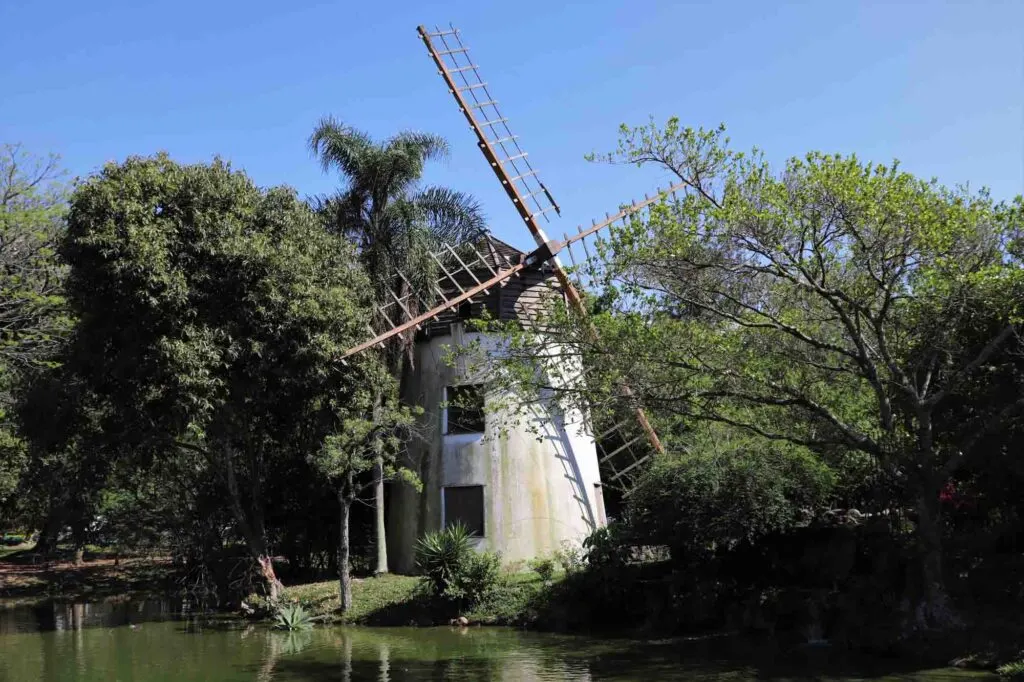 Take a break from Porto Alegre's bustling streets with a visit to a small, charming park where you can play sports, see a reminder of the city's past, and go wildlife spotting.
Moinhos de Vento Park (literally "Windmills Park"), popularly known as Parcão ("Big Park"), is a well-known park in Porto Alegre.
The park's structure consists of soccer, tennis, volleyball fields, gym equipment, a playground, a kids library, a pond with fish, turtles, ducks, and an Azorean windmill replica.
There are many things to do here, but it's also the perfect place to relax and just take a walk.
6. Take a boat tour through the Guaíba River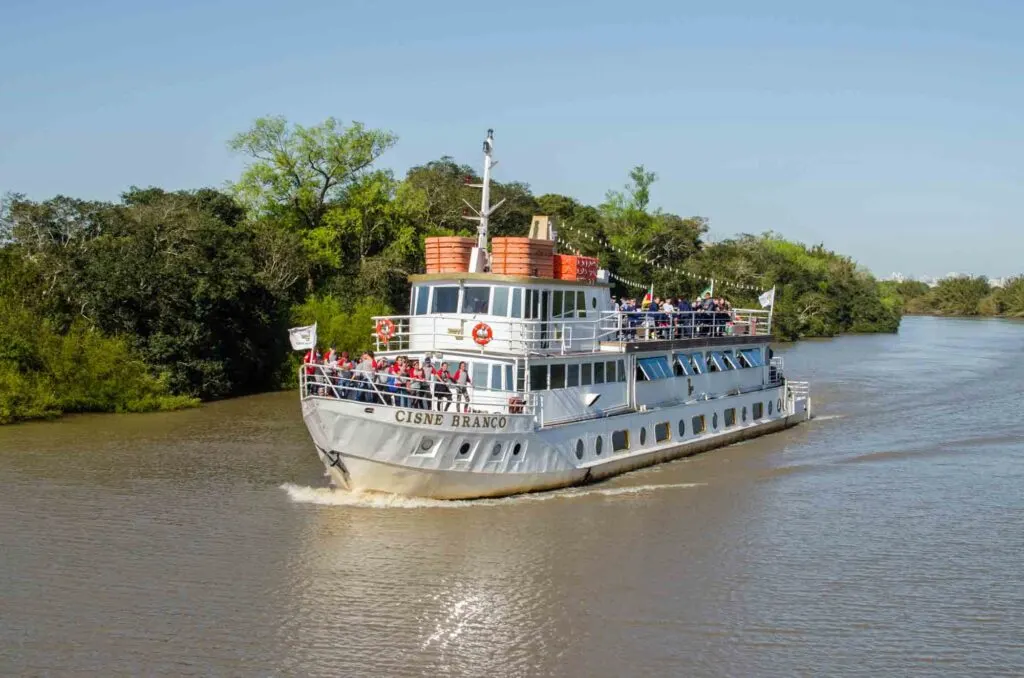 Porto Alegre's growth has stemmed from its strategic location. Because the lower courses of the rivers forming the Guaíba River are all navigable, the city has become Brazil's most important inland navigation center.
However, the Guaíba River is not just a vital navigation river. It is also one of the most picturesque sights of Porto Alegre.
Through the Guaíba, you can see many tourist boats sailing the river's deep water during sunset.
From a boat, you can see the city's beautiful urban landscape and enjoy the setting sun. Needless to say that this is the perfect location for pictures.
7. Play with your kids in the Farroupilha Park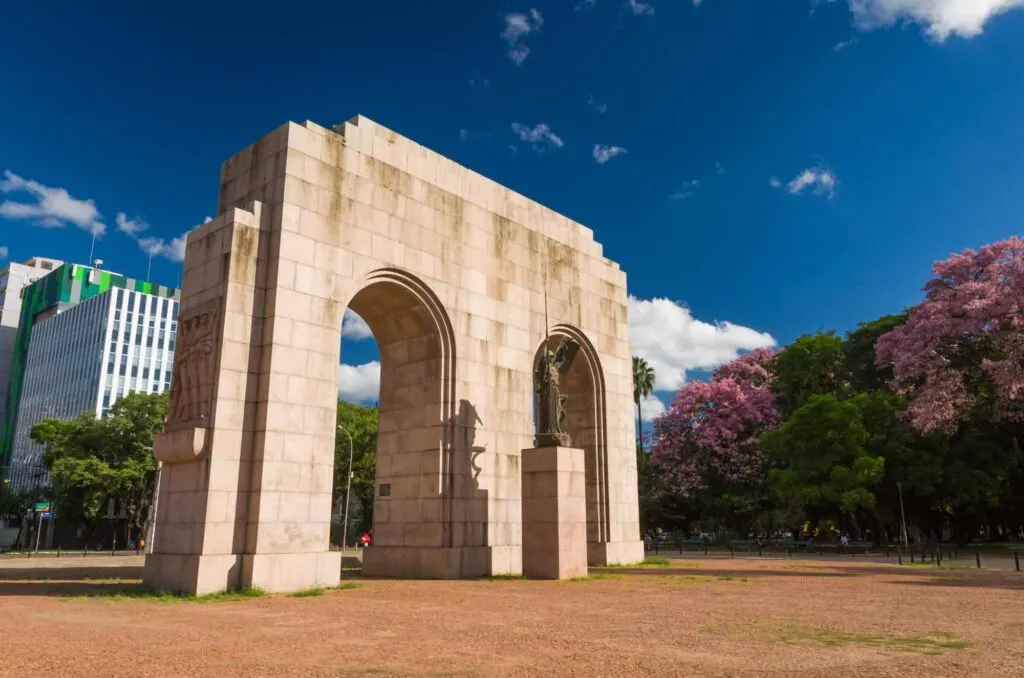 If you're traveling to Brazil with your children, you can't miss the Farroupilha Park, Porto Alegre.
Better known as Parque da Redenção, this green space has 40 hectares of gardens, playgrounds, sports fields, and coffee shops by the artificial lake.
Wake up early to enjoy the morning sun while strolling around the place and then have a good breakfast in one of the coffee shops or convenience stores.
If you're indeed traveling with children, they can spend their energy on playgrounds while sports lovers can use the athletics track for a good race, roller skating, and skating.
Alternatively, you can just keep in shape using the local gym devices. Another beautiful park you have to visit.
8. Party in the Cidade Baixa District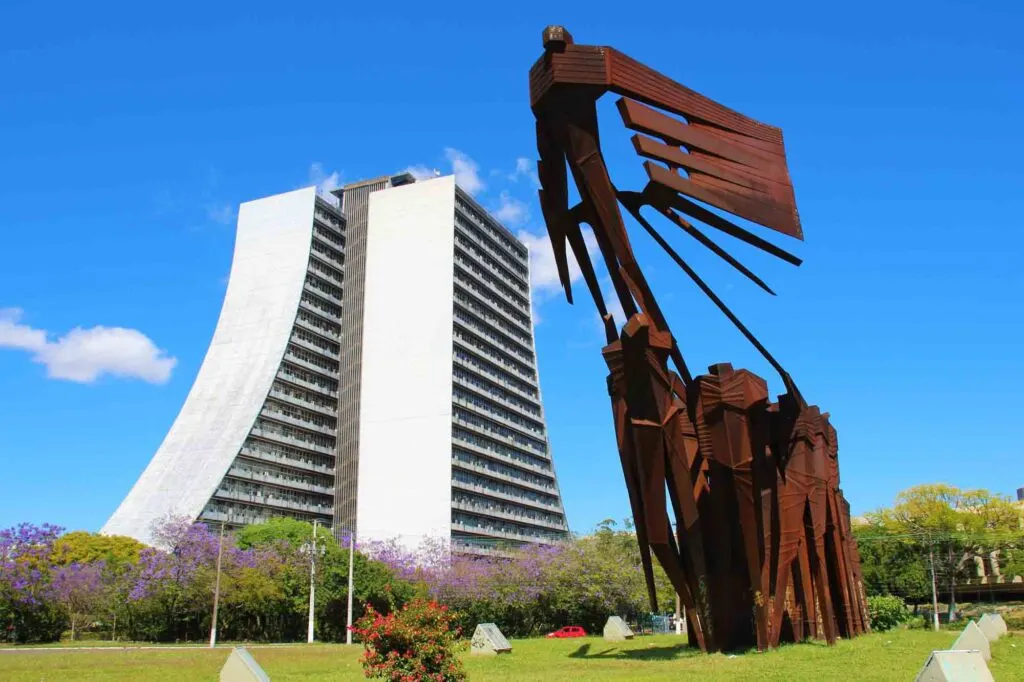 Cidade Baixa is a lively neighborhood in Porto Alegre, Brazil. Here is the central nightlife neighborhood of the city as there are several bars and nightclubs, particularly along the streets of General Lima e Silva, República, and João Alfredo.
It is located next to Farroupilha Park, one of the greenest areas in the city.
Also, the closeness to the Downtown campus of the Federal University (UFRGS) draws many students, intellectuals, and artists.
You can party like a Brazilian and try to get a grasp of our drinking and partying culture. It might turn out the best night of your life.
9. Watch a soccer match in the Grêmio Stadium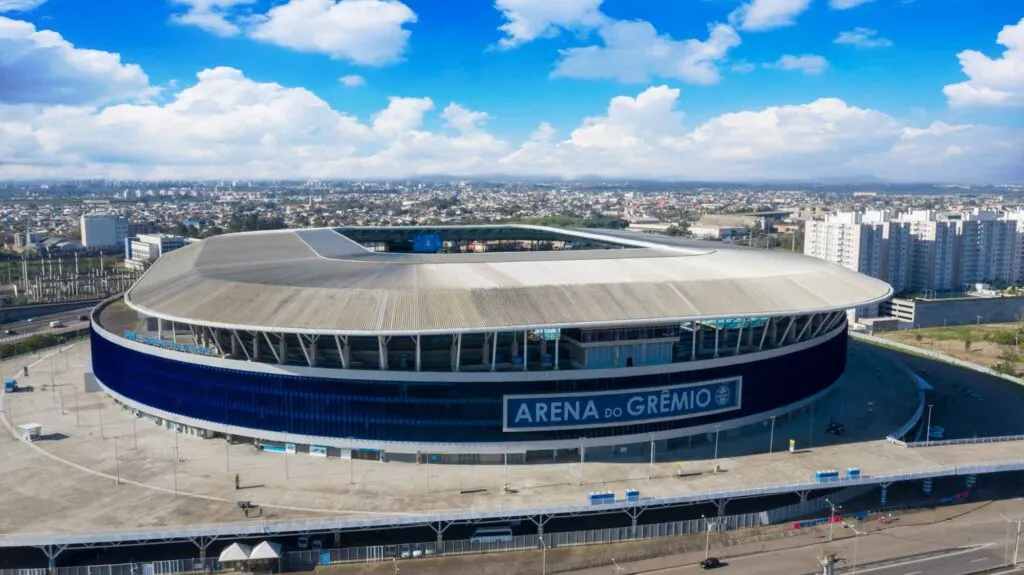 Arena do Grêmio is a multi-use stadium in Porto Alegre, Brazil. It is used mainly for soccer matches, as the home stadium of Grêmio Foot-Ball Porto Alegrense, but also to host concerts and social events.
With a 60k plus capacity (55k-ish current official capacity), the stadium is one of the most modern venues in South America.
Usually, big, international concerts are also held in the Gremio Stadium. Some of the most prominent artists who have come to Brazil have performed there.
So if you're a sports fan or want to enjoy a concert with open acoustics, the Gremio Stadium might become your favorite landmark when you travel to Porto Alegre.
10. Broaden your horizons in the Mario Quintana Cultural House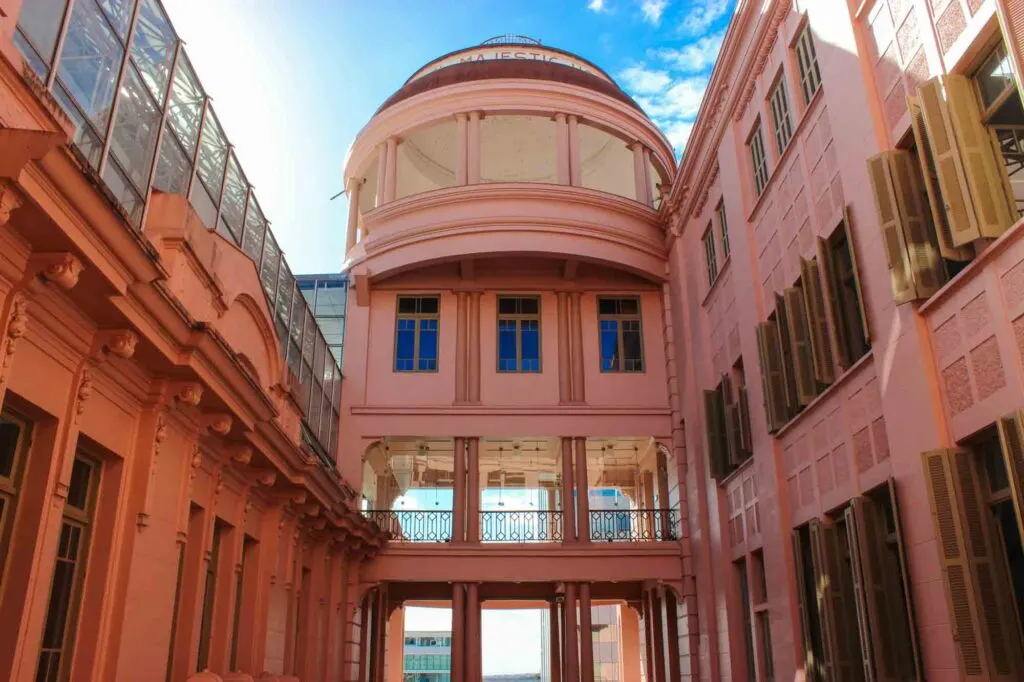 Also known as the "Casa de Cultura," Mario Quintana's Cultural House is literally home to many art exhibits and a major tourist attraction in Brazil.
As a national heritage site, the building is magnificent and worth the visit.
As for the art, it literally hosts almost any art style and kind. From theater to dance to art exhibitions, the place is excellent for anyone who wishes to see the artistic side of Porto Alegre, Brazil.
11. Get a grasp of the state in the Piratini Palace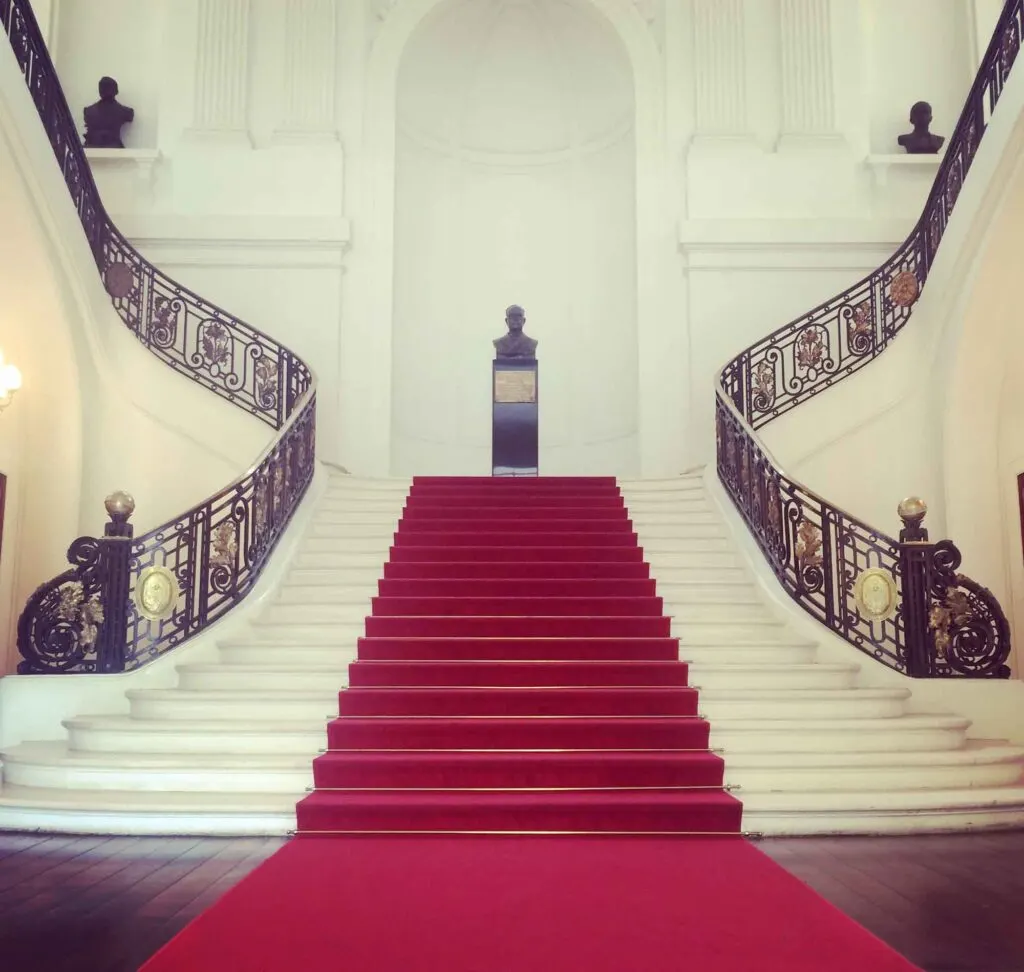 The headquarters of the local government is located in the so-called Piratini Palace.
While the exterior of this beautiful building is in neoclassic style amidst green gardens, the interior is decorated with Baroque frescoes and painted murals.
There are replicas of chandeliers from the Palace of Versailles and many other royal highlights inside.
In the gardens of the palace, you'll find an Egyptian-themed fountain and an antique car, as well as a Creole shed, where you are greeted with a cooking demonstration of traditional gaucho culture.
The whole complex is a combination of different cultures, which represents the city as a whole.
12. Satisfy your gastronomic appetites on the Laçador Boulevard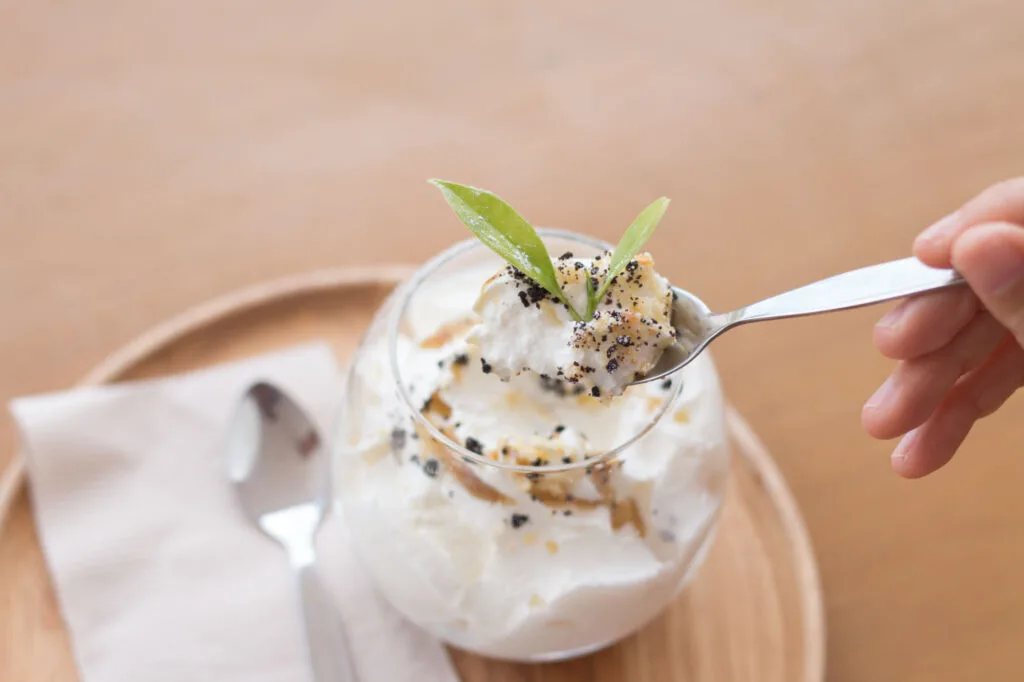 If you're a foodie, there is a great chance that wherever in the world you go, you're looking for a way to experience local food.
The good news for you is that there is a designated place for gastronomic culture in Porto Alegre.
With over 20 restaurants and food trucks, you can try a plethora of dishes and finger food at the up market Laçador Boulevard.
This small gastronomic center around Salgado Filho airport is dedicated to good food from around the world, including Brazilian food.
The Varig Experience is on the premises and you can visit a historic Douglas DC-3.
13. Have a cocktail on Padre Chagas Street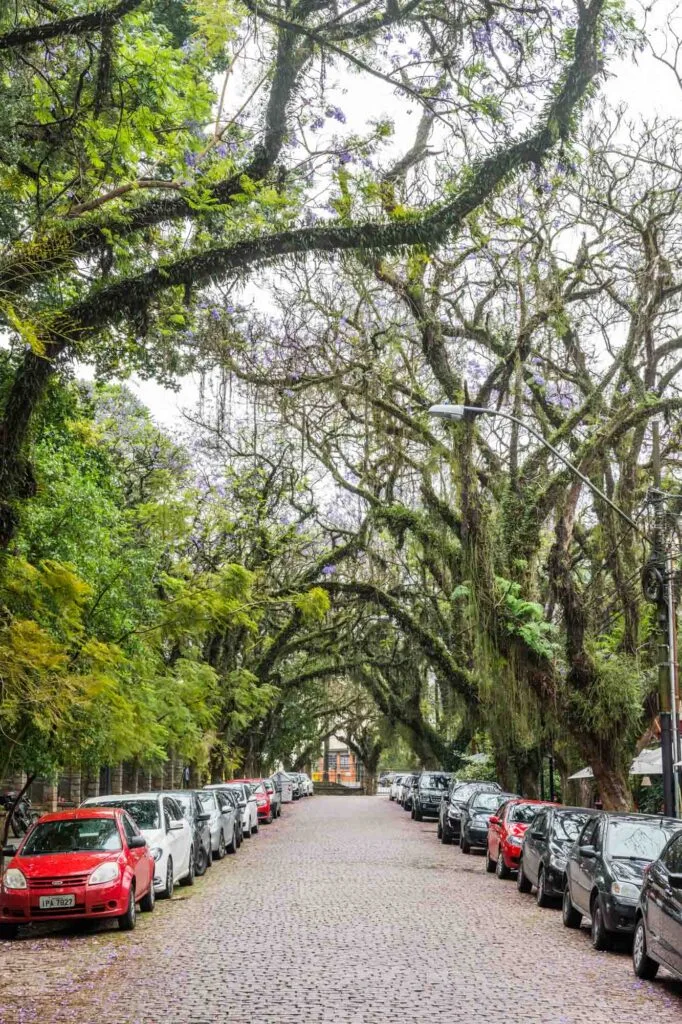 Known as Miami's Lincoln Road of Porto Alegre, Padre Chagas is the place to go if you want to sip some cocktails, discover the nightlife culture, the high fashion, and the hip crowd of Porto Alegre.
With some of the best restaurants in town, this area also boasts several shops and bars worth visiting.
Further out, Padre Chagas is "the street to be seen on"—the perfect location for getting in touch with the rich and luxurious side of Porto Alegre.
If you're one to keep up with the trends, dining there will be the highlight of your trip to the city.
14. Enjoy art in Iberê Camargo Foundation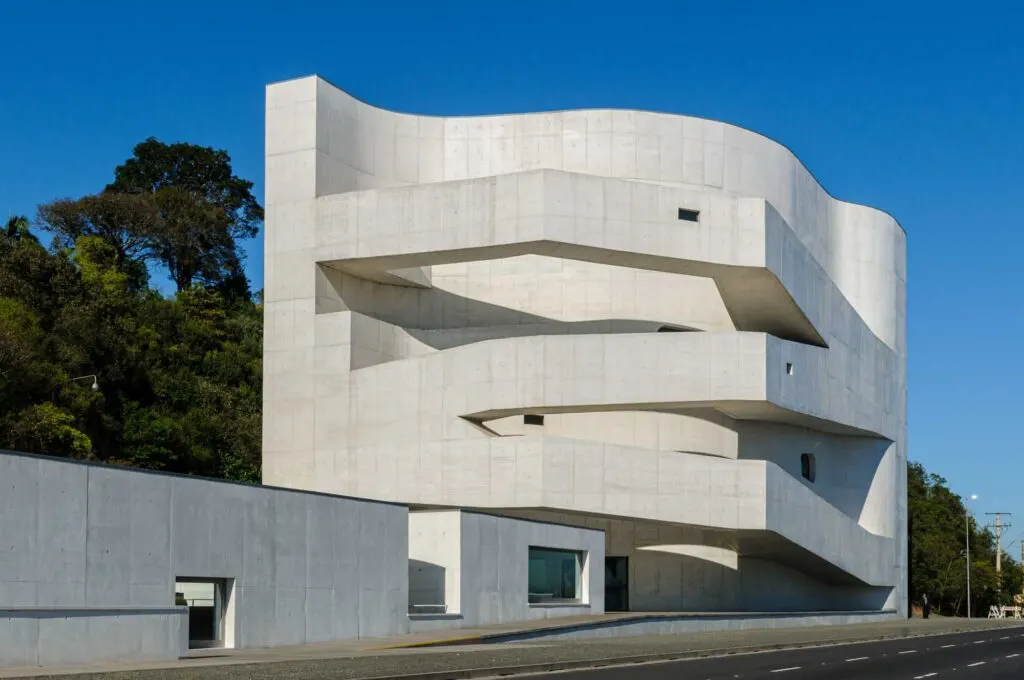 The Iberê Camargo Foundation is a cultural institution and museum located in Porto Alegre, Brazil.
It's a foundation dedicated to preserving and promoting the Brazilian painter Iberê Camargo (1914–1994).
Created in 1995, one year after the artist's passing, it aims to make people know Camargo's art and intends to stimulate reflections on contemporary artistic production through displays, courses, seminars, and meetings.
Beyond that, the museum building of the Iberê Camargo Foundation was designed by Pritzker Prize-winning Portuguese architect Álvaro Siza.
However, the foundation was operating in the late artist's home in Porto Alegre before the inauguration of the building in May 2008. The new facility is located on the bank of Guaíba Lake.
Nowadays, the unusually shaped building houses many exhibits and attracts visitors with its outstanding architectural outlook. Book a visit if you're traveling to Porto Alegre.
15. Roam nature in the Botanical Gardens of Porto Alegre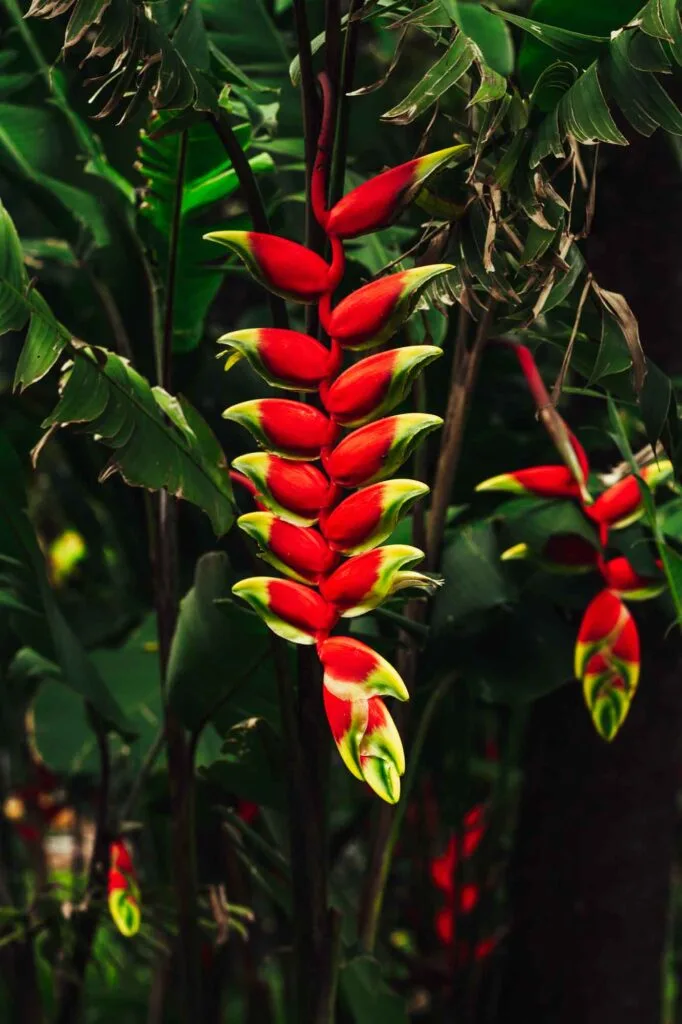 The Porto Alegre Botanical Garden is a Foundation of Rio Grande do Sul located on the street Salvador França, in Porto Alegre, Brazil.
The Botanical Gardens is spread over approximately 39 hectares. The garden offers a wide variety of trees and plants, most of them adequately tagged and named.
You can enjoy exotic plants like pine trees and several types of Auracarias. The Gardens make you feel like you're roaming through nature while you're in the middle of the city.
It is an incredible experience for anyone, and you should visit it if you're traveling to Porto Alegre.
16. Go to an opera in the São Pedro Theater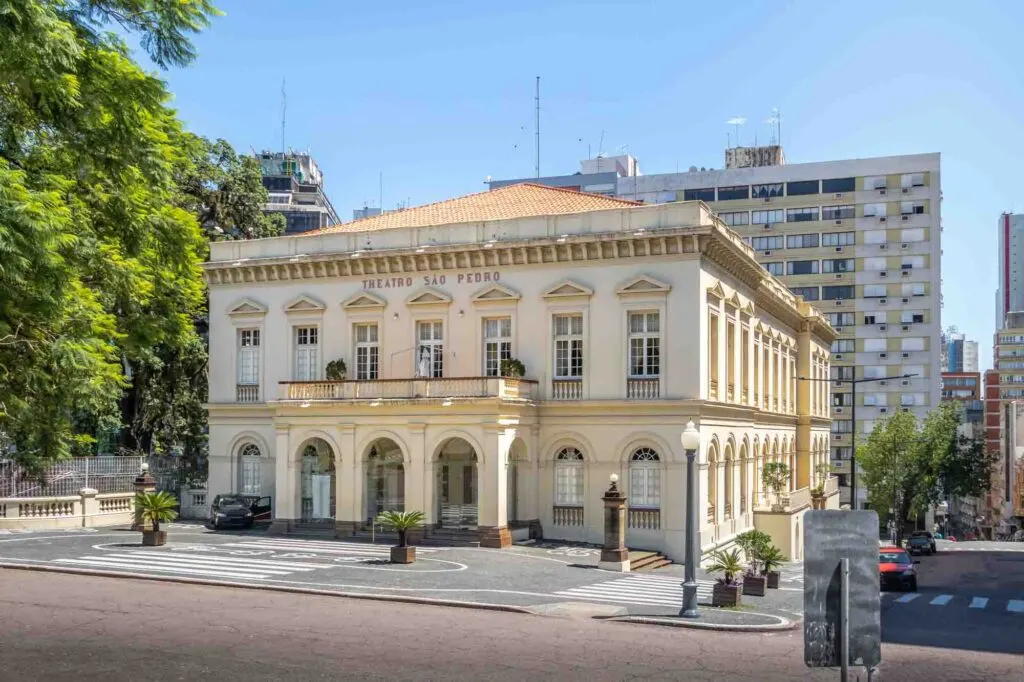 The São Pedro Theatre (Theatro São Pedro in Portuguese) is the oldest in the city of Porto Alegre.
Founded in 1858, the theatre quickly became an artistic, social, and political center in Brazil. The Theatro Sao Pedro is an excellent example of what makes Porto Alegre a fantastic city to visit.
The theatre is in excellent condition and offers brilliant acoustics. It is on the smaller side, which means almost all the seats are good, and the connection between artists and the audience is never distant.
If you're a lover of theatre and opera, you will love the São Pedro Theater.
17. Photograph the Nossa Senhora das Dores Church
Sitting majestic atop a flight of stairs, the Nossa Senhora das Dores Church is the oldest religious building in Porto Alegre, Brazil, dating back to 1813.
This church facade is built in eclectic style is completely white, which gives it an ethereal look. Its interior is Baroque and neoclassic.
Being such beauty in and outside, this church deserves a visit whether you're religious or not.
On top of that, this church hosted a number of religious traditions, and because the building has such historical and artistic importance, it is a national heritage site.
If you're traveling to Porto Alegre, be sure to include it in your travel plans.
18. Walk through the Alfândega Square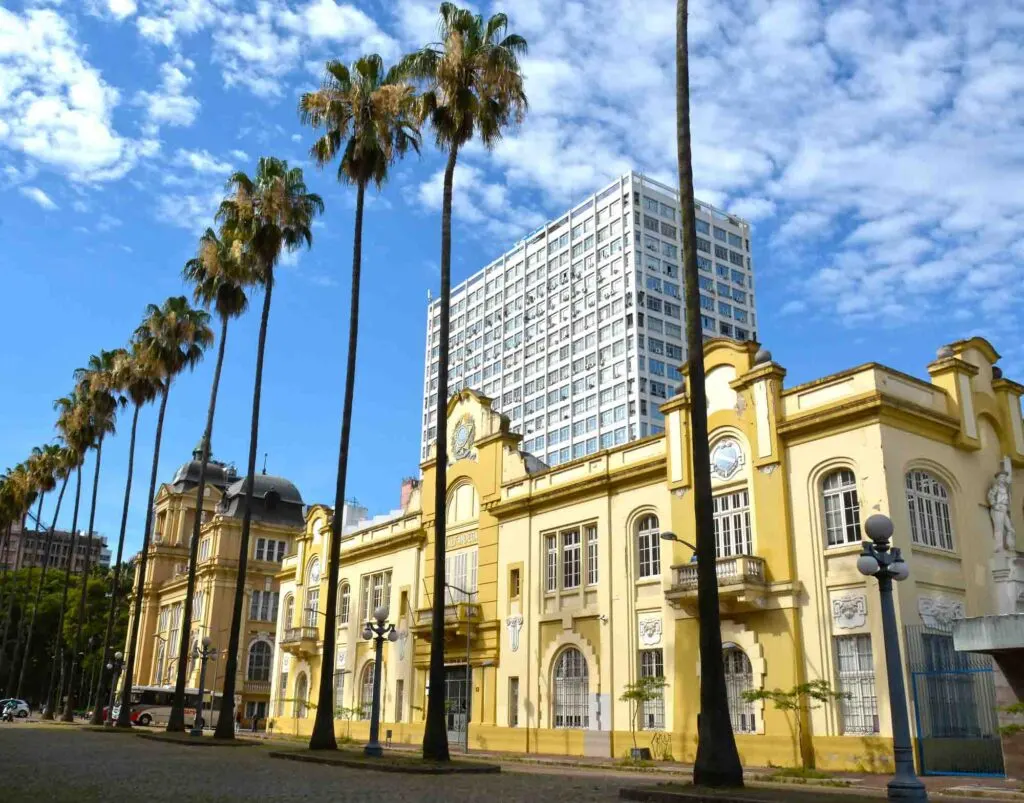 Alfândega Square is a historic square, situated in the center of Porto Alegre, next to lake Guaiba (famous for its sunset).
This spot is surrounded by important buildings such as the Santander Cultural Center, the Museum of Art of Rio Grande do Sul (MARGS), the old Guarany Cinema, the headquarters of BANRISUL, amongst others.
However, what is truly interesting about this square is the mixture of different cultures in one place.
It is the place of leisure, pleasure, blending, contrast, the 'others,' the differences.
It is the place where everyone becomes one, and nobody cares about your gender, color, and age. A center of diversity like no other. Take a walk around it, and we guarantee you will be swept off your feet.
19. Marvel at the Sanctuary Mother of God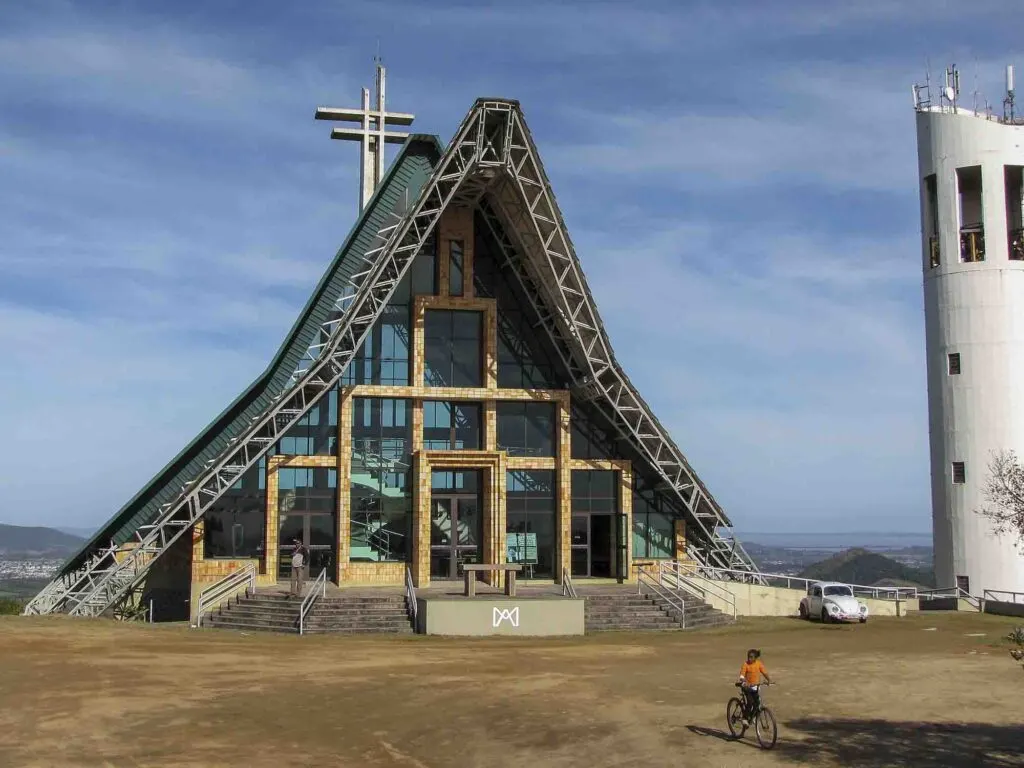 The Archdiocesan Shrine of Our Lady Mother of God is a magnificent Catholic church located on the hilltop Round Stone in Porto Alegre.
Although its design dates back to 1987, its construction only took place in the 1990s due to environmental concerns.
It was finished in 2000, joining the celebrations of the Third Millennium. The first stone set was consecrated by the Archbishop of Cologne, Cardinal Joachim Meisner.
What makes the church interesting is its shape, location, and heritage it brings to the world.
Built in the middle of a field, far from the town, with a weak wooden structure and almost open architecture, unlike any other church.
Whether you're religious or not, you'll want to include it in your itinerary when visiting Porto Alegre.
Brazil travel resources
You're traveling to Brazil! How exciting is that?!
While you must be busy planning your trip, I thought I could share some resources to make your life easier. After all, I've written lots of guides about Brazil in the latest years.
Here on the blog, you can find information about how much a trip to Brazil costs, what to pack, and tours worth checking out.
However, if you want some inspiration on what places to visit in Brazil, you should check out my destinations page which I'm often updating as well as the best things to do in Brazil. Warning: it's a long list!
Last but not least. If you want to get acquainted with the local pop culture, you might want to check out these Brazilian shows and movies on Netflix.
I hope you enjoy it! Happy travels!