Traveling to Brazil and looking for the best beaches in Florianópolis? Here's a hand-picked list to keep you busy during your vacation!
With incredible waterfalls, national parks, islands, outdoor activities, and obviously beaches, Brazil is ideal for a summer vacation.
And while the Rio de Janeiro beaches are jaw-dropping, Florianópolis also deserves a place in the sun.
After all, drinking some Brazilian cocktails, hitting the beach, and enjoying the excellent weather are some of the all-time best things to do in Brazil no matter the region, right?
So yeah, it is no surprise that hitting the beach is one of the best things to do in Florianópolis too.
Looking for accommodation in Floripa? Then you will want to read my detailed guide on where to stay in Florianópolis.
It has a breakdown of the best neighborhoods and accommodation in each budget.
Beaches in Florianópolis
Florianópolis, or Floripa for close friends, is the capital of Santa Catarina State. The city is located on Santa Catarina Island and is connected to the mainland by a bridge.
Beyond that, smaller islands compose the striking scenery of this "magical island."
The entire island has incredible spots to practice sports like sandboarding, windsurfing, and it is not difficult to find that perfect wave either.
Floripa is a famous destination in South America for beach tourists, especially for people from Rio and São Paulo.
Again, there is something for every kind of tourist–sand boarder, water surfer, sunbather, caipirinha drinker.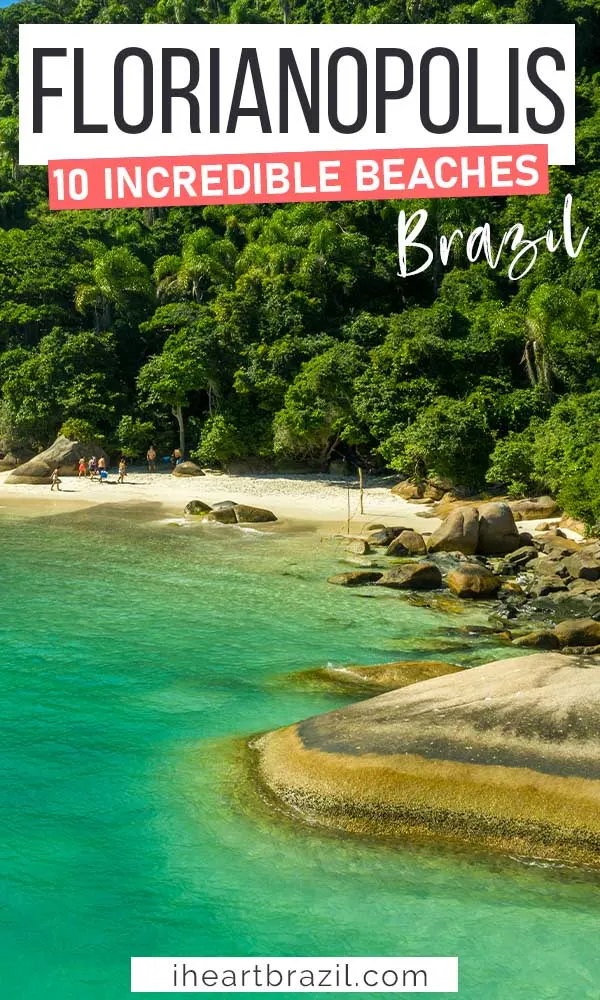 Tips for visiting Florianópolis Beaches
Before preparing your Brazil packing list to hit these white sand beaches, check out this blog post linked above for handy packing tips.
Above all, do not forget sunscreen, cap, and a repellent when walking among the vegetation. It isn't as warm in Floripa as it is in Bahia, but Brazilian summer can be quite hot.
If you aren't traveling during the Brazilian summer, know that the south of the country can get pretty cold in the winter for Brazilian standards. I recommend you check the best time to visit Brazil, which has weather information.
Many of these beaches below are secluded or have little to none infrastructure, so you will want to pack food, snacks, and a trash bag with you.
It might be helpful: The Portuguese word for beach is praia.
It might be helpful 2: I created a map with all locations mentioned here (beach + trails). It's at the bottom of this post.
Lagoinha do Leste Beach
The wildest beach in Florianópolis is also considered the most beautiful one by residents and tourists.
Lagoinha do Leste is seen as one of the most secluded Florianópolis beaches as you can only reach it on foot or by boat, and there is no infrastructure whatsoever in this place.
Still, the scenery is absolutely worth the hike–clear waters, sand dunes, and two towering cliffs on each side of one of the prettiest beaches in Brazil.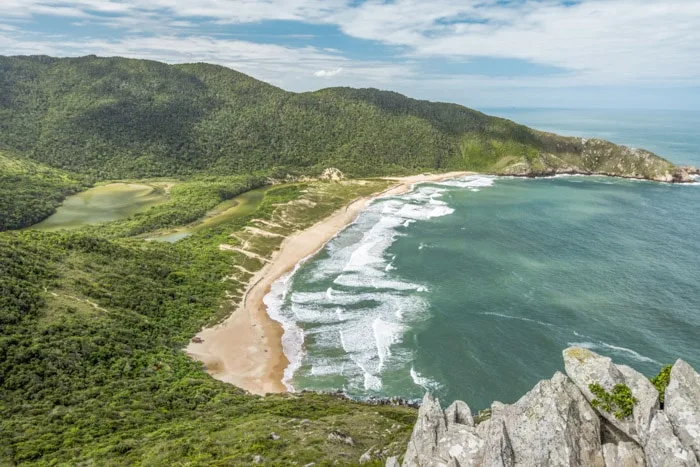 By the way, the name Lagoinha (Portuguese for lagoon) comes from a small lagoon next to the left shore. It is a calm lagoon with warm and dark waters and a sandbank beside it. It's an ideal place to stand up paddle, too.
If you enjoy a good hike, getting here by foot is the best option for you. For that, you have two options:
Through Matadeiro Beach – it's a little longer trail than the one below, and a bit more difficult as the terrain is uneven, but no pain, no gain–the view is prettier on this hike! Hike time: 2:30-3h.
Through Pântano Sul Beach – it's a trail with ups and downhills surrounded by forest. Hike time: 1:30.
If I can suggest an itinerary, reach Lagoinha do Leste through Matadeiro, and come back through Pântano Sul.
Tips from a local: take water, snacks, and trash bags with you as there are no restaurants or kiosks on this beach.
Forte Beach
Praia do Forte is located in the north of the island of Santa Catarina, between the beaches of Jurerê and Daniela, only 25km from the city center.
It is one of the quietest beaches in the city where families usually enjoy a relaxing day outdoors.
Since Praia do Forte is on the western side of the island, it faces Brazil's mainland hills, not the ocean.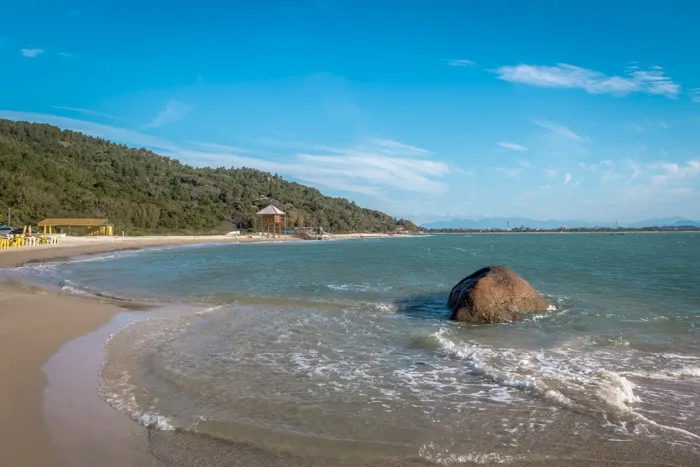 This beach in Florianópolis has this name because it is located near the 18th-century São José da Ponta Grossa Fortress, which was used to protect the Santa Catarina Bay.
The fortress is open to visitation, and street signs indicate the way, but be warned: it's a hilly path. Still, it's a lovely view!
As for the beach, the waves are pretty calm compared to other beaches in Florianópolis, and if you're traveling with kids, this is one of the best places to sunbathe.
There are a couple of kiosks offering chairs and beach umbrella rentals as well as fresh seafood nibbles.
Mole Beach
The hottest beach in Florianópolis combines activity, sport, and young people who enjoy surfing, seeing, and being seen. On its slopes, there is a paragliding takeoff ramp, which enhances the vibe.
With beachside bars, restaurants, live music, and DJ parties, Mole is lively in summer and winter.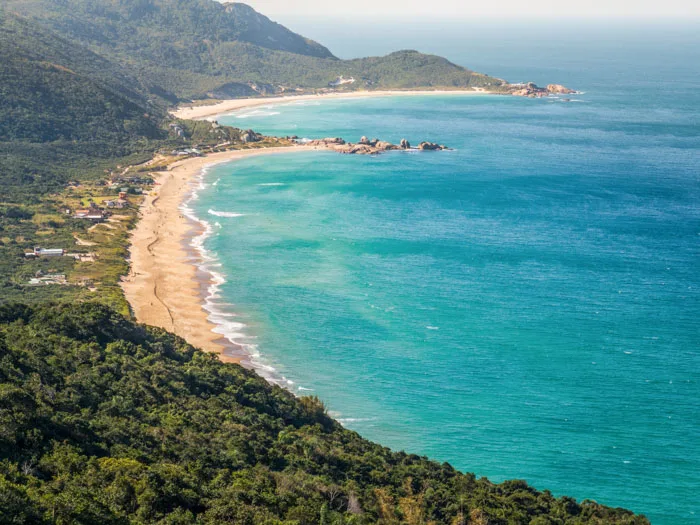 However, Mole is considered the most dangerous beach in Floripa for diving as high and strong waves break here the whole day, making it perfect for surfing.
Beyond that, Praia Mole has clear and cold water, and fluffy and soft sand, hence the name (Mole = soft).
It is necessary to follow a small and straightforward trail to get there, leaving the SC-406 highway. There is also a car park nearby for those who want to reach it by car.
Campeche Island Beach
Praia da Ilha do Campeche, also known as the Caribbean of Southern Brazil, is one of the most popular beach destinations in Florianópolis in summer. This tiny island is located east from Santa Catarina Island.
To get access to this paradise, you must take a quick boat trip leaving Barra da Lagoa, Armação Beach, or Campeche Beach (Not to be confused with the beach on Campeche Island. Campeche Beach is on Santa Catarina Island).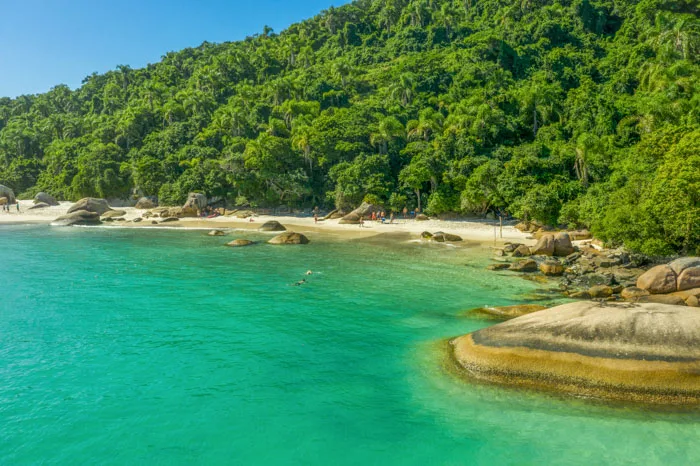 Because Campeche Island is an important archeological site, the number of visitors is limited to 770 (low season)/800 (high season – Brazilian summer) people per day. Also, the boat trip is subject to climate conditions.
On the island, there are trails to see rock inscriptions as well as underwater trails for snorkeling.
If that wasn't enough to make Campeche an incredible place, the beach, the only one on the island, is considered one of the most beautiful beaches in Florianópolis.
It is a lovely white sand stretch and crystal clear water teeming with fish.
Barra da Lagoa Little Beach
A former colony of fishermen, Barra da Lagoa District still maintains strong traces of the local culture. It has one of the highest concentrations of inns and hostels in the city, so it is very popular with tourists all year round.
One of its attractions, Barra da Lagoa Little Beach, has a short yet inviting sand strip.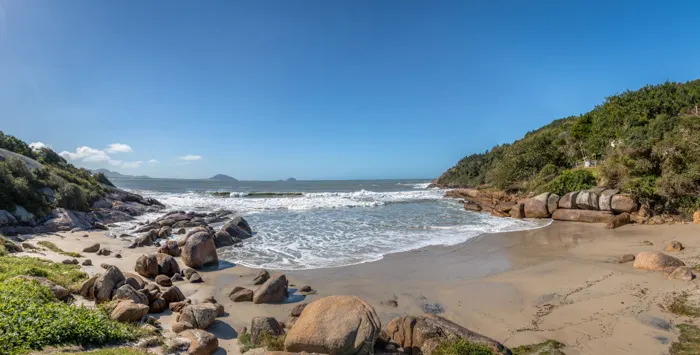 And despite being on the eastern side of the island–facing the open ocean–this beach has a not so agitated sea because of the stone jetty and Galheta Hill that soften the water's winds and force.
Still, it's a lovely place to sip some drinks brought by yourself–maybe this Brazilian lemonade?
Anyway, you can easily get to Prainha da Barra da Lagoa from Barra da Lagoa, where there is far more infrastructure for tourists.
Gravatá Beach
Gravatá is one of those tiny secluded beaches with no infrastructure whatsoever where you go to connect with nature.
For me, this is one of the prettiest Florianópolis beaches, even though it is tiny.
It has a short white sand stretch and some massive rocks from where you can watch the sunrise–highly recommended!
The sea can be calm here, but it's always good to pay attention. Don't let the crystal clear water mislead you to swim if the waves are a bit wild.
To get here, you need to follow a short hike trail named Caminho dos Pescadores that starts at 399 Rodovia Jornalista Manoel de Menezes. It's the left path at the entrance of the Caminho.
The 35-minute hike continues through a dirt path surrounded by vegetation in the first part, and after that, it offers incredible views of the coastal landscape, including Mole Beach and Galheta Beach.
Hop on the rocks on the eastern end of the beach for fantastic views of the ocean. Gravatá Beach is between Mole and Joaquina Beaches.
Note on Joaquina Beach: Even though it's a lovely place, I didn't include it in this list for the simple reason that it is one of the most popular beaches in Florianópolis, and you will probably come across it while sightseeing the island. So I decided to leave Praia da Joaquina out, but that doesn't mean you shouldn't visit it–it's gorgeous and absolutely worth it!
Naufragados Beach
The southernmost beach in Florianópolis reserves not only a great beauty but also an untouched nature and ruins of old buildings.
Its name translates to wrecked in English. The reason for this name goes back to a shipwreck where the survivors took refuge in the place. The ship is still there, but it can only be seen when the tide is very low.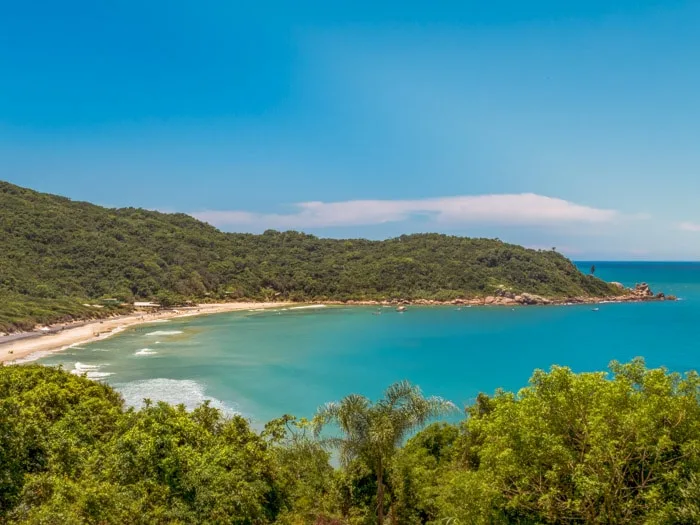 With white sands, dark blue waters, and strong waves, Naufragados Beach is a paradise framed by an inlet and beautiful stones that appear to have been hand carved.
Most visitors visit this beach in Floripa in the summer months because the water is pretty cold there, which is good to know when planning your trip to Brazil.
Take a boat trip from Ribeirão da Ilha or hike a 45-minute trail through dense forest to get there. The hiking trail begins at the southern end of Caieira da Barra do Sul on the road inside the parking lot.
There are a couple of family-owned restaurants selling food and refreshments on the beach.
Tip from a local: Take the short trail on the beach's western shore to reach the lighthouse and score some fantastic views of Brazil mainland and the coast.
Armação Beach
Praia da Armação is considered one of the most beautiful beaches on the island of Santa Catarina. Unlike many beaches in this list, Armação has a long sand stretch–about 3km.
Besides, Armação lies in a fishing community, an important fishing center in the region, giving it a rustic atmosphere, despite being located in a central area.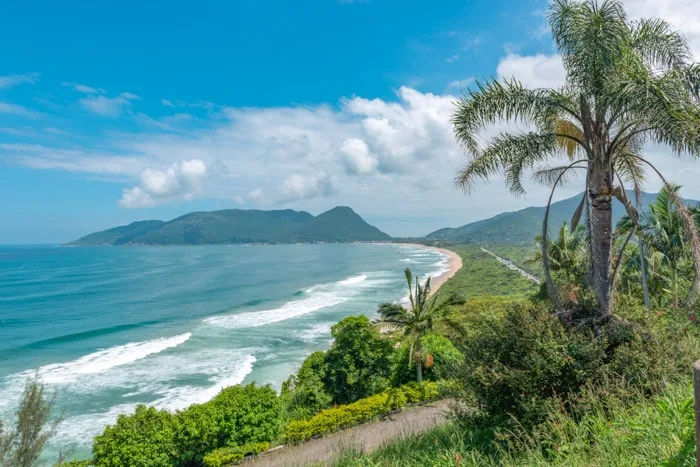 On the beach area's right shore, you can wander through a wooden boardwalk along a lovely stream that flows into the ocean.
On the other end of Armação, the strong waves make it an excellent surfing spot and not so good swimming spot.
There are a couple of beachside restaurants, bars, and shops here. Praia da Armação is the second most visited place in the city, with a lot of leisure, especially in high season.
Jurerê International Beach
Praia de Jurerê Internacional is one of the most lively beaches in Florianópolis and has excellent infrastructure to receive tourists.
In the past, The New York Times covered a story about this stunning beach, claiming to be one of the most valued destinations on the Brazilian coast.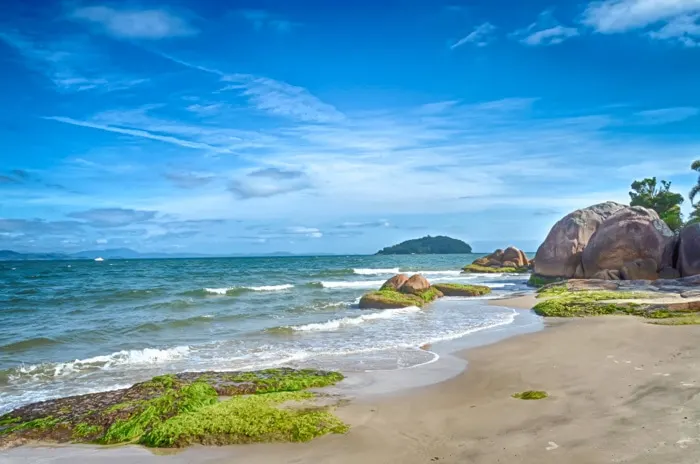 Jurerê Internacional is filled with trendy restaurants, high-end beach accommodations, luxurious bars, beach clubs, and many parties in caipirinha-soaked lounges.
Despite being so popular, this beach also offers a unique natural environment to enjoy the excellent weather.
But because it is such a popular place, Jurerê Internacional might get pretty crowded during peak season.
Galheta Beach
Praia da Galheta is the only place for naturism in Florianópolis (clothes are optional) and lies in a reserve.
For these reasons, it is a rustic and semi-desert beach with access only by two trails of medium to difficult difficulty.
The difficult one is through a mountain, which is a longer and steeper 2-hour hike, and the medium one is through the boulders to Mole Beach.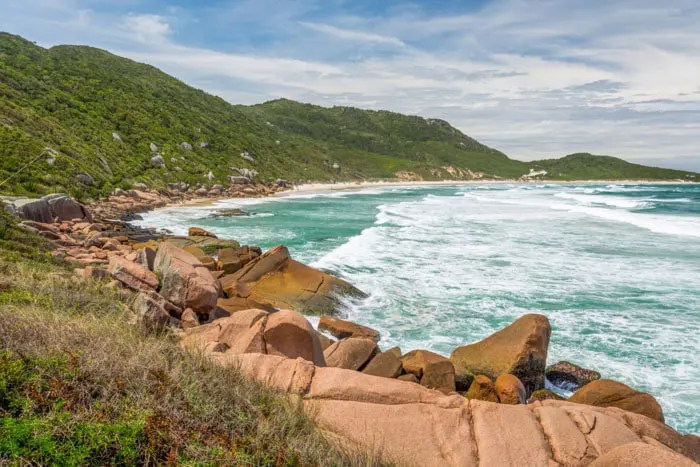 Despite Galheta being close to busy beaches, it maintains its vibe of paradise all year round, even in high season. Naturists have been visiting this beach since the 70s precisely because it is secluded.
Still, it also attracts surfers searching for good waves, even though it is not as famous as other beaches on the island.
There you can enjoy the view of the fishing boats, white sand, mountains, and calming blue water while resting against a large rock in silence.
The beach is surrounded by lush landscapes caused by the vegetation and the mountains.
Among these charms are small streams of freshwater that emerge from the surrounding hills, where it is possible to have a shower of drinking water, cold and clean.
More Florianópolis beaches with incredible natural beauty
Ingleses Beach
Moçambique Beach
Santinho Beach
Florianópolis beaches map
Because many of these beaches are secluded or are only reachable by foot, I marked their locations, including the trail's location, on this map that you can open and use on your phone.
I hope it's useful!
Brazil travel resources
You're going to Brazil–that's so exciting! To help you plan a hassle-free trip, I wrote several guides.
For instance, these guides on how much a trip to Brazil cost and buying a Brazil SIM card might be very helpful to you.
Also, if you're looking for some vacation ideas, you might want to check out this excellent post I wrote about the best places to visit in Brazil.
Not that you need more reasons to visit the country, but this post shows you places you might not have thought about before.
Oh, and wanna know a fun fact? There are many great series and movies on Netflix to get yourself used to listen to Portuguese.
And, last but not least, these books about Brazil will get you ready to experience such a diverse country. Enjoy!