Traveling to Brazil and looking for fun things to do in Florianópolis? You're in the right place–I have a handy guide on when to go, where to stay, what to bring, travel tips, and what to do in Floripa. Check it out!
Florianópolis, also known as Floripa among locals, is the capital of Santa Catarina State in the south of Brazil.
While this region is overlooked by international tourists, Florianópolis is a popular travel destination among Brazilians.
Most locals visiting Florianópolis plan their trip during summer as, again, the state lies in the southern region of Brazil, which can be quite cold for national standards.
Beyond that, Floripa lies on the Santa Catarina Island—Magical Island for close friends—and it is a place filled with white sand beaches, stunning views, beautiful lagoons, green hills, and an incredible historical center.
What's not to love?
With such an introduction, it doesn't come as a surprise that there are lots of things to see in Florianópolis.
So grab yourself a Brazilian drink, sit back, and read these helpful tips if you're traveling to Florianópolis.
Best time to visit Florianópolis
To escape North America's chilly fall and winter, head over to Florianópolis between October and December. It doesn't rain much in this period, and the temperatures are consistently 77-86°F (25-30°C).
Prices are generally reasonable around these months. By Christmas, the prices start picking up and only drop after Carnival.
The period between January and March has the highest temperatures, but it also has more rainy days, with February being the wettest month.
On the other hand, June is the driest month, and July is the coldest (68°F/20°C).
Florianópolis travel tips
Book in advance – This is a no-brainer; no matter where I go, I always book my accommodation and tours in advance to score good deals and avoid last-minute inflated rates or unavailability. There are many companies out there to choose from, but my favorite site for accommodation is Booking.com – it regularly provides the cheapest and lowest rates.
Tours and activities – The same goes for booking your tours. By booking in advance, you avoid last-minute unavailability and leave home with everything organized. I love that. I use Viator for booking tours because they're a big and reliable company with affordable prices.
Packing – Traveling to Florianópolis is almost like planning a beach vacation, so be sure to pack a swimsuit, travel towel, and repellent–a good one! I use this one with picaridin, which is effective and less harmful than DEET. For more tips, check out my complete Brazil packing list.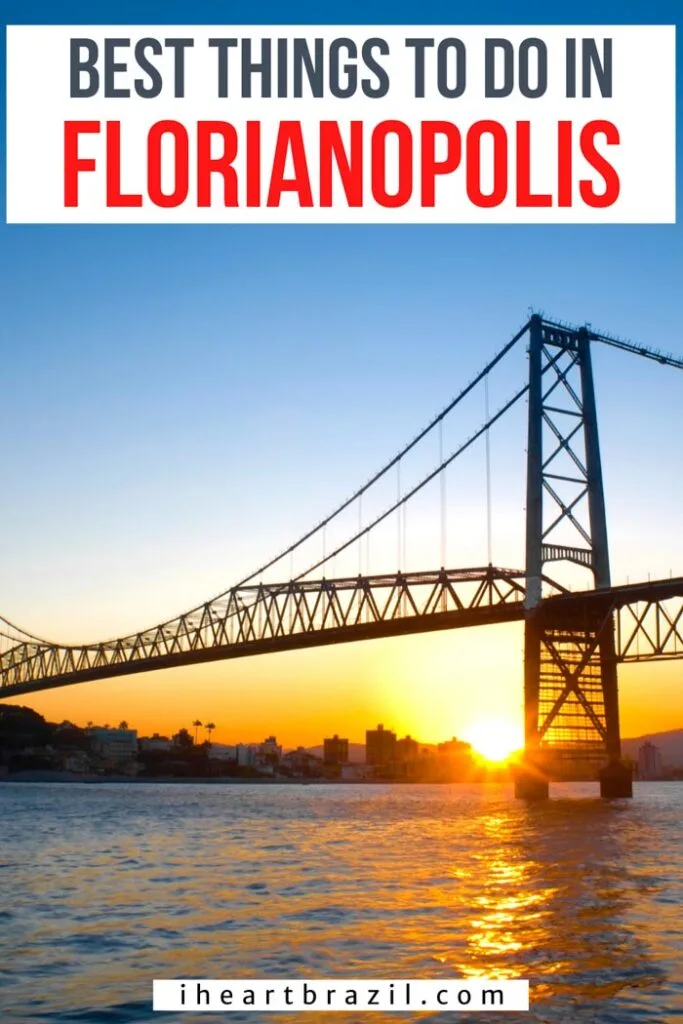 My favorite things to do in Florianópolis
As you will see in this blog post, there are lots of exciting things to do and see in the city. Still, these are my all-time favorite things to do in Florianópolis:
Lagoinha do Leste Trail – Lagoinha do Leste is a secluded beach with no infrastructure whatsoever where you can enjoy the dark blue sea without crowds and a calm lagoon just behind some sand dunes. It's truly breathtaking!! It sounds fantastic, but you need to trek a moderate 50-minute trail with steep paths to get there. Save yourself the hassle of figuring that out, and have a local guide with you to help along the way. Highly recommend it! Click here to check availability.

Floripa City Tour by Bus – This is one of my favorite things to do in Floripa because you hop on a shuttle bus and ride around the island's highlights with a full-time local guide. The stops include Campeche, Joaquina Beach, Jurerê International, and Santo Antônio de Lisboa. It's great to get a feeling of how Floripa is like in a day, then you can go back to the places that piqued your interest. Click here to check availability.

Paragliding – I don't know why, but I love to do things that scare me. I'm terrified of heights, yet I paraglide or hang-glide whenever I'm on Brazil's coast. And lucky you, turns out Floripa is a popular place for paragliding as the views and landscapes there are just jaw-dropping. Click here to book your flight.
Still looking for accommodation in Florianópolis? Then you will want to read my extensive Floripa neighborhood guide and tips on where to stay in Florianópolis, Brazil.
This blog post above explains in detail what the best places to stay are based on your interests.
Things to Do in Florianópolis
These are the best things to do in Florianópolis for first-time visitors in no particular order. Enjoy!
Grab a bite at the Florianópolis Public Market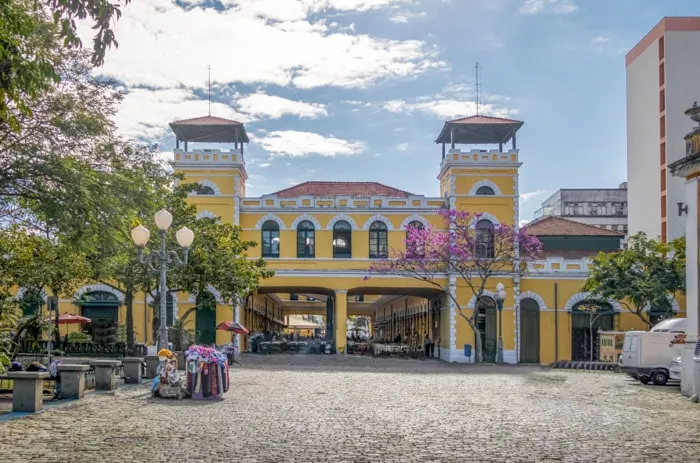 Located right in the city center, the Public Market is a must-stop not only because of its striking architecture but also because of its delicious bites.
The historic building dates back to 1851 and it was built to hide street vendors from the Portuguese royalty.
Over the years, the building went through major reforms and even a restoration after a big fire in the northern halls.
Still, the historic architectural concepts were preserved, and the building is a lovely, yellow colonial construction.
Anyway, back to food. At this market, you can find countless bars and restaurants serving from complete meals to appetizers, such as coxinha, and cold beer.
It's an excellent place to try some Brazilian dishes, so if you want to grab a few bites before going on a self-guided tour of Floripa, the Public Market is the perfect place for that!
Shop lots of Brazilian souvenirs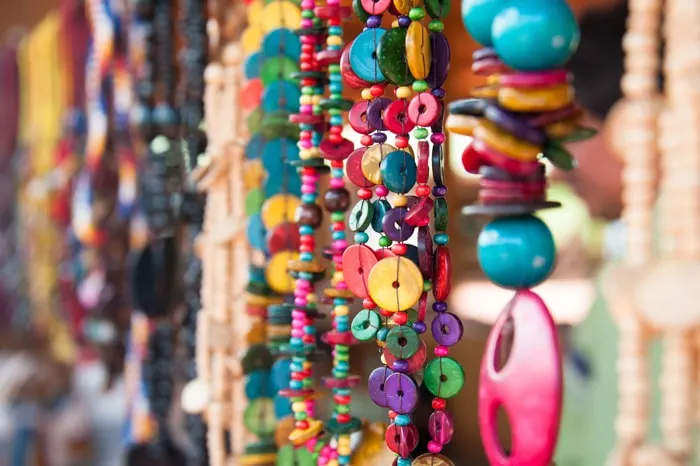 Still in the market mentioned above? Well, don't leave just yet!
This place has a handful of stands selling interesting souvenirs, clothing, and footwear–I mean, if you want to dress like a Brazilian, of course!
But even if you don't, the crafts stands have excellent souvenirs to bring back home and show a little more of Brazilian culture to your family.
Besides the Public Market, Floripa has three shopping malls filled with all sorts of shops. They are Beiramar Shopping, Iguatemi, and Floripa Shopping.
Stroll around the Historical Center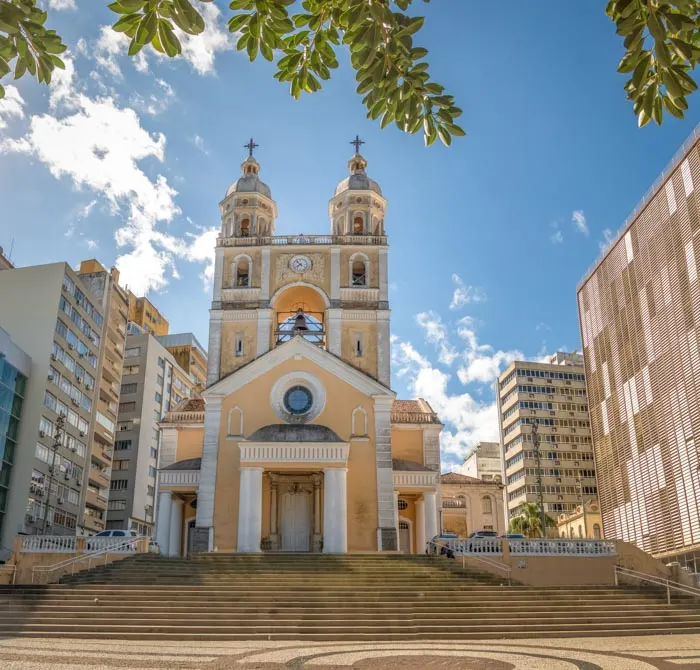 While one of the best things to do in Florianópolis is hitting the beach, strolling around its Historical Center is something you can't afford to miss, especially if this is your first time in the city.
Start at Fernando Machado Square, where there is the Miramar Memorial. The Miramar was a pier that used to be on this location and was a popular spot in town with a theater and a few bars.
Then, head over to XV de November Square to spot a massive centenary fig tree right in the middle of the square. A few other monuments are celebrating the people who died in the Paraguay War as well as some Brazilian artists.
For colonial architecture lovers, the Metropolitan Cathedral and São Francisco de Assis Church are a must-visit. The latter is a white and yellow structure along a busy shop street–don't miss it!
Mind you, most of the street signs and descriptions of monuments are in Portuguese, so if you want to deepen your understanding of the local history and culture, you might consider hiring a local guide.
This 8-hour city tour is very comprehensive, and the local guide takes you to historic landmarks in Downtown and some beaches on the island. It's a good deal!
Click here to check availability
Hit the beach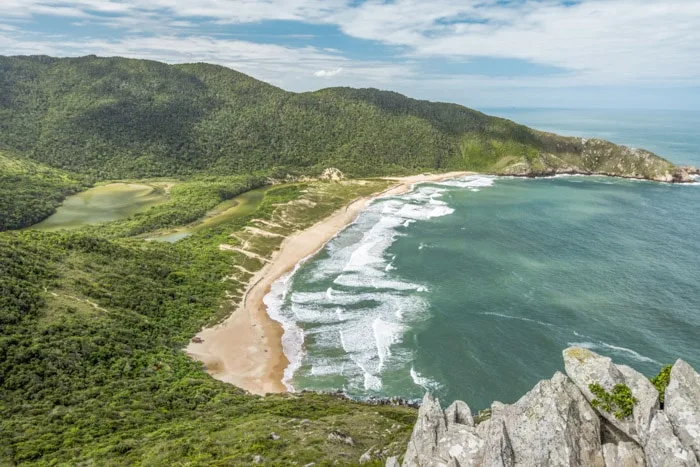 The Florianópolis beaches are everything you would want to enjoy the good weather and blue skies we have in Brazil: beautiful views, perfect waves, and all those summer vibes!
Santa Catarina Island is a small island, but it is packed with some of the most beautiful Brazilian beaches.
Some of my favorites are Lagoinha do Leste and Praia do Gravatá–both are secluded beaches without infrastructure, which makes them more special.
However, some of the most popular beaches in Floripa are Joaquina Beach and Praia Mole, which is between Gravatá and Galheta (a nudist beach).
Barra da Lagoa, a fisherman village, also has two pristine beaches; one is extensive and has enough eateries (excellent seafood), and the other is tiny, secluded, and stunning.
No matter how many days you spend in Floripa, hitting the beach is one of the best things to do in Brazil! Seriously, don't skip it!
Party in Brazilian style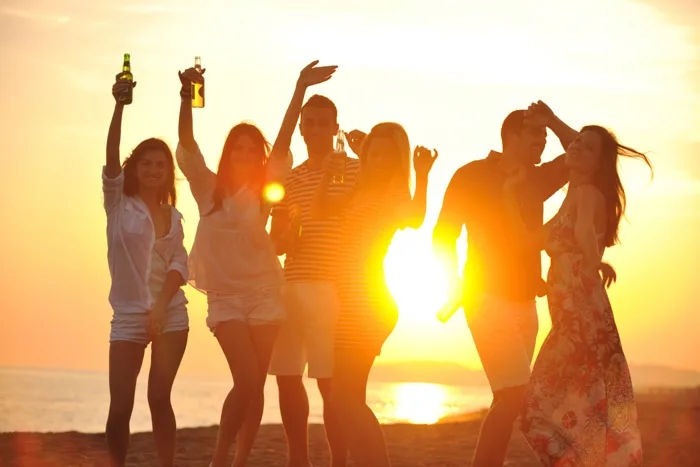 There are plenty of places to enjoy the nightlife in Florianópolis. While many of them are around the Lagoa da Conceição, you can find more than enough hotspots to party around Jurerê International Beach and Joaquina Beach.
Clubs like Parador P12 and Cafe de la Musique are very popular among locals and attract many beautiful people.
Santa Club Lagoa is another spot for party beasts who like dancing for hours and hours.
And Books & Beers is, ahem, a cultural bar for craft beer lovers–I love it!! Besides serving some ice-cold bottled beers, they also serve our national cocktail, the caipirinha, and some other tasty variations, like caipisake, caipiríssima, caipiroska, and more!
If you're traveling to Brazil around Carnival, you might want to celebrate it in Floripa.
While Rio gets all the glory, Floripa is an excellent place to celebrate Brazil's largest holiday as the city becomes a giant outdoor festival with food, fun, drinks, crafts, parades, and a lot of samba dancing.
Make sure you book accommodations well in advance and expect inflated prices, especially during Brazilian holidays. To get an idea of how much a trip to Brazil costs, read my guide.
Visit the surrounding islands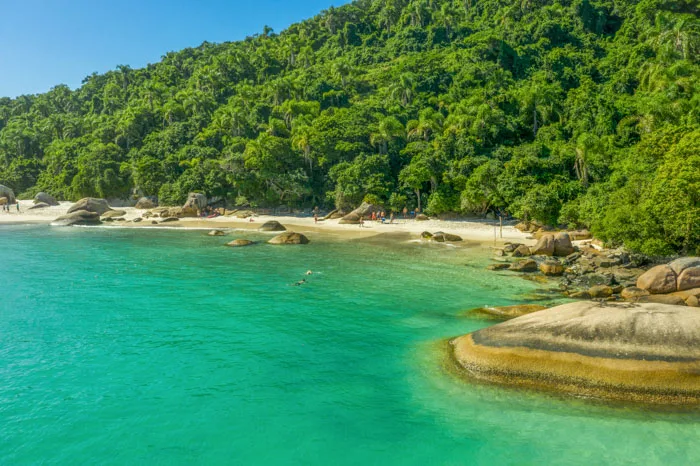 Santa Catarina Island is surrounded by a few smaller islands with incredible beaches and nature.
Campeche, a major tourist attraction in Brazil, is an island with unique natural features.
While Campeche only has one beach, which is incredibly beautiful, this island 30-minute off the coast of Santa Catarina also offers other outdoor tourist attractions.
For instance, you could hike the Volta Norte Trail, one of the many trails in Campeche, where you see archeological sites, forests, and jaw-dropping views of the landscape.
There is also a lookout at the island, and obviously, the archeological sites as this is a cultural preservation site.
For that reason, only a certain number of people are allowed into the island every day, and if you're traveling during high season (Brazilian summer), I recommend you book the boat trip to the island in advance.
This ticket is valid not only for a round boat trip to Campeche Island, where you can stay for four hours but also for the transport on Santa Catarina Island to the pier.
Mind you, the crossing depends on the weather conditions since it is carried out in the open sea.
Click here to check availability
Photograph the Hercílio Luz Bridge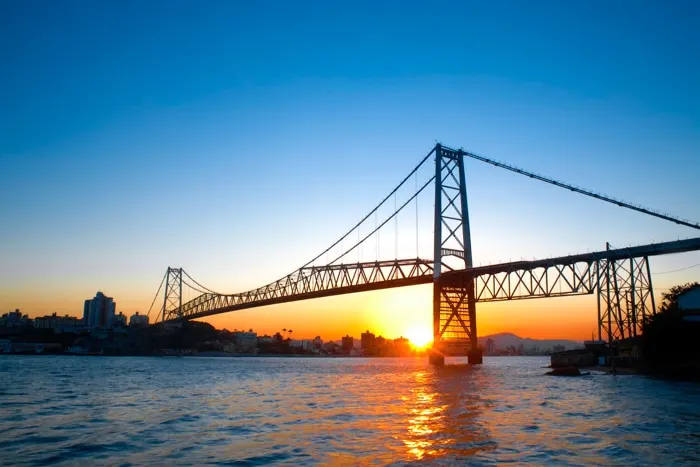 The Hercílio Luz is a suspension bridge that connects Santa Catarina Island to the mainland and is a major landmark in Brazil.
It was built in 1922, but due to restorations, the bridge was closed for 28 years (!!!) between 1991 and 2019–I guess we need to say thank you to the municipality for working so fast…
Anyway, the 2,689-feet bridge is finally open for visitation, and pedestrians are welcome to wander through and photograph it.
The local authorities want to create a cultural agenda around the bridge, but the calendar hasn't been made public yet.
There is a lookout at the bridge next to Luz Park, but I will talk about another lookout further in this post that, for me, offers far prettier views.
Learn local history at São José da Ponta Grossa Fortress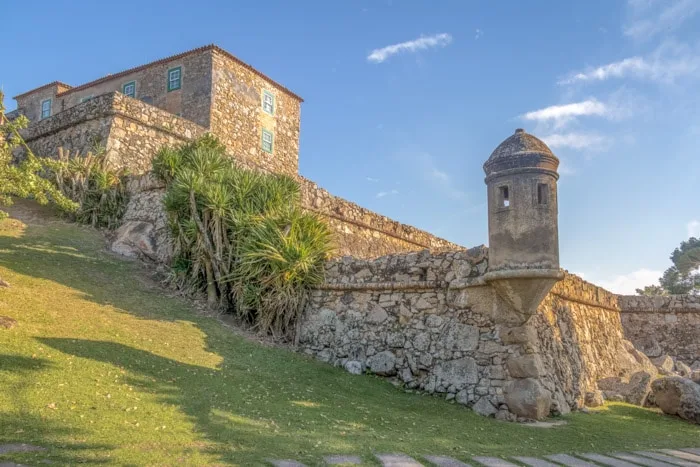 The Fortaleza de São José da Ponta Grossa is a fortress located in the north of Santa Catarina Island, strategically located on the top of the Ponta Grossa Hill and framed by the beauty of the cliffs and the sand of Praia do Forte.
This fortress was built in 1765 to support the defense on the island's east flank, and nowadays, it is open for visitation.
Among the constructions you can visit there, the Commander's House and the Chapel are the biggest highlights, which include an archeological exhibition of artifacts found on this location.
Beyond that, the heightened location offers incredible viewpoints of the surrounding landscape, including the Atlantic Ocean.
Pssst: The Fortaleza de Santo Antônio de Ratones is also a beautiful fortress on the island.
Go museum-hopping in Floripa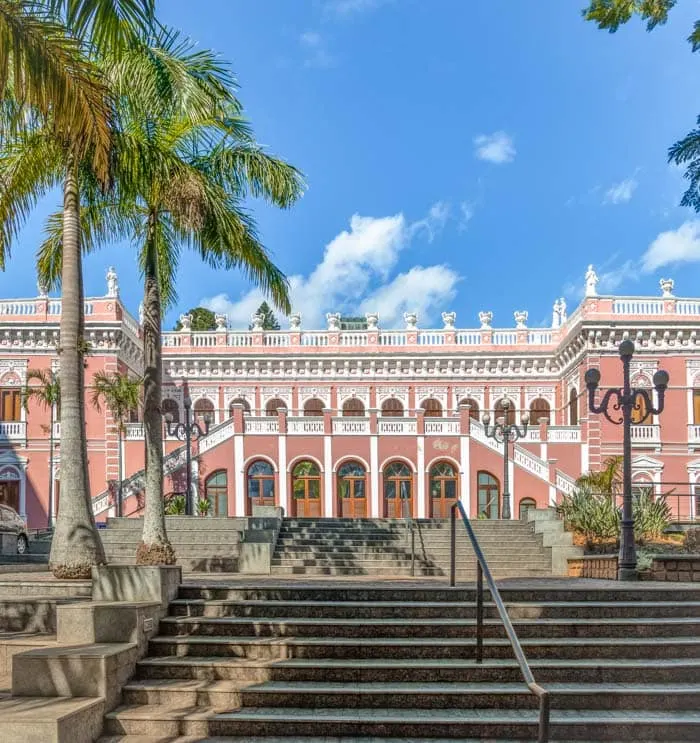 While the island has a few of the prettiest beaches in Brazil, let alone South America, some of the best things to do in Florianópolis are within four walls.
So if you want to deepen your understanding of the southern culture, you can't miss Floripa's museums. (Bring your translator app to understand the displays!)
Hike at Serra do Tabuleiro State Park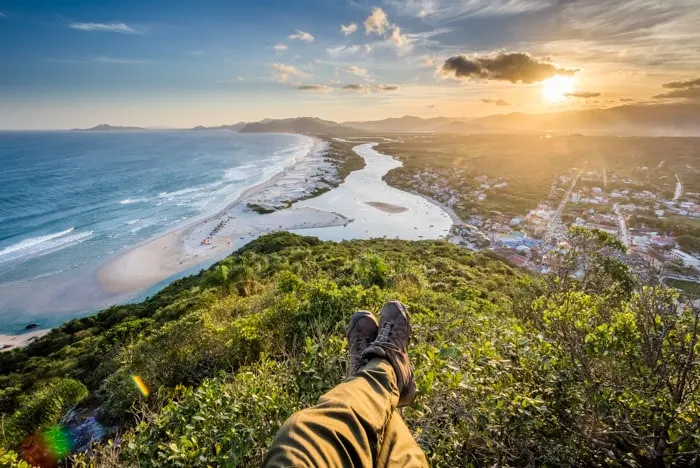 Yes, one of the best things to do in Florianópolis, Brazil, is to…leave the city!
Serra do Tabuleiro is a State Park in the mainland near Floripa, and it has lots of attractions to keep you busy for days in a row.
For nature and outdoor lovers, this State Park is like heaven. There are lots of hiking trails through nature and with incredible views, including the Grande Florianópolis Trail.
You can also go kayaking, zip-lining at the park, and other activities to get you out of your comfort zone. And obviously, spot wild animals.
Oh, and weather-permitting take swimming suits with you to unwind at one of the waterfalls.
Learn how to surf
The east coast of the island is famous in the surfing world, and there are quite a few surfing beaches to learn this sport filled with adrenaline.
Some of the best beaches for surfing, which have consistent waves and uncrowded conditions, are Brava, Santinho, and Ingleses–they also happen to be very beautiful!
So if you want to connect with nature in an adrenaline-pumping way, you might want to check out this 1:30-hour surfing lesson with certified surfing instructors.
This lesson happens at Brava Beach and the instructor provides all necessary equipment.
Click here to book your surfing lesson
Take in the colonial architecture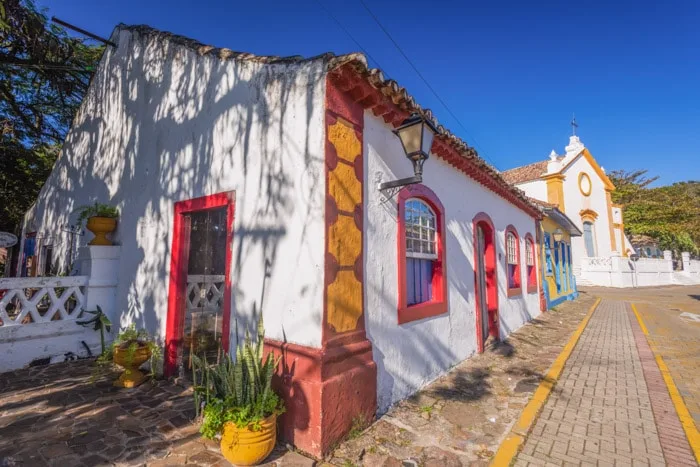 Hands down, two of the best places to visit in Florianópolis to experience the colonial architecture are Santo Antônio de Lisboa and Ribeirão da Ilha.
These fisherman villages are open-air museums with their rustic architecture from when the Europeans were in Brazil. Both villages have lovely countryside vibes.
But it's not all about the cute buildings and cobblestone streets. Oh, no. They also have delicious food worth checking out. Namely, Ribeirão da Ilha serves some of the best oysters on the island.
Santo Antônio de Lisboa is one of the oldest districts in Florianópolis, and I often say it is one of the prettiest places to visit in Brazil.
This place played an important role in the colonization of the city and still preserves many historic houses and buildings from that period.
With its narrow, quiet streets, excellent family-owned restaurants, and a wonderful view, Santo Antônio de Lisboa is a must-see for anyone visiting the capital of Santa Catarina State.
Take a Florianópolis road trip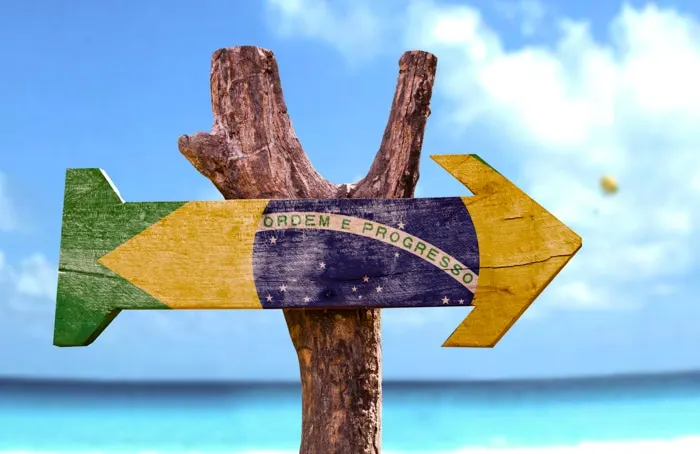 Love a good road trip? Well, then rent a car and hit the road!
Santa Catarina Island is only 154,4 square miles in size, so you can easily plan a perfect road trip for a weekend in Florianópolis.
Rent a car, preferably a convertible, and drive clockwise starting at Floripa. There is a main road that basically circles the island and takes you to most of the hotspots you could visit.
Be sure to have Google Maps on your phone to know the directions through this scenic drive. Also, to save you money with roaming and international fees, you might consider buying a Brazilian SIM card. It's affordable!
Marvel at the street art in Florianópolis, Brazil
It's not a secret that we Brazilians love street art and enjoy expressing ourselves through any kind of art–dance, music, and literature.
So one of the things you can't afford to miss is the striking street art murals throughout the whole island.
For instance, you can find many of them around the Lagoa da Conceição as well as on and under the overpass near the airport.
But if you want to go on a free self-guided street art tour in Florianópolis, then download the app called StreetArtTour, a project to boost the city's urban art scene.
This interactive map has a pin on the exact location of each mural and all information about each one of them regarding artist, title, year of painting, technique, and the story behind the art.
The only downside is the app is currently in Portuguese. Still, you can use it only to find the murals but simply ignore the Portuguese text if you can't understand it.
Download it and sign up with your email and phone number to get instant access to all locations.
Learn how to fly–or almost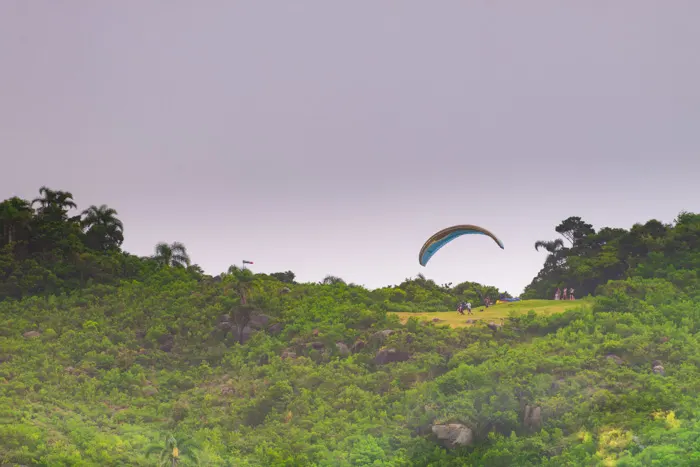 A very popular activity on the island where you get incredible views of the undulating landscape and the coast is paragliding.
And if you already love paragliding, you can't miss this opportunity in Floripa because the island is just too pretty not to be seen from above!
The beaches, nature, and the blue-greenish sea going as far as the eye can see are some of the incredible things you spot in your 15-minute flight.
So if you're looking for adrenaline-pumping activities in Brazil, you can't miss this paragliding flight.
Click here to book your flight
Have a bird's-eye view of the Santa Catarina Island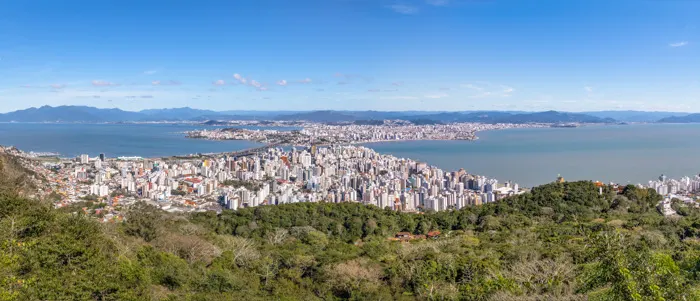 Head up to Mirante Morro da Cruz to take in one of the most beautiful views of Magic Island.
While you can get a bus to reach this lookout, an Uber will serve you better as buses don't run so frequently. Alternatively, you can get there by car, if you're renting one–there's a tight parking lot in the street.
Once you get there, you have a bird's eye view of the city center, including the Hercilio Luz Bridge connecting the island to the mainland.
Honestly, taking in this view is one of the best things to do in Florianópolis.
What to do in Florianópolis
These are just some of the many things you can do in Floripa. The whole list is much more extensive, of course, think of windsurfing, kite surfing, sandboarding, and more.
I mean, the sky's the limit, and there are endless possibilities here, so make this trip count!
Brazil travel resources
You're traveling to Brazil–yay! That's very exciting!
To help you plan your trip, I wrote a bunch of useful guides.
For instance, you might want to read this Brazil travel guide as well as this step-by-step guide on how to plan a trip to Brazil. These are good reads to set things in motion for your trip.
However, if you want to learn a little more about the country before your trip, check out these Brazilian shows and movies as well as these books about Brazil.
I hope I gave you even more reasons to visit Brazil as soon as possible, but you can always check other destinations in the country if you want more inspiration.
Happy travels!