Wondering what the top sights and tourist spots in the Marvelous City are? These are 18 of the best tourist attractions in Rio de Janeiro that you need to visit!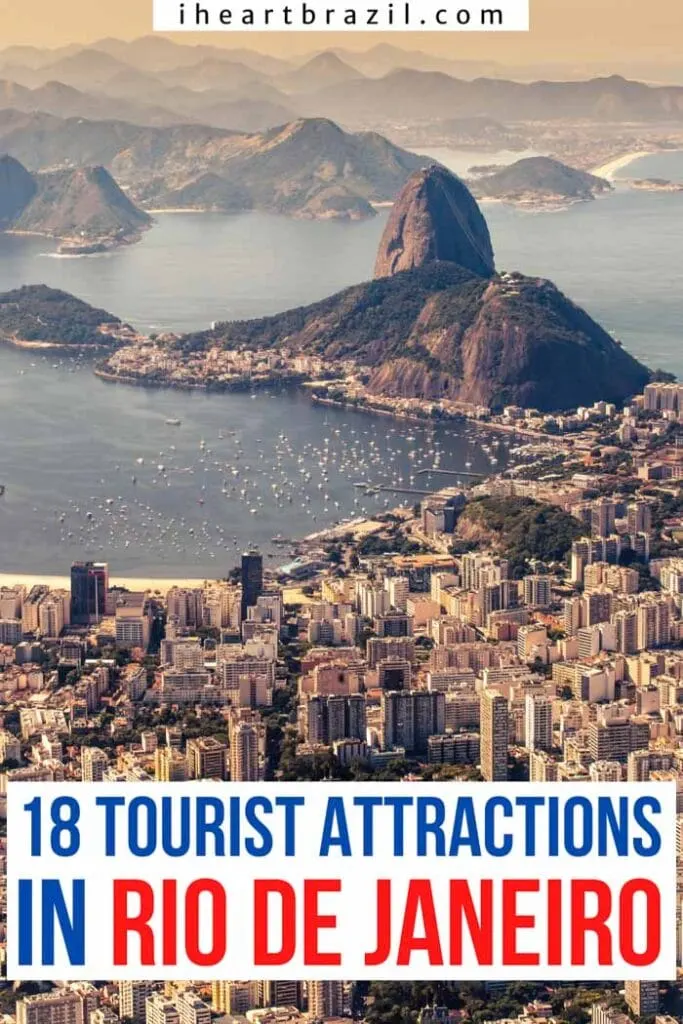 Best Rio de Janeiro tourist attractions
Rio de Janeiro is a bustling place that offers tourists a complete Get to Know Brazil Experience—fantastic culture, history, food, and entertainment.
From human-made to natural places you've probably heard of to offbeat tourist spots, the Marvelous City is jam-packed with incredible attractions.
And if you're planning your trip to Brazil, chances are you will visit Rio–after all, this is one of the prettiest places to visit in Brazil.
If you aren't visiting it, well, do yourself a favor and add it to your Brazil itinerary as this place is unforgettable!
In today's article, I will talk about the best places to go in Rio. But this isn't just any list, these are hands-down the all-time best Rio de Janeiro attractions that I have personally experienced.
Wondering where to stay in Rio? Then you will want to read my practical guide on where to stay in Rio de Janeiro or this one on the most incredible Rio de Janeiro Airbnbs. Both guides have a breakdown of the best accommodation by neighborhood and budget.
Best tourist attractions in Rio de Janeiro
Most of these tourist attractions are in Rio de Janeiro City, not the state (which has the same name).
Still, I will mention some other places to go in Rio (state) that you will be thankful to have learned about. Let's get to them!
18. Arpoador Rock
Oh, the Arpoador!
Watching the sunset in this spot gives the moment a unique charm.
The Arpoador, literally the harpoon thrower, is a small peninsula between Ipanema and Copacabana. It is a famous place for watching the sun setting on the horizon and surfing as the waves are wild in this area.
Grab your significant other, hike the paths to a spot in the rocks, sit back, and take in the view of the Atlantic turning orange as the evening comes around.
Even if you're traveling alone or with friends, do check out this tourist attraction in Rio de Janeiro–you won't regret it!
Want to experience Rio through the eyes of a local? Then you might want to go on a guided tour in Rio de Janeiro.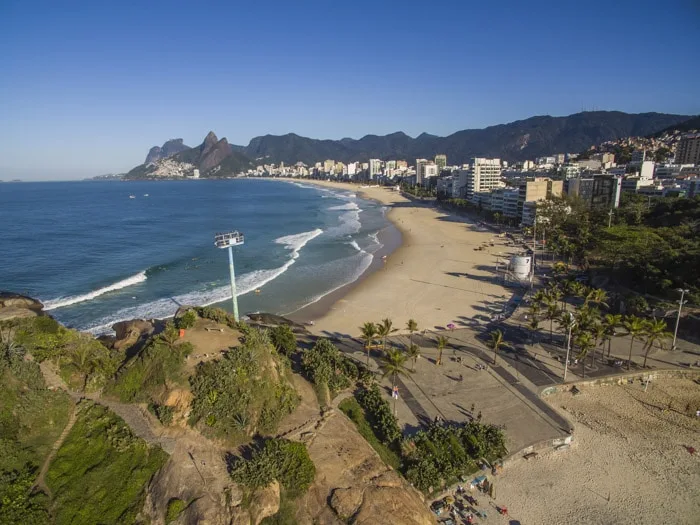 17. Municipal Theater
Contrasting with its modern surroundings, the Municipal Theater is an imposing Eclectic and Art Nouveau opera house facing Cinelândia Square.
This luxurious building with a greenish-blue roof and golden details is relatively new as it was built in the early 20th century. It features several sculptures and paintings from Brazilian artists.
Catch a performance here (concert, ballet, or opera)—they are usually pretty affordable—and get to know a little more of Brazilian culture. Or else, at least stop by for some photos. It's a beautiful building!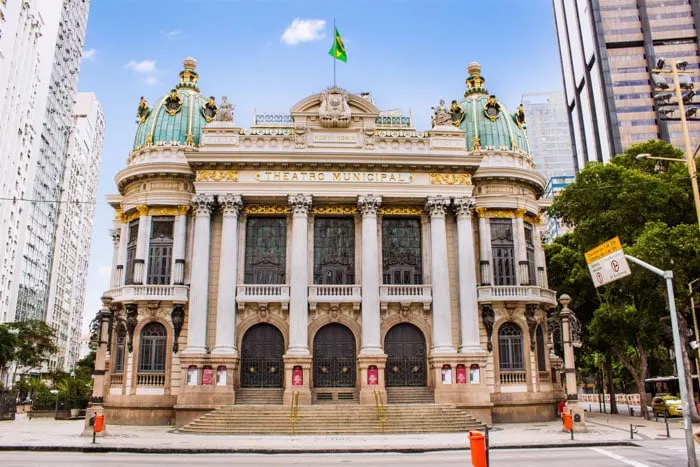 16. Niterói Contemporary Art Museum (Museu de Arte Contemporânea)
Okay, this museum is technically not in the city, but in Niterói. Nevertheless, it is a must-see tourist attraction in Rio de Janeiro State.
Just across the Guanabara Bay, this UFO-shaped museum is 52ft (16m) tall and has a diameter of 164ft round (50m).
The museum showcases artworks from international artists, but mostly from Brazilian artists. And in case you needed more reasons to visit this spot, know that the acclaimed Brazilian architect Oscar Niemeyer designed it.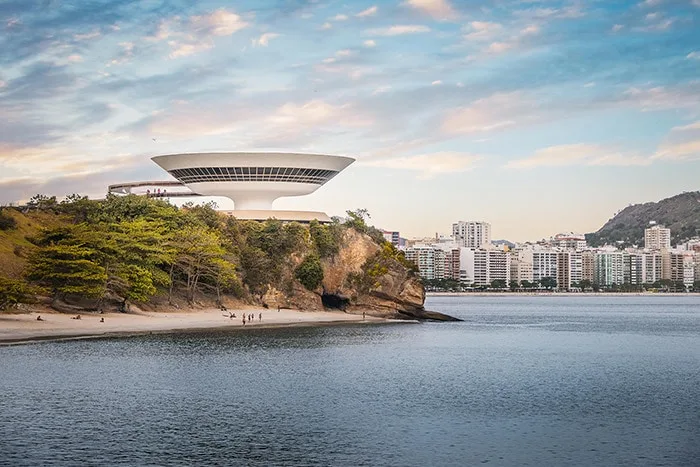 15. Ilha Grande
Imagine a small paradise island surrounded by the blue sea and abundant nature. You're halfway through picturing this place.
Ilha Grande is a beautiful island off the coast of Rio de Janeiro, and is one of the prettiest islands in Brazil, to be honest.
Because of its enchanting landscapes, this island is a popular weekend getaway in Rio and is just an hour away from the city.
If you're looking for a calm and tranquil place to unwind, you will want to head south to this place. And yes, Ilha Grande is an excellent day trip from Rio de Janeiro, in case you were wondering.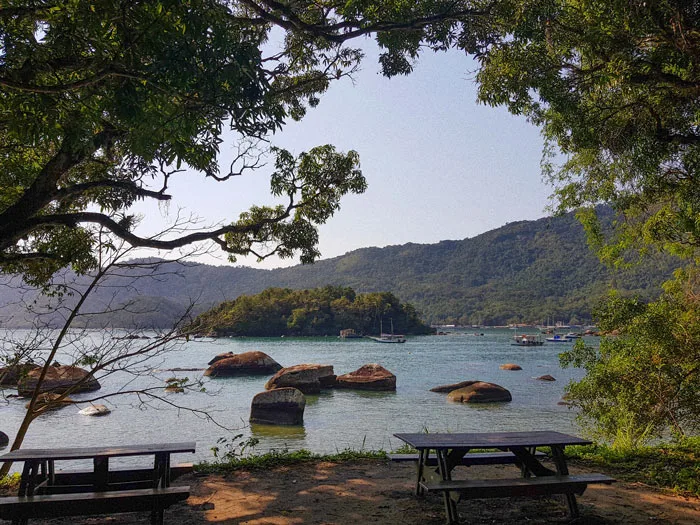 14. Maracanã Stadium
The largest soccer stadium in Brazil is the pride of Cariocas—Rio's locals.
With a capacity of nearly 80k people (it used to be 180k), Maracanã hosts soccer matches and concerts.
The stadium was reformed for the 2014 World Cup and 2016 Olympics; it fell into decay afterward and was brought back into life with the new management.
Even if you're not into soccer, I highly recommend watching a match to see how passionate fans are.
You can go on your own, or you can go with a local who will accompany you to the stadium and cheer with you.
Can't recommend it enough! I visited the stadium with my non-Brazilian husband, and he was amazed! There is such contagious energy!
Click here to check availability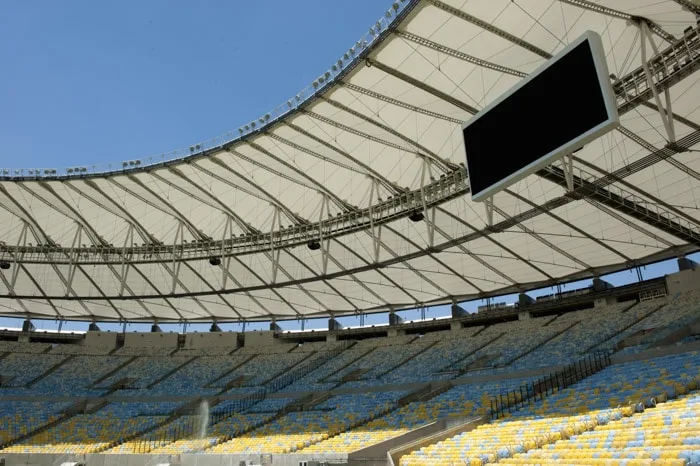 13. Tijuca National Park (Parque Nacional da Tijuca)
Tijuca National Park is the backdrop of Rio and the largest urban forest of Brazil, let alone the world.
Going from the Corcovado to Pedra da Gávea and beyond, the Tijuca Forest is a massive urban rainforest with hiking trails, waterfalls, and countless spots with unforgettable city views.
This tropical forest attracts over 2 million visitors annually, but it hasn't always been like this. That's because this forest is, in fact, a human-made reclamation of land that was previously used for sugar and coffee plantations.
Tijuca Forest was only declared a national park in Brazil in 1961. However, many favelas are growing out of proportion and occupying environmental conservation units in the park. When the local authorities take action, it is still to be seen.
Anyway, visitors can wander through the park, visit a 19th-century chapel (Mayrink Chapel), waterfalls, caves, and spot hundreds of plant species as well as many animals.
Unsurprisingly, Tijuca NP is one of the best tourist attractions in Brazil, not only Rio.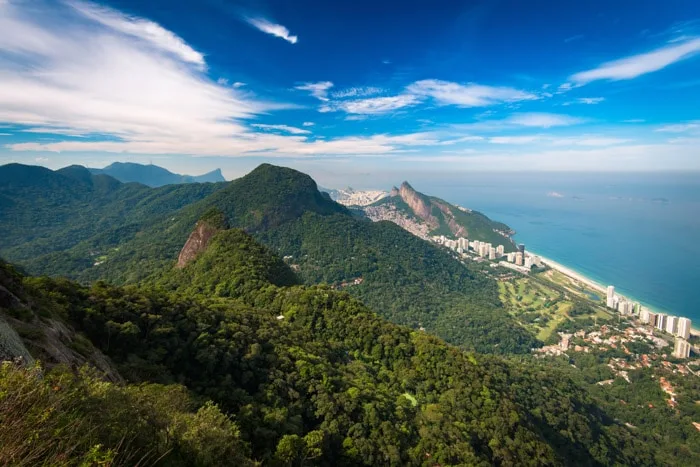 12. Paraty
One of the most interesting tourist spots in Rio is only a 3-hour drive southwest of the city.
Architecture-wise, Paraty is one of the prettiest colonial towns in Brazil with its white-washed houses, pastel-colored details, cobblestone streets, and abundant nature.
From laid-back beaches to the Serra da Bocaína National Park, Paraty is jam-packed with outdoor activities and is by far one of the best attractions in Rio de Janeiro.
Go for a hike, hit the beach, bathe in a waterfall, indulge in delicious Brazilian food–there's so much to do here.
If you're more into learning the local culture, go on a historical tour in the town center or join a cachaça tour. Cachaça is the national liquor of Brazil, and Paraty has a bunch of excellent distilleries.
Beyond that, boat tours show this beautiful town in Brazil from a different angle. When you hop on a boat and look back at the city, you see the steep, jungly backdrop embracing the peaceful town below–it's a postcard-worthy view.
If that wasn't enough, Paraty is surrounded by a bunch of waterfalls where locals enjoy hot days, which aren't rare—thankfully.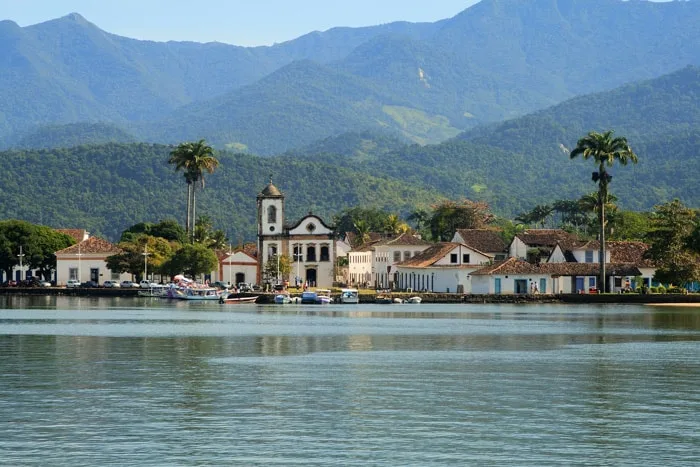 11. Lapa Arches (Arcos da Lapa)
The Carioca Aqueduct, also known as Lapa Arches, was the most significant architectural work during the colonial period in Brazil, measuring 886ft (270m) long by 58ft (17.6m) high.
Lapa Arches were built in the 18th century by indigenous and African slaves to bring water to Rio's population after the city had had several issues with water shortage due to refugee slaves' vandalism.
The then governor had the idea to use an aqueduct where the water was covered with bricks to avoid any further acts of vandalism.
Fast forward 100 years, Lapa Arches were no longer needed late in the 19th century as other water sources were used.
So the 42-double arches aqueduct became a road for trams, and it is still used to this day to connect the city center to Santa Teresa, a bohemian neighborhood in Rio.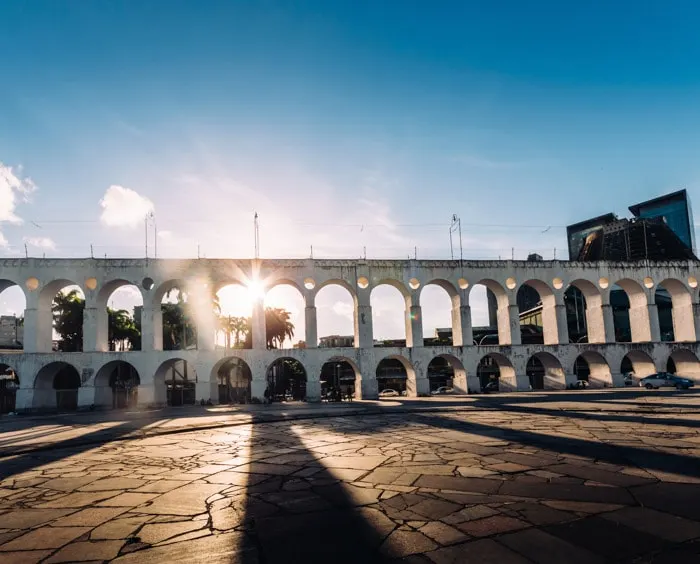 10. Botanical Garden (Jardim botânico)
Towering palm trees, water lilies, and hundreds of plant species, the Botanical Garden is one of the most pleasant tourist attractions in Rio de Janeiro.
Not only that, but the garden also houses several monuments, statues, and cultural institutions.
For instance, you can visit the Environment Museum–the first one in Latin America–and the Espaço Tom Jobim, where exhibitions and cultural performances occur.
Take your time, stroll around the garden, and marvel at the diverse plant species you will spot along the way. It's a lovely place to spend an afternoon.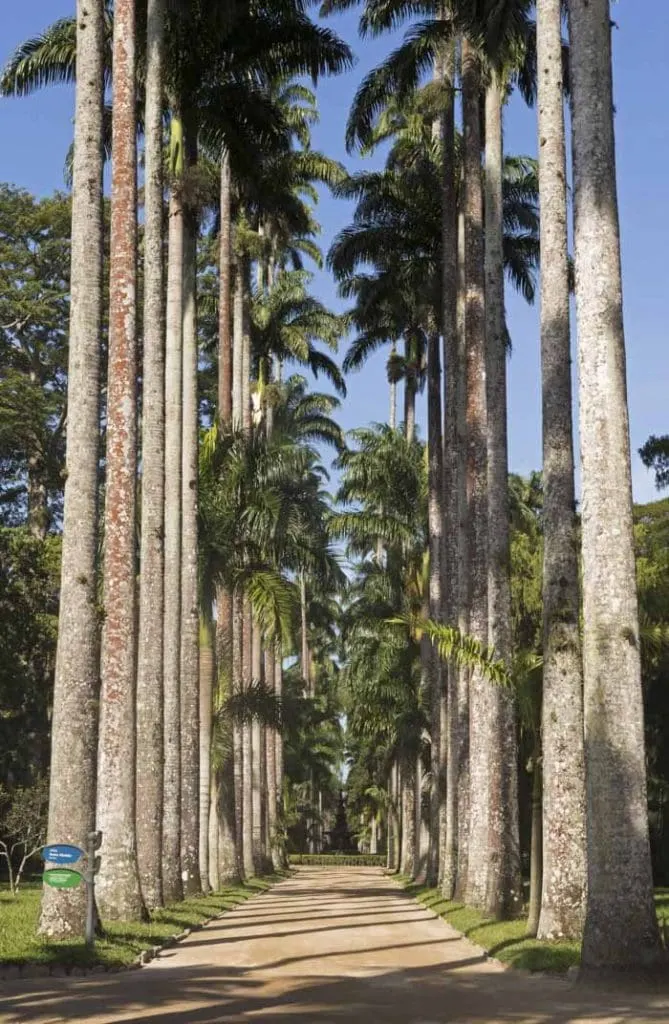 9. Selarón Steps (Escadaria Selarón)
The world-famous steps in Rio are colorful mosaics made by the Chilean-born artist Jorge Selarón.
After he moved to Rio de Janeiro, Jorge let his creative spirit add some colors to the dull, gray steps in front of his house.
Years passed, and what was a renovation project became his obsession and tribute to the Brazilian people.
Connecting Lapa to Santa Teresa, the Selarón Steps nowadays have over 2,000 tiles collected from over 60 countries.
Because this is one of the biggest tourist attractions in Rio de Janeiro, you will want to arrive before 10 AM to snag a photo without the crowds.
Local tip: It's a humble neighborhood, so no need to wear flashy things. This advice goes hand-in-hand with my general advice for safety in Rio.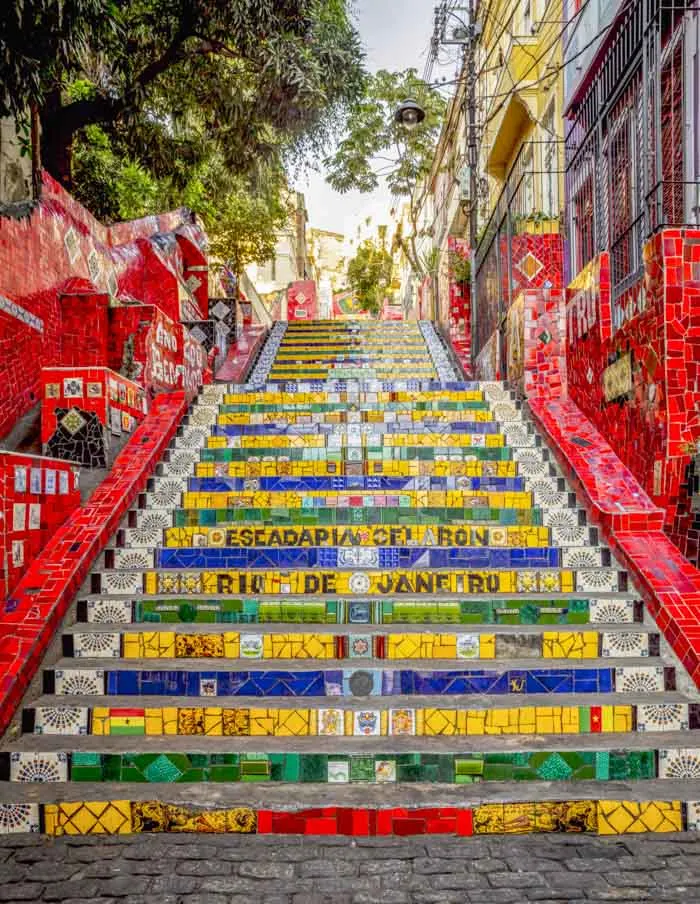 8. Fiscal Island (Ilha Fiscal)
Ilha Fiscal is an island in Guanabara Bay bordering the historic city center, and surprisingly, the main attraction on this island is a castle.
Feel special because you won't see many castles in Brazil, let alone South America.
This castle is one of the historic buildings that refer to the architecture of a chateau as requested by the emperor Dom Pedro II at the time.
The property has a Gothic-Provencal style, inspired by the works of the French Viollet-le-Duc, and is signed by Adolpho José Del Vecchio. Today it houses the Naval Museum.
However, the reason why this spot is famous in Brazilian history is not because it is one of our only castles.
Instead, this site is where the very last Imperial party took place before the coup d'etat interrupted the party and proclaimed the Republic in 1889.
7. Ipanema Beach
This famous beach goes from Arpoador Rock to Leblon Beach in the south zone of the city.
Beyond the obvious beautiful scenery of white sand and hills at the southern end, Ipanema is an urban beach where a lot happens–all the time.
From locals exercising and playing on the beach to sunbathing and more, Ipanema is an excellent place in Rio to people watch and see locals.
Mind you, the urban beaches in Rio de Janeiro are divided by lifeguard watchtowers (Portuguese: posto), and they serve as a meeting point reference for all crowds. Besides, these "postos" also have restrooms and showers.
For instance, the LGTBI community and surfers usually meet around the watchtowers #8-9, fitness folks at #10, families at #11.
So choose the area that speaks the most to you, enjoy the landscape, and sit back while sipping a caipirinha–this is one of the best things to do in Brazil, by the way.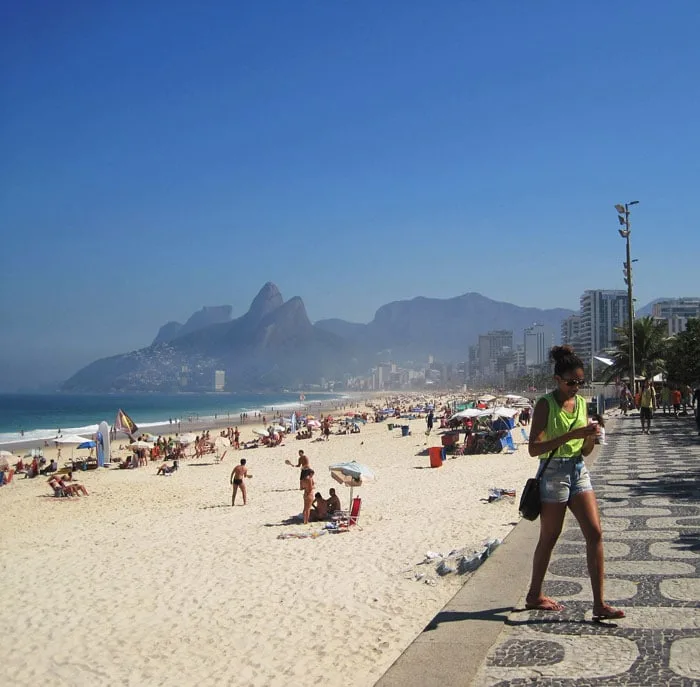 6. Museum of Tomorrow (Museu do Amanhã)
When people think about Brazil, they usually think about soccer, carnival, and beaches–these are the most common things associated with Brazil.
However, the country has some great museums you should absolutely visit. Not only that, but museums are one of the best places to debunk many Brazilian stereotypes flying out there.
For instance, this science museum near Olympic Boulevard is one of the most interesting attractions in Rio de Janeiro
It explores the opportunities and challenges humanity will face in the coming decades from an environmental and coexistence perspective.
The Carioca culture inspired the design from Santiago Calatrava, and, through its architecture, the museum explores the relationship between the city and the natural environment.
In the same breath, the building has a system to filter the ocean's water to use it in the air conditioner and pool next to it.
Besides, the solar panels at the roof move with the sun, capturing the most energy possible. It's all about sustainability here. All about tomorrow!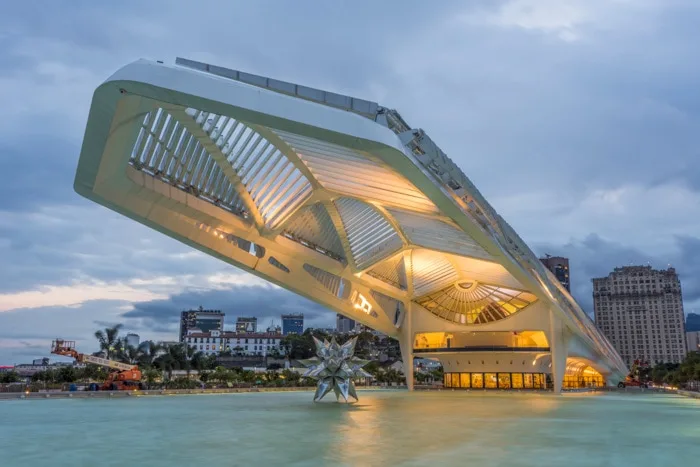 5. Lage Park (Parque Lage)
Of all Rio de Janeiro tourist attractions, Lage Park is one of my favorites.
It's a visual art school based in a former mansion at the foot of Corcovado Mountain. The scenery is absolutely mindblowing and makes you want to stay all day long.
Surrounded by nature, this mansion is actually more than just a school. It also is a lovely café.
Go for a stroll in the park and stop at the café by the decorative pool for a cup of freshly brewed Brazilian coffee–oh, I can almost taste it!
Visiting the Parque Lage is one of the best things to do in Rio de Janeiro, just don't forget to look up and spot Christ the Redeemer watching over the city.
Local tip: Do not forget your repellent—there are many mosquitoes in this area, for obvious reasons.
4. Santa Teresa Neighborhood
Ah, Santa Teresa! This neighborhood is one of the best places to feel Rio's soul.
I mean it. Few places can represent the essence of Rio as much as Santa Teresa. There is history, gastronomy, bohemian atmosphere, culture, nature, you name it. And all of this, with one of the most beautiful views of the city.
Every Carioca—Rio locals—prides themselves and has enormous affection for the neighborhood because they recognize, on those hillsides and mansions, a little of themselves, of their history.
Here you can find great samba bars and family-owned restaurants to savor not the Brazilian food, but also Brazilian culture.
Stroll around the cobblestone streets and let the bohemian feel enchant you. You will love it.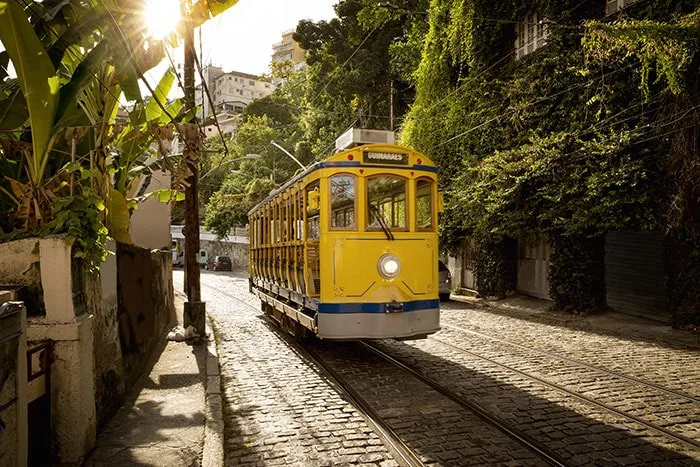 3. Copacabana Beach – one of the most famous tourist attractions in Rio de Janeiro!
Copacabana Beach is not only a popular tourist attraction in Rio de Janeiro, but it also is one of the most famous Brazilian beaches.
This 2.5 miles (4km) long beach in the south zone of Rio has a long sand stretch and beautiful dark blue sea.
Besides, the promenade is a pavement landscape on a large scale. Roberto Burle Marx designed a black and white geometric wave pattern— trendy in Portugal—that became so famous it now illustrates many Brazilian souvenirs.
Oh, and it goes without saying, but the surrounding area is packed with eateries and shops.
It is a lovely place for sightseeing and getting a sense of life in Rio. You will spot locals playing soccer or volleyball on the sand; you might catch a concert, or even celebrate New Year in Brazil–the city holds a massive NYE festival in Copacabana every year.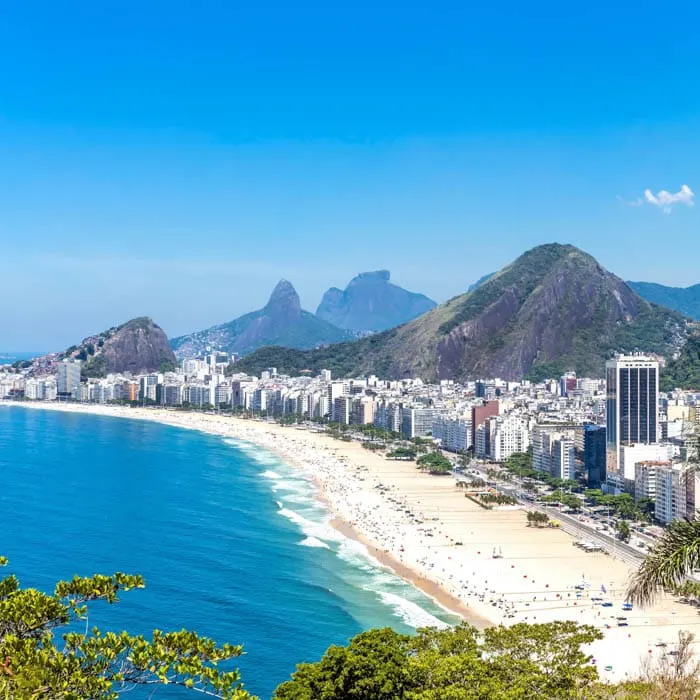 2. Sugarloaf Mountain
Sugarloaf Mountain is not only a postcard-worthy spot, but it also is arguably one of the most important tourist attractions in Rio de Janeiro.
But to get there, you must first get atop Urca Hill (Morro da Urca) by cable car (bondinho)–that's the first hill.
From there, you have a spectacular view of Botafogo, Christ the Redeemer, the Corcovado, and the landscapes that make Rio a UNESCO World Heritage Site.
Then, hop on the next cable car to finally meet the famous Sugarloaf Mountain. Be sure to have your health checked before your visit because the view is absolutely breathtaking!
When I got to the Sugarloaf for the very first time, I remember looking down at Praia Vermelha and Copacabana in awe. At that moment, I ultimately understood why we Brazilians call Rio de Janeiro the Marvelous City.
What a view!
No matter if you spend a day or 3 in Rio de Janeiro, Sugarloaf Mountain is a must-see.
Click here to buy the cable car ticket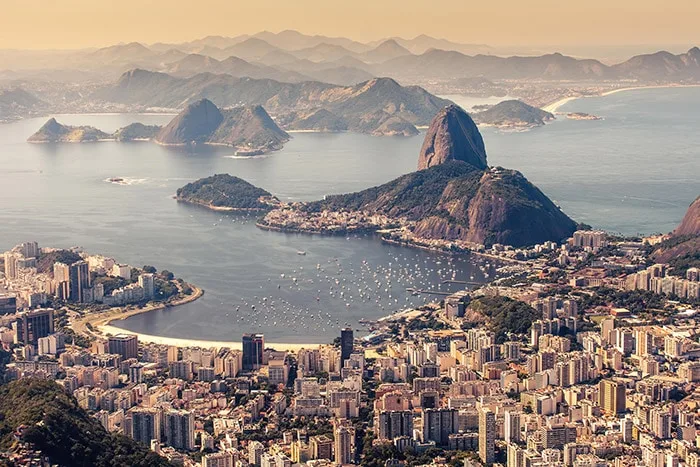 1. Christ the Redeemer (Cristo Redentor)
Of all Rio de Janeiro attractions, Christ the Redeemer is by far the most famous Brazilian landmark.
In 2007, this Art Deco statue was voted one of the New Seven Wonders of the Modern World, together with landmarks such as the Taj Mahal, Great Wall of China, Chichen Itza, Machu Picchu, Petra, and Colosseum.
The Christ the Redeemer Statue has become a symbol not only for Rio but for Brazil too. Stats-wise, it is 98ft (30m) high, and its pedestal is 125ft (38m).
Standing atop the 2,300-ft (700-m) Corcovado Mountain and overlooking the whole city—from Rodrigo de Freitas Lagoon to Maracanã and Niterói— this statue is a no-brainer. No trip to Rio will ever be complete without a visit to it. Seriously.
Local tip: Don't forget to stop at the Mirante Dona Marta along the way to the top. From this lookout, you can have a unique view of Rio.
Click here to check train availability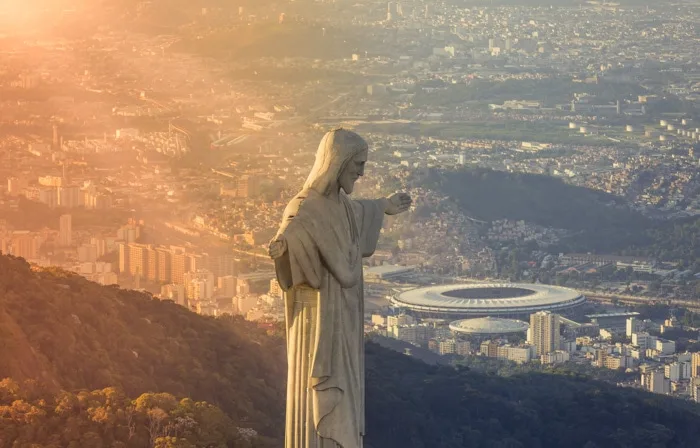 More points of interest in Rio de Janeiro
Banco do Brasil Cultural Center (CCBB) – top-notch exhibitions
Confeitaria Colombo – excellent coffee
Barra da Tijuca Beach – beautiful beach to sunbathe and sip some Brazilian drinks
Chinese View – panoramic views of the city
Samba schools – unless you will celebrate Carnival in Rio, I recommend catching a samba school rehearsal – it's insane!
Copacabana Fort – a 19th-century fort hosting a military base, a museum, and a couple of cafés (with excellent views of Copacabana!)
Museu Chácara do Céu – this former mansion is now a museum showcasing European and Brazilian art.
Ruins Park – an art gallery built around the ruins of a mansion.
Rio de Janeiro tourist attractions
I hope you enjoyed this list of the best tourist attractions in Rio de Janeiro. Obviously, the complete list is far longer as the city and state are packed with incredible activities.
If you want to check out more things to do in Rio, you can take a look at some resources I have here on the site.
As for your trip, you might want to read some trip planning guides, such as this handy packing list and this guide on how much a trip to Brazil costs.
Local tip: If you want to save money, avoid traveling to Brazil around Christmas and Carnival (our biggest holidays) as accommodation and flights get quite pricey. Oh, and you might want to avoid expensive roaming fees by purchasing a Brazil SIM card.
If you're an armchair traveler, take a look at these Brazilian movies and shows on Netflix as well as these interesting books about Brazil.
That's it for today! Enjoy your trip!
Did you like this post about the best tourist attractions in Rio de Janeiro? Then share it with someone who might like it too!